Best Camp Shoes for Kids Reviewed & Rated
In a Hurry? Editors choice: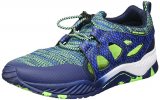 Test Winner: Jambu Anthozoa

Through hours and hours of research, we have organized this list of top ten children's camp shoes to make your life easier. Your children deserve to wear camp shoes that will provide them comfort, flexibility, and yet will look amazingly, designed accordingly to satisfy the child's lively nature. And as a parent, you must seek a solution that will make your little camper happy, and because of that, you should think over its wishes and desires. Not only that, but we have also compiled an extensive Criteria section in which we explain what are the features you should be looking for in camp shoes so that you can make a well-informed decision on what type of camp shoes best suits your young one.
Standout Picks
Criteria Used for Evaluation
Comfort
When one is expected to spend the entire day on their feet, even if it's just walking (let's not mention all the activities that children actually perform on a daily basis in camp), comfort is of the utmost importance in a camp shoe.

Young feet are not as prone to medical ailments such as plantar fasciitis and similar conditions that are the result of years and years of pounding at the heel. But that is not to say that they shouldn't be well taken care of. In fact, at a young age children are at risk of developing poor walking habits, an unbalanced gait which can lead to overpronation or supination later in life. Consequences of these include pain in the muscles and joints, knocked knees, and a bad posture overall.

To encourage your child to properly hold themselves and to ensure that they have an unforgettable time without an ounce of foot fatigue, look for cushioned comfort in a camp shoe. Contoured footbeds are always a plus, as they support the natural lines of the sole, and an arch cookie, which prevents flat feet.

The midsole and the insole of the camp shoe you're looking at shouldn't be too soft. They should have some springiness to it, a rebound effect which will allow them to absorb shock as your child walks, and to evenly spread it through the shoe. At the end of the day, your young one shouldn't be feeling pain in any part of their feet.

When it comes to comfort, almost all of the brands from our camp shoe list have their own unique technology which they install in their designs. They can vary from one item to the next, and can even use strange names and phrases to describe what sort of comfort they're providing.

However, the truth is that it all comes down to personal preference. Ask them what they like and what they don't like, if they feel supported and comfortable enough, and choose a pair of camp shoes accordingly.
Protection
The great outdoors is full of a wide range of hazards. Aside from the usual annoyances - dust, mud, sand - there are also those which pose quite a real threat to the safety of young toes. These include twigs and rocks hidden in the forest beds, even pieces of plastic or glass that can be found in places frequented by people.

While the other camp shoes with open toes sound like a great option for hot weather, when it comes to exploring nature, a closed-toe camp shoe design is the best way to go. These offer covering for your child's feet, protecting them from the elements, but also from potential punctures and lacerations that might lurk about.

Some camp shoes even go a step further and provide a reinforced toe area, which adds yet another layer of security.

The amount of protection your child's toes need depends on the area they are going to. Will they be walking on well-established hiking trails? Will they be running around the playground? Is there a slight chance that they might venture into a bigger, uncharted area?

In this case, we say that it's better to be safe than sorry. A closed-toe camp shoe option or a good sneaker or a hiking boot will provide just enough safety, while at the same time they won't hinder your child's play time in any way.
Breathability
So if we are advising a closed-toe camp shoe design, what about breathability, you say? It's summer, it's unfairly hot outside, and you don't want your child to be uncomfortable. There needs to be some air that goes in and out of the shoe, to prevent sweating and bad odors.

Well, you're definitely right. Breathability is another key aspect in deciding on the right camp shoes. Sweat and a damp, hot environment in such a small, confined space can lead to bacterial and fungi infections. These manifest in a myriad of unpleasant symptoms, such as itchiness, flaky or cracked skin and redness. No one wants their fun trip ruined because of a foot infection.

However, rest assured that even completely closed designs have their own ways of providing maximum ventilation.

The secret is in the material. A good, breathable design is made out of lightweight, porous material which doesn't stop air from freely circulating. This can be some type of a mesh fabric, canvas, or even genuine leather, which is highly regarded as a go-to material for ensuring a healthy foot climate.

Furthermore, you can also look for camp shoes which have cut-outs in them. Again, keeping in mind the protection factor, there are also footwear designs which have perforations, slits or even entire holes in their uppers, to amp up that breathability. Just because your child is wearing a sneaker or a boot doesn't mean that they can't enjoy hours and hours of fun activities in high summer temperatures in their camp shoes.
Water Resistance
It might not be a rule, but summer camps usually involve some type of water activities. Whether it is by a pool, a pond or a lake, or maybe even a shallow, babbling brook, being by the water is an excellent way to cool down in the sweltering heat. Children can swim, splash around, feed the ducks if there are any; they can learn how to fish, how to row a boat, can find out more about the wonders of freshwater life.

All of this requires a camp shoe which has a certain level of water resistance. Now, there is a difference in how the camp shoe designs in our list interact with water - some of them are water-friendly, and others are completely waterproof. Let us explain this small, but important distinction.

Water-friendly camp shoes, as we call them, don't keep the feet dry. In fact, they can get wet, and they may even allow water to pass through inside the shoe. But they are built to withstand these wet conditions. Their materials are quick-drying, and they won't stretch out or lose shape after a run along the river.

Waterproof camp shoes, on the other hand, keep the water out. These are usually boots and specially covered sneakers, which keep your child's feet dry and moisture-free inside. There are different ways to go about this, from leather materials impregnated with waterproof formulas, special PU covers to seam-seal membranes. Technologies vary, but the end result is the same - a camp shoe which protects the feet from getting wet.

Which one you will choose out of these two types of water resistant footwear is entirely up to you. Keep in mind that camp shoes which are waterproof are usually more hard-wearing, designed for hikes and wading streams, while the water-friendly camp shoes are more lightweight, meant for light activity on safe terrain.
Ease of Use
Finally, the last, but no less important section here is how easy the camp shoe is to use. And by how easy we mean, how easy for your young one. After all, you won't be there to help them dress every morning, and while there is no shortage of adults at a summer camp, your child will have to be able to put on their own camp shoes and take them off whenever they feel like it.

So we also took into account the simplicity of getting in and out of each camp shoe, whether it has complicated lacing systems, and how time-consuming it is to fasten on.

If your child is not all that familiar with tying shoelaces, then look into camp shoes which have so-called bungee toggle systems on them. These require nothing more than a quick adjustment of a plastic clasp-type closure, which can loosen the fit or tighten it to however it suits best.

Additionally, velcro straps are also a great way to secure a design, easy and simple to use, however, they may not be enough by themselves. If your young one tends to lose their camp shoes along the way, go for designs which have double closures, such as velcro and laces, or velcro and the toggle system, for extra security.
10 Best Camp Shoes
1

. Merrell Hydro Choprock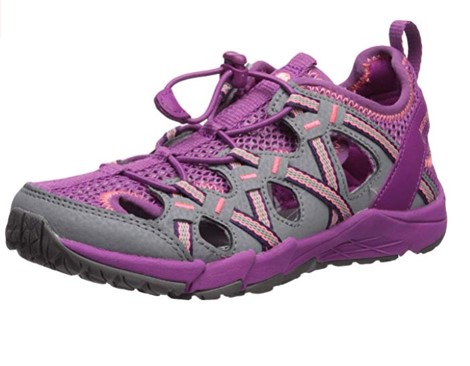 This kid's sandal packs a punch for a full day at camp of running, water adventures, hiking and more! Made from breathable materials, it will help keep your little one cooler in the summer heat, and this camp shoe's protective sandal design allows them to explore safely. With an easy on toggle closure, the Hydro Choprock is ideal for those less fond of laces!
Molded EVA footbed was designed for superior cushion throughout their play day, keeping them comfortable through activities. Should camp head inside, the Hydro Choprock has a non-marking outsole to prevent any marks on indoor courts for rainy day activities. Merrell Select GRIP helps with keeping traction, even on wet surfaces.
Toggle closure allows a simple on/off fit for your little one, without fussing over lacing. With its open design, mesh and leather uppers, it's perfect for creek walking while keeping feet protected. Durable for wear and tear encountered at camp, this camp shoes is a sure win!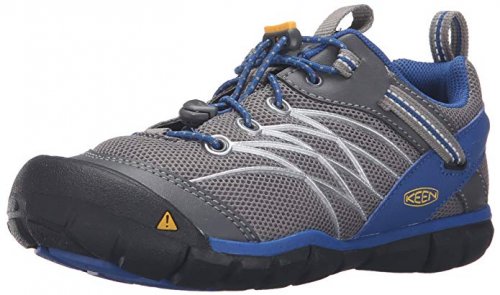 The Keen Chandler CNX looks exactly like the type of camp shoe we want our young ones to wear when they're going on outdoor adventures - solid, rugged and reliable, to protect the feet from thumps and punctures as well as from water, mud, sand, dust and other unfavorable elements.
The Chandler CNX is a streamlined sneaker with a quick-drying mesh upper that is porous and thus highly breathable. It has an easy lacing system for security, and a multi-directional pattern outsole for increased traction. It is lightweight and undeniably comfortable with its contoured arch for midfoot support.

What sets the Chandler CNX apart from other camp shoes in this guide is the CNX bit. Keen footwear which belongs to this collection weighs no more than 10 oz. per shoe, and yet still retains the same level of protection. "Addition by subtraction," as the brand calls it, provides the feet with the ultimate carefree lightness without sacrificing safety.

We can't find a camp shoe which is more high-tech than the Keen Chandler CNX. It is fiercely focused on the comfort and protection of your child's feet, allowing them to move about without any restrictions and ensuring that they get the ultimate camp experience.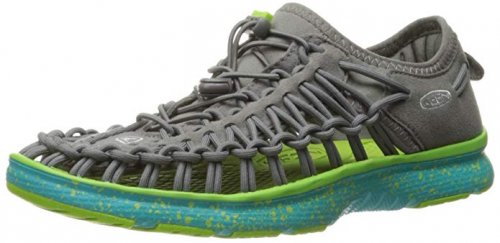 The Keen Uneek O2 is the ultimate camp shoe because it provides them with sneaker-like support and clog-like breathability. This uniquely designed closed-toe option has an upper constructed out of chords which mold to the shape of the foot for a touch of tailored comfort, and a fully enclosed heel with quick-dry lining.
The Uneek O2 features what the brand calls a Metatomical footbed. It is, in fact, an entire support system that is anatomically engineered to provide exceptional arch support and cradle the natural contours of the foot.

Not only that, but this colorful camp shoe also comes with Cleansport NXT, which is a formula for odor control that works in a most unusual way. Namely, this substance binds selected, 'good' microbes to the fabric of the design, which then proceed to break down other microbes which are responsible for causing bad odor ('bad' microbes). This is a naturally occuring, invisible way of reducing unpleasant smells which is safe for both consumers and the environment.

We are taken not only but the countless of advanced technologies the Uneek O2 offers, but also the playful, vibrant style it has. We're sure that your child will love running around in this camp shoe, being comfortable and safe as they explore the wonders of nature around them.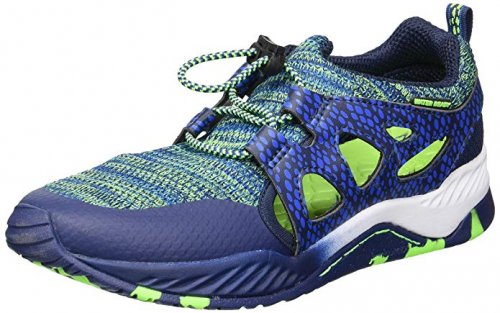 The Jambu Anthozoa is just the kind of camp shoe your child needs for an entire day of running around and enjoying their favorite activities. This sneaker has an upper made out of quick-drying mesh materials and with unique cutouts in the sides which give the design a spacey, almost alien-like look.
Water Ready technology features water drainage ports and materials which resist the penetration of water, making them fast to dry out. There is also an All Terra Traction outsole on the bottom of the Anthozoa, non-marking and made out of partially recycled compressed rubber for superior traction and durability.

The Anthozoa provides that closed-toe construction which is required for safe game time, as well as an adjustable bungee lacing closure with an easy toggle system. Its removable, machine washable midsole helps keep the sneaker fresh at all times.

It is difficult not to fall in love with this hybrid knitted sneaker. This camp shoe features all the hallmarks of a great camp shoe, one that your child will undoubtedly enjoy wearing until they grow out of it.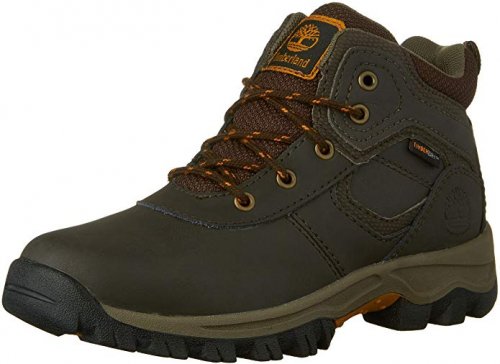 The Timberland Mt Maddsen did not come here to play. This badass leather hiking boot will take on any type of terrain and conquer it without a problem, largely due to all the innovative, outdoor-proof technologies Timberland has infused into the design.
We can start with the Timber-Dry waterproof membrane and linings which are made from 50% PET (recycled plastic bottles). They keep your feet dry even in the wettest of environments, along with the leather of the upper which is impregnated with waterproof qualities during the tanning process.

There is a B. S. F. P. motion efficiency system, an acronym for braking, supporting, flexing and propelling, all motions which the foot goes through when taking a step. This technology eases the way forward, creating a curved centerline of pressure inside the design thanks to which this system delivers improved traction and long-wearing performance.

Not only that, but the Mt Maddsen also comes with Anti-Fatigue technology built into the midsole that ensures excellent standing comfort, shock absorption and energy return all day long.

These are just a few of the many features the Mt Maddsen has in store for those who are serious about discovering new paths, not least of which are a fully padded tongue, an internal TPU shank for torsional rigidity and a recycled rubber outsole. At the end of the day, one has to experience this Timberland design for themselves to truly believe the unprecedented quality that is this camp shoe.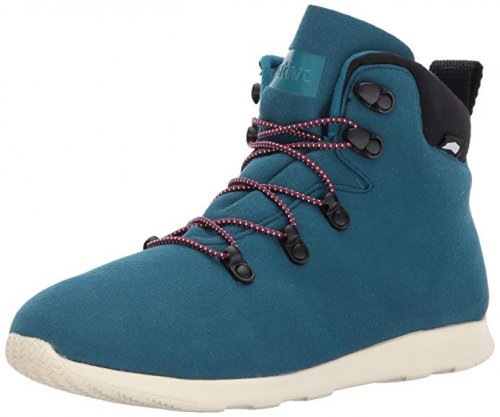 Native is a brand which pays special attention to the environment and sustainability. Their designs are, apart from having that modern street appeal and being ridiculously comfortable, also entirely beast-free. Naturally, the same is true for the AP Apex camp shoe as well.
This hiking boot is built on a sawtooth rubber outsole which is as sturdy as it gets, and it keeps the wearer on their feet regardless of the terrain and surroundings. The upper is constructed out of coated PU and there is a microfiber tongue for extra comfort.

When it comes to water protection, the AP Apex utilizes what is called a Defender Repellent System with a Scotchguard to effectively keep your feet dry in wet conditions. Furthermore, metal eyelets add sturdiness to the lacing system in the front, while a Superfoam perforated insole insures both cushioned support and breathability.

The AP Apex is not a rugged boot built to last in the most extreme of conditions, but it is good enough to keep your child's toes warm and dry, and to ensure they don't lose their balance regardless of the surface they're taking on. It is also a very stylish camp shoe, thanks to its vivid color and urban aesthetic, which will make them one cool cat on any occasion!

7

. Columbia Youth Newton Ridge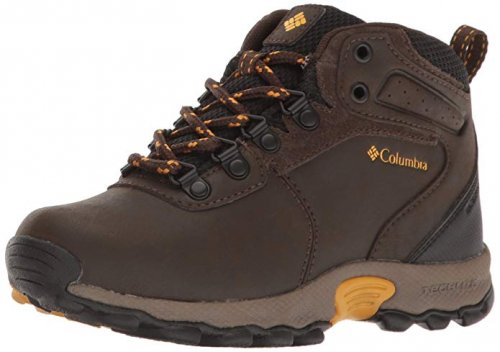 From Columbia, a footwear manufacturer which specializes in outdoor wear and which has over 80 years of experience in keeping you safe and protected in the great outdoors, comes the Youth Newton Ridge design. This is a hiking boot built to withstand anything from muddy trails to snowy terrain.
Its waterproof levels are out of this world, as it comes with a waterproof PU coated leather upper with a special seal-seam membrane construction that doesn't allow even for a drop of water to pass through.

In terms of comfort, there is a Techlite midsole for long-lasting support. This lightweight addition to this camp shoe provides cushioning and high energy return on every step so that their feet don't feel fatigue at all, no matter how long they hike for.

Finally, on the bottom of this camp shoe, there is an Omni-Grip non-marking rubber outsole which provides superior traction and keeps your child safe on any type of ground.

The rugged, sturdy construction of the Youth Newton Ridge is bound to protect your their feet from any hazards they might run into on the trails, and you can rest easy knowing that your child is in good hands on their camping trip.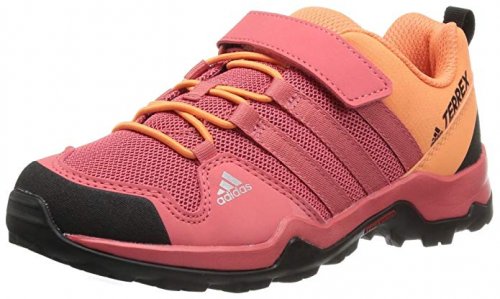 This guide wouldn't be complete without one of the biggest sportswear manufacturers in the worlds right now - Adidas. Of course that this brand has a sneaker for pretty much any occasion, and hiking, or outdoor play, is no different. The Adidas Terrex AX2 CF is an adventure-approved camp shoe design which comes with a mesh and textile combination upper for maximum security and breathability.
It has a hook-and-loop closure system as well as a pull tab in the back which allow for an easy on and off, especially for those who may have not yet mastered the art of shoelaces. A lightweight EVA midsole provides cushioned comfort, while a Traxion lugged outsole ensures grip on various surfaces. The rubber toe-guard is there to ensure that no toes are harmed during an outdoor quest.

The Adidas Terrex AX2 CF comes in a variety of cool color combinations for all tastes, and its streamlined, sporty design makes it suitable for wearing to school as well. While its relatively low water resistance may leave some things to be desired, it is an excellent camp shoe for dry conditions.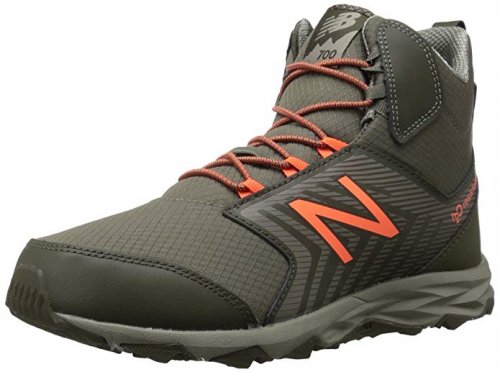 Every little explorer needs a reliable, supportive camp shoe to keep them company on their most daring expeditions. The New Balance 700v1 mid-top is exactly the kind of camp shoe they will love to spend time in as they take on the daily camp activities.
This is a sneaker, for the lack of a better word, but not your ordinary one. Its upper is constructed out of rip-stop nylon, making it insanely durable. This camp shoe will definitely not fall apart before your child grows out of it. In addition to that, the nylon upper is also water resistant, and keeps feet dry and comfortable no matter how much stream-wading is happening.

The mid-top silhouette of the 700v1 makes sure that your child's ankles are supported. You don't have to worry about twists or sprains, as this solid construction will keep the joint in place, thus reducing the risk of injury.

The New Balance 700v1 is not only practical in many ways, and a great camp shoe option for going on an outdoor adventure, but it also has that smart style which makes it appropriate for the classroom as well. There is very little your child won't be able to do in these amazing sneakers.

10

. Skechers Spirit Sprintz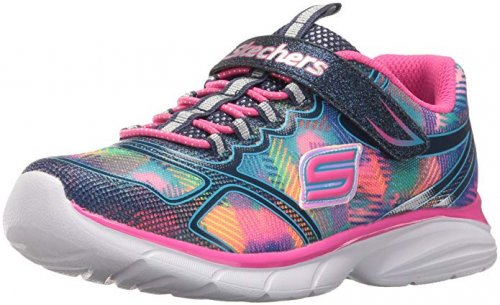 What color! What show-stopping glitter! The Skechers Spirit Sprintz don't leave anyone indifferent as they boldly embrace the playful, child-like spirit and present it in a whirlwind of shades, complete with sparkles and light-reflecting elements. These sneaker camp shoes are made with a soft, woven mesh fabric upper which gently hugs the foot and allows for air to pass through the design for much-needed breathability.
It has a bungee laced closure system that is easy to use, along with a velcro strap at the top. This dual closure improves the security of the design, helping your their foot stay in place regardless of the type of activity.

For comfort there is a padded collar and tongue for extra cushioning, as well as a shock-absorbing midsole which eases the strain off of the joints. A flexible, non-marking outsole moves along with the foot, providing a good balance and ensuring a healthy, natural gait.

While the Skechers Sprintz may not be the most protective, or most water resistant design on our camp shoe list, it is undeniably irresistible. It will keep your child comfortable and breezy, while at the same time putting a smile on their face every time they catch a twinkle of that sparkly color.

Subscribe to our Newsletter