What Are Vegan Shoes?
What Are Vegan Shoes?
www.walkjogrun.net
Many people have no idea that being vegan is about more than just diet. Whereas a plant-based diet means you avoid any meat, dairy, eggs, or other animal-derived products in your food, being vegan means avoiding these items in all areas of your life. Even your shoes can be vegan.
But what are vegan shoes? What does it even mean? Vegan shoes are made without the use of any animal products. With concerns over global warming, eco shoes (like vegan shoes) are growing in popularity compared to the less environmentally friendly animal-derived shoes.
Although vegan shoes aren't without their own carbon footprint, generally, vegan shoes are considered to have a smaller carbon footprint.
If you want to know more about vegan fashion, keep on reading.
What is vegan footwear made of?
Vegan shoes omit any animal products, including those tested on animals. Any product not tested on animals, including vegan leather boots, are easy to identify with a cruelty-free label.
Shoe materials often used in shoemaking aren't cruelty-free, including wool, fur, leather, and some glues. You're probably wondering what the heck vegan shoes are made from then.
You'll be glad to know the comfort, quality, and durability of vegan sandals, sneakers, boots, and shoes have massively improved over the decades.
Not only are synthetic leathers commonly used in all types of vegan footwear, but other materials include high-quality synthetic microfibers, canvas fabrics, faux-leather products, virgin and recycled rubber, polyurethane leather (PU), and flexible ethylene vinyl acetate (EVA).
How do I know if my shoes are vegan?
Due to clear labeling, it's pretty easy to answer 'what are vegan shoes' or to pinpoint the vegan shoe brands or vegan shoe materials.
But sometimes, it can help you know what shoe materials aren't vegan. For example, brands are often very proud to label their shoes as 'genuine leather', which you should avoid if you're looking for a vegan shoe brand.
Genuine leather products are usually indicated by a clear label, tag, or some other indicator of their animal skin origin. Therefore, vegans should steer clear of these non-vegan materials.
Also, look out for shoes with little symbols to determine vegan shoes. For example, a symbol similar to a cow-hide would suggest those shoes are made from animal skin.
In contrast, look out for a diamond-shaped or net-like symbol, indicating artificial materials.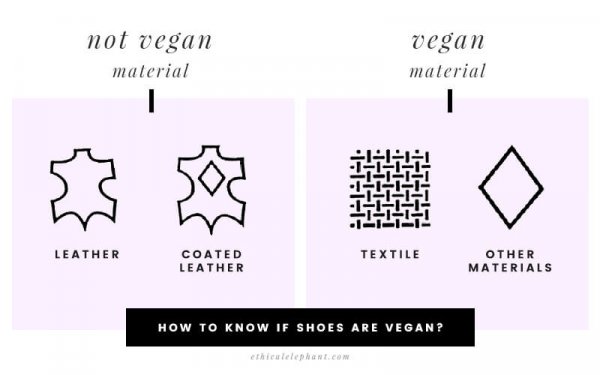 What are vegan shoe brands?
More and more new vegan shoe brands launch yearly, which is excellent for all the vegans and eco-friendly folk. So whether your wardrobe is after an injection of fresh style in the form of vegan boots or eco-friendly shoes, you should find it easy to find a brand that can satisfy your vegan shoe needs.
Whether you need vegan sneakers, hiking boots, or high heels, many companies are getting on board with the need for more vegan shoes on the market today.
However, not specifically vegan brands, popular and quality mainstream footwear brands like Adidas, Nike, and Reebok all have their popular collections of vegan sneakers.
A simple check of the Peta website also shows plenty of other fashion industry vegan shoe brands. This ever-growing list includes Vans, Toms, New Balance, Veerah, Native Shoes, and PAWJ.
So whether you're looking for climbing or hiking boots, sneakers, sandals, or simple walking shoes, you can easily find durable, sustainable, and vegan shoes without ever sacrificing style.
Does synthetic mean vegan?
The modern world has brought us a wealth of advancements in materials and shoes, meaning synthetic fabrics allow for more vegan shoe options, higher performance, and more fashionable footwear choices.
Synthetic, manufactured vegan shoes have been a huge part of shoemaking for years and years. However, they are not always the best options for vegan shoes. Some of the synthetic materials used for vegan shoes can be toxic or have their own carbon footprint on the environment.
Luckily, the modern world means we no longer need to rely on heavily toxic petroleum-based faux leathers like PVC or the slightly less harmful but not ideal polyurethane (PU).
Although vegan, these materials use toxic chemicals in production, harming workers and close-by communities. What's more, these materials are not biodegradable and release toxins in landfills for many years to come.
The good news is there's no need to rely on these less sustainable and more harmful materials. Nor do we need to rely on plastic or animal skins for our clothes.
So when you ask yourself now what vegan shoes are, remember there are so many more natural, sustainable, and more eco-friendly vegan shoes and vegan boots.
Is suede vegan?
I'm sorry to say that no, suede in its natural form is not vegan. Suede is a form of unfinished leather taken from the inside of the animal hide. But you'll be happy to hear that you can buy faux suede (resembling natural suede leather) or microsuede.
Microsuede is a soft, vegan and animal-friendly material comprised of millions of fine polyester fibers.
Do vegan leather shoes last?
Vegan leather is animal-free; instead, it's made from plastic that bonds to a cotton backing. This material is called polyurethane (PU). Vegan leather is not only a sustainable and fashionable form of vegan shoes, vegan sneakers, and vegan boots, but they're also pretty durable.
Although vegan shoes are not as durable as natural leather, which can last you anywhere up to 15 years, vegan leather can still last you a good three to four years. So perhaps make sure not to use your vegan leather boots in terrible weather to make sure they last longer.
What you have to think is what you might lose in durability; you make up for the knowledge that you're doing your bit to reduce the environmental impact by buying more sustainable shoes.
But don't think you won't get all the style and comfort you need with plenty of vegan shoe options available in stores and online.
Most Read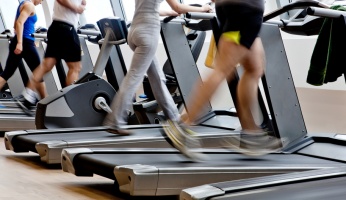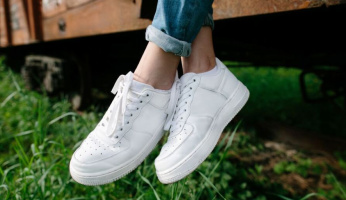 Subscribe to our Newsletter