Best Burberry Shoes Reviewed & Rated
In a Hurry? Editors choice: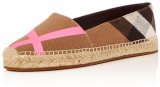 Test Winner: Hodgeson

Founded by Thomas Burberry in 1856 in the United Kingdom, Burberry shoes has been able to leave a remarkable touch in the fashion world. Ever since, Burberry shoes is providing unique pieces of footwear, designed with love and made for the people that are remaining to the classic and refined style. There is hardly a brand which is more synonymous with minimalistic luxury, with such polished wealth as Burberry shoes. If you are taken by this effortlessly refined brand and its products that are unlike any other on the market, then we are here to help you elevate your looks with a pair of gorgeous Burberry shoes. After looking through hundreds of options, we have arrived at this list of top ten designs to complete your chic, sophisticated aesthetic.
Standout Picks
Criteria Used for Evaluation
Style
When you think 'Burberry', you inevitably also think 'style'. It is impossible not to associate this classic, high-end brand with creme de la creme of the fashion world, with polished runways and impeccable outfits.

It is no wonder then, that we chose this category as one of the most important when evaluating items from our list. After all, the entire point of Burberry apparel and Burberry shoes is to identify you as someone who has refined taste and a sense of timeless grace when it comes to their fashion choices.

In this guide, we have some gleaming, fancy options, but also those which are more suitable for everyday wear. And this is why we invite you to consider the occasion you are going to wear these new Burberry shoes in. If it's just a casual thing, such as running errands, or strolling around the neighborhood or taking your dogs out for a walk, or if this is maybe a classier occasion, a workplace event or a cocktail party, where you have to look presentable and put your best foot forward.

It is always good to bear in mind when casual is appropriate and when it is not. If you are working in an office without a dress code - or with the bare minimum of one - then sneakers are a-okay. (Flip-flops, however, are not, in any circumstance, suitable for the workplace.) However, if you are required to be more business casual, than a nice dress sneaker, or maybe an oxford or a low heel would fit better.

For particularly important galas and events, such as black-tie gatherings, wedding receptions and similar, dress shoes and gleaming high heels are practically a must. Fortunately, you'll have several options and styles from Burberry shoes which can suit any occasion.
Comfort
Are you a person who wouldn't be caught dead out of their favorite pair of sneakers? Are you perhaps someone who thinks life is too short not to sashay around in heels? Or are you simply somewhere in the middle - a person who enjoys flat footwear in their leisure time, but prefers something taller, more attention-grabbing at the office or at a party?

Well, these are all questions that you should ask yourself when looking for new Burberry shoes.

Flat designs have a myriad of benefits. For starters, they are comfortable to wear, as they don't put your foot in an unnatural position. They can have cushioned, molded footbeds, as well as arch support and even more room so you can insert your own orthotics. In flat shoes, such as sneakers, ballerina flats, sandals, you can expect to last an entire day and even night of walking around without feeling even a twinge of pain.

However, as we are known to caution, there is such a thing as footwear which is too flat. If you wear flat styles which don't have any support in them whatsoever, you run the risk of developing conditions such as fallen arches, or plantar fasciitis. A great way to fix this would be to either not wear such extremely flat shoes for longer periods of time, or to maybe purchase special inserts separately, which will help you add extra padding and contouring to your shoe.

On the other side of this comparison, we have heeled styles. These can be open-toed or closed-toed, high or low, elegant or sensible, absolutely outrageous in design with sparkles or bows and ribbons and dangling charms, or they can be super minimalistic. There are no limits when it comes to heels, and all that you need to know when choosing a pair for you is what kind of aesthetic you are most drawn to. Burberry shoes have several pumps and heels that can suit any taste and compliment many ensembles.

Of course, the matter of heel comfort is another thing entirely. While exceptionally elegant and fabulous in appearance, heels can be quite uncomfortable to wear. If you are expected to spend a longer period of time in them, say, at a wedding reception or on a night out, then it can get painful pretty fast. Heels put too much strain on the front of your foot, and as a result you could end up with some unpleasant ailments, such as hammer toes or bunions.

Fortunately, there are some features that you could look for when hunting for the most comfortable type of heels. These include low heels - up to three inches in height; chunky heels, which are stable and provide a solid foundation; as well as those which have cushioning in the footbed, that softens the impact of your steps and evenly spreads it out along the sole.

While it may sound daunting, to walk around in high heels, if you find just the right design and practice a little bit - there is nothing that should stop you from dancing the night away!
Value
This is quite a common question, isn't it? Are [famous brand name] shoes really worth it? And we can't blame you for asking it, especially in the recent years, when many previously successful labels have been floundering in this unstable economic climate and as a result had to cut down on the quality of their products.

What we can say about Burberry shoes is that the brand goes out of its way to ensure only the best possible materials for its designs. Burberry focuses on premium, full-grain leathers, on luxuriously soft suede and completely waterproof rubbers, as well as some choices which can't be found in other places, such as sheep shearling. Every design in their Burberry shoe collections is carefully envisioned and crafted to be the best version of itself it can be, and we can only applaud such dedication.

Of course, there is always a variation in price between different Burberry shoes, with some of them being quite inexpensive in their footwear category, and others maybe being a bit overpriced, and we did our best to help you decide which one is the most suitable for you and your planned budget.
Breathability
When it comes to footwear, everyone talks about breathability. And indeed, this is a vital aspect, because in a design which lacks breathability your feet will start sweating in a blink of an eye. Other than the fact that this is uncomfortable, it also leads to unpleasant side effects, such as bad odors.

For warmer weather - when it is sticky and humid outside and you need to keep your cool - look for lightweight, breathable designs. This can be any number of sneakers, loafers, ballerina flats. Anything that doesn't weigh you down and makes you feel light and carefree in your steps is a great choice.

Materials that work here should allow for proper air circulation in and out of the shoe in order to prevent sweating. Good choices are canvas, wool, and even thin layered genuine leather. Avoid synthetics, as they have poor moisture-wicking properties and will only lead to discomfort.

Additionally, when one finds themselves in a warm climate, open-toed footwear is the ideal design. Sandals, flip-flops - all of these keep most of your foot exposed, and thus allow you to cool off in sweltering heat. Not only will your toes be happy and wiggling, but these styles also prevent you from catching a bacterial or fungi infection, since those microorganisms love breeding in confined, damp environments.
Versatility
While it is great to buy one pair of Burberry shoes for that special occasion, you have to wonder what happens when the event is over. Do the shoes go back in the closet? Do they collect dust for the next few months, or even years, before another similar event presents itself?

This is definitely something to take into account when you're shopping for new Burberry shoes. After all, if you're spending so much money on one design, you would probably like to have as many opportunities as you can to show it off.

The versatility factor is determined by how well the shoe works in different outfit combinations, and in different situations. Whether or not it can be worn in the workplace, on a date, at a formal gathering, or even at the club; whether it works with jeans and shorts and skirts and dresses alike. The more options you have with a design, the more versatile points it gets. Burberry shoes can be quite versatile when paired correctly with different pieces.
Our Favorites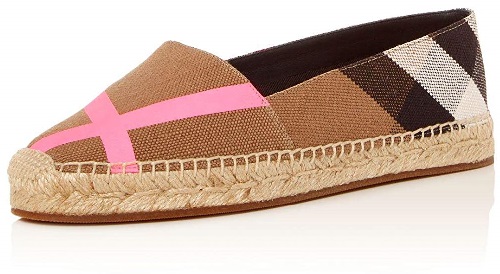 Be prepared to embrace the summer with the lightweight espadrille that is the Hodgeson! This refreshing design reinvents the classic Burberry shoe check by having a touch of pink woven into it. It also has a jute-capped toe, and a jute and rubber sole for that island feel. The upper of the Hodgeson is made from breathable canvas with leather lining, an amazingly lightweight material, one that helps your feet feel light and carefree even when you're not barefoot. It also promotes proper air flow through the design, meaning that in the Hodgeson your feet won't sweat or otherwise develop any bad odors.
There is a bit of padding in the footbed, for an extra dose of comfort. Nothing can stop you from strolling along the beach and enjoying the warm breath of summer in the Hodgeson flat!
 
This is definitely a Burberry shoe which you need come warmer weather, as it will help your feet stay cool and dry and yet still covered up, just in case you're not feeling like exposing your toes that day. A wonderful summer option!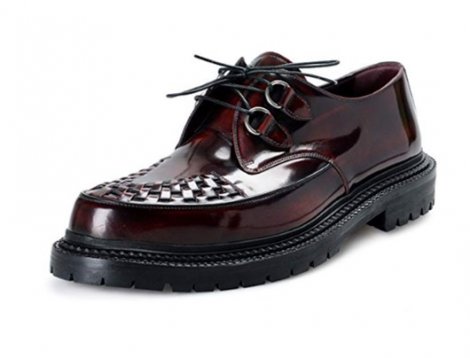 If you're unfamiliar with this shoe style, creepers are a kind of footwear with small platform, square or round toe, and a bit of punk styling. The Brothel Creeper adds some upscale class and sass to regular creeper style, with an interwoven upper, D-ring lace up, and Burberry shoe designer style.
A bright polished leather creates the uppers of the Brothel Creeper, making it an great Burberry shoe for both formal, business, or even an upscale casual style. It's versatile look can be used anywhere when paired with the right pieces! Thick, rubber platform sole measures about one inch, and gives ample support and traction during wear.
Interwoven leather in the uppers gives the toe a textured appeal and look, while still maintaining clean lines. Rounded toe gives a more roomy fit, while D ring lace up gives this pair an edgy feel and flair. Perfect for those in search of a Burberry shoe that's a little more daring!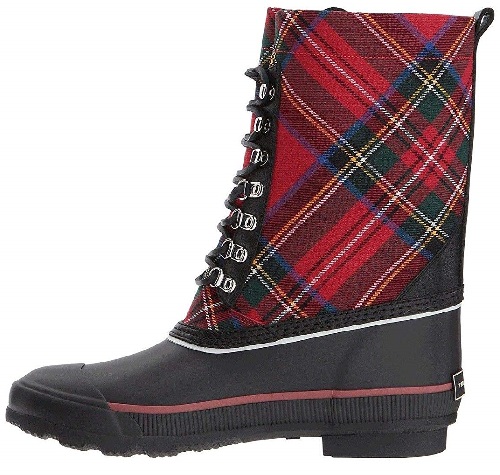 If you don't want to part from your favorite fashion brand but need something practical and water-resistant to step out into a rainy day, then the Rowlette is a perfect choice! This Burberry shoe is a part-rubber, part-textile design, with the rubber extending up over the entirety of your foot for that protection against wet conditions. The textile part bears a stylish plaid print and has a solid lace-up closure at the front. While this closure offers adjustability, you will be pleased to know that the fit doesn't need to be adjusted at all! The shaft of this mid-calf boot is quite wide, meaning that it accommodates calves of all sizes, thick or thin.
The inside of the Rowlette is especially comfortable with its cushioned footbed so that you don't have to worry about foot fatigue as you brave the cold, rainy weather.
 
The most important feature for a rain boot is to keep your feet dry, and the Rowlette does exactly that. It doesn't matter how long you spend trudging around in unfavorable weather, your feet and your socks will always stay wonderfully dry and toasty inside this Burberry shoe.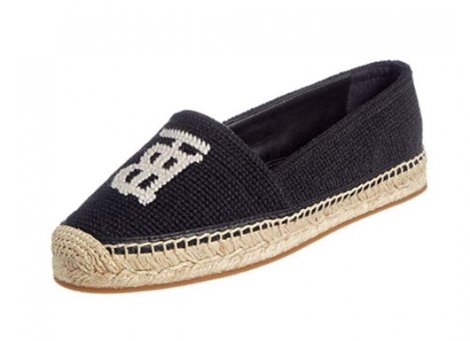 If you're a fan of Burberry's monogram, this pair is definitely for you! A relax appeal is demonstrated with this espadrille, bringing images of vacation and beach going into the forefront of your mind with one look. A comfortable flat, with breathable fabric uppers, give this Burberry shoe a relaxed fit and feel, perfect for summertime.
At the bottom of this Burberry shoe is a soft comfortable jute outsole, with rubber sole for traction and grip containing the Burberry name printed at the base. A soft and smooth insole made from leather gives durability and comfort for extended periods of wear, and a roomy round toe allows for proper toe splay and comfortable fit.
Uppers are created from black and white fabric, giving the espadrille a breathable element for warmer weather wear. Monogram logo dons the front top of the shoe, commanding attention and notice from onlookers. Perfect for Burberry lovers and warm weather!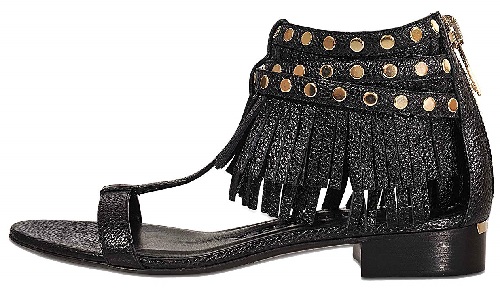 If you are looking for a sandal which is more urban than beach-like, and which will help you endure the heat of city streets during the summer - then look no further than the Abercorn! This Burberry shoe is a beautifully stylish sandal made from genuine pebbled leather. It has an ankle strap with studs and a fringe trim, as well as a T-strap design. The T-strap lends itself to the cool, festival-like style of the sandal, but it also serves a purpose. Mainly, this strap helps keep your foot in place inside the sandal and prevents it from sliding forward, as well as your toes from falling over the front edge of the design.
The stacked heel of the Abercorn is a comfortable one inch in height, and there is a zipper in the back of the design which helps you slide inside the design without any difficulty. The Abercorn is also amazingly comfortable to walk in, as it comes with a padded footbed.
 
This is a fashion-forward Burberry shoe that is a lot of fun to wear with its fringe detailing, and you will definitely have the time of your life wearing it!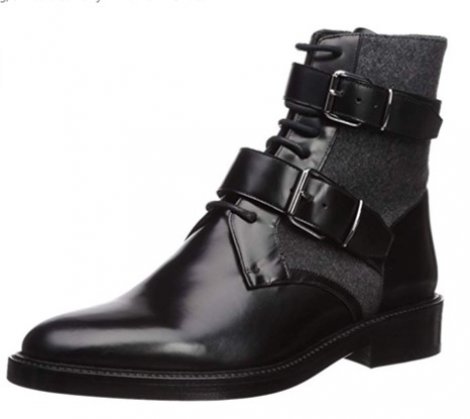 This fun, unique pair of Burberry shoes mixes together a few different materials to give a textured look, and has a very different closure system that allows both and adjustable fit as well as style element. The Haldworth is a great option for showing of your unique sense of fashion at work or during casual events or outings.
Leather sole adorns the base of the Haldworth, making it durable with ample traction. Stacked heel gives a one inch lift along with a quarter inch platform, giving comfort and stability to the boot. Leather and fabric uppers create a mixed textured look, and add an element of breathability.
Closure on the Haldworth is a lace up system, allowing adjustability in the fit. In addition, two leather straps buckle across the top of the foot and ankle, to help with fit, but also give an added style element. High top boot design allows for some ankle stability as well. This Burberry shoe is perfect for the office, or a day out on the town with friends!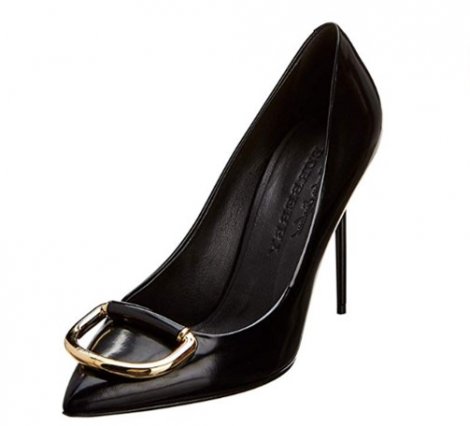 This great looking pump is perfect for adding a sophisticated yet clean style element to work attire, or more formal outfits. A slim, sexy stiletto heel raises 4 inches high, giving ample height and stature to your look. And for a statement, the large hardware D-ring gives this pump it's flashy two tone style and bling. It's a classier Burberry shoe for those who demand impeccable taste.
Created from supple leather, this Burberry shoe has a leather sole as well. Lightly padded insole inside the shoe is also made from soft leather to give a luxurious on-foot feel. With this kind of quality craftsmanship, one can expect this pump to be durable for extended wear and daily use. A slightly almond shaped toe gives a bit of structure and length to the pump.
Large D-ring accessory on the toe of the pump creates a unique aesthetic, bringing some bright hardware shining to the forefront of its style. It's a perfect pump for work occasions, or any event where you need some sophistication in your footwear. You'll be strutting in high fashion style with this pump on your feet!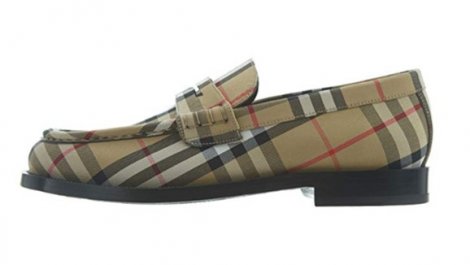 This Burberry loafer dons the brand's patented check pattern, perfect for business attire for more formal occasions. Uppers are made with a breathable fabric, keeping them comfortable for heated weather. If you're looking for something a bit more posh for work wear, consider this pair of Burberry shoes!
Burberry logo is found at the base of the shoe, imprinted in the sole. A slightly stacked heel gives some confidence to your step, and easy slip on loafer styling makes them a breeze to step out of after a long day at the office. Quality stitching lines the entirety of the shoe.
Burberry pattern encompasses the fabric uppers of the Moore Aciua. Materials make this breathable and lighter weight that typical leather. Made to last, it's durable and fashionable, exactly what we expect from the brand! If you're looking for a penny loafer that shows off a designer fashion, look no further!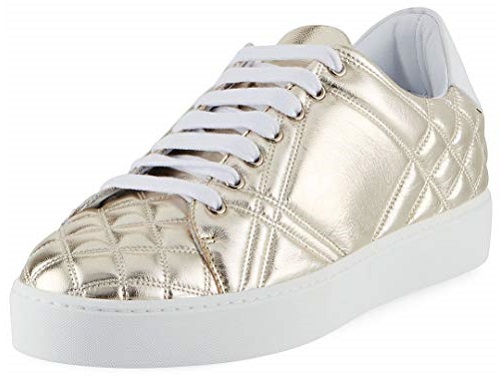 The classic low-top sneaker silhouette just got a glam makeover with the Westford! Instead of going the sporty, practical route, Burberry went for a more attention-grabbing metallic design. We understand that such a bright, eye-catching color is not for everyone, but you can't deny that the metallic shine of the Westford simply calls for attention. It is not only wonderfully glowing, but it is also considered similar to a neutral color, which works well in any color combination!
This Burberry shoe comes with a check-quilted leather upper, a comfortable lace-up closure at the front, as well as a one-inch platform sole. It has a padded footbed, an easy to wear round-toe silhouette, and a rubber outsole.
 
You may not run or perform any athletic activities in the Westford, but you will want to be comfortable. You may even expect to be able to cover long distances as you go about your day in the city. Fortunately, Westford's padded footbed represents just the right amount of cushioning and support that you need to avoid any pain or discomfort while you walk around.
 
While it may not be for actual sports, the Westford is still one extravagant lifestyle sneaker that will turn all of your casual outfits into chic affairs!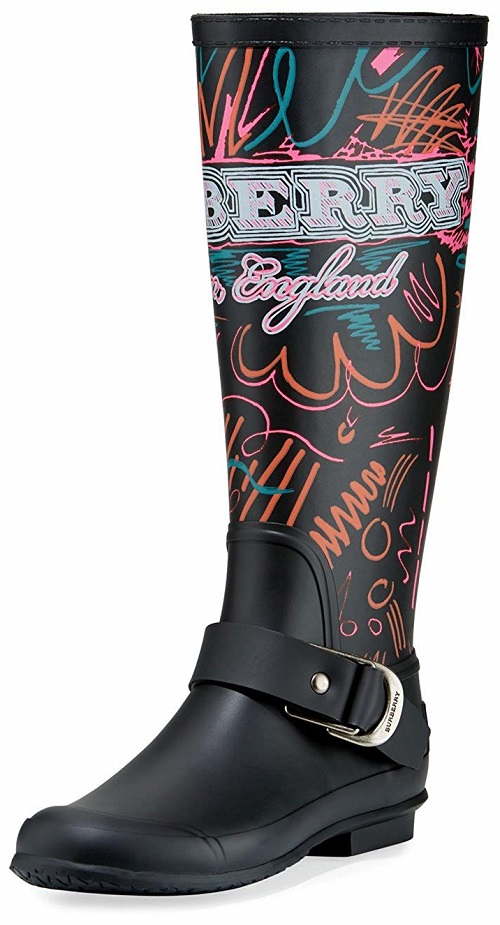 We are taking a break from the timeless Burberry check print and diving into something trendier, more playful and unorthodox. The Pipfield is a standard rain boot design which goes up to mid-calf, entirely fashioned out of rubber. This means that it protects not only your feet but also your legs from wet conditions. It is also effective against mud and provides ample slip-resistance on different types of challenging terrain you might find yourself on.
The upper part is covered in what can only be described as chalk doodles all over. There are fun swirls and lines in different colors, as well as the inevitable brand name in large letters across the front. While we are used to more classically elegant designs from this brand name, we find the Pipfield boot refreshingly silly in appearance.
 
That is not to say that this Burberry shoe is immature or childish in any way. We just love how this boot offers you a chance to best express yourself through your style, while still looking quite on trend!
 
The Pipfield look is completed with a decorative strap across the foot, a buckle accent, and a round-toe silhouette. Dare to infuse your style with a little bit of whimsy in this gorgeous slip-on rain boot!

Subscribe to our Newsletter