Best Creepers Shoes Reviewed & Rated
In a Hurry? Editors choice: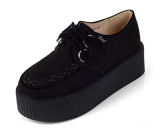 Test Winner: RoseG Handmade

Do you live life on the rebellious side? If so, then brothel creepers are a must-have piece of apparel! Also known as Creepers, this style of shoe has seen its share of ups and downs in popularity since the 1940s when the British soldiers returned from overseas wearing crepe-soled desert boots.

When the 1970s came along, creepers were reborn as the mark of the rebellious and became an amulet to the punk rock subculture. Wearing a pair of these was a means of expression and an outlet for individuals whose sense of style was anything but "mainstream." In the decades to follow, creepers have proven they're here to stay and have earned their inherent place in the fashion hall of fame.
Standout Picks
Criteria Used for Evaluation
Style
The most commonly seen styles of brothel creepers are sneakers and boots.
With the boots, they range in height from the ankle to above the knee and come in many variations of platform heels and soles. The most commonly seen platforms are usually between two to four inches tall.
Creeper sneakers are generally the same height and offer the same styles as with the boots, only their upper is modeled after an athletic type of sneaker. This kind is much more versatile and can be worn for most occasions with ease.
Of course, the defining feature of this style is the fact that the sole of the design is flat and yet thick, so that you get a boost in height without any of the discomfort. This might make some of the options a little bulky, a little heavy to wear, but the majority of this type of footwear is still quite comfy to wear for longer periods of time.
Just be careful of the truly weighted shoes, as they can cause problems with your joints and legs if worn day in and day out.
In terms of color, creepers can be found in just about any print, though plaids and animal prints are among the most popular. Plaids, in particular, are very in demand with this look and are usually green or red, though there are yellows, oranges, and even greys available too.
Materials
One of the most commonly seen materials in this type of footwear is leather. This is an excellent option because it's durable, comfortable and breathable. Leather has the ability to let air freely circulate in and out of the shoe, and it changes shape over time. It molds to the forms of your foot, providing you with a tailored type of comfort.
Suede, as a plush type of leather, is a popular choice of upper material based on its luxurious finish. It's also good for keeping you cooler and preventing a build-up of sweat.
Materials that are also popular are canvas and fabric, which are great for warm weather. These are lightweight and breathable, and quite soft on the skin. The downside to canvas and fabric is that they fray easily, and don't last as long as natural leathers.
Lastly, we arrive at the notion of synthetic leathers. While these materials are certainly inexpensive and animal-friendly, they don't perform as well as other material options. Faux leather tends to crack and split, and it doesn't allow as much ventilation as the natural versions. It is also not as comfortable, as it can be quite stiff and unyielding at times.
Accessories
With this kind of footwear, you're really able to let your own sense of style shine through the many customizations you can make with each pair. Embellishments are a great way to add your own flair because you can include things you already have at home like patches, emblems, or other trinkets.
Creepers are all about individual expression through style which is why, more often than not, they're decorated.
Rhinestones are huge in the line of footwear which features studs or other styles of stones. Straps can be found along the front upper which are purely for aesthetic reasons and are covered with rhinestones or studs. To express your punk side, definitely go for options which have metallic spikes or studs to them, for an edgier vibe.
Though sometimes the straps also keep your shoes in place by having an adjustable buckle. You would be hard pressed to find a creeper that didn't have at least one distinguishing element about it and so why not take advantage of that? Splurge on your favorite embellished pair, and accept all the compliments with a smile!
Adjustability
When it comes to creeper shoes, there are different types of closures to choose from. Some designs come with no closures on them, while others offer maximum adjustability and fit customization. The three main closures you will find in our list are lace-up and buckle, though there is also a number of simple, slip-on styles.
Traditional laces are common with boots - though you will also find them on shoes - and they offer a great level of customization. With laces, you will complete control over how loose or how tight your shoes fit, and you won't have to worry about either slipping out of them or them being too constricting.
A little less adjustable than laces are buckles. They are usually found on straps - either across the instep or around the ankle - and they offer as many points of adjustment as there are holes on the straps. Of course, in case you feel like you want to tighten the strap even more, you can always add more holes for an even more tailored fit.
Finally, we arrive at slip-on pairs, and these have their good side and their bad side. A benefit to this style is the ease of wear; you can easily slide in and out of the shoe when you're in a hurry, and you don't have to concern yourself with complex closures. A downside is that they have no adjustability to them, and are mostly limited to one or two elastic panels that offer a stretchy fit, if that.
Outsole
Creepers are made using a distinctive outsole material, called crepe rubber. This type of rubber is made from coagulated rubber and is a softer form of this normally hard material. There are different qualities of crepe that are based on grades.
Pale Latex Crepe: This is the highest quality grade that's made from raw field latex.
Estate Brown Crepe: Mid-quality and is most commonly seen.
Smoked Blanket: Also mid-quality and is made from sheets of latex that are processed in a smoker.
Flat Bark Crepe: Is the lowest quality that's made from bits and pieces of other low-quality raw products.
While many of these terms sound technical, you shouldn't concern yourself too much with the type and the material of the outsole. What is important that the outsole is durable and slip-resistant - which most rubber options are - and that it fits the style that you're looking for.
Our Favorites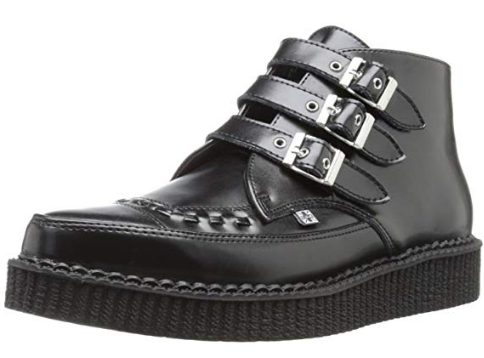 This pair of leather and suede boots has a lightweight synthetic sole that won't weigh you down while you're on the go. Their over-the-ankle height provides stability and supports the ankle to prevent injuries, while their leather upper keeps your feet dry in wet weather.
These T.U.K boots have a soft suede lining that feels great against your skin. Their low 1.5-inch heel makes for a natural stride, while their one-inch rise gives you a perfect amount of added height. A leather upper unit keeps your feet dry during wet weather, which is imperative for a comfortable feel. These T.U.K boots have a strappy design and a three-buckle closure system that keeps them securely in place. Their slightly squared-toe adds a sleek appearance to their silhouette and introduces a dab of class to these rebellious kicks.

Made from genuine leather and featuring a supple suede lining, the T.U.K. A8503 is a quality pair of shoes! For those searching for a sense of rebellion, these are a great choice.

2

. Fashion Thirsty Platform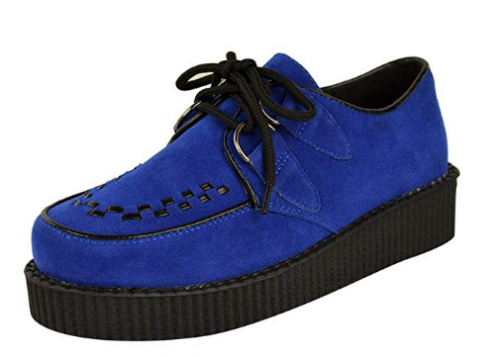 This pair of Fashion Thirsty shoes is made from 100% imitation leather and boasts a 1.5-inch rise. It's available in a range of colors including black suede, royal blue suede, silver hologram, and black faux leather to name a few. Contrast stitching detail along the toe adds distinction while their lace-up style is both an added layer of security and a stylish accessory.
These are just too cool! If you're looking for an alternative option of footwear that strays away from the mainstream, then this is a solid choice for you. These creepers have a 1.5-inch crepe sole and are available in a range of colors. Their imitation leather upper unit is bold and offers a sleek silhouette, while their statement outsole gives them that classic British rocker feel. Fashion Thirsty in notorious for their alternative apparel, including creepers. This brand knows how to make a pair the right way and takes the time to produce quality footwear that's unique in design. Fashion Thirsty designs are the perfect example of a classic style that's evolved with the times but has kept the original idea in motion.

The Fashion Thirsty Platform is available for a reasonable price that is almost as enticing as their comforting feel. This is a quality option that's sure to impress and will keep you coming back for more and more.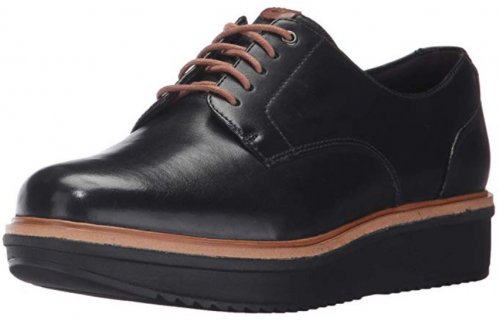 Who says that you can't wear your creepers to work? Who says they can't be polished and sophisticated and yet with all the platform lift you want? The Clarks Teadale Rhea takes the classic silhouette and transforms it into something sleek and elegant, a style that you can wear to the office, to a parent-teacher meeting, even to a casual date with your significant other. A creeper with style!
The Teadale Rhea has a genuine leather upper, smooth and clean on the outside. It is minimal in styling, with a lace-up closure and a sports-like rubber outsole. The inside of the design comes with a leather sockliner for a healthy foot climate and a breezy feeling, and the outsole has a special sawtooth pattern for a great grip on any type of surface. The platform measures just over one inch in height.

If you still want to stay true to your punk aesthetic but need to look put-together for that important business meeting, the Clarks Teadale Rhea is the perfect solution! This design offers a boost in height and enviable comfort, and it will definitely become a staple piece in your wardrobe.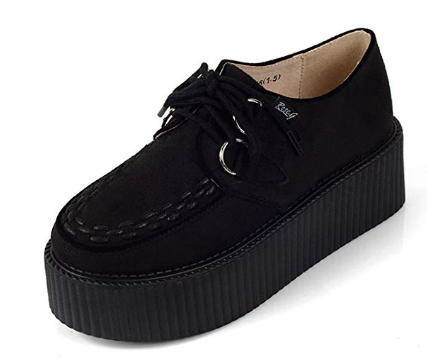 This RoseG model offers a raised platform and an outsole that's both distinctive and bold in design. This pair of fashionable punk style footwear is made from suede. Their leather lining materials pulls moisture away from the skin, preventing a build-up of sweat and odor-causing bacteria for an all-day dry feeling. The Handmade is made for quality wear that's as stylish as it is functional.
The Handmade boasts an impressive two-inch platform that is the perfect height for a stable stride while still giving you that added lift you're looking for. Their leather lining material is ideal due to its moisture-wicking properties and breathable fibers. You won't believe how comfortable your feet feel when you're wearing a pair of these RoseG lace-ups. A suede upper offset by a statement crepe sole makes these a powerful pair of kicks that are ready to carry you wherever your feet might take you. This pair is bold by design and is perfect for individuals looking to add a little edge to their wardrobe.

The Handmade is reasonably priced, though it's more expensive than some of the other choices on the list. If you're on the hunt for a creeper that's unique and offers a distinctive vibe then this is a solid choice to consider.



While this type of footwear is about being outside the norm, about rebelling against the standard and the widespread, we have to cheat a little bit with this particular item. PUMA as a brand is anything but alternative or punk, but their Basket Platform design fits right into the aesthetic of this guide. Inspired by the grunge movement in the '90s, this option has everything we're looking for in a comfy, high-quality creeper.
The Basket Platform has an upper made from suede, for natural softness, breathability, and comfort. The special pattern of this design has its roots in the military and their camouflage patterns, but now it comes with a funky flair! Of course, as all other options on our list, the Basket Platform comes with a thick rubber outsole for that alternative, grunge aesthetic.

If you wish for a design from a reputable brand, which is made of high-quality materials and will make you cool both with the sporty and with the punk crowd - you've found it! The PUMA Basket Platform is the best of both worlds, and you will love pairing it with all of your favorite outfits.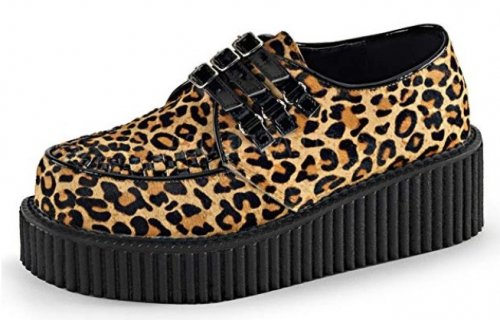 From the verified queen of the alternative style, Demonia, comes the standard creeper design that we all know and love, now with a twist in the form of an animal print. The model 112 is what you need if you want to combine both your love of punk rock and of flashy, bold patterns, and we honestly can't think of a better union. Its three-strap closure and tiny woven details in the front complete this classic rebellious look.
The Demonia Creeper 112 is made from synthetic materials, as all Demonia footwear is. The brand is quite proud of its wide choice of vegan footwear, and, honestly, so are we. Thanks to the three straps across the instep, you will be able to adjust the fit of this design to your liking. The TPR outsole is about 2 inches high, making it a great option for boosting your height and your confidence.

This Demonia style is perfect for all kinds of outfits. Whether you want to match it with your grunge style, or if you're going with something more subdued, such as a flowy sundress and an elegant choker, you definitely won't go wrong with these leopard-print creepers!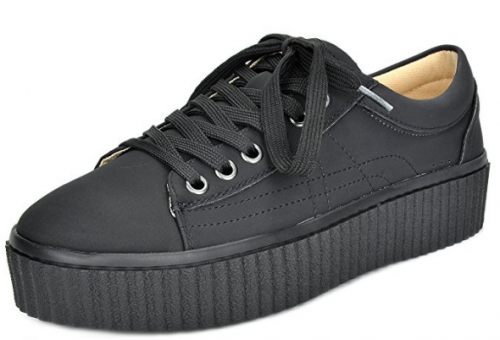 This super-cute pair of sneakers features a solid upper unit and comfortable foot feel. They're designed in the USA and are made from durable man-made materials. The crepe rubber outsole is made to last and offers water-resistant wear that will keep you dry and comfortable throughout the day.
The Reinna has a 1.5-inch rise that allows for a natural stride. They're designed in the USA and are made from lightweight and breathable materials. If you're looking for a pair that's easy to walk in but still gives you some added height, then these are ideal to meet your needs. The Reinna is made to keep you comfy! Their rubber outsole is water-resistant and provides a solid grip on any surface, while their padded footbed provides supple underfoot cushioning. Anyone looking for footwear that's both stylish and versatile will enjoy wearing these.

Toetos Reinna is an affordable pair of kicks that have some serious style! They're one of the cheapest on the list, but they certainly don't lack for comfort or quality. This pair is the perfect option for anyone in need of lower cost footwear that is comfy and versatile.



This pair of T.U.K. sneakers is their original creeper and boasts a leather upper and a matching suede interlace. They have metal D-rings and a signature T.U.K Skull & Bones Sole for a cool look that's always in style. These sneakers have a dual-lacing system that keeps them secure on your feet and that offers a distinct appearance that you'll enjoy.
The AV7270 is made to offer a unique look that never gets old. Their contrast pipe and weave detailing makes for an alluring design while the leather upper unit keeps you cruising in style. Walk proudly in this pair thanks to their patented Skull & Bones Sole and suede interlace material.

These T.U.K sneakers offer a synthetic outsole that provides solid traction on any surface and has a medium-height 1.5-inch platform that makes walking a breeze. Their sole is super lightweight and is made from ethylene vinyl acetate (EVA) with a rubber outsole that provides a flexible structure.

While this pair is more expensive than most of the other choices on the list, they're a worthwhile investment. T.U.K footwear is made using high-quality materials and careful craftsmanship that makes each pair a long-lasting creation.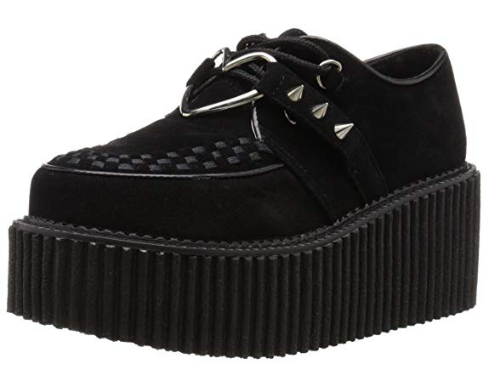 This pair of alternative shoes is for the bad girl at heart! It features spiked studs and a strappy look that meet at a centered heart ring. This pair fits as great as it feels thanks to their comfort-first design. Their ultra-risque silhouette will have you ready for the prowl.
This pair of shoes is made with synthetic materials that are lightweight and breathable for a comfy all-over-foot feel. Their outsole is styled after the crepe sole and provides a stable walking platform that will keep you on your feet for hours on end. These sneakers are ready to creep thanks to their alternative style that's naughty-girl-approved. They feature a 2.75-inch heel and a 1.75-inch platform that provides ample lift while still maintaining a natural foot feel. These vixen shoes are a strappy pair that features edgy spiked rhinestones and a centered heart embellishment.

This pair isn't the cheapest on the list, but it's certainly a great looking and comfortable-wearing choice! If you're looking for a unique style of sneaker that will suit your aesthetic, then these are for you! They're completely comfy and offer a great naughty-but-nice vibe.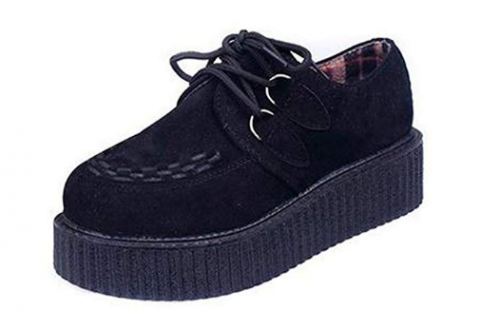 These patent-leather shoes are made with high-quality imported materials. They feature a great design with statement front laces and exaggerated metal eyelets for a unique spin. They're lined with a supple cotton fabric that keeps you walking in total comfort and they're available in your choice of black or red.
This pair is lined with a supple cotton fabric that keeps your feet riding in paradise. This material is great for colder weather and will keep your toes nice and toasty! Their patent leather upper unit offers water-resistance, adding to their appeal during the colder seasons. This pair offers a one-inch crepe rubber outsole that's water-resistant and gives some added height. Their lower rise is ideal for walking with a natural stride while still providing some added lift. This is a versatile choice that is appropriate for almost any occasion and will keep you steady on your feet while you're on the go.

These are very reasonably priced footwear! Anyone who's shopping on a tight budget will fall in love with them. They're very affordable yet offer solid construction and a comforting foot feel.

Subscribe to our Newsletter