Best Demonia Boots & Shoes Reviewed
last updated:
Mar 24, 2021
You have probably never encountered a brand as unique as Demonia. This manufacturer offers footwear - shoes, boots, creepers, sandals and other styles - that is unlike any you have ever seen; footwear that goes against the norm and can only be described as non-conformist. But more than just style, Demonia boots offer comfort and quality that's difficult to find in this type of footwear.
The name of this unorthodox brand was derived from the words 'demonic' and 'diva'. If you wish to step into this world of mysterious, alternative style, one that has its roots in goth, punk, grunge and the occult, then there is no better choice than Demonia boots.
This is the best product on our list that is currently in stock:

Muerto 2028
Why is it better?
Platform Heel
Bone Shapes and Skull Buckles
Spiky Accents
High-quality Materials
Rubber Sole
In a
Hurry? Editors choice:

Test Winner: Muerto 2028

30
Researched Sources
13,000
Reviews Considered
6
Hours Researching
10
Products Evaluated
Heel
Style
Comfort
Materials
Durability
By Default
Top 10 Demonia Boots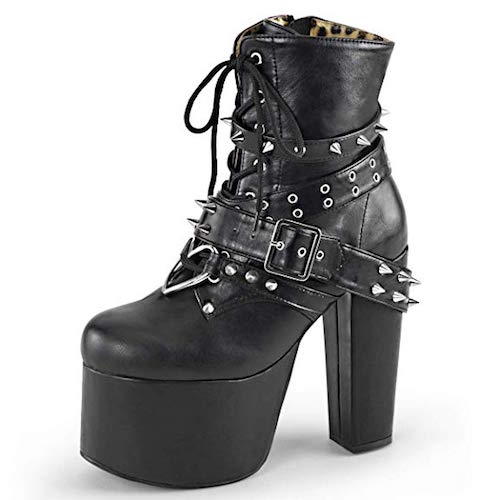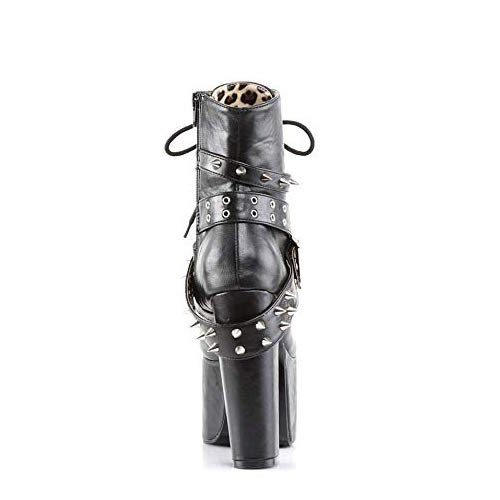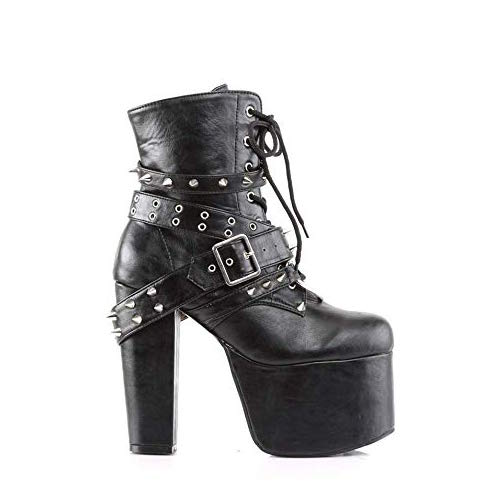 Vegan Leather Upper
Adjustable Studded Straps
Inside Zipper
Leopard Print Lining
5-inch Heel Height
Runs Slightly Large
Lacks Breathability
These black faux leather platforms are anything but subtle. With a design that's made to stand out, thanks to the 2.75-inch platform and 5-inch heel, you'll definitely grab everyone's attention wearing the Torment 700. This pair of ankle boots will look great with a number of outfits, including skirts, dresses, and trousers, and they come in black, which is the most versatile color option you can get. The shaft is approximately 7.5 inches tall, making these a good choice even for those who need a bit of extra support in the ankle area.
The upper of the Torment 700 is made with faux leather which has a number of advantages over the real thing. Firstly, it's cheaper, making this pair of footwear more affordable than similar designs by competing brands. Secondly, it does a great job of keeping you warm, so if you're after something to wear in cold weather conditions, this pair of platform boots may work just great for you. As for durability, faux leather is easy to keep clean and doesn't require too much fuss, polishing or shining.
The details that make the Torment 700 stand out include several studded straps. These straps wrap around the entire boot and can be adjusted through a buckle closure. Underneath is a lacing system, but no worries - you won't have to do it up every time you wear these. You can just use the zipper found on the inside of each boot. Other notable features include a chunky heel that's very stable when paired with the platform, as well as a leopard print lining that gives these a very subtle pop of color.
In terms of cost, the Demonia Torment 700 ranks higher than most models on this list. It's slightly more expensive than what you'd pay for an average pair of faux leather boots, but they're a great investment if you're looking for footwear that's unique, comfortable, and well-made.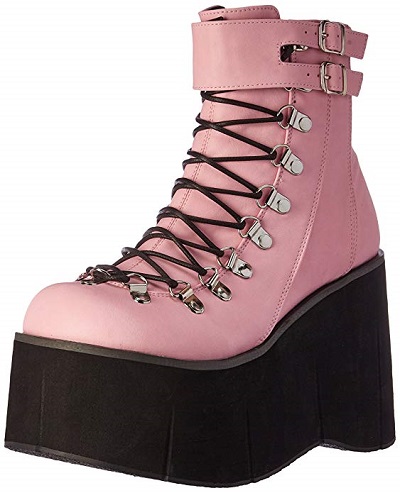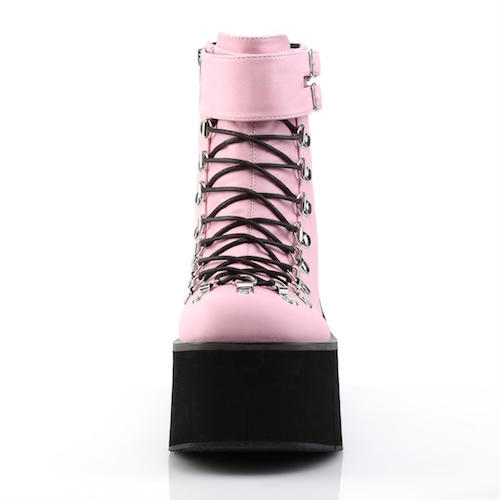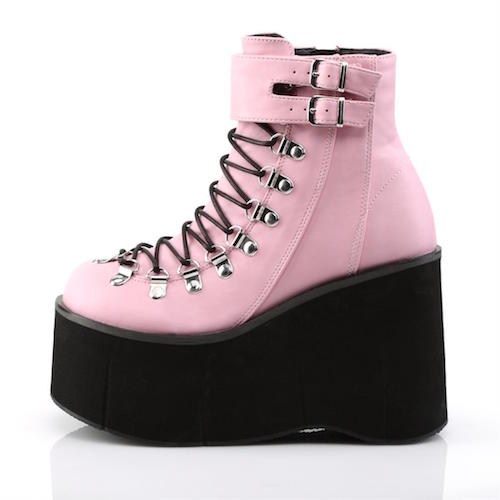 4.5 Inch Platform
Side Zipper
Adjustable Ankle Cuff
Soft Pink Color
100% Synthetic
Toe Box Too Roomy
No Padding
Among all of the embellished, studded and accented Demonia models on our list today, it's good to take a breather and admire the simplicity that is the Kera 21. This ankle bootie has a platform of about four and a half inches and is made out of 100% synthetic materials. It has a lace-up system along the vamp and an adjustable ankle cuff, as well as a side zipper for ease of access. Its pink color softens the grunge vibe a little bit, but it is still a design for the brave and the badass.
We'll be honest and say that we felt a little overwhelmed by all the closure options on the Kera 21, and then heaved a sigh of relief when we realized the way in and out of the model is actually a simple, uncomplicated zipper in the side. Thanks to the wide strap with its two buckles at the top of the boot, you can adjust the width of the ankle cuff however you'd like. Even if your ankles are a bit thicker, this is no problem for these boots!
These lovely, sturdy ankle-height Demonia shoes come at a middle-range price. They may not have the same striking effect as some of the more sensational designs on this list, but they are durable, comfortable and stylish. You will not regret investing your money in the Kera 21.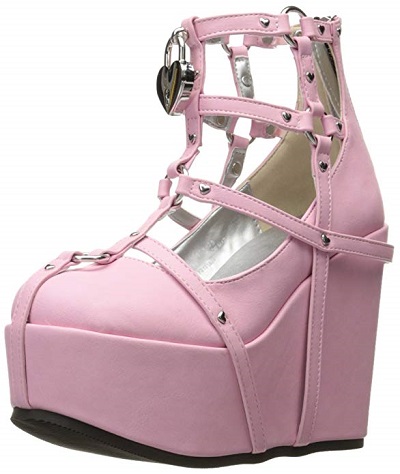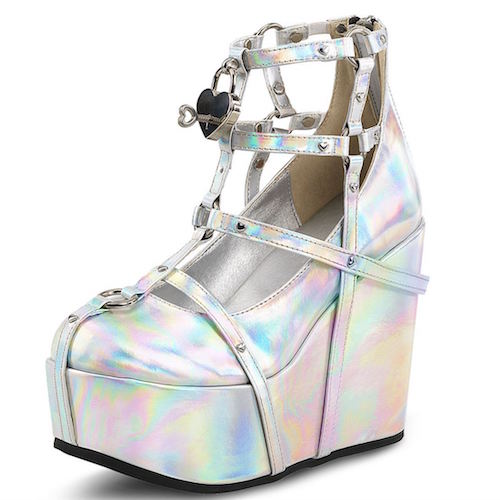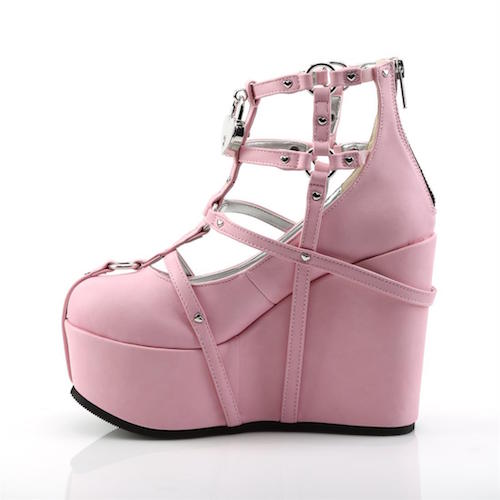 Wedge Heel
Strappy Vamp
Heart-Shaped Lock Accent
Zipper in the Back
Vegan-friendly
Scuffs Easily
Sizes Run Big
Time to venture into the world of cuteness and romance with the Poison 25-2. This staggeringly high wedge heel is simply adorable with its soft pink color, heart-shaped lock accessory, and even heart-shaped studs. Its heel is a whopping five inches in height, but it also has a platform of about 2.25 inches. The Poison 25-2 comes with a vamp made entirely out of crisscross straps with a zipper in the back for an easy, secure fit. We are absolutely in love with this sweet, and yet incredibly bold alternative wedge.
While the five-inch heel definitely requires some getting used to, this pair of footwear makes the adjusting period quick and easy with the added platform underneath the ball of the foot. This way, the heel feels as though it's only about three inches in height! Aside from being a cute addition to the shoe, the heart lock dangling from the Poison 25-2 also comes with a set of tiny keys. You can actually unlock it and remove it if you wish!

The Poison 25-2 offers a good fit, a comfortable ride, and a cute, valentine design. The only problem it might have is that it scuffs easily, so be careful how you wear these shoes, but overall, we feel that it is a solid design for a reasonable price.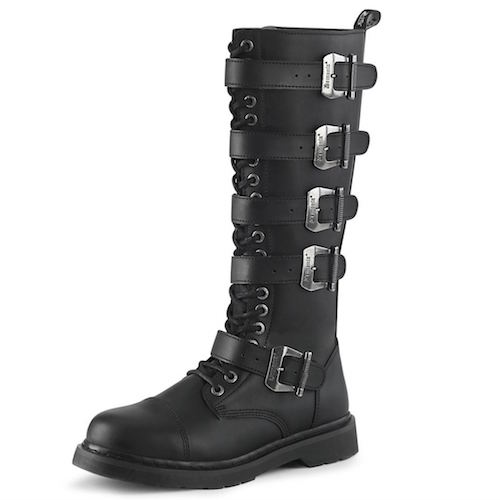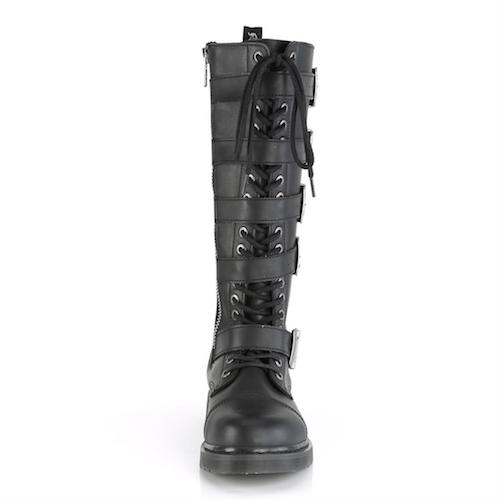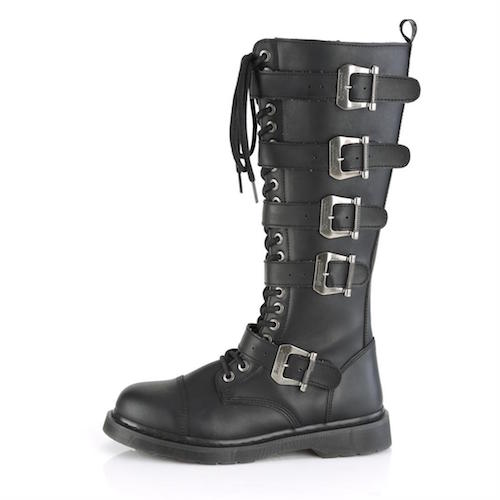 Synthetic Upper
20 Eyelets
Side Zipper
5 Buckled Straps
Rubber Outsole
Slightly Heavy
Breathability Issues
This pair of unique boots combines the construction and style of a knee high combat boot with all the accessories that make people seek out this type of footwear. Not only will this model look amazing paired with your favorite jeans or trousers, it's also a unisex style that can be bought in sizes 4 to 14, so everyone can purchase and show them off.
As you've already come to expect from Demonia footwear, the Bolt 425 is heavy on embellishments. This model features 5 buckle straps that offer a rebellious touch to an otherwise classic model. The 20 eyelets may seem like a lot to do up on a daily basis, but you'll find that the side zipper makes on and off a breeze.
The faux leather upper is durable and rugged, so you can expect to wear these for a long time, while the chunky rubber outsole serves a dual purpose: it increases the cushioning you get from this pair of boots, all while providing you with the grip you'll require on outdoor and indoor surfaces. Due to the high knee, these do cost a bit more than average, but if you're after a truly great goth model, the bolt 425 should definitely be your go to pair of black boots.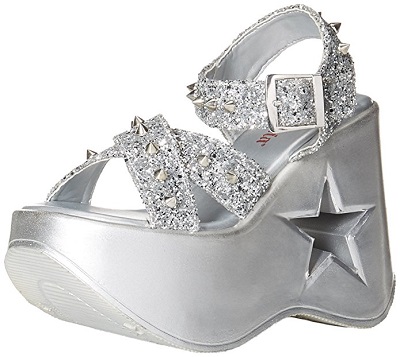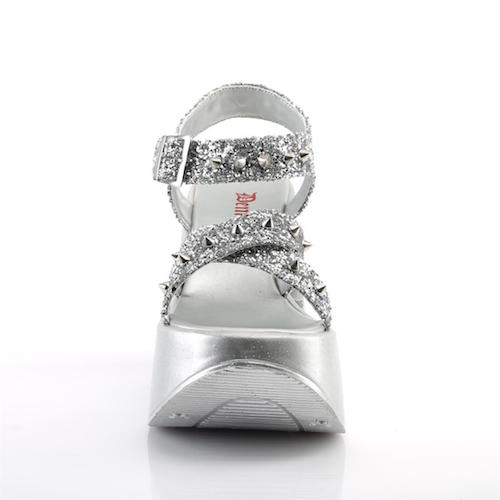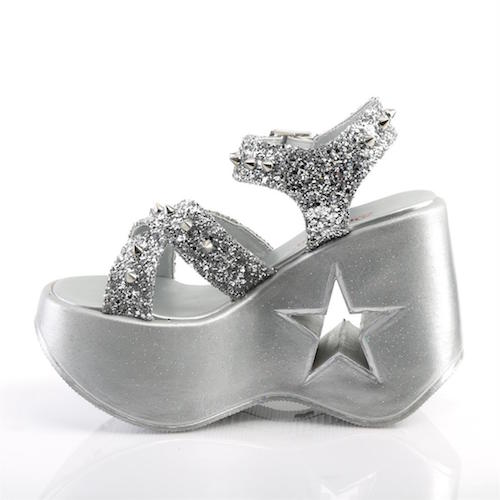 Glitter and Metal Spikes
Crisscross Straps
Buckled Ankle Strap
Star-shaped Cut Out in the Sole
Three Inch Platform
Sharp Spikes
Heavy to Wear All Day
We need a moment to take in all of what the Dynamite 02 is. This sandal has a three to five-inch wedge heel with a cut-out star shape in the sole. It comes in two color variations - the black and this glittery, attention-grabbing silver. Its crisscross straps are decorated with metal spikes and there is a buckle closure on the ankle strap. If you are looking to wow and impress with a pair of shoes, to be the star of the event, then this truly explosive design of the Dynamite 02 is perfect for you.
Unlike all other Demonia models in this guide which have closed-toe silhouettes, the Dynamite 02 is a sandal. Your feet will appreciate the breeziness of its design, as this alternative sandal will keep them comfortable, cool and sweat-free. The straps on the Dynamite 02 are perfect for holding the foot in place and preventing it from sliding forward. Additionally, the buckle closure at the ankle allows for an adjustable fit, one that works for your ankle width.
The Dynamite 02 lacks the versatility of the other Demonia products listed, as it can only be worn in warm weather, but it doesn't compromise on the over-the-top style. It is comfortable, wonderfully dazzling, and fitting the alternative, punk lifestyle in its own unique way.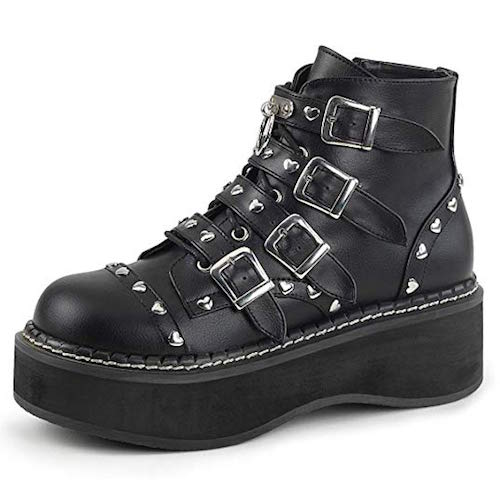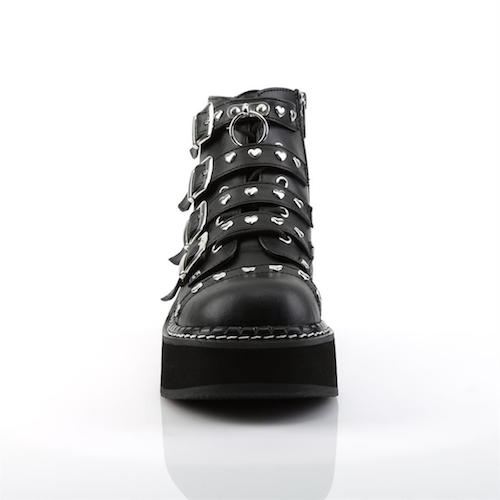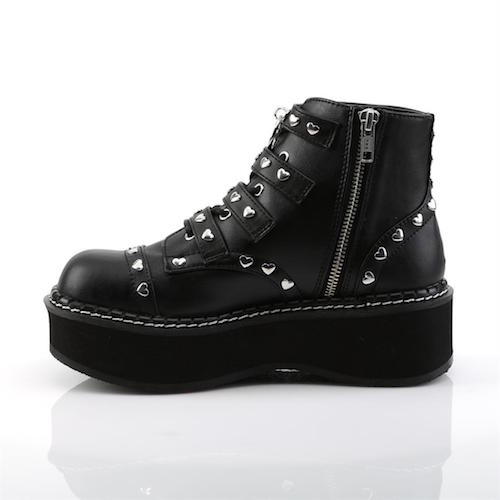 Vegan Upper
Zipper Closure
EVA Foam Midsole
Lightweight
Adjustable Fit
Nothing looks as good with both jeans and skirts as a pair of creepers, and these ankle-height boots are the ideal choice for transitional and colder weather. The Emily is highly versatile, but what makes it truly special is the way in which the rough appearance of creepers is combined with girly elements.
The upper of these boots uses a synthetic leather which is very easy to maintain, and that will do well in all types of weather (both dry and wet). Four buckled straps adorn the top, and they're embellished with metal hearts for a unique look. On and off is made easy through a zipper closure on the inside of the leg.
This pair of creepers features a two inch platform, which is not so unusual for Demonia models. What makes this sole choice so good is the added shock absorption you will receive, mainly thanks to the visible EVA foam midsole. Not only is this material great for cushioning, but it's also very lightweight, so you won't feel fatigued even after a full day of wearing this model. As for cost association, this pair of boots ranks average, making it a great choice for those who want affordable footwear that looks and feels good.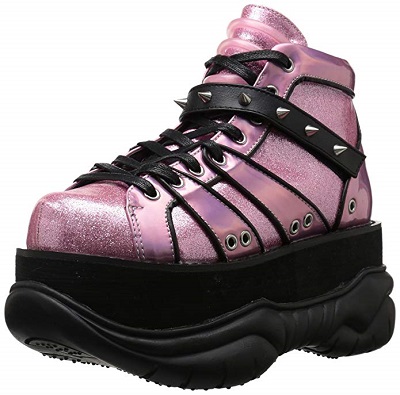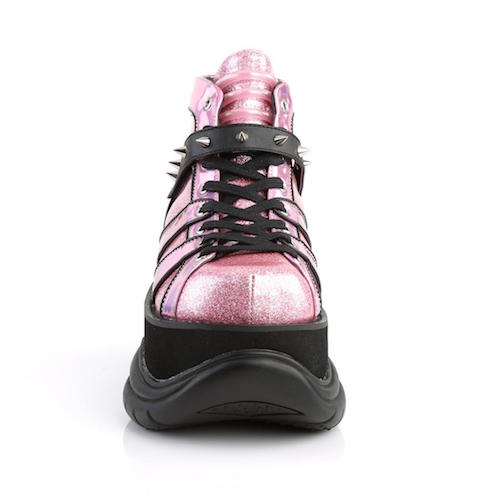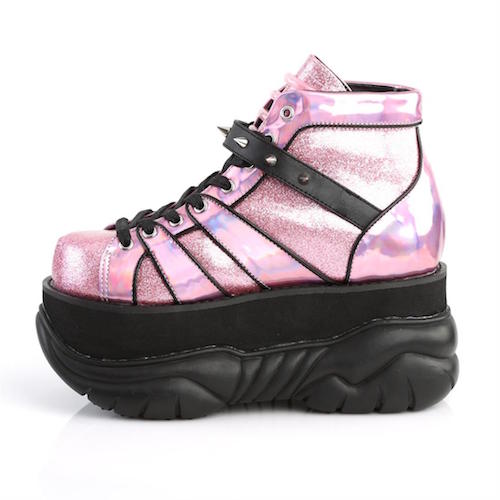 Wide 2.5 Inch Platform
Dual Closure
Waxed Shoelaces
UV Reactive Tubing
Metal Spikes
Channel your inner "Goth Spice" with the Neptune 100. This pink glittery ankle boot has a two and a half inches platform with a wavy design at the bottom - reminiscent of the sea and the model's name. It comes with both a lace-up system and a velcro strap to double up on the security, and metallic spikes on the velcro are a nice touch of punk. Around the tongue, there is a tubing accent, which may seem redundant at first - until you realize that these tubes are UV reactive and that they glow in the dark!
When you are walking around in a pair of shoes like this, it's easy for your foot to slide out since the shoe can be quite heavy. This is why having both a velcro strap and a lacing system is very practical. Especially when the laces are waxed to amp up the sturdiness! We are in love with the idea that you can easily go from day to night in these boots. The Neptune 100 wows with its glitter effects and the glow-in-the-dark tubing make you rave-ready without the need to change your footwear!

The Neptune 100 comes at a high cost. However, given all of its features - the interesting wavy sole, the glitter of the vamp, the studded velcro strap and especially the glow-in-the-dark accents - we feel like this pair of boots is definitely worth its price.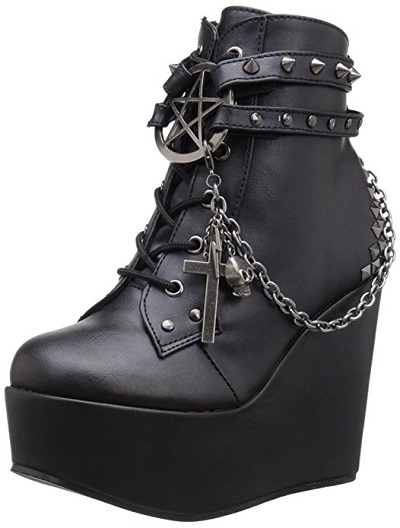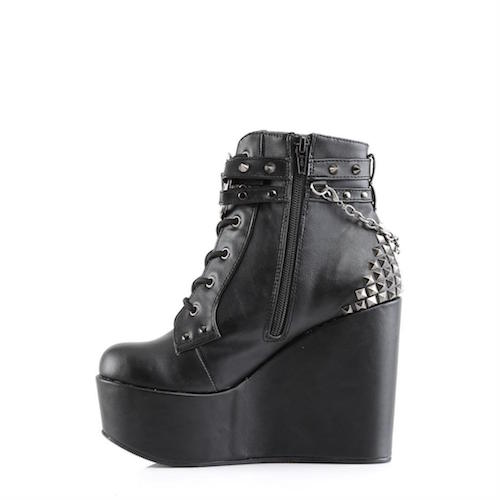 Skull and Cross Accents
Pentagram Decoration
Four Inch Platform Heel
Comfortable
Removable Chains
The Poison 101 holds nothing back. This gorgeously goth ankle boot has a four-inch heel, a two-inch platform and a nice, elegant silhouette that helps elongate your legs and slim down your figure. It has both a lace-up system and ankle straps, though those are there only as decorations, since there is a zipper in the inner side. What makes the Poison 101 stand out are its front-to-back chains with skull and cross charms, as well as a pentagram accent at the center. We honestly don't know of a shoe which is more goth than this bootie.
If you're all about expressing your goth side, the Poison 101 has your back with all of its mysterious, occult charms. However, just in case there are some days you prefer to be a little more stealthy about your look, the chains on this pair of Demonia footwear can be easily removed. Thanks to the platform heel of the Poison 101 you will feel as though you are wearing flats. Rest assured that in these boots you can walk around all day and all night if need be, even jump as high as you can in all of your favorite concerts.

The Poison 101 is easy to wear, doesn't scuff, and is the epitome of the eerie, complex gothic style. With their removable chains and smooth faux leather, we see no reason why you shouldn't indulge yourself with these amazing boots.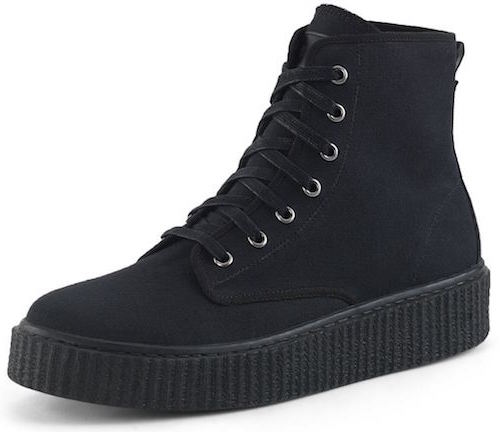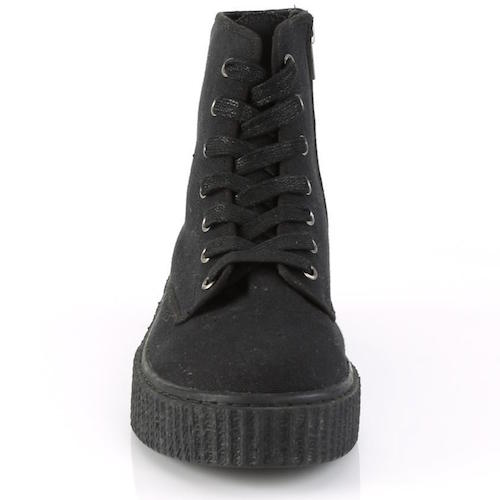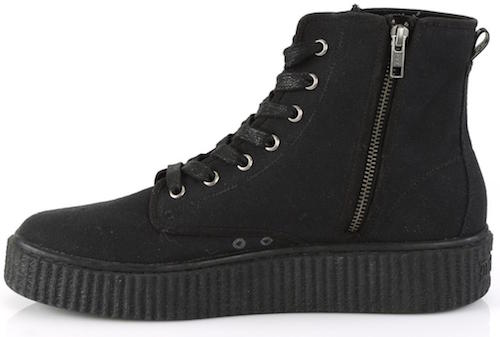 Canvas Upper
Side Zipper
Heel Pull Tab
1 ½ Inch Platform
Rubber Outsole
May Run Narrow
Limited Color Options
This is probably the model that stands out the least on this list, and for some people, that's a plus. If what you're looking for is a pair of footwear that's alternative, well-made, unique in terms of design, but can still be worn to work, school and anywhere else, the Sneeker 201 is perfect for you. It's made in a black color option, without any embellishments or eye-catching details, so you can rest assured that it will go with absolutely all of your outfits.
These sneakers are made with a tough canvas upper that is durable yet much more breathable than genuine or faux leather options. This is what makes the Sneeker 201 a great choice for summer, as well as for those who tend to move more, and find that their feet tend to warm up quickly. The shaft height and lacing system look slightly like a pair of Converse shoes, but with the added convenience of a side zipper that makes on and off a breeze.
The sole portion of the Sneeker 201 is made with rubber and features a 1 ½ inch creeper platform that's not too tall. This has several benefits. For one, your feet will receive a higher level of protection from the surface you're walking on, thanks to the larger layer of shock-absorbing rubber. Secondly, this height is still lightweight enough so that you don't become fatigued when wearing these shoes all day.
As for cost, these are very affordable, with a price point that's below average. This is mainly due to the upper material being canvas, so if you're after something cool to wear during the hot summer months, the Sneeker 201 is an excellent investment.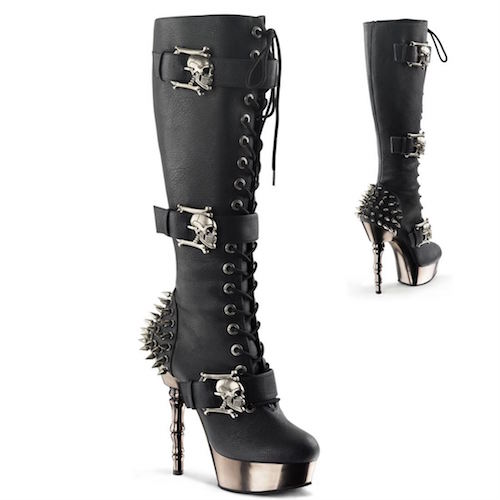 Platform Heel
Bone Shapes and Skull Buckles
Spiky Accents
High-quality Materials
Rubber Sole
Can Start Squeaking
Sizes Run Small
While other models on here have a more casual, laid-back style, the Muerto 2028 unapologetically crosses the line over into sexy. This knee-high design has a five and a half inch stiletto heel - shaped like a finger bone - as well as a one and a half inch metallic platform under the front of the foot. It has a lace-up closure all the way up to the top, and three straps with skull-shaped buckles. The model is made out of 100% polyurethane, and the sole is a durable rubber. A zipper in the inner side makes it easy to get in and out of the shoe.
Walking in stilettos this high, even with a platform in the front to take the pressure off of the front of the foot, can still seem daunting. However, the rubber sole of these boots guarantees that you won't slip or stumble and that your footsteps will be as stable as possible. The synthetic leather of the Muerto 2028 is very high quality, thick and long-lasting but still flexible. The metal accents - buckles and spiky studs around the heel - are strong and the metal heel especially is secure for walking. No wobbly movements in these sexy boots!

The Muerto 2028 is one of a kind knee boot which caters to a wide variety of subcultures. It is sexy and attractive and yet edgy and intimidating at the same time. If you are interested in its design, we are here to tell you that this boot will not disappoint.
Criteria Used for Evaluation
Expert Interviews & Opinions
Most Important Criteria
(According to our experts opinion)
Experts Opinion
Editors Opinion
Users Opinion
By Default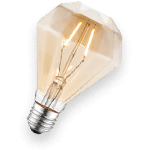 Adding Comfort To Your Demonia Footwear
Mainly for concert and events, wearing Demonia footwear every day can take it's toll on your feet. However, there are ways to get the most from your favorite pair, and in comfort. Invest in a pair of insoles or metatarsal pads for a bit more cushion and padding, and find a local shoe repair shop to add longevity to your pair. A great shoe smith will be able to add extra tread to the soles, or re-attach soles that are coming apart.
Gothic Origins
Gothic style has evolved over the decades to include several subculture variations of the traditional fashion. Gothic fashion has its roots from the Victorian era mourning attire, with darkly colored velvets, laces, and layers.
Other Factors to Consider

Value
You'll find that, on the whole, Demonia boots rank average in terms of cost. While their average price may be around $100 per pair, you'll easily find models that go for both less and more.
This will mainly depend on the models itself. Though boots by this brand are mainly made with synthetic materials that are cheaper to produce than genuine leather, some of their models feature incredibly high shafts, and elaborate embellishments that cause the cost to go up.
If you're on a budget, it would be recommended to opt for one of the simpler pairs of boots, as these can often be found on sale, or at a more affordable price.

Bottom Line
We are absolutely fascinated by this selection of outlandish footwear. Demonia boots are definitely not meant for those who want to blend in, to not stand out or call attention to themselves in any way. Rather, these shoes are aimed for people who don't conform to typical trends, who prefer to explore their own style and push the boundaries of fashion.

Of course, while the visual plays a key role in deciding on the perfect alternative footwear for yourself, it is always important to keep in mind other aspects as well. Shoe comfort, style, quality, and cost are major factors which go into determining whether a particular model is a good choice or not.

To help you in your further research on unconventional footwear, we have carefully put together our Criteria section, in which we outlined everything important regarding these unusual styles. So take all of this information in, and in the end, you can be sure that you're ready to buy a great pair of unique shoes for yourself.
Frequently Asked Questions
q:

Are all Demonia boots vegan?

a:

According to their official website, yes, they are all vegan. These shoes are constructed out of man-made leather, or other man-made materials, from upper to outsole, and they also use glues which have no animal products in them.
q:

Are Demonia boots good quality?

a:

Depends on how often you wear them. Demonia footwear comes at affordable price points and is made from synthetic materials, which are usually less durable than natural ones. If you are looking to wear your Demonia shoes every day, they have the potential of wearing off relatively quickly, within a few months' time. However, if you don't wear them so often, and if you take good care of them - cleaning them regularly and storing them properly - then there's no reason these shoes can't last you years.
q:

Are these high platforms comfortable to wear?

a:

They do take some getting used to. While your foot is in a more or less natural position - as long as the platform is flat - your shins and calves may suffer from extra weight and strain. Either way, you shouldn't wear these ridiculously high designs for extended periods of time, as they may cause joint problems in the long run.
q:

I'm afraid these are too much for me.

a:

And that's completely fine! You absolutely do not have to wear something that you are not comfortable with. However, if you still want to express your edgier side, you can go for more modest designs, such as the Daisy 03, which is almost like a normal Mary Jane, with only a hint of danger to it.
q:

Can I wear Demonia boots even if I'm not a punk or goth?

a:

Of course you can! You don't have to label yourself or identify with any particular group to be able to enjoy these outrageous designs. Fashion is personal and subjective, and no one can tell you you're doing it wrong.
Subscribe to our Newsletter