Best Sugar Skull Shoes To Help Celebrate Your Heritage Reviewed
In a Hurry? Editors choice: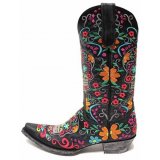 Test Winner: Old Gringo Klak

Sugar skulls are decorations typically associated with the Day of the Dead (Dia de Muertos), a Mexican holiday taking place on the 1st and 2nd of November. While grouped together with
Halloween
festivities, it actually has different roots and a different purpose. If you are intrigued by this cultural phenomenon, one that has been declared part of 'Intangible World Heritage' by UNESCO in 2008, or if you are simply drawn to the unusual play on life and death, then you will enjoy this guide. Through detailed research and analysis, we have organized a list of top ten sugar skull themed shoes to spice up your looks. Whether it is for a Day of the Dead outing, or for putting a
macabre twist
in your regular wardrobe, we hope that you will find this list useful and that you'll choose a great new pair of shoes just for yourself!
Standout Picks
Criteria Used for Evaluation
Style
In this guide, we have encountered several different shoe types. Some of them are for more casual occasions, such as sneakers, or sandals for beach and summer strolls, but others are more formal in design, such as heels.
All of these have their pros and cons – various things to consider when shopping. Here, we will outline what you need to know about each type.
Sneakers
You might feel like you are well acquainted with sneakers. After all, you probably wear them every day, right? The trusty sneaker is there when you need to run to the grocery store when you have to spend an entire day sightseeing in a foreign country; it keeps you company at the gym, in the park, and really anywhere else you can imagine.
There is only one situation where sneakers are not appropriate, and that is for formal occasions. We would agree if we are talking about a black tie event. However, with the rise in dress sneakers, we have to say that there is nothing more fashion-forward than a nice, tailored suit and a pair of fancy leather sneakers at a semi-formal gathering. Sharp and cool.
When you are looking for the right sneaker for yourself, think about the season. Will you be wearing them mostly in the summer? If that's the case we advise investing in a pair of canvas sneakers (such as Converse), as canvas is a lightweight, breathable material, and it will help stave off the heat.
If, on the other hand, you are looking for a sneaker to wear all year long, then leather options would be your best bet. Of course, natural leather is far more comfortable and durable than synthetic, but it is also more expensive, so keep that in mind.
Another thing is the type of closure you would prefer. Lace-up sneakers are great if you are performing some type of activity, such as running or cycling or joining your kids on the jungle gym. They keep your foot secure in the shoe and prevent any instability.
However, if you are more of a laid-back type of person, and if you don't want to bother with complex closures than simple slip-on designs are perfect for you.
Boots
Aside from being fashionable – and a great way to express your love for sugar skulls – boots top the list of the most practical type of footwear. They are there to protect your feet from the elements, keeping them dry in wet conditions, warm in the winter, and preventing any slipping or skidding on unfavorable terrain.
Boots come in various shapes and sizes, with the most common distinction being between different boot heights. We have ankle boots – or booties – then mid-calf boots, knee-high boots, and even those that go over the knee.
While most people wear boots for their functionality, especially those who work and live in areas with a lot of rain or snowfall, this type of footwear has also become a fashion statement. You can now find anything from a comfortable, suede ankle boot for the fall, over a lace-up military style boot for a badass look, to an over-the-knee boot with a stiletto heel for a special dose of vamp.
What type of boot is the most suitable for you depends entirely on your personal aesthetic, and what you expect from it. If you want a good boot for snowy days, then go for rubber soles with deep grooves and waterproof uppers. If you want something more stylish, then look for slimmer heels, pointy toes, and maybe even some interest in the form of chains, charms or buckles.
When it comes to boots, nothing should stop you from buying exactly the kind of design that you want to wear!
Heels
Heels have become a synonym for elegance, for flirtiness and celebrations, whether formal or more casual ones. The elevated heels lengthen our figure and make us visually slimmer, not to mention that they give us confidence like no other footwear type does.
However, it is true that heels are not the most comfortable of shoes. The reason for this is that in a high heeled design, your foot is in an unnatural position. The higher the heel is – rather, the bigger the height difference between your heel and the ball of your foot is – the more painful it will be. All of your weight transfers forward and adds pressure to the front of your foot, which is why your toes may sometime turn numb.
There are some features which you can look for in order to avoid the issues which come with wearing high heels.
Of course, it goes without saying that lower heels are more comfortable. Look for those which are two inches in height, such as kitten heels, or maybe three inches. Anything up to four inches is considered a comfortable heel height.
Also go for heels which are chunky, blocky in shape, anything that will offer you more support and distribute your weight evenly inside the shoe, such as wedge heels. Straps across the instep or around the ankle are also a great way to secure your foot inside the design.
Lastly, it would be best if the footbed of the heel had some type of cushioning in it. Extra padding absorbs impact as you walk, and reduces foot fatigue, allowing you to spend more time in your new pair of heels.
Sandals
For braving the summer heatwaves, there is no better option than the sandal. Whether heeled or flat, open-toed or closed toed, your feet will be grateful for the breath of fresh air. Not only that but by keeping your feet dry and sweat-free, sandals also reduce the risk of infections. Bacteria and fungi love to grow in hot, damp environments, and having most of your foot exposed prevents itchiness and bad odors that come with these infections.
However, make sure to know your environment, as having exposed toes in an area which is hazardous, such as hiking trails, can be dangerous. Leave the open-toed sandals at the beach and clean streets, and take the closed toe ones for when you are going on a mountain adventure.
Comfort
We all know why comfort is so important. Besides relieving you of pain, if you wear footwear that is right for your foot and that has a good amount of cushioning, you will not suffer from many common foot problems. You might even cure your lower back and knee pain, who knows! All of the options on our list are meant to show off your style while also comforting your achy feet. That means that every piece of footwear on here comes with added:
Comfort: High rebound foam and a breathable insole. Your every step will be cushioned, and you'll be able to take your shoes off anywhere you go, no matter how long you've worn them!
Support: Heel and foot bear, great for stability and balance! Never worry about falling somewhere or tripping over and making a fool of yourself.
Flex: Highly flexible soles lower the amount of force your feet get on impact with the ground, and also ensure your foot retains its natural shape while you walk!
Durability
Finally, a good pair of footwear will have all the characteristics needed to ensure you can wear them to a great variety of places and events. This list includes different supportive sandals, made with different types of activities in mind, ranging from athletic to dress too casual. If you work in a casual environment, you might even be able to wear some of these at your place of employment.
When making our choice for the best ten items currently available for purchase, we made sure to pick models which would work in multiple environments. Thus, you will find that the majority of sandals on this list work in athletic environments, or can be worn to the beach. Nonetheless, if you prefer to wear them during hot city summer days, you will find that they work just as well as they would in nature. No matter the terrain or weather, the products listed in this article will serve you well and for plenty of time.
Support
High-quality footwear is crucial in providing you with everything you need from your shoes. Not only do you want them to look good, but they also need to fit you perfectly to ensure comfort and bear throughout the day. Add breathability to your list of requirements, and you will easily come to the conclusion that you need a pair of sandals made with health benefits in mind.
Most summer footwear will have completely flat, rubber or foam soles which may cause you pain or discomfort. When shopping for footwear, you need to look for the features that will work for your feet. This depends heavily on the type of foot you have. Size is just one aspect, and it's important that you also consider the width of your forefoot, the height of your heel, the stability of your ankles, as well as your gait cycle. Even more, it's possible that you suffer from foot-related issues such as bunions, plantar fasciitis, heel spurs or that your pronation is not neutral but rather sees you bearing your weight on the inside or outside of your feet. The right type of shoes will not only feel good while wearing them, but they will also prevent the further development of such issues.
When shopping for your next pair of sandals, there are several points where you need to look for prop up features:
Heel Support – when they walk, most people will land on their heel first. This means that this bone will take a lot of shock with every step, and if you do sports this amount of shock will increase considerably. If, by any chance your feet do not land in the most optimal position (if your feet tend to roll inwards or outwards), then the majority of this shock will travel up the leg to your knees, hips, and back. If you've ever experienced lower back pain after a few hours of walking, chances are that your shoes were not supportive enough in the heel. When shopping for sandals, look for a deep heel cup that will help align your body. Another thing you will need is cushioning that will absorb some of the excess shock, ensuring that your legs don't get too sore or tired after a long day.
Midfoot Support – the way to ensure the health of your feet is not just about the soles of your shoes. One of the biggest downsides of sandals and flip flops is that they often don't properly fit on the upper, making you work overtime just to keep them on. The best summer sandals will have an upper that will have several points of contact with your foot – both in the forefoot as well as in the rearfoot area. Look for straps that can be adjusted to give you a snug fit that you can comfortably walk around in. This is especially important if you plan on wearing your sandals for hiking trips.
Value
The price of a shoe can sometimes be a deal breaker. That's part of the reason why footwear manufacturers invest time and energy into creating cost-effective technologies to incorporate into their shoes to make them durable, long-lived, versatile, and inexpensive.
Durability & Longevity
Footwear, usually, lasts more than a few months, because shoes that are going to fall apart after a few months of use aren't worth the investment of more than a few dollars. Leather and synthetic overlays can be used to make the shoes more durable without sacrificing flexibility. Firm leather or synthetic uppers provide durability and support.
Versatility
Great footwear can be used for more than one activity. Walking and running shoes, for example, can be used in some casual sports. Stylish athletic footwear could be used in informal work environments. Sandals can be used in casual and semi-formal settings. The more situations you can use the shoe in, the more value it offers for the price.
Maintenance
Good footwear is easy to maintain and clean. They don't require a lot of expensive shoe treatments or time-consuming upkeep. Shoes that need a lot of effort, time and money to maintain, don't sell as well as shoes which are easier and cost less to keep.
Removable inserts
As mentioned earlier, removable inserts in footwear make it customizable, but that's not the only bonus to removable inserts. Removable inserts increase the longevity of the shoe, which is why some come with removable inserts.
Cost
A hefty price tag can be a deal-breaker for people on a budget. That's why many can be found in the low-to-middle price range. They're affordable, and if they are priced a little higher than others, then they offer many features to make the footwear worth the extra investment.
10 Best Sugar Skulls Shoes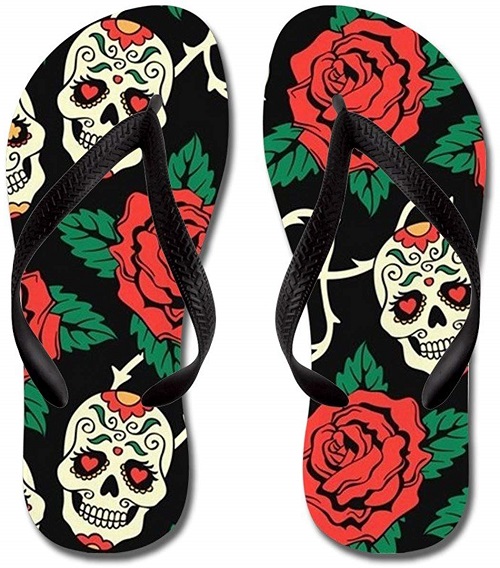 Instead of focusing on footwear, Cafe Press is actually a print company which specializes in decorating a large selection of products with vibrant, graphic prints. That is how they came up with this festive Day of the Dead design, a classic flip-flop silhouette with a striking sugar skull pattern on the footbed. The top of the design is made out of polyester, while the straps are rubber. These are simple, casual sandals which you can wear to the beach, to the pool, or even for a relaxed stroll around the neighborhood during those sweltering summer evenings!
Rubber Straps
The advantages of having rubber straps on your flip-flop are multifold. First, they are waterproof, meaning that even if your Cafe Press Flip Flop gets splashed, the straps won't stretch out of shape. And secondly, rubber straps are highly durable, and you can count on them to not snap off when you need them the most.
Flip Flop Design
We are celebrating the fact that the Cafe Press Flip Flop keeps most of your foot exposed. Not only does this add to the comfort factor - having dry and cool feet in the summer is truly a gift - but it also keeps your feet healthy. Hot and damp environments are breeding grounds for bacteria and fungi, and in this flip-flop, you don't have to worry about any nasty infections.
Cost and Value
It would be surprising if the Cafe Press Flip Flop was anything other than one of the least expensive designs on this list. It comes from a company which isn't known for making footwear, and it is quite simple and minimalistic. Nevertheless, it still fun and vibrant, easy to wear, and amazingly affordable!



Old Gringo is a company founded in the year 2000. It takes advantage of its long history of leather manufacturing to produce specially designed, handcrafted western and cowboy boots for both men and women. The Klak boot is a design just like that - a handmade black leather boot, adorned with colorful embroidery to pay homage to the Day of the Dead, with sugar skulls on the upper of the boot. It is a classic cowboy silhouette, with an elongated toe box, a black distressed sole and a heel of almost two inches. You won't find a better constructed, or more detailed design than this gorgeously unique Klak boot.
Handmade
Old Gringo is a company which prides itself on the meticulous construction of its footwear. Their designs, including the Klak boot, go through a production process which consists of a whopping 130 steps! There is hardly a shoe in the world which is crafted with more care, and more attention to detail than the Klak boot.
Leather
The leather is a natural material which lends itself perfectly to footwear manufacturing. Old Gringo is a brand which tans its own leathers and textures, making sure that the end product is a boot of the highest quality available. This is why the Klak boot is comfortable and incredibly long-lasting.
Cost and Value
Listen, if you thought that some of the other designs on this list are expensive - you have seen nothing yet. The Old Gringo Klak is so expensive, we are still reeling from the price. Of course that it is one of a kind, a design which goes through a painstaking crafting process, and which will certainly withstand the test of time - however, we're not sure if even that is a good enough reason for a price this steep.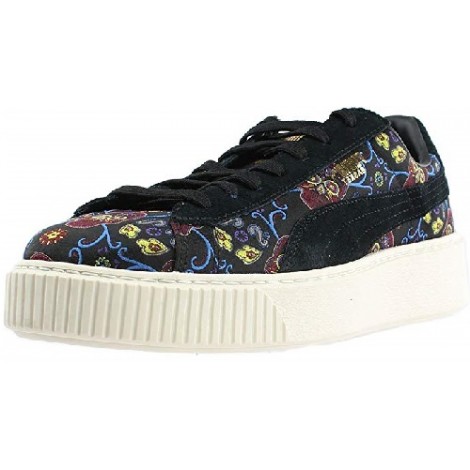 From one of the most popular sportswear manufacturers in the world comes a lifestyle sneaker design in the form of the Basket Platform! This Puma model is constructed out of suede and canvas, with a playful, dark sugar skull pattern all over. Its creeper silhouette is inspired by the 90s grunge movement, and thus this sneaker has a platform for elevated height. Its collar and tongue are padded, as well as the insole, and it has a standard, non-slip rubber outsole with tooling at the front. The final touch on the Puma Basket Platform is the gold logo stamp on the side.
Suede
Suede inserts in the upper are definitely there for a touch of velvety interest, but they also have their own benefits. Suede is a natural material which is incredibly soft to the skin, ensuring that you don't get any blisters or hotspots, and it is also malleable, meaning that it will conform to the shape of your foot over time for that gentle, customized comfort.
Padding
While it is true that the Puma Basket Platform isn't a sports sneaker, nevertheless it is good to know that you will be cushioned and supported no matter how long you decide to spend walking around in these. Extra padding in the collar and tongue ensure that your foot is stable and comfortable.
Cost and Value
For a sneaker made out of high-quality materials and from a brand as well known as Puma, the Basket Platform is refreshingly affordable. Sure, this isn't a sports design by any means, but it is a great lifestyle option if you wish to experiment with your style, and add something darker and more edgy to your everyday outfits.

4

. Interest Print Winter Boot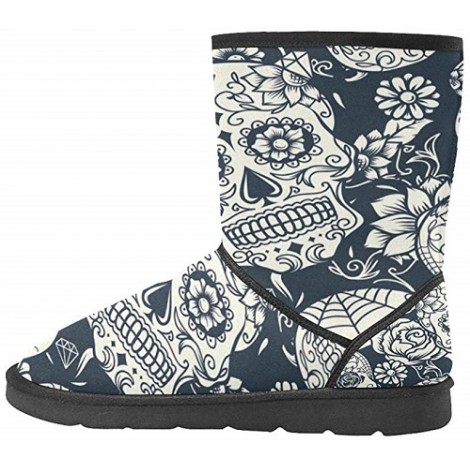 For those freezing days, when snow on the ground is thick and sparkling and the air is brilliantly crisp, we need all the warmth and the coziness we can get. Enter the Interest Print Winter Boot, designed precisely for that! This comfortable design has an upper made out of high-density spandex for superior softness. It has a round toe silhouette, interesting stitching details, and a custom fabric binding. The outsole of the Interest Print Winter Boot is made out of EVA and rubber, which makes them wear and tear resistant. Get ready to brave the cold in these fashion-forward, cozy booties!
EVA Outsole
EVA is a type of material which is most commonly used as cushioning in running sneakers. It absorbs shock as you walk, making sure that the force of the impact is evenly distributed over the footbed, and that no part of your foot or leg suffers from too much strain.
High-Density Spandex
Spandex has exceptional elastic properties. This material stretches to accommodate any foot size and shape, and it also ensures that the Interest Print Winter Boot has that perfect fit that you expect from a slip-on boot such as this one.
Cost and Value
The Interest Print Winter Boot comes at a middle-ranged price. It is a solid option for winter, though not the best if the weather conditions are too wet or too muddy. Still, for a nice, clear winter day this boot will keep your feet toasty and comfortable, and you will enjoy spending time outside in the snow!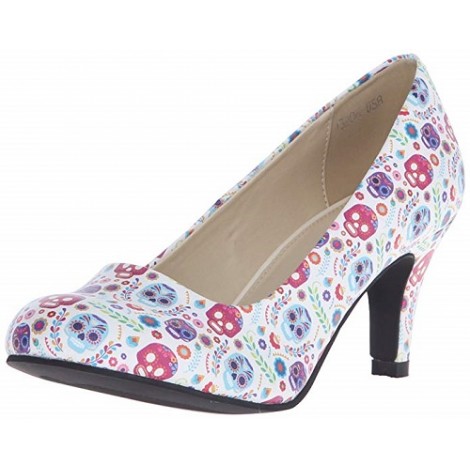 T.U.K. is a footwear brand with a focus on eclectic designs. It produces alternative models, like creepers, staggeringly high heels, options which are a little more rebellious, a little more grunge or goth. However, the T.U.K. Pump is a brightly colored heel which is more lighthearted and whimsy in style. It has a man-made upper decorated with a snazzy Day of the Dead pattern, a three-inch heel, and a cushioned footbed for support. It is a round-toe silhouette, with a soft lining on the inside and a rubber sole on the bottom. Given that it is made entirely out of synthetic materials, this lovely pump also happens to be vegan-friendly.
Three Inch Heel
Walking in heels can often be a literal pain. However, with the T.U.K. Pump, you don't have to worry about any discomfort or cramping in the toes, as it has a heel of barely three inches in height. This is comfortable to take you from walking all day to dancing all night without the need to change your footwear in the process.
Cushioning and Lining
Everything in the T.U.K. Pump is geared towards ensuring the comfort of the wearer. The low heel, the cushioning in the insole for shock absorption, and the soft, delicate lining which doesn't rub your skin the wrong way - you have yet to find a heel this comfortable!
Cost and Value
All things considered, the T.U.K. Pump is a low-cost shoe. It isn't made out of particularly rich materials, but it does have excellent comfort features. While the brand name it carries isn't all that well-known, this is still a solid, well-crafted pump which you will love wearing for all of your Day of the Dead festivities.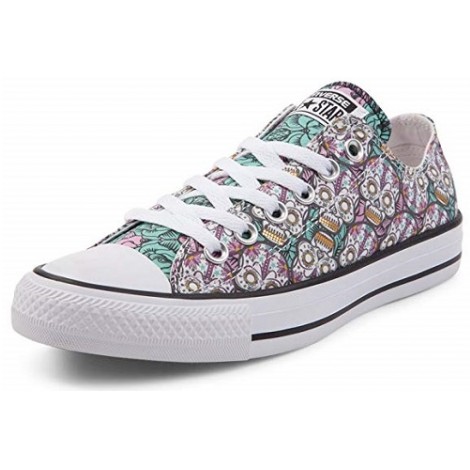 Let's be real - all the cool kids are wearing them. While first envisioned as a basketball shoe in the early 20th century, the Converse Chuck Taylor has transformed into an iconic sneaker, one which everyone has worn at least once in their life. There is something effortlessly relaxed about its clean design, lightweight canvas upper and low-top lace-up silhouette. This particular model has eyelets on the medial sides for breathability and even has an ortholite insert for added comfort. Your everyday, casual sneaker has arrived, and you don't have to look any further than the Chuck Taylor.
Ortholite Insert
The Ortholite insert in the Converse Chuck Taylor ensures the highest level of comfort. It is made out of foam which doesn't compress almost at all over time, which has an extremely high level of breathability, and moves moisture away from the sole for a dry and healthy foot climate.
Canvas Upper
The reason the Converse Chuck Taylors are the perfect option for summer is that their upper is made out of canvas material. This means that they are light on the feet, and also that, together with the shoelace eyelets, they promote proper air flow in and out of the design. In these sneakers, you never have to worry about sweaty feet!
Cost and Value
Compared to other choices in this list, the Converse Chuck Taylor is a bit high in price. However, it is a staple design, one which has only increased in popularity over the decades. If you are willing to dip into your budget to follow this clean and cool fashion trend, it definitely won't let you down!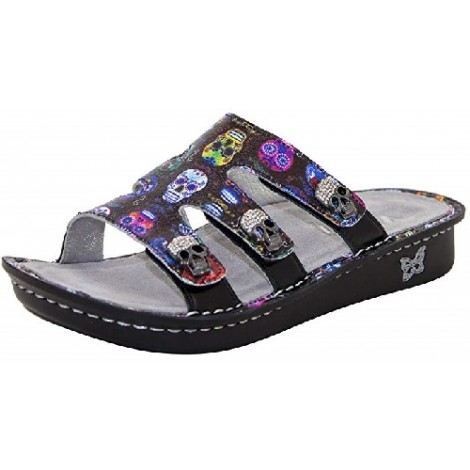 The Alegria Venice sandal is a great example of how function and fashion can blend together seamlessly. This design has a strappy leather upper, with a sugar skull pattern and actual skull accents on each of the three straps. These straps are also adjustable, as all of them have a velcro closure. For ultimate comfort, the Alegria Venice also has a footbed made out of a combination of latex, memory foam and cork. The heel height of this sandal is around one inch, and it is a great option for the summer when you just want to relax and let your toes wiggle free!
Footbed
It is rare to encounter a mixture of memory foam and cork. These materials are exceptionally shock absorbent, evenly distributing the force of each heel strike across the sandal and reducing pressure and pain in your joints. Additionally, cork is a moisture-wicking material, meaning that it keeps your feet nice and dry throughout the day.
Fully Adjustable
Sometimes sliding into a sandal of a design such as the Alegria Venice has can pose some difficulties. However, with this particular one you don't have to worry about the width of your foot or the height of your instep - the three velcro closures ensure that you can adjust the fit of the straps however tight or loose you'd like them to be!
Cost and Value
There's no getting around the fact that the Alegria Venice is quite a pricey design, especially for a sandal. However, the materials it is made of are natural, durable, and extremely high-quality. Every feature of this sandal provides addictive comfort, one that you will have a hard time parting from when it's time to take off the shoes!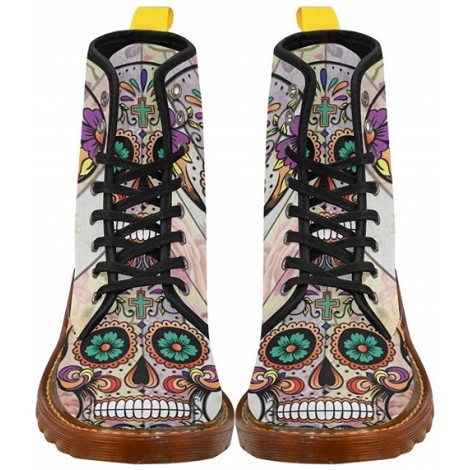 Inspired by the iconic Doc Martens silhouette, the D-Story Boot is every bit as sturdy and badass as the original. It is constructed out of lightweight canvas material for the upper, making it exceptionally light even with its thick, hard-ridged synthetic sole. It has a lace-up system in the front, as well as a pull-tab in the back for easy entry. The D-story Boot comes in various patterns and color combinations, one of which is this eye-catching sugar skull print which won't leave anyone indifferent. These solid boots are here to provide that edgy and cool vibe, but also exceptional comfort as well!
Cushioning
While it may look a bit stiff on the outside, we assure you that the D-Story Boot is actually unbelievably soft on the inside. This is due to the padding in the tongue and the soft lining which ensures that your foot is comfortable and cushioned every step of the way.
Sole
Given that it is made out of synthetic materials, it is reasonable to assume that the sole of the D-Story Boot is nothing special. However, you will find that it is actually very flexible, that it moves with your foot as you walk and that it supports you almost like an actual memory gel liner. Like magic!
Cost and Value
The D-Story Boot is quite an inexpensive design. If you are looking for something a little bolder and a little more grunge, then these chunky boots are a great option for you! They are comfortable, sturdy, and very vivid in pattern - you are surely going to enjoy them for as long as they last.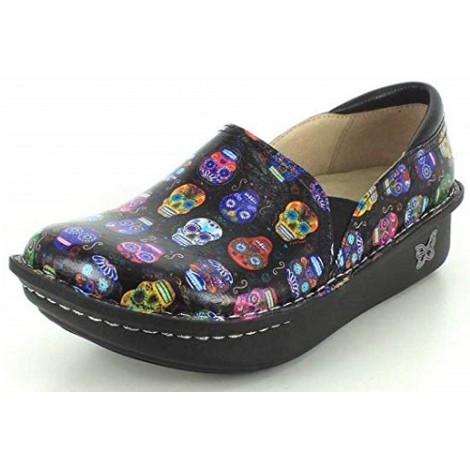 The Alegria Debra clog has been designed for the ultimate comfort and safety of the customer. This practical shoe has a rich leather upper with an interesting Day of the Dead print. It is a slip-on silhouette, with elastic panels on the side for adjustability and easy wear. The latex and memory foam footbed is covered in leather as well, and there is a roomy toe box and a removable anatomically correct insole. The heel of the Alegria Debra is about one and a half inches in height, with a one-inch platform in the front. Truly a reliable, irresistibly comfortable clog!
Toe Box
Too often we find ourselves saddled with footwear which pinches our toes, squeezes our feet in the front and leaves us with blisters and numbness. Fortunately, this is not the case with the Alegria Debra, as this clog is spacious, and allows your toes to wiggle without restraint!
Removable Insole
The insole of the Alegria Debra is anatomically correct, meaning that it will effortlessly support your foot. But the fact that it is removable is a great option if you have your own orthotics that you want to insert into the clog to help you with your foot-related medical conditions.
Cost and Value
Similarly to the other Alegria product on this list, the Debra clog also belongs in the high range of price. We feel that this is definitely warranted, as it is made out of high-grade leather, and has features which will help you alleviate pain and stiffness both in your feet and your joints. It doesn't get much better than the Alegria Debra clog!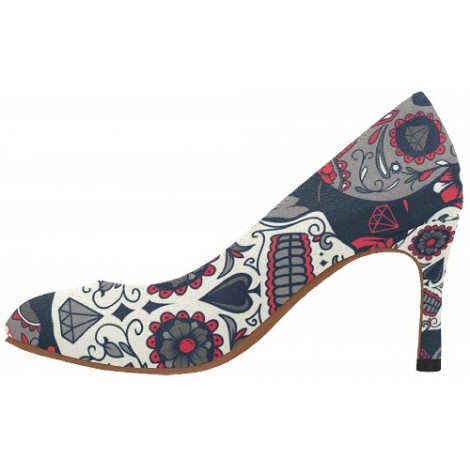 The Interest Print Pump is here to make you comfortable and stylish at the same time. This design features an all-over sugar skull print for a fashion-forward outing. It is a pump with an almond-shaped toe, a canvas upper and a canvas wrapped three-inch heel. The outsole of the Interest Print Pump is made out of non-marking rubber, and there is a cushioned insole with arch support. While it may be too vibrant for a work setting, it is definitely appropriate for an office party, and you will be able to walk around for the entire event with its comfort pod features.
Outsole
The outsole of the Interest Print Pump is made out of rubber, which means that it will provide you with necessary slip- and skid-resistance. Additionally, the rubber is non-marking, meaning that it won't leave any permanent scratches or stains on the floor as you go about your day.
Arch Support
A three-inch heel and an almond-shaped toe are already comfortable enough, but together with padding in the insole and an arch cookie, the Interest Print Pump becomes amazingly wearable. You will feel supported and stable and won't need to worry about any discomfort whatsoever.
Cost and Value
The Interest Print Pump is a design which isn't expensive, but not too cheap either. It is stylish and flirty, with a print that will make you stand out, and it is a wonderfully comfortable heel as well. There isn't much more you can ask for, especially for such a reasonable price.

Subscribe to our Newsletter