Best Goth Boots & Shoes Reviewed
In a Hurry? Editors choice: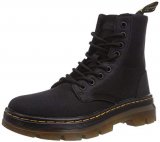 Test Winner: Dr. Marten Combs

Nowadays, footwear comes in all types of shapes, prints, materials. You can opt for something floral, or sparkly, or even furry, and wear it with pride, showing off your
uniqueness
. But what about those who prefer a darker, more mysterious type of shoe?
Goth boots
are for so much more than just Halloween costumes – when chosen carefully, they can prove to be high quality
footwear options
that can last a lifetime.
Standout Picks
Criteria Used for Evaluation
Materials
After spending the amount of time that we have analyzing and reviewing the market for goth boots and shoes, we have come to realize that this industry is incredibly saturated. At the initial research portion, we stumbled across hundreds of different shoes and boots, all of which were quite popular and claimed to be the best. In this, we can now understand how so many consumers might have been led to purchasing just any pair of random boots or shoes without doing any research. As a result, such purchases have lead to poorly designed products and even long conversations with customer service departments. With all of this in mind, we created this buying guide in hopes to eliminate any research that you need to do.
To accomplish this, before even picking any product for today's list, we created a comprehensive list of criteria used to evaluate each product. So, as we found a product that matched a few of our criteria, we thoroughly evaluated, analyzed, and cross-referenced any information. This technique enabled us to ensure that each shoe on our list was the very best of the best. With that being said, if you are interested in learning more about the selection process, we invite you to continue reading. Perhaps some of this may help you with future purchases as well! Don't forget to check out the frequently asked questions portion, which follows this.
The primary criteria that we used when choosing each product for our list was the overall quality of the shoe or boot. The reality is, we understand how important it is to have a good and reliable shoe. Whether it's for a party, event, or everyday attire, you need a pair of goth boots that can rise to the occasion. In this, we carefully reviewed the pictures of each product, studied the construction of it, and overly-scrutinized the way the manufacturer described the product to consumers. What we were trying to figure out is whether or not the manufacturer was producing shoes for the enjoyment of consumers or profits.
We looked at:
Type of materials used
How the stitching was performed
Whether or not the manufacturer offered a warranty
How the soles were bound together
Elemental Resistances
Whether the shoe was for all people or specific types of people
Additionally, we performed extensive research when assessing previous customers experience and came to the conclusions, which were presented above.
Style
Let's be honest, we all look for a shoe based upon its design or appeal. If you had the option to purchase a stylish and fashionable looking shoe rather than a mundane one – what would you pick? With that being said, while we always advocate selecting high-quality shoes or boots first, we did take into consideration the overall design and appeal of the product. As you might have noticed, every single product on today's list is not only visually appealing, they can help an individual stand-out and feel confident in what they are wearing.
While style is often a matter of personal taste, we've checked thousands of online reviews to see what people are saying about each of the products on our list. Some things, such as sleek design, seamless construction and overall weight and shape of the shoe, were common likes or dislikes among buyers of each product.
To evaluate style, we considered everything from the design, color, shape, weight, lines and overall construction of the shoe in question. While no one wants to wear an uncomfortable shoe, they also don't want a comfortable shoe to be ugly on the eyes. We've selected all of those on our top 10 to be not only stylish but also comfortable, true-to-size, supportive and durable.
Value
In our opinion, the most vital aspect that most consumers don't often take into consideration is the cost and value ratio. Now, do not be upset or think that you are the only one – because we have all done it. The truth is, it takes time – and not many people are aware of how to assess this.
For this buying guide, we did it for you. We carefully combed the market and studied the costs of all of the products. We tracked and noted what products were the most expensive and what were the cheapest. This gave us some insight as to what type of market we were researching. We utilized this information as we evaluated each product as it helped shine the light as to whether or not the value being offered in the shoe was worth the cost of the product. The goal is to find a product that is priced fairly but packed with value.
Outsole
Whether you are purchasing a regular pair of shoes or goth boots – the type of soles used throughout the shoe play a critical role in the quality and worth of the product. With that being said, for each product that we analyzed, we carefully observed how the manufacturer constructed the outsole, upper, midsole, and the insole.
This aspect of the shoe was incredibly important to us! Typically, most goth shoes and boots are all made from similar fabrics, faux leathers, and rubber outsoles. However, there were a select few in which the manufacturer carefully built the product with a padded insole or a higher-quality rubber outsole for better protection, comfort, and usability.
In this, for each shoe that we reviewed, we not only compared and evaluated what the maker of the shoe said, but we also took that information and verified with previous consumers. In this, we can say that when it comes to the goth market- these products are the absolute very best, online and in-stores.
Durability
A quality product is one that will follow you through the years and work the same way it did on the first day you bought the product. In regard to boots, we assessed durability in a few key ways, analyzing the materials, details, construction methods and brands to deliver to you a simple opinion: will this set of boots do the job and do it again and again? Take a look at each area we evaluated:
The Materials
Which type of materials were the product made from? Are they synthetic or natural? How do they smell out of the box? All of these are critical questions we asked when evaluating the materials of the product. A pair of boots made from fabrics that don't retain heat? They didn't make our list!
The Details
Extra buckles, complimentary cases, and reinforced fabrics are all good indicators of a manufacturer that is setting you up for long term success with their product. Attention to detail separates high-quality producers from cheap ones.
The Brand Name
A reputable brand is a signal of quality and trust. Often, high performers continue to perform and out-endure the competition. While there are always exceptions to the rule, we gave higher marks to manufacturers with solid reputations.
The Construction
You can tell a lot about a pair of boots or shoes by how the zippers behave. Do they pull swiftly and softly, like cutting butter? Or do they jam and snap? What about the sew? If there was threading after a few wears, we considered that a warning sign of a lack of proper construction and durability.
10 Best Goth Boots & Shoes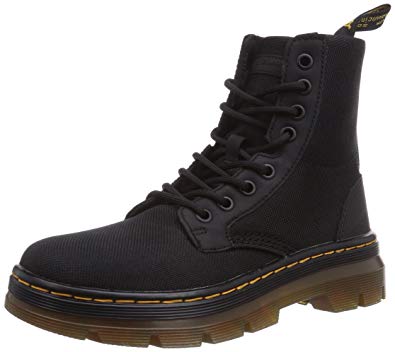 Not many footwear companies boast as many fans and followers as Dr. Martens. A brand that's popular among all subcultures, from punks to metalheads, to those who prefer a more preppy style, the iconic Doc Martens boots are one of the most popular boot choices of all time. Made with impeccably treated full grain leather, a recognizable 8-eye lace closure, and the recognizable yellow stitching, these are the perfect everyday goth boots.
The thing about boots is that they can be quite difficult to put on. With the Combs, you get the benefit of a heel pull tab that will make putting these shoes on so much easier in the morning. That means that you'll be more likely to wear them to school or work.
When you first put them on, Dr. Martens boots can feel bulky and heavy, and definitely, need some breaking in. However, these shoes are made using quality materials and are so resilient that a pair you purchase may last you for years to come. And best of all, they're super easy to keep clean. These boots are not cheap, but they won't burn a hole in your pockets either. With an average cost, the Combs is an excellent choice if you need something that you'll be able to wear more than just occasionally. It's a comfortable boot that works well in all types of weather, so you're sure to get your money's worth.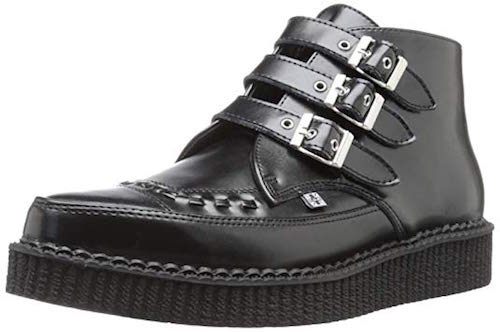 These creeper ankle boots are a great option for every day in fall and spring when you need the protection of a leather upper but don't want to be too hot. For music fans whose fashion sense is determined by their underground artistic affinities, these boots are a top choice that combines a unique design with a built-to-last construction.
In addition to the leather upper that will make these very comfortable for prolonged wear, the A8503 also features a mixture of textile and leather lining that'll allow your feet to breathe, while remaining soft to avoid any rubbing or hot spots.
There's a reason why rubber is such a popular choice for the soles of your shoes. It's flexible but protective, cushioned but durable, and it won't let you slip should need to walk on wet or highly polished surfaces. Costing below average, the T.U.K. A8503 is a bargain, considering the materials used in the construction. If you want a leather boot that'll look the part, but that won't go too overboard, then you should get this pair. You'll love how comfortable and wearable it is.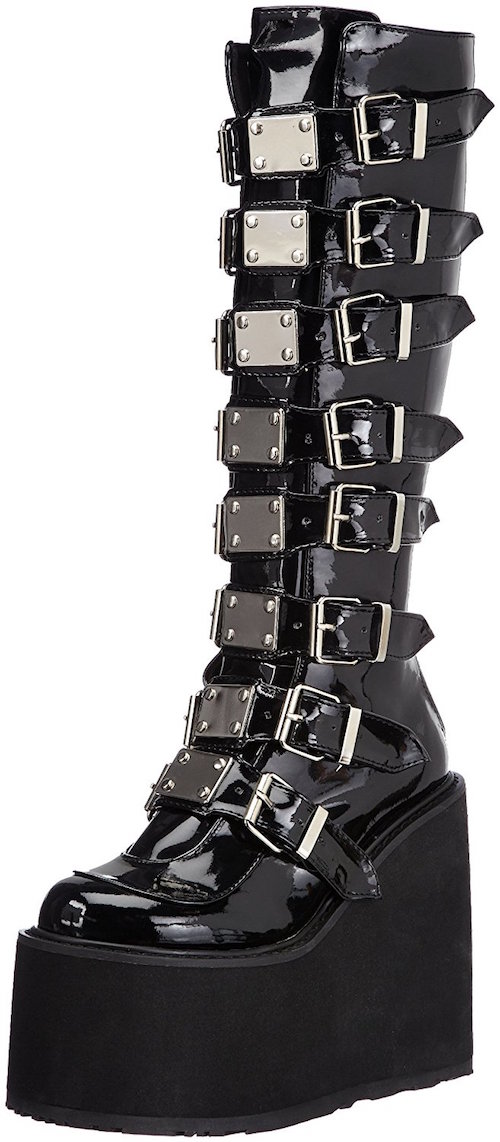 If there is any shoe or boot that we are excited to share with you, it's this one. The Pleaser Swing-815 Knee-High Boot is most certainly the one boot on our list that stands out, thanks to its design and visual appeal. The upper combines shiny synthetic leather and silver metal embellishments, and the tall platform gives you some much-needed elevations. If you are looking for a true goth boot, look no more!
Anyone who is into the traditional subculture goth gear will note that there are a wide variety of different "goth boots." However, there is only a few that are a true representation. This product can accomplish this and more, thanks to the unique metal plates and straps across the front of the product.
You might be wondering; how does someone get this product on their feet? Well, the brand designed these shoes with a unique full back zipper so that, no matter the time and day, an individual can slip these on and off without a problem. What took us by surprise was the price point for these boots. However, the more that we researched and evaluated these boots, the more we understand what consumers are getting in return. The value is in the incredible style and design, alongside the comfort and usability. Whether you need a pair of goth boots for a concert, event, or just for a daily attire, these can handle whatever task you need them for.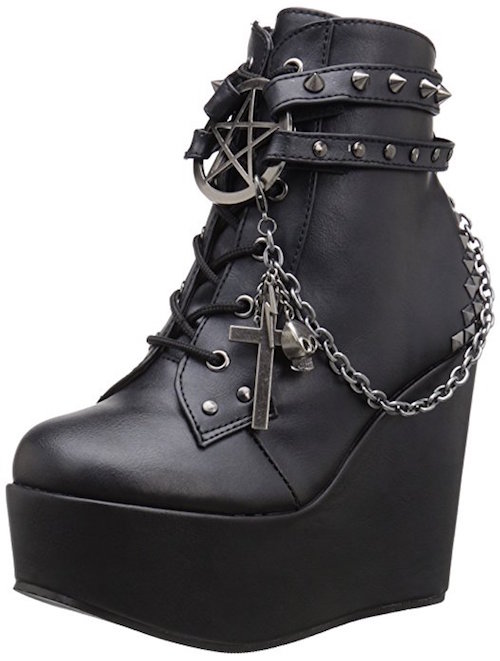 The Demonia Poison 101 is a beautiful pair of ankle boots that's sure to show off your personal sense of style. Featuring a 5" wedge heel that'll give you quite a bit of elevation, this model is stable enough for all-day wear, without having you stuck in a boring flat. The design features a pentagram detail, as well as charms which include a cross, skull, lightning and a safety pin. The back of the heel is covered in pyramid studs.
What makes this product such an appealing option is the unique, flashy design. This product embodies the gothic subculture, thanks to its chains, straps, studs, and charms. What really makes a goth boot a gothic product? Well, one thing that a lot of consumers look for is how big the platform and heel are. This product boasts a 5" outsole, which is one of the tallest heels on our list today.
These shoes are average in cost, compared to the other items on this list. Being made with 100% vegan materials, the Demonia Poison 101 is an eco-conscious option that won't only look good, but will also help you feel confident about wearing footwear that was made without harming the environment.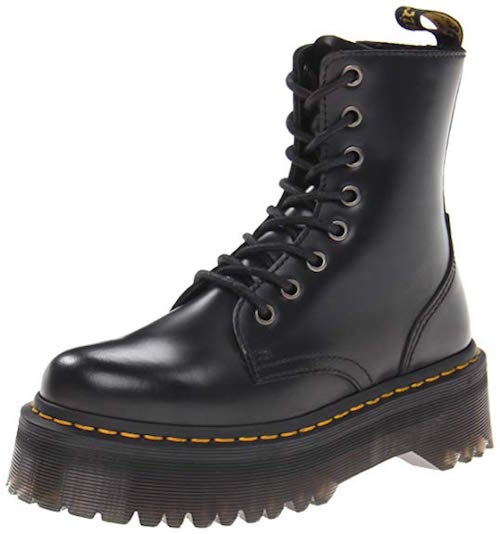 When it comes to the top of the goth boot industry, it's expected that the Dr. Martens Jadon should be near the top. A high-quality leather boot with a design that's quite simple but makes a statement, this is a boot that'll last you a lifetime. It's even a great option for professional wear, if you work somewhere more conservative, and will easily become your favorite pair of footwear to put on daily.
The most important aspect of this product is the high-quality sole. It's evident that this manufacturer carefully designed the insole of the shoe as it's air-cushioned, made from synthetic materials, and very comfortable.
If you are new to the industry or perhaps to footwear in general, it's important to know that Dr. Martens is probably one of the most prominent developers of shoes and boots. The science and approach of this company has been around for over 70 years. So, purchasing this product comes with the quality and assurance of such a manufacturer.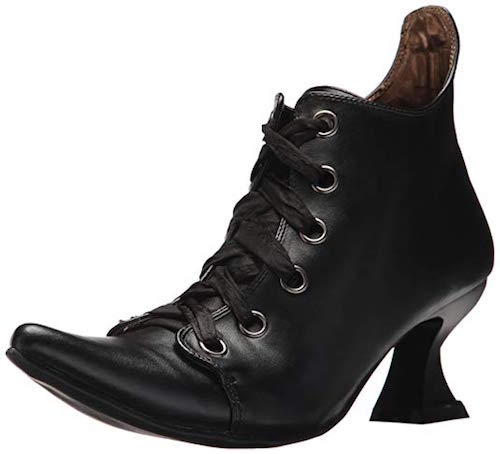 The Ellie 301 Abigail is more suited for occasional wear, such as for parties or costumes than for prolonged everyday use. Nonetheless, if this is the style you're after, they're unparalleled by anything you will find - they look amazing, and are something completely different than what you're probably used to. If you're looking for the best Halloween costume, these will look extra wicked. All you need to do is grab your broom and hat!
What makes these shoes so popular and such a valuable buy is how they were designed. When it comes to goth boots, there is something so special and unique about the resemblance of these and what a witch might wear. If you are looking to finalize your Halloween costume or to add to your collection these are a must-buy.
We all know that heels are not the most comfortable shoes to wear, right? Well, on top of the incredible design of these shoes – they are actually really comfortable! Now, you might not be able to wear them for hours; however, you will be able to walk around long enough to get the praise you are looking for.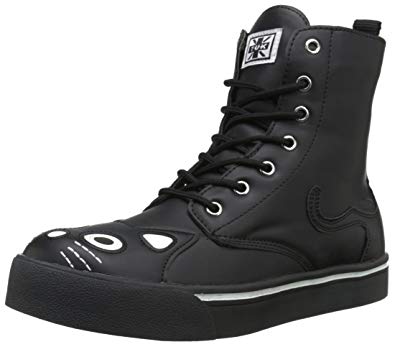 An option that seems to very popular at Comic Con, the T.U.K. Chukka Creeper is an affordable pair of footwear that looks the part but won't give you blisters or pain after a day of walking. It's got a high shaft that'll look just as good with a skirt as with a pair of pants, and comes in a variety of sizes that allows it to be worn by women and men alike.
Without going overboard, this Chukka Creeper features a kitty design on the toe that adds a bit of style to an otherwise simple model. A pair of shoes that is this high is sure to make you sweat after a couple of hours. These Chukka boots also feature 7 eyelets so you can adjust the fit and a side zipper for easy slip on.
With a price that's really low for a style this tall, this boot will fit almost anyone's budget. It's a good option for occasional wear but can even pass for everyday use. The synthetic upper is easy to care for, and will even last for a considerable amount of time.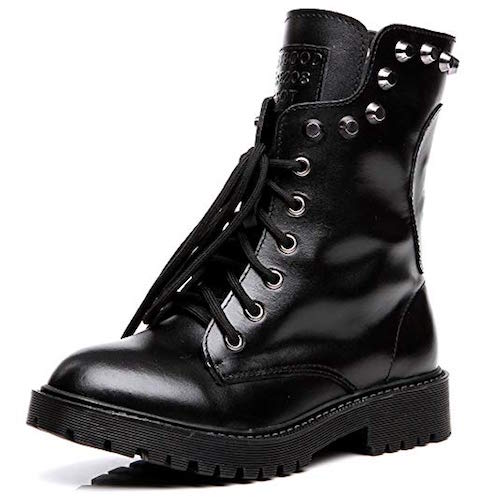 The Shenn Round Toe is a military punk boot that's got some serious style. It comes in three color options, but you will probably prefer to go with the simple black one. The upper is made with split leather that's soft and easy to care for, while the suds around the collar make for an awesome fashion statement.
The biggest selling factor surrounding this product is in how the boot was built. The outsole of the boot was designed with Rubber TPR, which, if you are not familiar, is great for durability, traction, and control. Additionally, the shock-absorbing materials will help to alleviate some tension that other goth shoes or boots might create.
If you want to show up to a fashion show and get eyed from around the room, these boots will do it. Not only are they modern and classy, but they also represent the subculture in a new, exciting way. The best part about these shoes is that you can purchase them in black, brown, and even wine red. When we assessed the cost of these shoes, we felt as if the brand selected a fair price point. Given the amount of quality and value put into constructing the product – it's worth it. Be sure to carefully read the size chart before purchasing. Otherwise, you might have another problem.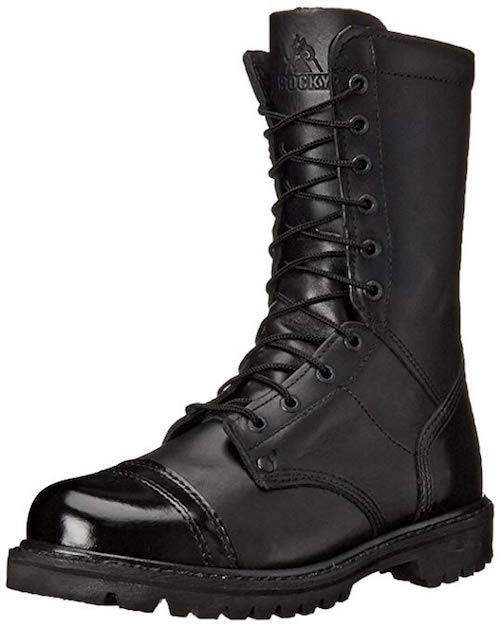 These heavy-duty boots don't feature any buckles, studs, straps or similar embellishments. Nonetheless, that does not mean you should not consider them. Made for heavy-duty use, the Rocky Duty is a weather resistant shoe option perfect for when it's raining or snowing, and you need a secure pair of footwear to get you through the day. Made with Goodyear welt construction, the Duty can even be repaired or resoled, so you'll get twice as much use out of it.
The outsole on the Rocky Duty is made so as to be slip, oil and abrasion resistant, which is sure to come in handy at clubs or concerts where you need a more stable footing on slippery surfaces. And even if you just wear it around town, it'll hold up on all terrains.
No other pair of shoes on this list features an EVA foam footbed which is quite a shame. The material that's become extremely popular for its cushioning abilities, and which is widely used in running footwear is also present in the Rocky Duty, giving you a pair of boots you'll easily wear for hours on end. Being waterproof, made with genuine leather, featuring a Goodyear welt construction and an oil and abrasion resistant outsole, the Rocky Duty will set you back more than the average pair of footwear on this list. Nonetheless, it's a good option for winter use when a tall platform or high heel may pose as a safety hazard.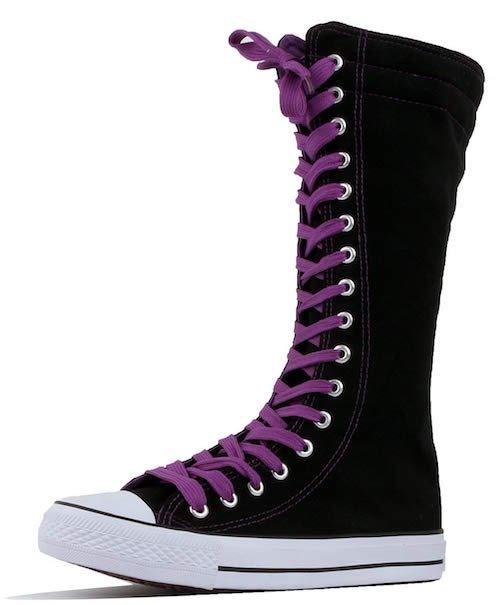 Though not technically a pair of boots, the DW Tall Lace Up is a gothic version of everyone's favorite sneaker - the Converse Chuck Taylor. With a 14 ½" shaft height, these will look just like a pair of boots but will be so much more comfortable to wear in summer. Additionally, being a canvas sneaker, the DW Tall Lace Up will allow you to move more easily, making it a good option for running errands or everyday wear when tall leather boots would be too heavy.
When it comes to a pair of shoes, it's incredibly important that they are comfortable, right? Well, this pair of goth shoes come designed with a thicker sole in efforts to promote an effort more comfortable walking experience.
Are you looking to stand out? These shoes come in 16 different color and design options, all of which are incredibly fashionable, flashy, and bound to be a subject of conversation at any party or event. As a consumer, it's vital that you pay close attention to the relationship between the cost and the value. This product is not only one of the cheapest products on today's list; it offers some of the best value, making it a purchase without doubts or questions.

Subscribe to our Newsletter