Best Guess Shoes Reviewed & Rated for Style
In a Hurry? Editors choice: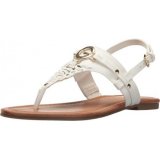 Test Winner: Lemmon

From the runway to your home, Guess shoes are simply synonymous with  fashionable footwear. Both men and women have become loyal followers of the lifestyle brand. Guess started in 1981 when the Marciano brothers left the South of France and came to America. Since then, they've become a fashion icon creating everything from the jewelry on your wrist to the shoes on your feet.

Stars from Claudia Schiffer to today's face of the brand, Jennifer Lopez have indulged in this luxury brand. Designed to be high quality as well as durable Guess has transcended generations as a brand for the cool worn by the cool.

Guess has four brands under their name: Guess, Guess Factory, Marciano, and G By Guess to appeal to many walks of life. We have selected ten of the best examples of these brands from  stylish sandals to more casual sneakers and everything in between.
Standout Picks
Criteria Used for Evaluation
Top 10 Picks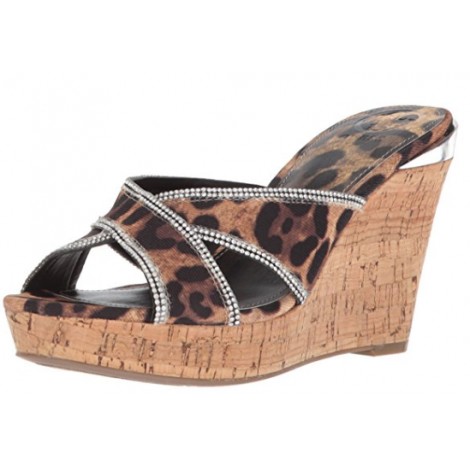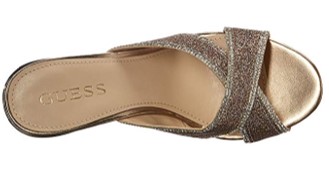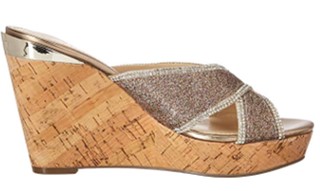 The Eleonora Wedge by Guess is a stylish wedge sandal that is available in seven colors: brown/leopard, black, pink, silver, synthetic silver, gold, and natural, so you'll have no trouble matching these with any outfit. Their crossed straps and elegant rhinestone embellishments set these sandals a step above the rest and make for a super-cute must-have pair of shoes for the summer.
The Eleonora is made from man-made synthetic materials which are lightweight and breathable and has a non-slip outsole for a secure step. Walk comfortably thanks to the Eleonora's lightly padded footbed and open-toe design.
A cute wedge heel and criss-cross front straps that feature rhinestone embellishments make the Eleonora a must-have summer sandal. A high 4.25-inch heel offset by a 1.25-inch platform makes for a modern vibe while adding the lift that you've been looking for.
These open-toed strappy sandals are a great deal and very reasonably priced. The Eleonora offers a comfy padded footbed and non-slip outsole, along with an ever stylish cork wedge heel.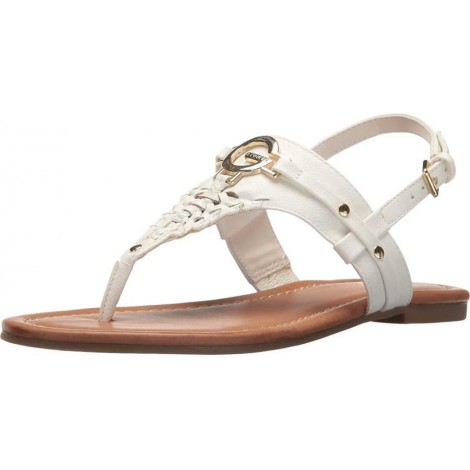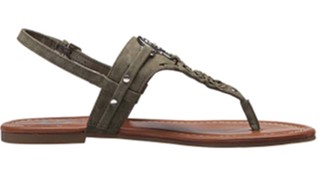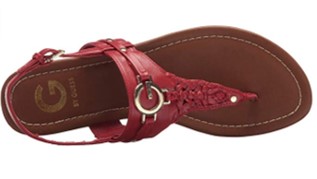 The Lemmon is from the G By Guess line and is a super-fresh summer sandal. These strappy and breathable shoes are perfect for casual strolls in the sun or for sauntering down the fashion strip. Look your best while wearing a pair of G By Guess Lemmon sandals that are so cute you'll want to wear them all year long.
The Lemmon is made from synthetic materials that are lightweight and prevent sweaty feet which lead to unpleasant odors. These thong-styled summer shoes have a slightly padded footbed for additional comfort and weigh only 6-ounces.
The Lemmon certainly doesn't lack style thanks to its woven detailing and slight 1.5-inch heel. Complete with ankle straps and a buckle closure system the Lemmon lets you walk securely without worrying about your sandals slipping off.
The Lemmon is a total steal and brings an epic and stylish pair of summer footwear that will have you walking tall and comfortably. These sandals are the perfect pairing of comfort and design that will have all eyes on you as you stride past.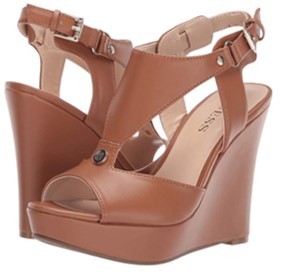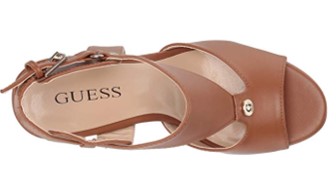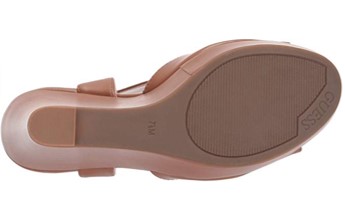 This classic wedge style sandal from Guess brings together clean lines with structural design for an all-around fabulous shoe. The Nearly is more than nearly there when it comes to fashion! With its high 4.5 inch height, leather uppers, and peep toe foot, its neutral tone will pair with many an ensemble for flirty fashion styles. An ankle closure with buckle allows for optimal fit and comfort, while padded footbed and softer lining give it a lovely on-foot feel. It's a pair for summer dresses and flirty skirts, whether they be casual or a bit more formal.
Leather uppers on the Nearly extend in a wider T-strap inspired style, gently angling up the forefoot to the ankle closure at the top. A buckle closure threads through two side straps for the perfect adjustable fit, which won't allow for any slippage when walking. Guess logo stands at the front of the T-strap as a burnish metal accent. Peep toe opening helps add to the breathability of the sandal, and shows off those freshly pedicured toes!
At the base of the Nearly is a synthetic sole, with a textured pattern for extra grip and traction. Its classic wedge design helps promote better stability and support when walking, even at a tall 4.5 inch raise in the heel. Platform rises just over an inch, so you'll still be comfortable when out and about. Inside is a lightly padded footbed, providing comfort and cushion for each step you take. It's a pair for any kind of summertime style, flirty, fun, and versatile.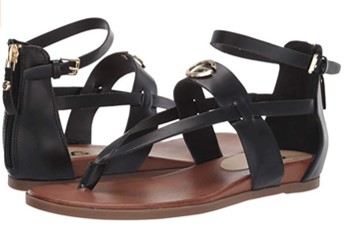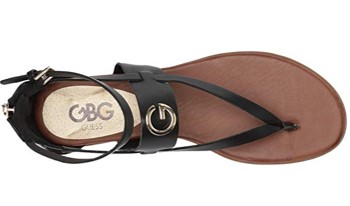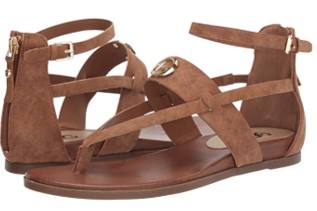 This adorable little sandal packs a punch in style with its strappy design and secure ankle closure. The Cartur has a slight half inch heel raise for a feminine touch, with thong toe that threads through a wider over the foot strap with Guess logo hardware. An easy heel zip makes them a cinch to get in and out of, while the adjustable ankle strap secures you in with a buckle closure. Available in a few neutral tones, you'll be able to pair this one with several different outfits and styles for summertime.
Manmade uppers construct the Cartur's strappy design and heel, but feel soft on the foot compared to some more rougher leathers and materials. The toe post thong keeps feet in the sunlight and ventilation maximized when temperatures start to soar in mid-day sun. These thread through mid-foot strap across the top adding to the fit of the sandal. Atop this lies the Guess logo in a golden hardware for a bit of bling to the shoe. Inside, the insole is lightly cushioned to help soften steps when out and about.
Synthetic soles base the Cartur's bottom, and also have some textured tread for added traction and grip on wetter surfaces or slippery tiles. A modest half inch heel feels comfortable for daily use, and the ankle strap closure will fasten the foot securely inside. Heel zipper helps add to the ease of using this pair, and will have you strutting comfortably along. It's a pair for summer not to miss, and is quite versatile in its design for any kind of outfit.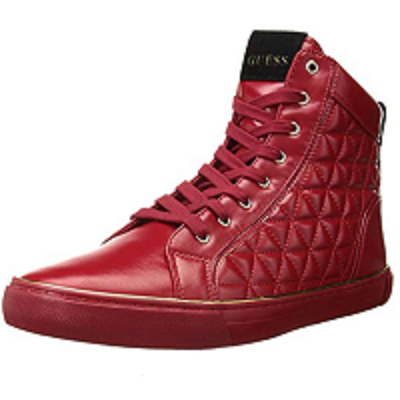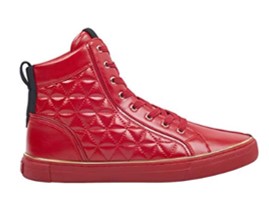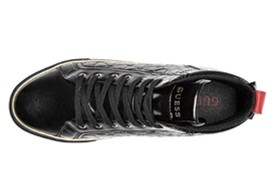 The Melo is a stylish red shoe designed to be comfortable and easy-going. The quilted leather style definitely help you show that you've arrived both figuratively and literately.
Padded footbed provides support for your arches. You'll find the leather soles to be durable and long lasting. The high shaft of the sneakers is perfect for ankle support.
Whether you choose red, black, or beige, Guess has paid close attention to the style of its lifestyle brand. The quilted pattern with a gold stripe make this one cool shoe. These are a reasonably priced sneaker especially for a shoe that sports the 'G By Guess' logo.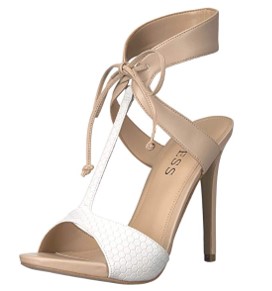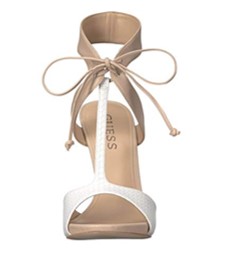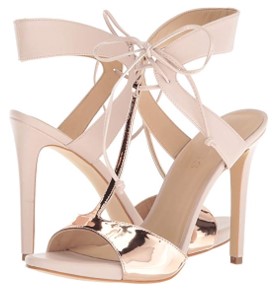 This sexier model from Guess is made for weekend fun and nights out with friends, with a stiletto heel and lengthy T-strap design. Uppers crafted from leather come in a variety of styles, from snakeskin pattern to a bold metallic shine. A feminine lace up closure will help secure the foot in place, while a wrap around ankle strap holds the heel in place when walking. Synthetic soles help with traction, while a lightly padded footbed can provide some comfort when wearing out for the evening.
We adore the sexy silhouette of the Alexes, with a 4.5 inch heel that will lengthen legs for days and give a pleasing curvature to the shape of the foot. Open peep toes grow into a long thin T-strap design, which connects to a wider ankle wrap at the front. This wraps around the back of the ankle and is pulled together with a delicate feminine lace closure at the front, securing the foot inside. Options for a textured snakeskin pattern, simple leather, or metallic shine create a pair made for evenings out!
The base of the Alexes is a synthetic sole with a groove pattern for added grip on slippery surfaces. Inside is a padded footbed, which helps give some cushion to the foot during wear. Open heels prevent any kind of possibility for blisters. Pairing this with evening dresses or cocktail dresses is most appealing, allowing you to show off its beautiful design to accompany your ensemble. It's a knock-out pair of heels for any shoe lover's collection!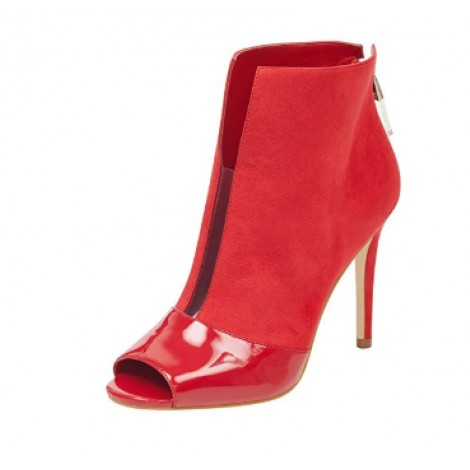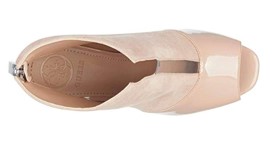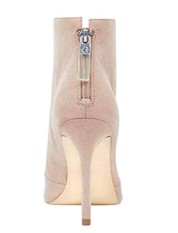 Guess Funtime Booties are a super-cute and stylish pair of ankle boots that boast a peep-toe design for added allure. Available in three colors: black, nude, and red, the Funtime matches well with almost any look.
The Funtime boasts a stiletto heel with a rubber tip for added anti-slip security. Its outsole is made from non-slip synthetic materials so you can walk with a sure foot and forget about accidental slips or falls.
A super-cute peep-toe design paired with a multi-fabric upper unit and front zipper closure make for a must-have pair of booties that are appropriate for both warm and cool weather. Walk with ease despite the Funtimes 4-inch stiletto heel thanks to its non-slip properties and secure zipper closure that provides a snug foot feel.
While the Funtime isn't the cheapest option on the list, it's definitely not too expensive. These stylish peep-toe ankle boots are worth the splurge and are sure to have you as the envy of many when you walk into the room.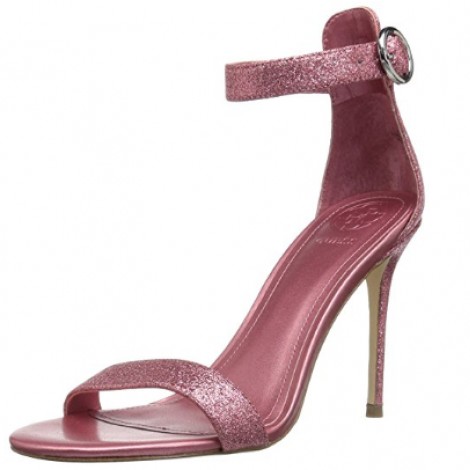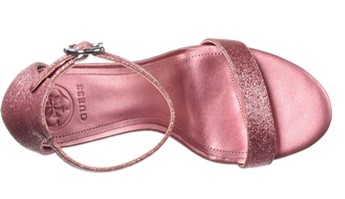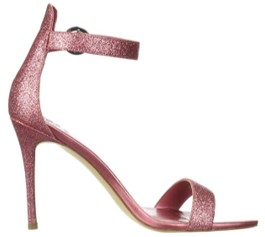 You may recognize the Kahlua from the Guess Spring Campaign as seen on Jennifer Lopez?! These stunning heels are ultra-luxe and are the perfect pair of Guess shoes for a formal, dress, or special occasion and will look amazing with any outfit.
The Kahlua's constructed from breathable synthetic materials that prevent sweat and odors from occurring and was made with a non-slip rubber outsole to avoid any accidental slips or falls. These open-toe concept stunners have an adorable buckled ankle strap that allows for a safe and secure fit.
The Kahlua features a 4-inch heel and cross-toe strap for a gorgeous and together look that isn't too difficult to manage walking in. They boast a low platform height which makes striding even more manageable, while their super-sultry stiletto heel met with a high ankle collar and buckled ankle strap brings the look to a breathtaking finish.
For a Guess heel, the Kahlua is surprisingly affordable. These open-toe heels are perfect for professional occasions or solely for a night on the town. No matter the circumstance you'll look your best while wearing these Guess shoes.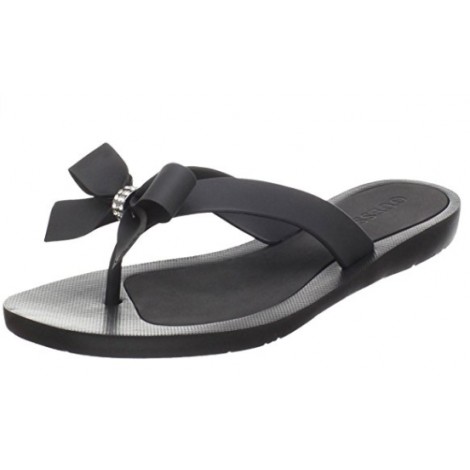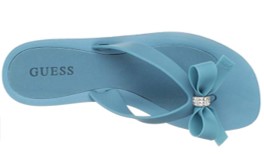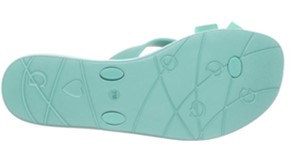 The Tutu by Guess is one comfy pair of flip-flops that will have you enjoying the ride almost as much as you'll enjoy staring down at these man-made marvels. They feature a bow accent and padded footbed that makes these a summertime staple.
The Tutu is made from breathable man-made materials that allow for proper airflow around the foot which prevents sweating and odors. Their lightly padded footbed will keep your underfoot feeling great even after long hours of wear and a non-slip outsole will keep you steady on your feet.
It doesn't get much better than a peep-toe pair of ankle boots! Designed with a 4-inch stiletto heel and front zipper closure, these sandals are a statement of personal style and will have heads turning left and right no matter where you go.
A relatively reasonable pair of sandals, the Guess Tutu will fit most budgets. Walk in comfort thanks to a padded footbed and moisture controlling materials, while forgetting about accidental slips or falls because of the Tutus non-slip rubber outsole.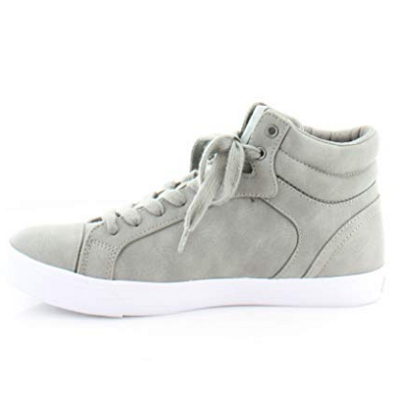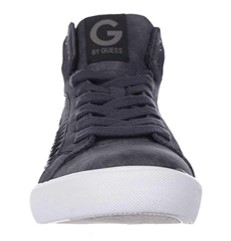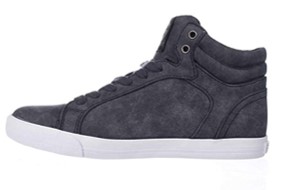 Classic lace up shoe with synthetic and leather shoe design allows for a durable shoe. Cushioned foot bed and a padded tongue. The Olisa is an edgy and bold with dark gray shoe with white soles. Good shoe for a stylish night out with the girls or a casual walk through the park.
Designed to be a less feminine, tom boy shoe these shoes are designed to be edgy. Much like Guess jewelry these shoes stand out with a dark grey on white soles.
The low-top sneakers are designed with a comfortably padded foot bed to give ample support in the arch of your foot, as well as a padded tongue and collar for great ankle support.
The cost of these casual sneakers are very affordable for the quality and comfort that Guess is known for. Not a lot of money for the plethora of compliments you will receive.

Subscribe to our Newsletter