Best Guess Shoes Reviewed & Rated for Style
From the runway to your home, Guess shoes are simply synonymous with fashionable footwear. Both men and women have become loyal followers of the lifestyle brand. Guess started in 1981 when the Marciano brothers left the South of France and came to America. Since then, they've become a fashion icon creating everything from the jewelry on your wrist to the shoes on your feet.
Stars from Claudia Schiffer to today's face of the brand, Jennifer Lopez have indulged in this luxury brand. Designed to be high quality as well as durable Guess has transcended generations as a brand for the cool worn by the cool.
Featured Recommendations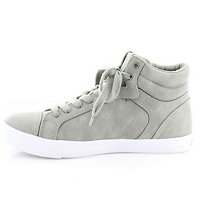 Orfin

Our rating
Cushioned Footbed
Synthetic
Price:

See Here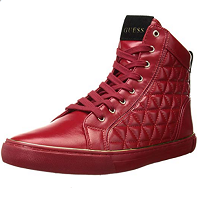 Melo

Our rating
Leather Sole
Padded Footbed
Price:

See Here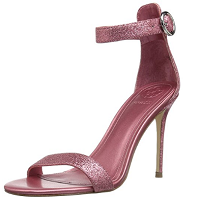 Kahlua

Our rating
Ankle Strap
Buckle Closure
Price:

See Here


Guess has four brands under their name: Guess, Guess Factory, Marciano, and G By Guess to appeal to many walks of life. We have selected ten of the best examples of these brands from stylish sandals to more casual sneakers and everything in between.
10 Best Guess Shoes
Orfin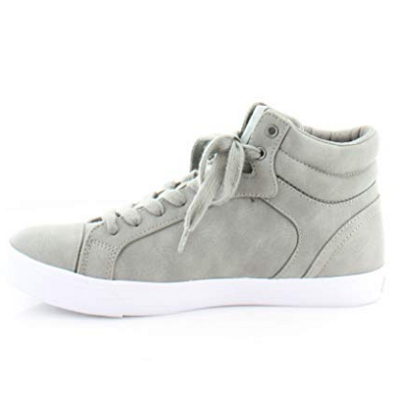 Classic lace up shoe with synthetic and leather shoe design allows for a durable shoe. Cushioned foot bed and a padded tongue.

Edgy and bold with dark gray shoe with white soles. Good shoe for a stylish night out with the girls or a casual walk through the park.
Expand to see more
Style
Designed to be a less feminine, tom boy shoe these shoes are designed to be edgy. Much like Guess jewelry these shoes stand out with a dark grey on white soles.

Design
The low-top sneakers are designed with a comfortably padded foot bed to give ample support in the arch of your foot, as well as a padded tongue and collar for great ankle support.

Cost and Value
The cost of these casual sneakers are very affordable for the quality and comfort that Guess is known for. Not a lot of money for the plethora of compliments you will receive.
Padded Collar
Synthetic Shoe
Cushioned Footbed
Leather Sole
Melo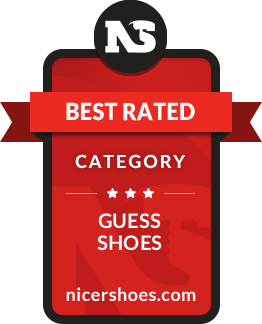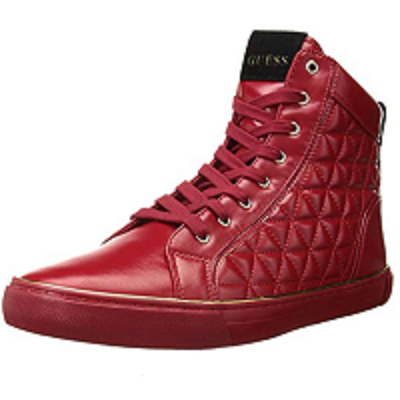 Stylish red shoe designed to be comfortable and stylish. The quilted leather style definitely help you show that you've arrived both figuratively and literately.
Expand to see more
Wearability
Padded footbed provides support for your arches. You'll find the leather soles to be durable and long lasting. The high shaft of the sneakers is perfect for ankle support.

Style
Whether you choose red, black, or beige, Guess has paid close attention to the style of its lifestyle brand. The quilted pattern with a gold stripe make this one cool shoe.

Cost and Value
These are a reasonably priced sneaker especially for a shoe that sports the 'G By Guess' logo.
Leather Sole
Rubber Insole
Lace-Up Sneaker
Padded Footbed
Kahlua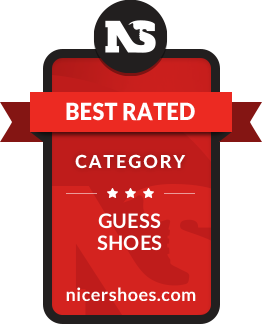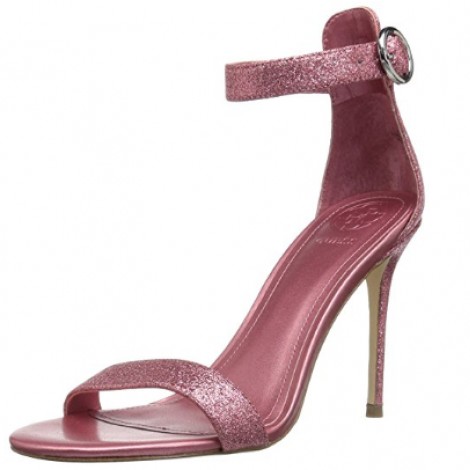 You may recognize the Kahlua from the Guess Spring Campaign as seen on Jennifer Lopez?! These stunning heels are ultra-luxe and are the perfect pair of Guess shoes for a formal, dress, or special occasion and will look amazing with any outfit.
Expand to see more
Wearability
The Kahlua's constructed from breathable synthetic materials that prevent sweat and odors from occurring and was made with a non-slip rubber outsole to avoid any accidental slips or falls. These open-toe concept stunners have an adorable buckled ankle strap that allows for a safe and secure fit.

Style
The Kahlua features a 4-inch heel and cross-toe strap for a gorgeous and together look that isn't too difficult to manage walking in. They boast a low platform height which makes striding even more manageable, while their super-sultry stiletto heel met with a high ankle collar and buckled ankle strap brings the look to a breathtaking finish.

Cost and Value
For a Guess heel, the Kahlua is surprisingly affordable. These open-toe heels are perfect for professional occasions or solely for a night on the town. No matter the circumstance you'll look your best while wearing these Guess shoes.
Open-toe
Heel Strap
Buckle Closure
4-inch Heel
Dreamer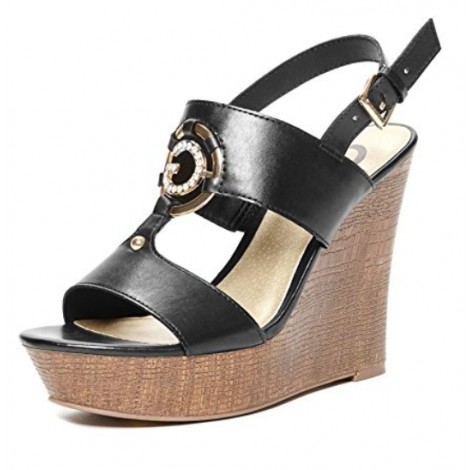 The Dreamer is a towering wedge sandal with a cute strappy design and a secure buckle closure system. These stylish sandals are part of the G by Guess line and are adorned with a gem-encrusted metal accent for a bold statement look. Be the center of attention when you walk into the room thanks to these sky-high sandals that are as comfortable as they are gorgeous.
Expand to see more
Design features
The dreamer has a faux-leather upper and features an adjustable buckle closure system. Its soft man-made lining sits atop a lightly padded footbed making these sandals extra comfy. The dreamer boasts a strappy design and 4-inch heel, while a low 1.74-inch platform makes for a more natural stride

Style
The Dreamer sandal is available in four colors: black, gold, natural, and olive, so you won't have any problem pairing these with your favorite outfit. Their classic style makes these sandals appropriate for all kinds of occasions including a visit to your favorite hot spot, or for a stroll through the downtown on a hot summers day.

Cost and Value
The great thing about the G By Guess line is that their footwear is incredibly affordable. The Dreamer is a high-end sandal appearance wise but is available for an incredibly low price.
Low Platform
Wedge Heel
Cushioned Footbed
Buckle Closure
Ankle Strap
Funtime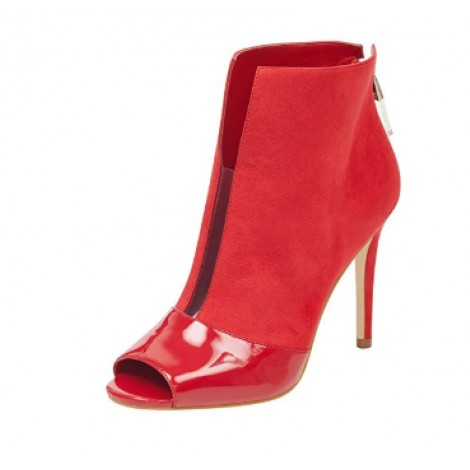 Guess Funtime Booties are a super-cute and stylish pair of ankle boots that boast a peep-toe design for added allure. Available in three colors: black, nude, and red, the Funtime matches well with almost any look.
Expand to see more
Design Features
The Funtime boasts a stiletto heel with a rubber tip for added anti-slip security. Its outsole is made from non-slip synthetic materials so you can walk with a sure foot and forget about accidental slips or falls.

Style
A super-cute peep-toe design paired with a multi-fabric upper unit and front zipper closure make for a must-have pair of booties that are appropriate for both warm and cool weather. Walk with ease despite the Funtimes 4-inch stiletto heel thanks to its non-slip properties and secure zipper closure that provides a snug foot feel.

Cost and Value
While the Funtime isn't the cheapest option on the list, it's definitely not too expensive. These stylish peep-toe ankle boots are worth the splurge and are sure to have you as the envy of many when you walk into the room.
4 Inch Heel
Man-Made Sole
Peep Toe
Zippered Heel
Tutu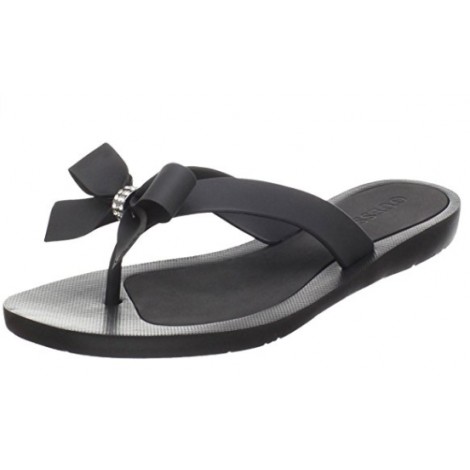 The Tutu by Guess is one comfy pair of flip-flops that will have you enjoying the ride almost as much as you'll enjoy staring down at these man-made marvels. They feature a bow accent and padded footbed that makes these a summertime staple.
Expand to see more
Design Features
The Tutu is made from breathable man-made materials that allow for proper airflow around the foot which prevents sweating and odors. Their lightly padded footbed will keep your underfoot feeling great even after long hours of wear and a non-slip outsole will keep you steady on your feet.

Style
It doesn't get much better than a peep-toe pair of ankle boots! Designed with a 4-inch stiletto heel and front zipper closure, these sandals are a statement of personal style and will have heads turning left and right no matter where you go.

Cost and Value
A relatively reasonable pair of sandals, the Guess Tutu will fit most budgets. Walk in comfort thanks to a padded footbed and moisture controlling materials, while forgetting about accidental slips or falls because of the Tutus non-slip rubber outsole.
Rubber Sole
Slip On
Thong Strap
Padded Footbed
Eleonora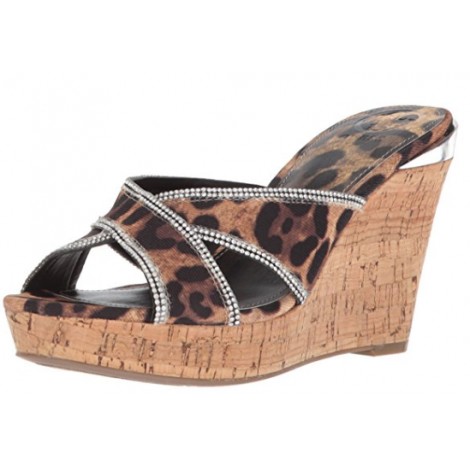 The Eleonora Wedge by Guess is a stylish wedge sandal that is available in seven colors: brown/leopard, black, pink, silver, synthetic silver, gold, and natural, so you'll have no trouble matching these with any outfit. Their crossed straps and elegant rhinestone embellishments set these sandals a step above the rest and make for a super-cute must-have pair of shoes for the summer.
Expand to see more
Design Features
The Eleonora is made from man-made synthetic materials which are lightweight and breathable and has a non-slip outsole for a secure step. Walk comfortably thanks to the Eleonora's lightly padded footbed and open-toe design.

Style
A cute wedge heel and criss-cross front straps that feature rhinestone embellishments make the Eleonora a must-have summer sandal. A high 4.25-inch heel offset by a 1.25-inch platform makes for a modern vibe while adding the lift that you've been looking for.

Cost and Value
These open-toed strappy sandals are a great deal and very reasonably priced. The Eleonora offers a comfy padded footbed and non-slip outsole, along with an ever stylish cork wedge heel.
Chunky Cork Wedge
4.25-inch Heel
1.25-inch Platform
Farrell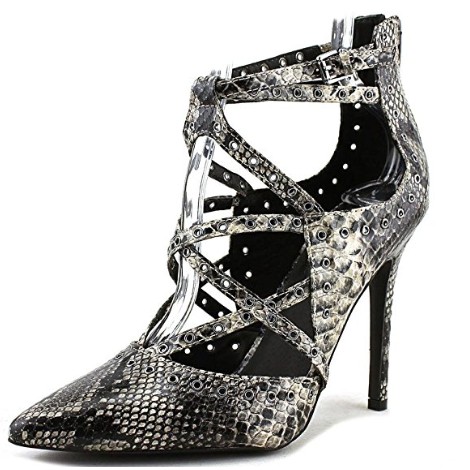 These caged pumps are off the chain! These gorgeous heels are available in three colors: taupe snake, black, and medium brown, so you can match them well with almost any outfit and they're perfect for a night on the town. Turn heads when you enter the room thanks to these stunning Guess showstoppers.
Expand to see more
Design Features
Made from synthetic materials which are breathable and lightweight, the Farrell is made to prevent sweaty feet and stop odors before they start. They feature a non-slip synthetic outsole that prevents accidental slips and have a rear zipper closure for a secure fit everytime.

Style
The Farrell boasts a sexy 4-inch stiletto heel and a sleek silhouette that will have you drooling over their gorgeous demur. They have criss-cross front straps that swirl from the toe-line up to the ankle where they meet at a dainty buckle closure for added security making these pumps almost too stylish to bear.

Cost and Value
The Farrell is reasonably priced and offers a great shoe for the cost. These strappy heels let your inner bad girl out to play and are as stunning as they are trendsetting.
Criss-Cross Straps
Ankle Buckle Closure
Pointed Toe
Stiletto Heel
Lemmon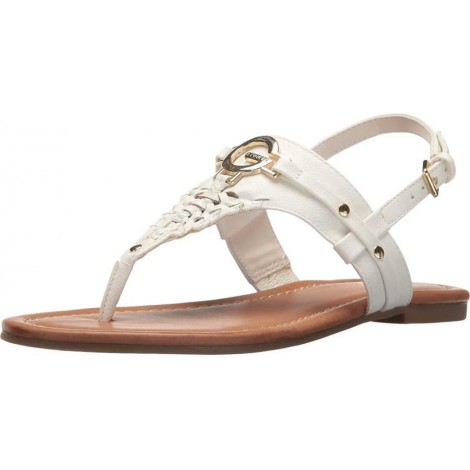 The Lemmon is from the G By Guess line and is a super-fresh summer sandal. These strappy and breathable shoes are perfect for casual strolls in the sun or for sauntering down the fashion strip. Look your best while wearing a pair of G By Guess Lemmon sandals that are so cute you'll want to wear them all year long.
Expand to see more
Design Features
The Lemmon is made from synthetic materials that are lightweight and prevent sweaty feet which lead to unpleasant odors. These thong-styled summer shoes have a slightly padded footbed for additional comfort and weigh only 6-ounces.

Style
The Lemmon certainly doesn't lack style thanks to its woven detailing and slight 1.5-inch heel. Complete with ankle straps and a buckle closure system the Lemmon lets you walk securely without worrying about your sandals slipping off.

Cost and Value
The Lemmon is a total steal and brings an epic and stylish pair of summer footwear that will have you walking tall and comfortably. These sandals are the perfect pairing of comfort and design that will have all eyes on you as you stride past.
Ankle Strap
Buckle Closure 
Padded Footbed
Saying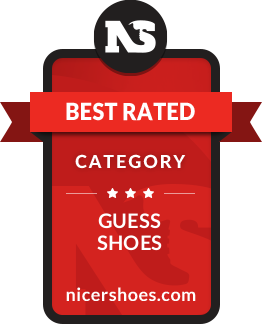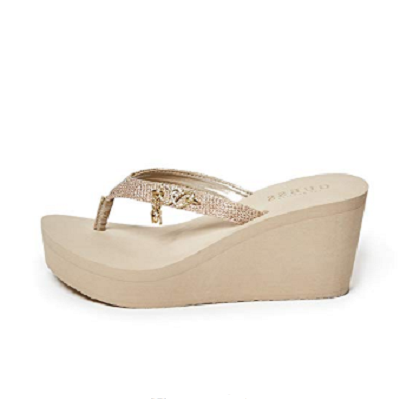 The Saying platform sandal is part of the Guess Factory line which offers almost identical styles to the traditional Guess line only for a lower selling price which makes the brand more within reach for everyone. You'll look super hot in these stylish summertime must-haves that are sure to have heads turning when you walk past them.
Expand to see more
Design
The Saying boasts a unique 3 inch heel design which makes for a more personalized yet chic appearance. It's complete with gold-tone accents and proudly displays a logo plaque with rhinestone detail. A nifty cork-like footbed sets off the solid one color upper while the gold accents polish off the look.

Wearability
These awesome sandals have a strap design that produces a narrow toe-piece and is completed with an ankle strap and cute gold buckle closure. The buckle allows for a more customized wear for a unique comfort level every time, while the open-concept design lets cool air circulate around the foot lowering overall body temperature.

Cost and Value
These sandals are practically a steal and one would expect them to cost more than double their retail price. The Saying is a casual, yet elegant platform sandals that goes with any summer outfit.
Three Inch Heel
Synthetic Sole
1.5 Inch Platform
Now that you've had a peek at 10 of the best Guess shoes you can feel confident that you're making an informed decision while purchasing your next pair of Guess footwear. Something to keep in mind while browsing the Guess product line is that this is a brand who have risen above any obstacles and accomplished the impossible, achieved staying power in the fashion industry for nearly 40-years. Four decades later, Guess shoes are still one of the most coveted and feature an impressive array of celebrity endorsers who have been featured as the face behind the name and proudly walk the red carpet in a dazzling pair of Guess heels, with some of the most notorious "Guess Girls" being Nicole Kidman, Drew Barrymore, and Claudia Schiffer.
Between the four brand lines behind the Guess name, there will be a style for any occasion and you'll be able to find the looks you love for an accessible price point thanks to the Guess Factory line, which manufactures modified designs to mimic their most popular and retails them for a lower selling price. For ladies, wearing a pair of Guess high-heels enables her to exude confidence, style, and grace, all while rocking a show-stopping pair of footwear which is the Guess name will continue to be a top name in fashion for many more decades to come.
Criteria Used to Evaluate the Best Guess Shoes

Brand
Guess is an infamous name in the fashion world that has become a front-runner for celebrity endorsement and is highly-rated among women and men from all over the world. However, many people are unaware of the fact that the Guess branding includes four collections under their name: Guess, Guess Factory, Marciano, and G By Guess.
Guess:
The Original Guess line that broke onto the fashion scene back in 1981 and hasn't shown any signs of cooling off since. Guess footwear includes high-heels, sandals, dress, and casual dress shoes, they also shun the more athletic sneaker style of footwear.
Guess Factory:
Guess Factory is a line that offers almost the identical products to the original Guess items but will cost less because the Factory's footwear is made from materials which are less costly and allow for a lower retail price. The Guess Factory shoes are still very high-quality and are definitely worth looking into if you're a 'Guess lover' on a tighter budget.
Marciano:
The Guess Marciano brand offers a more upscale and dressy selection of footwear including dress, casual dress, and boots, but do not offer sneakers like some of the other Guess brands do. The price range for this line is in the mid to high end and these styles are best worn for special occasions, professional settings, or for a night out on the town.
G By Guess:
G By Guess is another of one of their brands and is aimed towards customers who are 35-years-old or younger. The G By Guess line of footwear includes a more casual collection of sneakers, boots, and booties, though they do have a fair selection of sandals and high-heels as well. You will find that the styles are more youthful than the other Guess lines but are very trendy and always in style.
Style/Comfort
Style
Guess branded shoes range in style depending on the line of Guess products you're shopping from. The four brands of Guess each offer similar yet unique styles of footwear and apparel. The main types of shoes Guess manufactures are dress shoes, casual dress, high-heels, sandals, and pumps, however with their G by Guess line, which targets a more youthful consumer base, they have created some solid and stylish athletic footwear that is much more casual and laid back than the style of footwear the brand has become so infamous for.
The following are the styles of footwear Guess has to offer:
As you can see, over the years the Guess brand has really expanded their reach from their starting roots as a mostly denim jeans orientated retailer to a master-of-all-trades in the world of fashion and footwear.
Comfort
Comfort is an integral part of any shoe and can mean the difference between an enjoyable wear and an unpleasant one. Aspects which contribute to the comfort of a shoe are the cushioning,
Heel Height:
When it comes to Guess high-heels there are choices ranging from a two-inch heel to a towering eight-inches and they offer everything from stilettos and heels all the way to wedged platforms. When selecting a pair of Guess heels there are several factors that should be taken into consideration like the platform, comfort, wearability, and height, which are critical elements to the performance of a shoe. The higher the height of the heel and platform of the shoe, the harder it's going to be to walk in which is why careful consideration should be taken to choose an appropriate heel height for your specific needs.
Footbed:
The footbed is the part of the shoe where your foot rests and is essential in order for any footwear in order to provide any level of comfort. The footbed is responsible or things like cushioning, supporting, and wicking moisture away from the foot. If the wrong materials are used for the insole it can cause all sorts of unpleasant things and can ruin a shoe wearability. One of the better materials for the insole is leather which controls temperature well and pulls moisture away from the foot, pushing it towards the outer side of the material. Moisture control is a vital element in the prevention of odors which happen when moisture causes mold and mildew to form inside of a shoe, effectively creating a foul smell that is near impossible to reverse.
Width:
Width is a crucial aspect of Guess shoes and needs to be factored into your final decision when purchasing a new pair of footwear. Guess shoes, particularly their high heels, have a narrow design and may not be well-suited for an individual with wider feet. The G By Guess line offers styles with wider construction and is a better choice for anyone with a broad foot structure.
Closures:
The style of closure a shoe has makes a big difference in the comfort and enjoyment experienced while wearing it. Guess shoes feature a variety of closure systems including, traditional lace-up, zippers, buckles, straps and some options that have no closures. Buckles are a great choice for heels and sandals because they're cute and stylish while offering a solid and well-fitted level of protection. On the other hand, traditional lace closures can add a level of fashionability to a pair of sneakers, or even to a pair of boots, while zippers are usually reserved for dress, casual, and sandal styles of shoe.
Appearance
Guess shoes are notorious for their glamorous appearance which is why they are one of the most coveted brands in fashion. There are certain aspects of a Guess shoe that add to its appeal which was taken into consideration during the research for this page. These aspects are:
Accents:
Guess is all about their accents and we're certainly not complaining. Guess shoes are often adorned with embossed logos and glittery rhinestones which is one of the reasons Guess footwear has become so popular with the ladies over the years. One of the aspects considered in the selection of shoes for this list was the detailing and accents each pair included.
Colors:
Guess shoes come in all sorts of gorgeous colors including gold, silver, neutral colors, metallics, pastels, and glitters. Some of their pale pinks designs are among the most popular and are a favorite with celebrities.
Straps:
Guess shoes are notoriously scrappy and have some super-cute designs. Big on ankle straps with buckle closures, Guess sandals and heels are a stylish trend. Their gladiator sandals feature wrap around calf and thigh that are guaranteed to turn heads.

Frequently Asked Questions
Q: Do Guess Shoes fit true to size?
A: This varies from style to style, though most Guess shoes are known to fit fairly true to size. The best way to asses if a shoe is going to run big or small is by reading reviews from other wearers, these will be the honest opinions of individuals who have already worn the shoes and can attest to their overall structure. Be sure that the reviews you are reading are from verified buyers because this way you know for certain that the reviews are from honest sources.
Q: How to tell fake Guess shoes from the real ones?
A: There are lots of counterfeit items floating around trying to pass as genuine Guess products and it can be difficult to tell the real from the fake sometimes. Some of the best methods used to distinguish between knock-offs and the real deal are:
Check the manufacturer's tag for the model number and search for it to make sure it's part of the Guess line.
Check the quality of your item because Guess products are very high-quality whereas knock-off items tend to be cheaper looking.
Poor stitching is another sign of a fake product because Guess stitching is tightly sewn and has a very neat stitch.
Q: Are Guess Shoes well-made?
A: Guess shoes are very well made and are crafted from high-quality materials. Careful attention to detail is taken during the manufacturing process to ensure that every pair is made to last and to look the very best.
Q: Where are Guess Shoes manufactured?
A: Guess footwear is manufactured in many different countries and it really depends on the product line and specific item. Some of the places where Guess shoes are made are Los Angeles, Canada, Asia, and Europe.
Q: Why are Guess shoes so popular?
A: Guess shoes gained popularity through their advertisement campaigns which feature celebrity models like Anna Nicole Smith, Adriana Lima, Paris Hilton, and Amber Heard. Over the years being a Guess model has been exclusively for the most gorgeous women in Hollywood and it's paid off in terms of popularity. Guess shoes have also gained popularity through word of mouth and quality of craftsmanship.
Looking for tips on how to care for your feet? Click Here
Wondering which heels are the most comfortable? See Here