Best Wrist Wraps for Lifting Reviewed
In a Hurry? Editors choice:
Test Winner: Manimal Weightlifting Straps

Whether you are an avid weightlifter, into
CrossFit
, a yoga enthusiast, or recovering from some type of injury, you might find yourself needing a good pair of best wrist wraps for weightlifting or crossfit. When doing any kind of exercise with our hands, our wrists tend to be the weak point that needs to be supported. Not only are these products good for preventing injury, but they are also helpful for making sure you do the exercise the correct way. Bending your wrist is not good during weight lifting and will prevent you from getting the best workout possible. Fortunately, the products that we are going to look at on this list can aid you in a number of ways. Not only that, but they are also often colorful and fun to wear.
Standout Picks
Criteria Used for Evaluation
Adjustability
Wrist wraps are the kind of products most often come as "one size fits all," but that can be a problem because we all have different sized wrists and hands. Another factor we considered was that many users may want to use the product for several different activities and might need to have it tighter or looser depending on the activity. For example, you might want to use the product for both weightlifting and prevention of carpal tunnel syndrome when using a computer. When weightlifting, you will probably want the wrap to be quite tight. When at the computer, however, you will probably want it to be much looser since the goal there is gentle support and not rigid support.
The most common closure method for these products is a velcro strip, which is good since that gives you quite a bit of flexibility as far as size adjustability goes. When researching these products, one thing we looked at was how long the velcro strip was, because the longer the velcro, the more potential for adjustability. This is generally a very good thing, but one problem we encountered was that longer velcro means that the sticky end of the velcro is going to come in contact with the fabric of the product. Sometimes this can cause damage, depending on the material type. This might be inevitable, but we did try to find products that were made out of tough, durable materials to prevent this as much as possible.
Durability
Any product that is used as exercise equipment needs to be as tough as you are. It needs to withstand sweat, constant use, and friction. Almost as important as the toughness, is how easy the product is to clean. That is directly related to durability since easy cleaning means you will keep it clean which will help prevent wear and tear and will keep the product in good shape.
We found that the best materials for these kinds of products tend to be one or a combination of three different materials. These are elastic, polyester, and cotton. Blends of these three materials tend to be better than all one material since blends give you the best qualities of each included material. At least one product, though, was actually made out of leather which is just about the most durable you can find, but what you get in durability you trade off in ease of cleaning. Leather is definitely not as simple to clean as polyester, for example, which you can just rinse off in the sink.
Cotton is great for breathability and moisture wicking. Cotton helps you stay cool. Polyester is good for comfort, durability, and ease of cleaning. Polyester tends to have a slick feeling to it which prevents chafing and also discourages any kind of staining. Elastic is good for its stretchy qualities which aid in comfort and getting the perfect fit.
Color
The color and design of these products may not seem like the most important thing to consider. While we knew this was not the single most important criteria, we still did take it into consideration because everyone likes to have choices and everyone has a personal style. You probably have different workout outfits, and unless you want to go with a neutral color like black or white, you might want to choose colors that coordinate with your different outfits.
We tried to find products that had a good variety of color and pattern options. Some of them are really unique and quite stylish. A few that stood out were different colors of camouflage, flower patterns, and diamond patterns.
While we did not always mention every color a particular product was available in, we did choose to talk about some of the unique ones, especially if certain colors were only available for that product, and not for any of the others on the list, or if it was a hard to find color or pattern.
Comfort
When evaluating a product based on our criteria, comfort was definitely toward the top of the list. We know how extremely important comfort is, because if it isn't comfortable, you might not even use the product. No one likes having to endure more discomfort than necessary when exercising, especially when that discomfort comes at the hands of your equipment. That kind of discomfort is completely preventable by choosing the right product.
Things we looked at when evaluating comfort included what material or materials the product was made out of, if it was sweat-wicking, how breathable it was, how stiff or flexible the product was, how stretchy it was, and how adjustable it was. All of these are factors in determining the level of comfort.
We tried to find products that were specifically designed for comfort, or at least that had thoughtful design features that took this into consideration. For example, one common thing that can cause discomfort is the thumb loop. If the seam is on the inside of the wrap instead of on the outside, then it will rub up against your hand and cause blisters. This was something we tried to avoid in our product choices.
Brand
As well as researching the products themselves, we also researched the brands. We wanted to make sure that the brand had been around awhile and was a well-known producer in the exercise equipment industry. We wanted to make sure they knew what they were doing and were competent and responsible in the production of these products.
One thing we researched was the kind of testing done on the products. We looked for products that had been tested by real, everyday and professional athletes under the most rigorous circumstances. This shows the brand's commitment to excellence and also helps ensure that any problems with a product will be noticed before it ever hits the market.
We also tried to make sure that most of the brands offered a warranty on the product. Many of them also offer excellent customer support in case you simply need to ask a question about using the product.
10 Best Wrist Wraps for Crossfit and Weightlifting
1

. Manimal Weightlifting Straps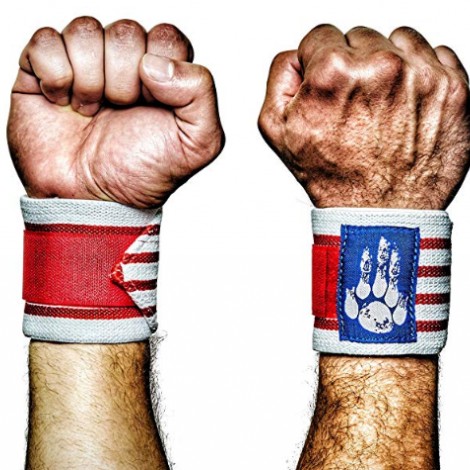 The Manimal lives up to its tough sounding name. Users consistently report that this is a very comfortable product and one of the bw , even though it is not padded.
One nice thing is that each wrap in the pair is not specific to your right or left wrist. Each one can be worn on either wrist which makes it easier and quicker to put them on and get right to work without having to figure out which one goes where. Each side has a thumb loop which helps you put it on. Since you have to put it on using only one hand, this could be of great help. After putting it on, it is recommended that you tuck the loop away and not wear it on your thumb while exercising.
Another great thing is that the Manimal is so easy to clean. All you have to do is rinse it with cold water, then squeeze out the water, and then let it hang to dry. The Manimal comes in some great color options such as all black; black and white stripes; red, white, and blue; and thin blue line.
One downside is that the warranty is limited and is only good for 60 days after you purchase the product. Some models offer longer warranties, which would be preferable. But still, some warranty is better than none, and 60 days should be enough time for you to see how well the product works.

2

. Dark Iron Fitness Leather Suede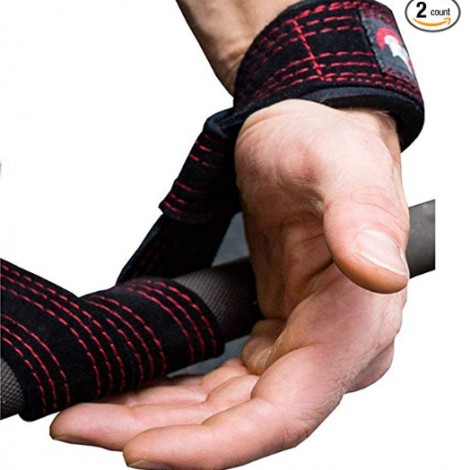 This product from Dark Iron Fitness is built to be tough and durable, while still remaining gentle on your hands. It is available in two different thickness options. One is 2mm and the other is 3mm.
This product is made out of suede which is made from cowhide. Suede is leather that has been made smooth and soft. This combines the toughness and strength of leather with the comfort of velvet. One thing that greatly increases the strength of the Dark Iron Fitness product is that there are layers and rows of stitching up and down the entire length of the product. This reinforces the leather and keeps the product from breaking. It has advantages over a product made out of cotton, which is not quite as strong as leather.
The great thing about the Dark Iron Fitness product is that it is so comfortable. It is soft to the touch which prevents chafing, and it is also designed to prevent it from digging into your wrists. This pair is designed to fit tighter than most, but to still remain comfortable. One of the benefits of a tighter fit is more stable support of your wrist.
Although the brand claims that the product can lift up to 400 pounds, some users have stated that when you get up to that amount of weight, the product begins to sound like it is tearing inside. One thing to remember, though, is that the brand offers free lifetime replacements if the product ever fails.
Other users have said that they thought the product was too short. The product measures 18 inches in length, which might be the right length for some and too short for others, depending on your individual needs.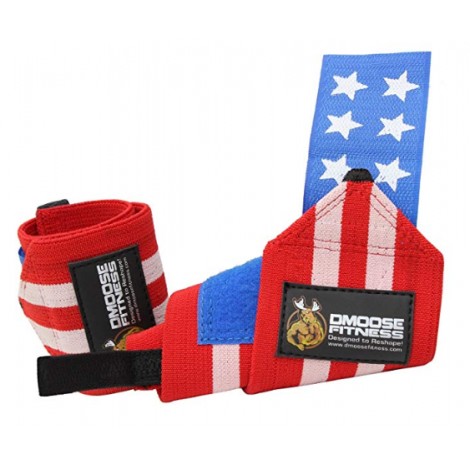 One great thing about the DMoose Fitness is that it is made out of a blend of polyester, cotton, and elastic material.
Polyester is a fairly comfortable material. It is slick to the touch which would prevent chafing. Another reason polyester is a great choice is because it does not stain easily and is easy to wash and quick to dry. The elastic is a nice addition because it allows you to get a tight fit. Another thing that users like is that velcro is extra strong. The durability of the DMoose Fitness comes from not only the materials it is made out of, but also from the double stitching.
The DMoose Fitness comes in quite a variety of colors and patterns. Some of the choices include Hawaiian flower patterns with a white, black, or violet background. Some more options are blue camo, pink camo, or regular green camo. Another design features little black and white drawings of fitness and sports equipment. There are plenty of different options for whatever your style may be. One thing some users have noted is that the coloring of these products can fade, especially from being stretched.
The fastening straps are extra wide which makes them more comfortable but also allows you to get the perfect fit. This particular model features thumb loops that you wear while using the product. These keep the wraps in place during use.

4

. Contraband Black Label 1001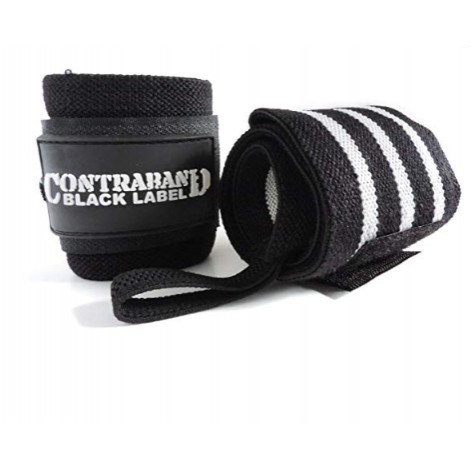 The Contraband comes in three different lengths: 18 inches, 24 inches, or 36 inches which is a nice range and should provide plenty of length for those who want to wrap around the bar of the weights.
There are four different lifting capacities available, each comes in either black and white or black and red. The four capacities are light (up to 150 pounds), medium (up to 250 pounds), heavy (up to 500 pounds), and extreme (anything over 300 pounds). The material of each of these options is cotton, but the difference is that the lower the capacity, the stretchier the cotton. The light option is made out of very stretchy and soft cotton, while the extreme option is made out of hard cotton that does not stretch much at all.
One nice thing is that you can tell at a glance what weight capacity each of these options is, just by the number of stripes on it. Four stripes mean light capacity, on down to one stripe which means extreme capacity. This is great for if you have several pairs of the product for the different size weights you lift. This way you can be sure you will not grab the pair that is too light for what you are lifting.
The velcro is two inches long which allows you to adjust the product a lot more than many brands, but it also keeps it more secure and ensures it will not come undone when you are lifting weights. One thing users liked was that the thumb loops are attached to the outside of the wrap, instead of the inside where it could cause irritation to your skin. One thing people did not like, however, was that the product, especially the extreme rating, is very stiff. But on the other hand, that is what makes it so strong. The stretchy and soft material is less able to handle heavy weights.



The Bear Grips have a 12-inch option, along with the standard 18 inches and 24 inches. These are the best wrist wraps for anyone who has a smaller wrist size.
The brand offers 24/7 customer support in case you have any issues with the product. Users who did run into problems and contacted support have said that the brand is very good about communicating and helping them resolve things. This is good news since some users have actually had trouble with the product coming apart at the velcro.
The Bear Grips are a good compromise between strong and comfortable. They are thick, but they are gentle on the skin and they do not dig into your wrist. They also do a good job mopping up sweat from all that hard work you are doing. They wick it away from your body and dry quickly as the air evaporates it. This also helps keep you cool like a built-in cooling system.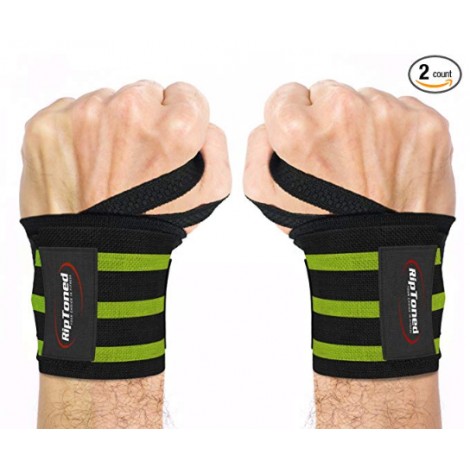 The Rip Toned product comes in several colors, one of which is unique among other products and that is gray camo, which can be a hard color to find. Each color can be purchased as a stiffer or less stiff option, depending on your preferences, level of comfort, and how much weight you plan to lift.
This product comes with three free gifts when you purchase. They are a guide to strengthening your abs by 2014 World Champion Powerlifter Kevin Weiss, a low carb diet guide also by Kevin Weiss, and an online video on how to use the product properly.
The elastic that is part of the Rip Toned product is one of the best wrist wraps because it's both stretchy and strong. It is tricky to design a product that needs to have elasticity while still being durable, because elastic is prone to wearing out and being stretchy inevitably weakens the strength of the product. But Rip Toned does a good job of making sure that the particular kind of elastic will not snap when being used.
The stitching done is very precise which holds the product together better than haphazard stitching would have. Fastening is done by using the hook and loop system which is more durable than other methods. A downside that people have mentioned is that the Rip Toned is pretty much good only for weight lifting, and not for other activities such as yoga.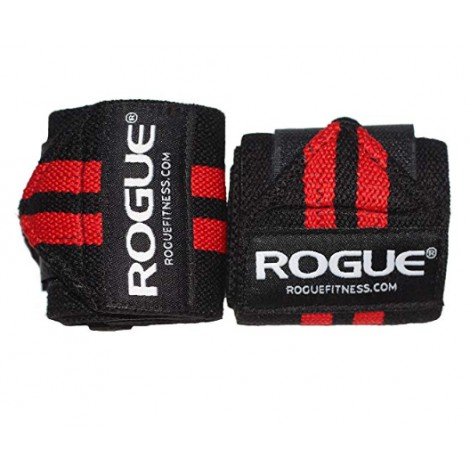 Because of its unique blend of materials, the Rogue Fitness is extra comfortable. Users report that it is more comfortable than many products out there.
The Rogue Fitness wrist wrap model is made up of 50% cotton, 40% elastic, and 10% polyester. You get all the benefits of each of these materials, as well as the good that comes from blending them together. Cotton helps with wicking away the moisture, elastic helps you get a good, tight fit, and polyester helps with the durability and comfort. Users have reported that the Rogue Fitness is actually machine washable. This product should still be allowed to air dry, however.
Users like this model for not just exercise, but also easing their joint pain in their wrist, whether it be from arthritis or injuries sustained during exercise. The Rogue Fitness can help you recover and stay safe while you continue to exercise.
More than one user has complained of a design flaw with the velcro strip. If your wrists are not small or medium size, and if you do not wrap the Rogue Fitness super tight, then the corresponding velcro strips do not match up with each other, and the sticky part of the velcro ends up grabbing onto the fabric of the product itself. This causes damage to the product by ripping up bits of the fabric. Users have stated that this problem only becomes a factor if you have a fairly large wrist size. Even with a large wrist, you can wrap the product very tightly and eliminate the problem, but that causes another problem: poor circulation in your arm and hand. So, all that being said, the Rogue Fitness is probably best used by those with small to medium wrist sizes.

8

. WOD Wear Elastic Wraps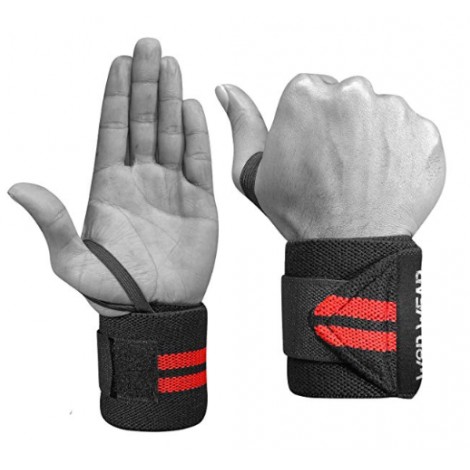 One of the unique colors that this particular wrist wrap is available in is a colorful diamond pattern which is not available for any of the other products on this list.
The WOD Wear model is fully guaranteed for life, which is really nice since a lot of products have at most a limited guarantee for a set number of months. The WOD full guarantee means that you can return it any time, for any reason. If you use it for months before you start noticing something you do not like about it, then you can simply return it for a refund. The limited warranty that some other products have means you would only be able to return the product if something malfunctioned.
The WOD Wear is available in bundles. You can buy more than one pair at a time and save. This way you could get a pair for yourself and a friend, or have a backup pair for yourself, or get the product in several colors to match your different workout outfits.
The material blend of the WOD Wear is meant to avoid irritating the skin. The velcro is a hook and loop style and is heavy duty and extra long and wide so that you can get just the right fit. One of the good things about the WOD Wear is that it has been heavily tested by real athletes under the harshest conditions. One thing users have noted is that the WOD Wear works well with or without gloves. Users have happily reported that this model works equally well for both men and women. This is great news since some products are either too big and bulky for a lot of women, or too small and tight for a lot of men, or somewhere in the middle where they do not end up fitting anyone quite right.
The main complaint users had was that the thumb loop was designed so that the seam was inside which puts it in contact with your wrist and causes irritation including blisters when the product is in use. This is such a problem because you can't simply wear the product inside out due to the placement of the velcro. There is only one way to wear the product, and the thumb loop might cause you trouble. One possible solution would be to cover up the seam with some athletic tape or some foam padding.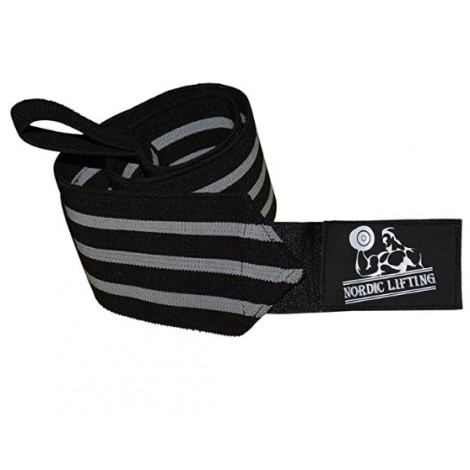 Designed to be stable and secure, the Nordic is a good option for professionals and amateurs alike who are looking for a product built for heavy lifting only.
The velcro on this product from Nordic Lifting is rated for competition strength. The thumb loops are also extra strong. They are reinforced heavily since they are part of the product that will be under the most stress. The thumb loop is quite long and wraps around the back of the hand in a figure eight pattern before wrapping around the thumb. This is a good design because it helps distribute the weight across your entire hand rather than just your thumb.
A possible downside is that the Nordic Lifting product comes in only one size which is 24 inches long by 3 inches wide. This might not be a problem, especially if that is the length you want. The brand states that this is a one size fits all product, but if you have a smaller wrist size, then you are going to have to wrap the strap around numerous times which is going to make your wrist really stiff and is going to add a lot of bulk. But if that is the size you wear and need, then this will be a non-issue for you. The brand does mention that the product is designed for heavy lifters, so that is just the purpose to keep in mind. If you need a product for yoga, it is best to look elsewhere.
The warranty is for one year and allows for free and easy replacements, but not necessarily money back. A nice thing about the Nordic is that it comes with some good instructions for how to best use and care for the product making it one of the best wrist wraps on the market.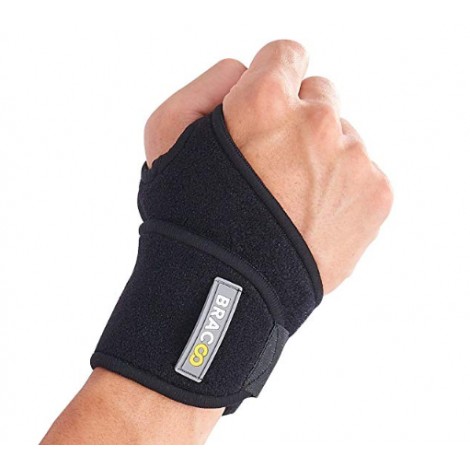 The Bracoo wrist wrap is made out of padded neoprene. It is comfortable and will not irritate your skin. It provides compression on your hand and wrist which is especially good for recovery from injuries.
The Bracoo helps your body maintain good circulation which in turn aids in quick injury recovery and overall joint health. One of the good things about the Bracoo is that it is completely adjustable. You can adjust it for your individual wrist size, but also for different usages. You might want it looser for wearing while typing at a computer, and tighter for use while exercising. The great thing about the Bracoo is that it is versatile this way. The Bracoo can fit any size wrist up to 9.5 inches in diameter.
This is a reversible model. The Bracoo has a mesh fabric that keeps the air circulating for coolness and helps draw moisture away from the skin. The Bracoo is equally good for casual, everyday wear or for support when exercising.
One thing to keep in mind is that the Bracoo is sold as a single product, not a pair. If you want one for both wrists, you will have to buy two. But on the plus side, the product will fit the left or right wrist. It is very easy to put on the Bracoo. It has a thumb loop, and you simply put it on your thumb, then wrap around the back of your hand and then your wrist
Another thing to keep in mind is that the Bracoo must be hand washed in cool water and line dried.

Subscribe to our Newsletter