Best Nike Socks Reviewed & Rated for Performance
In a Hurry? Editors choice: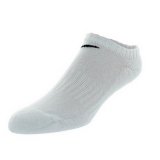 Test Winner: Performance Cushion Low Rise

Nike is a
world-renowned brand
that doesn't need any introduction. The question is why? It isn't just good branding there is actual technology built into these socks that is the major reason they are so renowned. Specialized designing is what set socks apart. These comfy feet covers will have extra padding in the Achilles ankle area to keep rubbing at bay. They will also be made with a mix of materials that will wick sweat. The added thickness
prevents blistering
during breaking in new shoes.
During a
one on one game
or a sporting event wearing not only shoes made for performance but
socks
made to last is essential. Socks that slip, slide, are cheap, and not resistant to wear can be a big problem, causing you to lose the most important game of your life.
Standout Picks
Criteria Used for Evaluation
Features
Who would have ever assumed that something as seemingly inconsequential as a cozy pair of mere foot-covers would be so important in relation to performance and comfort? These come more in handy than many realize. A great pair, paired with an enduring well-constructed shoe is sure the boost performance and allow a full range of motion while being supportive and moisture wicking. Below are a few features athletes should look for when making a concrete decision about which attire will be the best for performance:
Dri-Fit technology is the gold standard is moisture wicking
Left and Right anatomically correct pairs ensure a secure fit
Extra padding in heel and toe area will help cushion the excessive shock
Ribbing in the middle foot area help with compression for protection
Mesh Uppers will help with breathability and increase airflow
These features are essential for the best fit when choosing what is the most important for long-term wear. Looking for items that are resistant to wearing out during intense training or just during normal everyday use is essential.
Materials
Choosing the correct blend of materials will ensure that a sock will hold its shape long-term. Cotton is a very structured material and when it is the main component in footgear it can be very stiff. Usually, cotton will be blended with elastic materials and strong nylon. If there is too much cotton present it will create a product will hold too much sweat and could cause uncomfortable blistering. It's important when choosing performance attire that the cotton level is kept lower than 50 percent and even lower is usually a better option.
Nylon is exceptionally durable and strong. When nylon is weaved into the fibers of an item durability and strength can be expected. This also is a very quick drying material. If a minimum of 20 percent of nylon is used than endurance can be assured.
Spandex or other elastic materials typically are added in the lowest amounts. Too much of these materials may create a product that will stretch too much with prolonged use. They should make up no more than 5 percent of the fibers.
Compression
The different lengths available have different functions. Longer footwear help with added compression for ankles and shins, lower cuts are mostly a fashion decision but can still help with added compression for ankles or a now show appeal.
Compression bands are typically built into socks to give additional arch support and added comfort in key areas. Some socks will feature added grip for less slipping during important events or just to provide extra slipping. Specialized designing for left and right feet makes socks custom to each specific foot shape. This will be no fun if the laundry monster eats all your lefts but on a positive note, specific designing will ensure the right fit for each foot.
Style
While style is often a matter of personal taste, we've checked thousands of online reviews to see what people are saying about each of the products on our list. Some things, such as sleek design, seamless construction and overall feel and length of the sock, were common likes or dislikes among buyers of each product.
To evaluate style, we considered everything from the design, color, shape and heat retention of the sock in question. While no one wants to wear an uncomfortable sock, they also don't want a comfortable sock to be ugly on the eyes. We've selected all of those on our top 10 to be not only stylish, but also comfortable, supportive and durable.
The higher the score on the "style" metric, the more fashionable we and the community of buyers we surveyed deemed the product to be.
Breathability
A sock that breathes is critical to providing the wearer a comfortable and healthy experience when sporting a pair of shoes on the basketball court. A lack of breathability will create a wet and humid foot, leading to discomfort and possible fungal or bacterial infections that are painful and difficult to cure.
How does a manufacturer ensure their product will allow maximum airflow? There are several ways to achieve this, including using special fabrics, lining the sock with moisture-wicking technologies and finally, the good old use of a light weaving method throughout the sock.
If a product scores high on this metric, the buyer can rest assured that the manufacturer has used some or all of the above techniques to ensure the wearer a comfortable and dry wearing experience.
Top 10 Picks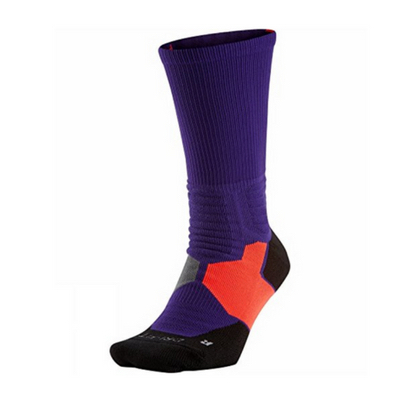 This meticulously designed product was made to protect and support the feet or runners and other active individuals. They are typically long lasting and used to aid in compression and for extra cushioning. These are excellent for sports and help protect shins. The anatomically correct structuring is specifically created for the left and right feet.
Keeps Feet Dry
Even after prolonged use, the materials used to weave these together help to wick moisture. Athlete's foot can become a big problem if feet are not kept dry over long periods of wear. These are created with a special dri-fit blend of materials that boasts superior abilities. They quickly have become a favorite among active individuals everywhere.
Strong Construction
This product was made to last. Key areas have been created around key pressure points to prevent rubbing and add support. There are other areas that have been designed for added compression where those who are using them regularly need it most. They have a very sturdy weaving which aids in long-term use.
Cost and Value
These are a little pricey for just one pair but the quality is superior and these are raved about by loyal buyers. The construction is durable for high volume usage. The dri-fit technology helps to wick moisture during long games when athletes may not have time to change socks. Foot health is important and the compression and relief where it matters.

2

. Performance Cushion Low Rise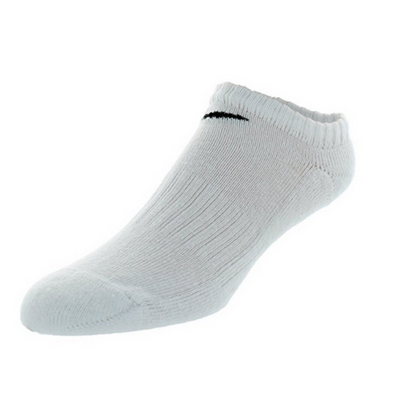 Since their inception ankle socks have been a favorite for everyday use. This company has taken note of consumer habits and has designed this product perfect for daily wear. There is reinforcement in areas that tend to get holes like the toe and heel areas. The middle offers support and enforcement for arches. These are well made and the pricing is great for 6 pairs packs.
Reinforced Areas
Outdoor running or casual walking require amazing socks that will hold up during various activities. The attention to areas that typically wear first make these a great choice for everyday use. They are designed for longevity and specially reinforced areas are great for wear and go appeal.
Snug Fit
There are few things in life more pleasurable than cozy socks. The way they envelop the foot is a thing of modern pleasure. It may seem silly but great foot attire can mean the difference between a thoughtless walking experience and constantly having to go shoe-fishing for ill-fitting wear. The ribbed cuffs at the ankle keep this footwear firmly in place. The specially designed areas provide extra support for tired arches.
Cost and Value
These are very fairly priced for the amount of pairs you receive in a single pack. These will last for months on end without any noticeable wear. They also are made to wick sweat and keep feet comfortable. These are designed to resist friction in areas that wear the most. This feature may also help to prevent blisters during prolonged use.

3

. Performance Cushion Crew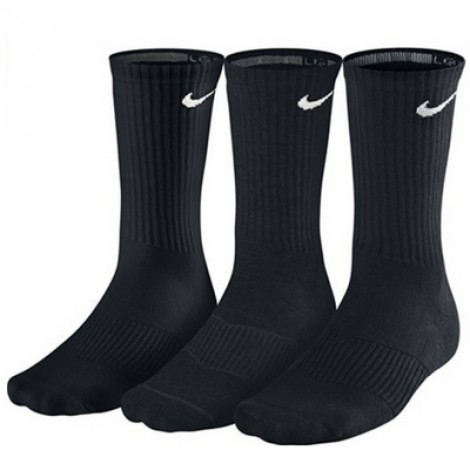 These are great socks for casual exercise, athletes and long sock lovers everywhere. They have the same quality and a very high percentage of cotton. These, however, seem to have hit that sweet spot where there is just enough cotton to keep feet dry and other materials to stretch. The toe and heel areas are reinforced for long-term wear. They hold up even after washing which is a big relief since may socks can't hold the same quality after a few washes.
Long-Lasting
Who would have ever imagined so much thought would go into making a simple item to cover and protect feet. These were made to be enduring even after multiple washes. This is a fantastic option for anyone who wants a little extra security. The toe and heels are fortified and can stand up to wear and tear comprehensively.
Coverage Mid-Shin
The mid-shin coverage helps to create a little extra reinforcement on high-stress areas of the lower legs and calves. This area has ribbed cuffs for a secure fit. The blend of materials allows for stretch around the lower leg area. The amount of cotton in the material makes these great for absorbing sweat in sticky situations.
Cost and Value
The perfection in simplicity is a quality a lot of brands can boast. These unassuming socks are very inexpensive but boast everything anyone would ever want from performance wear. These are wonderfully inexpensive for the number of pairs you receive. They offer all the quality expected from a superior product for a fraction of the cost.

4

. Cushion Quarter Training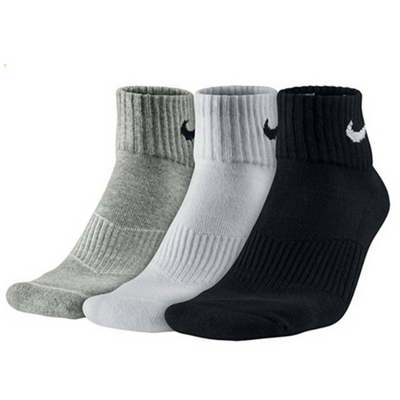 This product is snug fitting and hugs the feet in the right places. The ribbed ankle area covers the whole ankle for secure fit and ankle compression. This is a great feature for those who have weaker ankles and need a little added structure to their attire. These are made to hold up against thinning in areas that rub against the shoe. This kind of cushioning helps prevent the formation of blisters. They do have a fit that hugs the foot and for some, this can be uncomfortable for some and this is easily remedied by ordering a size up.
Cozy Fit
This footgear offers a cozy fit that envelope the foot. These can be too tight-fitting for some and ordering a size up may be the proper way to go about purchasing the correct fit. The reasoning for a snug feel is to aid in keeping areas that are easily injured compressed. The ankle area offers a ribbed tube-like look and feel. This allows extra sturdiness and compression for weaker ankles. It's wonderful to have this feature without the sock has to go as high as mid-shin for the same supportive feel without sacrificing comfort.
Washer Machine Friendly
Some items will fall apart in the wash but these tend to hold up well and not stretch out or become flimsy with washing. This is due to the superior materials used. They are made from mostly cotton and the spandex woven into the design allows for some stretch without overstretching. Other items will lose their coloring with washing while these tend to retain their color over multiple washes.
Cost and Value
These are priced very fairly. They may seem more pricey up front but the longevity makes them worth paying for. They are imbued with features to protect against premature holes and add extra cushioning in areas that matter. They will also help to keep feet from blistering while breaking in new shoes.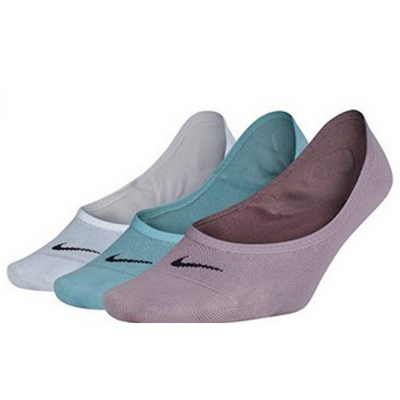 Footies are a great option for a no-show appearance with lower cut shoes or flats for work attire. Annoying slipping on very low cut products can really be annoying during busy days. Having to keep readjusting foot-attire can be tiresome. These remedy that issue with an innovative design element. The grip on the heel of this item helps to keep them firmly in place during all-day wear. They also have very secure stitching to help stave off wear and tear and the thinness is appealing for summer months.
Increased Air Flow
The low cut nature of this attire is fantastic for all-day wear. The air flow allowing side meshing allows for air to flow and keeps feet feeling fresh and unbothered especially in warmer environments. The toe area has been reinforced to help prevent holes from forming prematurely. This is a clever element especially since tighter fitting footwear does tend to rub feet excessively in this area.
Grips Heels
The silicone grip on the heel area is a useful feature. It allows the wearer to enrobe and go without giving the positioning of footgear a second thought. This adds another measure of security along with the Y stitching at the heel creates a glove-like fit in this area and makes the functionality of this construction more practical.
Cost and Value
These are the business persons sock. They do have an affordable price tag for all price ranges. These have great casual wear appeal and stay put for long days at the office. They have some resistance for high traffic areas but with too much rubbing holes can still form. They do not do well with drying however and it's best to tumble or line dry this footie.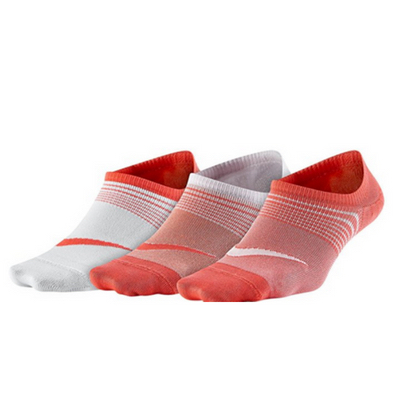 The colors on these adorable anklets are vibrant and the comfort is absolutely indulgent. They come up higher than their predecessor stopping just under the ankle. They have a special component in their construction that keeps footwear from bunching up under arches. They still have ventilated mesh to keep sweat at bay. The interior silicone print on the interior of the heel is a great detail to reduce slipping.
Thin Material
The thin material used was designed to be sweat wicking and allow for airflow. Although the material was designed to be light on feet and are also enduring. They have extra padding where it matters and somehow still manage to offer arch support.
Low Cut
These were created to be cut right under the ankle. There are features built into this footgear to minimize slipping down and bunching. The silicone print on the ankle interior work in tandem with the bands near the middle to prevent bunching and slipping down. The low cut tops also have some ribbing to help keep this footwear firmly in place further. It's also a great element for tennis shoes and running shoes. These are thin enough to breathe but offer the non-slip appeal of a much thicker item.
Cost and Value
This product is very soft to the touch and offers a very cozy feel. They are great for offering ventilation to hot feet during running, exercising or just taking a casual stroll. These are economically priced for an exceptional product that doesn't cut any corners during manufacturing. The sublime features are unassuming but they are a favorite because of the unmatched quality of materials, stretch, and staying power.

7

. Academy Over-The-Calf Soccer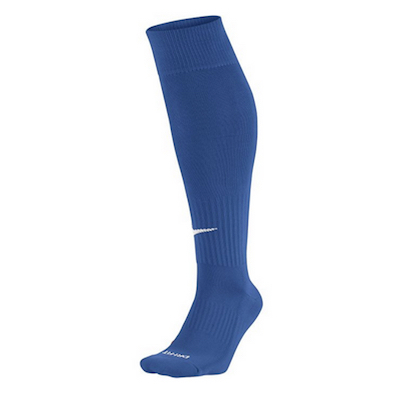 Playing sports can be demanding on legs and without the right socks, performance can really be hindered when it matters. These are known for being very durable for long-term usage. They are resistant to slipping down and make it easier to perform without worrying about slipping. They keep feet dry during long-term sweating. The toe and heel are reinforced to be enduring. The compression around the arch offers extra support for ease of movement.
Knee High
These are great for soccer players or anyone really who loves long-lasting knee high footgear. These have the ability to stay in place even during intense bouts. This is attire that can be relied on. The technology built into this wear is created to wick away moisture. The ribbing and elastic material at the cuff keep this product firmly in place.
Attention to Detail
The devil is in the details. The details are what makes this item constructed with such accuracy for athletes and novice exercisers alike. These are not created to be very soft but instead made to be sturdy. The fit is excellent due to anatomically correct detailing. They are enduring in the areas that matter and stay firmly in place for fewer distractions and reliability. The blend of fabrics has been specifically tested and proven to keep wetness at bay during more strenuous activity.
Cost and Value
These are very affordable for even the most constricted budget. The architecture is thoughtful and elegant. They are enduring even after many uses and washes. The elastic in them doesn't stretch too much or lose it shape quickly with use. This overall is a good choice when choosing what would be the best value for this kind of footgear.

8

. Dry Cushion No-Show Training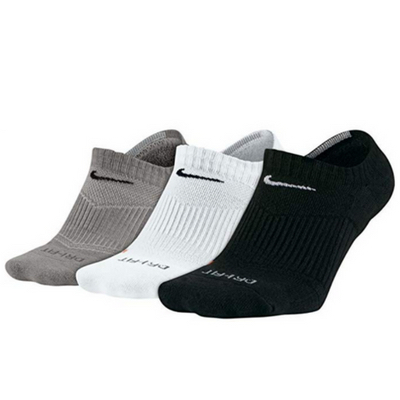 Looks can be deceiving although these look like any other ankle sock they have more stretch due to the lower percentage of cotton and higher amount of nylon and spandex. These are excellent for hiking in warmer temperatures due to the capability to absorb moisture. The also feature ribbing for compressing the middle of the foot. This gives a little more support where it matters.
Arch Compression
Arches can begin to ache after exercising or walking all day. It is well known that a little compression will aid in comfortability for all day use. This feature will also help to keep injuries from forming during long-term use. This also hits arches in just the right place for maximum comfort.
Impact Protection
The terry is typically in the areas of the item that has the most impact from running and other environments. This area being cushioned adds an extra layer of absorption for shock. Shock, while running or doing strenuous activities, can impact joints negatively when left unprotected. Areas that are known to rub against the shoe have been fitted with extra padding to keep holes from forming prematurely.
Cost and Value
These are well made and last for a long time. They are created to add comfort to daily or more strenuous activities. They offer condensation in areas that need it for protective qualities against injury and added supportive structure. They are ribbed at the top for less slippage and designed to fit a wide range of feet without any complications.

9

. Elite Cushioned No-Show Tab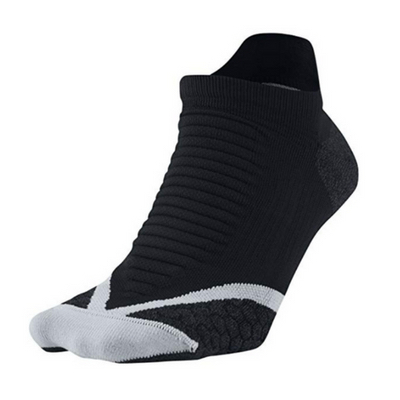 This is excellent foot-attire. They are raved about for good reason. The design is innovative and thoughtful. These are created to withstand excessive shock and have double the padding of most other products in the same arena. The elasticity in the design makes this footwear fit like a glove. Special zones provide security and firmness where it matters.
Extra Cushioning
The extra padding is a welcoming feature. These were designed to feel very light and allow airflow yet feel surprisingly cozy. The padding has a very functional purpose other than a great foot feel. The extra padding helps to absorb shock and protect joints. This is a very practical and thoughtful feature.
High-Quality Pigmentation
The most horrifying thing aside from losing to the sock monster, it losing color in brand new socks. Some footgear can wear wonderfully the first time around but after one wash may lose color and look as if they've been worn for over a year. Companies that pay attention to even the smallest details of their customer's experience are admirable and very deserving of a reputation that precedes them. These not only wear very well they hold color long term and will look brand new even after many washes.
Cost and Value
These are quite pricey for just one pair. The quality of these is unmatched, however. They were created for athletes but have quickly become a favorite among those who appreciate a good pair of socks everywhere. The materials used are very high quality, enduring, and the padding and reinforcements are superior. They are worth every penny, especially for those who want socks that can stand up to abuse.

10

. Dri-FIT Half-Cushion No Show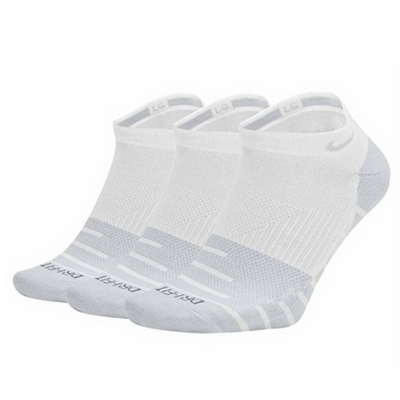 Ankle height attire is more popular than ever. Choosing the right foot-attire to protect and cover feet long-term is important. Quality materials that keep feet dry and offer support without slipping are more important than ever. Achieving the perfect fit for an item that doesn't slip below ankles, rub uncomfortably or wear out after just a few uses are important as well.
Specific Fit
This product was designed to fit the feet specifically. It was created to be secure for the left and right feet individually. This is important because the arches of the foot and other key areas are on opposite sides of the foot. This more specific approach ensures supportive compression areas are aligning with the correct portion of the foot. This also ensures shock absorption padding is in the right areas for maximum comfort.
Resistant to Breaking Down
The materials that are chosen to effect long-term durability. These boast a blend of fabrics that not only increase the life-span of this item but also keep the foot wrapped in comfort. The dri-fit technology helps keep feet cool. The toe and heel areas are specially designed to hold up to even the harshest abuse.
Cost and Value
These are economically priced for a very well made product. They also have more than one pair for purchase it comes in packs of three. This makes this a quality sock for a wonderful price. They are also safe for use during a grueling workout and will not only cool the feet but help with a little extra shock absorption and return.

Subscribe to our Newsletter