Best Joker Shoes Reviewed & Rated For A Sinister Style
In a Hurry? Editors choice: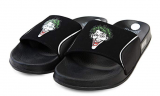 Test Winner: Ground Up DC Comic Slide

If you think green hair, bright red lips, and pale white skin, who's the first person that comes to mind? I'll bet a certain criminal mastermind pops up first! The Joker, one of the pop cultures most iconic characters, the supervillain spawned from
DC Comics
' Batman who has been a cornerstone of the Batman franchise from the debut comic back in April 1940. The Joker is a prankster by nature and has inspired a unique style of footwear that's mirrored after his funky sense of style. These shoes are made for men, women, and children alike and they offer a fun twist on the modern world of fashionable footwear. Anyone who is a die-hard fan of the Batman
comics
should consider investing in a pair of these edgy shoes that come from some of the biggest names in footwear.
Standout Picks
Criteria Used for Evaluation
Style
There are multiple styles of sneakers that can be found sporting this kind of comic character graphics. The following is a breakdown of the different varieties available;
High Top: High top sneakers offer the wearer additional ankle support that can help alleviate excess strain. This works to prevent pain in the ankle and foot after extended periods of wear and is ideal for anyone who has suffered an ankle injury or who has a weaker ankle structure.
Low Top: Low top sneakers are the normal style of sneaker where the top of the pair sits just below the ankle bone. These are good for casual and athletic activities and offer a lightweight structure that keeps the ankle and calf area cooler during warm weather.
Athletic: Athletic sneakers are designed to enhance your overall performance with sports-related activities. This style of footwear is made for running, walking, and specific sports, and is usually made from lightweight breathable materials.
Kids: Children love comic characters and this one is no exception! Kids shoes are often designed featuring characters from beloved comics and come in sneakers, boots, sandals, and rain-wear.
Another style of footwear commonly found sporting a DC Comic design is sandals. These sandals come in slip-on and thong styles that offer a great option for wear during the warm summer weather. These pairs are made using waterproof rubber materials that provide solid traction on any surface, including wet and slippery ones. This is why these styles are ideal for wear while you're engaging in any water-related activities and are the perfect beach lovers shoe. With that being said, the most popular style of footwear to display Joker graphics is by far the sneaker.
Comfort
Comfort is always a big factor when it comes to footwear because let's face it, no one wants to wear an uncomfortable pair! Poorly fitted or uncomfortably design pairs can cause all sorts of aches and pains and can cause serious problems that could last for days, weeks, months, or even years. Depending on the shape and structure of your foot you may require specific elements in a shoe which is why the following aspects should be taken into consideration;
Width: The width is very important because a pair that's too narrow can restrict the blood flow to your legs and feet causing poor circulation and a lack of proper blood flow. This can lead to numbness and weakness which puts you at a greater risk for falls, especially if you're diabetic.
Support: Proper support for the delicate underside of the foot is imperative for the prevention of arch collapse, along with other painful conditions. The arch is the structure in our feet that holds most the weight when we step down and touch off, it's also the only part which is curved making it more susceptible to the strain of every step. In order to properly support the arch footwear must have a firm structure, especially in the mid and outsoles.
Cushion: The cushioning is what keeps our feet protected from the hard surfaces that we walk on all throughout the day. Without ample cushion, our feet will feel more fatigued and can become sore after a prolonged time spent walking or running.
Breathability: Airflow is essential for preventing a buildup of sweat and odor-causing bacteria. When your feet don't have access to adequate airflow it leads to excessive sweating and once your feet start to sweat it leads to the growth of odor-causing bacteria that can turn your favorite pair of footwear smelly very quickly which will ruin them. Some of the more breathable materials are leather, canvas, and mesh, which will all keep you cool and dry. When it comes to leather, this material will also pull any excess moisture away from the skin and push it towards the outer material in a process called moisture wicking.
Weather Resistance
Your feet need to be adequately protected from the weather outside which is why this aspect is so important when considering which footwear to buy. When it's rainy outside the best material to opt for is rubber because it's waterproof and also provides a solid grip on slippery surfaces. For warmer weather sandals are the obvious option that will keep you cool and comfortable by allowing for proper airflow around the skin. During the fall and spring seasons, a pair of sneakers made from canvas or other lightweight fabrics is a great choice because it won't weigh you down.
Color
This type of footwear is all about the graphics! Colors, vibrancy, and artwork, are three main areas to consider when looking at the graphics of a pair and can really make a world of difference when it comes to the quality of its appearance. Poor visuals can cheapen a shoe and take away from the overall effect which really diminishes the whole concept of this style. A great example of footwear with high-end graphics is the Converse All-Star High Top, which boasts an impressive display of artwork that's made with precision detailing and careful attention to detail.
When it comes to this kind of shoe, not every pair features graphics, some are simply colored or styled after the villain himself. Pairs like the Quouvalley Oxford Wingtip are designed with an appearance similar to what the Joker would wear himself. These options offer a more versatile design that can be worn for both casual and professionally-geared designs.
Brand
While the brand behind the design isn't everything, it can be a huge deciding factor to the overall wearability of a shoe. Brands like Converse are notorious for their expertly crafted styles that prove to be popular among wearers over and over. These brands, along with many others, take pride in their products and have stood the test of time when it comes to longevity and popularity. It's always a good idea to take the time to research a brand before purchasing a pair of their footwear. Try reading reviews from actual customers because this will give you a more honest idea of the sort of products that they manufacture. Whereas reading reviews that aren't from actual consumers can be misleading, you're much more likely to find the truth by searching multiple different resources to get a cumulative perspective on the overall image a brand has built.
10 Best Joker Shoes
1

. Ground Up DC Comic Slide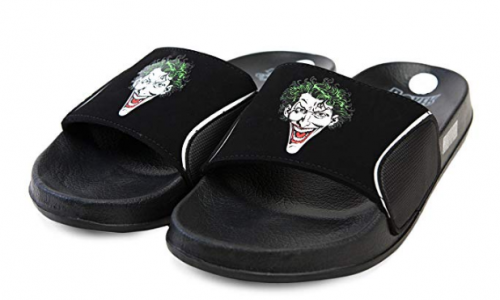 This pair of slip-on sandals proudly displays the Joker's face at the front and features a cool black silhouette. This pair is ideal for casual days spent poolside or strolling along the surf and is good for wear during water-related activities. It's a basic slide sandal that offers a comforting wear and neat looking design.
Water-Resistant
This sandal is made with a solid rubber outsole that's perfect for wearing while you splash about in the pool or on the beach. A casual day spent on the sand or stretched out beside the water is the ideal place to kick your feet up in a pair of these DC Comic sandals.
Comfortable Footbed
A contoured footbed with a sunken toe box cradles the curves of your foot for a comforting feel. Your feet will love sinking into a pair of these enjoyable summer sandals that provide a great mix of cushion and firm support.
Cost and Value
These summer shoes are priced a little higher than one might expect at first glance but they're really a great investment. They offer a comforting environment for your feet and are ideal for wearing during water-related activities and are official licensed DC Comic footwear.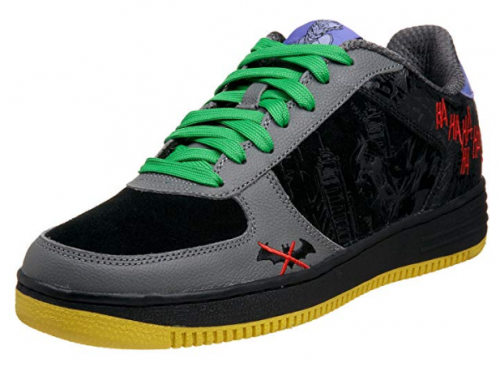 This limited sole sneaker pays the perfect tribute to everyone's favorite villain and both a leather and suede upper unit and detailed embossing and graphics. Its comfy sneakers feature wide laces and an extra bright upper unit is a part of the DC Comics original line. Limited Sole is a high-quality brand which manufactures premium products that are designed to last and provide an effortless Style.
Graphics
These sneakers are too cool for school and feature a colorful upper unit with detailed and bossing. their statement green laces and bread haha text graphics Dave homage to the world's most well-known prankster so you can show your support for super-villain of Gotham.
Design
This pair is made to provide an eye-catching wear. Its colorful statement laces and red "haha" graphic text make sure everyone knows whose name you're representing. So go ahead and show some support for your favorite Batman Badguy straight from Gotham City.
Cost of Value
While this pair is more expensive than others in the list it offers an original design and comforting foot feel. These unique sneaks are truly an original and I'm sure to turn heads when you enter the room. for all the comic lovers and heart this is a must-have pair of footwear to show your support for your favorite bad guy lying in wait.

3

. Converse All-Star High Top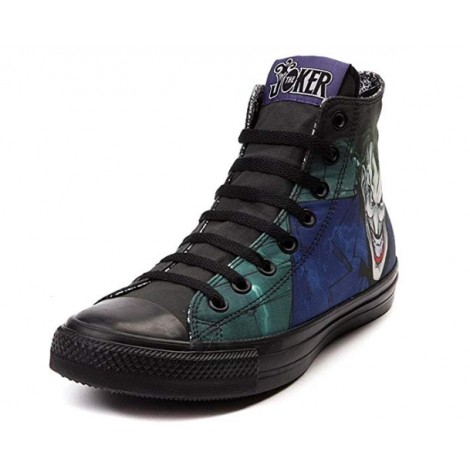 This pair of Converse high tops sports sinister Joker graphics and "haha" text, along with a signature Converse logo patch. It's high-quality DC Comics graphics look smooth and cool for a trend-setting appearance. While its breathable cotton material keeps you feeling fresh all day long. They also offer a non-slip rubber outsole that keeps you secure on your feet for a worry-free wear.
Graphics
This pair of Converse footwear is made with high-quality DC Comics graphics along with a Joker logo at the tongue and sides. It's menacing in design and is perfect for the Joker-lover at heart. The side Converse logo patch and dark color scheme add to the effect this pair has to offer and they even have comic graphics on the inside for a full spectrum design.
Structure
These high top sneakers lace at the front for a secure fit and easy wear. Their non-slip rubber outsole keeps you steady on your feet. You'll enjoy the classic Converse comfort that this one offers along with the high-top design that provides added ankle support and a cushioned footbed to comfort and cradle the arch of the foot.
Cost and Value
These DC sneakers are relatively inexpensive and are a total value for the associated cost. Anyone who's a fan of the franchise is sure to enjoy wearing a pair of these. Their dark color scheme and high-quality graphics make for a top-notch appearance that is sure to turn heads wherever you roam.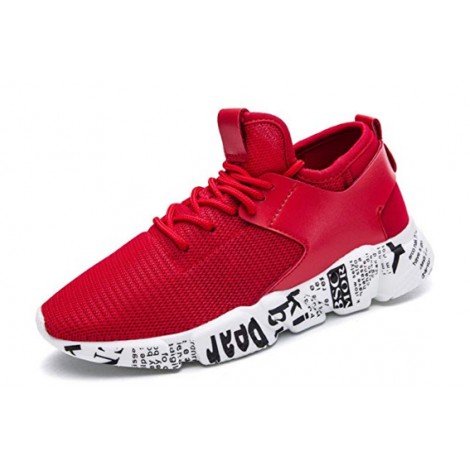 This Konhill Athletic sneaker features a lightweight and supportive knitted mesh upper unit that provides maximum breathability to keep you dry and cool. They feature statement graphic outsoles and a unique upper design for a sinister appearance that's straight out of Arkham. Whether you're walking or running you'll be completely comfortable while you're on the move thanks to their flexible outsole that allows for a full range of motion and their classic low-top sneaker style which boasts a lace-up front closure system for easy on-off wear.
Cushion Footbed
This sneaker offers a cushioned insole that provides adequate padding for the delicate underside of the foot. Forget about tired and painful feet at the end of the day thanks to its well-padded footbed that will keep your feet feeling great until the end of the day.
Lightweight Support
The Joker Mesh boasts a mesh upper unit that provides super lightweight support and breathability. This DC Comic-inspired shoes will keep you walking comfortably for hours on end and won't weigh you down while you're on-the-go. You'll love their support structure and comforting design that makes them equally as pleasing to the feet as they are to the eye.
Cost and value
This villainess footwear is super affordable so you can go ahead and let your bad side run wild! Walk comfortably while looking your best thanks to these lightweight bad-to-the-bone sneakers that are Batmobile approved.

5

. Ououvalley Oxford Wingtip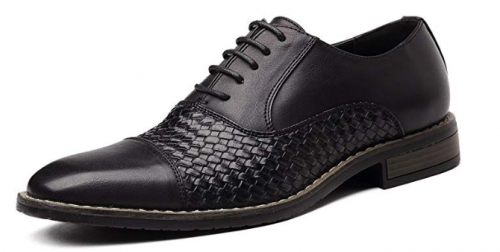 Despite this pair's lacking graphics, these dress shoes are Gotham approved. Their sleek vibe and naughty undertones make this an ideal choice for the more professional Joker fans out there. You'll enjoy walking comfortably thanks to its high-quality materials and a padded insole that make your enjoyment a top priority.
Cushioned Insole
These naughty-but-nice oxfords have a lightly cushioned footbed that provides the perfect layer of padding and support. It's important to properly protect and cushion the delicate underside of the foot in order to prevent arch collapse and heel pain, which is why a supple insole is so important.
Design
This pair boasts cap toe details and mock snakeskin at the midfoot. Their lace-up structure keeps them stable on your feet and prevents any sliding or coming loose. These are a classy pair of footwear that's ready to take on any occasion in style.
Cost and Value
If you're searching for a low-cost pair of footwear that's ready for any occasion then look no further! These ones are the ideal mix of professionalism and playtime. They offer a comforting ride and bad-boy vibe that will keep you coming back for more.

6

. Funtasma by Pleaser Disco-18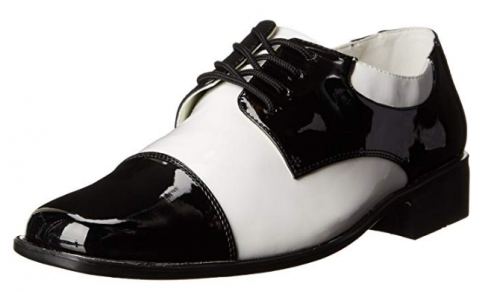 The Funtasma by Pleaser Disco-18 is a fun spirited costume shoe that is reminiscent to the most recognizable comic book villain ever created. Their dual-colored design adds some sizzle to this lively pairs appearance and makes them the perfect choice of footwear to cruise the cities streets in search of mischief.
Materials
This pair boasts a lightweight synthetic outsole that lets you flounce about freely and won't weigh you down causing excess strain. Its manmade upper unit material is breathable and long-lasting while also coming to a glossy finish that adds to their appearance.
Costume Style
These costume shoes are inspired by men's dress shoes and offer a smooth but playful allure. They have a very slight squared-toe which helps to shape their sleek silhouette and really adds to their prankster appeal.
Cost and Value
This versatile design is very inexpensive and can be worn for all sorts of occasions. Whether you're headed out with your children for a fun-filled birthday bash or prowling the hottest Halloween party, this is the pair to suit your style.

7

. XX DC Comics Harley Quinn Slip-On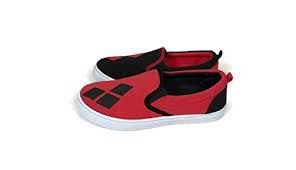 These comfortable slip-on shoes from DC Comics are a convenient and stylish pair. Styled like Harley Quinn, they have a fun diamond pattern and deep red color. With its canvas upper and soft insole, you will be able to wear these all day long while rocking out like Harley Quinn.
Slip-On
The DC Comics Slip-Ons are just that: slip-on. They are comfortable and easy to wear while remaining stylish, colorful, and fun. These are a great addition to any comic-lovers wardrobe.
Quality Design
These canvas shoes are made to be comfortable and to last. The synthetic sole is made to be comfortable and allow you to wear these shoes all day long. You won't have any issues out and about in these bad boys.
Cost and Value
These cost on the low end of the scale. You won't be breaking the bank with these and you can rest assured you aren't skimping on quality. These slip-ons will last you a long time and be a real friend to your wallet while also a great partner to your feet.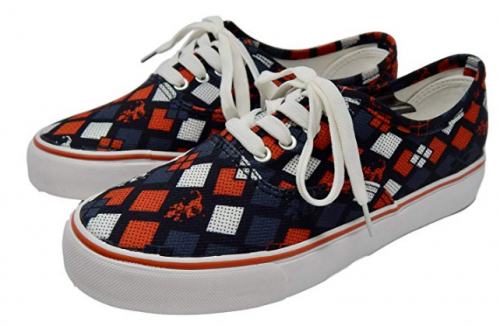 This low top sneaker is officially licensed DC Comics merchandise and is available for both men and women. It features a Harley Quinn checkered upper pattern and statement front laces for a secure stay-put fit. These sneakers are comfortable to wear and cool to look at, making them a popular choice for DC Comics footwear.
Extra Cushioned Insole
This sneaker boasts an extra thick layer of cushioning and keeps your feet completely comfortable for hours on end. A cushioned insole is important to ensure that the delicate arch area of the foot is properly protected and to prevent undue stress and foot fatigue.
Vulcanized Rubber
These Harley Quinn sneakers have a vulcanized rubber outsole that's tough as nails and will hold up even with heavy wear and tear. Go ahead and let your feet run wild without having to worry about accidental slips or falls thanks to the grippy traction the rubber provides.
Cost and Value
This is another example of a reasonably priced pair that is trendy in design and comfortable to wear. You'll enjoy their bold color pattern and statement outsole that keeps you feeling your best for hours on end.

9

. Ground Up Joker High Top


This sneaker is made with a breathable canvas upper for an all-over cool and fresh feeling. It's available in nine Joker graphic print variations so you can own multiple pairs to wear for different occasions. Its lightweight feel will keep you limber on your feet while its lace-up structure keeps this pair firmly in place.
Rubber Outsole
The Ground Up High Top boasts a non-slip rubber outsole that keeps you steady on your feet even on slippery terrain. Forget about accidental slips or falls thanks to this pairs firm grip that prevents any accidental tumbles before they happen.
Lightweight structure
These lightweight sneakers keep you light on your feet and prevent any discomfort or foot fatigue at the end of the day. Heavier shoes make it difficult to walk long distances because they weigh you down and cause undue strain on the lower legs and feet.
Cost and Value
Ground Up sneakers aren't the cheapest on the list but they're certainly a worthwhile investment to consider. You'll love the different varieties and graphic prints available along with the sheer comfort you get from wearing a pair.

10

. Converse Harley Quinn


Every super villain needs an accomplice and that's where Harley Quinn comes in to play! Both the lover and sidekick to the Joker, Harley is a big part of this character's storyline. These Converse sneakers feature a high top design and high-quality Harley Quinn graphics. They're made from breathable canvas material and feature the classic Converse structure we've come to know and love.
Foam Padding
These sneakers feature a comforting foam padded insole for complete enjoyment. Forget about foot pain and fatigue thanks to their foot-friendly design and support structure. This Converse has a non-removable canvas lining and is both breathable and lightweight.
Dual Air Vents
Your feet will never feel hot or sweaty in these DC sneakers thanks to their dual side air vents that allow for proper air circulation around the inside of the shoe. They keep you cool and comfy no matter how warm the weather outside is.
Cost and Value
This is a reasonably priced pair that is in-line with what you'd expect to pay for a Converse shoe. They're comfortable and feature super high-quality Harley Quinn graphics making this a stylish choice of footwear for any comics lover at heart.

Subscribe to our Newsletter