Best Low Heeled Saddle Shoes Reviewed For A Taste Of Timeless Fashion
In a Hurry? Editors choice: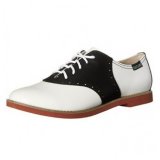 Test Winner: Eastland Sadie

The 1920s to the 1950s in America were defined by a rebellious spirit, ingenuity, and independence. The saddle shoe defined the times. This style was introduced in 1906 by an American shoe factory A.G. Spalding. Picked up by
golfers
initially, the two-tone colors matched their outfits. It was named after the look of a saddle on a horse. These were created for leisure wear and comfort. It was worn in the 1920s to 1950s and its popularity was explosive. Everyone wore them from top businessmen to kids on their way to school. Today, these shoes have been delegated to eccentric leisure wear, golfing, and
costuming
. Although typically this shoe is well made; it's important to look for shoewear that offers comfort for all-day wear. These will jazz-up any outfit and add a unique accent that will instantly pull eyes to your feet and compliments from passers-by.
Standout Picks
Criteria Used for Evaluation
Outsole
These are known for being well made and impressive. This style is supposed to be a bold statement although these days more subtle versions are available. When they were first conceived only heavier versions were accessible. The lightweight outsole is a grave improvement over previous versions. This is usually constructed with an EVA outsole and that is widely used in most hiking and sport footwear. This type of bottom is exceptionally durable while offering flex for a natural heel to toe rolling motion. In review these are the qualities to look for when purchasing a quality shoe:
Light Feel
Elasticity for natural walking motion
Grip or slip-resistant if possible
Invulnerable to Cracking
The feet are the base of the body and it dictates the alignment of the rest of the body. This is why it's imperative to choose a stable shoe especially if the intended use is for every day.
Style
If the purchase of outerwear is intended for frequent use then it's important to choose something that will still be enduring after many uses. There are times that shoes such as these are used for costuming but why not spend on an item that can translate to be usable in everyday garb. The determining factor in durability is the stitching, exterior, and footbed.
Genuine leather uppers and toe may be the best material. This generally requires more care but it's not so costly that it isn't worth the investment. There are some man-made shoes that surprisingly offer construction that is structured and long-lasting. This kind of material will never give as much as leather. Leather will stretch to fit the foot like a glove.
Most stitching does not go through to the outsole but if that is apparent then it is preferable. Otherwise thicker stitching and double stitching will be the best choice. Perforation will add some breathability and a thinner material lining the top of the shoe will promote airflow for cooler feet while still protecting against the elements.
Comfort
There are many aspects of a shoes' construction which contribute to its enjoyability, but not every person will require the same features. This is why it's so vital to select a pair that specifically targets the symptoms you experience to reap the most benefits. These aspects are:
Width:
Feet come in different widths ranging from narrow to wide making it impossible to wear a generic shoe and have an adequate amount of wiggle room. Comforting footwear will be properly fitted to the width of your foot thus preventing any squeezing or pressure along the sides. You can measure across the top of the foot from one side to another and compare the width of a product before purchasing. This will save you a lot of potential problems down the road.
Relief:
When you suffer from painful feet the number one priority is finding relief from your symptoms. The following conditions can commonly be treated with proper footwear:
Plantar Fasciitis: Plantar Fasciitis is a painful condition affecting the connective tissue of the foot. When these delicate tissues are over-stretched they can develop small tears along the surface. When this happens it causes painful inflammation. One of the causes of plantar fasciitis is worn out or uncomfortable footwear. The best choice for this condition is a pair that is designed to support your arch and heel. For any hard impacts such as running, try a pair that has strong arch support and absorbs shock waves. These benefits are found through good supple cushioning.
Bunions: Bunions are terribly painful growths, often referred to as bony growths. They develop at the joint of the big toe and are often caused, or worsened, by uncomfortable footwear. It's imperative that you wear a shoe with plenty of room in the toe box to prevent rubbing which further aggravates the situation.
Heel Spurs: The best style of footwear for heel spurs is a rigid outsole. This type of sole better control your range of motion and promotes proper alignment of the foot and ankle to limit any overstretching. It's a good idea to opt for a pair with a rigid outsole and toe rocker technologies.
Pronation:
Pronation is the way your foot naturally moves while you're walking or running. There are three types of pronation: neutral, overpronation, and supination. Over or under-pronation is linked to a greater risk of injuries to the tendons and ligaments. Orthotic insoles are recommended to help correct overpronation, while a well-cushioned and flexible pair of footwear is the best choice for supination.
Overpronation: Those who overpronate have an ankle that tends to roll downwards and inward on every step. This motion continues when the toes should be beginning their push off which puts all the push on the big and second toes. Over time this causes the foot to twist unnaturally which leads to pain in the toes and an unstable foot overall. Wearing a shoe that controls motion or an orthotic is the best method to correct overpronating.
Underpronation(Supination): Supination is when the foot rolls too far outwards towards the outer edges. This puts all of the work on the smaller toes and the outer edge of the foot causing an increased risk of injuries. Plantar fasciitis is common with supination and requires a shoe with supple cushioning and a flexible structure.
Durability
It would be quite embarrassing to be out with some friends, on a date or performing at a fashion show and, all of the sudden, your footwear snapped/broke from underneath you. This is something that we wanted to avoid when doing our research for today's guide.
Now, to do this, we needed to carefully study the durability of the entire footwear. For each product was analyzed, we looked at the different materials, how the manufacturer talked about the durability, and even what previous customers said regarding their experience with the footwear.
If we found the materials to be cheap or the manufacturer not mentioning much about the longevity of the product, we removed the product from our list. In addition to this, if we found that the majority of consumers complained about some aspect of item's durability, we also removed it. We only sought to include brands and footwear that were proclaimed as the very best.
Value
Really, value and durability go hand in hand. You don't want to get an affordable shoe and have to sacrifice the durability of the shoe. Conversely, you don't want to sacrifice the durability just to get something affordable. It pays to plan in advance sometimes. If you need to, make a budget and set aside money for weeks or months in order to purchase the shoes you need without having to worry about the cost.
However, if that is not an option as you need the shoes right now, you can rest assured the shoes on our list are highly rated for durability across the board. You will have to determine what is an appropriate amount for your budget personally. We do take into high accord the price range of shoes when making our list. We strive to bring shoes that can easily fit into almost any budget.
10 Best Low Heeled Saddle Shoes
1

. G.H. Bass & Co. Parker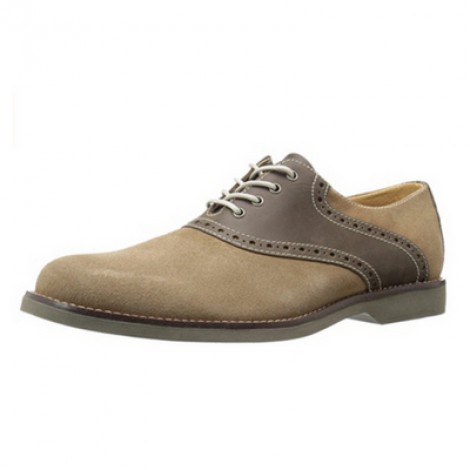 This is an exceptionally well-made shoe. It has the ability to make a statement for those who are fashion-forward. These have a classic appeal that is sure to draw in looks of approval. The mix of fabrics is beautiful and the contrast of the welt and brogue punch trims are lustrous. The genuine leather sock liner is extraordinary and offers a bit of stretch for comfort-wear.
Scored Bottoms
It is an open secret among fashionistas that scoring the bottom of new shoes helps to add a bit of traction for ease of movement on various surfaces. These already being scored adds reliable traction. The heel has a diamond pattern and although it isn't deep enough to go for a hike per se, but upscale events and trekking across business socials is sure to prevent embarrassing slipping and adding stability.
Superior Construction
The mix of fabrics is so seamlessly pulled together with high-grade stitching. The EVA outsole is flexible and resistant to stress cracking. Not to mention this kind out outsole is also airy and light with the ability to keep tired feet at bay. The cushioned footbed is latex and offers additional alleviation and flexibility.
Cost and Value
This product has moderate pricing attached to it. The modern professional will be relieved that such a great item is also durable is affordable. This is sure to match a variety of outfits and impress coworkers as well as superiors. When you are well-dressed you feel good, with such great cushioning feel will feel good all day as well.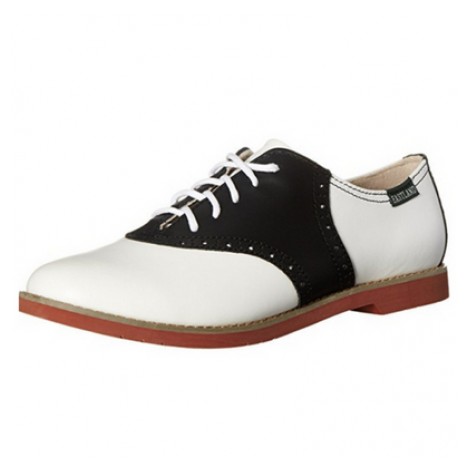 The retro nature of this attire brings back fond memories with a look that is eye-catching. These are created for an elevated appeal. The detailing of the materials used and the construction is impeccable. The uppers are supple, mold to your unique foot and perforated to enhance breathability. The inside is lined with a light soft fabric for additional airflow and comfort. These have quickly become a favorite for lovers of unique style everywhere. Not only because of the look but because of the quality fabrics and ease of wear for all day walking.
Luxury Interior
The insole was created with an exclusive active memory foam. This cushioning was made so that it would allow the foot to sink in and be surrounded with a soft footbed. The light fabric used on the inside of the shoe creates additional softness and allows airflow for hot feet.
Care for Longevity
This classic style was made with the intent of recreating a time-honored shoe with the same quality of old-time wear. The care for this shoe short-term is simple. All that is required is a damp cloth and an oil for a lustrous appeal. Treatment with a protective product before wearing will help prevent marks and stains from water. Natural products should be used for polishing and silicone based products are not recommended for sealing.
Cost And Value
There is a high level of value associated with any product that lands at number one on these lists. While this particular style may have a higher price point than other shoes it is a bangin' deal with some stellar style to boot.

3

. Pleaser Halloween Saddle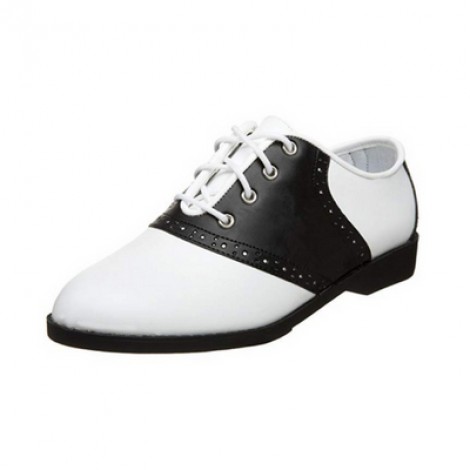 Costuming shoes are not typically well made or comfortable. These do not have those difficulties. They are great for 1950's wear or even everyday wear for menswear-inspired vestments or casual wear. They are also vegan-friendly for those who do not want to compromise their morals for fashion.
Wide-Feet Friendly
This oxford-inspired style is typically is very narrow and tight on feet. This specific brand created footwear that is great for those who have a slightly wider foot and want a little more room in the toe box. They are easy to break-in as well for added convenience.
Animal-Friendly
Although these are considered "costuming" attire they have been used for everyday wear as well. Some people consciously do not want to harm any animals because of their affinity for fashion. The materials used are all man-made and strive to have a positive impact supporting the creation and distribution of eco-friendly wear is imperative for animal lovers.
Cost and Value
These are fairly inexpensive and created consciously to not harm any of our fuzzy friends. Those who need a wider fit or just want a shoe that isn't fussy these happen to be perfect. They hold up better during hours of walking than many shoes created for the same purpose. The detailing is genuine looking and excellent.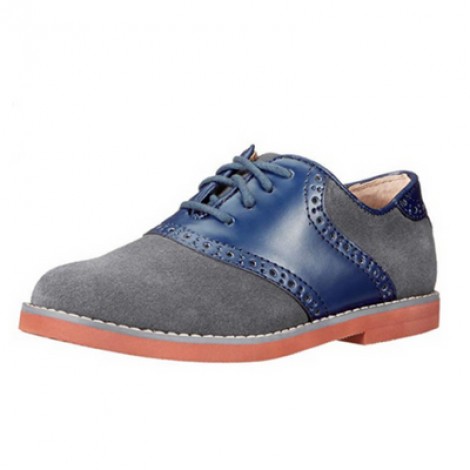 These are a beautiful vintage wear with a modern twist. They are wearable with casual jeans or slacks or formal wear. This company Florsheim has humble beginnings. They were established in 1892 in a small factory native to Chicago, Illinois. That very year this company was established they were featured in magazines such as The Cosmopolitan and The Saturday Evening Post. They have a legacy of pioneering trends while maintaining the same level of attention to detail and classic style.
Weightless Feel
This is a very well structured shoe with beautiful stitching and a classic looking outsole. The outsole, although it has the traditional feel, is imbued with modern shoe technology. The barely-there feel is associated with the EVA outsole. This is amazing technology is very light, flexible, and resists cracking. Many shoes can-not compete with the thoughtfulness of this detailing.
Sweat-Wicking
This is a very enticing design element. Many shoes of this structure tend to be very heavy on the feet, can be uncomfortable, and create a lot of sweat. These are created with heavenly breathable linings on the interior. The exterior has genuine leather uppers, but the rest of the shoe uses suede-tech with leather to allow for some airflow to cool hot feet.
Cost and Value
These are mid-range as far as affordability but offer high-quality materials and thoughtful architecture. They are great for formal school uniforms and casual wear as well. They offer comfort with a long lasting design. The color combinations are chic and go beautifully with anything conceivable.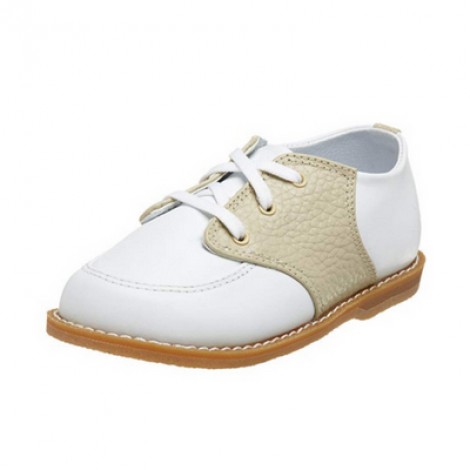 These are adorable for little feet and toes. The non-slip sole is a very welcoming element. Life can be unpredictable and protection from falls and slips is imperative. They do offer a little extra room and look great with bobby socks and Easter outfits or Sunday church. They are also American made which is very rare. Those who want to support the economy of the country can purchase these and feel good about supporting their economic structure.
Grippy Outsole
The outsole is made to be slip resistant which is great for little ones who can be unpredictable. This kind of quality is built into such a classic looking she is exceptional. The outsoles are also pretty light and flexible. They tend to not be hard on feet or cause feet to feel tired very quickly.
Great for Special Occasions
These shoes are wonderful for special occasions and events. They have such an adorable look that is generally comfortable for short amounts of time before being broken in. The back of the heel can cause blisters and uncomfortable rubbing. Wearing thick socks or using bandaids to cover the ankle can reduce blistering in this area significantly.
Cost and Value
The cost is a little steep for the quality of this shoe. It does tend to last for a long time which is a benefit, but the blistering seems to be an issue for some. Perhaps due to sensitive feet, wearing too long before breaking in properly or just having incorrect sizing. This is why measuring feet is so important when buying any shoe to ensure a proper fit that doesn't move around too much.

6

. Predictions Saddle Oxford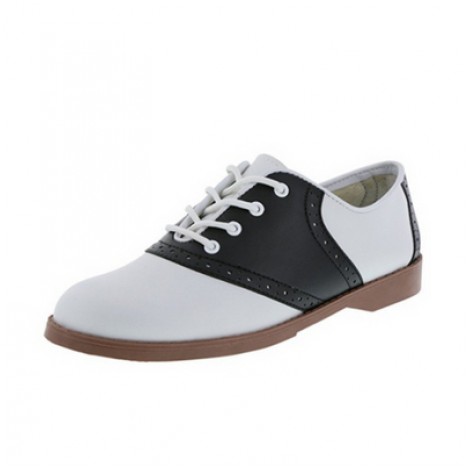 You would expect a shoe that was so economically priced to be cheap. These, however, exceed expectations with a traditional look, clean detailing and a padded footbed for comfort. The only tell is that they do tend to get a crease where the toe bends fairly quickly. These also take a little time to break-in but break-in time isn't longer than normal after one or two outings they will fit perfectly.
Classic
These are styled to be like a modern time machine. While they do not feature the wingtip detail many saddles are known to possess. These do have the traditional black and white colors with a rounded toe for extra wiggle room. The perforated detailing is understated and simple. The black and white also have contrast on the back of the heel which is a nice touch not all shoes of this design will have.
Convenient
These will become a quick favorite not only because they add flair to daily wear but because of the footbed cushions feet. Once broken in they feel like an old friend and are hard to take off becoming a go-to shoe. Easy to slide feet in and out of without much complication and the rounded toe box is made to protect feet without making them feel tight.
Cost and Value
These are priced to fit every budget. They are known to break down after a little under a year of daily use, however. They are constantly in stock so it's easy to purchase another pair. They feature a padded insole which is a welcomed touch for extra comfort. The round toe box was designed with a little extra wiggle room as well. This is footgear for those who want a product that is not fussy and easy to care for.

7

. Smart Fit Saddle Oxford


This style is perfect for those who want a shoe that embodies a traditional style but was made with modern creature comforts. Many times the laces are too long on footgear like this but these happen to be made for a snug fit. They still allow for easy on/off and extra wiggle room for toes. The stitching is well placed and holds very well for a dependable item with wear and go usability.
Roomy
Shoes from time to time can be hard to get on and cause pain in feet when they are too tight. The break-in process can typically cause rubbing and blisters so a little extra room is favorable. The extra room is favorable for ease when putting on and taking off shoes, especially for those who are on the go.
Easy Lacing
The lacing is easy with fewer holes for quick lace-up and thicker laces for comfort and long-lasting appeal. They help secure the foot in the shoe. The interior is lightly padded but not overly contoured so they are best for normal feet that don't need special insoles. If foot issues are a problem it might be best to order a size up and buy some insoles. These do tend to be roomy but based on the thickness of the insoles they could feel very tight.
Cost and Value
These are extremely cost-effective without being cheap. They are surprisingly durable for the cost. These are great for walking over long periods of time with no pain in feet. They add a retro touch without being overly tight or looking ostentatious. The soles are non-slip for a little extra grip on unsteady surfaces.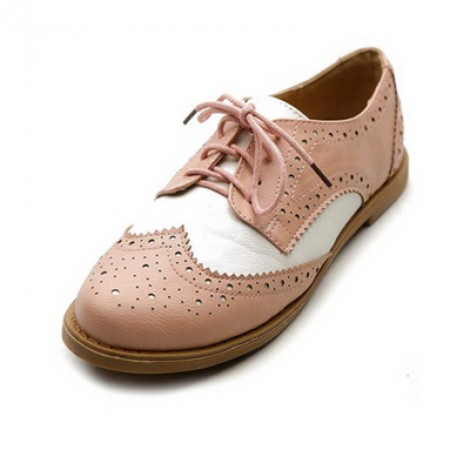 These beautiful two-toned oxfords offer a variety of beautiful neutral colors. This shoe offers a construction that is light on the foot. This will grant the ability to be on feet all day without getting tired or having a lot of pain in feet. The lace-up design adds a secure fit and looks great with casual or formal wear. The heel height is less than an inch for a small boost without adding unnecessary pain and discomfort to feet. This particular company (Ollio) watches over the whole manufacturing process to keep a close eye on the quality of materials and construction of this shoe. This ensures a product that is up to high standards
Weightless Feel
Saddle shoes are expected to feel a little heavier because of the materials used for construction typically. This particular footwear happens to be surprisingly lightweight. This is due to the rubber outsole being very light and flexible. The outsole is still enduring, however. They are not wide however so it may be better to purchase a size up for wider feet.
Chic
This style of shoe-wear has been trending in recent years. A really beautiful detail is in the perforated uppers and toe box add a classic touch without being overly gaudy. The wingtip has always been a staple of American fashion and this aspect is exceptionally striking. The hues are available in a range of neutral tones that pair well with a variety of casual and business wear.
Cost and Value
These are inexpensive and go with a variety of outfits effortlessly. The low heel allows for all-day wear and easy walking. The look is very feminine and mixed with a masculine appeal. It's a little narrow so it may be a necessity to order a size up for the perfect fit. The feel is very airy and easy to wear all day. The colors are mostly neutral and will go with a variety of outfits. This is a very trendy look that never goes out of style.

9

. Modern Brogue Spectator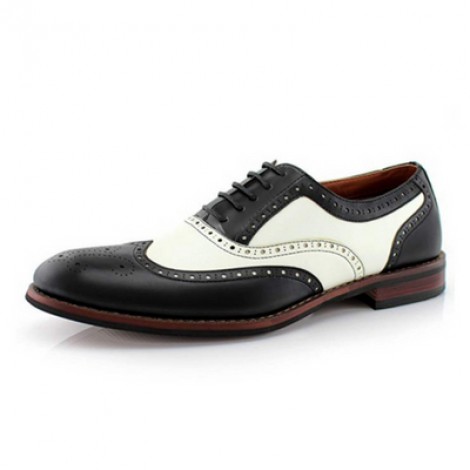 This shoe is completely man-made but with a good polish, it's hard to tell that it isn't genuine leather. The price cheap but the quality isn't. The quality is actually very good, with great traction, and very comfortable for all-day wear. The interior was designed to feel supple and surround the foot luxuriously. The faux leather on the exterior doesn't crease easily and is surprisingly durable to stand up to a variety of environments. The construction is very sturdy.
Strong Architecture
The strong construction of this shoe is very admirable. It may seem a little stiff at first but the break-in time is little to none. Although these are synthetic leather they are absolutely beautiful and are very sturdy. It's flexible enough for comfortable walking can easily stand up to spills, and is easy to clean.
Versatile Style
This beautiful shoe will wow people if used for casual-wear or formal wear. It's versatile enough to hold up in both environments. The shoemaker's of this footwear are highly skilled and pay very close attention to detail. The cutting and stitching are constructed with intense attention to detail. The wingtip toe and perforated detail are whimsical and easy to care for.
Cost and Value
This is a very well structured shoe with the attention to detailing apparent and these are comfortable for daily use. The cost is unimaginably inexpensive without sacrificing quality. They are built to last for a long time and were created to offer superior comfort as well. The only concern is the chemical smell at first from the man-made materials used. If smell sensitivities are a concern or cause headaches then these may not be the shoes for you. The smell usually will dissipate in a week or so.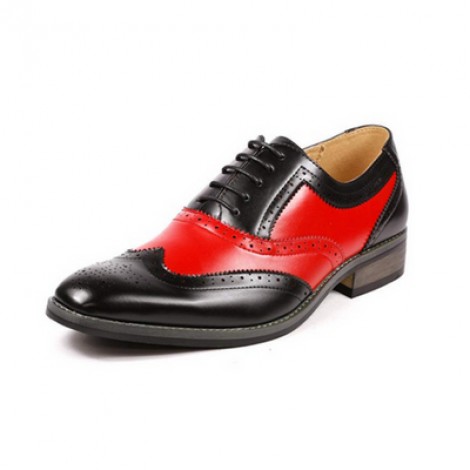 This is a very unique shoe. The color combination is hard to find. They are completely man-made with an interesting square toe, comfortable lacing and are pretty enduring. They are not usually used for everyday attire. They are usually used for special occasions or costuming but the truly eccentric can wear these to work or out for lunch. There are other white and tan or white and black color combinations for those who want to tone it down a bit but add flair to their wardrobe.
Stand-Out Wear
This shoe stands out with hues that don't fade over time. The quality is great for such a low cost and the use of man-made materials. These are exceptional for weddings, themed parties, impressing friends and wowing coworkers. The detailing is lovely and has a touch of inspiring fantasy with the pattern of the perforation.
Surprising Coziness
This shoe is surprisingly comfortable. It does tend to run a little narrow in the toe box, however. Ordering half a size up will help add a little room for the narrow toe-box. The interior of the shoe is soft and the footbed is cushioned. It is not made for people with foot ailments or wide feet. Normal sized feet and feet with very few issues will find this attire the most comfortable.
Cost and Value
This whimsically designed shoe inspires the imagination without breaking the bank. The outsoles don't seem to have much grip but the rest of the shoe is well constructed. They are slightly tight and is a narrow toe box is a concern ordering half a size up will provide the perfect fit. The footbed is alleviating and the interior padding envelops the foot in comfort. There is a chemical smell but it goes away within a few days of arriving, airing out for a bit will be the best option.

Subscribe to our Newsletter