Best Khaki Shoes Reviewed & Rated
In a Hurry? Editors choice: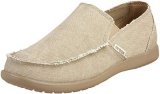 Test Winner: Crocs Santa Cruz

When someone says khaki we often think of those basic casual slacks that go great with blazers or weekends at the seaside. Khaki also brings to mind the color of desert wear and it's the color of many military uniforms around the world. As the story goes, in 1848 Khaki was adopted by the British as an official color for army gear. As for khaki shoes, they have gotten an entire life of their own.

Footwear in this shade is widely available nowadays, and is chosen in all styles - from sneakers to pumps, you will find khaki shoes for almost any occasion. Not only are they a great buy seeing that the color goes well with everything, but they're often the preferred choice in hiking and outdoors gear. The list below presents the best khaki shoes currently available for purchase.
Standout Picks
Criteria Used for Evaluation
Top 10 Khaki Shoes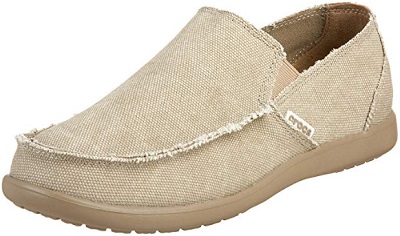 Famous Crocs comfort and support in their specially formulated foam resin sole. Whatever secret sauce they use to make this light, soft and flexible foundation, called Croslite, it's miraculously engineered with even more cushioning. Their amazing manipulation of shock-absorbing materials has everything to do the Dual Crocs all-day comfort. What used to be a wonderfully utile gardening or beach shoe has made a spectacular entrance into the fashion world.
Canvas Croc loafers! Need we say more? Comfort meets style and fun in the Santa Cruz khaki shoes. A little extra stretch on each side of the tongue makes this an easy slip-on with a little frayed-edging around the top for that lived-in look. It's a go anywhere style with a practical slip-resistant sole that will never mark up the floors. Comfortably padded heel cups fold down if you want that, I'm-on-vacation freedom and there are tiny little nubs on the footbeds that actually massage your feet when you walk!
Now you can take all the comfort and ease of a Croc to work in a lightweight, fully supportive pair of khaki shoes that looks like a legit loafer. Not a dress up shoe and no dress up prices, either, this is a reasonably priced, easy fit shoe that will get you through the day in style and comfort. Goes great with shorts on vacation or slacks at work; the only place you probably won't wear them is under your tux. But someone else just might.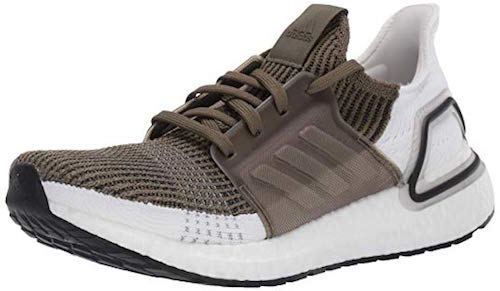 One of Adidas' most advanced running models, these khaki shoes are made for daily jogs on road surfaces. Featuring neutral support and a removable insole, you can easily wear these even if you need additional arch support in terms of custom orthotics. Great for training and casual everyday wear alike, these will do well in the hot summer months thanks to the highly breathable Primeknit upper that features stretch fibers and molds to your foot like a sock.
The upper of these khaki shoes was designed as a bootie that offers a lightweight, seamless in-shoe experience, made more supportive through two notable features. The first is a thin cage that wraps up from the sole and allows the user to adjust the fit through a set of laces. The other is a 3D heel frame that provides the type of lock in you'd expect from a pair of shoes of this caliber. You'll also find that the collar is very soft and lightweight, resembling a sock, while the back of the heel features some lightweight padding to protect the sensitive achilles area.
But, what differentiates these khaki shoes from any other model listed is the high-tech midsole that has become an absolute favorite since it was first introduced several years ago. The Boost unit is made up of thousands of TPU pellets, and it is these that contract and expand with every step or landing. They absorb shock and protect the foot from impact, but also go back to their original form quickly, increasing energy return. A Torsion System insert increases lateral stability, and the whole sneaker racks up a small weight.
The outsole on these khaki shoes uses Continental rubber which is highly efficient in providing grip on both dry and wet surfaces, and that lasts a good time. As for cost association, this pair of khaki shoes goes for a price that's higher than average, but if you want the best from a reliable brand like Adidas, then you'll find that this is it. Plus, it's one of the most comfortable pairs of footwear you can invest in.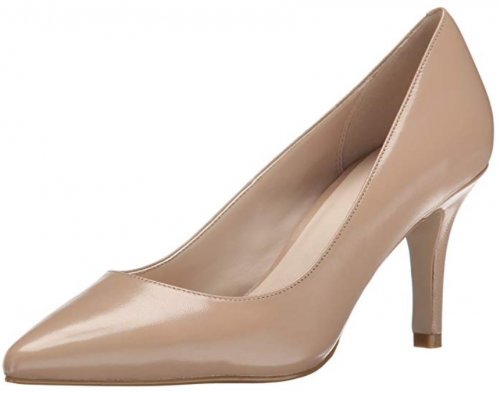 Cole Haan has been a synonym for impeccable style for over 90 years now. The brand prides itself on high-quality dress footwear that not only looks good but feels good as well. The Juliana pump is no exception. This tan khaki design has a classic silhouette that is suitable for both work and play and is made from premium leather materials. Not only that, but the Juliana is outfitted with the Cole Haan signature Grand.OS technology for that all-day comfort that we all look for in high heels.
The Juliana has a genuine leather upper, smooth and minimalist. The pointy toe front adds poise to this pair of khaki shoes, and the heel is about 1.75 inches high, which makes it comfortable to wear for hours on end. The inside of the pump is fully lined and padded, and the Grand.OS technology is there to cushion your ride and improve your heel wearing experience. This system offers flexibility, as every part of the design moves with your foot, cushioning in the form of energy foam to soften all the pressure points, and breathability as it promotes airflow all throughout the design.

If you are looking for that one pump that goes well with everything, you certainly found it! Its color matches any outfit and any situation, and thanks to its boost in height and elegant toe shape, it is perfect for the office, for a formal event, and even for a fun night out at the club! There is nothing you can't do in the Cole Haan Juliana!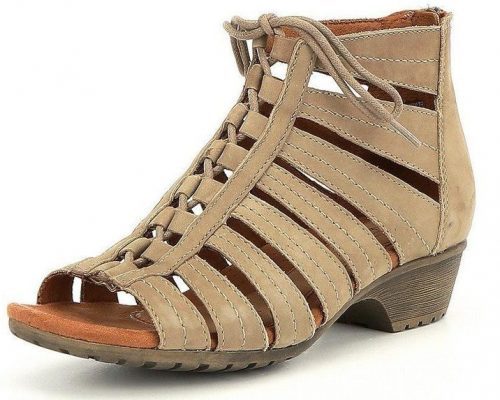 From the company that brought us the first modern 'walking' shoe for recreation, Rockport knows how to put together rubber soles that last for miles and miles with gorgeous leather uppers. With the Country Walker in the early 70s, the casual leather lace-up replaced sneakers and sports shoes for people who just liked to walk in comfort and style.
Cobb Hill Gabby booties are about 4" from the arch to the ankle with a small but stylish ½" rubber-soled platform and a 1 ⅛" heel. A soft suede upper and EVA footbed supply plenty of comforts; these khaki shoes are cute, chic and great to wear! They zip up in the back, but the front laces adjust to allow for more or less pressure depending on how much you need this day, this hour, this minute. Super light and very flexible.
This is an adorable bootie that goes with just about everything. The Gabby dresses up and down as well as any casual pump, but the style is a little fancier than an espadrille and the fit of these khaki shoes is just as comfortable. True to their tradition, Rockport's Cobb Hill brand is so comfortable it's great for walking distances and enjoying the view.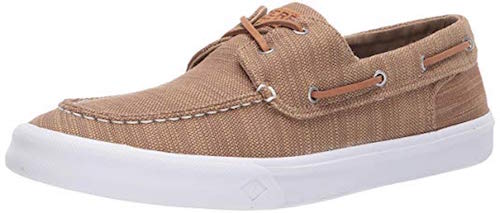 Another pair of sneakers on this list of the highest rated khaki shoes available for purchase. The Sperry Bahama II Baja is a hybrid model that brings the best from both boat shoes and sneakers. Ideal for wear both on and off boats, this summer model will definitely become your go to pair of footwear on your next vacation, and we'll completely understand if you decide to wear it year-round too.
The upper of these khaki shoes is made with a woven canvas material, while the lining features a slightly softer fabric that allows you to wear them with or without socks. In addition to a high level of breathability, this choice of material also means a lightweight construction, so you can easily opt for this model whatever activities you wish to partake in. The 360 degree lacing system (using rawhide laces) allows you to find the ideal fit, and the metal eyelets are rust-proof and reliable, just as you'd expect from Sperry.
The most notable feature of this pair of khaki shoes has to be the rubber outsole made out of a non-marking compound and featuring a highly efficient traction pattern. Using wave-siping, the sole of these khaki shoes provides excellent grip even on slippery wet surfaces such as wet tiles and boat decks, making these an overall good choice. Additionally, the insole is cushioned and removable, so you can easily adjust the type of support and shock absorption you receive from this model.
The price of the Sperry Bahama II Baja is below average compared to the other models on this list, and can even be found on sale, making it a stellar investment for the summer months. If you're looking for some casual khaki shoes you can wear on holiday, these just might be the winning choice.

6

. Skechers Porter Zevelo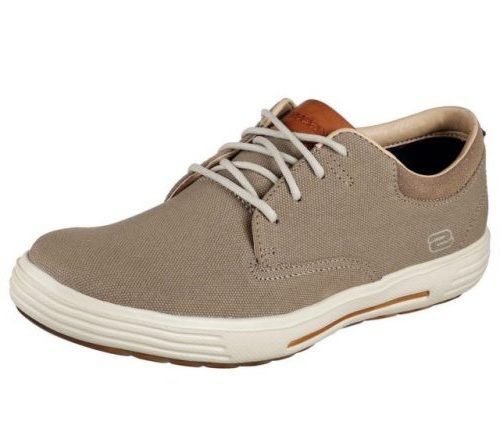 It's hard to believe that Skechers is now third among US athletic footwear brands. From the early days of skate shoes and utility boots with chunky platforms and thick-soled or casual sneakers to the incredible variety of shoes they make today, Skechers is still the comfort brand for people with aching feet and pedal limitations.
Very much like the classic yacht shoe, this pair of khaki shoes includes a classy bit of leather at the top of the tongue and very sturdy canvas uppers, thick padding around the collar and a clean old fashioned rubber around the sole. Memory foam at the midsole gives this a soft, walking-on-air feel when wandering around foreign bazaars and the air-cooled structure makes getting errands done on the weekend a breeze.
While this pair of khaki shoes is most definitely a casual sneaker the Porter Zevelo will easily blend in at work whenever a khaki color would be acceptable. With jeans or chinos or on vacation in shorts, these are comfortable and ready for action. Non-skid soles can take you on a rocky walk at the shore or the fish market in safety. Very much a good buy for style, comfort, and versatility.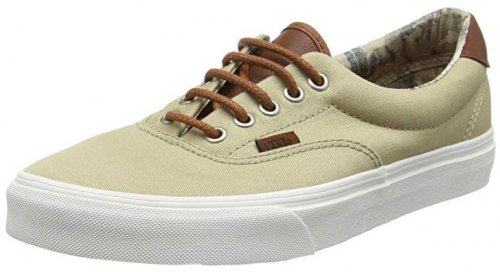 We're all familiar with the classic Vans design, the laid-back skater sneaker that all the cool kids are wearing. The Era 59 is similar to that, but also a little different - a little less skater and a little more preppy. This pair of khaki shoes can practically pass for a dress sneaker, with its low-top silhouette, a double-stitched canvas upper and leather accents. The Era 59 is a sneaker which looks great with jeans, shorts, and skirts, and wherever you take it, you will look classy yet casual at the same time!
The Vans Era 59 has an upper made from sturdy canvas material. Canvas is breathable and soft to the touch, meaning that your feet won't sweat or suffer from any nasty blisters or abrasions. The collar of these khaki shoes is padded for extra comfort and flexibility. As all Vans designs, the Era 59 also has a waffle outsole, which serves to provide better board feel for skateboarders. However, for those of us who don't frequent skate parks, this outsole provides good grip and traction on any type of surface.

It goes without saying that you don't have to be a skateboarder to enjoy Vans sneakers! These have become a fashion staple, and everyone needs to have a pair in their wardrobe. The Era 59 is a versatile pair of khaki shoes that is a perfect balance between relaxed and elegant, and a sneaker that you will love wearing in nice weather!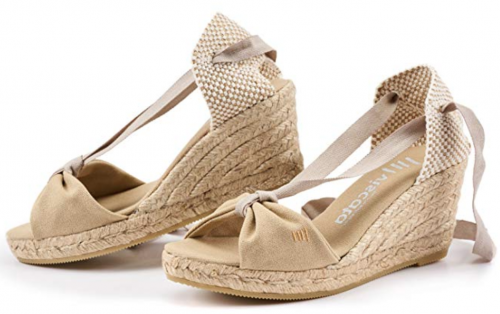 With traditional techniques, Viscata's artisans craft natural materials into authentic espadrilles in Spain. Designed in Barcelona these espadrilles have the simple elegance of the Mediterranean vibe that inspired them. Hand-wrapped jute and quality natural rubber and cork soles form the base of a comfortable walking shoe in every product they make. A superior brand in every way, these are a shoe to invest in.
Espadrilles are a design that just screams luxury and relaxation. They're a chameleon-like fashion statement feigning an easy style of dressed up peasantry or with shorts and jeans for a dressed down elegance. Wear these khaki shoes on the weekend for extra ease, wear them to work when you need a break. Just the best, only the best, lovingly crafted in a boutique workshop, these espadrilles have a soft cotton canvas upper. So easy to keep clean with a little soap and water and a brush. Trim the jute now and then with regular scissors and they never look worn.
It won't affect your bottom line, but you may want to figure in the fact that Viscata uses natural materials to create their khaki shoes. Most definitely priced appropriately for the quality you get, these khaki shoes will last long, take care of your feet and soothe your conscience all at once. What a deal!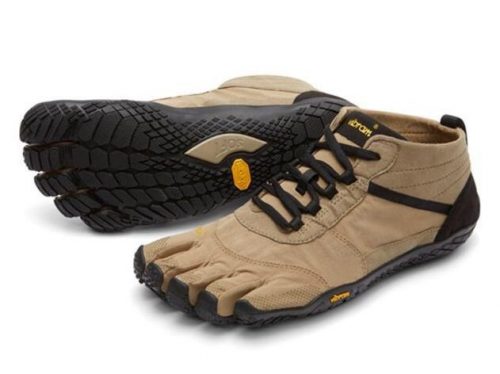 The first Vibram sole was made for mountain climbing in 1937 and it's still the most popular sole in that market. The Italian company never stopped its tradition of innovation creating long lasting and superlight soles, breaking into casual and dress markets and introducing PU shock-absorbing materials and Ecostep to reduce waste and encourage the use of natural products in the industry.
Independent toes are protected by a grippy Vibram sole, designed to provide traction and protection on whatever terrain you encounter. Sockliner is ½ wool, ½ polyester for warmth, dryness, and comfort. The idea here is to allow your body to run the way it was made to, instead of putting too much foreign structure between you and the surface you run on. It may make your feet healthier and stronger just by doing what they're made to do.
There are plenty of five-toed designs on the market but Vibram's sole is the product of almost 100 years of manufacturing and innovation. You really can't beat these khaki shoes in quality and reputation, and the price is about the same as a really good pair of running sneakers that might not hold up under the rugged conditions these were made to take on.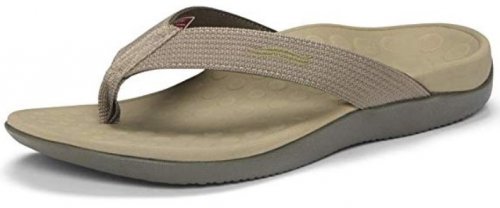 When summer rolls around, when temperatures rise and humidity sinks in, all we want is to free our feet from confining footwear and let our toes wiggle happily. And for such an occasion, the Vionic Wave Toe Post is a great option! At first glance, this is a standard flip-flop sandal that we've seen many times over. However, Vionic wouldn't be Vionic if they didn't infuse their designs with all the latest comfort technologies and materials to make sure that you are comfortable and supported in your khaki shoes all day long.
The Wave Toe Post has a biomechanically engineered footbed for superior arch support and help with heel pain (perfect for those suffering from plantar fasciitis). It has an EVA midsole which absorbs shock and staves off foot fatigue, and a TPR outsole which provides good traction with its patterned tread. The straps are made from nylon that doesn't dig into your skin or cause any lacerations, and thus the pair of khaki shoes is great to wear for as long as you like!

We admit that this option is not the most versatile, as it is not suitable for a work environment, or really any situation where you need to look presentable. However, for your time off where all you want to be is comfortable and cool in hot summer days, the Vionic Wave Toe Post has you covered! With its Orthaheel Technology, you will have a hard time parting from these khaki shoes at the end of the day!

Subscribe to our Newsletter