Best Kate Spade Shoes With Glitz and Class Reviewed
In a Hurry? Editors choice: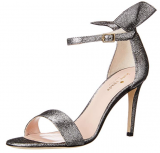 Test Winner: Iris Sandal

Kate Spade, the fashion empire that was once a single boutique in Manhattan's SoHo neighborhood. Known for her notoriously
colorful and lively
designs, Kate turned her passion for accessories into a distinctive and modern brand that women turn to when they're searching for something more than the usual looks we see today. We've studied the many styles of footwear that Kate Spade has crafted in order to bring you a comprehensive guide to the top ten pairs available. Keep reading below for a detailed review of each option, as well as, a breakdown of the criteria used while searching for the top designs.
Standout Picks
Criteria Used for Evaluation
Style
Kate Spade offers tons of different styles of shoes that range from athletic type sneakers to dressy high-heels. The sheer variety of designs makes this brand a great choice for nearly any occasion and is one of the reasons women just can't get enough of this trendy brand of footwear. Let's have a look at the types of shoes from the Kate Spade line;
Boots: No one does cute boots quite as Kate does! This brand is all about flirty ankle boots and versatile designs. Fall will be your new favorite season once you discover the oh-so-stylish options available that come in a huge assortment of colors and materials so you'll never get bored with these boots.
Sneakers: While they may not be geared up for heavy athletic activities, Spade's sneakers are anything but high-maintenance! These pairs are designed for the tomboy at heart (who still enjoys wearing glittery, girly things of course!) and offer super-comfortable wearability.
Wedges: Ah, who doesn't love a stellar pair of wedges?! Anyone who's looking for a hot new pair to wear will love the classicly-chic looks from this line that come in all kinds of colors, heights, and styles.
Sandals: Summer is always sunnier while you're wearing a pair of Kate Spade sandals! They offer the kind of cute designs that you dream about all winter long and are guaranteed to look amazing with practically anything you own.
Heels/Pumps: Stunning, slender, and oh-so-glittery. Only Kate Spade heels can pull off those ravishing designs while maintaining a classy feel. These heels are the very definition of gorgeous and they are looks to wear for every occasion, whether it's to the office or out on a date.
Accessories
Accessorizing your footwear is a great way to let your personality shine and can really transform an otherwise boring outfit into a masterpiece of fashion-extraordinaire. This line of footwear is great at adding super cute details that aren't too over-the-top so you can wear their pairs without feeling too flashy. Whether it's metal hardware or sparkling sequins, these shoes have got it all going on!
Some of the most popular kinds of accessories seen with these shoes are glitter, rhinestones, gemstones, decorative zippers, and even the odd buckle or two. The great thing about these additives is that they don't steal the show by being too large or too tacky. Instead, they're discreet and simply add a feminine flair to every design.
Faux fur cuffs and trim is another way that this brand likes to accessorize their pairs and we just can't get enough of this cute addition! Take the Stasia Boot, for example, that offers a smooth leather upper and solid color tone that's accentuated by a perfectly adorable faux fur cuff. This look is a must for chilly winter weather and can make any outfit look amazingly chic while also adding in a touch of playful creativity.
Decorative bows are a frequently seen decorative to these shoes that really add a girlie flair. With the Ilyse Sandal, the bow sits front and center but isn't so large that it looks tacky or overpowering. Instead, it's perfectly sized and adds a nice bit of pop without overshadowing the rest of the shoe's silhouette.
Patterns are another form of accessorizing that is often employed in Kate's designs and certainly adds a distinctive vibe to every pair! Styles like the Lydia Dress Pump that boasts a gorgeous leopard print, or the Linda Wedge which shows off a stunning set of stripes, really showcase the power of a good pattern.
Comfort
How comfortable your shoes are is an important thing to consider, especially if you're going to be wearing them for an entire day or night. Certain aspects will help to make a shoe more enjoyable and should be taken into consideration before purchasing a pair. Let's look at the aspects to be considered;
Support: Support is a big factor! A supportive shoe will help to lessen pain in the arch area and can even reduce discomfort in the lower back, hips, and legs. A supportive shoe will have a good solid footbed that offers a combination of cushion and stability. This can be achieved by incorporating a solid midsole and a lightly padded footbed. When it comes to cushioning, EVA is one of the best materials because it is ultra-lightweight and flexible while still maintaining a solid structure.
Construction: The way a shoe is made can really determine whether or not it's going to feel good on your feet. For example, a shoe that has poor stitching may include areas where the seams stick out further than other parts. This can result in rubbing and friction that causes painful blisters to occur. Examining a pair to make sure that its seams are all even and well-stitched can prevent some serious discomfort down the road!
Heel Height: This is a biggie! A heel that's too high is unnatural and compromise the arch area of the foot, placing undue stress on that already delicate spot. Try opting for a pair that's under four-inches in height because this will allow for a more natural footfall and ultimately prevent painful and fatigued feet. Wedge heels are a great choice because their wide structure is the easiest to walk in and puts the least amount of strain on your back, hips, legs, and feet.
Versatility
It's important that a shoe be versatile enough to carry you through all sorts of occasions because no one wants a pair that they can only wear once or twice. The great thing about this line of footwear is that the designs are made in a fashion that lets you enjoy whenever and wherever you like!
The ballet flats from this label, like the Willa and Nanette, are incredibly adaptable and can easily be worn while you're at work and then afterward when you decide to head out for dinner or a date. The professional yet chic and stylish designs make for an effortless way to dress and will propel your Kate Spades into the "go-to" spot on your shoe rack.
In order for a pair to be able to pull off a day to night kind of attitude, there need to be certain features that will help to smooth over the transition. Things like a non-slip outsole and padded footbed will ensure you're as comfortable as possible no matter what may come your way. While a nice securely fitted pair will be much easier to cruise in than ones that slip or slide right off your feet. For flats and other types of slip-on pairs, you'll want to make sure that there's some sort of elasticized side panels because those will keep your shoes securely on your feet and prevent any accidents.
Value
A shoe's value comes from how well it's made and how versatile it's designed. If a pair is a poor quality it's going to fall apart faster and won't be as comfortable to wear. The best ways to tell if a pair is going to feel good on your feet is to assess its stitching, quality of materials, and overall design. Look for items with easy closures like laces and zippers because these will be the quickest to get on and go.
For high heels, looks for ones that have a cap at the tip of the heel which will help to lessen the noise factor, while also providing extra grip when you walk. It's also important that the heel is properly attached to the upper so that it won't break too easily.
Flats should have a footbed that's designed to control excess moisture which will help to prevent odors. Flats are usually worn barefoot which can quickly lead to smelly shoes if your feet sweat inside of them but a leather-lined insole will pull the moisture away from your skin keeping you fresh and dry all day long.
The hardware should also be made from good quality material so it doesn't cheapen the overall appearance. Zippers and other accessories should be made from a sturdy metal that gives off a high-quality vibe.
Top 10 Picks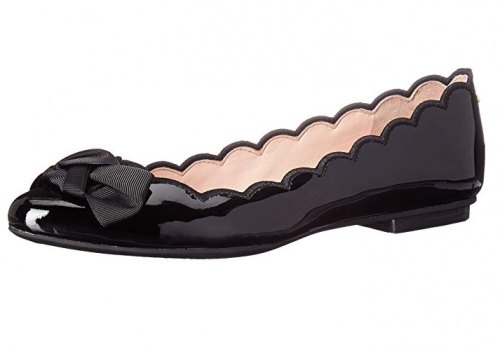 The Nanette flat is a super-cute and fashionable pair of ballet flats that are perfect for nearly every occasion. Scalloped edges and bow detailing at the toes make this a chic and girlie choice that's great for wearing while you work, shop or play. Choose from one of three stunning colorways including black, denim, and ballet pink.
Nanette's' made from 100% leather that delivers a breathable and comforting environment for your feet. The leather material has a knack for drawing excess moisture away from the skin preventing a build-up of sweat and odor-causing bacteria for an all-day fresh feeling that wearers love.
This practical slip-on will carry you wherever you need to go thanks to its easy-wearing half-inch heel that allows for effortless steps. Wear these to the office for a professional and comforting style or while you're at the mall for a chic and trending look that your friends will love.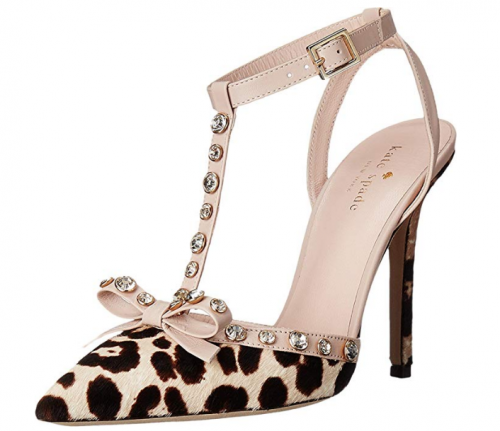 The Lydia Dress Pump offers gorgeous jewel accents and is the perfect pair for fancy get-togethers and other formal occasions. Choose from one of five colorways which include a dainty Petal Pink and sultry Blush/Brown Leopard. A sultry four-inch slender heel and ¼ -inch platform help to elevate this pair of heels to a whole new kind of fashionista.
Lydia's stunning midfoot and wraparound ankle straps make this a unique pair that's ready to take on whatever may come your way. A leather footbed wicks excess moisture away from the skin preventing a buildup of sweat and odor-causing bacteria so you can feel fresh and cool no matter how long you wear them.
These pumps are a great choice for almost any occasion and offer a versatile design that you can match with practically any outfit. Try them with a pencil skirt or flowing dress for a beautiful finish, or even with a cute top and a pair of skinnies. These heels will fast become your go-to favorites and are a must-have for fashionable women who enjoy looking their best.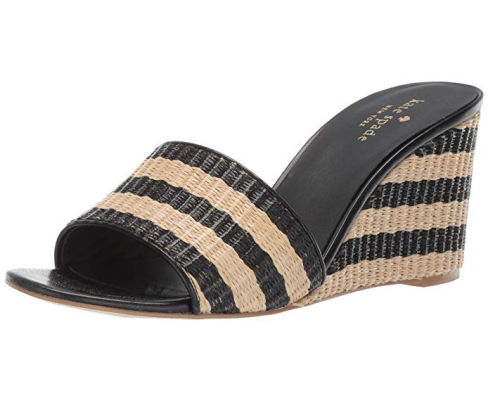 The Linda Wedge Offers everything you could need and more from a wedge sandal! High contrast stripes and an easy-to-walk-in heel make this a go-to choice for stylish ladies on the move. Synthetic upper material and smooth leather lining help to make this pair one of the most comfortable sandals yet while textured raffia ribbon adds a girlie vibe to this undeniably hot choice of footwear.
Linda's 2.75-inch heel and wider wedge design make this pair super easy to wear and helps to add even more appeal to its overall appearance. A slip-on structure and comforting materials make the Linda an irresistible choice of footwear that's both chic and modernized.
A smooth leather lining material helps to draw excess moisture away from the skin preventing a build-up of sweat and odor-causing bacteria for a fresh all-day feel. No one likes walking around with sweaty sticky feet which is why Linda's leather-lined footbed is perfect for those warm summer days.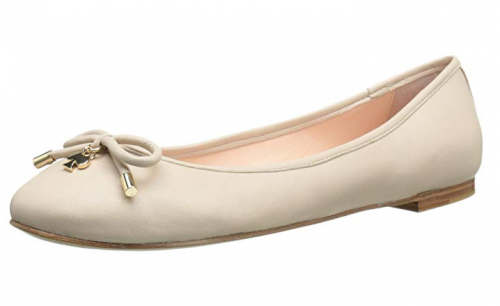 Kate Spade's Willa is a super-cute ballet flat that's perfect for nearly any occasion! It's available in nearly twenty colorways so you can easily match this pair with all of your favorite outfits and accessories for a stylish look. This pair features a low half-inch heel and flat platform for a versatile design that's easy to walk in and won't slow you down while you're on the move.
Wearer's love Willa's comforting design and breathable 100% leather upper unit that keeps you cool, dry, and comfortable for hours on end. The leather material is excellent for pulling excess moisture away from the skin which helps to prevent a build-up of sweat and odor-causing bacteria for all day enjoyment.
Willa's trendy bow accent with golden aglets makes this a sharp looking flat that's ready to take on whatever comes your way. Go ahead and wear these for almost any kind of occasions like weddings, dinners, parties, and more.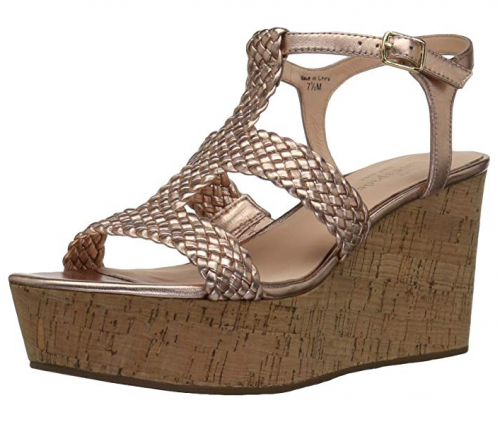 The Tianna is a bold pair of sandals that pack a stacked wedge heel and a gorgeous woven upper. Their rubber sole is perfect for keeping you steady on your feet while preventing any accidental slips or falls. A 1 ½ -inch platform and 3 ½ -inch heel give the kind of added lift you're looking for while still maintaining an easy style for walking.
Made from 100% breathable leather, this pair will keep you cool and comfy all day long. The leather material is an ideal choice for warmer weather because it draws excess moisture away from the skin preventing a build-up of sweat and odor-causing bacteria. Tianna comes in four colorways: Gold Woven Nappa, Black Nappa, Rose Gold, and Luggage, which means you'll have no trouble finding the perfect shade to match with all of your favorite outfits!
Try wearing a pair of these wedges with your go-to skinnies for a chic look that's super stylish, or match them with a flowing summer dress for a boho-inspired vibe. These sandals are a versatile choice that will look amazing with practically any outfit and is guaranteed to turn heads when you walk past.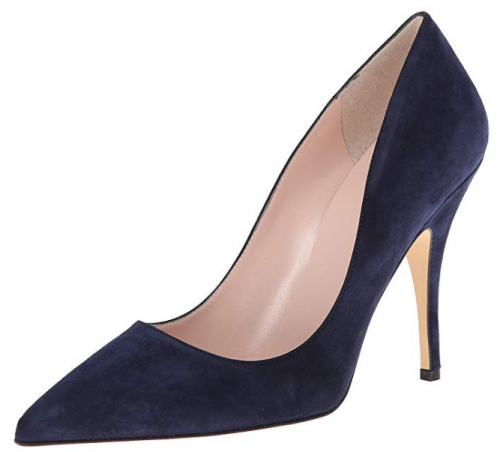 The Licorice pump is both elegant and sensual all at once thanks to its smooth silhouette and flawless curvatures. This pointed-toe pump embodies a feministic vibe that lets the world know just how powerful a woman can be! Strut your stuff with confidence and ease while wearing a pair of Licorice heels that deliver an edgy combination of both work and play that allows for seamless transitions from day to night all without ever having to change your shoes.
The Licorice offers a perfect 3.75-inch stiletto heel and comes in ten colorways so you can easily mix and match these pumps with nearly anything in your wardrobe. A slightly padded, logo embossed footbed ensures your total comfort while walking and helps to prevent foot fatigue for a more enjoyable experience. These heels are the ideal choice for classic styles and add an air of sleekness to any look with ease.
The great thing about the Licorice is that its solid color tone adds just the right kind of attitude without overpowering the rest of your outfit. Try matching these with a pencil skirt or pair of business slacks for a polished and professional appearance. These heels are also a great choice for more low-key get-togethers and are sure to turn heads when you walk past.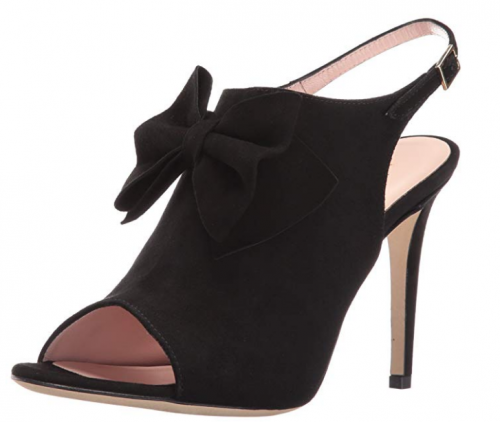 The Ilyse sandal is a dressy pair that's ready to take on nearly any occasion and look amazing while doing so! A stunning kid suede upper and decorative bow at the front make for a uniquely gorgeous design that would look brilliant with a gown or pantsuit. The Ilyse offers a wrapped stiletto and rear buckle closure that help to make this a must-have pair.
A 3 ¾-inch slender heel and ¼-inch platform allow for a natural stride while still adding some extra lift. This stellar choice of a heel is crafted in Italy and features a man-made outsole that helps to prevent any accidental slips or falls.
Ilyse's cushioned footbed lets you walk in total comfort despite its petite frame and a supple lining material feels great against bare skin. The open-toe look mixed with a wraparound ankle strap and cute buckle closure make for a divine combination that is guaranteed to look incredible with anything you choose to wear.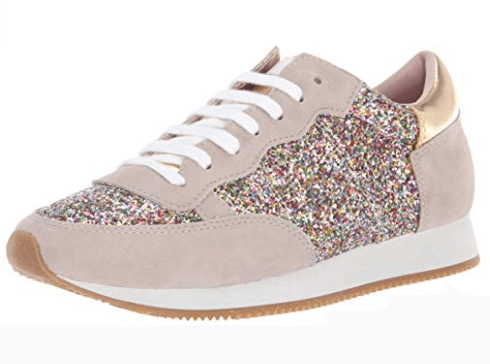 There is no better way to embrace your feminine side while still maintaining an athleisure aesthetic than with the Felicia. This gorgeous sneaker features a lovely leather and synthetic build, furthering the luxury flow you expect from Kate Spade kicks. The real statement piece here, however, is the dazzling side-panels which are absolutely decked out. This glitter is also laid out on the toe-box which pulls the whole, sparkly sneaker together. This focal point allows you to glitz up any get-up in a flash- staying cozy, but on point. That's fashion with function, people, and we can't get enough. A pair of leggings and a white t-shirt are all you need for a lazy day running errands with the Felicia giving you the comfort you crave alongside the style you're seeking.
Felicia is a lovely style for anybody who rocks athleisure on the regular. It can easily be paired up with other outfits, but this is really the niche which the designer was looking to target. It has a gorgeous, minimalistic silhouette which keeps the sneaker from looking "busy". The color options are either pink or silver, both of which are subdued in nature. The softness of these choices makes the glitter a perfect compliment to take the design to the next level.
The sole is moderate and gives enough thickness for a soft ride. While some styles capitalize on a heavy platform, the Felicia takes it back to basics. It's a subtle nod to predecessors and the styles of the earlier 2000's. The low collar balances out this thick-leaning heel, but keep in mind that it should be paired, generally speaking, with low ankle-socks because of the dip the collar takes on either side of the ankle.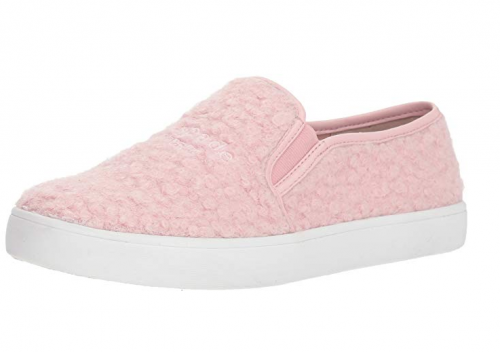 The Misty sneaker is the perfect combination of practicality and style thanks to its skater build and gorgeous pink upper unit. This shoe is a great choice for any season and would look incredible with a pair of skinnies! You'll love the sheer comfort that Misty delivers and how easy it is to match with all of your favorite clothing or accessories.
Made from 100% curly wool and featuring a 100% cotton lining material, this pair is everything you could hope for in a shoe! It will keep you nice and toasty during the colder months but won't smother your feet when its warmer outside so you can easily wear them all year long.
A rubber outsole ensures that you'll stay steady on your feet and helps to prevent any accidental slips or falls, making the misty a great choice for light physical activities like walking. This pair of sneakers offers an easy slip-on style that stays perfectly in place thanks to elasticized goring at the sides so you can forget about your shoes flopping or sliding off.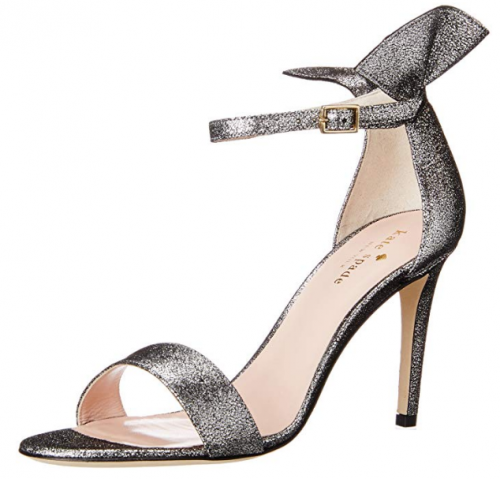 The Iris sandal is a diamond in the rough and delivers a kind of timeless glamour. Its cracked metallic upper shines like a star under any lighting, while its wrapped heel and open-toe silhouette combine to form a stunning pair of heels. Dressy occasions like weddings, birthdays, and more are the ideal place to strut your stuff these stellar heels that are sure to steal the show!
A supple leather-lined footbed helps to make the Iris as comfortable as can be thanks to its moisture-wicking properties that prevent a build-up of sweat and odor-causing bacterias. Walk with confidence thanks to the 3 ¾ -inch slender heel and ¼-inch platform that give just the right level of lift without making it too hard to move about.
The Iris sandal was designed to wow your onlookers and is the ideal match for a flowing or form-fitted gown, but looks just as beautiful when worn with a business suit. These heels will give you some extra confidence when worn to any kind of special occasion or dressy get together and will make you feel all the more amazing.

Subscribe to our Newsletter