Best Black Platform Boots For Witchy Women Reviewed
In a Hurry? Editors choice: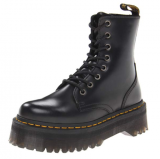 Test Winner: Dr. Martens Jadon

This list includes booties that are both subtle and sweet, all the way to boots that have as much edge as you do. They can be rocked by anyone regardless of their personal style, and black ones aren't just for those who lean on the more
gothic side of life
. Here, we have curated boots for the chic and reserved, the young at heart, and the tough girl with looks to kill. Try out a pair that is right for you, and you won't regret it. You may find your confidence grows just like your height in one of these gorgeous options.
Standout Picks
Criteria Used for Evaluation
Heel
If you are reading this article it must be clear to you that we would have almost nothing to talk about if we didn't account for the heel. Some of these are sky high. Others are subtle and reserved. Either way, we picked interesting heels that are suited for multiple different aesthetics.
Whether it is a wedged Sbicca that is tall, textured, and luxurious or the smooth and cohesive Dansko clog, that appears as if it is sitting on a wooden heel. These wouldn't have made it without various heel styles and heights to rock when you wear them.
Heels accentuate the leg and butt. Plus, the incline isn't too steep to stand tall in. You will feel confident and strong in any of our choices, and that is what we want for you.
Stability
Stability is kind of a big deal when you're walking on height. Feeling like a baby giraffe on roller skates or a man on stilts is no picnic, so lets avoid it, shall we? These are all sturdy choices, that will hold up to adventures, dancing, and just regular commutes.
We hope you're having more fun than just going to work in there, but if you are just heading to the old job, there is no need to worry about being safe in them. Even on our thinnest heels, there is a base in front to even out any unsure wobbles. These are practically like training heels, save for the Demonia and the Pleaser.
Traction
I can't even begin to stress enough just how dangerous a lack of traction can be. Add in being further up from the ground than usual and you're gonna have a problem. Factor in yet another dilemma with climate and sidewalk conditions, and it can be downright terrifying to venture out in any kind of heel.
Every choice here has amazing traction. A few are even certified as oil- and water-resistant, so they really could transition to a cute work shoe. The Dansko wedges in particular would be great for a doctor. The Doc Martens are perfect for a stylish retail worker.
These are ready to take on any task, plus you will look damn good doing whatever it may be. No one should be scared because of their footwear. Ease yourself into some height with these secure options. You won't regret that you did!
Support
Many people are under the impression any type of incline qualifies as arch support on a shoe. The reason this is believed is that it is wildly told by doctors that flat shoes are absolute not for people with arch problems. Naturally, people put two and two together and end up with the conclusion heels must be great for your arches! This, unfortunately, isn't the case.
Supportive shoes are much more than just the shape. In fact, the same can often have very little to do with the overall quality of the support. Contoured footbeds help, but when we really want a good shoe, we have to keep an eye out for the features that provide them.
Ball of foot padding, reinforced heel cups, and even plates built into the arch provide it. The incline, of course, does help, but not much without features to accent the shape they are guiding your foot into.
Materials
As I mentioned before, for this list, my immediate thought was a lot of black patent and sky high stilettos. In my head, that is the iconic look we all know and love. Our Pleaser option is very much fulfilling all of those preconceptions, but we looked further to find an array of textures and fabrics to make a truly diverse list.
Supple nappa leather adorns the Vince Camuto shoetie, and is absolutely breathtaking in person. The synthetic Dream Pairs Lacey scrunches up for a cute and casual knee high boot. My very favorite, the lined leather Puma by Fenty is a sleek chelsea boot is a constructed leather that forms a futuristic profile.
The Lucky Brand shoe has a handmade look, utilizing tacks to accent where the upper meets the sole. Materials and the details made with them are so important in the fashion industry. We found these trends that you will love in so fabrics that are to die for.
Top 10 Picks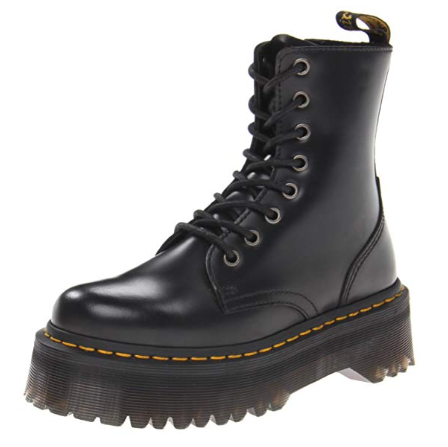 Ah, the brand that started as a collaboration that has become well loved in every corner of the world, Dr. Martens has a long legacy of boots that last in both style and durability. Since their inception, Doc Martens has made a name for themselves for their iconic look and lived in feel. In 1901 the Griggs family started constructing quality leather shoes, and when they saw Dr. Maerten's custom sole he designed to nurture a broken foot he sustained in the Alps, it was a match made in history. Their love story bore the first Airwair style, and they have been hand making this gorgeous footwear ever since.
The Jadon has all the classic Doc amenities. This extra tall 8 eyelet boot has a hidden inner zipper, not standard on most Docs, but makes this a much more casual wear than their normal lace-up options. The platform has an ombre clear look, going from a rich black, then thinning out and letting light shine through the lugs on the underside of the boot. A classic military style perfect for a multitude of styles, you can wear these with a sundress, or your favorite ripped jeans.
Slip-resistant soles ensure a safe wear whatever the environment. Great for festivals and concerts, these protect the foot and ankle, as well as your whole being. They are a pain to break in, but once you do, you'll have footwear to last a decade through everything. Their patented Airwair comfort is insanely cushioned, and the way the boot forms to your foot after breaking in is unlike any other brand on the market. The reason the breaking in period is so crucial is because that they are handcrafted with traditional cobbling equipment if you believe it! They are a little pricey, but you're paying for an individually inspected, handmade style, with all the Doc features. These are one of my all-time favorite shoes. Don't miss out on this fan favorite!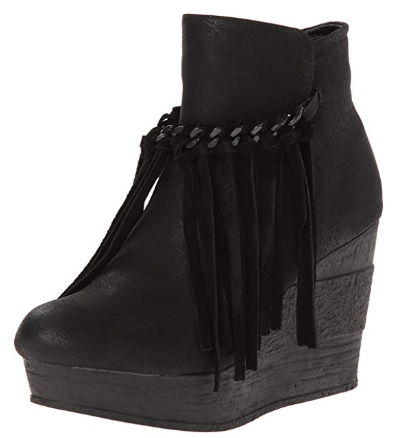 After WWII, the Sbicca family migrated to California from Philadelphia and brought their family business with them, great shoes. When they came to California, laid-back styles were the only thing in their vocabulary, and they also took heavy inspiration from authentic vintage designs. Sbicca has brought us the flexible, lightweight bottoms we have come to love since the 1970s, and when this technology was developed, they changed the game for cool, easy to wear footwear. Fashion is important, but comfort rules all. That is why this brand perfectly blends both without sacrificing the most important aspects of either.
This all black, monochrome wedge bootie is a straight LOOK. If you wanna feel as cool as you look, these are definitely a must-have. Their fringe hangs on a large link chain across the front of the shoe. The chain has a bit of shine which is an accent for the eyes and adds another texture to the single note color. The wedge here does the same. It utilizes three layers of different textures to give that interesting, multifaceted appearance.
This tasseled bootie has an inner zipper to take on and off, which makes just about everything easier about wearing these easier. Once you get your foot in, you will feel the padded, cushioned insole that makes them feel as uniquely perfect for you as they look. They are very stable and shock absorbing and feel as close to wearing flats as possible. Moderately priced and oh so fashionable, this bootie will turn heads without turning your pockets inside out. Don't be afraid to fall for Sbicca!



Demonia is quite literally in a league of their own. Specializing in alternative footwear, their styles are almost too cool for the casual wearer. At the forefront of high-quality gothic style, Demonia is a division of Pleaser, the brand known for sexy footwear. If you participate in any counter-culture that focuses on bold fashion and dark inspiration, Demonia is the go-to brand if you are the type that wants to turn heads and set themselves apart from the crowd, this is pretty much the only brand this committed to comfort and quality while on the fringe side of fashion.
The SWI221 is really something else. In a time where riding boots and furry boot mocs abound, they stand out as a much different kind of shoe. There really isn't much else to say about just how well these embody a dark, almost intimidating, aesthetic. The platform is high, but the foundation on these is so firm you won't stress about the height. The incline itself is about two inches, so these feel like a modest work slingback, but look like a club ready knockout.
With functional laces and double buck, these can adjust a bit to your calf and ankle size, but also have a zipper all the way down to the foot for ease of wear. This shoe is vegan and produced ethically, so you can look ready to kick butt, without actually kicking any butt. Soles are equipped with a super tractioned flame pattern, which is great for walking on any surface. These are a bit expensive for being synthetic, but the craftsmanship that went into making them is undeniable, not to mention it is the norm for this brand of shoe to last years and years. With their cool combination of multiple synthetic leathers and canvas, this shoe is bound to get you noticed.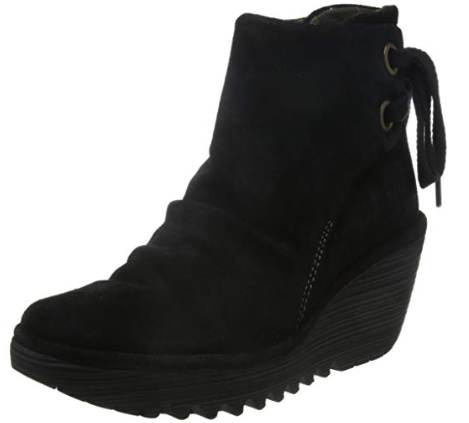 Starting in the UK in 1994, Fly London is a provocative brand that gives a little direction to their designers other than to go to wherever their inspiration takes them. While this seems like a risky business model, it definitely pays off when you look at the kind of product that comes out of this mentality. To be always progressive and never conventional is no small feet, but Fly London takes it on gracefully. Their styles are cohesive, but unique, and combine different materials, dying methods, and heel styles to bring you cutting-edge fashion.
The Yama is a great example of their classic style. It isn't outright feminine or masculine, it is an androgynous bootie with a thick, stacked wedge, and modern design elements.
The detailing on the side is subtle but different. You are guaranteed to have a hard time finding a silhouette this effortless and cool. This round toe bootie has a wedge that comes out slightly from the upper, playing with dimensions in the style.
A decorative tie adorns the back with think lacing and large silver colored eyelets it laces through. The microfiber lining is soft and breathable but will hold up to cold weather wear just as well. Worn straight out the box, these require no breaking in before becoming acquainted with their soft and cushioned feel. Light and extra supportive, this is a great bootie for any age, and their higher price point is worth it for this well-loved UK brand.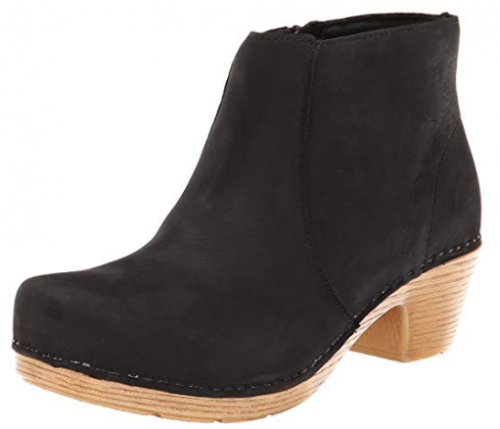 Two former horse trainers set out looking for the perfect barn shoe in 1990. What they found was a vintage clog, which provided great comfort and a clunky, retro profile. After buying up every pair they could get their hands on from a small boutique, they brought their bounty home to their family and friends to spread the news. Almost 30 years later, they're still bringing clogs to their friends, families, and customers all over the world. Known specifically for their work clog, Dansko is loved by multiple professions who spend most of their time on their feet. Try a pair and you will soon fall in love too.
This low cut style features a contoured wooden wedge sole, and an inner zipper to make it a breeze to slip on and off. A PU outsole offers maximum shock absorption that makes every step feel amazing. The roomy and rounded toe box won't interfere with your foot's full range of motion, and the adorable look of this shoe is almost too precious to pass up.
An embedded steel shank has multiple functions, but mainly offers stability and support in each step. The Maria's footbed is leather wrapped and ultra-cushioned, you won't be able to take this clog style boot back off once you've worn it a bit. It looks casual but feels luxe. Easily to clean with a damp cloth, Dansko not only constructs a supportive wedge, but also one that is low maintenance. In the higher boot price point, these are specifically designed for those who plan on wearing them for extended hours, or with arch and foot problems.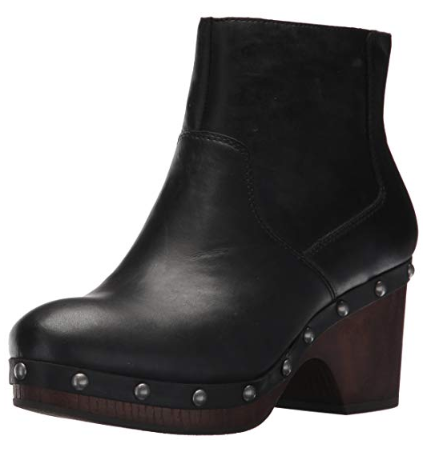 Lucky Brand start with jeans. They recognized the iconic true-blue American spirit of denim early on and realized that it was much more than just fabric and hardware. When they branched out into the footwear, they wanted the same authentic, classic elements of your standby favorites, but with a decidedly Lucky Brand flair. With vintage looks and old school rock and roll attitude, Lucky Brand footwear is always on point, no matter the occasion. If you love the styles of yesteryear and want to incorporate their elements into your everyday wear, this is a great brand to start.
First things first, this design is absolutely gorgeous. The construction has lines similar to a cowboy point, but it is far more sophisticated. An inner zipper makes this easy to get on and off without affecting the integrity of the upper. The upper gives a truly vintage-inspired look by having an upper that looks tacked onto the base. Little studs adorn the Yasamin all around the sole.
Despite having a bit of height, they are actually ultra-wearable, so you're good to walk around all day wherever the destination. The sole is well cushioned and supportive for even the pickiest wearer. Soft, supple leather is a staple of the brand, and they didn't skimp on the Yasamin. The dark wood heel makes this a great bootie to wear casually but it works just as well with slim fitting trousers and your favorite blouse. The Yasamin is a little pricey for the average boot, but it is not an average boot and is by a designer brand. You will love how these look and feel, and they are so versatile that they will quickly become an outfit staple.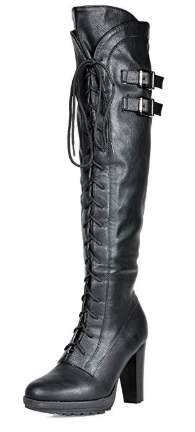 Dream Pairs wants to get you into comfortable shoes. Since their inception, their focus has been on affordable shoes that don't break the bank or your ankles but also look fresh and fashionable. What started as an Amazon retailer branched out into their own brand, constantly on the lookout for high fashion trends that can be made accessible to the people wanting them. They design, manufacture, and distribute all their items now, and removing the middleman has allowed for an extended selection to offer to their loyal customers.
This kneehigh option has customizable adjustments you can make to best fit your leg, as well as gore on the inner knee that you won't see, but helps the boot bend and flex with your leg. What makes this a great feature is the fact that many high boots can limit mobility or need to be fussed with to stay comfortably in the correct place, you won't have that problem with the Lacey. They are also lace up and self-tie, which has additional fit benefits for the wearer.
The round toe and chunky high heel are super on trend right now, and their front platform makes them much more comfortable than your average heeled boots. The stitched detailing looks vintage and intricate, and the collar is padded so it won't bother you while wearing. The incline on this is still pretty steep, but with their cushioned insole, it makes that inconsequential. These are at a very low price point, and all their stylish points like the buckles on the side, are fully functional. Usually, on similarly priced items, these kind of features are just for show. The Lacey is absolutely a must try!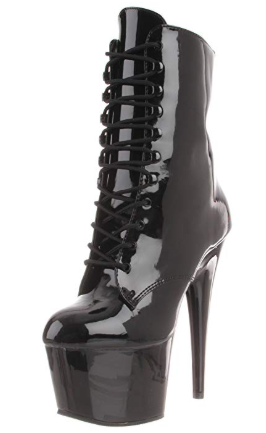 Pleaser USA Inc. hails from Southern California, and they have guaranteed a look for every subculture since their inception. Pleaser and its multiple fantasy brands have been putting sexy, eye-catching designs out since 1993. Every boot is made to fulfill your shoe fantasies, and despite their larger-than-life style choices and middleman heels, the surprising comfort you can find in a pair of Pleasers can't be matched by more casual heel and boot brands.
A super daring, skinny pointed stiletto adorns this patent skin tight boot. The platform in the front alleviates some height on this 7-inch heel, but only about 2½ inches, so these may take a little skill to get used to. These definitely aren't for the faint of heart, but what fun would they be if they were? An intensely tight lace-up detail makes this a very va-va-voom option.
Still providing a side zip for ease of wear, this look is ultra leggy and shiny and is the perfect accent to your baddest outfit. Pleaser is known for making shoes you can move and groove in despite defying gravity, and these are no different. A medium price point, once you get one pair of Pleasers, you'll have trouble resisting the rest. Firm traction keeps you upright and this sweet look is sure to kill.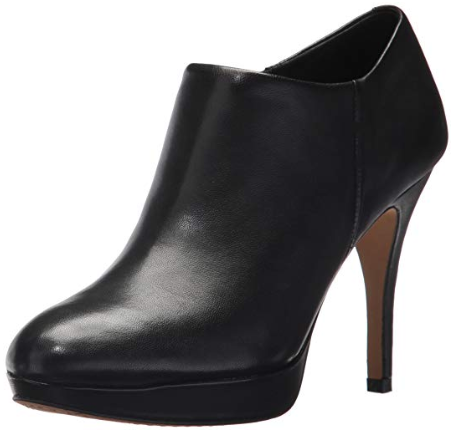 The Camuto group skyrocketed into public hearts with their shoe designs in 2001, in less than two decades, they have become a respected brand loved by men and women alike. Initially known for being one of the leading minds behind the women's brand Nine West. Vince Camuto now creates a large line of accessories, shoes, and handbags, embody the classic lifestyle brands of the past with a modern twist.
I lovingly like to refer to styles like this as shoeties, half shoe, half bootie. The Elvie has a heel and upper fully adorned with leather, making this shoe smart. The short instep zipper preserves the integrity of the shoe opening, so you won't struggle to jam your foot and interfering with the lines of this super short boot. Stiletto heels are a real pain, luckily the hidden platform here eases some of the pressure of this heel.
These fit like a glove and the supple leather feels as rich as this elegant shoetie looks. A perfect, second skin fit and a comforted slightly padded insole make this a style you'll want to wear on every night out. Sexy and truly sleek, these only look hard to wear, they're actually a great dress-up option for a night on the town without discomfort. They're within the mid-to-high price range but they are an elegant shoe through and through.

10

. Puma X Fenty Chelsea Boot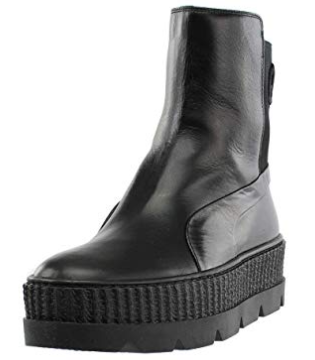 We all know Puma as the brand that combines high-performance sneakers with sick designs. Their recent athleisure endeavors have been highly coveted, and they are no stranger to the chunky rubber base on an unexpected upper. Fenty, Rihanna's brand, is already an ultra-exclusive style icon in the industry. From makeup that matches every skin tone to sizing that accommodates bodies big and small, Rihanna wants us all to slay and look just as good as she does stepping out on the red carpet.
I absolutely adore chelsea boots, and this edgy update is no exception. The textured base is futuristic and downright cool, and the rubberized sole is shock absorbing, so you can dance, jump, and play in these all while serving up killer looks. The gothic font of the Puma adorning the back is black on black, but still adds a unique element to the traditional chelsea.
These are cowhide and supple, they're so soft that the actual feel of the shoe betrays their edgy appearance. The monochrome silhouette is effortless, and the chunky base has great traction and height. These would look amazing with so many outfits. This shoe slips on super easily and will get you a ton of compliments no matter how you wear them. Inexpensive for a designer collaboration, these are a great entry level item to spice up your wardrobe.

Subscribe to our Newsletter