Best British Shoes For The Anglophiles Among Us Reviewed
In a Hurry? Editors choice: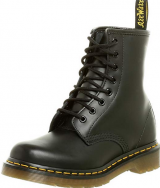 Test Winner: Dr. Martens 1460

Today, Dr. Martens and oxford style shoes are one of the most popular styles of British shoes, and the number of people deciding to stick to the classics is always increasing.

If you yourself wishing to dive into the world of British shoes, be prepared - once you are in, you will never want to leave! If you do need a guide through the versatile world of their footwear, let us lend you a hand and help you choose your new foreign companion!
Standout Picks
Criteria Used for Evaluation
Comfort
Comfort is one of the most important aspects of shoes - including British shoes - for many reasons. Aside from making your life less painful and more pleasant, comfort also alleviates many health problems.
Wearing shoes that are comfortable and fit well can help more than you think. Back pain, for example, heavily correlates with foot pain and problems. You will also notice a decrease in corn, bunion, and callus problems.
This is especially true when it comes to shoes with high heels since they usually cause the most trouble. Some of the British shoes we mentioned in our article come with medium or high heels; if you do decide to wear them, you should take some extra steps to preserve your well-being.
First of all, you shouldn't wear heels so often, and not for a long period of time during the day. If there is room in the sandal or the pump, insert cushions if you feel like the comfort they provide is not enough. And lastly, always carry an extra pair of flats you can use if you can't stand in heels much longer - having a crooked gait due to pain is not pleasant for you or for the eye!
The British shoes we spoke about here are high quality and are mostly made out of genuine leather, so they should be comfortable right off the bat. If you feel like your feet are suffering, try stretching them out and breaking them in. Genuine leather, especially, is a great material that takes on the form of your foot over time and provides you with undeniable comfort.
Durability
Why do we usually search for shoes that are durable, and that we don't have to replace so often? Durability is a very important aspect of shoes, and that is because we like to rely on the one item that is supposed to guard our feet, and also because no one likes it when their pricey, brand new shoes fall apart after a minimum amount of usage.
The most durable British shoes are without a doubt the ones made out of genuine leather, which covers most of our items listed here. This type of material rarely breaks apart, and you can take easy steps to help preserve it. There are special creams and sprays that help it have that gloss and help it be waterproof, which in turn lessens the possibility of it cracking. Rubber is also very durable, but it can bloom and it doesn't breathe that much.
Bloom is an easy fix - you can wipe it off with a special spray, or you can put a drop of olive oil on a microfiber cloth and save some money and time!
One more quality that some of the British shoes listed here have is the Goodyear welt construction. This is a very special factory-made welt, that doubles, even triples, the life of shoes. It gives you the option of changing up your soles completely, without damaging your shoes. You save money, time and energy, and your leather British shoes can get that desired patina that only footwear that has been worn for a long while gets!
Materials
The materials used to produce shoes can mean a world of difference.
The most common material for our British shoes here is leather. This material is the most popular natural material that manufacturers choose to create shoes out of. It can come from many different kinds of animals: usually cows, but it can also come from reptiles and other exotic animals.
There are also many different kinds of leather: full grain, which is the best kind, taken from the part closest to the surface, so it offers the most protection; suede, corrected and bonded leather are also common choices, but full grain takes the hat. As we have mentioned, it is durable, flexible, provides enough air, and it molds to the shape of your feet.
Faux leather is also a common, vegan choice. It doesn't harm animals when it's made and is harmless to the environment.
Rubber is also a good choice when it comes to British shoes, and it is often vulcanized - reinforced to last longer and to be more resistant to harm. Completely waterproof, it is meant to save you from damp and cold feet. In rubber shoes, you can have trouble with airflow, but choose boots that have a textile or mesh lining and you'll have no problems!
Style
There are many styles of British shoes, and they all have their good and bad sides. The first one you will come across is the classic eight eyelet boot, that decorates many rock and punk icons of the past and present. These chunky statement makers will make anyone feel like a rock star, and can be combined with virtually anything, even wedding dresses!
Also, you will come across the oxford shoe and its many variations. What makes it special is that the shoelace eyelets are attached under the vamp, as opposed to them being attached to the upper. They first appeared in Scotland and Ireland, and later got their name after Oxford University. They are a great smart casual shoe because that can be combined with plenty of different outfits.
Sandals are also present in our list of British shoes, and they make great summer accessories. Usually, with many straps and heels, they can fluff up any kind of outfit you may be wearing. The upper can feature many different patterns and decorations, all meant to make you feel like a superstar!
Ballet flats are also a great hit, especially for casual outfits. They do lack arch support though because they have no heels, but you can always wear an insert and rock them the whole day!
Versatility
Versatile shoes are great because they can save you a lot of time and energy from choosing many different pairs for different outfits.
For our list of British shoes, we included both formal and casual choices, so you truly do have an option for every clothing combination.
Versatility can depend on a lot of things, and it's usually about the shoe style and color. For example, you really can't wear colorful sandals with everything, but if they were nude, then your options would increase tenfold.
High heels also can't be matched with many outfits, because it's really not appropriate to show up to work wearing 5-inch heels, right? Rather, you could choose oxford styles or even loafers, which could save your feet some trouble, and make you look more professional. Flats are also very versatile, as they can be worn with many different combinations, but they accentuate your cute side - if you want to feel flirty, choose shoes without heels!
There are no British shoes meant for every occasion you can think of, as there is always something the design may lack. But, it's always better to have two pairs of versatile, durable shoes than ten different ones which you wear rarely!
Our Favorites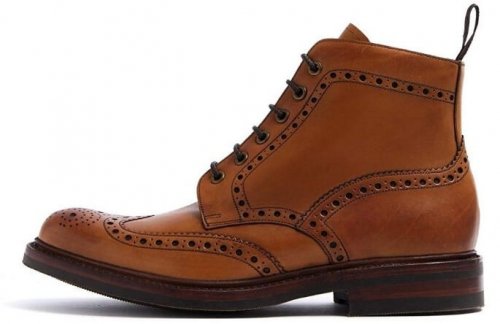 Loake is a family-run brand which originated in 1880. They are known for producing only the finest, most impeccably made handcrafted British shoes, infused with the Goodyear welt construction for durability. The Bedale is a derby boot with brogue detailing, perfect for when you want to look a little rugged but sophisticated at the same time.
The Bedale has an upper made from genuine calf leather, burnished for a worn look. The brogue detailing all over gives it a suave, gentlemanly feel, and there is a leather lining inside which is both breathable and chafe-free. The insole on the Bedale is padded with foam for extra cushioning, and the outsole is made from Victory rubber that is resistant to wear and tear. This outsole has a unique tread to keep you well-balanced on any kind of surface.

Thanks to its Goodyear welt construction, the Bedale will last you for many, many years to come. It is a boot that you can wear both to casual and semi-formal events, which you can easily pair with jeans and slacks for a wide array of different looks. You can be sure that they will all be equally elegant in these British shoes!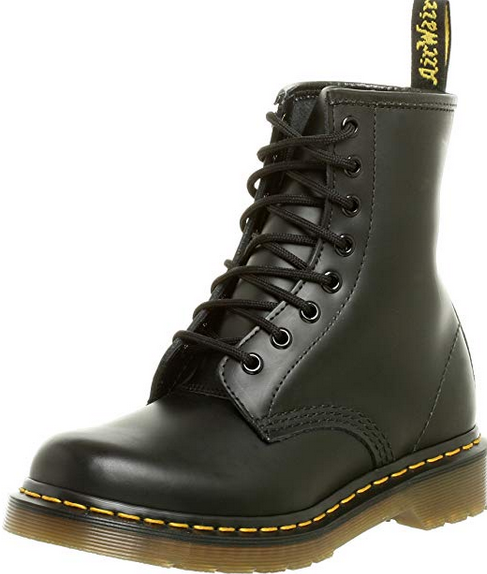 One of the most iconic brands of British shoes is Dr. Martens. Try thinking about any punk rocker, or grunge scene lover without picturing them with one of their boots! The 1460 was the very first model that was created and is definitely the most recognized one. It is made completely out of premium grade leather. That makes the boots water-resistant, durable, and moldable, meaning they will easily accommodate the shape of your foot.
A big pull-loop sits at the top of the 1460, making putting them on a breeze. Combine that with their lace-up design and you get a great adjustable and easy-to-put-on boot! The 1460 has eight eyelets, a recognizable number for Doc Martens. The insoles are leather too, and they are cushioned, so you can strut around in them the whole day. They are a bit on the heavy side and have a difficult break-in, so you might not want to wear them for a longer period of time when you first buy them.

One of the most significant aspects of the 1460 is the Goodyear welt construction. It makes the boot durable, and also gives you the opportunity to change the soles, keeping the very same boot you have chosen ages ago, but with a brand new sole. The outsoles are rubber, and oil and slip resistant, so you never slip and fall over! Yellow threads gleam and contrast the leather of these British shoes, and also serve as one surefire way to know you are dealing with a genuine Doc Marten!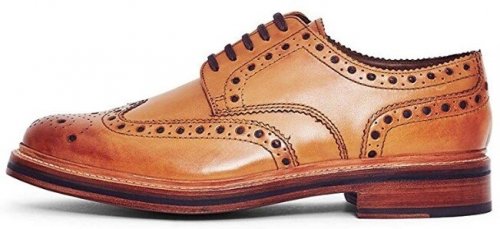 Like some other of the most well-respected brands for British shoes, Grenson also originates from Northamptonshire, from the year 1866. This company specializes in handcrafted men's footwear, made only from the finest materials available. The Archie is just such a design, a best seller of the Grenson name, which you can wear to any occasion you need to look presentable at, from an important business meeting to a breezy outdoor wedding.
Despite what you may think upon first glance, the Archie isn't an oxford shoe. Rather, it is a gibson, with all of its features exaggerated. The eyelets are oversized, the sole has three layers to it, and it is also crafted with what is called a triple welt. The leather outsole provides elegance and comfort like no other, while a lightly cushioned insole - also made from leather - ensures a padded, healthy climate inside the design.

These are British shoes that you can wear with a suit, even with a pair of monochrome jeans and a blazer. Pair them with navy blue or beige for maximum color coordination, and enjoy all the compliments that you're going to get at the event you're attending!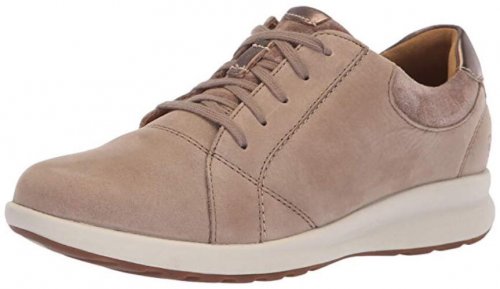 The Un Adorn Lace from Clarks is a lifestyle sneaker that you can wear pretty much anywhere, from the classroom to a fun lunchtime with friends, to a long walk along the riverbank. These British shoes come in several different colors, out of which we singled out the versatile beige, as that hue is all the rage this season. The Un Adorn Lace will become your favorite casual choice in a blink of an eye!
This sneaker has an upper made from nubuck leather for a tailored type of comfort. It is low-cut and with a lace-up closure - a classic trainer design. What makes the Un Adorn Lace stand out is the EVA midsole that is incredibly lightweight, paired with an Ortholite footbed that wicks moisture away, as well as a leather lining. The rubber outsole on this design provides amazing grip so that you don't accidentally slip or skid anywhere you go.

The Clarks Un Adorn Lace is a sneaker that borders on dressy. It goes perfectly well with boyfriend jeans and an A-line skirt, and its high levels of comfort will quickly become irreplaceable to you! The Un Adorn Lace are staple British shoes that we all need in our closet.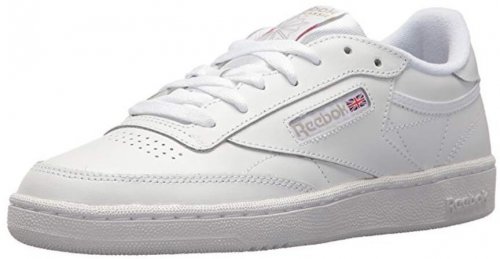 If you're unsure whether or not Reebok produces British shoes, the Union Jack on the side of the Club C 85 will definitely help persuade you. While today this company has stores all over the world, it first started out in the town of Bolton in the United Kingdom. Reebok is a synonym for cool, sporty shoes, and their Club C 85 is a classic design that you can wear to all of your casual outings.
This iconic sneaker has a leather upper that is soft and supple and which comes in several different colors. The low-cut silhouette is modern and sleek and perfect for any kind of outfit combination, whether it be skinny jeans or a flowy midi skirt. The Club C 85 has a die-cut EVA midsole for cushioning, and a molded sockliner that provides even more comfort. Finally, the rubber outsole is resistant to abrasion.

If you're looking for those British shoes you can wear with anything, and which will quickly become a staple piece in your wardrobe - look no further. The Reebok Club C 85 is simple yet sophisticated, and it will keep you comfortable all day long.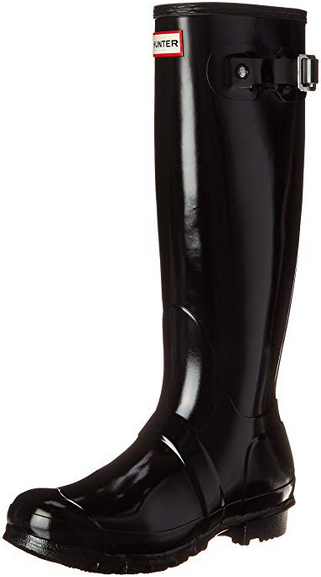 Hunter is also an older brand of British shoes, created in the 1850s. Since then, then Hunter has been creating rainboots meant to help keep you safe from the harsh outdoors, but without sacrificing style and good looks. The Original Tall is one of the first boots that they have created and has since remained the same since it has proven to be without mistake.
The rubber they are made out of is completely natural, vulcanized, and comes in a variety of bright colors, with or without a glossy finish. The soles are rubber as well, meant to keep you walking and balanced even on the most slippery surfaces. Each individual pair is handcrafted from 28 individual parts, which showcases how much TLC went into creating them.
They are 100% waterproof, so you will remain dry and toasty. The liner is textile, making them even more comfortable and providing sufficient airflow. They also feature an adjustable strap, to help you make them the best possible fit there is! Brave the rain and other unfavorable conditions with a smile in these British shoes!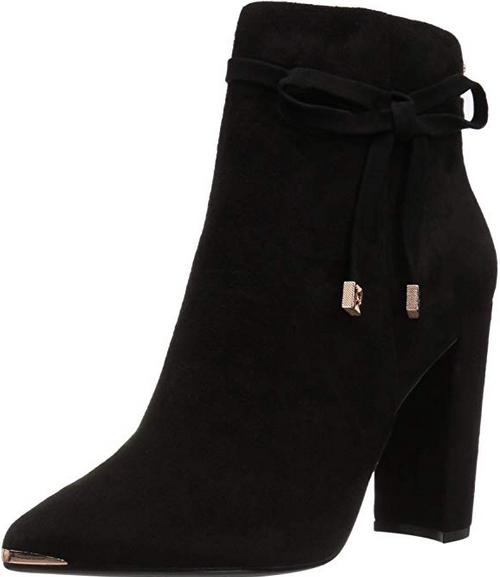 Ted Baker is a luxury company founded in Glasgow, in the 1980s, so that makes it a more recent company. It was founded by a man called Ray Kevin who later opened up stores in Manchester and Nottingham, and has never stopped spreading his brand since then. The Qatena ankle bootie shows you how carefully designed and crafted these British shoes are in every little detail.
Of course, the very first thing you notice about these booties is the high heel. But, worry not, they are not stilettos but block heels, so you won't lose your balance and stability that easily, nor will you be uncomfortable. The whole bootie is made out of smooth suede, and the pointed toes feature a little rose-golden plate that shines and sparkles while you walk with pride. An elegant, big bow also made out of suede hangs on the side, giving these British shoes a flirty note. Golden tips match the other details without mistake.

The zipper on the other side of the Qatena also has the same graceful rose-gold color and eases the way you put on the boots. A tiny, dainty rose-gold bow sits on the upper side in the back, giving the curious onlooker a perfect view of the golden sparkle no matter which side they look at. The lining has surprisingly vivid and colorful patterns, contrasting the black exterior, and reminding you to always be flirty!

8

. Stella McCartney Elyse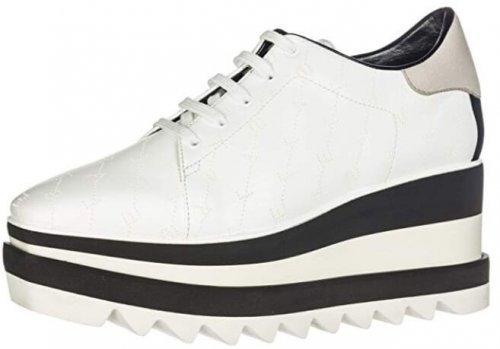 A woman who shares the same name as the British company has started to sail it in 2001. An avid vegetarian, Stella McCartney does not use genuine leather or fur when she makes her products. She does not make only British shoes - she also creates accessories, lingerie, eyewear, and fragrances. Stella has paired up with Adidas to create a trendy sneaker and tennis shoe, bringing high fashion to the courts. The Elyse is a classic oxford shoe completely renovated, made to represent a fashion statement.
As one may expect, the Elyse is made out of faux-leather, cruelty and chemical free. Tiny perforations in the form of lines and letters break apart the monotony of the single colored upper and attract wandering eyes. The toes of the Elyse are not completely pointed - rather, they are squared off at the top, giving them a sharp tone, contradicting the flirty details.
The most eye-catching detail on this pair of British shoes is surely the platform sole - besides giving you height, it also provides stability. The material used comes from a sustainable source. Last, but not least, the super chunky, serrated outsole is made out of rubber, and aside from offering grip, it also serves to contrast the seriousness of the British oxford style above it!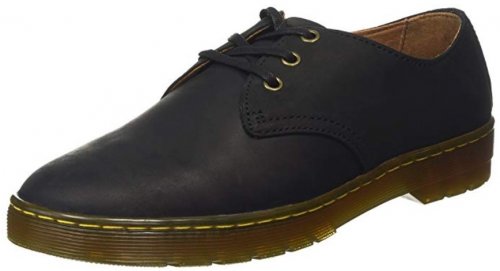 Another option from the legendary brand, the Dr. Martens Coronado are British shoes that can almost, just barely, pass off as an everyday option. Still, the punk flair of the brand is evident in its durable leather upper and that worn, broken-in look that most of these designs have. It is a shoe for your punk rock heart, one that you can maybe even sneak into your workplace without having to go for a fancy design that isn't true to your personal style.
The Coronado is made from Wyoming leather, which has a velvety structure and an oily finish. It is sleek and lightweight, with three eyelets for a touch of elegance. The Coronado comes with an air-cushioned sole that has grooves on the bottom to keep you from slipping while you're out and about. The yellow welt stitching that is a signature mark of the brand is unavoidable in the construction.

Who says that just because you have an office job you have to let go of your punk roots? Not us! Thanks to the Coronado, you now get the best of both worlds - British shoes which are business-appropriate, but a little bit on the edgier side, still ones that speak to your own grunge aesthetic.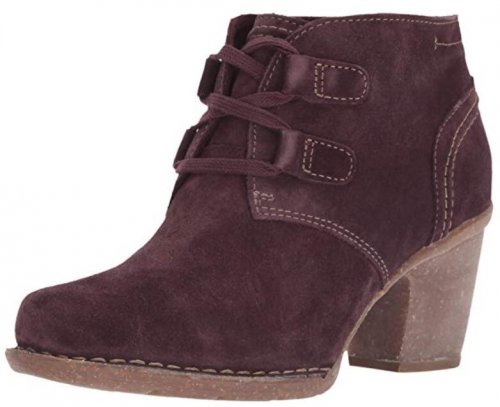 Clarks is a brand founded by two brothers, James and Cyrus Clarks, in 1825 in Street, United Kingdom, where their headquarters are still standing. They're known for their sensible British shoes and innovative comfort technology, and the Carleta Lyon bootie comes with both. This simple fall ankle boot is easy to wear and easy to love, and you will enjoy matching it with all of your favorite fall outfits!
The upper of the Carleta Lyon is made from plush suede for a luxurious finish. It comes in several different color options, as well as material options since you can also choose nubuck leather if you so desire. It has no zippers or buckles, but rather a lace-up closure for maximum fit adjustment. The Carleta Lyon has an OrthoLite footbed for addictive cushioning and an antimicrobial interior, as well as a short, thick heel that keeps you stable no matter where you go.

The Carleta Lyon are British shoes that everyone needs in their arsenal. It is perfect for skinny jeans and thick wool socks for a winter aesthetic, and it will effortlessly complement all of your fall coats. The Carleta Lyon is not designed for the wettest of conditions, however, so keep that in mind if you wish to take it out when it's pouring rain.

Subscribe to our Newsletter