What Shoes to Wear With Flared Jeans: Here's Our Advice!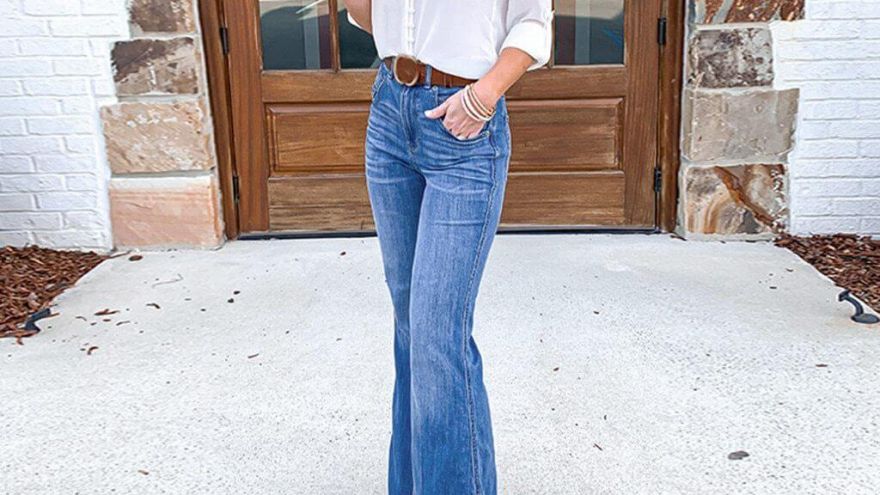 What Shoes to Wear With Flared Jeans: Here's Our Advice!
www.walkjogrun.net
Back in the 70s, which to the surprise of many who lived through them was over 50 years ago, flared jeans were the thing to wear. Called "bell bottoms," they fit closely at the thigh area of the leg but then gradually widened from the knee.
Some pants had a slight flare, but others were quite voluminous at the bottom. Popular for both day and night among both "hippies" and anyone who was fashion-forward, they looked best with certain types of shoes.
In 2022, flares, even the ones with wider bottoms, are trending again along with other retro looks. Today, they may be ripped and have a frayed or split hem, but this comfortable style is a nice change in a wardrobe of skinny jeans.
Because the jeans are so loose by the foot and ankle, it is important to get the length right.
Too long, and the bell bottoms will be a tripping hazard, and get dirty when they drag the ground and cover the shoe.
Too short, they will look like lampshades over the foot.
Finding The Best Shoe for Flared Jeans

Shortening the pants can help adjust the length, but when you want to show off flared jeans to the best advantage, there are certain shoe styles to consider and a few others to avoid.
The rules for shoe types are not hard and fast. What is essential is having a high enough heel that the pants don't drag and a little shoe is visible. Footwear with a bit of a heel will flatter the leg and make the pants look better.
Unlike skinny jeans, where a little extra length can be accommodated by pushing up the fabric for a shirred effect, flared pants just hang there and look frumpy. The right shoes will make the leg look longer.
7 Styles of Flared Jeans
Flared jeans come in various styles that have come in and out of vogue over the years.
Trouser style. Reminiscent of the original jeans popularized by Levi Strauss and his partner Jacob Davis in 1873, trouser-style jeans are made of denim and have a zipper down the fly, at least three or four pockets, rivets on the pocket corners, and bottom of the zipper placket, and a comfortable fit. They were boxy but became more fitted starting in the 1960s.
Flared leg. Starting in the 1960s, jeans became more fitted, tighter at the waist, and flared at the leg.
Bootcut leg. Offering a moderate flare cut at a twenty-degree angle, bootcut jeans allow for wearing boots. They became popular in the late 50swhen actress Bridgette Bardot was seen wearing them.
Wider bell bottom leg, By 1972, jeans had legs that got wider as they reached the floor.
Straight cut. With a high waist and tapered leg, straight-cut jeans are considered mom-fit or dad jeans.
Unfinished hems. Frayed hems became popular in the 70s and remain a trend both for flared and straighter leg styles.
Waist. Jeans that sit higher on the hips below the navel are considered high-waisted, while those that start below the navel are considered low-riders.
Shoes That Look Great With Flare Pants
The best types of shoes to wear with each type of jeans are those that will produce the total fashion look you want. However, several types are popular.
Three features might be incorporated into any of the styles below to complement flared pants:
Heels that add height
Chunky heels that add balance
Pointed toes that elongate the foot
Ankle Boots
Ankle boots are hybrid footwear that fit like a shoe but have a shaft that goes a bit past the ankle. Those with a pointed toe and a bit of heel will elongate the leg and balance out the width of the pants leg.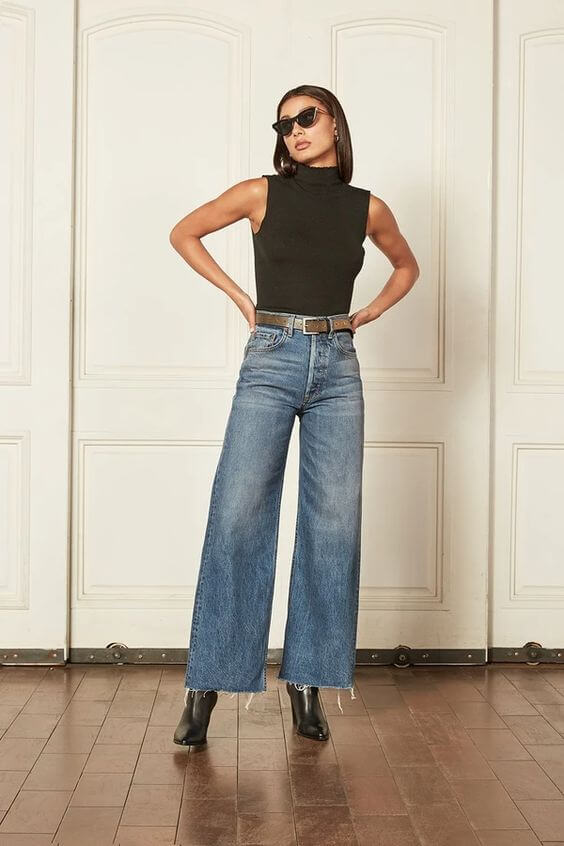 The booties also work well with shorter pants by bridging the gap between the shoe and the garment so that no skin shows to add continuity to your look.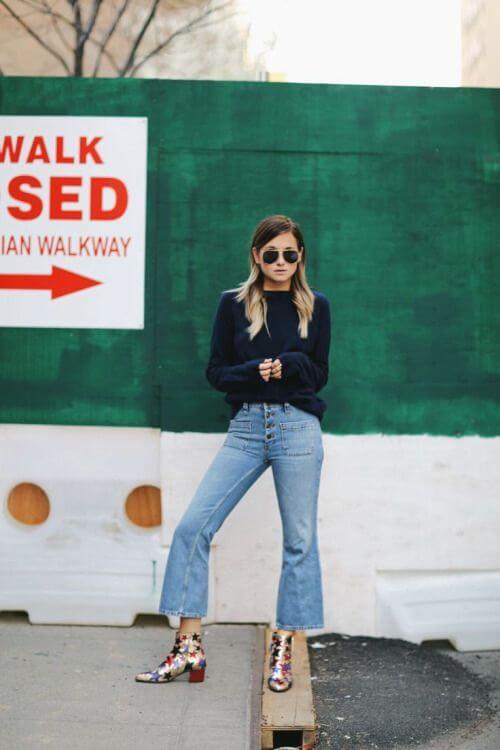 This stylish footwear comes in many styles and heel heights to personalize your appearance. The higher the heel, the better these work with wider leg pants.
Wedge, Platforms, and Flatforms
Shoes with wedged heels are a great match-up for flared jeans as they add height. Platform shoes that have a thick sole are another variation that pair well with flared jeans while offering extra support in the front.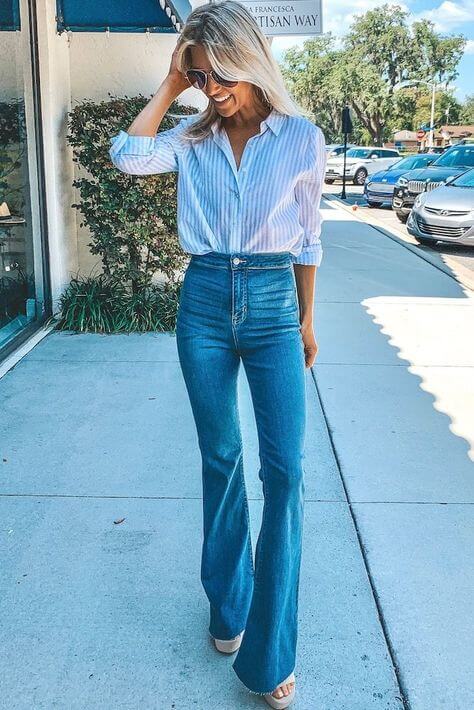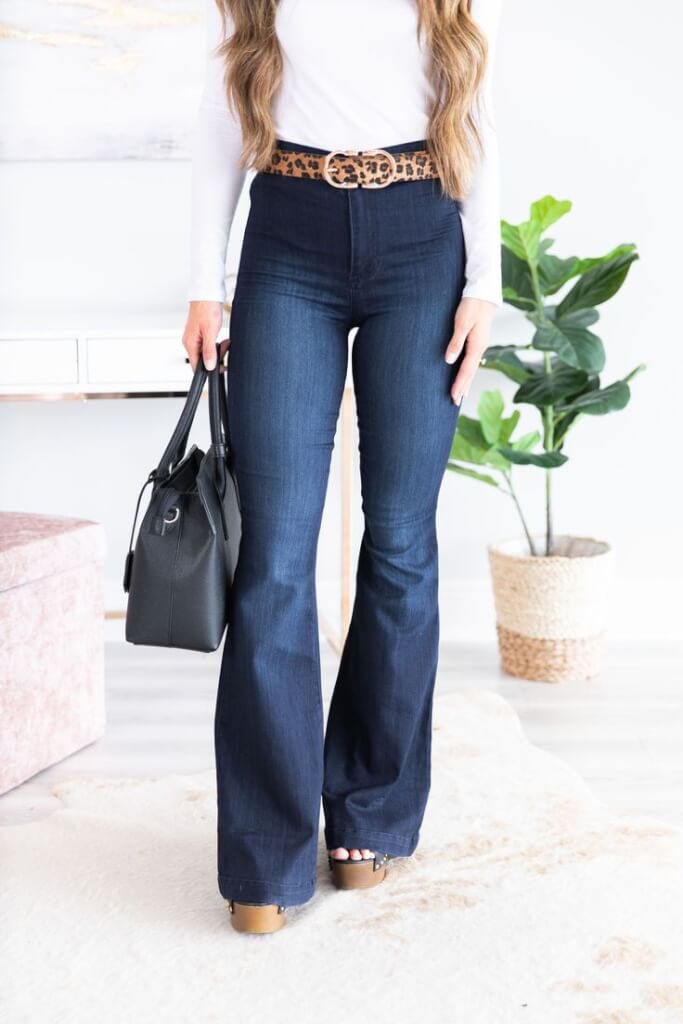 A compromise between those two styles are flatforms, which have a level platform.
Any of these styles will up the game for those who like a sandal style.
Heeled Sandals
For a strappy, open look that complements flared jeans, high heel sandals are a great match.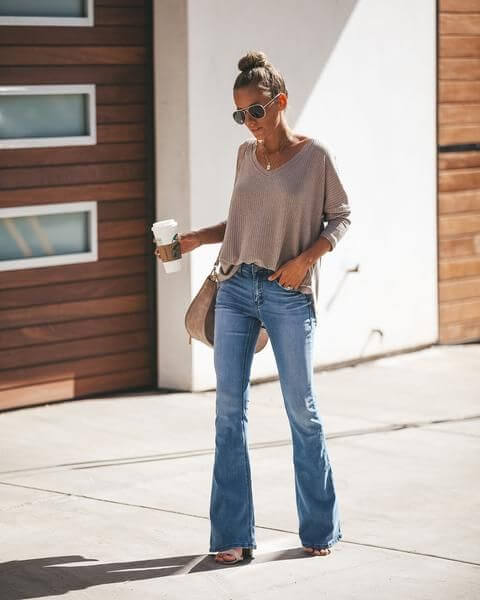 The extra height keeps the hem of the pants off the floor while being more dressy than plain flat sandals.
Slides and Mules
Some consider slides and mules a type of sandal. Slides have an open and open heel, while mules are close-toed with an open back – which makes them compliant with work dress codes that specify no open-toed shoes.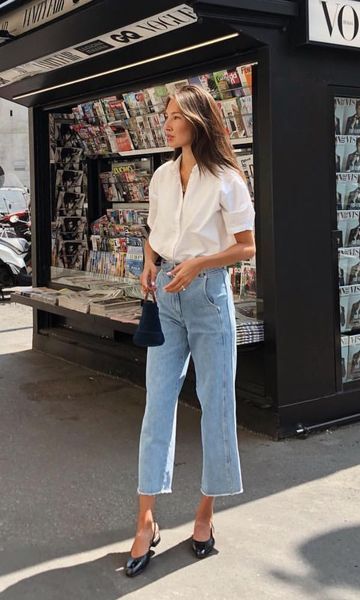 Though these styles can be flat, a wedged heel is common.
Pumps
As with heeled sandals, pumps give denim a more put-together look. Whether you like a more casual kitten heel for work or a stiletto heel for date night, pumps pair well with denim.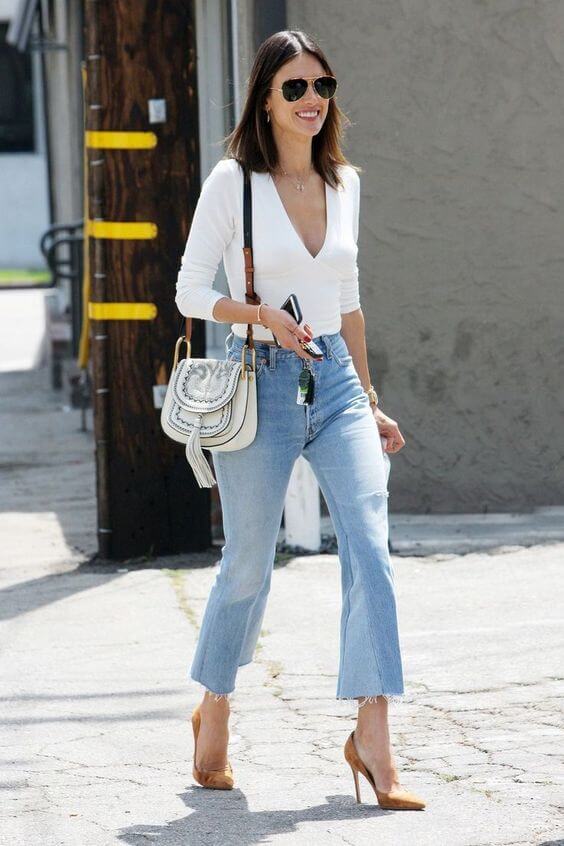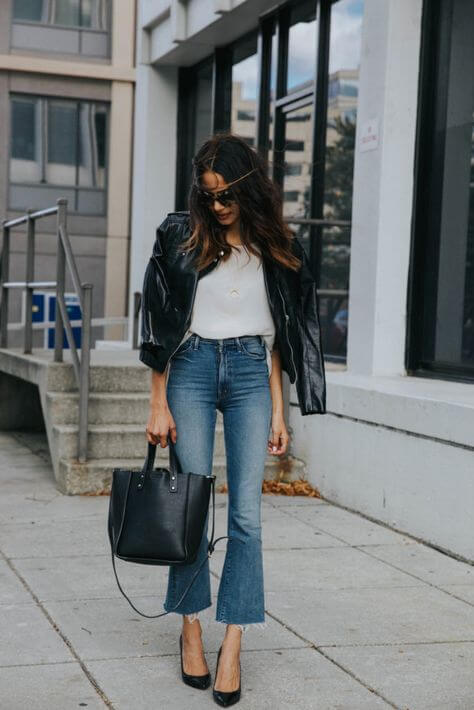 Regardless of your personal style, there are pumps to accommodate it.
Sneakers
Some fashionistas don't like sneakers with flares or bell bottoms as some styles are too flat. However, sneakers are the go-to shoes for many people for both casual and dressier occasions as they are trendy, upportable, supportive, versatile and fashionable.
They also add a bit of height. Most athletic shoes today have thicker bottoms designed to provide support, while platform sneakers are a "thing" as well.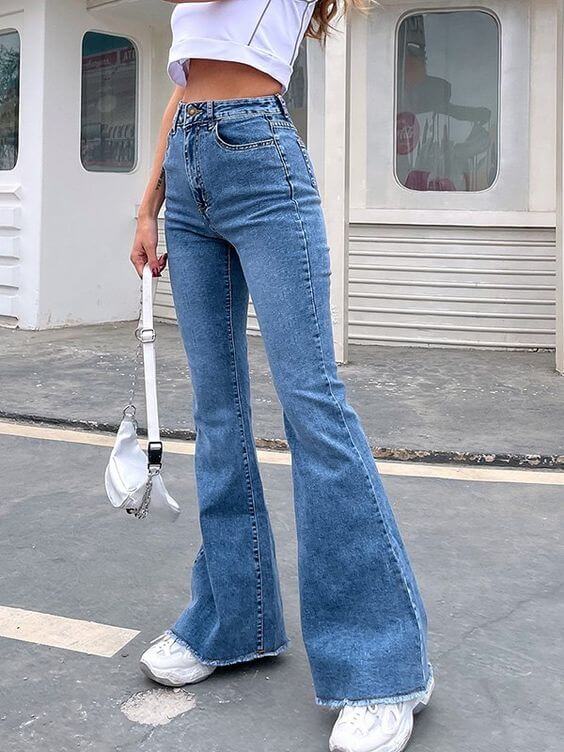 Ironically, the 70s were the decade when shoes worn on basketball courts and in other sports venues became part of the popular shoe wardrobe.
"Vans" and shoes made by Adidas, Puma, Nike, and more were elevated enough to make them right to wear with bell bottoms and fashionable as well.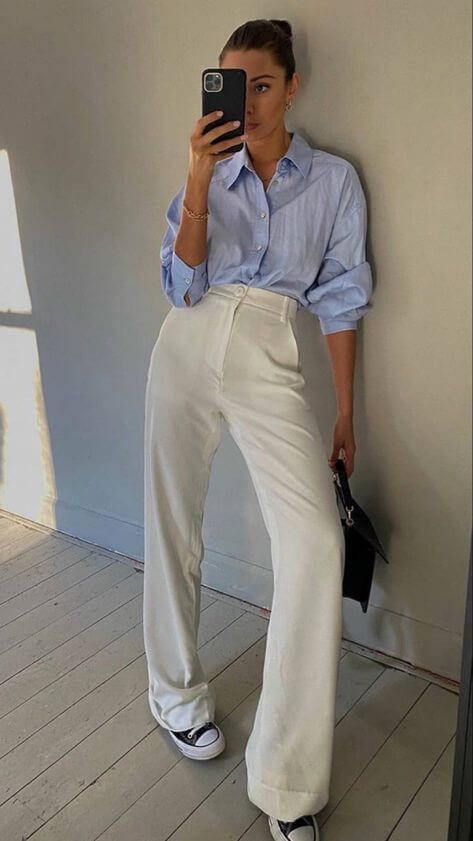 For a retro look, pair white sneakers with flared jeans.
What To Avoid – Maybe
Shoes that are too flat such as ballet flats, many sandals, and flip flops, will let the fabric drape around the foot, especially if the pants are too long.
However, if you think back to earlier decades, flat sandals were part of the desired look. Any type of flat shoes will offer the casual look you want when shopping or hanging out on your day off.
No shoe is off limits with flared or bell-bottom jeans, but footwear with higher, chunkier heels or wedges will make you look your best no matter what the occasion.
Coupled with the right top, accessories, and jewelry, your flared jeans will fit in wherever you go.
Most Read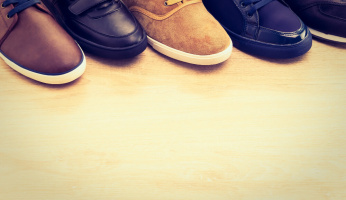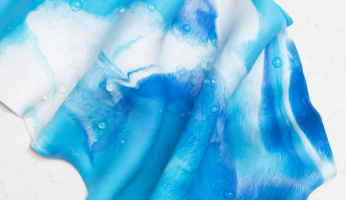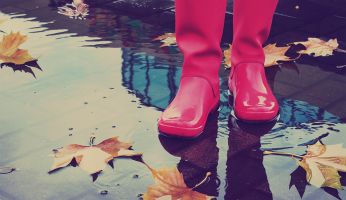 Subscribe to our Newsletter