Fashionable Boots for Christmas Shopping in 2016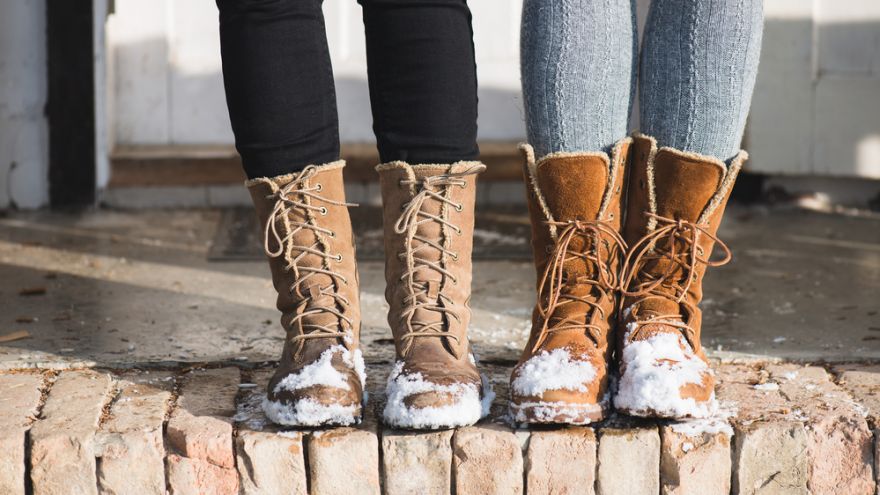 Fashionable Boots for Christmas Shopping in 2016
www.walkjogrun.net
Jingle Bell, Jingle Bell Jingle bell, rock. I'm sure you're familiar with the Bobby Helms' song "Jingle Bell rock." It's a song that immediately signals Christmas time and evokes such fond memories. I remember one of my first ever jobs working at The Body Shop. Bing Crosby's "White Christmas" could be heard echoing through the store during the lead up to the Christmas, holiday period.
Even now whenever I hear the song, a warm smile emerges. I'm transported back to a simpler time when all I thought about was the enormous and colorful Christmas tree, fairy lights, the way the city seemed to glow and everyone appeared a little more cheerful.
Isn't it sad how we all eventually grow up and lose this childlike enthusiasm?! Now those nostalgic and affectionate thoughts have been replaced by the dreaded Christmas shopping mania. I'm sure you know what I mean, people pushing, bags being accidentally flung in your face, endless queues that seem to extend into the distance, for as far as the eye can see and don't forget, if you're not racing through the stores quickly enough, you will undoubtedly miss out. Black Friday shopping spree may have just concluded but the frenetic pace of the stores during the holiday season has only just begun.
If you're like me then this means aching feet, a sore lower back and even blisters. The question is, how do you protect your feet while at the same time remain fashionable? After all, shopping is considered a leisure activity and during the holiday shopping period, you're likely to run into someone you know, so it's important to look presentable, hopefully fashionable too.
It's imperative to keep your feet clean, comfy and protected from the elements during the harsh winter conditions. We're not always able to seek refuge from the cold in a cozy indoor shopping center, so especially when shopping outdoors in a strip mall, it's essential that your feet are sheltered from the elements.
What is better than a pair of boots?! They're warm, functional and look great when paired with jeans, pants or leggings. The following are a few recommended must haves to add to your winter repertoire.

Northside Women's Kathmandu Waterproof Snow Boots are quintessential for shopping outdoors in the cold weather. They're perfect for people Christmas shopping in New York, Chicago, Boston, Toronto, Montreal and other cities that prove challenging walking when it's freezing, wet, and slippery on the ground. Made with suede and a faux-fur collar, they'll definitely keep you warm.
The rubber sole makes them comfortable to wear when 'pounding the pavement' and the all-terrain grip system makes them ideally suited to harsh weather conditions. Have no fear if it's raining outside or if you accidentally stepped in a gigantic puddle, as they're waterproof. The Thermolite insulation confronts extremely cold weather conditions perfectly and protects your feet from temperatures all the way down to -40 degrees F.
They're available in 6 colors and one of my favorites is the 2-tone taupe and black, as they're fashionable, adding a little more oomph to your outfit. The mid-calf style is terrific and makes them much easier to remove than your full length, high varieties. These boots are priced extremely well, which is yet another welcomed benefit!

These might not be the most beautiful product on offer but thanks to Pamela Anderson and countless other celebrities, they're most definitely fashionable. Having walked in New York around Christmas time, I can tell you with certainty that unlike many other boots, you won't slip and fall when you're wearing UGGs.
They really afford you the possibility of walking through the streets without concerning yourself about the plethora of problematic cold weather conditions. Black ice, not a problem, slippery pavement, check! Snow, also not a problem. Made with leather and lined with sheepskin, they will keep you toasty warm. Too often winter boots that keep you warm are very heavy but these are lightweight and provide a flexible EVA sole.
They're available in 2 colors, brown and black. While it's not the greatest selection of colors, who wouldn't agree that a reliable pair of black boots is an integral part of any winter wardrobe? The only drawback of UGGs is of course the higher price point. However, they're reliable, comfortable and durable and will ensure your feet are protected in the often hazardous outdoor weather conditions.
Timberland has been creating boots since 1973, so it's a brand you can trust. The company has a lot of experience dealing with outdoor elements. "Making an all leather boot that was waterproof was considered to be ridiculous", yet its founder was determined and the rest as they say is history.
From the introduction of the now famous Original Yellow Boot, the style icon was made famous when a clique of US hip-hop artists started wearing them. Even today, celebrities such as Jay-Z, Kanye West, Pharrell and Rihanna have been spotted wearing a pair of yellow boots. These boots remain trendy, boast fashion appeal and they're also comfortable.
The boots offer waterproof leather, 4 rows of stitching, honey lug soles and glove leather lining. Not a lot has changed in their design apart from the inclusion of an anti-fatigue foot bed for improved comfort and the geometric cone support that provides amazing shock absorption, perfect for a 10 hour shopping day!
Timberland's long and successful history creating, redesigning and perfecting boots, makes this one a terrific choice, offering a more stylish alternative to the regular Timberland Yellow Boot. It is made with premium full-grain leather and provides a durable rubber sole for extra comfort.
Unlike many boots that prove difficult putting on and removing, these boots feature a convenient side zipper and an adjustable calf for a custom fit. They're available in 3 colors; Wheat Woodlands, Black and Tobacco Forty. The asymmetric top line, interwoven suede and ankle strap are lovely design features, making it far more special than your average boot. The anti-fatigue technology is superb.
It provides comfort and much needed support, a definite positive feature for a day spent shopping and tackling the outdoor elements. For the more environmentally friendly shopper, it's useful to know that the mesh linings and foot bed covers are made entirely from recycled plastic bottles!
The only negative aspect of these boots is the higher price point but with the inclusion of all these features, design components and impressive technologies, many find the price worthwhile.
Check out our next Christmas Shoes special installments – Functional yet Fashionable Shoes for Winter shopping and Functional yet Fashionable shoes for warmer climates.
Most Read