Best Running T-Shirts Reviewed
In a Hurry? Editors choice: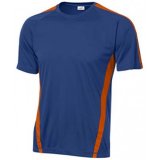 Test Winner: Joe's USA All Sport

The running T-shirts in this review are versatile. You can use them for many other activities like hiking, working out at the gym, and sports. Their best attribute is keeping your core body temperature low, under the blazing sun during such strenuous physical activities. Their design focuses on ample ventilation and breathability to cool down users. As such, handling excessive heat and sweat becomes easier.

Some have reflective materials and other useful features. Investing in the best running T-shirts will help you up your game and make it easy to attain your training goals.
Standout Picks
Criteria Used for Evaluation
Comfort
Avoid interferences while running
If you notice something off about your apparel while running, then it's probably because you are distracted. An itchy fabric might not be noticeable if you are trying it out for the first time, or if you are not moving around much.
However, on the track, your arms will rapidly swing back and forth. Because of that, you will feel effects like chafing or restriction in movement if you have a substandard running shirt. Quality tops do not cause such discomfort.
You should concentrate on the activity, and not what you're wearing. Other factors that contribute to your comfort include seams, fabric, and fit.
Seams
People usually don't notice things like seams. Most of us focus mainly on the fabric, buttons, and overall design. For runners, seams make a tremendous difference. The type, number, and location of the seams affect how you will feel when swinging your arm. The main types of seam stitching designs are tapped, flatlock, and overlock.
Cheaper variants often have overlocked seams. Even though they might look appealing due to their zigzag threads, they are quite pronounced, and increase friction. It is not advisable to purchase such kinds of tops. Flat-locked seams are the most popular in sports apparels. The reason for this is that they are robust, lie nearly flat on the fabric, and don't take up much volume, compared to regular seams.
Additionally, the threads used are usually smooth. You will find most running T-shirts in this review having flat-locked seams. A taped seam is created when a tape is melted over a seam to make the garment waterproof. They are not common in outdoor running gear.
You will notice that most of the apparels here try to use as little stitching as possible, to reduce the chances of chaffing. The ones that have multiple threads are probably to allow for mesh sewing on the side, back or the armpit area.
Fabric
Polyester is the primary material used in these T-shirts. Some have other fabrics like nylon and Lycra, for specific properties. For athletic purposes, polyester works wonderfully, since it is soft to the touch and gentle on your skin. Various weaving patterns help promote the evaporation of sweat. Some fabrics increase the number of models, but this can encourage chaffing due to the increased connection points. Therefore, it's a delicate balance between effectiveness and comfortability.
Fit
As is with every other sports apparel, you cannot wear those that are too tight or baggy. You should be more critical of this factor when engaging in any physical activity. A loose top will increase the possibility of chaffing. You will also feel as if it weighs you down.
A tight fit will make you uncomfortable, especially if they don't stretch. Some will frustrate you when trying to put them on, and others may not even fit you. You should always select a comfortable fit, also when picking out a compression shirt.
Breathability
Cold ambient air in, warm air out
The T-shirts for runners need to have a design that allows for the circulation of air. That is how they get rid of the heat you generate while working out. When running, you will work up a sweat. A breathable fabric will promote the movement of moisture through the top. You need a top that does this as rapidly as possible. Otherwise, you will end up taking frequent stops, to tend to your sweat-drenched shirt. Even worse, your body temperature may end up soaring: which is dangerous because it might lead to a heat stroke. You should not underestimate the importance of ventilation.
A mesh placed on areas prone to sweat build up like under the arms, back, and shoulders, usually works effectively to provide ventilation. People tend to sweat more around such areas, especially when taking on strenuous physical activities. The more the mesh, the cooler you will be. However, there is a risk that the mesh might rip apart easily or expose too much skin. Make sure you select a quality running T-shirt that is well balanced and has durable material.
Versatility
Everyone wants to be fit and looking good while at it
Nowadays, people are more conscious of their physical wellbeing. Therefore, many are involved in exercises to achieve their daily fitness goals. Hence, the market for sporting apparels has grown significantly due to the rise in demand for fitness gear. It is common to see people wearing shirts that would otherwise be perceived as only meant for the gym.
People are also wearing sports attire to work. Some do it to express their love for their favorite team while others just want to pull off a sporty casual look. These attires are becoming must-have fashion accessories in society.
Beyond looking at how cool you will look in these T-shirts, also consider what other things you can do, other than running in them. Are they suitable for a hike? Can they handle a backpack? How will they function as base layers? What special features do they have? Answers to these questions will help you select versatile tops.
Features
Find what makes the top appealing to you
Different manufacturers try to find ways of making their products attractive. However, fitting everything on one running T-shirt is impossible. In the end, the choice you opt for will be dependent on your preferences. For late night or early morning runners, being seen by oncoming drivers on the road is crucial. Some brands have reflective badges placed in select areas for added safety.
The New Balance Nb Ice 2E's headphone loop is a feature sought after by music lovers. It's unique in the market, but the chances are that other brands will eventually adopt the same design. Some tops have useful anti-microbial elements to help control bacteria. The tiny microbes thrive in damp environments created when you sweat: that is how odor comes about. Anti-microbial elements help put a stop to the stench, allowing you to stay fresh as you move about.
UVB protection is another essential feature that you should look into. UVB rays are a type of Ultraviolet rays. The beams are responsible for sunburns, which might lead to skin cancer. UVA rays are also ordinary Ultraviolet rays, which are 500 times more in the atmosphere. From this figure, you can see that UVB rays are more potent. Staying out between 10 am and 4 pm will expose you to the scorching sun. A good shirt with thicker threads will usually block out the rays. However, few will sacrifice breathability since there are thicker. Finding a running shirt with all of the features described above is not easy. However, you can be confident that the list contains viable options with a majority of these features.
Effectiveness
To be on the safe side, choose from a renowned brand
Coming up with these products requires research. Prominent brands take them through rigorous tests and simulations. The manufacturers also receive and make use of feedback from sports scientists and pro athletes. They then use the data to make t-shirts that can offer solutions and meet runners' needs.
A useful top must have moisture wicking properties and breathability. Each brand has its own unique way of incorporating the features into their running T-shirts. Effective base layer alternatives are lighter, to allow for effortless layering.
There are also options that can withstand wear and tear. You can use such tops when hiking, carrying a backpack, or for triathlons, among other activities. They can handle rigorous use and tend to last longer than their counterparts. When considering different manufacturers, more prominent brands are more reliable when it comes to offering such dependable alternatives.
Top Rated T-shirts for Runners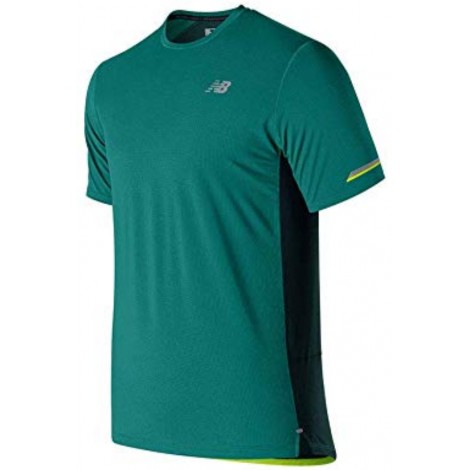 The Ice 2E is an upgrade of the well thought out NB Ice running T-shirt. The previous model was all polyester. Now the product has an additional 7 percent of spandex, to make it tighter on your skin. Previously buyers had to choose from five color options; now you can choose from 11. New Balance also added a back mesh, for increased ventilation. With the Ice 2E, the manufacturer strikes a delicate balance of features without compromising on comfort.
Both versions have excellent moisture wicking properties leaving you dry and comfortable for long hours. Another cool feature on this running T-shirt is the headphone port: an excellent addition for music lovers. It has an underarm gusset that helps lower your core body temperature. The 360-degree mesh has the same purpose.
The combination of fabrics provides a snug fit, giving off a more robust look. This T-shirt for runners is also available in six different sizes, ensuring that everyone from the smallest to the stoutest can get one. After an intense workout, simply toss this T-shirt into the washing machine. It is easy to maintain, and the fabric dries up quickly. The Nb Ice 2E running t-shirts fit well, are lightweight, and offer many other exciting features.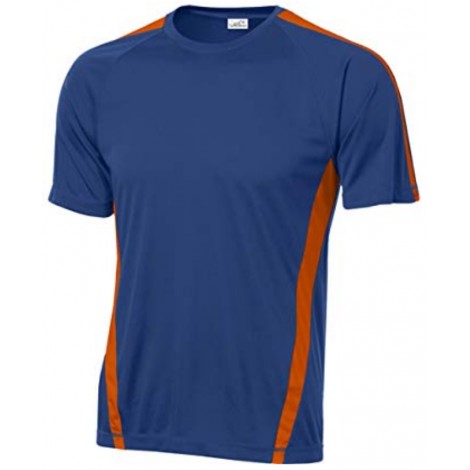 What sets this running T-shirt apart from the rest is that it is bundled with features. You can use it for different workouts, as the 'All Sport' tag suggests. It is lightweight, thanks to the thin polyester fabric. The diversity of colors (41) and sizes (8) is suitable for those looking for an almost custom fit. The manufacturer has a high ranking, going toe to toe with many established brands. Moreover, their prices are easy on the pocket.
Joe's USA's running T-shirt is 100 percent polyester. The fabric makes the top an excellent selection to wear for a sweaty workout while remaining comfortable. The material also feels smooth on the skin. Well-placed meshes on either side promote ventilation. You won't feel like taking it off, because the sweat dries up quickly.
You cannot use it on a late workout since this shirt for running does not have reflective elements to it. However, that's not much of a problem. In turn, it will counter the harmful effects of the sun for you. With the many options available, and at such an unbelievable price, you can also find one for everyday casual wear.



This review would be incomplete without a Nike product in it. The brand is the largest when it comes to sports attire. Nike leads the way by merging two aspects of everyday wear and functional sporting apparels. Millennials are accustomed to the need for staying fit and healthy, so sporting apparels have become widely accepted as fashion accessories.
This running T-shirt comprises of both polyester and spandex fabrics. It strikes the right balance between a compression and loose athletic shirt. The mesh on the back is suitably laced, to keep your temperature low and encourage precipitation.
Some people like to use them as a base layer, while exercising during winter or in the gym, due to their excellent moisture wicking properties. The fabric is thin, making this men's T-shirt for running good enough for quick sweat release, but making Nike Pro Fitted more prone to tear.

4

. Under Armour Tech V-Neck Twist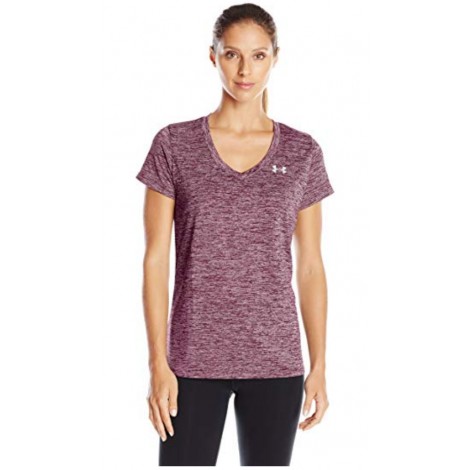 4-way stretch construction, plush, and quick drying attributes are just some of the features that have made this running T-shirt a must-have. It also has microbial properties that help keep bad odor at bay. The brand offers male and female versions, which have distinct masculine or feminine designs.
The top is incorporated with Under Armour's Tech fabric technology. What the tech does is that it makes the fabric softer, giving this running t-shirt a more natural feel like that of cotton. However, unlike cotton, it quickly dissipates moisture. It's always good to have a shirt that retains its cleanliness and does not cling to odor: Which is what the Tech Twist does best.
It offers a loose fit, so you can purchase it if you're not a fan of compression shirts. One of the things that users like is that it helps one maintain their appearances, thanks to the fabric properties and overall design. The brand has also invested in overwhelming research to know what runners and fitness buffs need and how to deliver a running T-shirt to them at a fair price.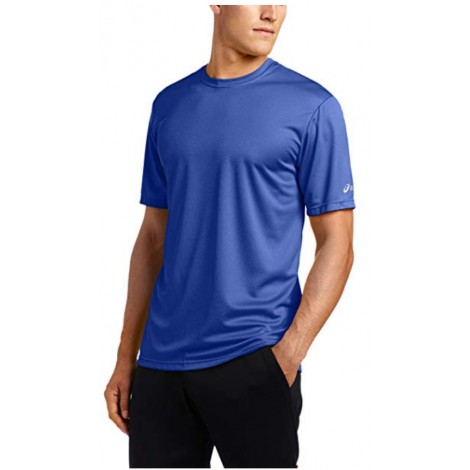 Even though it's fronted as a fitness shirt, it also works well for runners. The tiny mesh patterns all over its soft polyester fabric give you a comfortable feel while on the track. The sizing is not too tight or too loose, which gives off a classic look.
The kind of fit this running T-shirt offers allows you to wear it casually. It is available in five color options, with one of the favorites being the electric color option. This shade gives off an irresistible allure and shininess that lasts over many wash cycles.
Asics is a brand known for durability and this top is no exception. It can handle abuse from consistent usage. Even though the fabric is thin, it's reinforced. This enables it to take a beating as you stretch. The strength of the material is what makes this T-shirt for runners able to withstand wear and tear. Not only can you use it on the track but also when hiking or bike riding.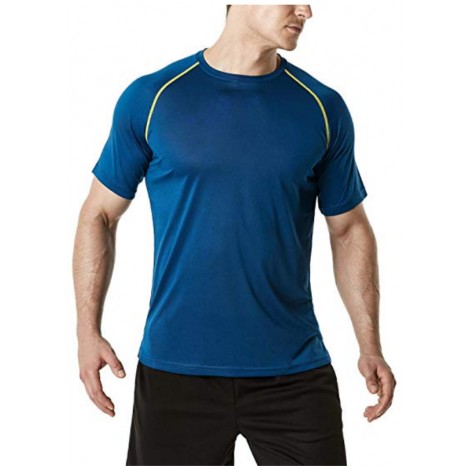 TSLA has introduced more color variety (46) and sizes (7) to the HyperDri tops. This increase is because of the unprecedented demand for the running T-shirt. It offers so much and is much cheaper than those of other competing brands. The PlazmaSkin fabric is soft like cotton, even though it is 100 % polyester. It offers two-way ventilation making it comfortable, especially for long runs.
The quality is what makes it a durable option. This running T-shirts outlasts many other variants in its price range thanks to its comfortable double stitching. It is longer than the average shirt but does not restrict your movement. If you are looking for a summer alternative, the top is perfect for running on a sunny day. Its two-way system ensures that you are ever cool.
You can also wear this running T-shirt when playing football, rugby and other types of sports. It has fast moisture wicking capabilities to enhance your comfort. With the versatility provided, quality, and price range, you have an incredible offer on the table.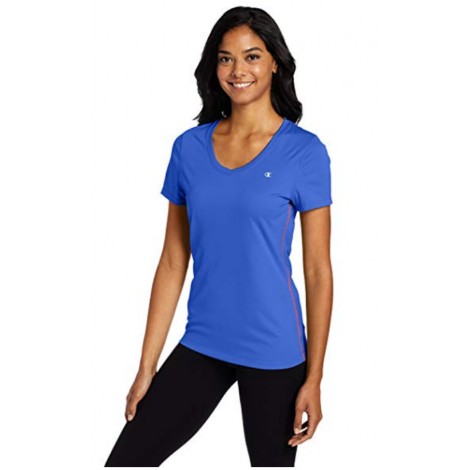 The most distinct feature about the Powertrain T-shirt for running is its thin polyester fabric. Some people don't like near see-through materials; however, they stand out because they are quick drying. People prefer using them as base layers because of such properties. You can also make them your go-to alternatives for strenuous workouts.
Even though the fabric is thin, it's super resilient because it does not stretch. Because of its stiffness, your movement is somewhat restricted, if you get an exact fit. A good workaround would be to get a size up, from what you usually wear. Fortunately, there are six different sizes to choose from, with the largest being XX-Large.
The flat-locked seams increase its comfortability because the chances of chafing are next to none. As a base layer, one even forgets they have it on because they are so light. This shirt for runners does not need any meshing since its thin fabric lets air in and out effortlessly.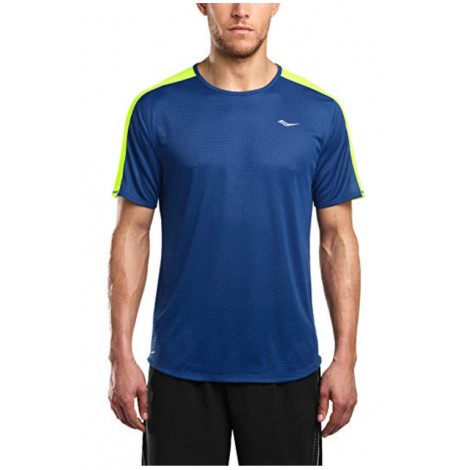 The Hydralite has anti-microbial treatment. If you often have odor-related issues, this kind of T-shirt is exactly what you need. People who have tried it out for two or three days can attest to the fact that it makes odor manageable. It also has some excellent features like reflective logos. For enhanced reflectiveness, there are options like the citron color among many others. In total, the brand offers 21 color options.
The fabric is 100 % polyester, lined with mesh all over it, providing all round breathability. The texture feels pleasant to the touch, giving off a boxy feel on the outside and smoothness inside. Its grid construction also improves its moisture wicking capabilities by increasing its breathability and evaporation surface area. The design also improves on its robustness, so the chances of it ripping apart are quite less.
It might look dense: but, compared to cotton alternatives, it is super light. The downside to this running shirt is that you cannot use it as a base layer because it takes up quite some room. You have five different sizes to choose from. The fit covers below the hip, providing more coverage. The flatlock seams reduce the probability of chafing.

9

. Adidas Training Essentials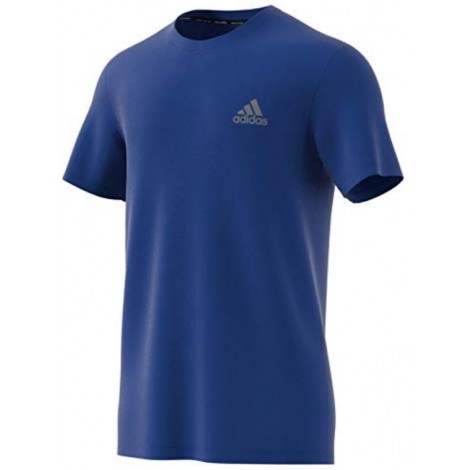 Adidas is the second largest manufacturer of sporting apparels on the globe. They dedicate so much time on research and utilize the feedback they get from the best athletes in the world. Because of their huge market, they have to make products that meet many people's demands. Therefore, their running t-shirts perform, as they should, without fault. The iconic Adidas logo sticks out proudly to the left side of your chest.
By having to provide for a large market, they have many sizes to choose from compared to other products. Therefore, identifying the perfect size for you should not be a problem. Additionally, there are 34 colors available. Your wardrobe will be complete since their apparels are also widely accepted as casual wear.
A crew neck collar helps prevent slouching by having a back neck tape. Even though this running shirt does not have any mesh, the thin material ensures breathability in the hottest of days. The no mesh design also makes it more durable. If you're a fan of Adidas' sporting equipment, then this is the shirt for you.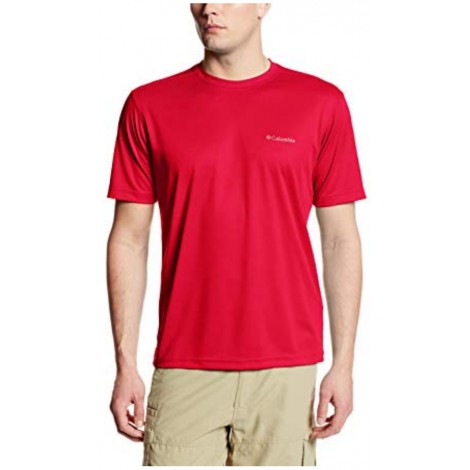 What makes this shirt stand out is that it also protects you from both harmful UVB and UVA rays. With this running T-shirt having a UPF 15 rating, you are shielded from more than 94 % of UV radiation. The thick weaving on the top is responsible for providing UV protection. However, because of that, there is no venting in place. But then again, the fabric is so light that it promotes breathability.
The crew neck and short-sleeved design are neat and casual. Therefore, next time you plan on staying out in the sun, consider this attire to keep you feeling and looking cool while also protecting you from the sun.
There are 18 sizes available; therefore finding a perfect fit shouldn't be an issue. You can also choose from one of the 13 color options. The Columbia logo on the left side of the chest acts as a mark of quality.
With its proprietary moisture wicking technology, you won't have to worry about feeling sweaty again. The T-shirt for runners is an excellent addition to your running gear, especially if you value protecting yourself from the sun.

Subscribe to our Newsletter