Best Base Layers Reviewed
In a Hurry? Editors choice: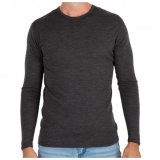 Test Winner: MeriWool Midweight

Whether you're going for a jog, a cross-training session, a skiing trip or are looking for something to keep you warm during your winter commute, you will want to invest in high-quality base layers. This type of moisture-wicking underwear is ideal for maximizing comfort through ensuring proper ventilation, range of movement and temperature control.

There is a wide variety of base layers available for purchase, from merino wool thermals to high-tech fabrics developed for a cooling effect. These will be highly efficient in keeping you dry and can easily be worn with a variety of workout clothing, or even on their own.

The list below looks at the ten highest rated products of this type, ranging from breathable underwear to thermal bottoms and tops ideal for cold winter weather.
Standout Picks
Criteria Used for Evaluation
Top 10 Men's Base Layers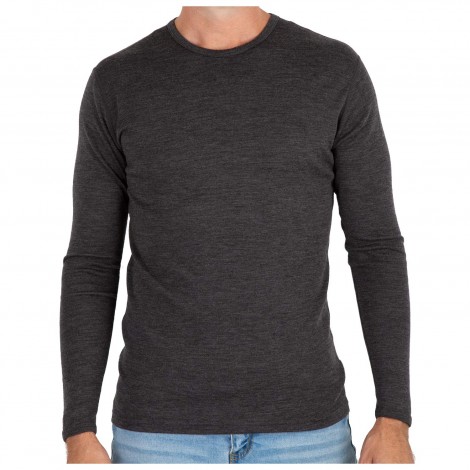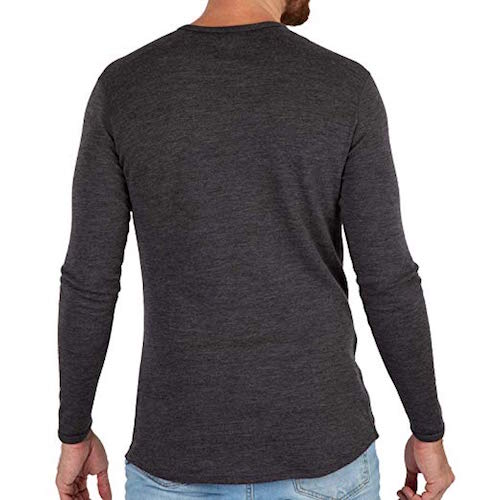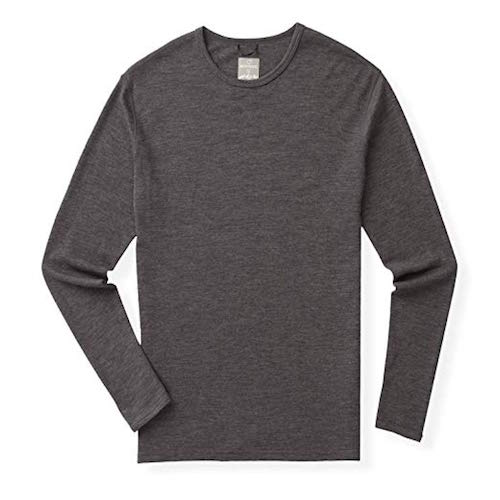 What we liked most about this top from MERIWOOL is that it is going to be something that will be perfect to wear in both cooler and warmer climates. The use of this type of wool is the perfect material that is going to help keep sweat away from your skin but still keeps you comfortable in all types of climates. This means it is going to be perfect for those early morning runs when the morning is crisp but the afternoon is a little balmy.
The fit of this top is what makes it stand out from the rest. It doesn't offer a compression type of style that feels like you are going scuba diving. The fit of this design looks more like a casual shirt that you would wear for a day of running errands, but the materials are going to help regulate your body temperature.
It is offered in colors that include neutral dark and light colors such as black, charcoal, and gray, but also army green and a very light gray option. The wide variety of sizing options are going to allow you to get the perfect size for you, and from what we have found is that many users feel that this design fits them exactly as they expected it to fit.
For those that are looking for something that has a more casual fit that is going to be something perfect for those long-distance runs that take up an entire afternoon or for just a fun day out running errands - this design is going to be a great and comfortable choice.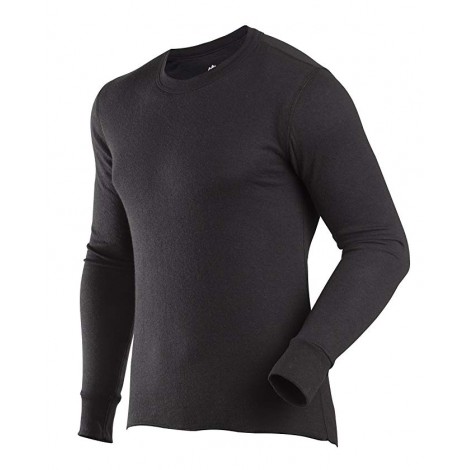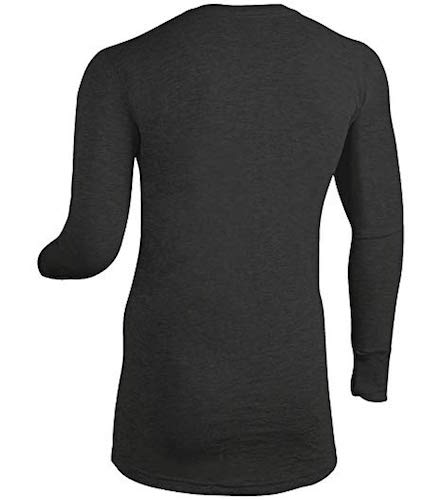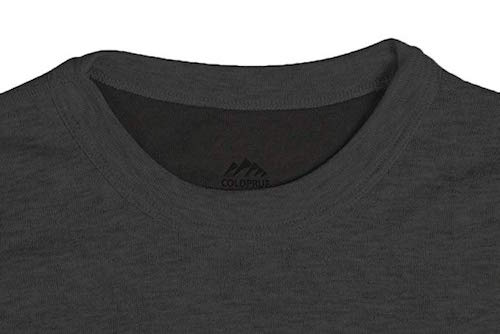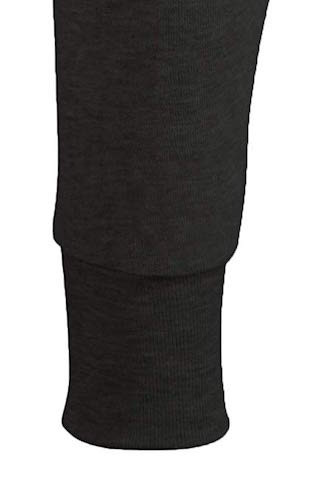 This shirt from ColdPruf is a great option if you want something that is made from materials that are really going to help regulate your body temperature, but it is also incredibly stylish so that you can feel good about wearing it on its own when you start to get a little too hot. It's ideal for working out, camping or cold weather wear helping you maintain a comfortable body temperature throughout the day.
The materials that are used to make this design include a blend of polyester and merino wool. Polyester is going to make it a little more stretchy and soft, and the 30 percent merino will is going to help wick away moisture and sweat that will help keep you from overheating.
There are a lot of sizes that you can select from, ranging from small and running all the way up to 3XL Tall. Plus, about 84 percent of past users felt that this design fit them exactly as they expected it to fit. Color options are a little bit more limited, and they include black and a very light gray.
For users that want something that is going to be a little bit easier to take care of and take a beating, this design that uses a blend of merino wool instead of 100 percent wool is going to be one of your better options.

3

. Adidas Climacool Boxer Briefs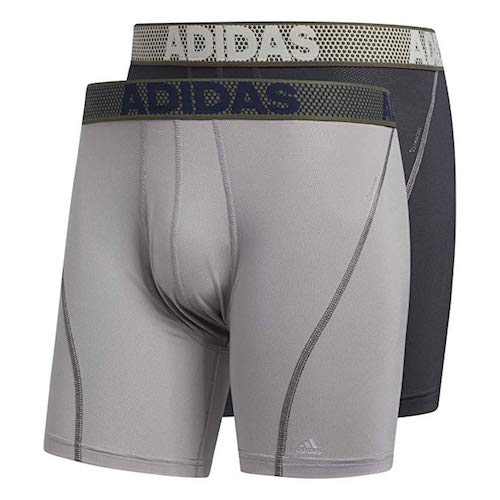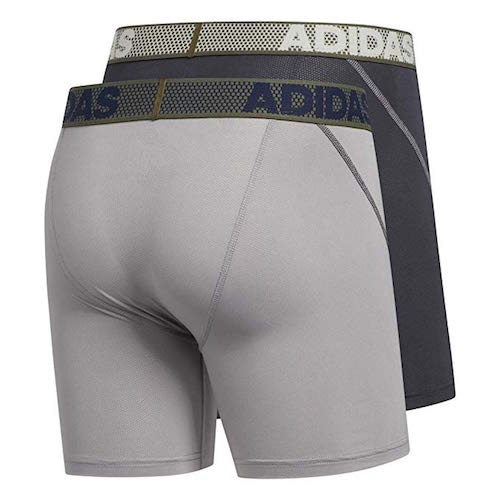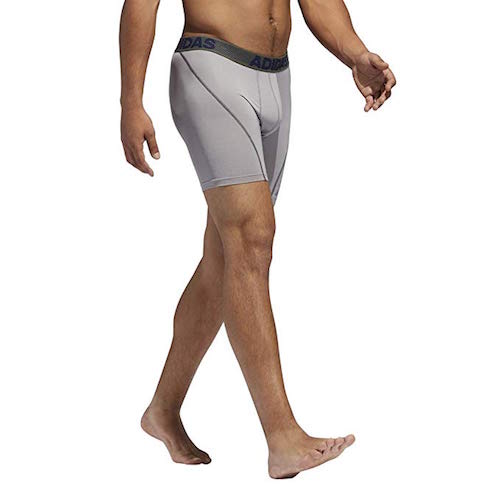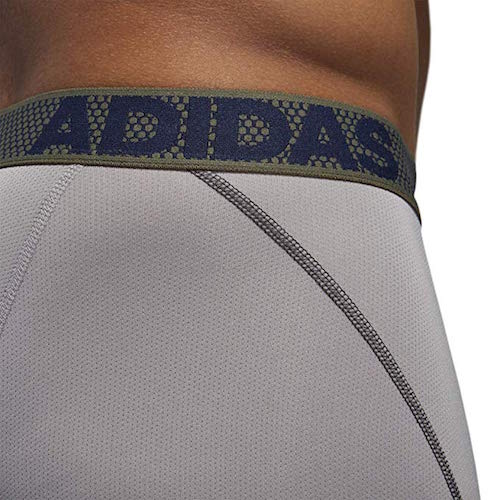 These boxer briefs are the ideal choice for most of your workouts. Made from specially developed materials, they are highly breathable and comfortable to wear for most types of movement. Made by Adidas, you can count on them being of high quality, and they're available in a number of color options. These come in a pack of two and can be purchased in a variety of sizes, from small to XX-Large.
The materials used in making the Climacool boxer briefs are 92% Polyester and 8% Spandex. What this means is that you get a pair of underwear that is very stretchy, but most importantly, completely moisture-wicking and easy to dry. They won't cause overheating, or hold on to bad odors like cotton underwear might, so are perfect to wear under your training shorts, or even running leggings.
A notable feature of these boxers is the elastic waistband which is wide and sits comfortably on the hips. This ensures the right amount of support without slippage. The wide waistband also means better durability, and thanks to being flat, it won't cause any bunching. There are no tags on it, which is often a problem for this type of garment.
Other benefits of this product include a no-ride leg construction, as well as a mesh-lined crotch that ensures a cool and dry feeling while wearing. The price varies based on the color options and size you go with, but on the whole, these are a good investment for those looking for options they can use while working out throughout the year.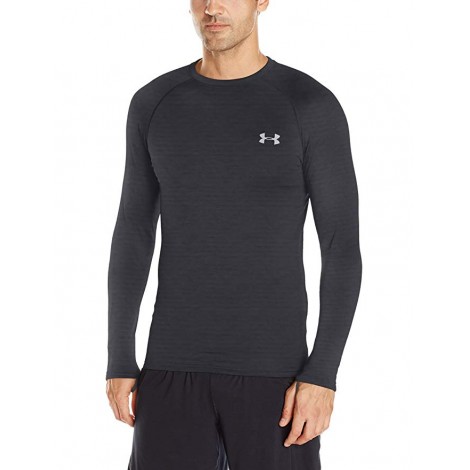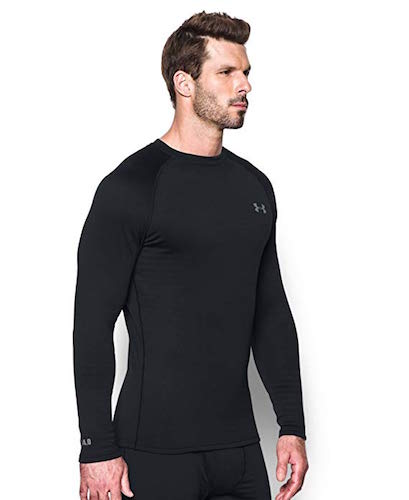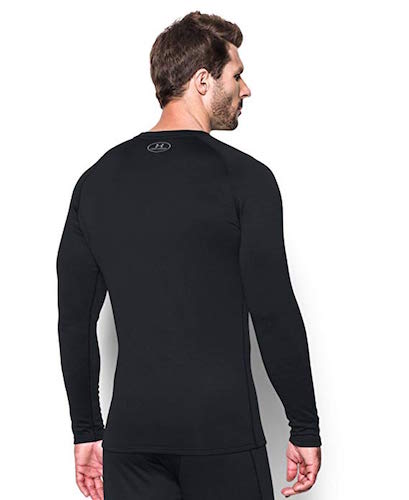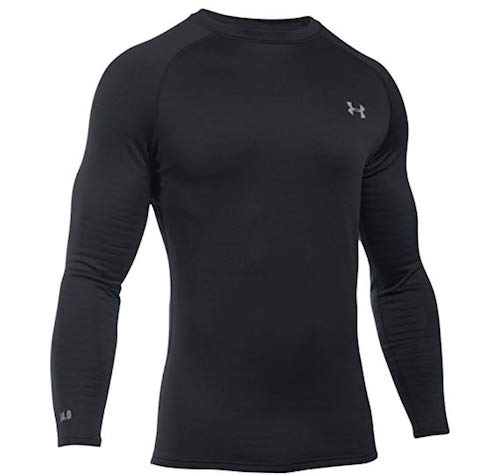 You might already have a piece of Under Armour gear in your closet, but it never hurts to add just one more! What we love about this brand is that they always use high-quality materials for their products which means they are are going to hold up well through multiple washes, and also provide you a good deal of protection and comfort.
This thinner option of this moisture-wicking top is composed of a blend of 92 percent polyester and 8 percent elastane. The polyester is going to work to wick away sweat and moisture so that it doesn't settle on your skin and make you cold, and the elastane is going to help give you that second skin feeling with minimal shifting.
Sizing options of these tops are a little more generous than other designs and include sizes that start at small and run up to 3XL. The elastane found in this fabric is going to help provide a more skin-tight feel, so even if you are a little unsure about what size you are, there isn't going to be a big chance that you won't be able to slip this on.
For big fans of the Under Armour brand, this is another excellent option to add to your closet. It is composed of their special UA Base 4.0 materials that are going to help keep your body heat from escaping on those cold mornings.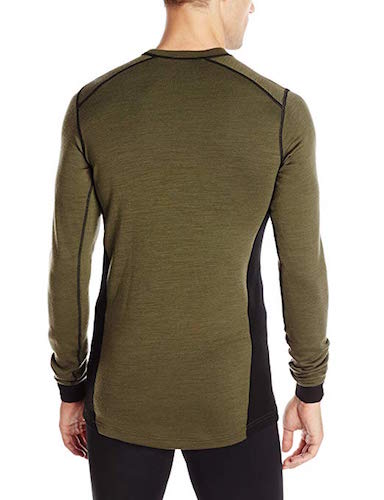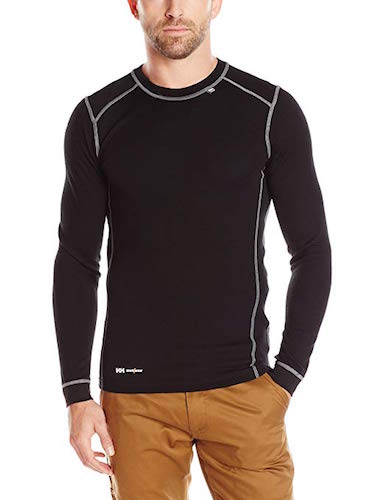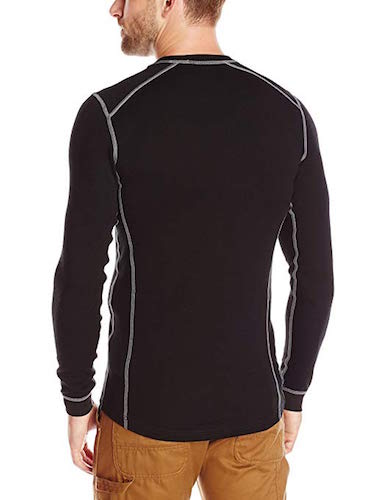 Helly Hansen is a brand that grew in popularity making gear for those that work in the most extreme conditions: professional fishermen. When working on the ocean, you want something that is going to be lightweight so that you can move freely but also prohibit you from losing precious body heat. Helly Hansen brings all of those features to this top so that no matter if you are sailing the high seas, or trail running on a brisk fall morning - you are going to stay comfortable. If you like to run in super cold climates this is going to be one of your best options!
Unlike some of the polyester blends that we have seen, this option is a lot thicker. It is made from a merino wool exterior with lifa fiber technology to give you that snug fit. If you are out in really cold climates and want to stay warm- this is going to be one of your best options. Due to the fact that it is just a little thicker than most means that you are going to be able to feel the weight of this option under all of your clothes.
Like all Helly Hansen products, sizes are made to fit just about anyone. Sizes start at extra small and run all the way up to 4XL! Plus, they provide users with a very detailed sizing chart so that you can ensure you get the right fit for your the first time. From what we discovered- this sizing chart is pretty accurate with about 3 out of every 4 users finding that this fit them just as they expected.
For those that want something that is made for some really harsh temperatures that are going to work around the clock to keep you warm no matter where your travels may take you, this merino wool shirt is going to be an excellent choice!

6

. Carhartt Force Midweight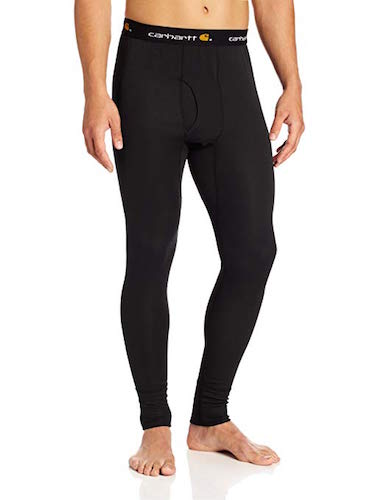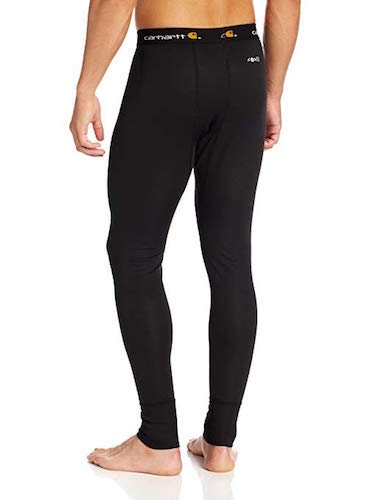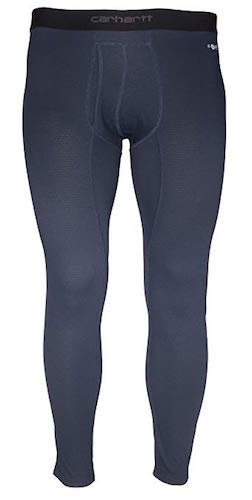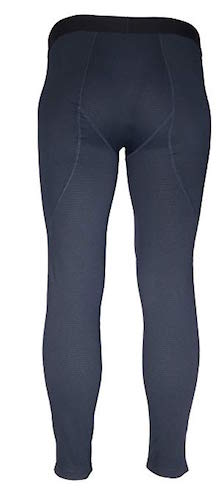 This model is ideal for those looking for something to wear in colder weather. Regardless of whether you decide to wear these under your everyday clothes to keep warm, or if you use them for athletic activity, the Carhartt Force Midweight thermal pant is sure to keep you warm and comfy. They can be purchased in a few color options, and sizing is simple enough thanks to the great materials used in construction.
These midweight bottoms are popular with users for a number of reasons. First and foremost, they are made with 100% polyester that features a waffle knit. What this does is that it traps heat effectively, all while ensuring plenty of breathability and moisture management. This means that you won't have to worry about sweat build-up, or being chilled through during winter.
The waistband of the Carhartt Force Midweight is made without any tags, with quick-dry material. It rides low on the hips for maximum comfort and uses flat seams to prevent chafing. Other seams on this pair of bottoms are strategically placed to minimize chafing, while the front is contoured and utilizes Fast-Dry moisture-wicking technology.
These thermal pants are thin but durable and are very easy to move in, unlike most base layers. They're also quite affordable, especially considering the quality you will be receiving, making them a great choice both for work, athletic activity and your next skiing holiday.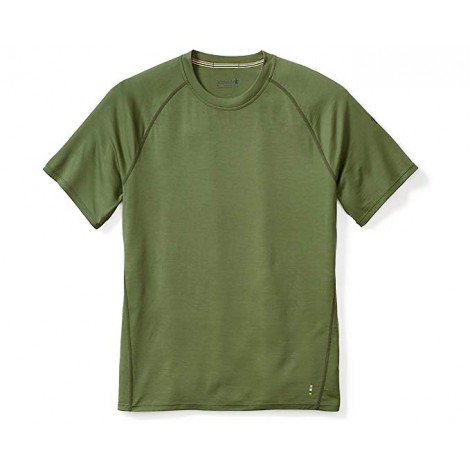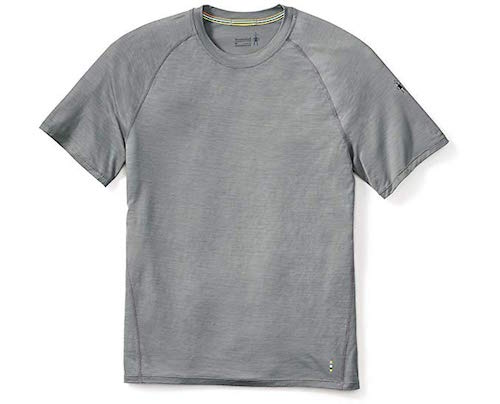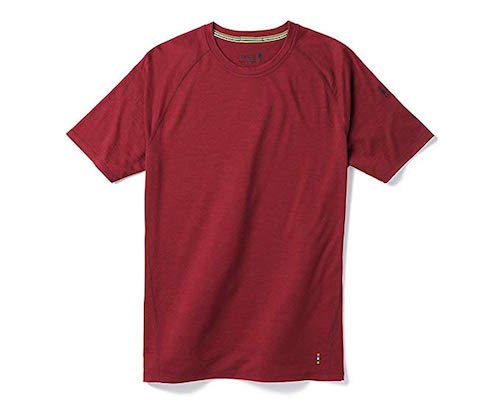 SmartWool is a company that was founded by 2 ski instructors, so they know a thing or two about staying comfortable in harsh climates! As of 2011, they were acquired by Timberland, which is a company that is known for its high quality and well-crafted products. This design is going to offer the user a shirt that is made from high-quality materials that will keep you dry and comfortable, no matter what the weather!
What we liked most about this thermal top is that it is crafted from merino wool, which is going to be a perfect material that will help to wick away sweat from your body as you begin to heat up. Plus, the short sleeves are going to help promote a full range of motion when you are working with multiple shirts and jackets.
If you love bright and fun colors, you are going to really like this option. It is offered in far more color choices than many of the other designs that we have seen out there on the market. As far as sizing is concerned, an impressive 85 percent of previous users felt that this option fit them exactly as they expected.
For those that want something that is going to be a little less restricting and will allow them to strip down to a lightweight and breathable top as the weather starts to warm up, this is going to be one of your better options.

8

. Merino 365 Long Sleeve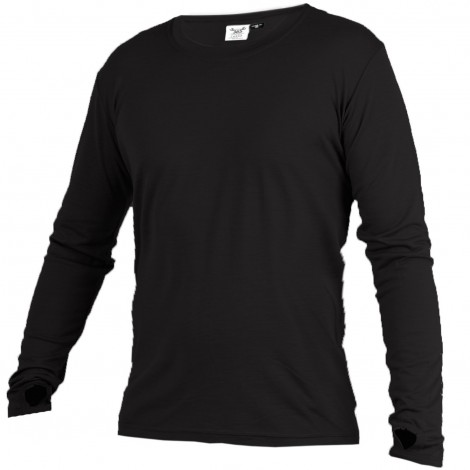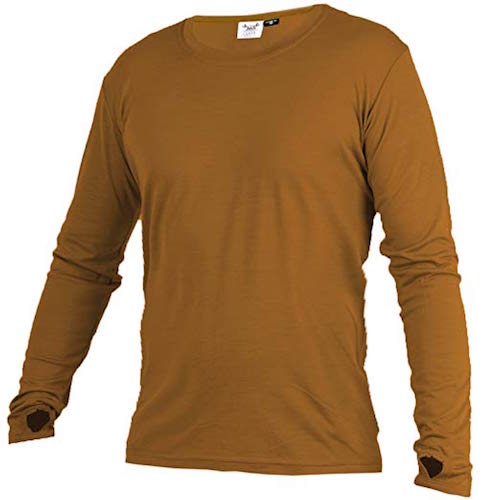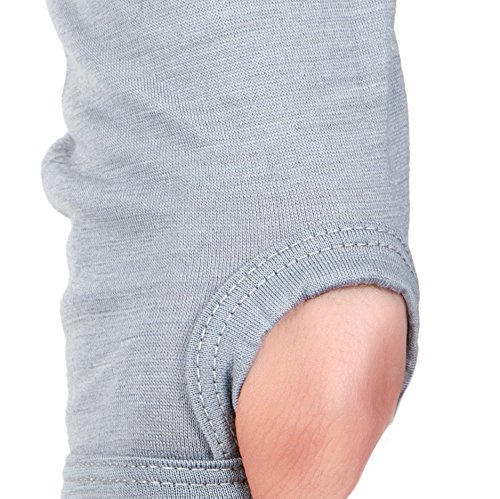 What we loved most about this design from Merino 365 is that it marries style and function to create a piece of clothing that you will be enthusiastic to slip on before heading into the elements. This company is passionate about using high-quality merino wool that is known to be one of the better materials for outdoor gear.
One of the very first things that we noticed about this top was that it has thumb loops at the end of the sleeves. Not only do these thumb loops add just a little bit of style to this top, but it also allows you to add more shirts and jackets without that terrible feeling of a sleeve that bunches up at the elbows. If you want something that is functional and stylish, this is a great choice.
Concerning the materials used, it's hard to find anything better than merino wool. This material is lightweight and is going to feel comfortable against your skin, but it is also going to work wonderfully at wicking sweat away from your skin so even as you begin to sweat, your skin will stay high and dry!
Users really love the addition of the thumb loops on the sleeves, which makes this style worth checking out. It is stylish enough to be worn on its own for a day of simple errands, but the materials used are a great companion to long, cold days out on the trails.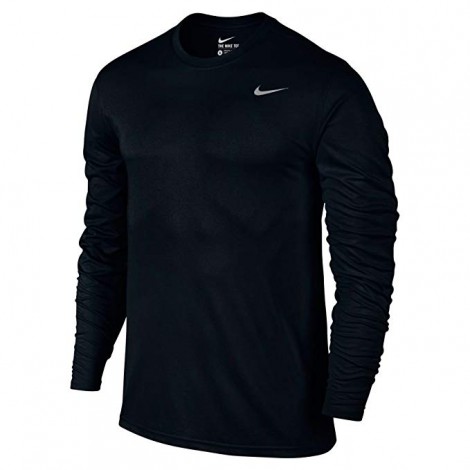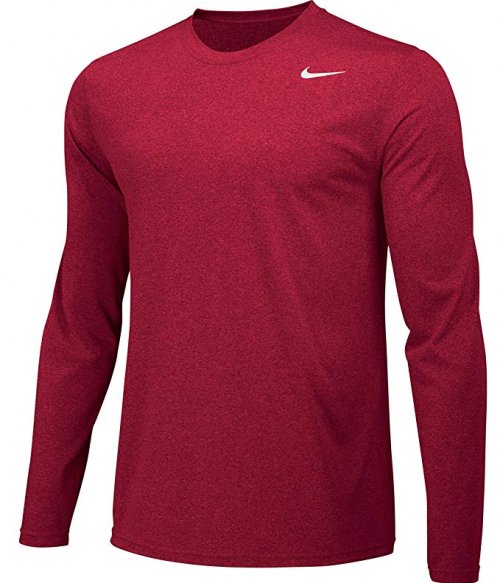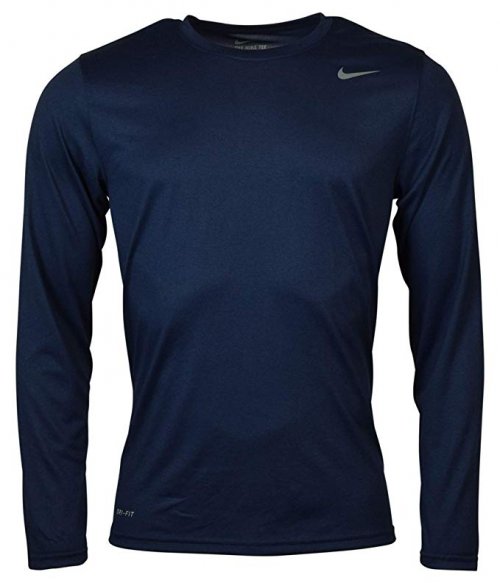 If you have ever purchased a Nike product, you know that it is something crafted with active people in mind. What we liked most about this men's moisture-wicking top is that it sports a classic design that is going to help keep you comfortable on the trails, and it is made from durable materials that will be able to stand up to quite a few trips through the washing machine.
This design is made from a blend of polyester and spandex. The spandex will give you a good stretch so that it stays firmly in place to feel like a second skin, and the polyester will help wick away moisture when things start to get a little sweaty.
From our research, we have found that about 73 percent of users felt that this design fits them as expected. This number is a little bit lower than some of the higher designs on our list, but it is still a pretty impressive number. The good news here is that there are a ton of various size options to select from, and they include short and tall options for all of the various sizes.
When it comes to Nike, you know that you are going to get good quality. You may have to be a little more careful to ensure that you get the right size for your body type, and once you find the right size this is going to be a stellar choice to wear whether you prefer to walk or run on those cool mornings.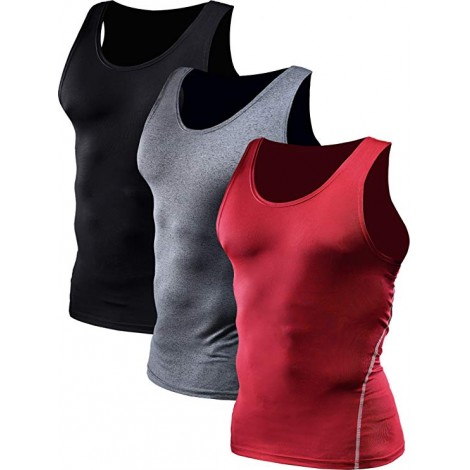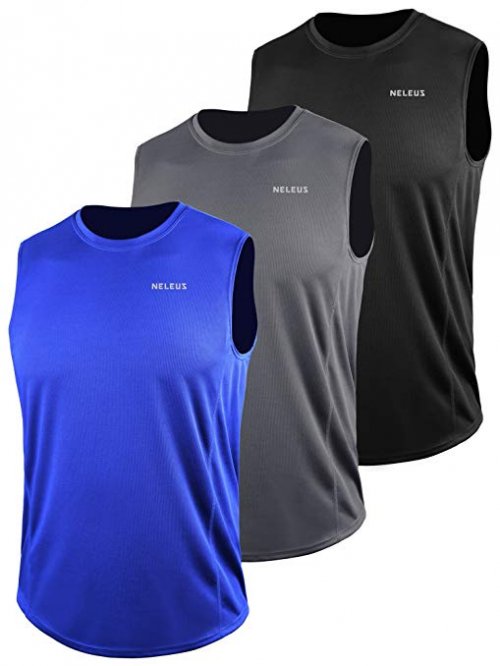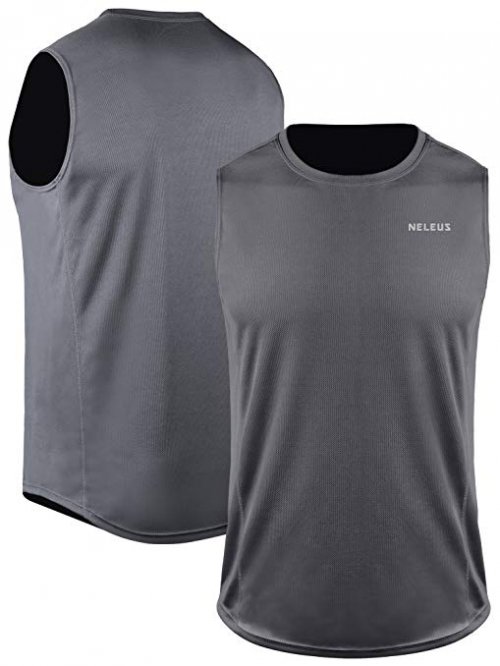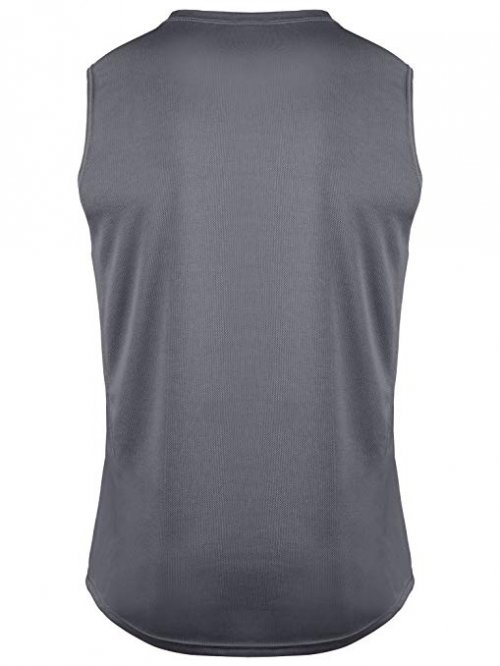 Most of the designs that we have considered have long sleeves, which is going to be ideal for all types of climates. What we liked about this sleeveless option is that you are going to have a lot more control of what you are wearing when out on the trails. It's also ideal for layering, whether in cold or mild temperatures.
The blend of polyester and spandex is the key to keeping sweat that develops away from your skin. If you are running in an area that is incredibly cold in the morning but really heats up when the sun comes out- this is going to be an excellent design that is going to keep you nice and comfortable. Plus, this tank top comes in a lot of different color options to match your personal style.
Sizing for tank top is going to be a bit of a problem. About 69 percent of previous users feel that this design fit them as expected. It is only offered in sizes that start at extra-small and run all the way up to extra large, and the sizing chart provided only measures a users chest.
What makes this design worth a look is the quality of materials used, the flat-lock seams that will eliminate that annoying itchy feeling, and the sleeveless design that will make it a perfect option for when the sun starts beating down.

Subscribe to our Newsletter