Best Thermal Underwear Reviewed and Rated
last updated
Aug 28, 2019
Thermal underwear or thermals may come as an afterthought to most people. However, its usefulness is apparent when you take to the road, go hiking, or camping in the dead cold of November. Selecting the right pair of thermals can be challenging with such a wide variety of unfamiliar options.
There are design features, variations in size, weight, color, and the coverage that these products offer. Each variety can have its advantages and usefulness to a particular purpose. Like lightweight options support a high level of cardio and aerobic activity due to their conduciveness to moderate temperatures.
This article features a list of some of the best products that the current market has to offer. Here, you will find all the information you might need to make a worthwhile purchase. Keep reading to answer any question you may have about thermal underwear.
In a Hurry? The test winner after 9 hrs of research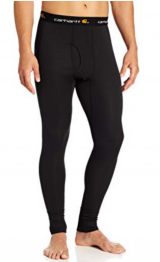 Carhartt Base Force
Why is it better?
Full winter-proofing option
Thick build
Stain-resistant fabric
In a
Hurry? Editors choice: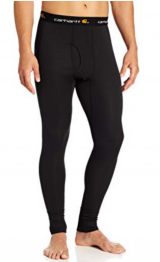 Test Winner: Carhartt Base Force

5
Researched Sources
12000
Reviews Considered
9
Hours Researching
10
Products Evaluated
Materials
Use
Insulation
Weight
Style
By Default
Best Thermals for Men and Women
Criteria Used for Evaluation


Materials
Fabrics constitute the outfit.
The type of material used in the manufacture of any clothing speaks volumes to its comfort, quality, and durability. There are many natural, synthetic, and hybrid fibers used in the global textile industry. Since no material is made equal, here are some of the materials commonly used in creating base layer clothing.
Synthetic fibers like polyester and their blends typically dry very fast which suits them for base layer clothing. This aspect makes apparel made from these materials ideal for cold, wet, as well as hot conditions. Traditionally synthetics had an odor accumulation problem. Luckily, advancements have brought enhanced synthetics that deal with such issues.
Cotton is incredibly absorbent and driers slowly, so stay away from base layer options made of 100% cotton. Avoid the fabric because you will still sweat under your clothing; however, cotton blended fabrics can still work. Synthetic fibers and bamboo merge with cotton to produce performance fabrics that have softness, enhanced moisture-wicking as well as stretchiness locked in.
Silk is an incredibly smooth fabric, which makes it suitable for users with, particularly sensitive skin. This fabric can be treated with chemicals to enhance the clothing's moister wicking properties. The only major drawback is that it required meticulous care and it traps odor.
Merino wool has nearly replaced traditional wool in textile production thanks to its softness. This fiber is blended with stretchy fabrics like spandex to make warm yet stretchy clothing. Clothing made from merino wool comes highly recommended because of the moisture-wicking capabilities supple feel.
Polyester blends like spandex, Lycra, and nylon feature in almost every textile product made in the world. Base layer clothing that utilizes such fibers in their construction are stretchy and nearly feel like a second skin. Outfits featuring such materials also have a fleece lining to prevent the garment from locking odor while enhancing the warmth they offer.
Bamboo is a relatively new fabric to the market. This fabric is mixed with other fibers like cotton and polyester for a stronger material. Bamboo is effective at wicking moisture and retains its shape allowing manufactures to create clothing that offers more compression.


Use
When shopping for thermal underwear; first, envision your needs.
Outdoor explorers like hikers, campers, and climbers need to stay dry and warm as well as add some odor resistance to their clothing. Base layer clothing provides those qualities as well as resistance to dirt and grime thanks to enhanced fabrics. Naturally, soft and warm fabrics like cotton and wool are combined with synthetic fibers to make clothing that is both functional and comfortable.
Snow sports like snowshoeing and skiing require long treks through harsh snow-covered landscapes, which exposes you to freezing temperatures. Light to heavyweight base layering clothing affords the wearer some protection from these harsh elements. These clothes effectively prevent heat from escaping while wicking away at sweat to ensure you stay dry and warm.
Upper torso activities like mountain climbing and kayaking lead to a heavy accumulation of lactic acid, which causes cramps and swelling. Base layer options made with thick fabric, to a loose fit on the chest area can reduce oxygen debt and the accumulation of lactic acid in the muscles. Such clothing offers some compression as well as the circulation of warm oxygen-rich blood in the muscle tissues.
Backpackers need clothing that is comfortable, and warm enough to sleep in because of the on-the-go nature of their journeys. Both synthetic and natural fabrics work well in the preferred base layer clothing. The base layer clothing should also wick at moisture and be easy to doff even while on the move.
Casual hikers require warm, moisture-wicking, and warm base layer clothing to provide them with insulation and protection from the elements. Their base layer clothing options also need to be light and have anti-chafing features like welded seams. Both synthetic and natural fibers can provide these qualities.
Commuter cyclists face constant battles with oncoming traffic as well as chilly winds and the constant threat of rain. Light merino base-layer clothing with waterproof shells are ideally suited to the needs of such commuters. Such materials provide the necessary protection, and the user need not worry about getting hot and sweaty under such layers of clothing.
All-weather motorcyclists hit very high speeds that expose them to frosty wind chills. Heavy synthetic-based base layer clothing further enhanced with a windproof membrane is ideal for the needs of such users. Such clothing enhances the insulating effects of your helmet, jacket, balaclava, etc.


Insulation
The first consideration should be if the thermals keep you warm.
Aspects such as the materials used, weight, and general design of thermals can tell you the most about the insulation such a product offers. Thermals need to trap heat while allowing for ventilation and wicking away at sweat and moisture. This "trapping" and retention of body heat keeps your body from going numb from the cold.
Proper Insulation can also protect you from hyperthermia, frostbite, cold, and flu infections. This protection is as a result of your body, retaining a temperature that prevents such infections and reactions. However, relying solely on thermal underwear is a foolhardy choice; please also invest in additional gear like high quality gloves, socks, balaclavas, and anything else that will keep you warm.
As mentioned earlier materials play a huge role in the insulating qualities of any item of clothing. Merino wool is a natural fiber that keeps you warm even when you sit or stand in the cold for some time. Wool is soft and fluffy, which makes it comfortable to wear, and the fluffy fibers act as small pockets that trap hence insulate hot air.
Thermals made with such materials also reduce the ratio at which heat is lost to the environment. This type of clothing fits snuggly close to the skin. Therefore, very little of this hot air gets lost during the transfer back to the body.
The trick to proper insulation is creating a secondary layer of hot air between your thermals and skin. Air does not conduct heat or remain heated as effectively as water does. Therefore, you also need to control sweat, wind, and the amount of moisture that comes from the environment. Most of the products on this list have these aspects under control; however, your choice remains subjective to your personal needs.


Weight
The materials used and the activity for which the thermals are to be used can be a determining factor.
If you are shopping for something for regular or daily usage, then a thin and lightweight option is the best bet. Such thermals easily slip into your jeans and other clothing without bunching up. As for the cold winter months, you are safer if you bet on a heavier option to shield you from the cold.
Each weight option has its advantages and drawbacks. Your needs and range of activities serve as the best way to determine the weight of your clothing. Here are the main categories you will run into while shopping for thermals.
Ultra-lightweight thermals are good for mildly cold climatic conditions. You can layer them under sports gear for additional warm for early morning outdoor activities when the season is not too cold. You can also sleep in them or use them as casual daily wear.
Lightweight thermals have a bit heavier than ultra-light but less bulky than heavyweight models. Such thermals are ideal for daily use as well as a variety of winter outdoor sports and activities. You can use them for skiing or running, jogging or hiking during the winter.
Some lightweight options offer some compression that ensures you have warm blood flowing through your muscles. The key to using such clothing outdoors is to move around a lot to sustain this blood flow. Therefore, as long as you keep moving these thermals will keep the cold at bay.
Mid-weight thermals are suited for use in regions where users are exposed to passing bouts of harsh temperatures. They offer slightly less insulation when compared to heavyweight models but provide more flexibility and freedom of movement. These qualities make them appropriate for use in activities such as sledding, snowshoeing, skiing, and extreme winter sports.
Heavyweight thermals are ideal for extreme levels of cold. Their sheer weight makes them great for spending time in such environments, even without constant motion. If you are interested in backpacking through the winter, camping or hiking then you should go for such clothing.


Style
Thermal underpants come in various cuts, heights, and sizes.
The first thing you to consider when looking at the style of base layer clothing is the amount of coverage you need. Aside from the coverage, you can also look at how much compression you need from your clothing. The ease of use can also determine your preference for a particular style over another one.
Long shirts
Some models come in the shape of long sleeve shirts that usually have a crew neck or an extendible turtleneck. These shirts provide your upper body and arm with protection from the elements. The most beneficial aspect of long-sleeved shirts is you can easily roll up the sleeves or take them off when it gets too hot.
Leggings
Base layer pants look like tights because of their form-fitting and compression design. They cover everything south of the waistline. Aside from insulating your body from the elements, these tights can also be used by cyclists and runners that have issues with chaffing.
Boxer/briefs
These provide the same level of coverage, regular boxers, and briefs offer. These thermal underpants are suitable for places with subzero temperatures. When layering clothing for such regions, you will need as many layers as possible.
Two-piece suits
This base layer clothing comes with both a long sleeve top and legging bottoms. Such an outfit gives the advantage of being able to take part of it off when it gets hot. Some of the products on this list that feature this design also work well as sleepwear or casual gear.
Union suits
All thought union suits are outdated and not commonly used these days they still warrant a token mention. These suits look more like jumpsuits or onesie jammies. The amount of coverage and stiffness of such suits makes them inappropriate for a range of activities, but they make great pajamas for the winter months.
Expert Interviews & Opinions
Most Important Criteria
(According to our experts opinion)
Experts Opinion
Editors Opinion
Users Opinion
By Default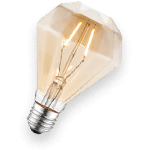 Not Too Tight and Not Too Loose
Thermal clothing should be neither too tight nor too baggy. Baggy clothing allows heat to escape while tight outfits inhibit free movement. For those reasons, the best option is to go for a slightly form-fitting thermal to get the best out of your gear.
Additional Gear
As mentioned though out this thermal article, underwear can only take you so far. Your head, feet, and hands still need protection from the biting cold. So please invest in quality thermal socks, hats, mitts, jackets, pants, boots, and other pieces of gear that can keep you warm through the winter.
Other Factors to Consider


Bottom Line
Thermal underwear should be one of the first items on your shopping list if you are considering going hiking, skiing or on any outdoor winter activity. Thermals keep you warm and protect you from the harmful effects of prolonged exposure to the wind. When shopping for a base layer options, the type of exercise you will engage in can serve as the critical factor in the choice of brand or model.
All the brands listed are made from quality materials and have all the right features. Except for the union suits and briefs, the products listed here touch on at least one style of construction. Remember to replace your thermals as soon as they start to rip or become sheer.
Frequently Asked Questions
q:

Why is the moisture-wicking capability of thermals so important?

a:

You may assume that sweat is not a significant problem when out on the snow. However, the truth is that you will sweat underneath all those layers of clothing, especially if you are active. If this sweat is not pulled from the surface of your skin and redistributed, it will present a problem.

Moisture-wicking clothing pulls sweat from the skin surface and puts it outside of the garment. There, it evaporates quickly or falls off your body instead of soaking your clothing. Moisture-wicking is especially vital during the winter as large pools of sweat can freeze over and translate into frostbit and a trip to the ER.
q:

How do you take care of thermal underwear?

a:

All clothing features either a tag or instructions printed on the back that carries detailed care and maintenance guidelines. However, there are rules you can follow to ensure your clothing has a longer lifespan. When in doubt, please hand wash your garments in cold water and drip dry in a shady place, this reduces the chances of shrinkage.

Unless stated you should stay away from fabric softeners and bleach. These detergents leach away the dyes used to color the fabric and degrade the finer qualities of microfibers. It is also advisable to hang your clothing inside out to preserve the texture, color, and anti-microbial qualities of the fabric used.
q:

How does fleece vary from microfleece?

a:

Fleece and microfleece are quite similar and offer a soft and comfortable option for clothing and related accessories. Both fabrics have a lightweight profile, yet they are still tough enough to carry the burden of daily use. Performance gear manufacturers rely heavily on the use of these fabrics.

These are just general terms describing the qualities of this material and are used interchangeably; they are even collectively known as polar fleece. Fleece is the general term that describes the thickness of fleece fabric. Microfleece is a term that refers specifically to the thinness and flexibility of fleece material.
q:

How often can I use my thermals?

a:

The life span of the thermals determines how much use you can get out of them. A frequently used and ill-maintained product will have a shorter life span than if the reverse were true. The amount of exposure the suit gets also has a direct effect on its longevity.

Keenly following the care and maintenance guides will preserve your clothing. It is also a novel idea to have a needle and thread in hand to attend to any minor rips and tears. Failure to attend to such problems will result in larger holes and rips all through your clothing.
q:

Can you wear regular undies with your thermal underwear?

a:

This subjective mater depends on the type of thermals you wear and the activity that you do in them. Assuming you wear thermals to cycle then go for a gym session you can wear regular undies under thermals to save time. You can also wear your boxers or briefs if you feel that your thermals don't offer enough coverage and support for the crotch area.