Best Mexican Sandals Reviewed and Rated
In a Hurry? Editors choice: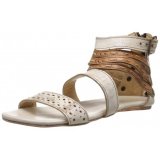 Test Winner: Bed|Stu Artemis

Mexican sandals are popular for their use of interweaving straw to make the actual design of the sandal. Often, the straw used in these designs comes in a wide variety of colors that give the shoes the
festive look
they are known for. Some people like designs that feature a thong silhouette, others like the full-coverage specs. Regardless of the type, all that matters is the functionality and comfort provided by the particular sandal we're wearing.
With that said, we still wanted to ensure that the shoes on this list were vetted so that you get the best in terms of quality and comfort. To select through these models, we rated them based on a few basic criteria. So kick back and relax, scroll down and get to know the wonderfully eclectic world of Mexican-style footwear!
Standout Picks
Criteria Used for Evaluation
Style
A style is always one of those things that we pay the most attention to, regardless of what the design is.

With that being said, the criteria by which we judge style are always different depending on the item. For a casual design, the style depends on how cool it is, how relaxed and laid-back it can make us look. For heels, it is about the glitz and the glam. For Mexican sandals, style depends on such things as the coloring of the item, the intricacy of its construction, the additional accents it may have, such as tassels or laces.

We have already seen that the color scheme of these items ranges from simple and monochrome, to quite colorful. While these designs can and often are used to make fashion statements, they typically have more of a ceremonial use. Many of them are decorated with color combinations that have been used for years and as such carry important meaning within the culture.

Directly related to the colors are the patterns. The main thing that makes these items stand out is the way that they use the colors in the design and what they do with them, which is somewhat ritualistic. There is an abundance of floral patterns and themes, complete will floral ornaments placed on top of the designs.

Which one you will go for - whether a simple, more subdued option or a grand, more lavishly decorated one - depends entirely on your personal preference. If you're the type of person who likes understated clothing, there is no reason you should force yourself to wear something flashy and vice versa. Listen to yourself, and choose the best option for you.
Comfort
It's a normal thing to ask, just how comfortable are these designs? Sure they may meet your needs when it comes to style - you've always wanted a huarache design - but will you be able to wear it for as long as you want? What if it gives you blisters, or if it makes your feet cramp up, or you're not able to walk as much as you'd planned to?

Comfort is one of the most important - if not the most important - aspects of footwear, and we all want to make sure that our new shoe is comfy enough to be worn right away.

So, what can you look for, to be certain that you're getting the most for your money? Let's see:

Footbed: The footbed of the design should not be firm or rigid, and should provide you with enough support so that you can stay on your feet for hours on end.
Footbeds can be cushioned, which helps make you feel more comfy, airy, and like you're walking on clouds. The cushioning absorbs impact from each strike of your heel, and reduces long term damage inflicted on your joints.
Footbeds can also be contoured, which is a special brand of comfort. These contours should correspond to the contours of your foot, and thus should deliver more than enough support as you walk. Contours often come with great arch support as well, which reduces foot fatigue and prevents overpronation.
Upper: The upper of a design is what comes in direct contact with your skin, and thus it should be soft to the touch. A great option is genuine leather, which is malleable and takes the shape of the foot over time. Lightweight fabrics and textiles are a good alternative, as they won't cause you any hotspots or abrasions.
Finally, if a design is made from synthetic leather, which can be somewhat unyielding, definitely make sure that you feel comfy enough before you embark on that sightseeing tour. You don't want any pain to hinder you in your exploring!
Heel: Some of the options on our list come with a slightly higher heel. Therefore, we feel obligated to mention how having a high heel affects the comfort of a design.
If the heel is relatively low - lower than three inches - and if it is chunky or wedge in style, then you should have no problems walking in it for the whole day, if necessary. Fortunately, all of the items in our guide have low, wedge style heels, and thus you don't have to worry whether or not they will be causing you any undue pain or discomfort!
Materials
In our section about comfort, we briefly touched upon how materials can affect the overall comfort levels of a design. Here, we will expand on that some more, and also talk about how they affect other footwear properties, such as breathability and flexibility.

We'll start with genuine leather, which is the most commonly found material in our guide. Genuine leather and suede have that amazing tendency to change shape over time, to take the form of the foot, and thus deliver an addictive, tailored type of comfort that can't be found anywhere else.

Genuine leathers are also super breathable, since they promote proper airflow in and out of a design. In cause you were on the fence about choosing a closed-toe option - worried maybe that your feet will sweat too much in it - don't be. If the design is made from genuine leather, you can be sure that your feet will be cool and sweat-free throughout the wear.

In terms of flexibility, genuine leathers walk that fine line between too flexible to be unsupportive and too rigid to be uncomfortable. In other words, this is a perfectly balanced material that will keep you comfy any day of the week.

There are also options on our list that are made from synthetic leathers. While these are animal-friendly, and not as expensive as genuine leathers, unfortunately, they don't come with the same unbelievable set of qualities.

Synthetic leathers tend to be stiffer, less pliable, and are not as breathable as their natural counterparts.

All of that being said, the notion of which material is the best for you shouldn't give you a headache. Consider your budget, consider which footwear features are important to you, and you shouldn't have any problems landing on either a genuine leather option, or a synthetic one.
Versatility
While specialized footwear, such as those for parties or weddings or other formal events, or even for the office, is neat, and we love options, we also love the easiness of having one design that is good to wear to several different occasions. We love a good sneaker that can take us from school to the grocery store, to a fun time at the park to a casual dinner with the family. Sometimes, picking out footwear can just be a chore, and we wish to have that one item that goes well with everything.

Which is where versatility comes in! We felt the need to rank the options in our list according to how versatile they are, or how well they match different situations. Some of them are great at this, as we can see ourselves wearing them practically everywhere, but others are not so much, and we should only reserve them for walks around the neighborhood, or an occasional stroll around town.

The designs which came out at the top are the Charleston Shoe Company Benjamin and the Bed | Stu products. We feel these are versatile, because there is no item of clothing that you can wear and not look good in them. Jeans, shorts, skirts, dresses - anything you throw on, you can pick out any of these three and rock the outfit!

On the other hand, the designs which are less versatile are those which are reserved for only the most casual events, and which don't offer much in terms of style innovation.

Of course, we maintain the opinion that you are free to disagree with us on every point! Versatility is, similarly to style, a rather subjective aspect, and what may be versatile for us doesn't have to be for you, and the other way around. What matters is that you like your design and that you like wearing it wherever you want, and we applaud that!
Durability
Everyone wants footwear that is able to survive. No one wants to purchase something that will easily fall apart after a day or two of being worn. That being said, the items featured here are meant to provide you with what you need in terms of both security and functionality, due to the fact that they are incredibly durable.

When it comes to durability, it's important to understand that a few other things come into play. Durability is hinged on the quality of the materials in the construction of the design, the techniques used in that construction, how often you wear the design, in what conditions and so on and so forth.

Now, when we say quality, what does that really mean?

Quality refers to the actual look and feel of the item. Does it look cheap? Does it feel cheap? Those are the things that matter when we are talking about the quality. With that in mind, this was a rather simple thing to screen these designs for – they're all mostly handmade. One doesn't have to worry about encountering an item that didn't have a fair level of care placed into its creation.

In terms of materials, as we described in the section above, if you go for genuine leathers, you have nothing to worry about. These are quite long lasting, especially if taken care of properly, such as being regularly cleaned and conditioned.

On the other hand, if you're looking for longevity, maybe stay clear of synthetics.

The fact is, the designs outlined in our list come with more than satisfying lifespans, and you definitely won't regret taking any of them home, as you will be able to wear them for years to come.
Our Favorites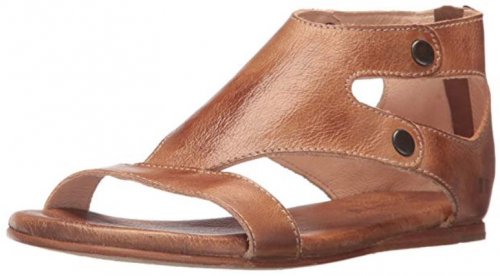 The Bed | Stu Soto is definitely something else. The materials used to design it and its style, along with various other things, make the Soto a must-have. This shoe features an exterior made of dyed calf leather, which is top of the line when it comes to quality. In addition to this, the model also has a zippered back entrance which makes both entry and exit something of a dream.
A great thing about the Soto is that it is definitely made of high-quality materials. A piece of footwear made of any variation of genuine leather ensures that you have all that you need in terms of quality. This is because of the care that must be taken in the construction of genuine leather goods. Also, calf leather is extremely resilient to wear and tear, making the Soto one of the more durable options in this guide.

The Soto features a zipper entrance which allows for an easy way into the design - all you have to do is unzip the sandal and slide it on. After it's in place, all one has to do is zip it back all the way up. The sole of the Soto is made from leather as well, delivering a personalized type of comfort since it has the ability to mold to the exact shape of your foot.

The premium quality leather and the durability that it offers are the main reasons why the Soto is such a popular design. When you combine this with its clean, simple aesthetic - you get a design that you will not want to take off come warmer weather!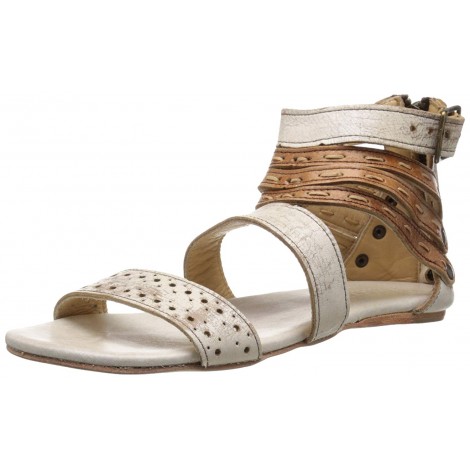 The Artemis - named after the Greek goddess of hunt - is certainly reminiscent of the ancient sandal style. This design makes use of features such as an adjustable buckle at the ankle and varying textures throughout the upper. These features are what make the Artemis stand out and earn its place in this guide.
If one of your major issues is fit - if parts of your foot simply don't fall in line with the initial design - the buckle closure will definitely work wonders for you. It will allow you to easily adjust the ankle portion of the design so that it fits the width of your ankle. This instantly increases the comfort levels of the Artemis.

The upper of the Artemis is definitely unique. It has varying textures on the bands over the toe area and the forefoot which add interest to the design. They also give the Artemis a well-loved look, as though you have owned it for quite a while and it got worn with age. We love a good distressed look!

The design of the Artemis is incredibly versatile, and it can be paired with literally anything - jeans, shorts, skirts - you name it! It is urban and yet natural, and you won't have any problems fitting this beauty into your everyday collection.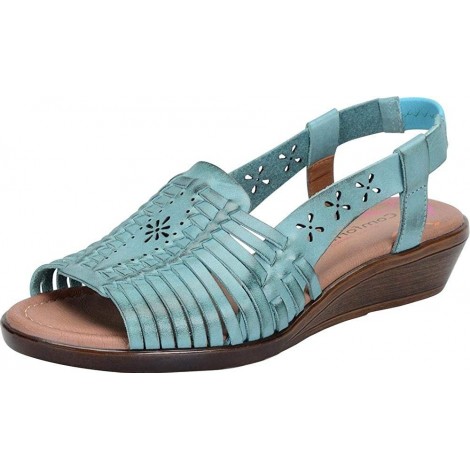 The insole on the Comfortiva Formosa is designed from the standard memory foam material, which provides the wearer with an incredibly personalized experience during wear. In addition to this, the Formosa features a stacked heel of roughly one inch in height, which also increases the comfort levels of this model.
Memory foam conforms to the foot and cushions each step you take. The use of this material introduces a high level of comfort due to the fact that it reduces foot fatigue after long periods of walking. This is incredibly important for those who do or plan to do a bit of traveling in this pair - it makes the job much more bearable.

PU is great for both traction and durability. The inclusion of polyurethane into the outsole of the Comfortiva enhances the cushioning effect - effectively making the model much more comfortable. Comfortiva also included a stacked heel into the unique design of the Formosa. The fact that it is a wedge shape delivers that all-day wearability that we love.

At first glance, the Formosa may seem like an ordinary sandal design, but with materials such as memory foam for the footbed and PU for the outsole, it is anything but that. It is not only practical and versatile, but it is also amazingly comfortable to boot.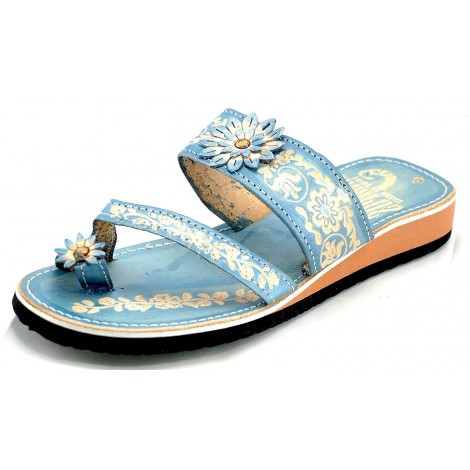 A model with yet another unique design is the Rampos Mx Sahuayo. This flip-flop is definitely one of the more colorful options - all you have to do is look at it and you will see the broad spectrum of colors included in its design. The colorful upper and straps are large contributors to the choice to put this item on this list. In addition to that, another contributor would be the fact that the item is also handmade - how cool is that?!
The great thing about the Rampos Mx brand is that they really do make all of their items by hand, including the Sahuayo. While this fact may slow their production down a bit, it does introduce a high level of quality and care into the design. These flip-flops will definitely provide you with a rather long period of use due to this feature.

Rampos Mx gave the Sahuayo a traditional floral pattern that can be seen on both the bands of the item and is accentuated by the toe part and the flowers featured there. The company went so far as to paint the footbed of this item with a floral pattern as well.

The Rampos Mx Sahuayo is chock-full with a rather large number of features, such as the cushioned footbed and the triple-strapping on the upper. These features ensure that users receive an outstanding level of value when they purchase this design.

5

. Charleston Shoe Company Benjamin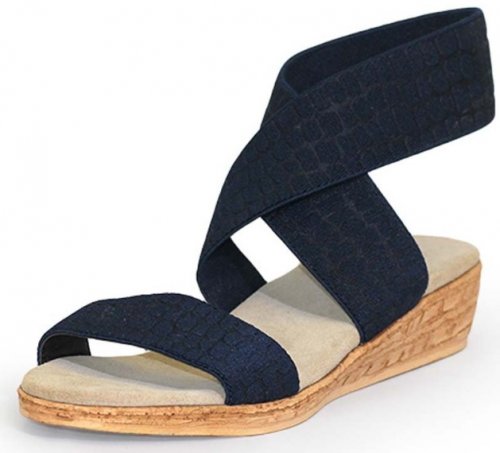 The Benjamin by Charleston Shoe Company is one of the most minimally designed sandals that you are ever likely to run across. It features a twisting design that wraps around the foot, both securing it and providing an unusual type of style. It features a ribbon-like design that keeps the shoe from falling off of one's foot - this is one of the most notable aspects about the design itself. Another thing is the fact that the Benjamin has a cork wedge heel, for an elevation in height and comfort.
The cork wedge heel, for all intents and purposes, increases the urban aesthetic of the Benjamin ten-fold. Not only that, but the cork is there to provide shock-absorption and moisture-wicking as well, to keep your feet both comfy and sweat-free as you take on your day.

The ribbon upper of the Benjamin makes it look incredibly youthful. The ribbon wraps around the area above the ankle, providing ample ankle support. The ribbons are made of linen, meaning that they won't dig into your skin or cause any blisters. The way inside the design is also effortless - simply slide your foot into the ribbon and voila!

The Benjamin is a stylish design that is one of its kind on this list. The easy, modern vibe it delivers and the comfort guaranteed by its materials (such as the soft ribbon upper and the cork wedge) makes for one flirty, flexible summer experience.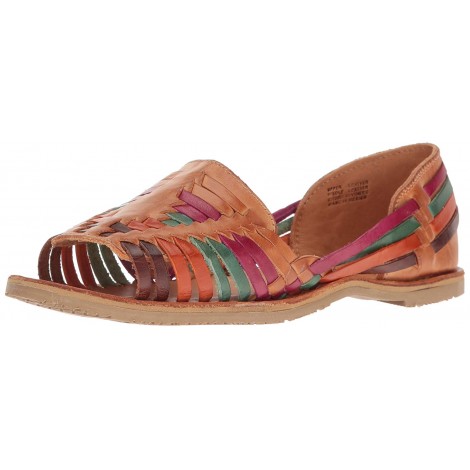 Here we have the Sbicca Jared, another huarache design. This item has a colorful design due to its blending of different straw types. In addition to the traditional ceremonial styling provided by the Jared, it also features a tribal patterned outsole unit; this matches the upper perfectly, for a fun, festive look all around!
The tribal patterning on the outsole of the Jared gives one a fair of amount of grip, due to the contrast that the indentations in the outsole provide. While this may not be the most important thing, it always helps to have footwear that will prevent you from falling or otherwise slipping and hurting yourself. The tribal patterning also matches the design of the upper of the Jared, which makes it look even better.

The Jared's upper has an open-ended area near the toe that allows for free movement. This design allows your feet to be incredibly comfortable and to have an extended range of motion.

However, that's not the best thing about the Jared's design. The great thing about it is that it features the standard huarache colorways. The blending of straw in the design gives it a perky appearance and ensures that these stay on par with the traditional design of Mexican sandals. Put a smile on your face, and get yourself a colorful option right now!

7

. Torero Made in Mexico Pachuco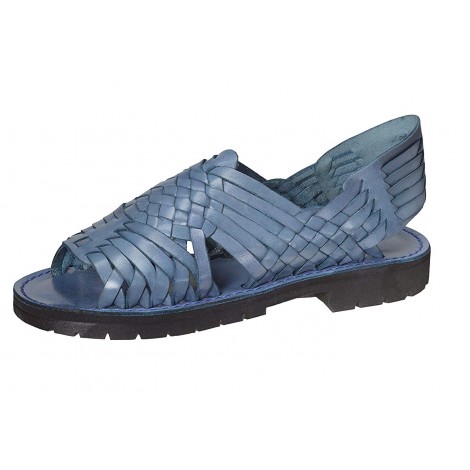 The Pachuco by Torero Made in Mexico is a standard huarache-type design. It features the cross-weaving of bands which makes them incredibly breathable. The Pachuco also comes with an EVA midsole, as well as a leather sockliner - these make this option something that easily stands out from the rest when it comes to both style and functionality.
Not many designs of this type make use of EVA. Pachuco features an EVA cushioning material in both its midsole and outsole, which makes wearing this particular item much more enjoyable than other similar designs. The cushioning provided by the insole, in particular, allows the Pachuco to easily conform to the shape of the wearer's foot and provide ample support.

While the outsole of the Pachuco is constructed from a leather material, most of the inner coverage is provided by the sockliner incorporated into the design. This sockliner offers strategic advantages as well as comforting ones. The strategic benefit of having a sockliner such as this one is that it allows the Pachuco to provide a superior level of moisture-wicking. This reduces the risk of sweaty feet, as well as the development of bad odors that come with it.

The Pachuco has several premium features that simply won't be found in other similar types. It is functional, amazingly comfortable, and it will make your summer days so much easier as you traipse around in your new favorite huarache shoes!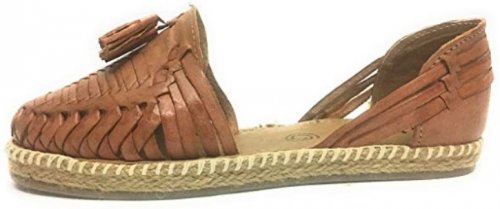 When it comes to traditional Mexican styles, it doesn't get more authentic than the huarache design. The Authentic Closed Toe is just that, a huarache sandal which has a closed-toe silhouette, is made entirely out of genuine leather, and has a dangly tassel accent on the front. All of that is placed on top of a sole decorated with rope.
While the huarache style comes in many shapes and forms, this design is a closed-toe example. It is ideal for those who don't wish to bare their toes for the world but also provides a protective quality. Your toes will be safe from bumps and stubs as you walk around in these practical shoes.

The Authentic Closed Toe is handmade by the best artisans. Its upper is carefully woven together for that Mexican flair, and the cut-out sides only add more breathability to the option. We also love the tassel detail, which brings interest but doesn't overwhelm the design.

The Authentic Closed Toe is that option that you wear when you want to look cool and laid-back, but to also feel comfy at the same time. The premium materials of this design mean that it lasts for a long time, and you will love wearing these everywhere you go.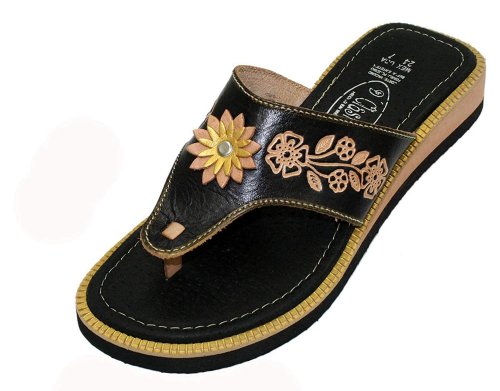 For starters, Dona Michi is definitely a brand worth mentioning. Their creative use of floral patterning and cushioning materials infuse every piece of footwear they create with an immense level of style. The design of this particular item - the Dona Michi Flat - is a sight for sore eyes. The colorful forefoot makes this a wonderful addition to your wardrobe. Furthermore, the flat also features a patterned rubber heel for immensely high levels of grip.
To everyone's delight, the sole unit of the Dona Michi flat is made from rubber. That's not the best part though - it also features a variety of patterns which enhance the grip. The patterning on the base of the shoe is made of a grouping of circular lines which adhere to any type of surface and provide the wearer with the cushioning they need in order to feel entirely secure.

This flat also comes in two base colors. While this may not be seen as "variety" to many, it does also come with a bit of flair via the use of floral patterns all throughout both the footbed and the straps of the design. Those who enjoy intricacy will definitely enjoy the pattern of this option.

The Dona Michi Flat's use of floral shapes is top-notch and effectively makes one's entire outfit look much better than it otherwise would. Another important aspect is the genuine leather that this design is made of, which makes it both high in quality and long-lasting. We're honestly hard-pressed to find a flaw in this design, and we're sure that it'll seamlessly fit into your shoe closet the moment you take it home.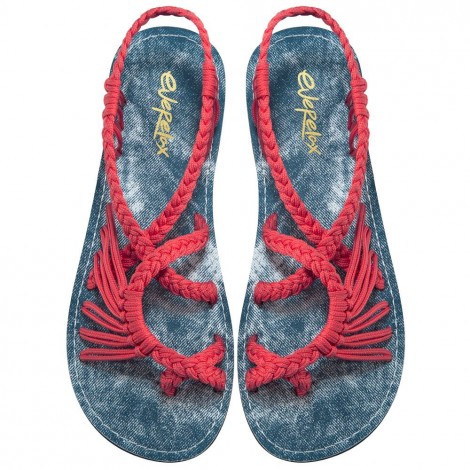 Here is a style that holds a place very close to our heart - the flat sandal. This design makes use of a braided exterior but, not in the way they are typically known for looking. The braided exterior is rather peculiar in that it flows along the outside of the foot and connects in some rather interesting places. In addition to this, the design of this item is made from entirely animal-friendly materials, which is a plus for many of us.
The design of the Plaka Flat makes use of materials that won't cause you any blisters or lacerations. The entire design is made of nylon and rubber. Glancing at the outsole by itself shows that you don't have to worry about slipping or skidding on wet surfaces, as these flats will ensure stable footing on any kind of flooring.

The Plaka Flat also features a braided structure. The braided thread is not something we see on other items, and the braids are placed in ways that make them appear unique. They are interlocking and, while they may look to be rather flimsy at first glance, manage to secure the foot in ways that may seem unimaginable. This design, if purchased in the correct size, will definitely not be slipping off your foot as you wear it.

The Plaka Flat secures your foot and manages to look nice while doing so. It is at the same time interesting and comfortable, and it will be an amazing addition to what you're taking with you on your next summer vacation.

Subscribe to our Newsletter