Best Hydration Bladders, Hydration Packs and Water Backpacks Reviewed
In a Hurry? Editors choice: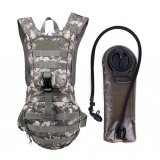 Test Winner: Unigear Tactical

Staying hydrated is the most important part of exercise as well as in everyday life. Hydration is definitely something none of us wants to neglect, but it can be hard to keep up with it, and it can be extremely inconvenient in situations where you have to lug around a bunch of water bottles. Meet the solution: hydration backpacks.
These handy products have room for both your gear and a large water bladder that stores plenty of water
for a long hike or a day trip
. Another great feature of these products is the hose that acts like a long straw and makes it easy for you to stay hydrated on the go, without even having to stop. Now that is not something your average water bottle can do.
Standout Picks
Criteria Used for Evaluation
Capacity
Capacity is basically what these products are all about. Without great capacity, they are not very useful and do not serve their main purpose. When we thought about capacity, we considered it to mean two different things. One was how much water the water bladder could hold. The other was how much other gear the pack could hold and if it had a good storage system and plenty of pockets.
Every single one of these products comes with a water bladder. We tried to find products that had plenty of water capacity so that you would be taken care of on even long hikes or bike rides. But water capacity was not just about how big the included water bladder was. We also looked at the internal compartment built to house the water bladder. Since the included water bladder is removable, that means you could add your own if you chose, and you could choose to add a bigger one. In that case, the compartment would need to be plenty big to be able to house a larger water bladder.
We looked for products that had at least a few extra pockets for other accessories you probably always take with you such as your keys and cell phone. We realized that there was a trade-off involved here. If you get a larger pack with more capacity, that means it will be heavier and will not be quite as convenient to carry with you. But if you get a minimalist design, it will be lightweight but it will not be able to carry as much of your gear. That is why we included some of both kinds of models and some models that make a compromise between the two styles. All of our choices have at least one extra pocket. Most of them have many pockets, and they all do a pretty good job of using the limited amount of space efficiently. Some of them have some great features as far as pockets and internal organization goes. Some have internal compartments that are divided into sections, so you only have to unzip one zipper to get to all your gear, but yet the gear stays organized and separate. Many have external zippered or stretchy mesh pockets. Some have clips for your keys and pockets for your phone. Some even had extra water bottle storage.
When we were researching, we took note of all these different kinds of storage features. We knew we could not make a judgment on which features were essential and which were not because they are all good for different situations, and each user has their own personal preferences. One thing we did decide, however, was that generally the more pockets there are, the better. This was a common thing we found that users thought was important.
Durability
We did some research on what types of materials are the best and the most durable for these kinds of products. We found that many of the products use polyester or nylon for the external fabric. We looked at the denier number for the fabrics, and we chose many that have a very high number for better durability. We found that these kinds of products are generally built very well externally. Very few users ever experience the fabric tearing.
We also looked to see how well the internal bladder was constructed. We found that this was definitely a potential weak point. Many users struggle with the bladder springing a leak either after it has been in use awhile or sometimes right away. Users who had this trouble said that one of the seams came apart and that is what caused the leak. We looked for products that did not have too many reports of this trouble occurring. We looked for well-constructed bladders that were meant to be able to withstand a lot of pressure. On an added side note, we also looked for products that had a water bladder made out of safe, BPA free materials.
Comfort
The biggest potential problems with comfort had to do with the product either bouncing around, or the water sloshing around inside. To remedy this, we looked for products that had plenty of extra straps beside the shoulder straps. These are adjustable so that you can tighten them up, and they provide some added stability to the product. They are essential when you are running or participating in any kind of high impact activity. We looked to make sure that these straps were made to be comfortable. Some of them are padded, and many are designed to prevent chafing. To remedy the internal sloshing, we looked at a few models that have a bladder designed internally in a way that makes the water slosh as little as possible. We also looked at the products' cooling system. We wanted to make sure that each one was well ventilated. Most of our choices include a lot of mesh on the back panel and the shoulder straps. This helps keep you cool. Finally, we considered it essential that the shoulder straps were both very well padded since this is where you are going to be feeling the brunt of the weight from the pack.
Fit
A lot of times, these kinds of products come in a one size fits all model. They generally are not like different types of clothing that have several different sizes and men's and women's specific sizes besides. A few of the products we chose have a couple of size options. And one or two are specific to men or women. But what we found was that the differences are usually minor. Most of these products will fit most people, regardless of size or gender. We did look to see if users reported any problems with fitting, and for the great majority of the time, they did not. Once in a while, users would say that a particular product did not fit tall people, or was too bulky for shorter people. We took this information into account, as well as the sizing dimensions given by the brand.
Visibility
We know that high visibility may or may not be necessary depending on what you plan to use the product for. Road running or running at night are situations where high visibility is definitely necessary. Hunting, hiking, or trekking are situations when high visibility is probably not necessary at all. Most of the products have at least a little bit of visibility tape on them. The ones with minimal visibility have a logo or words that are reflective, or perhaps just a stripe or two. We included those models for users who generally will not need high visibility products. Other models had a lot of reflective tape, and some had places to hang a little flashing light for maximum visibility. Since these are much better suited for road running or night running, these are the ones we chose for those kinds of users. We tried to include a good variety of visibility options in our picks.
Top 10 Hydration Packs for Running, Hiking and Biking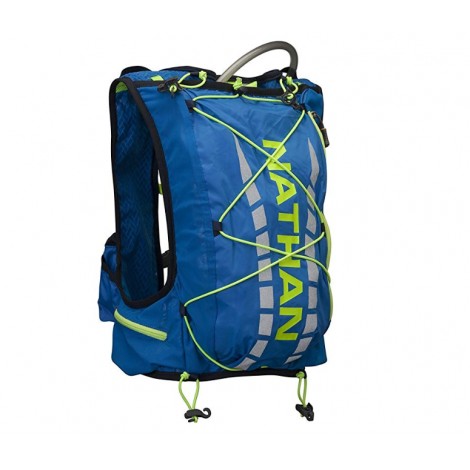 The Nathan VaporAir hydration pack has a slick, durable surface that is easy to keep clean. It will not hurt it to get it wet, and to clean it, you can simply wipe it down with a wet cloth.
One of the nice things about the Nathan VaporAir is that you have the choice between three different sizes at purchase. This is an uncommon option among these types of products, but it is a really great feature so that you can find the one that fits you best rather than having to settle for a one size fits all product. The available sizes are extra small, small/medium, or large/extra large. But one thing to keep in mind is that these sizes are in men's sizes which is not to say that will not fit women, but it does mean you will need to keep this in mind when deciding which size is right for you. The Nathan also comes in three different color options. One is black and safety yellow, the second is electric blue and lemonade, and the third is gray and orange.
The water bladder pack holds up to two liters of water, and the valve at the end of the hose is a bite valve. There are also two pockets on the front straps and these pockets are made for carrying bottles of water so you can bring along even more water than what the internal water bladder can hold. These bottle pockets fit bottles up to 20 ounces. There is a magnetic clip for holding the hose that is connected to the water bladder. Users have said that this is a great feature and makes it easy and quick to get a drink from the hose and then to put it back securely. There is also a zippered pocket on one of the front straps and this is for holding your cell phone. It is made to be big enough to fit most sizes of smartphones. One the side panels, there are zippered mesh pockets, one on each side. These are extra storage space for snacks or whatever you need to bring with you.
The Nathan water backpack is made out of breathable material, and the perimeter edges are covered with a soft elastic binding that prevents chafing. The load is distributed in such a way to prevent bouncing, which is also aided by the fact that the product is designed to fit snugly especially around your side. The brand mentions that their product might feel really tight, but this is by design and helps prevent the product from bouncing when you are running. On the back of the Nathan are four elastic loops, one on each corner. These are designed to hold trekking poles for hiking. The Nathan is reflective to make it safer for running at night. On the back is a shock cord that you can use to store more gear.
Although the Nathan is meant to fit snugly, some users have said that it did not fit them at all. Users who were extra tall with wide shoulders sometimes said that none of the sizes fit them. This product might be best for users with an average height and build.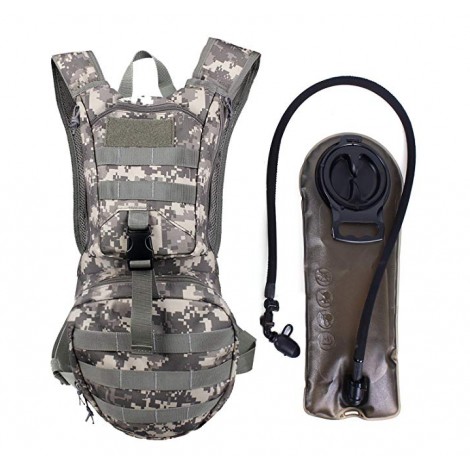 The Unigear Tactical has an included hydration bladder that is free from BPA. The bladder can hold up to 2.5 liters and it is specially designed to keep your water cool with a foam sleeve that provides insulation. Plus, it has a large opening where you can add ice cubes if you choose to. The bladder is also replaceable in case it wears out or if you prefer a different kind of style or size.
The Unigear Tactical has chest straps to keep it secure, and the buckle on the chest strap doubles as a whistle that you can use in emergency situations. The back panel has a comfortable foam pad and is also thermal regulating. Even the padding is made to ventilate heat. The material of the Unigear Tactical is made out of rugged and thick polyester. It resists tears, scrapes, and snags. The lining is made out of PVC.
The hose connected to the water bladder pack is hands-free. The end of the hose is connected with a 360-degree swivel so that you will not have to turn your head to use it. It is also covered with a dust cover to keep out dirt when you are running in dry conditions. The bladder is made with material that prevents any fungus from growing inside and making the water slimy. A special front pocket is designed to carry your keys, phone, and wallet. The straps for the shoulders and the chest are adjustable. Although the Unigear Tactical is made for adults, it can also be adjusted to fit kids. The Unigear has lots of pockets on both the top and the bottom. There are mesh pockets and pockets sealed with velcro. The Unigear is designed to sit low on your back for minimal wind resistance.
Some users received a defective product that had trouble with the seams on the bladder leaking. This brand of water backpacks does offer a 60-day money back guarantee in case this happens. Another problem some users have experienced is getting a bad taste from the water in the water bladder. Some have said that you can fix this by washing the bladder pack thoroughly with soap and water and letting it sit overnight. Others have made a lemon juice and baking soda solution and used that to clean out the bladder. Still, it might be best never to let water sit for long periods of time in the bladder. You should empty it before storing the bag.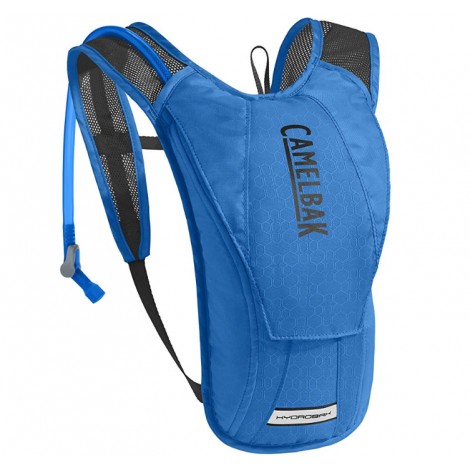 The CamelBak HydroBak hydration pack is designed especially for cyclists in mind, though it can certainly be used for any type of situation or sport. It is a more minimal design meaning it does not have as many pockets or storage as some models, but it is much smaller and more lightweight for convenience.
The harness on the CamelBak hydration pack for cyclists is made completely out of mesh for maximum breathability. The water bladder has easy external access at the back. This allows you to refill it without taking it out of the pack. The hose has an on/off switch on the end which prevents leaks. It is simple to operate. You simply flip it back or forth to use it or secure it. There is a painted on indicator so you can tell which way is on and which is off. The water bladder can hold up to two hours worth of water. That is to say, it holds the right amount of water to keep you fully hydrated for two hours of cycling. If you are doing a different activity, this number will be more or less depending on what you are doing. The water system is designed to allow you to get big gulps of water so you can hydrate fast and with less effort.
When completely full of water, the pack weighs about three pounds. Although the product does include one extra zippered pocket for valuables, some users say it is tiny in size and can't hold phones that are very large.

4

. Mubasel Gear Hydration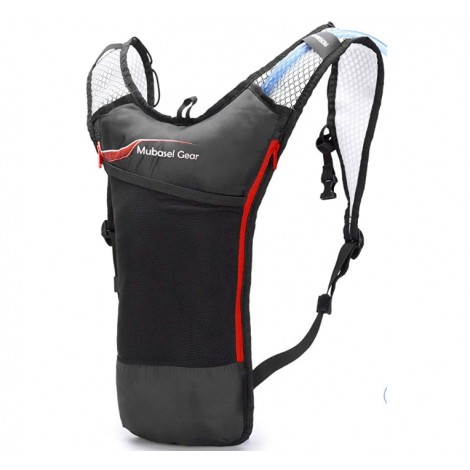 The bladder pack in the Mubasel Gear is completely food safe and has been approved by the FDA. The hose features a protective cap that is attached to the end of it. The other end is attached to the bladder with a quick release joint. It is easy to take off or to connect it again.
The Mubasel water backpack has a large opening on the bladder which allows you to fill it quickly, but it also gives you access for easy cleaning. The brand offers to replace the bladder for free should it have a defect or simply wear out. The exterior of the Mubasel is actually waterproof so no water will get in or out. If you are running in the rain, this is a good feature since you do not want the possibility of rainwater contaminating your drinking water. It is also a great feature if the bladder springs a leak. The exterior then acts as a second line of defense and will hold the water in. The bladder is very strong and can withstand up to 132 pounds of external weight placed upon it. This means that it can double as a comfortable pillow when you are camping. There are reflective surfaces at the top of each of the shoulder straps, but they are very small and will not give you a great deal of visibility when running in low light situations.



The Osprey Duro hydration pack has several pockets, each of which is thoughtfully placed to be in the ideal location for holding snacks and other gear. There is a slash pocket at the front which allows you to carry your phone within easy reach.
The Osprey Duro has a magnet near the sternum which allows you to attach the end of the hose so it does not bounce and so it is within easy reach. This also makes it easy to un-attach and attach. This way, you will not have to fumble with clips or loops. The inside of the water backpack is lined with mesh that is soft to the touch and prevents chafing or skin irritation. The lower sides have straps that are adjustable and allow you to customize the tightness around your waist. There are several customizable options on the Osprey. These include dual chest straps that are removable. The pockets are stretchy so that they keep your gear secure and are somewhat expendable. Something users have noted is that the Osprey Duro is prone to sloshing or shifting when full of water. This usually is not a big dealbreaker, but might be a little annoying especially if you plan on running over long distances.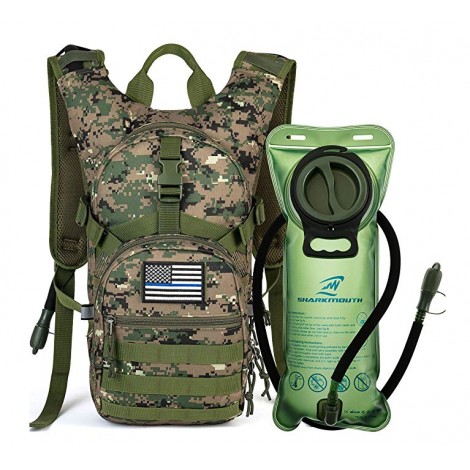 The Sharkmouth hydration water backpack is one of the largest products on this list in terms of both overall storage and water capacity. The water bladder holds up to two liters, and it is stored in an insulated bladder that fits into an insulated compartment for double insulation to keep the water cold for longer. The insulated compartment is lined with an aluminum foil material which helps keep the water cool for up to 4 hours.
The Sharkmouth can carry a whole bunch of gear. It uses the MOLLE system for storing even more supplies, and there are a bunch of inside pockets with dividers for organizing them. While not completely waterproof, the outside of the pack is at least water resistant. If you plan to use this in the rain, you might want to consider putting your phone and other valuables into a plastic bag to keep it from getting wet. The shoulder straps are padded for better comfort. The end of the water hose has an auto shutoff valve. The Sharkmouth comes in several different colors including green digital camo, plain green, blue camo, red camo, tan camo, and plain tan. This product would be fine for running and biking, but since it is so big, it might be even better suited for activities such as hiking. Inside the back pocket is a clip for holding your keys. Users have reported that using the Sharkmouth does not make water taste bad, and it also does not have any problems with leaking. Something some users did not like was that the valve on the end of the water hose can wear out and start to leak which will make it very hard for you to get a drink since air will seep into the hose.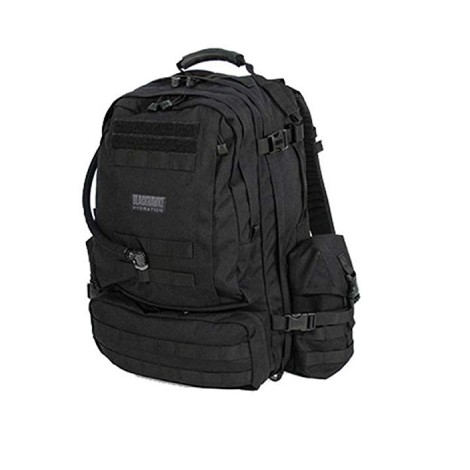 The Blackhawk Titan water backpack is available in either all black or olive green. It has a ton of storage with lots of different sizes of pockets and plenty of options for keeping your gear organized.
The Blackhawk Titan holds the most water of any of the models on this list. It includes two interchangeable hydration pack bladders, and the pack can hold up to 100 ounces of water at a time. Users have said that with so much capacity, the Blackhawk is very heavy. It is probably best for those who are in good shape and who need to take a lot of gear with them. It might be a great option for camping or for hunting. The bladder is antimicrobial to prevent germs from living in it. There is a plastic backplate that prevents internal gear from pocking you in the back.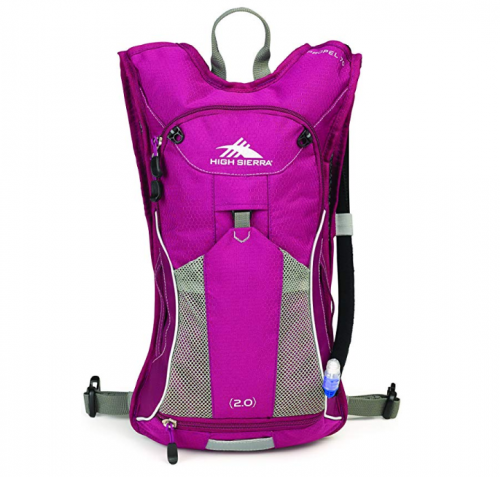 The High Sierra Propel hydration pack is a great option for biking since it has a special expandable mesh flap for holding a helmet. This flap can be tucked away when it is not in use.
The High Sierra has a sleek shape and a close to the body fit. The water tube is insulated which prevents it from freezing. There are elastic loops positioned around the High Sierra for holding the water tube in place. The water backpack has a special strap system for attaching it to a larger backpack. The product wicks away moisture on the backplate and the shoulder straps, and it has a place to attach a blinking LED light. One detractor is that the High Sierra does not have a chest strap. Many users consider chest straps to be a necessity to prevent the pack from shifting and to keep the weight higher on your back.

9

. Mubasel Gear Insulated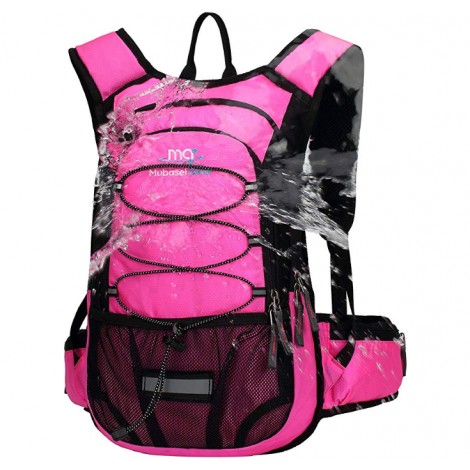 The Mubasel comes with a brush attached to a cord which you can use to clean the inside of the water tube. The bladder is insulated and keeps the water cold for up to 5 hours. The bladder is also self-drying so you do not have to open it up and dry it yourself.
There are two hip pads which not only make the hip strap more comfortable, but they also offer added storage. Each side has a zippered pocket. The Mubasel comes in lots of fun colors like blue, emerald, fuschia, gold, gunmetal (gray), navy, olive, orange, purple, red, and wine (maroon). The fabric is soft and comfortable, yet durable. Several users have received defective products that have a water tube that does not work properly. These users have reported an excess of air bubbles in the tube which makes it extremely difficult or impossible to draw water from it.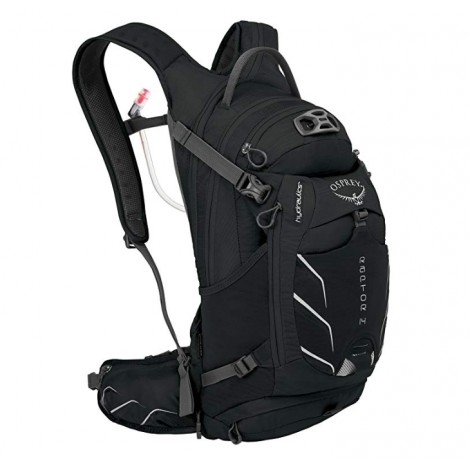 The Osprey water backpack comes with a roll-up tool organizer pouch. This is great for carrying common tools needed to repair bicycles so that you can fix any breakdowns while out on the trail.
The bladder is internally designed in such a way as to prevent or at least minimize the water from sloshing around too much. The Osprey has a frame sheet made out of foam. This is to help distribute the weight evenly across your back. The bladder can carry up to three liters of water. One complaint users have had is that the pockets are not very easy to reach and that the internal compartments are not very well organized.

Subscribe to our Newsletter