Best Dexter Shoes For Hitting The Bowling Lanes Reviewed
last updated:
Jul 22, 2019
Dexter is the number one option in the world for the sport, and their designs guarantee to help improve your game and give you that much-needed edge on the floor. This American brand makes it clear they have the values to match, so with that, their products are following high criteria, maintained and kept all over the years. Heavily influenced by age-old tradition in the industry, Dexter has a classic attitude with a revolutionary execution and their designs are innovative in the technology they utilize. Lovers of the sport of all ages and skill set to flock to Dexter's brilliantly engineered bowling gear.
This is the best product on our list that is currently in stock: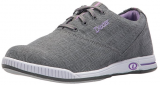 Kerrie
Why is it better?
Cool Cotton Upper
Classic CVO Pattern
Removable EVA footbed
Defined Heel
Breathable Side Vents
Slide-Rite Sole
In a
Hurry? Editors choice: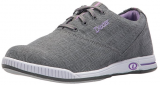 Test Winner: Kerrie

22
Researched Sources
1563
Reviews Considered
20
Hours Researching
Comfort
Heel
Stability
Style
Versatility
By Default
Top 10 Picks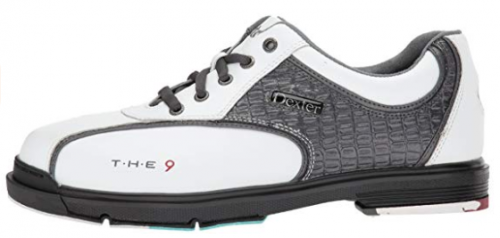 Ambidextrous Construction
Innovative New Toe Hold
Various Removable Track Pads
Interchangeable Heel and Sole
Retro Look
Goodyear Rubber Soles
Runs Size Large
No Additional Slide Pads
This option gives the look of the classic saddle shoe, with white and black details that look retro but still current. The 9 is equipped with toehold hyperflex engineering. Hyperflex allows for abrasion resistance, as well as swapping out whenever it needs replacing. The replaceable parts of the 9 make it a long-lasting favorite, able to have parts replaced like a car needing maintenance.
The Hyperflex has two stress points, which provide the bowler with an insane level of comfort and flexibility, but without running the risk of cracking and ruining the sole. A convertible model for both left and right handed bowlers, the 9 would be at home on the feet of professionals with either preference. A full-grained leather upper is soft and supple, with an embossed-like pattern on the black side panels. Quite striking for a sporting shoe, no pun intended.
Coming with multiple removable elements, such as a slide pad, traction pad, and assorted specialized interchangeable pads for both performance, convenience, and longevity. The attachments are able to be worn on either side thanks to Dexter's patented symmetrical rug of their footwear. Their toe hole system is designed to fight the drag and peeling that often occurs due to wear on the shoe.
A removable sole and toe-hold mean that the 9 will outlast any pair, as it doesn't need replacing due to toe or sole wear. This is an industry first and reaffirms Dexter as the company to look at when considering any style of shoe made for this purpose. Compared to other designs, this pair is available, T.H.E. 9 is definitely a bit expensive, however, with the interchangeable parts and ability to maintain rather than replace, the amount you're actually saving is unparalleled.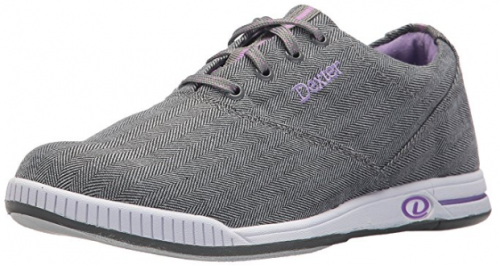 Cool Cotton Upper
Classic CVO Pattern
Removable EVA footbed
Defined Heel
Breathable Side Vents
Slide-Rite Sole
Narrow in Front
No Toe Protection
A gorgeous choice from their Comfort Canvas collection, the Kerrie has a soft, grey upper that perfectly compliments the more delicate shape of its upper. The herringbone type pattern is super current and fashionable and adds an element of uniqueness without being showy or garish. The cool cotton upper is breathable and extra lush, so if you work up a sweat, it'll be guaranteed to come from your phenomenal work on the lanes.
This Kerrie's cotton upper combines the padding in the collar and tongue, so you can expect that same pillow effect when wearing these as other synthetic Dexter options. Precious little lavender accents contrast the white sole and the grey fabric upper. The pattern for this shoe is a classic UVO design, so it doesn't look like your typical option, either. The Kerrie is the perfect opportunity to flaunt your skill and impeccable taste in footwear.
Featuring a molded removable blown EVA footbed, you can opt for your own personalized comfort addition, or be ready to go right out the box. The non-marking rubber outsole has a defined heel which provides for your arch without being the standard raised look. The Kerrie is designed similar to an athletic sneaker and its subtle details make for a super sporty look.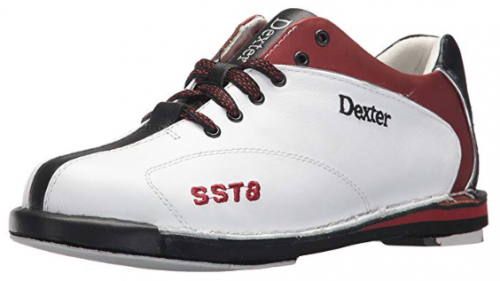 Interchangeable Heel and Sole
Ambidextrous Construction
Removable Track Pads
Includes Slide Pad
Down Stitching
No Additional Toe/Heel Pads
A sleek update to a style previously in Dexter's SST 8 series, the LE is simple but with black detailing on white, and an accent of burgundy. The high-performance LE is right or left convertable and has the iconic replaceable sole that sets Dexter apart from other brands. Truly a great pick for any bowler looking for an updated option. With embroidery showcasing the brand and line, the small details set off this smooth operator.
Their toe drag protector will stop slide sole peel back, and unnecessary additional wear from your time at the lanes. The threads use a stitch down method to prevent against snags or pull on any of your seams. The SST 8 LE also comes with two shoe protectors and a parts bag, to keep the premium parts of this shoe together and looking lovely.
Dexter maintains a consistently attractive stylized look, which depending on your level of maintenance, can truly last. The cost of this shoe is slightly expensive, as it is a long lasting option with interchangeable parts and pieces to have you performing your best. However, it is justifiable, with the additional replaceable pieces, you don't need to replace the leather body of your shoe when the sole or toe begins to wear. These are an investment for years of play.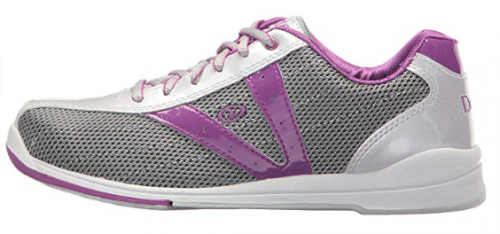 Fun Colors
Mesh Breathable Upper
Pearlescent Accents
N8 Microfiber Slide Pads
U-throat Upper
Horseshoe Heel
A fun violet option, this Vicky is soft yet durable and has a more casual look to it than the more traditional leather options. The Vicky is fully lined and padded, for the bowler who wants to feel as good about their feet as they do their performance. Pearlescent white details add a delicate element to the grey mesh and purple upper. Dexter is known for their fashionable approach to styles for any gender, but these are designed with a bit of feminine flair.
The Vicky has a U-throat upper which provides a custom fit for the bowler flaunting them at the lanes. It can be hard to find a performance option that is this cute, so when you do, you definitely want them to fit to a tee. Both shoes have an S8 microfiber slide sole, to perfect your hook ball with ease. As always, Dexter added a non-marking rubber outsole that features a super defined horseshoe heel.
The Vicky is priced lower than some athleisure footwear varieties. The manmade materials significantly cut the cost as opposed to leather options, without dwindling quality. With all the basic amenities of a great design at an affordable price, this option is a standout for beginners or those partaking purely for love of the sport as opposed to more professional ventures.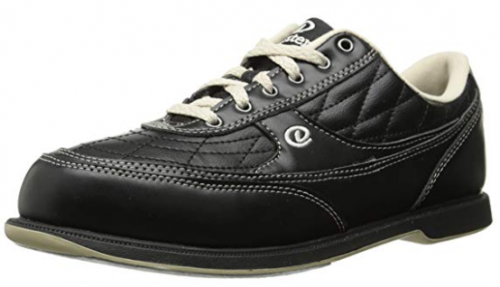 Generous Wide Width
Sharp Oiled Black Upper
S8 Microfiber Soles
Raised Heel
Convertible Sole
If you struggle to fit in most standard picks, look no further, the Turbo II wide will accommodate your width with ease. This style is all black, with a leather appearance, however the upper is man made. The quilted pattern with khaki stitching and trim make for a muted but sharp pair of shoes. The Turbo features the patented universal sole, and a raised heel. Without knowing any better, some may even think you have on a dress shoe!
Similar to other man made options from Dexter, this is fully lined with soft fabric and padded for the wearer's comfort. Equipped with the S8 microfiber soles with slide pads, you be sure to nail any play the game rolls at you, maybe even hitting that Big Four! With a white stitched Dexter logo, you can appreciate the brand in a subtle way that adds to the overall aesthetic of your footwear.
As per usual for Dexter the Turbo II utilizes non-marking outsoles as well as high quality sole materials. Consumers love this Turbo II, the padded collar and tongue give a luxe feel, and the construction can accommodate even the widest of feet. Many shoes designed for sports won't have widths available to fit the spectrum of sizes of an athlete's foot. The Turbo II can fit up to a 4E in width. Never feel pinched on the lanes again, unless you're bowling you're last frame of a clean game.
6

. DX22551 100-P Pro-AM II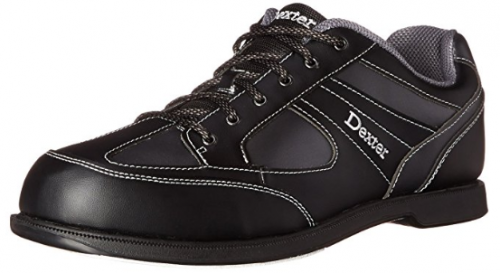 Padded Tongue and Collar
Slide Pad
Raised Heel
Sophisticated Look
Blucher upper Pattern
Hand stitched and high quality, the Pro-AM is a flawless choice for the bowler trying to perfect their skill. The upper is man-made and durable with a custom fit construction, so it will feel tailored to your foot. That is the benefit of its Blucher upper pattern, it truly does make a custom fit possible. Old-timers of the sport and newbies alike flock to this raised heel, rubber-soled beauty.
The cushioned inside and sleep outsides come together in perfect harmony. If you were looking for a sophisticated option, spare yourself the trouble and look no further. The Pro-AM exudes a mature feel, and the padded collar and tongue will envelop your tired feet to make sure you are playing your best until the very last frame.
The S8 slide sole and sturdy rubber make for a solid base that is ready for anything. The horseshoe heel is defined yet light, and won't trip you up or weigh you down. Only one side has a slide pad, the other is all rubber, this allows for you to show off any of your moves when bowling your next strike. Lift in the heel provides a reprieve for your arch, and moderately priced, this is a good middle of the road option that won't break the bank, or more importantly, your back!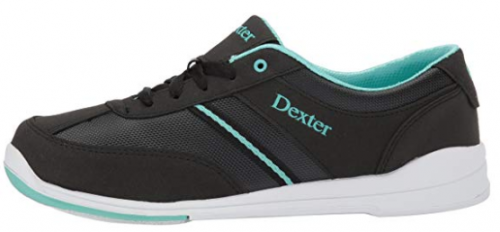 S8 Slide Pad
Allover cushioning
Low Collar
Tennis Sneaker Look
Horseshoe Heel
Most choices available consist of a higher collar and a more structured look, but this Dani is a low profile pair that is as cute as it is easy to wear. The low collar allows for easy on and off, and won't restrict any of your movement. With electric blue contrast on the black mesh upper, this Dexter gives almost a running sneaker feel, but they're ready to handle whatever the lanes throw at them.
With the non-marking outsole and horseshoe-shaped heel, you get the foot feel that you are used to, but in a product that will improve your form. The horseshoe heel might even give you enough of a stroke of luck for a Clover! The interior is still fully padded although it is a low rise back, and the classic U-throat upper pattern will give you a secure feel regardless of the rise.
With an S8 microfiber sole and durable heel, you can count on the Danis to perform your whole season. Moderately priced, if you are looking for something to wear for sport, this is a great option. The Dani is soft, so it won't protect your toe like a hard rental might, so it does require a little more care in terms of ball handling. Otherwise, this is a great affordable option that is disguised as a cute little sneaker!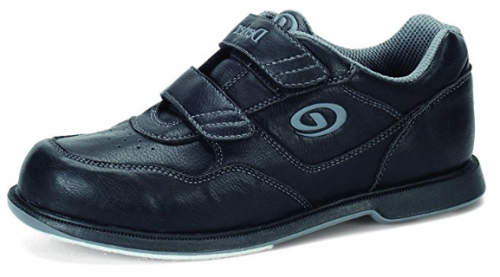 Easy On
Custom Fit
Raised Heel
Ambidextrous Slide Pads
Cushioned Upper
Contoured Foot Bed
Evocative of the rentals you have no doubt tried on at your favorite local alley, the V-strap pays close attention to form and function. The hook and loop strap makes this the easiest option to take on and off. Great for bowlers who are eager to hit the lanes without fuss. The hook and loop strap also provides a customized fit due to its adjustability. The black and grey design is subtle but still sleek, this is a good choice for more modest dressers.
A very secure option, the V-strap has sliding pads on both left and right, so it can be utilized ambidextrously regardless of the bowler's preferred hand. The V-strap is ideal for less nimble bowlers, allowing a more accessible experience for those who struggle with mobility but are still up for a game. Not only are they easy to wear, but they are extremely resilient. These will stay together and feel amazing frame after frame, which is really all you can ask for out of a pair of shoes.
The cost of the V-strap is moderate, slightly higher than a beginner option, but still won't break the bank as a pro pair would. Casual bowlers will love that the V-strap is so soft and durable, every inch hugs your foot when you adjust the strap accordingly. Bowling shouldn't start out with strain, so any choice that takes some of the labor out of preparing to dominate the floor is not something to scoff at.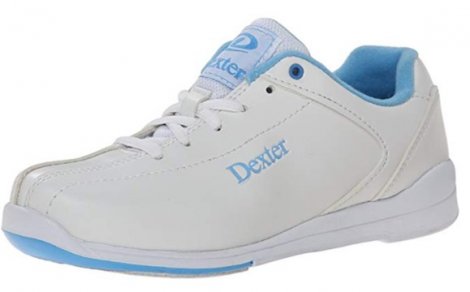 Horseshoe Sole
Slide Soles
Gym Shoe Fit
Non-Marking Outsole
Sizing Runs Small & Narrow
This crossover pair features great design for bowling, but also gives the feel and comfort of a sneaker. Made with non-marking rubber outsoles in a horseshoe heel design, they help your performance in the sport while still giving a great on-foot feel.
Slide soles don the base of the Raquel IV, and a man-made upper of soft durable material keeps the shoe light, flexible, and comfortable for longer bouts. Lace up with custom stitching allows for a firm yet adjustable fit, while a padded collar provides ample cushion during use.
Made for both beginners and more advanced alike, it's a great all-around simple design for hitting the lanes. White with blue collar or pink is available, keeping the style simple, but with plenty of features to help you perform your best!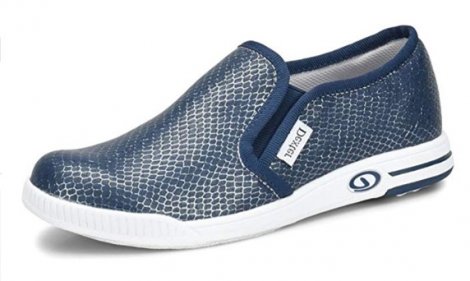 Versatile Wear
Side Goring
Slip On Ease
Universal Soles
Fashionable Print
No matter if you're just starting out, or perhaps want something casual for the bowling lanes, the Suzana can fit both bills for function and an easy-going look and feel. With a beautiful snakeskin print on the lightweight upper, it's breathable, fashionable, and easy to wear on and outside of the lanes.
Slip on styling makes this pair easy for use, keeping a comfortable design. Side goring allows for flexibility for proper fit, without feeling too snug or loose. A lightly padded collar adds to the cushioning, preventing blisters.
Universal soles make this pair versatile for wear. Take them to the lanes and bowl with friends, and then step out for an after match happy hour. Fabric lined, the Suzana maintains a breathable, comfortable fit for those on the go.
Criteria Used for Evaluation

Comfort
If ever you need new footwear for some kind of sport or leisure activity, there is one very specific factor to consider: comfort. Shoe rentals tend to be barebones and a bit roomy, especially bowling shoes. Often running a few sizes too big, and limited in what rentals are available, many bowl in a pair that really doesn't cut it, which can cause not only foot pain, but also a shoddy performance in every frame.
Paying close attention to soft features and comfort details, we selected bowling options that are molded to the foot, adjustable, and downright to die for. Most styles here are synthetic, offering a breezy and breathable upper to keep you cool even when you're on fire in the bowling lanes. Slide all you want, but you should never have to drag your feet when putting on a quality pair of Dexters.
With padded tongues and collars and supportive soles, all of our picks will treat your feet like royalty. The slight heel on every choice ensures that your arch is cradled and supported, and you don't have to run around looking for an insert or tearing the insoles out of your brand new bowling shoes. Practical and smart, Dexter has one goal, and that is to create contemporary classics that you will love to play in.

Heel
If you are a casual bowler, you may not yet know or understand the purpose of certain mechanics in a shoe. When you see all the features of interchangeable soles and heels or slide pads, you may wonder what that even means, and if it is really important anyway. I am here to tell you it is more than important, it is crucial.
One of the first lessons of bowling, is discovering what your style is, and how much control you want over your form when releasing the ball. Slide pads allow for the foot to slide gracefully behind you when releasing the ball, but the heel actually greatly affects this mechanism. For more slide, you want a slight heel on your footwear.
The way that this works is that the heel adds an incline to the foot. When the foot is in this position, there is more thrust and momentum encouraging the foot's movement. This creates a scenario in which the heel aids the glide. Heels are integral to encouraging your newfound style or perfecting your already established bowling moves.

Stability
As mentioned in the comfort portion, many of our top picks are very cushioned and padded. While this obviously makes for insanely comfortable bowling footwear, there is another added benefit that isn't so well known: stability. Bowling requires a high level of stability, and that is achieved by a snug and supportive fit all around the foot.
You might wonder how exactly this makes a difference, but it really is a pretty simple explanation. When on the bowling alley, you have a pretty clear form and style your body relaxes into upon releasing the ball. While technique and experience certainly matter, a lot of what cements a great game is how well equipped the player is, how well the approach is maintained, and how your bowling shoe fits both your foot and your style.
A design that fits snugly, and holds your foot firmly in place, will enhance your balance on the approach before releasing the ball. More balance, more control. An aspect often overlooked in sporting events, including bowling, is the environment and qualifications of the things within that environment. A strong foundation and solid balance vastly improve your release of the ball and control of its path.

Style
Now, we get to talk about the fun part. Bowling styles are extremely unique, and sometimes downright garish, so when looking for a practical option to wear this season, paying attention to style is a must. Due to the sometimes very bright, colorful, and tacky shoes available as rentals, most of us know the nightmare that can sometimes be the standard style.
Luckily, we have gorgeous updates in bowling footwear that have been provided to us by Dexter. Look to different textures, fabrics, and soles to make a statement while still getting the features you need. A light, breathable upper both looks sporty and fun and keeps your foot cool during tense bowling competition.
When considering your first pair of bowlers, you may want to consider the commitment you have to the sport of bowling itself. There are a couple main options when looking at the pair best suited for your needs. Our list features both athletic and competitive styles, and I will explain to you how these two differ.
Athletic styles are reminiscent of a running shoe, or a cross trainer. Think of any athletic sneaker, and you'll have a pretty close image as to where the inspiration for this design originated from. These are lighter, and often have dual sides of slide pads, as well as less overall bulk to protect the sole and toe. Professional series picks are usually not man-made, but rather leather. All of their functioning sole bits are generally interchangeable, and they are hyper customizable, which brings us to the versatility of a shoe.

Versatility
Versatility isn't so much necessary on every athletic choice, but for professional choices, it is integral. Every bowler is different, head to toe. They all have individual quirks, styles, and executions. So it makes sense this is not a one-size-fits-all situation. Our favorite picks have multiple additions and features to remove, and specialized uppers that make every fit feel custom.
Options here utilize U-throat, which is a portion of the upper around the lacing section. This design fits close to the foot, allowing for a comfortably snug lace, rather than any buckling of the shoe or strain on the fabric. It is also attractive, and durable because the base of the tongue meets the lacing section in a natural way, rather than tying together three separate pieces.
Another method that makes this possible is Blucher uppers; this is when vamps are all one piece, making a seamless beauty from start to finish. Often likened to a derby style, this is a way of crafting that makes a very specific fit for the wearer. Velcro V closures offer another means of personalized comfort.
Expert Interviews & Opinions
Most Important Criteria
(According to our experts opinion)
Experts Opinion
Editors Opinion
Users Opinion
By Default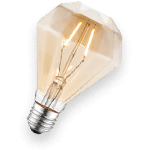 Did You Know?
The largest bowling center in the world is located in Japan.
Your Golden Goose
... Er, golden turkey, actually. If you bowl nine strikes in a row it's called a golden turkey! Isn't that funny? Gobble, gobble!
Other Factors to Consider

Durability
Any shoe used for sporting needs to hold up against some extra wear and tear. The Dexters on this list have reinforced stitching, rubber soles, and slightly raised outsoles to protect against snags.
The super flexible soles move with the feet to prevent cracking, guaranteeing a long wear for whichever style you choose. Some of these even have interchangeable elements, which take the pressure off your shoe's lifespan, because places that wear can be replaced as needed. If you are looking at sport-specific footwear, you want to go with a trusted manufacturer, and for footwear that lasts, Dexter is pretty much the go to.

Bottom Line
Without fail, Dexter has proven time and time again to be a name we will be seeing for years to come. Cornering 75% of the market, they are famous for a reason, and their reputation in no way precedes their skill. There are only so many brands in the industry, and even fewer you can trust, but with Dexter, you are sure to be in good hands.
The hardest part of choosing now is figuring out what best fits both your fashion style and your game-play style. Will you choose a professional pair? Guaranteed to carry you through season after season, giving your skills the edge they need? Or will you venture into the world of frames, lanes, and 15 pound balls with an easy to wear athletic style? No matter how invested in the sport you are, there are options here to start your journey and ensure you have a great time along the way.
Frequently Asked Questions
q:

What makes a shoe a "bowling shoe"?

a:

It mostly has to do with the sole. Those shoes tend to have very soft bottoms, both so they don't affect the approach, which is the area before the lanes that gets foot traffic, and they feature sliding pads, which help reduce friction on your ball release. They are meant to be lane designated only, which means to best maintain both the area you are bowling in, and the shoe itself, you should only wear it while in the approach area of an alley.
q:

What is the difference between a professional style and an athletic style?

a:

We touched on this slightly in our criteria section, but the largest difference is generally in the soles. Professional styles generally have a heavily tractioned area, like you see here on our first option, whose sole is made with Goodyear rubber, and a slide sole. On most professional shoes these can be swapped, as well as the heel, but generally speaking, the tractioned sole is the "brake" and the opposition sole is for slide and movement. Professional styles are often heavier in the upper as well.
q:

I am joining a league, how do I know what shoes are best for me?

a:

First off, have a great time! This is a fun sport as well as a great way to get moving. Secondly, if you are looking to purchase as opposed to rent, you are going to want to probably get an athletic option. These are inexpensive, more so than even casual shoes, and though they won't drastically improve your performance, they can help you discover what your style is, and you won't have to worry about sharing them with hundreds of other people. You want to mainly focus on fit and your own personal style here.
q:

What are the benefits of this sport?

a:

Pretty much every benefit that comes from traditional exercising, and then some. Not only can this sport vastly improve your social life, especially league bowling, but it is an engaging physical activity for any age. You can take your family for a fun, active night out whenever you're looking for some excitement. It also helps increase flexibility, balance, and heart health.
q:

Is bowling really one of the oldest sports in existence?

a:

Yes, and if the Romans could try their hand at the lanes, so can you!
Subscribe to our Newsletter