Best Bowling Shoes For Women & Men Reviewed
In a
Hurry? Editors choice: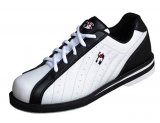 Test Winner: 3G Kicks

The following buying guide looks at the ten best bowling shoes available for purchase online, helping you make the right choice before you spend your hard-earned money on a piece of equipment. We've researched each and every one of the models on this list, and have put together a handy Criteria for Evaluation and FAQ section so that you can have all the necessary information when choosing the best bowling shoes for you.

Keep in mind that bowling shoes can range from those with maximal slide, to those that have more traction, so we've also included images of the sole of the shoe to help you make the right decision for your next pair. Whether you're a casual hobbyist of the sport, or perhaps more advance in a league, we're sure you can find a pair of bowling shoes below to help you in the lanes!
Standout Picks
Criteria Used for Evaluation
Accessories
This is a very important consideration when it comes to advanced-level performance and execution. Once you've obtained an idea of regular shoes intended for bowling, as well as the basic form and technique, you should opt for more customized shoes. It's important to remember that once you decide to advance to professional levels, you'll need equipment to match that level of performance.
Although some bowlers may have similar preferences, they all have a individual style and method of execution. Thus, everyone has varying preferences when it comes to professional equipment. These preferences involve the comfort side as well as the performance side.
For comfort, it's a matter of how you overall feel in your shoes. Some players prefer an insole for more cushioning. Others prefer a flat shoe with a thin sole to feel close to the ground as they possibly can for better balance. While this looks unnecessary, and even silly at first sight, customized comfort is something that can, and will, affect your performance.
If you think about for a moment, the greatest athletes in all types of disciplines had their equipment custom made. Manufacturers would make shoes according to their exact feet size, their material preferences, and their performance. There is a reason why Muhammed Ali had his boxing shoes designed for him, and why elite football players do the same. It's because it makes a huge difference.
You may not be looking for shoes with your exact foot length and width, and that's fine. Our previous example is just to highlight the importance of individual comfort and preference. You can, however, customize your game for performance, by using gear that suits your performance style. One very common example of customization is the foot-dominant design. Most brands will offer options suited for both lefties and right-handed players. Most professional bowlers utilize equipment based on their dominance.
Many players have multiple techniques – they play differently depending on the circumstances. Thus, being tied down with one pair of shoes for all scenarios isn't practical for them, and buying multiple pairs of customized shoes isn't cheap. Instead, they use shoes with removable outsoles. Basically, they consist of outsoles that can be removed and replaced with another. This also serves the purpose of exchanging the left shoe outsole with the right shoe outsole.
Although this technology is considerably costlier than the average bowling shoe, it improves your performance considerably. Removable outsoles allow you to optimize your strategy and practice for pretty much any scenario. It also makes the shoes much more durable, as the outsole is the element that degrades that fastest. This allows you to replace parts of the shoe that are worn, instead of replacing the entire shoe.
Outsole
The outsole is the key element in a pair of footwear made with bowling in mind and is what distinguishes a professional and amateur pair of shoes. Usually, bowling outsoles are completely flat, however, some designs may feature a heel that's slightly raised. The outsole surface varies from model to model, and in professional performance, they're often different from one another (right outsole and left outsole).
This is because the outsole surface of your dominant foot features a different build than your opposing foot. Your dominant foot's shoe aims at sliding, and the opposite one aims at braking. We'll enter into further detail about sliding and braking later into the guide. Keep in mind that regardless of what your dominant foot is, the sliding and braking ability depends on the outsole design.
For instance, outsoles equipped with a raised heel provide slightly more sliding than that of flat outsoles. This is because the heel provides inclination to the outsole, making momentum and impulse help you slide forward. Keep in mind that going for too much slide is not the ideal thing to do either – you want to maintain control of your motion as much as possible.
Your foot dominance is also something to take into consideration while looking for the best shoes. If you're a dedicated player, you'll want to make sure that your shoes support your performance. This means that your shoes should have opposing outsoles like we explained previously. One foot will slide, while the other outsole will be responsible for stopping the slide.
Opposing outsoles are considerably costlier and are usually only used on professional level equipment. Hence, you might reconsider this feature if you're just looking for a casual kind of thing. In this case, you can get a universal shoe which has matching outsoles, and depending on the manufacturer they may feature a brake on the back of the heel of both shoes.
If you're getting started in bowling, but eventually want to take the leap to professional shoes, we recommend getting used to universal designs first. Once you've learned proper practice of the approach, the slide, the brake, and the throw, you'll be ready for advanced performance shoes. Making the switch too soon may make it harder for you to learn the proper technique.
The outsole materials in most cases consist of materials such as rubber, synthetic rubbers, and certain types of fiber. The materials that cover the outsole surface prevent you from moving any more than you actually want to. They are specially engineered to deliver accurate and firm steps, preventing any form of slippage or drag while building the approach. This type of materials delivers unique traction.
A bowling shoe is mostly judged by the quality of its outsole. However, there's a lot of controversy regarding the "ideal" outsole design. This is because the topic is very varied due to personal preferences and the many different styles of bowlers.
Upper
Aside from the ability to exchange soles, it's important to know which sole to use during specific occasions. For this, you'll need to learn what the different types of soles are, how they're different from each other, and how each one works. Exchangeable outsoles are of very little use if you don't make good use out of them. Having the right sole at the right time will boost your performance. Wear a wrong one, however, and you'll watch your performance decrease.
The soles are categorized based on their ability to slide. They are graded from 1 to 10 based on this; where 1 is the lowest value, and 10 is the highest. Depending on the type of lane, the game mode, and the weather, you should adjust your shoes for more or less sliding. In most cases, it is the lane condition which determines the amount of slide you should use.
For instance, in circumstances where the weather is warm, you should be opting for more slide. Typically, warm weather makes the surface of the lane drier, and thus less susceptible to sliding. Hence, under this circumstance, it'd be wise to increase slide considerably, perhaps up to 10.
Cold weather, on the other hand, make the lanes much more slippery. The colder the environment, the less slide your shoes should have. Always keep in mind the amount of slide you as a bowler are comfortable with. For example: in neutral circumstances where no factors affect your sliding, you would set your sliding to 3. If the environment is mildly cold, you might switch it down to 1, as the weather will provide you with the other 2-3 grades of sliding.
The physical state of the approach lane has a big impact on sliding. The smoother the lane, the better the sliding. While competitive bowling alleys properly prepare their lines prior to a competition, regular alleys may not. Deterioration and degrading of the lane will interfere with sliding.
Use
The approach is the process of walking up to the foul line before releasing the ball. Walking up to the line is also known as building the approach. Some bowlers argue that the approach is the most important technique in the whole bowling process. While a good approach alone won't make you a decent bowler, it is very important considering it's the first step. If you get the approach wrong, things will most likely just get worse from there.
Building an appropriate approach indeed requires practice. However, a good pair of shoes makes a huge difference. And likewise, a low-quality pair of footwear will mess up your approach. Multiple elements in a pair of shoes have an impact on the quality of the approach. For instance, the outsole quality and materials are crucial to an efficient approach, as this is what mainly differentiates a bowling shoe from a regular one.
You'll require shoes which give you more motion control. The best models have stability features built into them with firm, supportive outsoles, and supportive uppers. The more stable you are, the more precise your approach will be.
Cushioning is one of the elements that can provide you with the added stability you need. You may be thinking that bowling is not the kind of sport that needs cushioning on its performance shoes. However, when you're seeking the most optimal performance, some cushioning can prevent those slight tilts that may put your aim off.
The best shoes will come with a cushioned midsole. However, the cushioning in this type of shoe is not the same as what you'll find within a running sneaker. The footwear you use for bowling has midsoles which are much thinner in comparison to most other sports, and they don't deliver as much absorption. Instead, they aim to stabilize each step by acting as a platform.
If you can't find the right cushioning in a shoe, or you suffer from foot irregularities (high arch, flat foot, etc.), you can always resort to custom insoles. Personalized insoles are an ideal solution that provides what you can't find in a shoe. For instance, if you feel your shoe lacks some heel cushioning, a custom insole can make it happen without having to acquire a new pair.
Lastly, stiffness is a key point for stability when it comes to bowling. If you've ever owned a pair – or tried rental shoes at the alley – you noticed they are stiffer than your average pair of shoes. The upper build features a hard material that isn't too flexible; this is to provide a more solid structure. Because of this, it's harder for your feet to swing laterally while building the approach.
Advanced Features
We previously mentioned these two terms in the approach section of our criteria. The sliding and braking motions are heavily accomplished by the outsole. Although these two features are separated in professionally designed shoes, most designs make soles without separation. This latter is used by beginners most times, and is less optimal than the professionally crafted bowling shoe.
Sliding when bowling happens right after the foul line has been approached. Once bowlers have their approach, then lean to release the ball, they slide. Each player uses a different distance of slide as they perform the release. Sliding allows you to keep your fluidity to release the ball as accurately as you can.
For instance, after approaching, some bowlers like to slide to the foul line prior to release, as close as they can possibly get. Professional shoes allow users to implement the brake to affect their sliding. Sliding isn't an easy thing to master, but one key thing to remember is that it's important to remain in control.
Not everyone goes for the same amount of slide – or the same style. It's important that you look for a shoe that's comfortable for you to slide with. Although they may all look the same, the design of outsoles can vary greatly. Depending on the brand (and model) you'll be looking at more slide, less slide, or no slide at all.
On the other hand, if you're a planter you should be looking for a flat outsole. The best shoes include a planting feature, which usually consists of small slugs on certain zones of the outsole. When applying pressure to this zone, you'll instantly stop the current motion with no sliding at all. Keep in mind that the shoes will do the functional part for you; however, maintaining proper balance and technique is a matter of practice.
Lastly, regardless of the type of technique and shoe you employ, there's one huge factor to consider: obstacles. The outsoles used on footwear made for bowling are extremely easy to disrupt, as the materials, as well as surface, can get dirty with almost anything. For both sliding and planting, it's very important that the outsole is properly polished and totally free of any objects on it. Likewise, the approach has to be adequately treated in order to achieve the most optimal performance.
Shoes intended for bowlers are more delicate than you would normally think. The only place to wear them is the alley. The outsole of these shoes is not made for any other surface, and not only will it degrade on other surfaces, but they will also get dirty. The dirt that obstructs the outsole is not always visible, and any kind of oil or grease absorbed by the outsole will mess up your sliding ability.
Bowling Shoe Reviews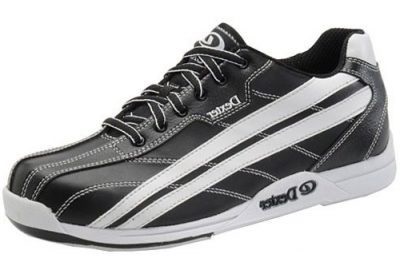 If bowling is your passion, then the Dexter Jack are the bowling shoes for men you must own. These have a lenient and resilient man-made upper with a lace to toe closure that will allow for a fully customized fit you'll be able to easily adjust. Additionally, they feature a non-marking outsole with a defined horseshoe heel and are a pair of universal bowling shoes which makes them great for anyone.
Slide-Rite soles based both the right and left shoes, which are designed to promote sliding. As such, the Dexter Jack will be a good choice for a large number of people, seeing that it will compliment any style of slide for a particular player. The Jack has a comfortable padded tongue and collar. These help to reduce any irritation, and protect against any lacing pressure upon the top of the foot.
The Dexter Jack can be bought at an excellent price which ranks average on this list. That is what makes it a great investment for bowlers of any experience level. Additionally, they are comfy, padded and have a classic style that will look just as well as it will perform.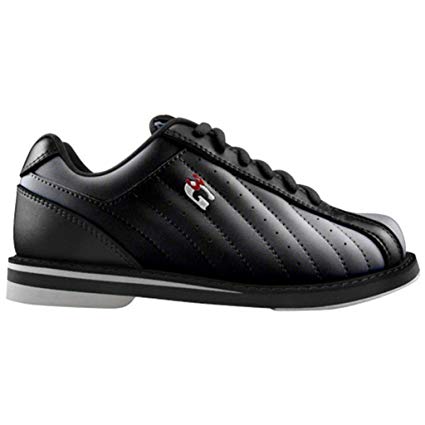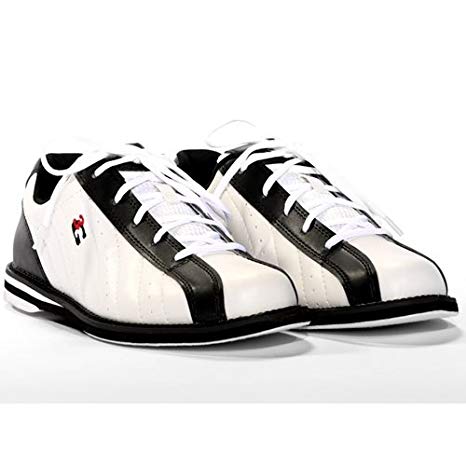 3G is another great brand for picking up your new pair of bowling shoes. With four top models that range in stiffness, texture, and slide, we think their Kicks line of footwear is perfect for beginners or those who prefer a little amount of slide. A flat universal slide on both shoes allows for slide as well as some traction for your approach. It's great for beginner and casual bowlers, and at a price tag that's hard to beat.
One of the nice features about the Kicks is some of the attention to smaller details, both in function and design. Vents under the arch allow for the foot to breath, helping to prevent moisture and allowing breathability. Color combinations give this bowling shoe a retro kind of style and look, sure to draw the eyes of any onlookers. Supple uppers allow for a comfortable on-foot feel, along with soft liner to give some added comfort and cushion.
Stitching along the uppers shows quality craftsmanship, and helps make the uppers durable for the shoe's longevity. Lace up vamp allows for some adjustability to find the perfect fit for your needs. Perforations in the uppers also allow for even further breathability during wear, so you'll stay cool under pressure. 3G Kicks is definitely a pair of bowling shoes that's perfect for casual enthusiasts, or those newer to the sport!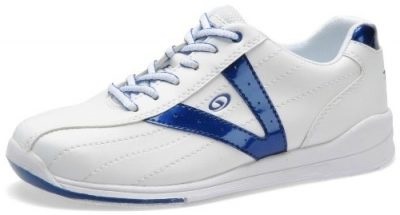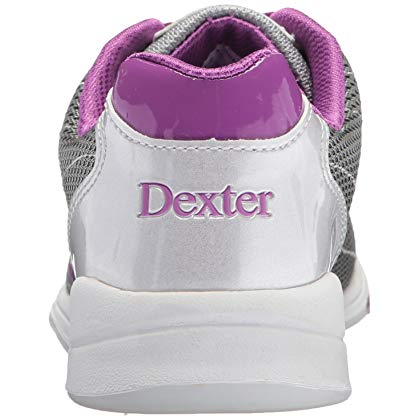 If you want a pair of high-quality bowling shoes for women to use at the alley, but also value lightweightedness, breathability and durability, then the Dexter Vicky is an excellent choice. The fact that they're made by a reputable brand makes them a good choice, and you can rely on them being soft and comfortable throughout the entire foot. These universal bowlers come with some great cushioning properties to provide you with ample comfort while you play.
The Vicky comes with an EVA foam midsole unit which was added to improve the amount of cushioning and shock absorption you get from this model. It's a durable material that will give you a great amount of comfort no matter how long you wear these womens bowling shoes.
The padded tongue and collar on the Dexter Vicky provide the wearer with extra protection from painful rubbing, abrasions, and small impacts. The tongue also reduces pressure from the laces. As most Dexter shoes, the Vicky comes at a reasonable price that will be affordable to most. These women's bowling shoes are a great investment, and you'll definitely appreciate the arch support and cushioning they provide.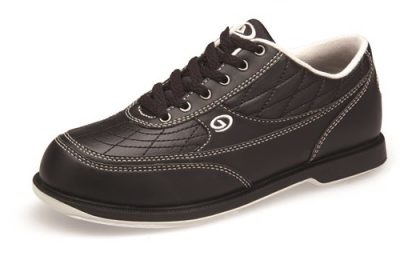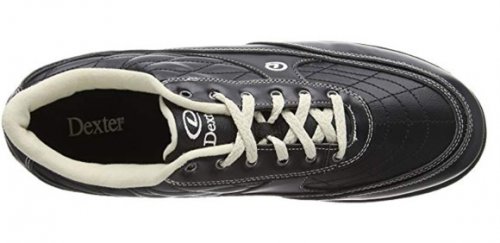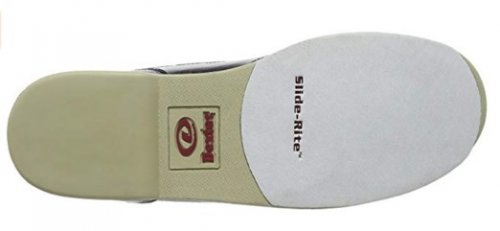 These are super durable and well-manufactured bowling shoes for men that will last a long time. They have a classic and elegant look that matches your favorite attire. The Dexter Turbo II is certainly a game-changer. They come packed with features that provide ample comfort such as a microfiber sliding leather pad and a padded collar. They are also available in wide sizes!
The leather upper of these bowling shoes for men is synthetic, so no animals were harmed to make it! The synthetic upper is soft and durable so it's guaranteed to provide long-lasting comfort. These shoes come in wide sizes so people with wide feet can bowl comfortably, too! This means you'll have a roomier toe box and the upper won't squish your feet!
You'll find them at an affordable price and you will love how comfortable they feel the very first time that you wear them. Their size and fit are extremely accurate.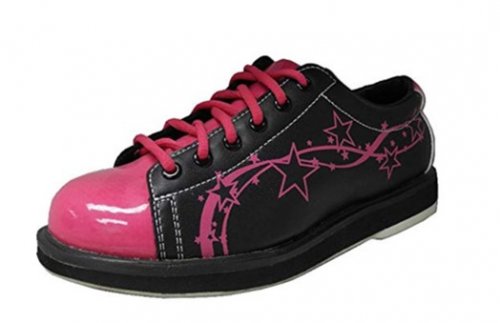 The Pyramid Rise bowling shoe is one for those who enjoy a bit of flair in their lane footwear. It's ideal for beginners since it has a universal slide sole on both shoes, so it's perfect for those sorting out which foot is dominate during the throw. What we love is the unique styling of this bowling shoe, with the uppers available in a few color combinations with patterns from skulls to stars and streamers. It breaks the mold for typical monochrome or solid traditional bowling shoes, so you can bring your own flair to the game!
Universal slide sole on both shoes is ideal for beginners, or even some who prefer to mix up their approach. Not only are the durable leather uppers available in a hot pink with stars and streamers, they also come in a lime green with skulls! Who says you can't have fun with your bowling shoes during a heated game? Another great thing about the company itself, is having grown from meager beginnings as a pro shop, they've taken a mission to make footwear, accessories, and apparel that's affordable for the game.
Lace up vamp allows you to find the critical proper fit between mobility and firm security. A padded collar helps to keep your ankles cushioned during the approach, and helps prevent unwanted blistering during wear. One downside to this pair is that the sole and heel aren't changeable, so you get what the shoe comes with. But, at such an affordable price, it's still worth the investment, especially if you're just starting out.

6

. Storm Istas Multicolor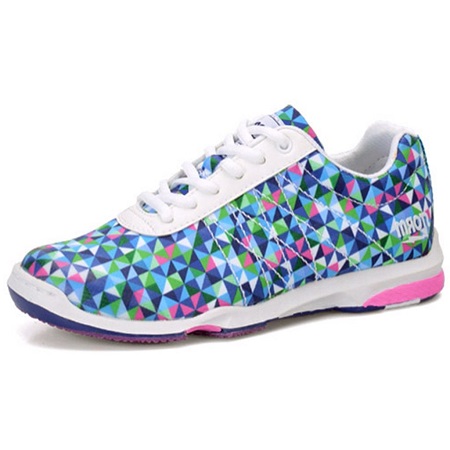 Who says bowling shoes have to look plain? These shoes from Storm sport a bright and colorful design, along with lightweight construction and blown EVA footbed. All of these together ensure that you'll have full freedom of movement, strong support, and a design that looks as great as it performs.
While bowling may not involve a lot of quick foot movements as basketball does, for example, it is still important to have a shoe that is lightweight and offers a secure fit. These factors will allow you to flow smoothly in your movements, improving your performance. The Storm Istas Multicolor shoes are made with a no-frills lightweight build, allowing you the freedom of movement you need when bowling.
Comfort and support go hand it hand when it comes to shoes. The proper support will make a shoe far more comfortable, and will allow you to stay on your feet for longer without the risk of pain or fatigue. EVA foam is very popular in support systems for shoes, and it is used in the footbed of the Storm Istas. EVA is a foam polymer that has a low long-term compression rate, increasing the overall durability of the shoe.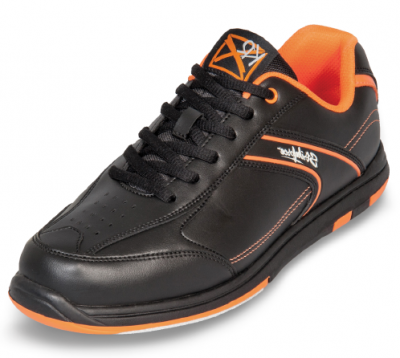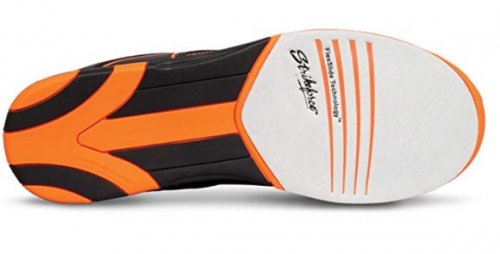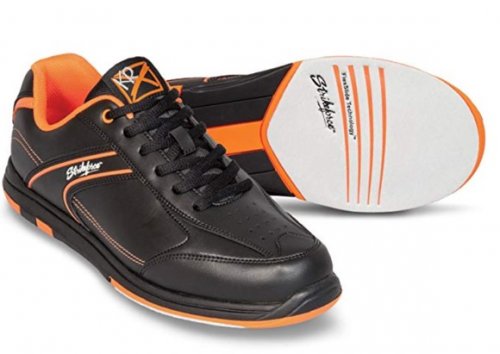 The KR Flyer is a great choice for a number of reasons. It's made with a soft and comfortable upper that uses synthetic materials and a Komfort-Fit™ construction. Furthermore, these men's bowling shoes look amazing, and will make you feel as if you were wearing your most comfortable sneakers. They have a non-marking rubber outsole with FlexSlide technology which makes them a great choice for any bowler.
The Flyer by KR Strikeforce uses a new method of construction that has absolute comfort in mind. These men's bowling shoes have been made so as to mold to the shape of your foot in all aspect, bringing you an easy to wear piece of bowling equipment.
A non-marking outsole can be a great addition to your bowling shoes, seeing that this type of outsole benefits both you and the other players in the alley. It will keep the lanes clean, plus, it won't hold on to as much dirt and grime, making it much easier for you to slide. Ranking low on this list when it comes to price, the KR Flyer is an excellent choice for any athletic bowler looking for a universal shoe that will feel good on the foot, and that will allow for maximum performance on the lane.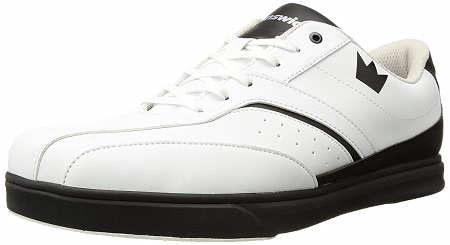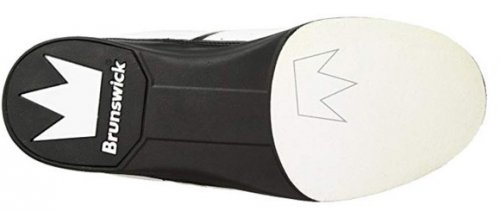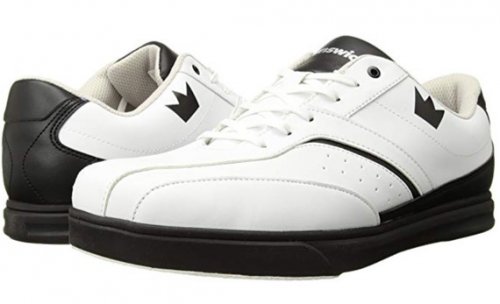 Brunswick is dedicated to providing high-quality bowling shoes for men at an affordable price, and the Vapor men's bowling shoes are a great example of these dedications in action. The Vapor features a padded collar and tongue for comfort, along with a lightweight molded EVA outsole, making these some of the best bowling shoes for men you can find under $50.
EVA is most commonly used in midsoles, so we were somewhat surprised to find that the Vapor uses this material for the outsole. EVA foam is lighter than rubber and provides a little less traction, allowing your feet to glide smoothly through your motions as you bowl. Lightweight shoes are important for bowling, as heavier shoes can slow you down and hinder your performance.
Aren't blisters the worst? They're uncomfortable, painful, and can take a while to heal even with the proper care. The Vapor sports additional padding on the collar of the shoe, reducing friction and making blisters a thing of the past. The tongue is also padded as well for extra comfort.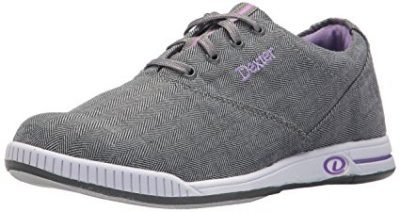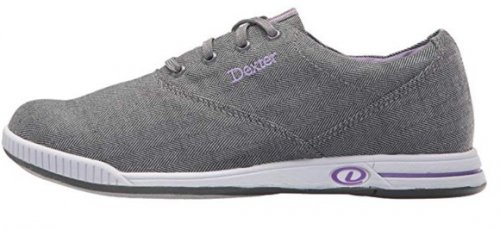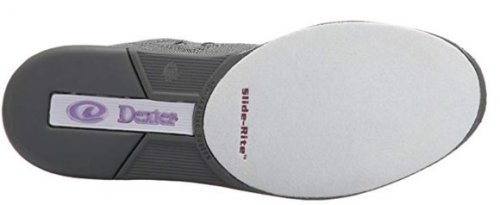 The Kerrie by Dexter is a cute and stylish pair of footwear made for bowlers who appreciate both looks and performance. These are universal women's bowling shoes with a Slide-Rite sole on both outsoles, making it a good choice both for right and left-handed athletes, while the light padding it contains offers protection without hindering your movement. What makes the Kerrie different from other items on the list is the textile upper which is lightweight and breathable.
With a textile upper, the Kerrie is more flexible than most other leather bowling shoes for women, which makes it more comfortable, especially for those who have sensitive feet. Furthermore, it gives a better level of air flow to the user, preventing overheating and the buildup of sweat.
The non-marking outsole won't leave spots or marks behind while you bowl and it also helps to keep the alley clean! This outsole is rubber, so they are also great shock-absorbing shoes. Ranking average on this list when it comes to price, the Dexter Kerrie is a great choice for those looking for a combination of performance and comfort without breaking the bank. With the textile upper and the universal soles, these are women's bowling shoes that will work for most users.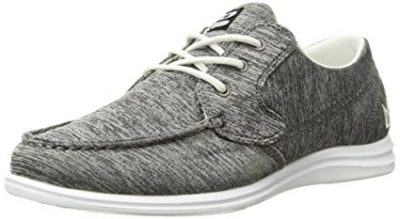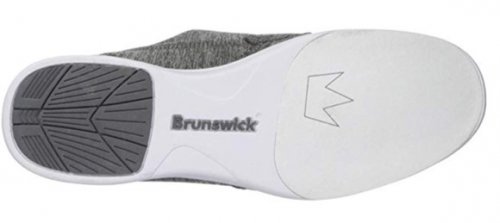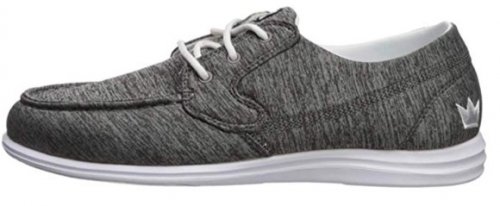 The Brunswick Karma is a stylish and comfortable option for both right and left-handed bowlers. Its Pure Slide microfiber soles are the same on both shoes, which makes them universal women's bowling shoes that will perform well regardless of foot preference. Its rubber outsole provides excellent cushioning and grip while still remaining lightweight so as not to hinder your performance.
The lightweight denim upper on the Brunswick Karma is flexible and comfortable to wear. However, it is also breathable, so your feet will stay cool and dry while you play. These bowling shoes for women are customizable because you can convert it from a lace-up shoe to a slip-on with ease. If you need a more secure fit, you can tighten the laces, but you'll also greatly benefit from the fact that it will be easy to put on and off, whenever you need it.
Ranking average on this list when it comes to price, the Brunswick Karma is a great deal for anyone looking for a unique and stylish pair of bowling shoes for women. The denim upper has excellent performance properties and it provides plenty of comfort for a wide range of foot shapes.

Subscribe to our Newsletter