Best BCBG Shoes Reviewed & Rated for Quality
BCBG is an abbreviation of the French expression, "Bon chic, bon genre," which translates to, "Good style, good attitude." It is used to describe an entire subculture in the Paris upper class, people who are well-educated, well-connected, and of noble descent. The BCBG style combines specific fashion tastes with a certain level of social respectability. It leans towards the classic, "de-emphasizes 'sexiness' and 'flashy' signs of wealth" and is influenced by "Anglo-Saxon" styles. Most notable representatives of the BCBG style are brands such as Gucci, Chanel, Max Mara and Le Bon Marche. For the purposes of this buying guide, however, we will focus on a different brand altogether – one that is actually called BCBG. BCBGMaxAzria was founded by – you guessed it – Max Azria himself, a renowned Tunisian fashion designer who has mostly worked in Paris and L.A.
We've brought you the best in BCBGMaxAzria shoes from all categories. Find classy heels that you can wear out dancing, on a date, or just because. If you prefer flats we have sandals and a pointed-toe shoe that will take your look from day to night, pain-free. Plus we brought you the top-rated sneakers, booties and more!
Featured Recommendations


Millie
4.5 out of 5
Our rating
Streamlined Pointy Toe
Sweet and Versatile
Price: See Here



Becca
5 out of 5
Our rating
Padded Footbed
Flexible sole
Price: See Here




Heidi
4.5 out of 5
Our rating
Padded Footbed
Wrapped Heel
Price: See Here


BCBGMaxAzria embodies the very essence of the Parisian BCBG style. The label's footwear, in particular, is effortlessly clean and minimalistic, constructed out of high-quality materials and with only the most elegant, most graceful of customers in mind.
If you are the type of trendsetter who aims for class and prestige, with maybe a touch of print or vibrant color in a tasteful manner, then you are sure to love everything BCBGMaxAzria has to offer. Their elegant, sophisticated shoes are for those who don't flaunt their style, but rather let it speak for itself, tales of muted wealth and refinement.
Here, we have compiled a list of the best BCBG shoes currently on trend. We ventured into different shoe categories and styles and collected only the designs which have taken our breath away with their silhouette. We hope that you will enjoy scrolling through this guide and that by the end you will find a great BCBG shoe for you.
10 Best BCBG Shoes
1. Millie


This sweet streamlined pointy-toe flat will become your absolute favorite this season. The BCBGeneration Millie is simply adorable with its raspberry colored patent leather upper; it comes with a rubber outsole, a padded insole and, even though we call it a flat, it actually does have a hint of a heel. You are going to love this versatile shoe, as it goes well with any casual outfit - jeans, shorts, dresses or skirts. It will become your go-to shoe this summer!
Expand to see more
Low Heel
Flats that are completely flat can cause some health problems, like fallen arches, or pes planus. Fortunately, the BCBGeneration Millie doesn't have a completely flat sole, but rather it comes with a micro heel which helps prevent serious conditions.

Durable
Thanks to the full-grain patent leather upper and to the durable rubber outsole, the BCBGeneration Millie is extremely long-lasting. You can be sure that it will pair well with all of your fav fashion combinations season after season.

Cost and Value
The BCBGeneration Millie is easily the lowest priced shoe on our list. It is a cute flat made of extremely high-quality materials that will last you years. Its design is flattering and comfortable with the extra padding in the footbed and we are honestly hard pressed to find a fault with this lovely shoe.
Low Heel

Pointy Toe

Full-grain Leather Upper

Rubber Outsole

Sweet and Versatile
Not for Wide Feet

Potential Toe Cleavage
2. Becca


Dark prints and chunky heels are all the rage this season, and the BCBGeneration Becca is a beautiful combination of both. This open toe sandal comes with a wrapped, half-moon block heel of approximately three inches in height. It has an ankle strap with a buckle closure at the side, a lightly padded, stationary insole and a flexible outsole. We are utterly charmed by this fabulously chic sandal, and we are sure it will go well with all of your summer looks!
Expand to see more
Chunky Heel
The benefits of a chunky heel of barely three inches are endless. In the BCBGeneration Becca you won't feel a hint of pain no matter how long you wear it for, and the wide base will ensure that your footsteps are stable and there are no wobbly movements at the ankle.

Buckle Closure
The ankle strap of the BCBGeneration Becca is a nice accent, especially for thinner ankles, but it also comes with a buckle closure at the side. This buckle provides an adjustable fit, allowing you to fasten it as tight or as loose as you'd like.

Cost and Value
When lined up with other models in this guide, the BCBGeneration Becca belongs in the higher range of cost. It really is a wonderful sandal, visually appealing and comfortable to wear, but we can't help but feel as though its higher cost is solely because of its brand name. At the end of the day, there are similar designs from other brands which would work just as well for less money.
Three-inch Blocky Heel

Adjustable Ankle Strap

Lightly Padded Insole

Flexible Outsole

Dark Print
Not Cost-efficient

Not for Wide Feet
3. Heidi


Every woman needs a classic pump in her shoe closet. We have picked out an iridescent gold for the wow effect, but the BCBGeneration Heidi comes in a variety of uppers, with different textures and colors - from scarlet red, over muted blush to pure black. This is a pointy toe pump with an approximately four inch wrapped heel, a leather upper and a padded footbed. It is chic, it is stunningly elegant, and it never goes out of style.
Expand to see more
Padded Footbed
When you're expected to walk in heels for a longer period of time, and when those heels are higher than four inches, extra cushioning is a game-changer. The BCBGeneration Heidi has added padding in the footbed to ensure you can go from office to cocktails without breaking your stride.

Leather Upper
Natural materials like leather are the epitome of quality and comfort. The leather upper of the BCBGeneration Heidi gently wraps around your foot, conforming to it over time for a customized fit and unparalleled comfort.

Cost and Value
The BCBGeneration Heidi is a staple shoe, made out of high-grade materials and designed to last. It does come at a bit of a higher price, which is understandable given its brand name. However, we do think that, even though it is undeniably comfortable, there are other similar pumps from different designers that would cost less and yet have the same effect.
Wrapped Heel

Variety of Colors

Leather Upper

Padded Footbed

Classic and Timeless
Four Inch Heel

Narrow Toe Area
4. Esh

What breathtaking originality! We are having trouble taking our eyes off of the BCBGMaxAzria Esh, a stunning, over-four-inch high peep-toe sandal. The key detailing is in the macrame design of the upper, as well as in the tassel accent in the back. This stiletto heel comes with a subtle exposed platform at the front, with ankle straps and a zipper closure at the heel. It is best paired with your favorite mini skirt or dress and perfect for elevating your day-to-night ensembles.
Expand to see more
Macrame
The intricate design of this sandal is truly out of this world. Macrame is a term used to describe the art of joining pieces of string together in knots to create interesting patterns. And interesting BCBGMaxAzria Esh certainly is. It is bound to catch everyone's attention, no matter where you go!

Platform Heel
The fact that the stiletto heel of the BCBGMaxAzria is over four inches high may be a cause for concern, but we are here to assure you it shouldn't. This sandal comes with a slight platform which lifts the front of your foot as well, and eases the ride in these high beauties.

Cost and Value
The price of the BCBGMaxAzria Esh leans towards the high range, but we can't really blame it. This sandal is truly one of a kind, as we have yet to see a similar design somewhere else. If you are feeling adventurous and like to experiment with your style, we recommend this gorgeous shoe, as it is not only attention-grabbing, but also comfortable to boot.
Macrame Upper

Tassel Detail

Platform Heel

Open Toe

Zipper Closure
Knots Make Creaking Noise

Somewhat Stiff
5. Logann

Add a splash of rock'n'roll to your style with the BCBGeneration Logann. This is a classic almond-shaped cap-toe boot with studded clusters and swirls around the back for a jazzed up edgy look. The upper is made out of smooth leather, the closure comes in the form of a side zipper, and the outsole is made out of durable synthetic materials. The BCBGeneration Logann has a smooth lining and a lightly cushioned interior, as well as a wrapped heel for a slight boost in height.
Expand to see more
Side Zipper
The zipper on the outside of the BCBGeneration Logann is both a snazzy accent, amping up that edgy vibe, and a convenient closure. It allows you to slip in and out of the boot without any problems - it takes only a few quick moments and you're ready to go!

Outsole
The BCBGeneration Logann comes with a durable synthetic outsole which will wear well over time. It can withstand even the harshest of weathers, such as rain, mud or snow, so you can be sure that you won't only feel and look good, but you will also be safe and supported in this bootie.

Cost and Value
If we compare it to other models on this list, the BCBGeneration Logann is a bit high in cost. However, it is nothing outrageous, and we feel that a bootie this beautiful in design, made out of high-quality leather and long-lasting materials is worth every penny.
Polished Leather Upper

Lightly Cushioned Interior

Durable Outsole

Zipper Closure

Studded Accents
Stiff Upper

Not for Wide Feet
6. Dania

We can't get enough of slide sandals this season, and we are particularly enamored with the BCBGeneration Dania. This is such a simple, such an easy design that it is almost too good to be true. This slide sandal comes with three scallop-edged straps, a low heel wrapped in metallic shine, and a lightly cushioned footbed. Its sole is flexible, the upper made out of faux suede, and it comes in an array of vibrant colors, such as this marigold, corn flower, and a stunning combination of gold, silver and rose gold. A minimalistic, chic solution for your casual summer needs!
Expand to see more
Slide Sandal
Aside from the fact that they're the new craze this season, slide sandals are also wonderfully easy to wear. As their very name suggests, you just slide your foot in, and be on your way! No muss, no fuss.

Metallic Heel
The metallic bling of the BCBGeneration Dania's heel is there to catch attention and bring some playfulness to the design, but the presence of a low heel ensures that your foot is comfortable and that your arches are not falling flat as they would without a heel.

Cost and Value
The BCBGeneration Dania is one of the lowest priced shoes on our list. It is fun, it is breezy and it is effortlessly comfortable. With a selection of different colors you are sure to find a combination which matches your own personal style, and which will bring a smile to your face whenever you slide into these.
Scalloped Trim Straps

Low Metallic Heel

Padded Footbed

Slide Sandal

Simple and Chic
Narrow Fit

Need Breaking In
7. Loralei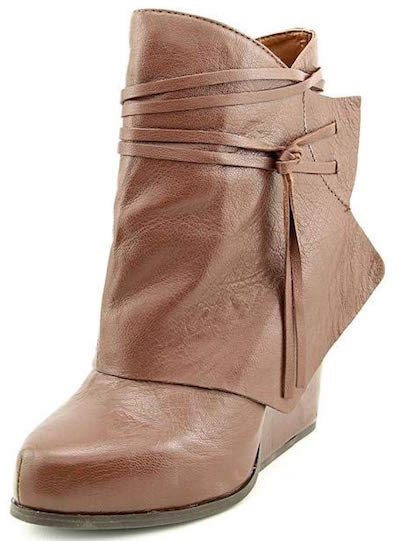 The BCBGeneration Loralei is here to provide a fresh take on the classic bootie. This is a four-and-three-quarter-inch pointed-toe ankle boot with a wedge, a tie at the top, and cognac colored faux leather all over. The color of is refreshingly neutral and will go well with everything. If you work at a desk and don't expect to walk for longer periods of time, make sure to wear these beauties to work and garner a world of compliments on your modern yet refined style!
Expand to see more
Ankle Wedge
The ankle strap of the BCBGeneration Lorelie Bootie comes with a 4 3/4 inch wedge. While pretty high, it's known to be pretty comfortable, so you don't have to worry about whether or not it will hurt too much over time.

Design
The scalloped topline and the lasercut tear-shaped perforations in the upper leave an impression of femininity and sophistication. The BCBGeneration Talyn is a stunning shoe that will elevate your style and catapult you into the world of the fashion forward.

Cost and Value
The price of the BCBGeneration Talyn is very affordable. In fact, we can't believe that a shoe this elegant and this stylish costs so little, especially given the high comfort levels it provides, and the great quality of the materials it is constructed of. It is suitable for work, for daytime looks and for evening wear, and we see no reason why you shouldn't treat yourself with these pumps as soon as you can.
Neutral Color

Pointy Toe

Edgy Look

Comfortable Material

Affordable
8. Lynn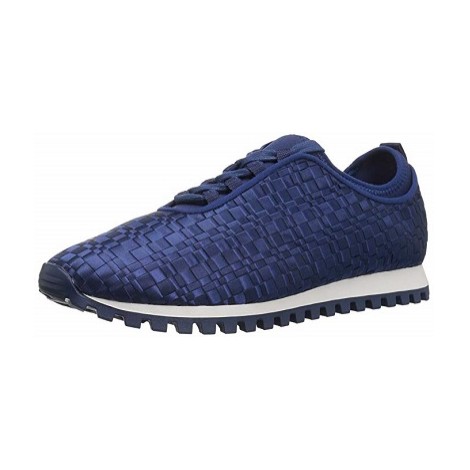 BCBGeneration adds a twist to the classic training shoe by constructing an upper out of woven silk and neoprene fabric. This brings an interesting sheen to the sneaker, completing the round-toe, subtle lift silhouette. The BCBGeneration Lynn also has a lace-up closure, a padded insole, textile lining, and a back pull-tab for easy entry. The shoe may not be suited for serious, professional training, but it is a solid, comfortable everyday sneaker which will effortlessly fit in with all of your casual looks.
Expand to see more
Woven Upper
The unusual way the upper of the BCBGeneration Lynn is constructed doesn't only have to do with aesthetics. The satin and neoprene combination is extremely lightweight, flexible and breathable, and thus ensures that your feet are perfectly comfortable throughout the day.

Easy Fit
The lace-up vamp of the sneaker allows you to adjust the fit however you'd like, lacing it up tightly or leaving it open and loose. The pull-tab in the back of the BCBGeneration Lynn is there to help you put the shoe on and take it off without any trouble.

Cost and Value
Compared to other shoes on this list - and to other shoes in the same category - the BCBGeneration Lynn falls in the middle range of price. As we stated before, even though it is a trainer, this sneaker is not meant for actual sports. It is a lifestyle shoe, fresh and modern with its woven design, and it will make sure that you are comfortable and supported in all of your daily activities.
Woven Design

Satin and Neoprene

Slight Platform Sole

Lace-up Vamp

Padded Insole
Sizes Run Large

Difficult to Clean
9. Gale

The BCBGMaxAzria Gale is a breath of elegance and refinement. This satin stiletto heel comes with cutouts in the vamp, open toes, and a charming bow accent for a touch of femininity. There is a slight exposed platform in the front, and a zipper closure at the heel for an easy way in and out of the shoe. Take advantage of this sexy, sophisticated sandal and show it off with a mini cocktail dress or skirt, or even a long, flowy gown for a formal event.
Expand to see more
Secure Fit
The construction of the BCBGMaxAzria Gale is carefully planned to provide you with maximum security within the shoe. The wide ankle strap and the cut-out vamp keep your foot in place and prevent it from sliding forward, ensuring that your footsteps are stable and confident.

Effortless Elegance
We are still taken aback by the sheer class that this shoe possesses. The BCBGMaxAzria Gale is truly the ultimate formal sandal - its stiletto heel and satin upper will complement your evening wear and make you the absolute star of the night.

Cost and Value
It is no surprise that the BCBGMaxAzria Gale is expensive. Its cost reflects the high-quality materials the shoe is made of, as well as the care and the attention to detail with which it was put together. Sure, it might require you to loosen your purse strings a bit, but we feel that a shoe this impeccable warrants the price.
Front Bow Embellishment

Slight Platform Heel

Zipper Closure

Satin and Leather

Perfectly Elegant
Cuts Into Skin

Not Enough Padding
10. Barcelona

Enjoy your summer to the fullest in the BCBGMaxAzria Barcelona. This is an espadrille wedge heel sandal, with elasticized crisscross straps at the vamp and toe area. It has a snake-patterned insole that adds interest to the design, a closed heel, and a leather outsole. The BCBGMaxAzria Barcelona will elevate your summer dress or a pair of cropped denim jeans and will keep your feet comfortable, cool and sweat-free on long walks on warm sunny days.
Expand to see more
Wedge Heel
When it comes to heel comfort, it doesn't get much better than the wedge heel. The BCBGMaxAzria Barcelona provides you with a stable base, ensures that your weight is evenly spread out within the shoe and that there is no extra pressure on the ball of your feet.

Leather Outsole
The leather outsole may appear a bit stiffer in the beginning, but after a short period of breaking in it becomes more flexible, "sets" to your foot and breathes better, which is especially beneficial if you have problems with sweaty feet.

Cost and Value
Due to the brand name behind it, the BCBGMaxAzria Barcelona is high in cost. It is a solid shoe, comfortable and fashionable, and it will definitely serve you well for many seasons to come. However, we can't help but feel that for a lower price there are other models on the market which would meet all of these requirements as well.
Espadrille Wedge Heel

Elastic Criss-cross Upper

Leather Outsole

Sweat and Odor-free

Laid-back and Fashionable
Makes Flip-flop Noise

Needs Breaking In
BCBGMaxAzria shoes are designed to leave you speechless. They are the epitome of class, elegance and style, and even though you may think they are understated – compared to other flashy designer brands out there – we assure you that they will elevate your looks to an entirely new level.
Of course, when choosing the best shoe for any occasion, it is not just about the visual effect. It is also about the shoe's comfort and quality, as well as its price. We have presented footwear from many different categories so that you can find a pair of BCBG shoes that fits your own personal lifestyle. Think about that when you're making a decision – think about the events you'll be wearing these shoes in, which styles would be appropriate and which maybe wouldn't.
If you need further help in choosing the best BCBG shoe for you, please take a look at our Criteria section. We categorized the models from our list and analyzed everything that goes into making this choice. Ultimately, buying shoes is an investment, and we'd like you to be proud to show off your new BCBG shoes, as well as to be comfortable and happy while wearing them.
Criteria Used in Choosing the Best BCBG Shoes

Color
When it comes to the design of the shoe, its color is probably one of the first things anyone notices. This is a factor which can make or break your look – either complementing it and seamlessly fitting in, or clashing with the rest of your color scheme and giving everyone around you a headache.
It is of utmost importance to choose a color which fits your style and personal tastes, and so we have outlined several options you can go for:

Heels or Flats
For some occasions, the question of whether to wear heels or flats is an easy one – a day at the park with your dog? Sneakers (flats), of course. A wedding reception? Heels, duh. However, there are also events where either is acceptable. Shopping with friends, the workplace, different parties – you can wear either heels or flats for all of these.

Both choices have their pros and cons, as well as situations where they are most suitable, and where they absolutely do not work. Let's examine those closely.
Heels
If you are aiming for elegance, for standing out, or even for looking smart and professional – heels are a perfect choice. A lifted heel adjusts your posture, makes you stand up straight and keep your chin up, while also visually elongating your legs and slimming down your silhouette. In higher heels, you will radiate confidence and poise, and people in your surroundings will respond to you accordingly.
However, there comes the issue of comfort. Overall, heels are far from comfortable footwear, and when choosing the right pair for you, there are some things you should consider:
Heel Height:

The lower the heel, the more comfortable it will be. Anything below four inches – particularly kitten heels (two inches), and classic heels (three inches) – is not difficult to walk in, and will cause only minor discomforts if you wear them for extended periods of time.


Heels of four inches and higher, however, bring their own set of hurts with them. They put a lot of pressure on the front of your foot, which can result in toe numbness, cramps, even bunions, and corns. We're not advocating against these heels – after all, they are gorgeous and do wonders for our figure – just bear in mind that you can't avoid pain and that you should absolutely spoil your feet afterward, for example with a nice, long foot bath.
Heel Type: Thin, stiletto heels take the last place when it comes to heel comfort. When you wear them, all of your weight is narrowed down to a point, which makes them highly unstable. Not only do you run the risk of falling or spraining your ankle, but because of uneven distribution of weight, there is also added pressure on the ball of your foot. After only an hour or even less of walking in these, your feet will start killing you.


In order to avoid pain for as long as possible, reach for chunkier heels. Big, blocky shapes are also very much in season, and you won't have problems finding a pair you like. Chunky heels and wedges provide you with a wider base and stabilize your footsteps. They also make sure that your weight is evenly spread out over the surface of the shoe, and that no one part of your foot has to bear it all.
Cushioning:

Even when you're wearing staggeringly high heels, the tension in your feet can be lessened with proper padding in the footbed. The purpose of cushioning is to absorb shock as you walk, and to soften the surface of the shoe so that you can enjoy a modicum of comfort in your heels.


If the heels that you want to buy don't have any cushioning, all is not lost! Thanks to advancements in foot comfort technology, there are countless gel pods and inserts that you can purchase separately, put into your shoes, and be ready to dance into the night!
Flats
For the purpose of this section, we group together all types of shoes which have a flat sole – sandals, sneakers, ballet flats, even boots. Basically, all footwear which doesn't fall into the 'heels' category.
Flat shoes are, without a doubt, far more comfortable than heels. You can enjoy them for as long as you'd like, whether you are walking along a beach, sightseeing around a metropolis, or hiking up your favorite mountain trail. Qualities which determine their comfort lie elsewhere – in the nature of their materials, the type of cushioning they offer – if any – and the tightness of their fit.
If you are not looking for vegan shoes, you might prefer natural materials, such as leather or suede. Sure, they are more expensive, but they are also soft and conform over time, taking the shape of your foot for customized comfort. They won't rub you the wrong way or leave any blisters or hotspots.

In regards to fit, you want it to be snug enough so that your foot doesn't slip out of the shoe, but also not so tight that you feel constricted. It is a bit of a balance here, and it helps if the shoe has an adjustable closure – such as a buckle or shoestrings.
Lastly, what is characteristic of flat shoes is that they are considered casual wear, in varying degrees. When you are shopping for the best shoes for you, keep in mind that flats are improper for formal events, sneakers are usually ill-suited for the workplace, and flip-flops are reserved only for the most laid-back of occasions.

Frequently Asked Questions
Q: What is the difference between BCBGMaxAzria and BCBGeneration?
A: The BCBGMaxAzria Group is actually a huge collection of corporations. In our list, we have models from two branches: the BCBGMaxAzria, which is geared more towards a professional woman, with higher prices, higher quality craftsmanship, and more high-end designs, and BCBGeneration – a branch dedicated to younger women who want to keep up with the trends. The latter's styles are more fresh and modern, and less expensive than those of BCBGMaxAzria.

Q: Who owns BCBGMaxAzria at the moment?
A: It is not a secret that the entire BCBGMaxAzria Group went through a rough time recently. In fact, in 2016 Max Azria himself left the company to pursue other ventures. In 2017, the Group filed for bankruptcy, only to be bought by Marquee Brands and Global Brands Group. However, the fashion label itself is still standing strong on the runway, with the demand for their designs undiminished.