Best BCBG Shoes Reviewed & Rated for Quality
In a Hurry? Editors choice: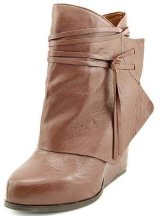 Test Winner: Loralei

BCBG is an abbreviation of the French expression, "Bon chic, bon genre," which translates to, "Good style, good attitude." It is used to describe an entire subculture in the Paris upper class, people who are well-educated, well-connected, and of noble descent. The BCBG style combines specific fashion tastes with a certain level of social respectability. It leans towards the classic, "de-emphasizes 'sexiness' and 'flashy' signs of wealth" and is influenced by "Anglo-Saxon" styles.

BCBGMaxAzria was founded by Max Azria himself, a renowned Tunisian fashion designer who has mostly worked in Paris and L.A.

We've brought you the best in BCBG shoes from all categories. Find classy heels that you can wear out on a date or just because. If you prefer flats, we have sandals and ballerinas that will take your look from day to night, pain-free. There is something for everyone in our list of the best BCBG shoes.
Standout Picks
Criteria Used for Evaluation
Color
When it comes to color choice, go with what you like the best and what you feel good about.
When it comes to the design of footwear, its color is probably one of the first things anyone notices. This is a factor which can make or break your look - either complementing it and seamlessly fitting in, or clashing with the rest of your color scheme and giving everyone around you a headache.
It is of utmost importance to choose a color which fits your style and personal tastes, and so we have outlined several options you can go for:
Neutrals: Neutral colors are always in style. A high-quality, classic nude design goes a long way and matches well with any outfit. Similar can be said with white and black, although they might require a bit more care - white can sometimes seem tacky or out of place, and black doesn't work with navy blue and brown.

Other options, such as beige, ivory, taupe, gray and the like are also considered neutral colors, though they tend to have different undertones. Pay attention to these seemingly insignificant under-layers of color while you're putting together a look.

Colors: On our list of BCBG shoes, we have our fair share of solid colors - reds, yellows, blues, pinks, you name it. Choosing the right option may seem daunting, but it doesn't have to be. At the end of the day, it all comes down to your own style - if you don't like the color orange, don't wear orange. If you're in love with sky blue, by all means, throw on a pair of sky blue heels to conquer your day!

Take inspiration from celebrities, from fashion magazines and blogs. Experiment, be brave! Play with soft colors, like pastels, and with bolder colors, even neon ones. Find what you like, what you feel good in, and what goes best with the occasion.

One important thing to keep in mind - not every color is suitable for every event. In the business world, more subdued, modest colors are preferable, whereas if you want to get noticed at a party, a highly saturated color is the best choice.

In today's fashion world things can get a little crazy and a little unusual, and no one says you can't have fun while you're searching for the right colors for yourself.

Metallics: Colors, for the lack of a better word, such as gold, silver, rose gold, bronze etc. behave similarly to neutrals. In general, they go well with everything and add a dazzling touch to any fashion combination.

They can be quite striking, however, and so when entering the world of metallics, it is vital to be moderate. Work your way up to louder statements, like sparkles, glitter, or even a full-on metallic suit. Balance things out with more subtle colors, neutrals, and relaxed, flowy silhouettes. 

Prints: Flower patterns, animal prints, cartoon prints, and similar designs are an amazing way to express yourself in fashion. They add interest, draw attention, and are sure to make a powerful statement.

You can combine your print footwear with solid colors or even other prints, just be careful that the prints are not at odds with each other - no one wants to look like an optical illusion.
Heel
The most wearable type of heel is one that is short and blocky in shape.
If you are aiming for elegance, for standing out or even for looking smart and professional - heels are a perfect choice. A lifted heel adjusts your posture, makes you stand up straight and keep your chin up, while also visually elongating your legs and slimming down your silhouette. In higher heels, you will radiate confidence and poise, and people in your surroundings will respond to you accordingly.
However, there comes the issue of comfort. Overall, heels are far from comfortable footwear, and when choosing the right pair for you, there are some things you should consider:
Heel Height: The lower the heel, the more comfortable it will be. Anything below four inches - particularly kitten heels (two inches), and classic heels (three inches) - is not difficult to walk in, and will cause only minor discomforts if you wear them for extended periods of time.
Heels of four inches and higher, however, bring their own set of hurts with them. They put a lot of pressure on the front of your foot, which can result in toe numbness, cramps, even bunions, and corns. We're not advocating against these heels - after all, they are gorgeous and do wonders for our figure - just bear in mind that you can't avoid pain and that you should absolutely spoil your feet afterward, for example with a nice, long foot bath.
Heel Type: Thin, stiletto heels take the last place when it comes to heel comfort. When you wear them, all of your weight is narrowed down to a point, which makes them highly unstable. Not only do you run the risk of falling or spraining your ankle, but because of uneven distribution of weight, there is also added pressure on the ball of your foot. After only an hour or even less of walking in these, your feet will start killing you.
In order to avoid pain for as long as possible, reach for chunkier heels. Big, blocky shapes are also very much in season, and you won't have problems finding a pair you like. Chunky heels and wedges provide you with a wider base and stabilize your footsteps. They also make sure that your weight is evenly spread out over the surface of the shoe, and that no one part of your foot has to bear it all.
Cushioning: Even when you're wearing staggeringly high heels, the tension in your feet can be lessened with proper padding in the footbed. The purpose of cushioning is to absorb shock as you walk, and to soften the surface of the shoe so that you can enjoy a modicum of comfort in your heels.
If the heels that you want to buy don't have any cushioning, all is not lost! Thanks to advancements in foot comfort technology, there are countless gel pods and inserts that you can purchase separately, put into your BCBG shoes, and be ready to dance into the night!
Style
Don't hesitate to choose the style that speaks to you the most.
It stands to reason that one of the main features you will be looking for in BCBG shoes is their style. After all, these are all made by a talented, world-renown designer, and you are purchasing not only the brand name but also all the trendiness and fashion innovation that come with it.
And as you have seen from our list - there's a little bit for everyone.
There are lifestyle sneakers for everyday wear. These are meant to be casual and easy and to make you feel comfortable as you go about your day. Whether you're picking your kids up from school or are walking your dog at the park, these sneakers should make you feel fashionable and sporty at the same time.
On the other hand, there are heels for those who are looking for something fancier. Designs range anywhere from party-ready to business-appropriate, and it is only up to you and the dress code of your workplace to decide whether you'll be taking them to the office or to a fun night out with your friends.
Flat sandals are perfect for the summer, as they keep your feet in a natural position and are open and breezy. They are great to wear in warm weather, when you want to show off your pedicure and keep your feet dry and cool. You can take them to the beach or to a leisure stroll around a coastal city without any problems.
Finally, we have the option of ankle boots. Almost the direct opposite of sandals, these are meant for colder weather, for when you prefer to keep your feet warm but still want to look stylish. There are more casual versions of the bootie, but also sharper ones, with pointy toes and thin, fierce stiletto heels.
When choosing between all of these, there is really no right or wrong answer. Simply consider your personal taste and aesthetic and go for the design that speaks to your heart. Try to match it with your existing wardrobe and envision your outfit combinations, and you will have no problems whatsoever.
Comfort
A malleable upper, a cushioned and/or contoured footbed and a shock-absorbing midsole are key to high levels of comfort.
While the appearance of a design is important, so is the way your feet feel in it. We touched upon the subject of comfort in regards to heels in a previous section, but here we will take a more in-depth look at what it is, exactly, that makes a pair of shoes comfortable, and how this applies to BCBG shoes.
In regards to comfort, there are three individual parts of a design that are key: the upper, the footbed, and the midsole.
The upper needs to be gentle on the skin and not causing any abrasions or hot spots. Materials that you want are genuine leather, which has the ability to mold to the shape of the wearer's foot, and fabrics, such as satin, mesh, different textiles, canvas and similar. These are all malleable and won't cause any undue rubbing.
The materials you'd want to avoid are synthetic leathers. These tend to be stiff and unyielding and can cause blisters quite often, even after you think you've broken in your new pair of shoes.
The footbed of a design can be flat, but it can also be contoured or molded. Contours provide support in areas such as the arch of the foot and help you stay on your feet for longer periods. A footbed should also be cushioned enough that you don't feel as though you're walking on hard, unforgiving surfaces.
Lastly, the midsole should have shock-absorbing properties. A fashion brand such as the one that is the focus of this guide probably won't include any high-tech features in its footwear, but it will make sure that you are comfortable as you walk. An EVA midsole or one made from another type of impact-absorbing material is great to have, regardless of whether or not you're going to work or just on a relaxed walk around the neighborhood.
Durability
Look for high-quality materials and solid constructions to get footwear with the longest lifespan.
Durability is an aspect of footwear that is determined by several different characteristics - the material quality, the construction type, the frequency of use, the conditions you wear it in... BCBG shoes, in general, are considered long-lasting, however, there are some things you should take into account to make sure you're choosing the most durable option.
The first one is the material type. Footwear made from genuine leather is durable, especially if properly cared for. This includes suede and other sub-types of genuine leathers. Likewise, thickly layered canvas, denim, neoprene, and similar tough fabrics can take quite a beating. (Think Chuck Taylors, canvas sneakers which last up to several years even with regular wear.)
On the other side of the coin, there are mesh materials, thin cotton, satin, and synthetic leathers. These are either thin and get frayed easily, or, in the case of faux leathers, can flake and crack relatively quickly.
Once you get ahold of your new footwear, make sure to check whether or not everything is solidly built. No seams should be undone or sticking out, there should be no irregularities in the footbed, and all closures should be operating without a hitch. In industrial manufacturing, some hick-ups are to be expected, and you should do your best to spot the flaws on time and return the pair in favor of a better-constructed one as soon as possible.
With a sharp eye for detail and a little more attention paid to the quality of the materials you're choosing, there should be no problems in getting the most durable pair of BCBG shoes you can.
Our Favorites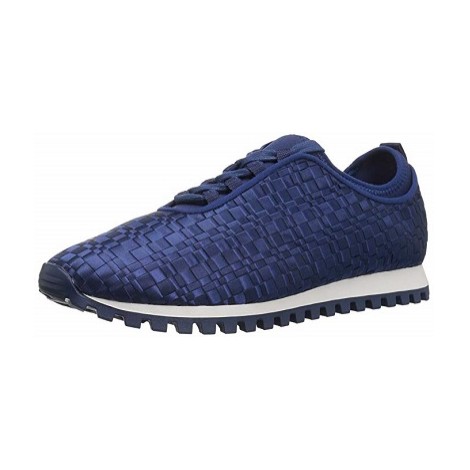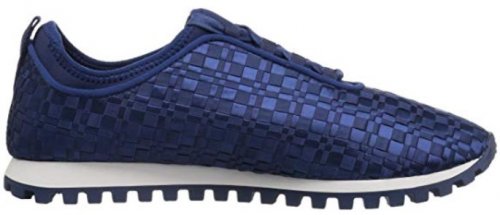 This brand adds a twist to the classic training sneaker by constructing an upper out of woven silk and neoprene fabric. This brings an interesting sheen to the design, completing the round-toe, subtle-lift silhouette. The Lynn also has a lace-up closure, a padded insole, textile lining, and a back pull-tab for easy entry. The option may not be suited for serious, professional training, but it is a solid, comfortable everyday sneaker which will effortlessly fit in with all of your casual looks.
The unusual way the upper of the Lynn is constructed doesn't only have to do with aesthetics. The satin and neoprene combination is extremely lightweight, flexible and breathable, and thus ensures that your feet are perfectly comfortable throughout the day. The lace-up vamp of the sneaker allows you to adjust the fit however you'd like, lacing it up tightly or leaving it open and loose. The pull-tab in the back of the Lynn is there to help you put it on and take it off without any trouble.

As we stated before, even though it is a trainer, this sneaker is not meant for actual sports. It is a lifestyle design, fresh and modern with its woven texture, and it will make sure that you are comfortable and supported in all of your daily activities.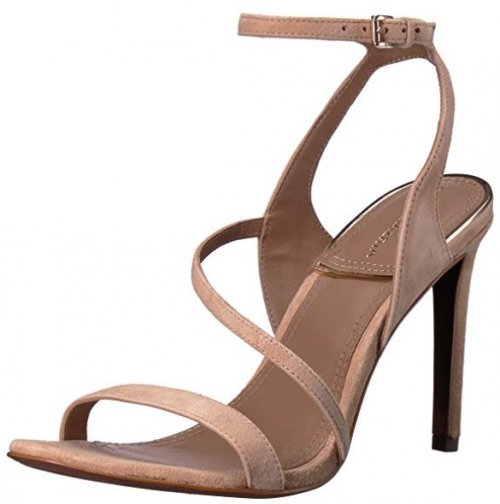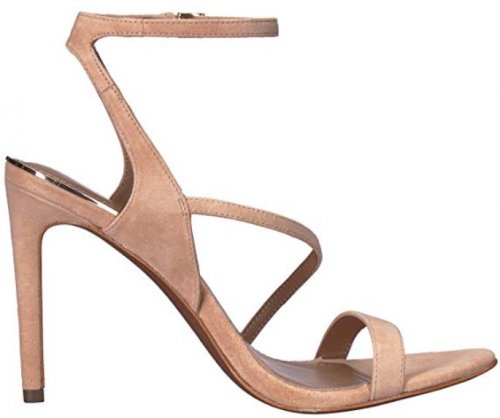 For those evenings or events when you want to look chic and fierce, the Amilia is the perfect solution. This strappy heel features an asymmetrical line across the instep which enhances the stylishness. It is made from leather for a healthy, high-quality experience, and it will effortlessly complete your outfits and make you the classiest, most fashionable person in any given situation.
The Amilia is made almost entirely out of leather - the straps are made from soft leather, including a leather lining that promotes a healthy foot environment. The outsole is also made from leather, meaning that it is flexible and easy to mold to your particular foot shape. The heel of the Amilia is made from plastic and about 3.7 inches high, which thanks to a tiny platform in the front feels like it's merely 3 inches instead.
The buckle closure on the ankle strap allows it to be adjustable so that you can easily slide on the design regardless of whether your ankles are thick or thin. The Amilia is a vision of elegance in several different colors, and you will definitely find one that suits your needs the best.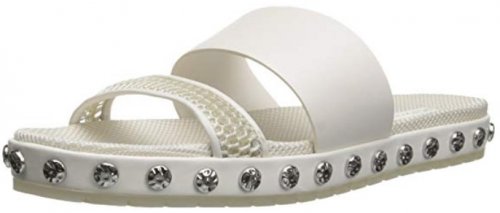 Ever since they emerged from the locker rooms and entered the fashion world, the slide sandals have been virtually unstoppable. From the runways to the beach, to the feet of famous celebrities and fashion icons - they're no longer considered cheap and tacky, but rather a statement of relaxed luxury. The Revet embodies this perfectly, with its easy shape and yet interesting detailing that elevates the entire look.
This slide sandal is made from a combination of leather and rubber. The leather is in the straps, with the toe one being perforated to allow for even more breathability. The footbed of the Revet is lined with gentle mesh material to make sure your feet are comfy, and it is padded for extra bounce. The midsole is covered in metal studs that add interest and unavoidable stylishness.
The great thing about Revet is that it has a rubber sole. This means that you can easily wear it by the pool or at the beach without worrying about slipping or skidding, even on wet surfaces. The Revet is a must-have slide that will make your summers easier and more fun, and which you will love wearing day in and day out!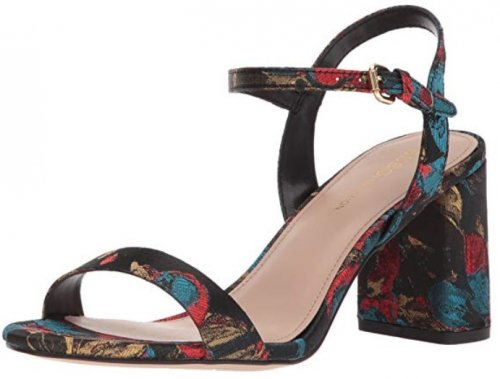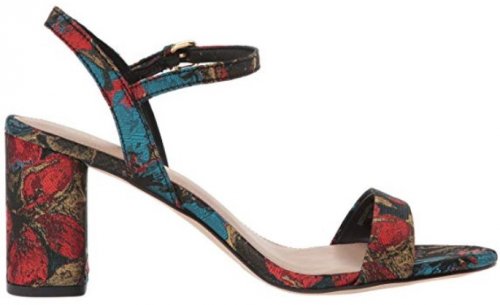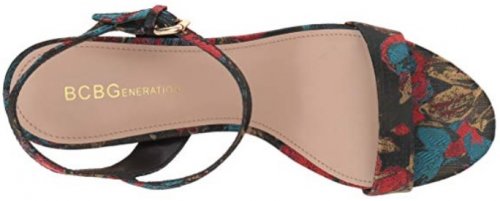 Dark prints and chunky heels are all the rage this season, and the Becca is a beautiful combination of both. This open toe sandal comes with a wrapped, half-moon block heel of approximately three inches in height. It has an ankle strap with a buckle closure at the side, a lightly padded, stationary insole and a flexible outsole. We are utterly charmed by this fabulously chic sandal, and we are sure it will go well with all of your summer looks!
The benefits of a chunky heel of barely three inches are endless. In the Becca, you won't feel a hint of pain no matter how long you wear it for, and the wide base will ensure that your footsteps are stable and there are no wobbly movements at the ankle. The ankle strap of the Becca is a nice accent, especially for thinner ankles, but it also comes with a buckle closure at the side. This buckle provides an adjustable fit, allowing you to fasten it as tight or as loose as you'd like.
The Becca really is a wonderful sandal, visually appealing and comfortable to wear, and you will love taking it out for a spin come warmer weather. Pair it with your favorite sundress, or even with boyfriend jeans and a simple white t-shirt for that casual yet feminine look.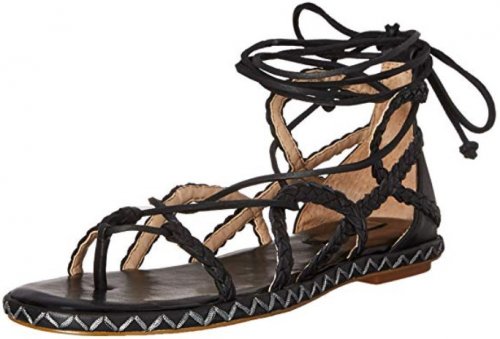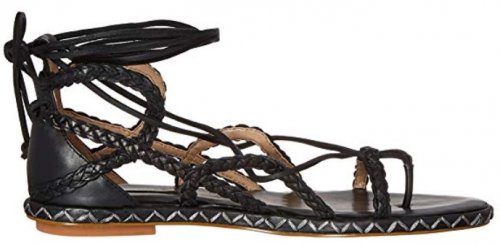 Looking strong and elegant in summer always feels good, but sometimes we also want to relax and kick back, to grab a pair of something cute and comfy to get us through the hot days. The Maye is a design that works just for that - a fisherman sandal that is easy to wear thanks to its flat sole, and it is even easier to love thanks to its ghillie lacing and stitching detail in the midsole.
The Maye is made from 100% leather, meaning that it is of the highest quality possible. Its ghillie lacing weaves through the design and wraps around your ankle, allowing you to adjust the fit of the sandal to your liking. The footbed is padded for an extra touch of comfort, so you don't have any problems going about your days when the summer heat sinks in. The midsole of the Maye features cute stitching that reminds us of tribal designs that are so popular nowadays.
The Maye keeps you comfortable and sweat-free and allows you to show off your cute pedicure. It is a design that is a bit festival in appearance, a bit boho, but one that will keep your feet happy and light no matter the time of day or the places you're going to.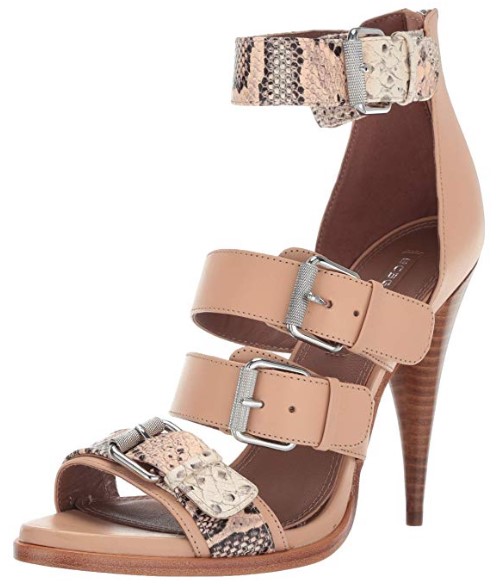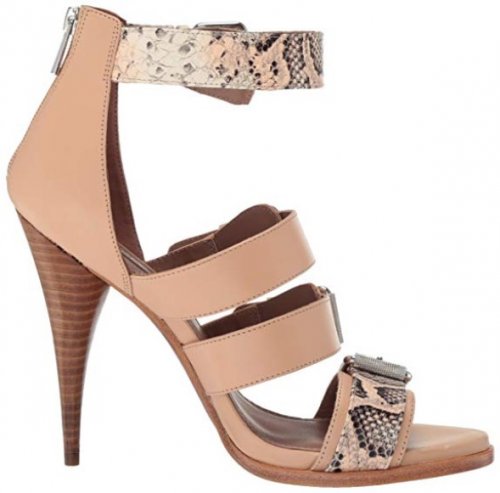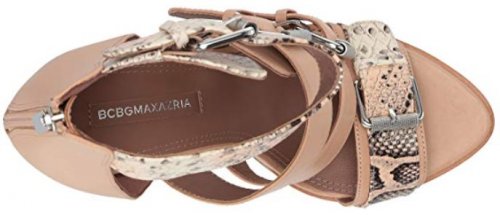 With a silhouette that we've seen before from this brand, the Gloria is a design of amazing quality, featuring two types of leathers and four straps - one ankle, three foot - with functioning buckle closures on each. The benefit of the Gloria is that it not only looks stylish and no-nonsense, it is also more adjustable than your average heel, making it the perfect candidate if you're always struggling to get the fit of your footwear right.
As we mentioned, the Gloria is made from genuine leather or rather dual types of leather for the straps. It comes in a couple of color variations, and we felt that this nude/snake combo is simply to die for. The lining is made from leather as well, as is the sole which is flexible and will make you feel incredibly light on your feet. The heel of the Gloria is over 4 inches high, but it is cone in shape, not stiletto, which makes it more comfortable to walk in.
This design is definitely for the more fashion-forward. It is attractive and striking, yet there is a certain note of business to it. More forgiving workplaces - especially if your job has to do with fashion - will definitely welcome this type of footwear, paired with a crisp pantsuit or an elegant pencil skirt.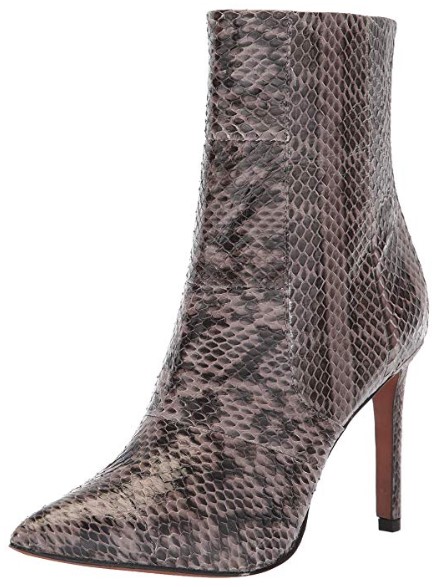 Who says that just because it is cold and gloomy outside you can't look your best? Thanks to the Ava bootie, now you have a fierce option for the autumn as well, an ankle boot that you can wear and look just as drop-dead gorgeous as you do on sunny days. The Ava is made from leather upper to sole, and its pointy toe silhouette takes no prisoners as you strut down the sidewalks on your way to the next meeting.
The Ava comes in several color options, out of which we have singled out this snake pattern because it is beautiful and fearless. Depending on the color choice, the upper is either suede or leather. This design has a leather lining that keeps your feet cool and dry, as well as a leather sole for that delicious personalized comfort. The zipper in the inner side of the Ava makes for an easy way in and out.
The heel of the Ava is 4 inches high and thin. If you're less experienced with wearing heels, perhaps you should practice in these a little bit beforehand. However, once you get the hang of it, there is nothing that should stop you from showing off these powerful, magnetic ankle boots!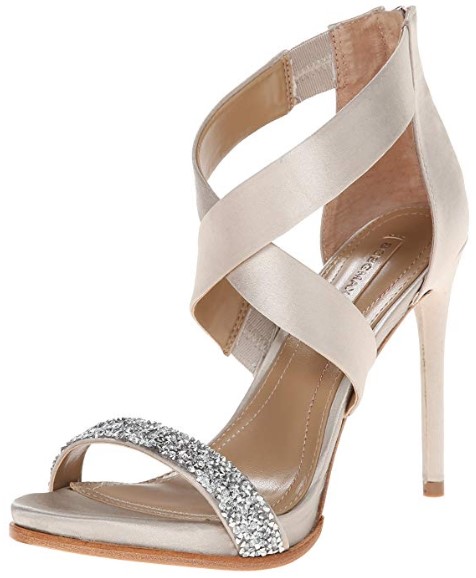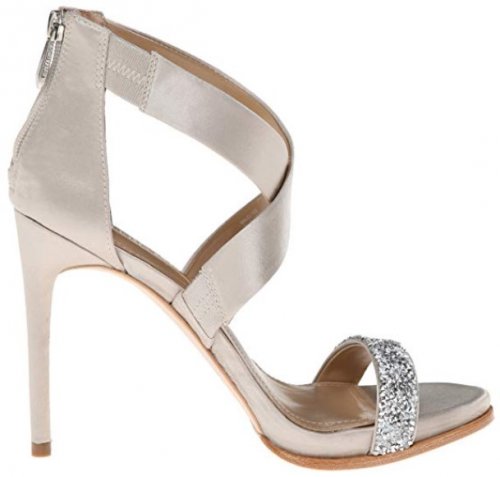 In our wide selection of designs that can be worn both to the workplace and to a fancier event, the Elyse stands out as a piece that is entirely too fancy, too glittery for the likes of an office. It features crisscross straps across the foot, as well as a toe strap that sparkles in any type of lighting. The Elyse will make you feel sexy and elegant and you will stun the crowds at every formal/party event you attend in the future.
This option is made from genuine leather, right down to the suede sole. The benefits of leather are that it takes on the shape of your foot over time, so you can count on the Elyse being amazingly comfortable after a short break-in period. The crisscross straps have an elastic insert in them to make them more accommodating, and there is a zipper in the back for an easy way in and out of this glitter wonder.
The heel of the Elyse is stiletto and about 4.25 inches high, which is a bit much, but not too difficult if you are used to wearing heels. Thanks to its all other features, the Elyse is amazingly comfortable regardless of the height, and you will love how playful and flirty you feel while wearing it throughout the night.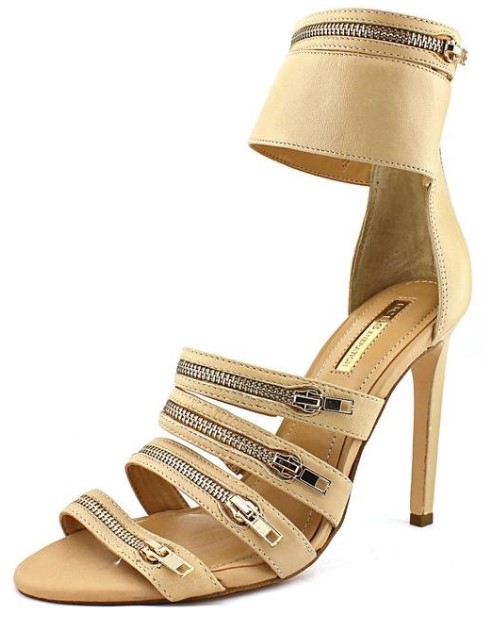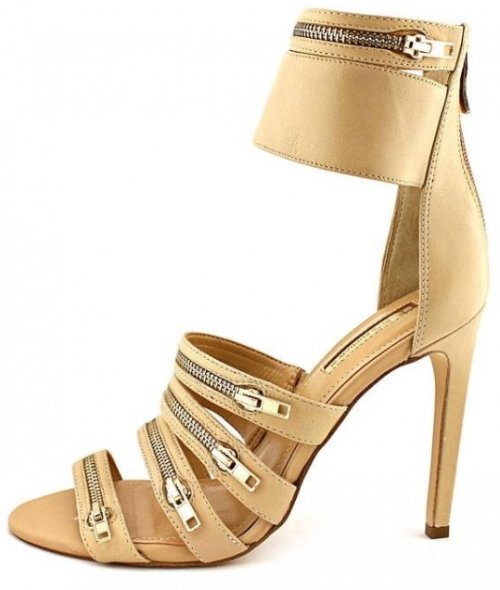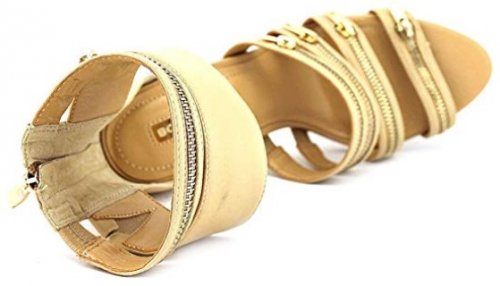 The Casey is a design that is all about edginess and rebellion. It is a sharp stiletto heel that means business, and it also comes with an ankle cuff and zipper details all over the straps. It is a blend of party and punk, a great option if you're looking for a little innovation, a little alternative style in your aesthetic. The Casey is a design for the club, for a cool get-together with your friends or family; for a moment when you want to be a little daring and a little different than the rest.
The Casey is made from leather for the upper and synthetic materials for the sole. It features an ankle cuff with a zipper accent, as well as an actual zipper in the back of the heel counter which allows you to put these on without a hitch. Elastic inserts in the cuff area ensure that your ankles will fit, no matter their width. The four foot straps of the Casey also come with zipper decorations, pushing the edgy factor of this design to the maximum.
The heel of the Casey is 4.25 inches and a thin stiletto in shape. This may not make it suitable for everyday wear, but for special occasions, it will be more than enough. Pair these with your favorite cropped jeans or a mini skirt to show off your legs, and be prepared to have the time of your life next time you go out!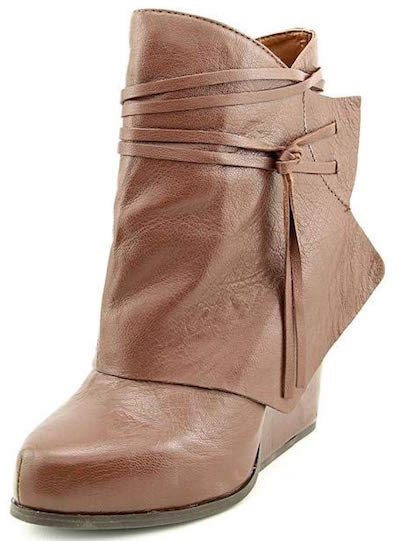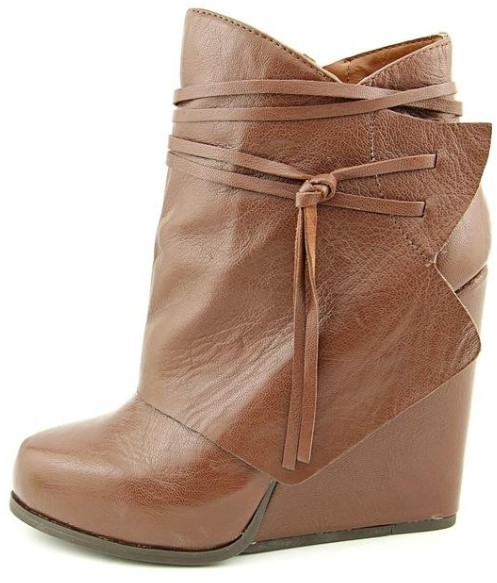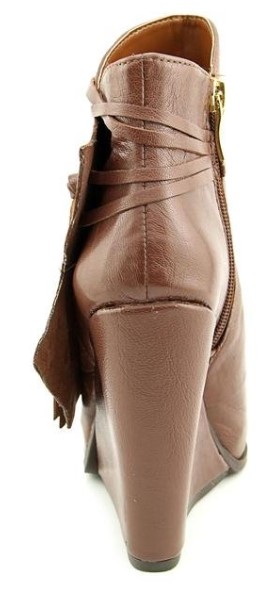 The Loralei is here to provide a fresh take on the classic bootie. This is a four-and-three-quarter-inch pointed-toe ankle boot with a wedge, a tie at the top, and cognac-colored faux leather all over. The color is refreshingly neutral and will go well with everything. If you work at a desk and don't expect to walk for longer periods of time, make sure to wear these beauties to work and garner a world of compliments on your modern yet refined style!
The Loralei bootie comes with a 4 3/4 inch wedge. While pretty high, it's known to be pretty comfortable so you don't have to worry about whether or not it will hurt too much over time. The key feature of the design is definitely the wrap around the front area, complete with delicate straps to tie around the ankle and help adjust the fit. To ease your way in and out of the bootie, there is a zipper on the inner side so that you have no problems sliding in and out.
The Lorelai is certainly a design that we don't see every day. It is a modern take on a classic ankle boot silhouette, and it will definitely turn some heads. Its sky-high heel offers you a boost in height and a boost in confidence, and there's nothing you won't be able to do with these fierce, unusual boots!

Subscribe to our Newsletter