Best Shoes for Your Next Vegas Trip Reviewed
In a Hurry? Editors choice: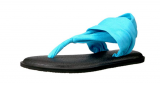 Test Winner: Sanuk Yoga Sling 2

In the words of Drew Carey, "Everything and anything you want to do, you can do in Las Vegas!" A saying that couldn't be truer, which is exactly why packing a comforting pair of shoes for your next trip to Vegas is a must! Otherwise, you could end up going home with a pair of tired and tender tootsies.

Did you know that the infamous 'strip' is four miles long? The mistake people make while packing for Vegas is only bringing dressy footwear when what they really need is a good pair of comfy walking shoes. This little detail can save you a world of hurt once it comes time to head back home. Though deciding on the right style to bring that's both stylish and enjoyable to wear can be tough, which is what this page is all about - making your life easier!
Standout Picks
Criteria Used for Evaluation
Breathability
Wearing a breathable pair of shoes is very important, especially when you're walking about in hot and humid weather conditions as we see in Vegas. In these conditions, you're going to want a shoe that prevents overheating and wicks excess moisture away from the skin.
A leather shoe is excellent for this because leather is an all-around breathable material that pulls excess moisture away from the skin, preventing a build-up of sweat and odor-causing bacteria.
 
Open-weave materials like mesh are also highly recommended for warm climates because they allow for adequate airflow inside of the shoe and around the foot. Heavier fabric materials like cotton should be avoided because they tend to block airflow. Canvas is another excellent consideration because of its cooling and comforting features even after hours of wear.
 
For Nevada traveling, sandals are a great option to consider, just be sure that they offer enough support in order to prevent foot and lower limb fatigue.
Sandals with an EVA or memory foam footbed are always a great choice because they're super comfortable and will offer enough support to prevent arch-related problems. The last thing you need while you're on vacation is to suffer from a blister, foot fatigue or other related problems that can ruin your holiday.
Comfort
If you're planning on spending your vacation sightseeing, you're going to need a comfortable pair of shoes on your feet! No one wants to walk around for hours with tired achy feet because it's just plain uncomfortable. Choosing the right shoes can make a world of difference.
 
A big factor is whether or not the shoe is going to rub or cause friction-related problems like blisters. If your skin repeatedly rubs against the surface of the design, it will eventually lead to the formation of sore spots or blisters which can quickly ruin your holiday.
Make sure that there are no prominent seams inside of the shoe and that there is adequate cushioning along the cuff and heel area. These things will lessen the chance of rubbing and will ensure that your feet stay in top shape throughout your getaway.
 
A well-cushioned insole will lessen foot fatigue and will make you feel more refreshed while you travel. Just be sure that the structure of the design provides enough support to prevent any discomfort.
It's also very important that your shoes aren't too small or narrow because crowding your toes will quickly start to feel uncomfortable. You should be able to easily wiggle your toes inside without touching the actual toe box material. If you can do this, then your shoes are roomy enough to wear for long periods of time without hurting your feet.
Midsole
The midsole of a design is what supplies the cushioning and padding. It's also responsible for absorbing the waves of shock that travel through the feet and legs with every step.
Traditional shoes will have a thicker midsole that's made from a foam material like EVA, whereas a running shoe would have a very thin midsole.
 
Usually, a firm midsole will be heavier but will provide better support, while a thinner one will be lighter and will better absorb shock. A thin midsole tends to wear out quicker, which can be a downfall. Firm midsoles are best suited for wearers with conditions like plantar fasciitis, tendinitis, and others caused by overpronation. A softer midsole is better suited for those with shin splints because they are more shock absorbing.
 
Generally, when it comes to walking for longer periods of time, you're going to want a pair of shoes with a well-padded midsole that's made from a nice cushy foam material. This will prevent foot and lower limb fatigue, as well as the aches and pains associated with walking for longer periods of time.
The pairs on this list were chosen, in part, for their well padded and comfy midsole designs that are ideal for a day spent on your feet moving about. Sort them according to this criterion and choose off the top for the designs with the best midsoles for long distance walking!
Style
The kind of shoes you bring to Vegas is very important because the wrong style can cause you a real headache once you're there. The thing about this vacation destination is that there are so many sights to see it's going to take a fair bit of walking about. With so many historical areas and city streets to wander it's no wonder that a good part of your time is spent on your feet moving about.
 
The best style of footwear to keep you walking with ease throughout your stay is going to be a lightweight and breathable option that supplies a good amount of underfoot cushion.
Sandals are highly recommended because let's face it, you're going to be hiking about in the desert. But, not just any pair of sandals will do: you're going to need a pair that actually supports your foot and cradles it in cushioned padding. A pair that has a foam footbed, particularly EVA or memory foam, will be the best and most enjoyable choice.
 
If sandals aren't your thing then you should consider opting for a plush pair of walking shoes or athletic style sneakers because they're very supportive and will prevent any aches or pains at the end of the day.
Athletic shoes are typically designed to be breathable and lightweight, exactly what you're looking for, so sporting a pair might just be an excellent idea! Whereas, walking-specific shoes are designed to lessen discomforts associated with spending long periods of time on your feet moving about.
Support
When you're planning on walking or standing for an extended period of time, you're going to need a supportive shoe to prevent problems related to the arch area of your foot.
Knowing which type of support structure you'll need can be tough because it varies depending on what your foot arch type is. Which out knowing this, it's a guessing game choosing footwear, and you don't want to take a gamble on your comfort while in Vegas!
 
First off, you need to identify what kind of arch you have so you can purchase a pair that offers the right kind of support. There are three types of arches: neutral, low, and high, which we are going to explain below so you can identify yours.
Neutral: This kind of arch is biomechanically efficient and won't cause too many problems, though it's still susceptible to the normal foot complaints. You can tell if you have a neutral arch by assessing the curve of your foot. If its medium, or neutral, your foot will have a nice slight curve to it, it won't be too flat and it won't be a very high arch either.
Low: This kind of arch has very little of an actual arch in the foot. It sits low to the ground and can cause problems like overpronation, plantar fasciitis, and heel spurs. About 20% of people are born with a low arch. You can tell if your arch is low because there will be a lack thereof and your foot will look flat.
High: Roughly 20% of people will have a high arch and will be prone to plantar fasciitis, heel pain, claw toes, and more. A high arch is quite noticeable and can be identified by assessing the gap between your sole and the ground - it will be very noticeable. Try putting your foot in a shallow pan filled with a thin line of water along the bottom. Place your foot in the pan and assess if the arch sits within, slightly above, or way above the line of water.
Now that you've identified the type of arch you have, its time to find supportive shoes that are right for your specific needs!
Generally, a neutral arch would benefit from a pair of shoes that has a thicker sole that's firm, along with a nicely padded footbed. Its also important to keep your heel stable, which can be achieved by making sure that it sits nice and snug inside the back of your shoe.
Low arches need extra help to prevent the foot from rolling inward (also known as overpronating). A thick sole with adequate cushioning will help a lot and it's also important that your shoes have adjustable lacing so that you're able to restrict the foot and prevent it from moving around in your shoe.
Higher arches require the most cushioning and least rigidity. Having a well-cushioned footbed will help to lessen the shock waves absorbed with every step and will assist your feet with proper impact absorption.
Our Favorites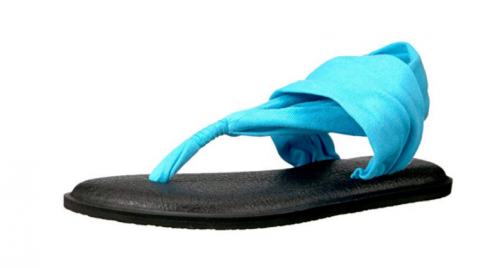 The Yoga Sling 2 from Sanuk is a comforting pair of sandals that is perfect for the warm Nevada weather. This option features a yoga mat footbed for extra cushion and support, along with a Happy U rubber sponge outsole for more spring with every step. This is a super-cute pair of thong flip-flops that have stretchy fabric straps for added style.
These second-to-none shoes are designed to provide the ultimate in underfoot comfort and deliver an unbeatable ride no matter how long you intend to be on your feet. Breathable, lightweight, and super flexible, this pair from Sanuk is a must-have for fashionable ladies who are bound for Las Vegas.
 
The Yoga Sling 2 is available in an incredible thirty colorways, ranging from charcoal to aqua and everything in between. You'll have no trouble matching these with your favorite outfits and they'll fast become your go-to favorites even when you get home.

2

. Skechers Meditation Studio Kicks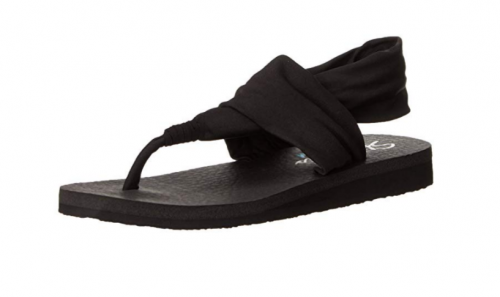 The Skechers Meditation Studio Kicks helps you find your zen no matter how many miles may lie ahead. This sandal is made from a supple woven fabric and offers a casual and comfy flip flop thong structure with a yoga foam-cushioned footbed. Imagine the sheer comfort of stepping down onto a yoga mat wherever you go and you can envision how enjoyable it will be walking about wearing this pair.
The Meditation Studio is an updated and unique take on a classic song style sandal. It features an inside slide strap matched with an interwoven wraparound ankle strap for a cool looking and casual design. Its front accent and fabric toe posts allow for total comfort with an added fashion flair.
This pair of summer shoes has an outsole with solid traction that's ideal for both walking and hiking thanks to its grippy hold. The yoga foam-cushioned footbed makes every step feel pillowy soft and prevents foot fatigue and lower limb pain.
This is an ideal choice for anyone planning on outdoor activities like walking, especially those trying to beat the heat while looking their best; a great option for a Vegas vacation because it looks as good as it feels and it's so trendy. You could even transition from daytime sightseeing to nighttime extravaganzas without any problems at all.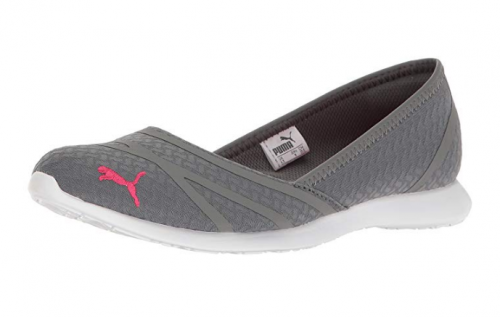 Puma's Vega ballet flat will keep you as comfy and stylish as ever thanks to its sleek design and extra enjoyable foot feel. This pair is ideal for cruising the Vegas strip as it offers a cooling structure that will help you beat the desert heat. Ladies who aren't willing to compromise their sense of style for a more comforting ride will love this design's foam midsole and trendy upper appearance. It is a great pair to wear for long periods of standing or walking.
The Vega's EVA foam midsole makes for a structured and supportive cushioning that allows your feet total comfort while you walk. You can forget about having tired or achy feet at the end of the day because this pair is designed with your enjoyment in mind. Its made from a breathable mesh upper material that allows for adequate airflow inside of the shoe and around the skin, helping to control excess sweat and eliminating odor-causing bacteria.
 
Wearers love this look and rave about how stylish it is with nearly any outfit. The Vega is available in several colorways, which are all easily matched with almost any other color. A signature PUMA cat logo sits at the side toe for a dose of fierceness and criss-cross overlays add a unique vibe to this gorgeous structure.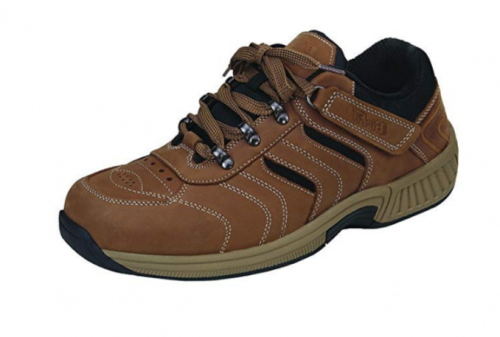 The Shreveport from Orthofeet offers an extra supportive and comforting choice. Pain-free and with an orthotic insole, it is perfect for wearers suffering from plantar fasciitis, or for those with diabetes. An anatomical arch support reduces foot and lower limb pain so you can get back to enjoying your days out and about.
This pair is made with an Ortho-Cushion system which sees air cushioning added to the sole for the best kind of lightweight padding available. Its seam-free structure won't rub or cause any friction-related issues and foam padding will ensure that your feet stay pain-free for hours on end. Wearers rave about the Shreveport's extra deep design that guarantees not to put any additional pressure on bunions or other sore spots. They can't get enough of its durable yet flexible construction.
 
The Shreveport is made from long-lasting nubuck leather that is perfect for wicking excess moisture away from the skin. This keeps you feeling cool and dry, while also eliminating odor-causing bacteria for a fresher all-day feel. This design is made to deliver the best possible relief from foot pain and lower limb discomforts which is why it's such a good choice to take with you on your next trip to Vegas!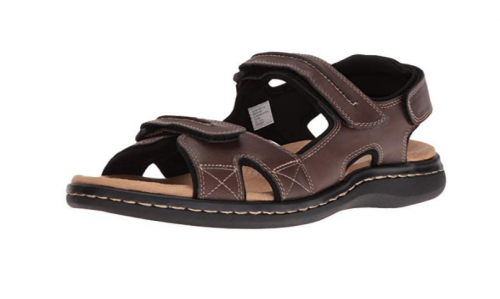 The Dockers NewPage is an athletic-inspired pair of gladiator sandals that are ready to take Vegas by storm. Featuring a smooth synthetic upper that's lightweight and breathable, this summer pair is ideal for beating the Nevada heat. This stereotypical dad-shoe comes in three colorways: grey, dark tan, and briar. It may not get the best points for style, but there's a reason why it's stereotypical! After all, who knows better than dad? Nobody, that's who. These are sturdy, breathable, and will get you through absolutely anything. Tackle the strip with sensibility, and you'll find you'll have a grand, ol' time!
The Newpage offers a dual-fusion footbed that provides an ideal level of cushion and support. Its memory foam insole conforms to the shape of your foot for a customized kind of comfort every time you wear them so you can feel your best while you're on the move. This sandal has a roomy fit that's great for wider feet and won't restrict you while you move.
 
Wearers love the Newpage's stay-put feel that utilizes Velcro straps for a no flop wear. Anyone planning on an outdoors adventure will benefit from the Newpage and its durable design. There's nothing you can't do while in a pair of these and they're certainly an ideal choice for roaming the Vegas scene with ease.

6

. Skechers Performance Go Walk 3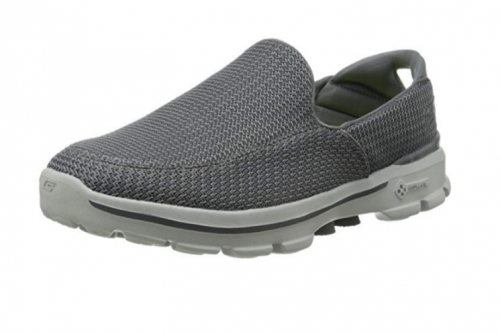 Skechers' Performance Go Walk 3 features a unique Goga sole that is made from the same plush materials as a yoga mat. It offers a completely comforting ride the was made for walking. This shoe delivers a laid-back and fashionable design that's perfect for cruising the Vegas scene and is a breathable choice for cooler feet in the desert heat.
The Go Walk 3 has an easy-wearing slip-on frame and its upper unit is made from 100% mesh for the most airflow possible inside. Forget about warm, sweaty, and uncomfortable feet thanks to this deliberately airy construction that prevents overheating.
 
A multi-directional tractioned sole will keep you steady on your feet so you can roam wherever you choose without worrying about slips or falls. This is a great choice for walking the city of sin and is available in six colorways including black, navy, grey, and stone, which means you'll find it easy to match with practically any outfit.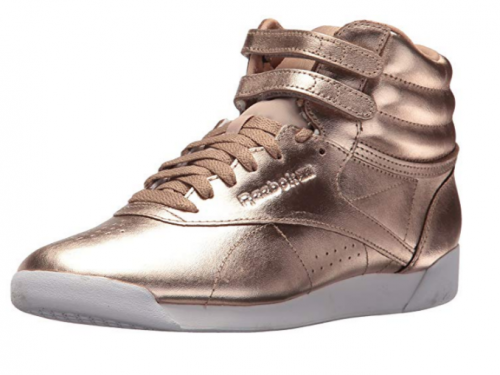 Reeboks' Freestyle Hi is a hip and trendy option that will have you looking fresh while you're cruising the strip. It features a leather upper unit that is ideal for allowing adequate airflow inside and around the foot. This prevents overheating that can lead to sweaty and uncomfortable feet while it also eliminates odor-causing bacteria for an all-day clean feel. A rubber sole provides non-slip wear, while its four-inch shaft lets this shoe sit nicely above the ankle.
The Freestyle Hi is available in fourteen colorways including retro black, face twisted berry, and rose gold, just to name a few. You'll love how easy it is to match these stylish sneakers with nearly any outfit and the sheer comfort that they deliver.
 
These kicks fit nice and snug. This means they stay perfectly in place thanks to their dual lace-up closure with hook & loop ankle straps. You can forget about your shoes loosening or flopping while wearing this pair because it's got you covered from morning until late in the evening. So, if sandals aren't your thing, and you want to make a statement in a style that just drips lux, you just found your perfect fit.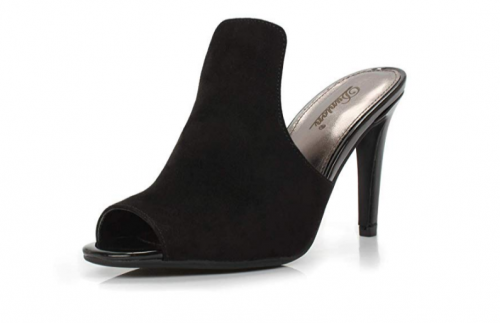 Dunions' Brody is a gorgeous slip-on heel that is perfect for a night out on the town. It's available in three colorways: black, navy, and red making this shoe an effortless choice that will match well with practically any outfit. The Brody is made with a breathable fabric upper and a non-slip rubber sole that keeps you safer despite its raised heel. Ladies can't get enough of this stunning pair that was made for the nightlife.
Dunion has outdone themselves with this comforting pair! It offers a double cushioned memory foam footbed that cradles your entire foot in a supportive embrace. A 3.5-inch slender heel adds an alluring vibe to this option, while its smooth silhouette makes for an irresistible design.
 
Ladies love the way this design lengthens the appearance of the legs and how comfortable it is, especially for a pair of heels. The Brody has a super-cute peep toe design and is made from breathable materials that are perfect to beat the Vegas heat; they will prevent sweating inside of the design that can cause your feet to slide and even give you painful blisters. Go ahead and walk with ease in a pair of these too-cute-high-heels.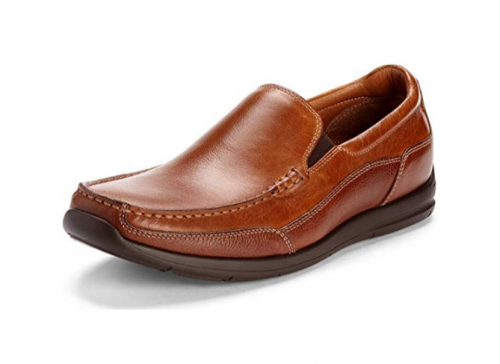 Vionic's Preston is one comfy pair of loafers! Thanks to the brand's innovation, it is biochemically engineered to cradle the delicate arch area of the foot for comforting support. Men love the way this pair looks and feels thanks to its smooth structure that's ready to transition from day to night without any fuss.
The Preston is made from breathable leather that keeps your feet at their ideal temperature. This prevents a build-up of odor-causing bacteria, taking sweaty, smelly feet out of the equation. Slip into these loafers with ease thanks to their laceless design, which stays securely in place with the help of dual side goring.
 
Walking will be a breeze if you're wearing a pair of Preston loafers with a podiatrist-designed footbed specifically made to help ease overpronation, plantar fasciitis, and other common pains associated with the feet.
You won't have any trouble matching this shoe with nearly any outfit you own thanks to its two available colors: black and tan, which look great with practically any other color. Go ahead and spend your day walking about and your night at the most happening hotspot without even having to change your shoes!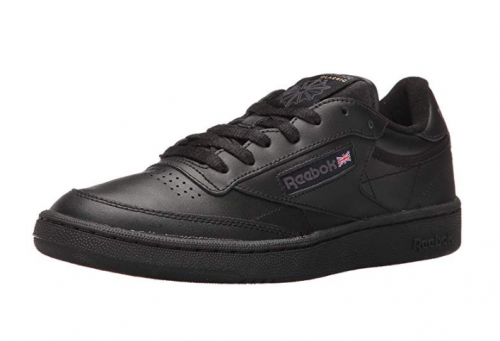 Reeboks Club C 85 is a nice looking pair of sneakers that is available in twelve colorways ranging from black/charcoal to white/green and everything in between. This design delivers unbeatable comfort thanks to its removable EVA sock liner and low-top design that allows for a complete range of motion and won't restrict you in any way. It's a lace-up sneaker that's as hot looking as it is enjoyable to wear and will keep you riding in plush comfort for the duration of your stay in the city of sin.
Made from soft leather and featuring a non-slip rubber outsole, the Club C 85 is designed to enhance your walking experience every step of the way. These sneakers are the perfect mixture of old-school vibe and modernized athletic wear thanks to their cool cut design and performance-enhancing structure.
 
Wearers can't get enough of this no-fuss wearability that lets you move the way you choose without holding you back. Its removable EVA sockliner makes room for custom orthotics and provides the perfectly supple underfoot support to promote a healthier environment for your feet.
This shoe is made with a durable high-abrasion rubber sole and soft leather upper materials that extend its lifespan so you can enjoy it even after years of tough wear and tear.

Subscribe to our Newsletter