Best Transparent Socks On The Market Reviewed
In a Hurry? Editors choice: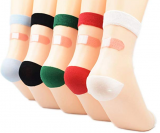 Test Winner: Ziye Band Aid

If you're an avid heel wearer, or just want a fun way to spice up your daily style, a pair of transparent socks is definitely the way to go. This type of hosiery has numerous benefits, including insulation, moisture management and protection from your footwear, and depending on the model you choose, it can be a great stylistic choice, or a completely invisible piece of clothing.

However, finding a great pair of transparent socks is not as easy as it may seem, so the list below looks at the top ten models currently available for purchase. Additionally, you'll find answers to all your possible questions in the Criteria for Evaluation and FAQ sections.
Standout Picks
Criteria Used for Evaluation
Materials
The materials that make up a pair of transparent socks define their quality. They can affect the overall fit, the comfort we will feel throughout the day, and their durability and breathability. Choosing a sock made out of the right kind of material will provide you with joy and relaxation, but if they lack just one thing it is going to be all you can think about - bad socks will ruin your day! So always make sure to choose the material that suits you best.
Cotton is the most common. This material is natural, harvested from a plant with the same name. The ideal blend of cotton will feel super soft on your feet. Some materials feel like iron cages, but cotton will always feel like a light, caressing touch. Cotton also takes on color very well, s you'll have plenty of options. It doesn't hold color that well though, so they will fade over time.
Cotton does not irritate or scratch your skin and does not promote sweating. Predominantly cotton-based styles breathe well, and you will not end up with sticky wet feet, nor will any kind of bad odors spread from you. Cotton can not wick moisture like other materials though, and it stays wet for a long time, so this material might not be such a good fit for athletes. It's also prone to tearing, so it doesn't stand the test of time that much.
Polyester can also be seen quite a bit. This petroleum-based fiber is man-made. This means that upon magnifying a polyester sock, you will see teeny tiny plastic fibers woven tightly together. These plastic threads make sure your clothing will last for a long time. Also, they soak up color like crazy and do not let it go, ensuring they stay vibrant for a very long time. The best property of polyester is its ability to wick moisture away.
The best moisture wicking material is polyester, and so it is a popular choice among runners and other types of athletes. But, since polyester is plastic, it is bad for our environment and it is not compostable. It's a great insulator, which is a good thing if its cold, but shoes usually provide a lot of heat so you'll end up boiling inside!
Spandex, lycra, elastane all refer to the same type of material made from PU, or polyurethane. Spandex is extremely resistant to stretching, and it will accommodate any shape and size you put in it. In fact, it can stretch up to 500% of its original length! This also helps them retain their shape, meaning you will always have the same fit. Spandex is very light, removing excess weight from your feet and leaving them well-rested. But, how does spandex work, what makes it so stretchy? The answer lies in the construction. The fibers are made out of many polymer strands. These strands feature two types of segments: long, amorphous segments and short, stiff segments.
When no force is cast upon them, they have a completely random structure. Some portions of the fibers bond and strengthen the construction. When the stretching force is applied, this all changes - the bonds are broken and the shape-shifting segments straighten out. This makes them longer. When these segments are stretched out to their maximum, something interesting happens: the rigid segments bond again with the amorphous segments, which remain in their stretched out state. This makes the overall construction stronger and stiffer. After the aforementioned force is removed, the fibers recoil and return to their original state. This plastic magic allowed sock makers to incorporate it into their construction, increasing our comfort and improving the fit.
Nylon is often used to make transparent socks. This is also a synthetic material known as polyamides. Firstly, it was used to create toothbrush bristles but has since found many uses. The fibers that make up nylon are moisture wicking and sleek, which makes them dry quickly. Nylon is also strong, but it still snatches and tears easily so you should take special care when buying nylon-based clothing. It does not attract dirt, is easily cleaned, and resists the influence of chemicals and sweat. The only thing that can harm it is high temperatures, so make sure to never iron anything made out of nylon! Nylon is also super cheap, so you won't need to spend a lot of money for a few nylon pairs. It retains color well, but it might not be so vibrant due to its appearance.
Silk is not seen often enough amongst sock materials, but yet it can be found. This is a luxurious natural fiber, made out of protein, which is harvested from silk-producing larvae. Some forms of silk can be woven and made into textile fibers. Silk pampers your feet, and it looks and feels fantastic. They have a high absorption rate, even higher than cotton! Sadly, silk is very expensive, and really not so durable, so you might need to buy new pairs of silk transparent socks very often. They are a luxurious good not everyone can afford to buy, but lucky for us, combination materials are a thing, and we can enjoy some sides of silk!
Rayon is a natural material made out of regenerated cellulose fiber. Rayon comes in many types, and they can all imitate the texture and look of other natural fibers, such as silk, wool, and cotton. The rayon that mimics silk is often called artificial silk. Rayon is made out of wood pulp - cellulose is purified and put through a spinneret to make filaments, which are then artificially solidified.
Rayon is produced from polymers which can be found in nature, so it's also considered to be a semi-synthetic fiber. A big drawback is the carbon disulfide used to treat it - it can seriously harm the workers! The properties of nylon are the most similar to nylon, namely it's slippery and sheer. It takes on color easily, and many different shades can be found. They are highly absorbent but do not insulate body heat, meaning they should not be used when it's cold. Rayon is not so elastic, and moderately durable.
Comfort
Comfortable transparent socks help our feet feel happy and relaxed. Constricting styles cause discomfort, rub our skin and squeeze the toes together, which in combination with footwear can cause aches and blisters. Styles which have poor stitches, bumps, and ridges where they are not supposed to irritate our skin and open ways for infections to happen, and maybe even corns and calluses.
Overall comfort can be increased in many ways, but the material a pair of transparent socks is made out of plays the biggest role. Cotton takes the crown, but spandex and nylon are somewhere close too. All of these materials have their benefits and drawbacks which have been fully explained in the section before, but if you are looking solely for comfort, choose cotton or bamboo.
Polyester is comfortable as well, and spandex is too, but they are not good if they come alone, without being mixed with cotton or nylon. Sometimes, pads are added to the bottom, which enhance comfort and alleviate pain and aches. Adding pads into transparent styles is not done, however, as it would defeat the purpose. This is where cotton bottoms come into play! A thicker cotton layer covers the sole of your feet and provides all the good cotton usually does, and also makes socks a little less slippery!
Breathability
Breathability plays such an important role when it comes to socks that it deserves its own section. High levels of breathability bring many benefits to the table. First things first, if you shop breathable transparent socks, you shop comfort as well. Nothing is more uncomfortable than socks that prevent the natural dissipation of sweat, leaving us sticky and moist. When sweat is not allowed to escape, it creates a humid environment which is an optimal breeding ground for bacteria.
The bacteria thrive, and as a part of their natural life cycle, produce gas which has a pungent odor. This pungent odor is the main cause of smelly feet, so avoid materials that do not breathe! These bacteria, if allowed, can also enter wounds formed by blisters and skin irritation, and cause infection. Transparent socks with poor airflow also create an opportunity for the fungus to grow, so you can even end up with Athletes foot, which is hard to treat.
Breathability is affected by many things, but the materials which are chosen play the biggest role here. Of course, cotton and bamboo are the best, but they all have their drawbacks. After all, the material you prefer is nothing but your own personal choice, but always make sure that you get materials that breathe!
Fit
The way our transparent socks fit us can be influenced by many things. Of course, just like with anything else, the materials that make up the sock are a factor here. They will all stretch to accommodate the shape and size of your feet, but simply put, some materials just do it better. Spandex does it the best, which is why it's always inserted into the collar of the sock, making sure they don't slip down or constrict too much. It can sometimes be added to the arches as well, adding compression and some support.
The added features help improve the overall fit as well. As we mentioned, elastic collars help keep dirt and debris away from our delicate skin and help the sock stay in place. The seams can either be visible or invisible. Seamless toes also exist and are a great option for athletes because the stitches do not rub their skin while they run. Compression helps with blood flow and edema, and the various sock lengths all affect the way they fit us!
Durability
We all know that transparent socks are not very durable items, mainly because we wear them all the time, every day. Durable designs do exist, but you should know that they still won't last that long. Because we need to wash them and dry them often, and because they rub against our slippers and shoes and get snagged by everything, their lifespan is short. This is partially solved by the usage of tougher materials. Wool and bamboo are very tough natural materials, and polyester is a hardy synthetic. Nylon, on the other hand, is strong, but it's thin and gets snagged easily by anything, even the smallest bump.
The life of transparent socks can be improved by adding reinforced heels, toes and collars. They help hold the sock together and protect the areas that get worn down the fastest. They also protect the delicate skin found in those places, so they play a double role. Reinforced collars also help prevent us from tearing our transparent socks and snagging them with our fingernails, instantly ruining the pair!
Top 10 Transparent Socks
1

. RoseSummer Lace Blossom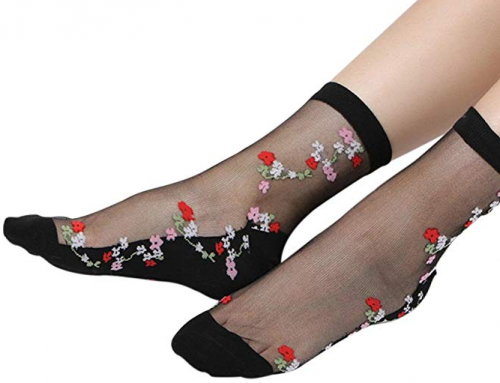 The sensuality of roses has always been known to mankind. They are graceful, gentle, and enhance natural beauty. So adding a string of tiny roses to the sides of these transparent socks was a great move. Not only will your looks improve when the little pink, red and white flowers peek their blossoms, but you will also enjoy seeing a vine of dainty flowers slimming down your feet and legs. The black background complements them and makes them pop out.
These transparent socks are a blend of cotton and nylon. Nylon makes up most of the upper, while the threads used to embroider the flowers are cotton. They are very versatile, and can also be a cute gift to your loved ones. An elastic collar helps keep them in place, and keeps dirt and debris out, preventing irritation.
A cotton bottom supports your arches, pads your delicate feet, and makes them just a little bit less slippery. The toes are reinforced, preventing holes and snags from happening. The arches are transparent, allowing a peek to your skin. These transparent socks rank slightly above average in terms or price per pair.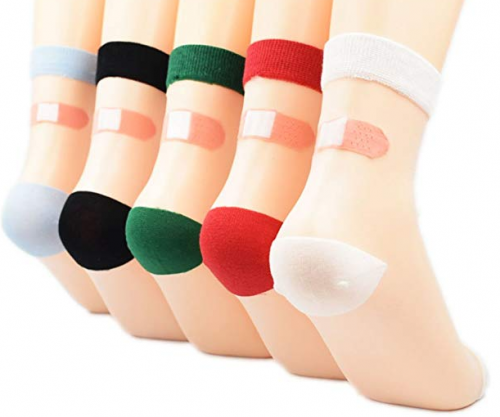 What is that little pink strip peeking from behind, just barely visible from the front? Is it a salmon, a gum piece? No, it's a band-aid! But, why would anyone even have a band-aid detail in the first place, don't people usually try to hide their band-aids? Yes, but this is different - in this case, no grim looking wound is hiding behind these transparent socks, and there is no risk if it falls off by accident. So, they act as a fun, silly detail that can make you seem like a quirky person! Also, it's fun to see people frowning, trying to decipher what exactly is sitting so smugly on your legs.
These transparent socks are made out of cotton, providing instant comfort and breathability. The airflow will save you from bad odors and boiling skin! Their size is universal, so you don't have to think about size charts and all that nonsense.
They come in five colors, a neutral black, gray and white, and super fun green and red! These hues can instantly revamp your style, and help you feel more confident. The patches on the toes and heels help prevent holes and slipping. The elastic trim helps keep these transparent socks in place and doesn't let them slip down into your shoes causing discomfort.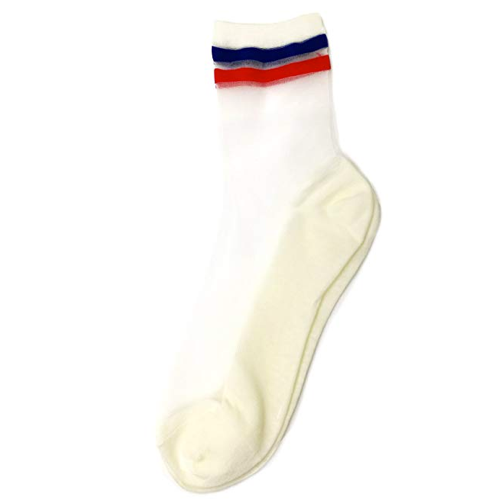 These transparent socks by Crizan are the ideal choice for those who want something that is both sporty and feminine, and that will look just as good with a pair of sneakers or heels. The Ultrathin is the ideal fashion accessory for hot summer months, and it will look just as great with jeans, shorts, or even a skirt or dress.
These transparent socks are made from a blend of materials that includes cotton and crystal silk. The transparent material covers the top of the foot, while on the bottom and around the ankle you get the soft benefits of cotton which ensures durability and adds a bit of cushioning.
The toe and heel areas on these transparent socks are reinforced as well, which means a smaller chance of developing holes. Additionally, they're one size fits all, which takes the hassle out of ordering online. They do have a slightly higher price than average, but that's understandable when it comes to fashion accessories such as these.

4

. Fitu Ankle High Tights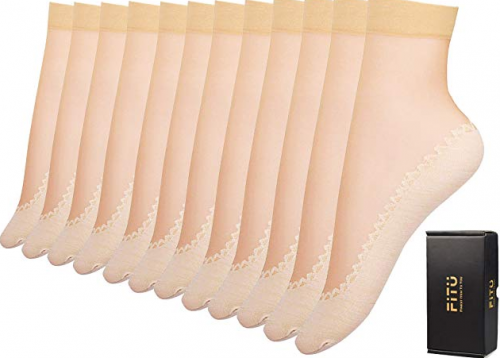 These sensual socks will be the best partner you could find for your dress shoes. They are very light, have a neutral color and are transparent, so they will be practically invisible. They are ankle highs, so they will heat you up all the way to your thighs. They won't insulate you that well though because they are ultrathin! If you decide to wear a dress, these transparent socks will make your legs shine, shape them to make them look sexy, and will mask any imperfection you may have. You will get twelve pairs, so if you accidentally snatch them and tear them, don't worry, you'll always have a replacement!
These transparent socks are a blend of many materials - the surface is a nylon and spandex mix, and the bottom is made out of cotton, nylon, and spandex. This combination makes sure to bring out the best of each material, helping you feel the best you could!
The cotton bottom is absorbent and wicks away sweat, and doesn't tear open easily. Also, the bottom provides slip-resistance too, helping you stay injury free. You can wash these transparent socks in a machine, and hand wash them as well, but just to be on the safe side you should wash them by hand.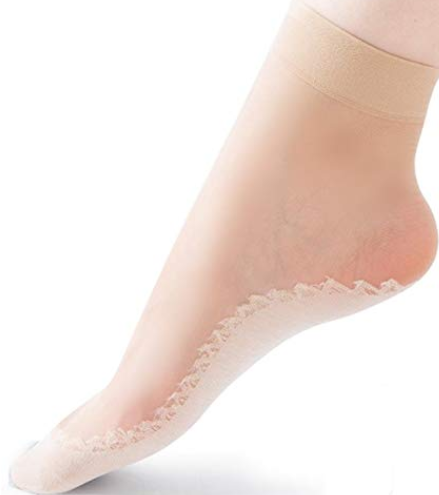 These graceful stockings will make the interior of any dress shoe comfy and enjoyable. They are skin colored and will camouflage themselves on your skin, making it look like you have nothing on. Their ultrathin upper will breathe and allow your feet to flex as you walk. Ten pairs of transparent socks are present in the box, so you shouldn't stress about snagging them and tearing them open!
The sock bottom combines nylon, cotton, and spandex to bring you the best possible fit. The cotton will breathe and allow sweat to dissipate, the nylon will add the silky smooth feel, and the spandex will stretch and accommodate your soles.
The upper of these transparent socks is also a blend of materials, but no cotton is used here, making them transparent. The natural cotton bottom is also non-slip, so if you remove your shoes somewhere you need not worry about falling down. The cotton bottoms also cover your toes, so if you're insecure about your nails or your feet, they will do the trick and help you feel more relaxed. These transparent socks should be washed by hand, as that will increase their durability. They have a lifetime warranty, so if you're not satisfied you can always return them.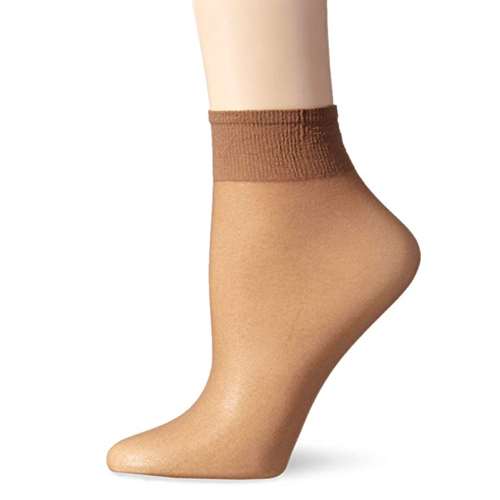 If you're after a pair of everyday transparent socks you can wear anywhere (including the office), then you should definitely go with L'Eggs Everyday. These are made by a reputable manufacturer who is know for products that both look and feel great on your feet, and are durable enough to get you through the day.
These transparent socks are made with 100% nylon which makes them a great choice for those who want a truly lightweight sock. A seamless toe area makes them a good choice to wear with peep toe shoes, ad they even come in a couple of color options.
What makes these transparent socks so comfortable, however, is the ankle collar which is gentle to sensitive skin while still holding them up efficiently. Additionally, you'll find that these transparent socks come at an affordable price, making them a must have item in anyone's closet.

7

. ChrLeisure Fishnet Stockings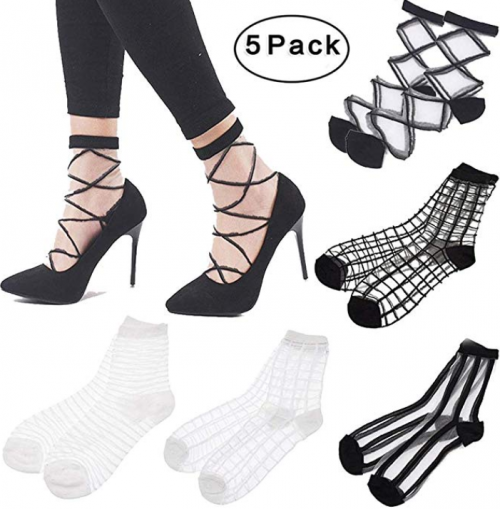 What's sexier than seeing the threads of fishnet stockings wrapping the legs? Fishnets have always been synonymous with sultry looks, and all because someway, the appearance of rope hugging the delicate skin makes you instantly look attractive. The threads make our legs look slimmer, and make bystanders wonder just what exactly hides underneath our clothes? This model of transparent socks by ChrLeisure come in more than one pattern, and in white and black color, so you can choose what flatters your legs the best. Besides fishnets, cute ribbons, polka dots, curious shapes, and pastel floral patterns are also an option.
These transparent socks combine nylon and cotton to give you a comfortable yet sensual sock. The nylon covers most of your feet, and the cotton protects your heels, toes, and acts as a collar, helping them stay in place.
As we said, the fishnet design makes your legs look slimmer, but their shine and transparency help with that immensely, as your skin peeks through the sock. The cotton patches help you have balance, and hide any kind of imperfection you might have. Their size is universal, and no one has to worry about finding the right size.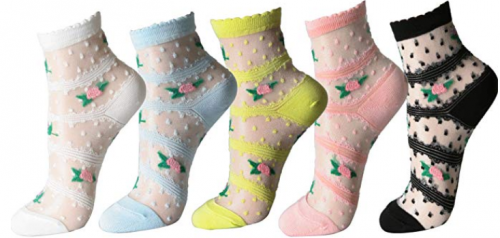 Do you miss being a little child, prancing about on floral meadows and soaking up the sunlight? These transparent socks can help you bring some of those feelings back. Dainty pink roses with leaves of green are scattered all around the upper, while thin bands wrap your feet and little polka dots embellish your skin. As they peek out of your shoes, they will surely attract some attention, and you will always find yourself glancing at them with wonder and joy.
Their upper is a blend of polyester and spandex. The polyester will wick away any sort of moisture that your feet produce, and the color will never wash away. The bands stretching all over the upper not only act as an interesting detail, but they also compress your soles and help with circulation. The patches of skin showing through flirts with the eyes of strangers, and makes them wonder just where you found such a cute, yet flirty pair of transparent socks?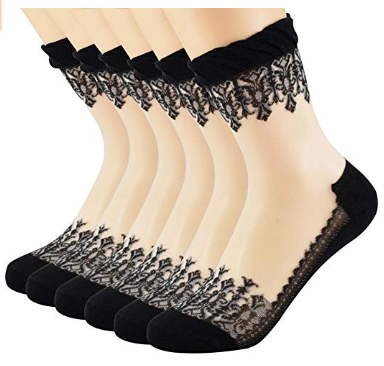 Did you ever look at the gorgeous lace cascading down from evening dresses and wished that just for once, your feet looked the same? Well, wish no more, this ultrathin pair of transparent socks has a lovely lace design making any foot look elegant and sensual. You can choose between calm, earthy tones and pastel, feminine colors meant to instantly improve any outfit you may be wearing. The little scrunched up collar makes you look even cuter, furthermore enhancing your feminine side.
As we said, these transparent socks are ultrathin, so they'll breathe in the summer and cool you down. A cotton patch sits at the bottom, helping you perspire normally and keeping you safe from slipping down.
You can match these transparent socks with pretty much anything you have in your closet, and you can just as well wear them at home. Always make sure that at least some part of them is peeking through because such grace should not be hidden away!



Have you ever wanted a splash of fruit on your feet? Tiny flowers? What about a cat face? Well, whatever you need, these transparent socks have it! They all have various edges and borders, wavy or straight, thicker or thinner, all meant to go along with whatever you procure out of your dresser! You can either choose from really transparent socks, or from semi-transparent socks, offering a bit more privacy to your skin.
These crystal transparent socks are very thin, and they will make you feel light and cool in the summer. They combine silk and combed cotton, so you know these will without a doubt pamper your feet!
The elastic at the top will keep them in place and will prevent them from sneaking into your shoes. A thick cotton bottom covers your toes, and on some pairs extends all across the sides, helping you stay safe on slippery surfaces, and keeping you sweat and odor free!

Subscribe to our Newsletter