Best Shoes To Wear On An Airplane Reviewed
In a Hurry? Editors choice: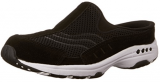 Test Winner: Easy Spirit Traveltime Mule

Plane travel can appear glamorous but it certainly doesn't feel that way in the wrong shoes. With delays, layovers, and turbulence, the experience can be a lot more daunting than it is exciting. One thing that is guaranteed to take the edge off is a pair of supremely comfortable shoes. Your style will take flight when you try on any one of these chosen traveling companions. For wanderers and
business people
alike, there is always a pair waiting to join you on any destination!
Standout Picks
Criteria Used for Evaluation
Breathability
During travel, we often are crossing into areas with vastly different weather than where we are traveling from, especially when traveling for pleasure. Breathable shoes make that transition much easier to make. A shoe that can transition into other climates is a must for a seasoned traveler, and luckily sneakers are often getting versatility make-overs in terms of materials and construction.
Another reason you want to keep your kicks nice and light is because planes get super stuffy. Being up in the air without access to fresh air or a breeze, temperatures aboard planes are often unpredictable and a bit uncomfortable. While we may have little vents to adjust airflow to our face, our feet aren't so lucky.
Soft, fabric upper shoes like the Keds here are great, breezy picks for overly warm flights. Canvas options such as our Superga is incredibly breathable and moisture wicking. Most shoes here will serve you well in terms of regulating foot temperature.
Comfort
Plane rides are already pretty uncomfortable. From cramped middle seats to screaming children, sometimes air travel feels like an actual curse. Since you won't necessarily be comfortable anywhere else, we wanted to make sure your feet felt fantastic. Comfort classics make this list because they're reliably awesome in not-so-awesome situations.
Naturalizer is one of the comfort brands made for women that I personally adore. Their N5 technology is unrivaled in the company of other professional shoe options. The arch support in these will feel great running from gate to gate. Even if you miss a flight, you won't miss a beat in these loafer hybrids.
Another comfort choice that stands out is the Fresh Foam New Balance. The crocheted look is cute and all, but the ultra-soft and flexible midsole absolutely rock in these sneakers. Every step feels supported and cushioned which is pretty key when you're looking for a travel shoe.
The Cotrell Step is a true Clark's brand favorite for its contoured footbed. This slip-on is ultra light but appears heavy. A great shoe for slacks that feels like a sneaker. These are remade year after year among Clarks multiple styles for good reason.
Fit
Shoes can be tricky when picking something to wear on a plane. While most people often think a relaxed slip-on option is perfect, special attention needs to be paid to the upper as to if it will make a good airplane shoe. When flying, the foot will expand quite a bit. When a shoe is extremely open or ill-fitting, your foot can expand to the point of severe discomfort and even trouble walking.
The Ked on this list is a far better option than say, an Adidas Adilette. A shoe that covers the whole of your foot with some constriction while still maintaining give is the best option for flights. The Toms here offer the same kind of really soft and flexible upper that can expand with your foot, while not allowing them to totally fill with blood and hinder circulation when sitting for long periods.
The Emmie is a super basic and simple flat that can keep your foot from getting too swollen while still feeling like a sock or slipper. If you have issues with ankle swelling, however, go for a less open ankles shoe with no restriction around the base of your ankle. Overall, it really is trial and error until you see how your body reacts to flights.
Ease of Use
Customs can be a nightmare. Add in the fact that you're probably already a bit frazzled about flying, to begin with. Then, of all things, they ask you to take off your shoes when trying to head through security. The anxiety of holding up a line can be pretty nerve-wracking, so shoes that can slip right on and off are kind of necessary.
The Traveltime Mule by Easy Spirit was literally made for this. It is a clog with a slight back to keep it securely on your foot and protect your foot on the flight. It is still open enough to be a five-second ordeal to slip on and off though, which is kind of amazing for such a practical shoe.
The Naturalizer Channing is the same way. Though it looks put together, it has a long opening and twin side gore so it is easily slid into after going through a check. They're also easy to sleep off on the plane if you want to opt into some flats, like the lucky Emmie. Pull tabs and soft construction are also featured on a lot of this list's footwear. Convenience is definitely key here!
Portability
Not every person will need or want, a shoe that can be thrown into their carry on for flights, but it certainly comes in handy. An extra pair of shoes for a quick footwear swap or an easy pair to stow away after landing is pretty helpful to own. Collapsible and light shoes are perfect for inside a bag, which makes them great for travel.
The best shoe for this is the Nike Rejuvenate. With a sock-like construction, the whole upper and heel collapse down to be almost entirely flat. The mesh is super light and will take up only slightly more space than the soles themselves. A quick toss into the back and slip into heels after landing in your destination has never been simpler.
Lucky Brand's Emmie is also noticeably portable. They are so small and flexible you can make them disappear in a blink of an eye after comfortable wearing them for hours. Similarly, the Keds are so soft they can easily be stored as well. All of these picks have varying levels of portability, but every single one is lightweight and easy to pack compared to other heavier sneakers or shoes.
Top 10 Picks
1

. Easy Spirit Traveltime Mule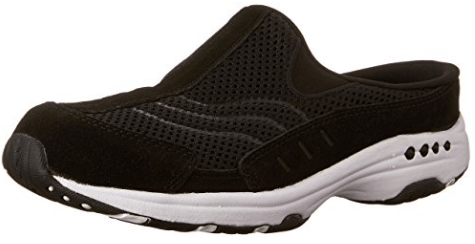 Operating for 35 years, Easy Spirit is paving the way in shoes for women that evolve as much as they do. Their principals span from value to ingenuity. Every shoe is designed to provide premium comfort for the wearer while also allowing versatility for anything life throws at them. Their company is based on honesty and integrity, they aren't interested in gimmicks to attract a customer base, just true consistency in product quality.
This mule, appropriately named the Traveltime by Easy Spirit, has its best application right in the name. If you are being whisked away to a far off paradise, you want a shoe that won't cause inconvenience for you from TSA to the plane ride itself. An entirely suede option, the insole is cushioned to make you feel like you're up in the clouds, and the outsole is hyper flexible. A removable sock liner makes these orthotic and washer friendly!
Lightweight, it is a breeze to slip on and off when going through customs. Available in 25 colors, there is a color scheme to compliment any style. The rubber sole absorbs all the impact from moving along through to airport trying to get to your gate. The open back makes them comfortable for long hours on a plane, while still surrounding your feet to prevent swelling. Breathable for all climates and perfect for going from cooler climates with socks to warmer areas without, this is a match for a constant traveler.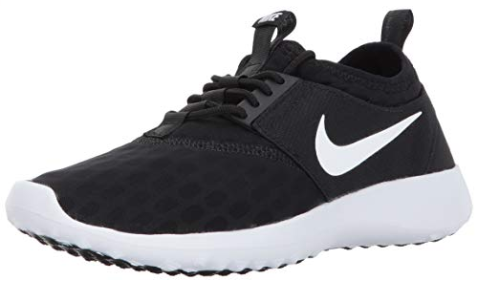 Setting out to bring innovation to every athlete in the world can seem like an exclusionary task, but the great thing about Nike is, they believe every person on earth is an athlete. Shoes from Nike have long been a staple in athletic communities and their classic check symbol is immediately recognized on items of the brand. Human potential deserves to be actualized, Nike attempts to shoot for the moon with every design and technology they develop. A brand as dedicated to social issues as they are shoe support, Nike time and time again revolutionizes what it means to be a brand in
Nike's Juvenate heel and upper can easily be depressed and packed to take up minimum space in travel. The collapsible heel also helps with getting the shoe on quick to wear as a slide without ruining the integrity of the upper itself. On the soft mesh upper, honeycomb-shaped foam pads provide a soft and amazing feel for the wearer, while keeping the shoe flexible and able to be stressed in all directions. Waffle-inspired rubber outsoles maximize durability as well as improving traction and feel when walking, running, or hitting the tarmac.
Unusual to many sneakers, this Nike features no tongue at all. The shoe is constructed in a seamless sock-like way. The fabric makes it perfect for warm weather and the soft and flexible construction of the shoe makes it ideal for travel. Cushioned midsoles extend out past the outsole and are durable enough to hold up to constant wear. The extended heel tab helps get the tongueless design off and on with ease, and can easily be swapped for a warmer or more open shoe when arriving at your destination. Nikes are a higher end sneaker and the price does reflect that a bit but you won't be paying more than you would with other similar performance styles.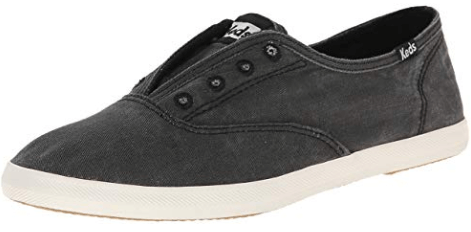 Keds were for a long time associated with nursing, but their history is actually much more glamorous than shifts at the hospital. Making canvas shoes exclusively for women when they first began in 1916, Keds has been loved as a contemporary shoe for those on the go. Marilyn Monroe was a huge fan of the brand, artist, and singer, Yoko Ono even wore a pair of Keds to her wedding with John Lennon! Even Jennifer Grey in Dirty Dancing used Keds to be light on her feet while remaining cute and comfy. Keds have put out Pro lines for athletic variations and even heeled or wedged options. Whatever your preference may be, Keds are a beloved shoe for a reason, you'll immediately feel why they've been so prominent in pop culture from the first step.
The Chillax sets a pretty high standard with their name alone. When you hear Chillax you assume the shoe may be less than put together. That, however, could not be further from the truth. This adorable distressed slip-on look is a great addition to leggings and a hoodie or jeans and a crop top. Versatile wear is a staple of Keds, what remains consistent is how effortlessly an outfit is pulled together with these shoes. Laceless vamps on both shoes feature the iconic Keds logo, they make this an awesome option for travel, as many who are flying have to either change their shoes upon arrival at their destination or take off their shoes going through security.
The washed twill is distressed but not messy and their cool upper is accompanied by a super cushioned insole. These Keds are light and perfect to pack away in luggage. Being completely machine washable is another perk because you never know what may happen on the road, or in the sky! An interior elastic panel makes the fit snug but comfortable. Soft linings feel heavenly on your feet so you can wear them sans socks. The cushioned footbed is also completely removable, which is necessary for if you require orthotics. If you're headed to your favorite far off destination and want to feel amazing the whole way, snag a pair of these at their low price and you'll be glad you did!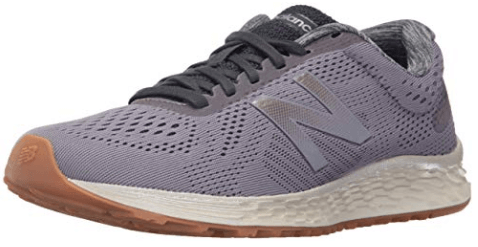 From a company who believes we all were born to move, wearability and comfort are just as important as performance. With a goal to challenge the industry and how it views both trends and functions, New Balance regularly releases hot new takes on our favorite looks. Athletes all over the world rock New Balance because they know the quality is often unmatched. With wide ranges of sizes, colors, and soles, it is easy to see why New Balance has often been considered a top brand in footwear. Every pair you buy contributes to their goal of giving back to the communities they serve by providing their awesome shoes.
Just look at this upper! It appears to be crocheted, an adorable fashion element that is unexpected on an athletic sneaker. The feminine touch it brings is surprising and fun, while the dimpled outsole mimics the texture in the upper. This lace-up pick is smooth mostly all over, the no-sew style has no seams or staples, it is just pure style. On the heel, there is a bit of stitching detail, including a stripe that goes straight up to the collars. This is a sassy and easy-to-wear sneaker that stands out from others in the crowd.
Fresh Foam technology makes this sneaker insanely soft thanks to its cushioned midsole. The look matches the feel in the muted tones throughout the color selection. The outsole is also slightly iridescent with silver accent. A sharp addition to an already on-point shoe. The ombre N tops off the design features that set this apart from other comfort picks. NB Response performance inserts in both shoes give you an edge in terms of movement when you wear these. This is the perfect sneaker to accompany you on a very long trip. The soft upper has no trouble giving to accommodate swollen feet, and the price is extremely reasonable for the features you're receiving.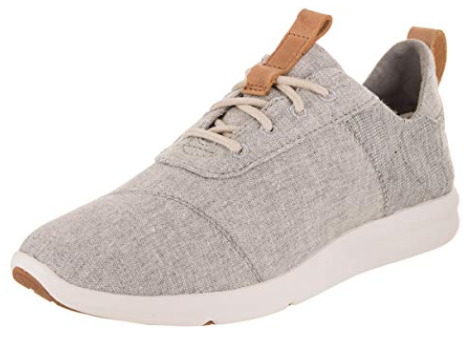 During a trip to Argentina in 2006, Blake Mycoskie realized that many children were going shoeless. From here, he thought of his one to one system, which would end up being the cornerstone of the Toms brand. Every shoe bought would be matched with a shoe given to someone in need. Their company efforts have increased and shifted to include providing job opportunities as well as improving local healthcare and education. A brand that just feels right to support, A pair of Toms is a reliable, casual shoe for someone on the go and they give back to communities in need, so they're good for the world as well as your feet.
A sleek grey chambray option, this desert sneaker is sleek and cool for travel. The leather pull tabs on the tongue and heel make it simple to take on and off during airport security. The soft, breathable fabric is perfect for regulating temperature when in an enclosed space like a plane. The tweedy look is fashion forward but simple so it compliments any and all travel wear. An antimicrobial sock liner prevents sweat and bacteria. Even if you break a sweat running to catch a flight, these Toms will stay cool, dry, and smelling fresh.
Cushioned insoles make this choice bounce back with every step. Their rubber outsole is non-marking and lightweight. You won't get tripped up trying to chase your suitcase in baggage claim. No wheeling luggage will scuff these soles. The fabric upper is a cute accent to jeans or leggings and these are a top pick for those on the go. Lace-up closures keep them feeling custom with every step.
This flexible little sneaker has dyed leather features that add a dose of sophistication to the overall design. Arch support is integral for an airport shoe. These will lift and protect your arch from aches and pains. The soft upper gives your foot room to expand during long plane rides, while still covering the whole foot to prevent excess swelling. At a great price, this sneaker is the go-to for travel that can look quite fashionable without breaking the bank or your ankles running to the gate.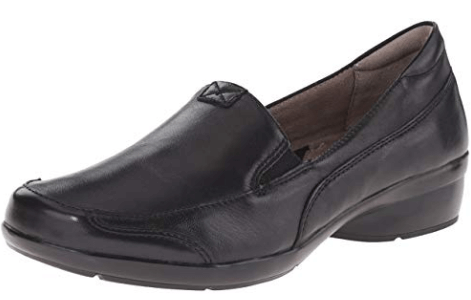 Naturalizer is a brand that is made exclusively for women. Recognizing the difference in the need of many women, Naturalizer took a lot of time and care to improve the shoes that were worn by them in everyday life. While women may sometimes have to wear heels, they don't have to suffer the whole time, and Naturalizer wanted to make that a reality. Instead of the old concept of beauty being a pain, Naturalizer proposed something a bit different, that beauty should, in fact, feel great. Special technology to relieve pressure points, light, and airy, fabrics and great on-trend styles are just a few of the amazing qualities of a Naturalizer shoe. Once you try Naturalizer for your work and leisure options, it is unlikely you'll want to go back to any other heeled footwear.
Naturalizer's Channing is a pretty low key shoe that can work in multiple settings. If you are traveling for business and need to look presentation ready straight off the runway, this is the perfect choice for you. It is a slip-on with twin side gore but is dressed up with a small heel and loafer-like stitching. All leather with a slight sheen, this option looks great with dress pants or even a suit. The 1-inch heel feels great on the arch without putting excess pressure on your ball of the foot. Any shoe that looks this professional while providing comfort is a real gem!
What is unique to Naturalizers, though, is their comfort system in the sole and base. The N5 technology created and utilized by Naturalizer is unlike most other brands when it comes to professional or dress options. These have an open upper so they won't restrict your feet during swelling. The gore makes them able to avoid cutting into the top of your foot and causing rubbing or discomfort. N5 technology has counterbalances to keep you walking straight with your head high and padding on pressure points to improve the feel of every step. The breathable lining and flexible sole top off the N5 features and are all available at a low price for a professional loafer.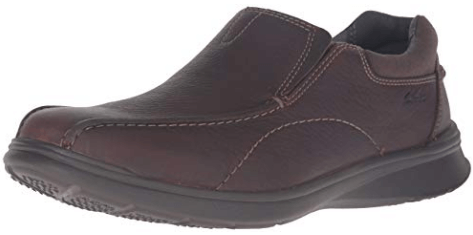 A shoe company with 200 years of history, Clarks is known for their timeless styles and practical casual wear. One day in 1825, Cyrus and James Clark had an excess of sheepskin off-cuts. They decided to fashion a little slipper from the material, an unusual option at the time.
The idea immediately was considered a great innovation. Clarks now can be immediately recognized by their unique, curved but streamlined shoe silhouettes which mimic a foots natural shape. Every so often, a style of Clarks becomes an iconic shoe of its generation, cementing them as a brand to look towards for shoes of the future who take their craftsmanship from the creators of the past.
One of the shoes that men keep coming back for at Clarks is the Cotrell Step. Having worked in retail at Clarks, the Cotrell Step was always one of the recommended options for those who travel a lot for business or wanted a casual shoe nice enough to be worn to work. This look isn't frumpy and is age appropriate while feeling more like a slide or a sandal. Materials are utilized which was very lightweight, but the shoe looks heavy and holds up well to long-term wear. Completely leather with contrast stitching, the Cotrell Step is stylish but subtle.
Coming with Ortholite memory foam, your feet will feel supported without the bulk of some heavier insoles. The breathable nature of Ortholite makes them odor-resistant as well, so no embarrassing looks when you're slipping off your shoes to be checked. The flexible, non-marking sole is amazing on airplanes, it won't feel stiff or crammed under the seat, while still providing protection while flying. Clarks tend to be a higher price point due to their reputation in the shoe industry, however, these are a great affordable option for a full leather shoe.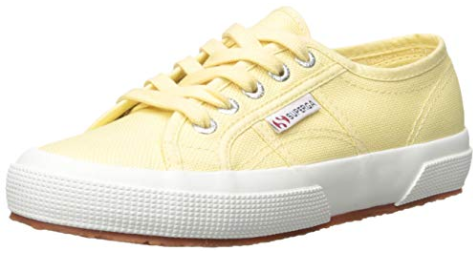 Superga's history began with a humble start in Torino, Italy. Bearing the Superga name immediately, Walter Martiny had begun to manufacture canvas options with rubber soles in 1911. When he came across vulcanized rubber in the 1920s, he began to create vulcanized rubber soles for his canvas designs. This retro little canvas shoe has become quite renowned for its effortless vintage appearance. It can pair with a sundress or jeans and either way you will look absolutely fabulous! Superga is an Italian shoemaker that will remain in hearts all over the globe for its simplistic silhouette.
Superga has been well known as a great travel shoe for nearly a century. While the vulcanized rubber sole may seem heavy, it is actually just durable and protective of the foot without adding bulk. Wrap around soles are a popular trend in canvas sneakers, and it prevents splitting or pulling when wearing a shoe. Avoiding damage that makes the shoe unwearable is obviously necessary when traveling, but even more so, this will protect you in the aisle seat from rogue refreshment carts or clumsy children and their trips to the bathroom.
Textured, vulcanized rubber can often look heavy or platform-like. These Supergas taper down towards the ground to give a much more fitted appearance. The shoe compliments the shape of the foot, from the round toe box to the curve of the heel. Crepe sole-like bottoms are simply unbeatable for traction. These have a really great ground feel and will be an amazing pick for going overseas. Coming in chic colors, this is a sneaker at a price much lower than other similar brand names. There is nothing to lose from giving them a try considering.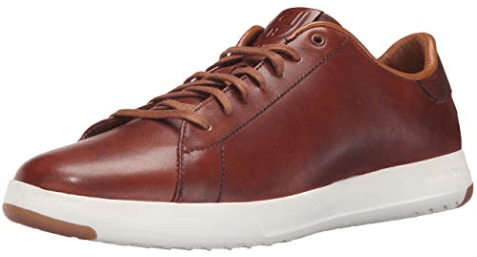 Since 1928, Trafton Cole and Eddie Haan wanted to make shoes that were the highest quality they could possibly conceive of, and nothing less. The brand doesn't want to take itself too seriously, by doing this they are able to create ingenious designs that everyone loves. A combination of sophistication and fun can be found in every shoe. Their takes on trends and fashion are refreshing but timeless. Every item they touch exudes fashion in a clever and exciting way.
The airport is often crowded, stuffy, and overwhelming. When preparing to get out the door, the last thing you want to think about is a shoe to match your outfit that won't feel like torture when you're in the air. Though it comes in many colors, the basic tan leather of the Woodbury Handstain Grand Pro is an absolute stunner. You'll be ready to step off the plane and hit a business meeting or the bar without hitting the hotel first to change. Textile-covered footbeds within the Grand Pro create a supportive footbed that won't cease to feel great throughout the day.
Grip pods in the heel and toe prove this sneaker to be a great walking shoe for a casual stroll in the city, or a quick tour through the airport. EVA outsoles are flexible and provide a bit of bounce back when walking which lowers the impact on the pressure points of your foot. The monochrome stitching is a sleek feature that makes this shoe look extremely professional but still fun. Grand.OS technology is utilized to provide flexibility, cushioning and ergonomics. Entirely leather and gorgeous to look at, the Grand Pro is a great addition to a travelers wardrobe at a price that is in a moderate to high range for a sneaker. The versatility alone makes it worth every penny.




Though Lucky Brand got their start with cool, vintage-inspired denim, their brand has grown to become a bohemian behemoth of style. They evoke rock and roll with every headband, shoe, or blouse they put out. Breezy California style is met with quality materials and constructions which come together in perfect harmony. Their brand is made for those who color outside the lines boldly and with confidence. Rich leathers and jaw-dropping textures adorn their most luxurious options. Lucky Brand is instantly recognized with their classic attitude with a modern twist.
The Emmie flat is a staple of Lucky Brand. Flexible, cute, and low-profile, the sleek little flat can take you from a day in the office to a night out dancing. For our intents and purposes those, this shoe is an absolute hit for plane travel. Since its so light, it feels almost like nothing is there when you wear them. Their precious texture screams to be noticed, yet it is subtle enough to go with anything you're wearing. Little X's stitched down the heel seam are an adorable detail on this simple ballet style.
Elastic all around the opening makes these stay on no matter what without rubbing or bothering the top of your foot. These are velvet and lined in supple leather. The insides are cushioned on these flats, and a tiny heel raises your arch just a bit for more comfort, as well as protecting your foot from the ground when walking through the airport. These are so slim and small that they're ideal for keeping in a carry on if you'd like to slip them on for a long flight. This simple flat comes at a great deal and is perfect to throw in your bag when you're heading out.

Subscribe to our Newsletter