Best Keds Shoes Reviewed
last updated:
Jan 22, 2020
With summer just around the corner, it's the perfect time to start shopping for a pair of lightweight and comfortable footwear that will keep your feet nice and fresh when the weather gets warmer. Now is the time to reach for a pair of Keds shoes which are fashionable sneakers made from canvas, or classic leather materials that are ideal for fun-in-the-sun. These relaxed sneakers aren't designed for running in but instead, offer a casual no-fuss pair of shoes that are made with a breathable upper and water-resistant rubber outsole so you can go ahead and have fun all day long without worry about your footwear.
This is the best product on our list that is currently in stock: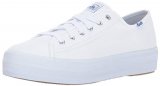 Triple Kick
Why is it better?
1" Platform
Canvas Upper
Rubber Outsole
Cushioned Footbed
In a
Hurry? Editors choice: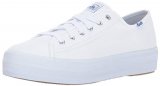 Test Winner: Triple Kick

14
Researched Sources
1289
Reviews Considered
18
Hours Researching
20
Products Evaluated
Style
Brand
Materials
Comfort
Value
By Default
Top 10 Keds Shoes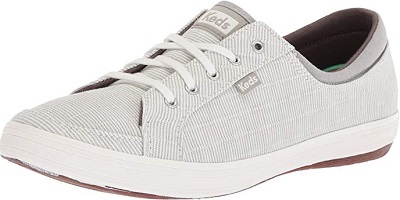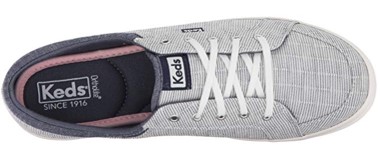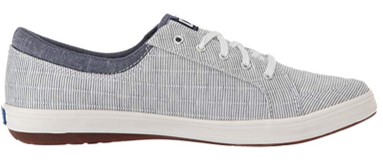 Canvas Upper
Ortholite Footbed
Lace-Up Design
Slim Structure
The Vollie Li is all about looking your best and features a slim structure that helps make your feet appear smaller than they actually are. These slender shoes pack a big bunch of comfort and are made to provide a cushy step that you are sure to fall head-over-heels for.
The Vollie's canvas upper is breathable and lightweight, while its lace-to-toe design allows for a secure and customized fit every time. The Vollie features a padded collar and Ortholite foam footbed that retains the imprint of your foot for additional support and comfort.
The Vollie has an athletic-inspired design and foxing, along with its trendy lace-up style that spans from lace-to-toe. These are the perfect lightweight canvas sneakers to wear on a hot day and will have you looking your best thanks to their versatile appearance that pairs well with any outfit.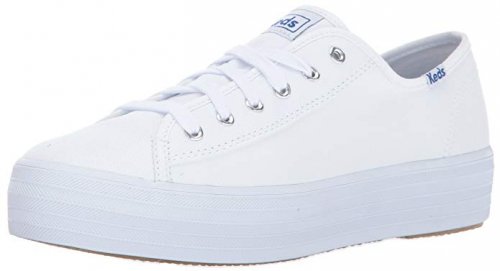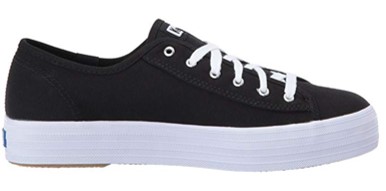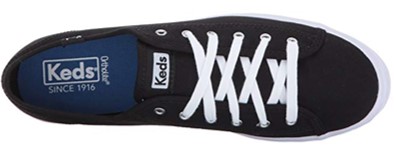 1" Platform
Canvas Upper
Rubber Outsole
Cushioned Footbed
Add a little kick to your step with the Triple Kick by Keds. A stylish canvas sneaker, available in classic colors like white and black, you can pair it with jeans or athleisure wear. Whether you're taking the kids to school or strolling through the mall, the Triple Kick will keep you fresh and comfortable.
A 1" platform will give you a slight boost in height but won't cause you to lose balance when in motion. The canvas upper is breathable and easy to clean, while the lacing system is an effortless way to keep you secure. The rubber outsole is grippy and offers superior traction.
A winner by all accounts, the Triple Kick is a solid choice for someone looking for a stylish, clean-looking sneaker.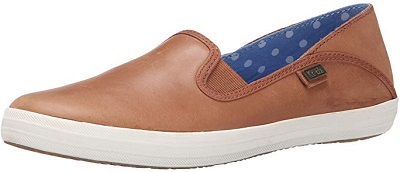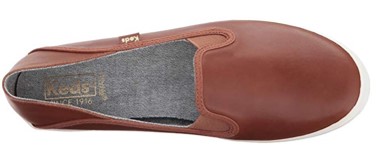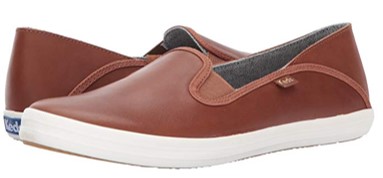 Leather Upper
Rubber Outsole
Brass-Tone Logo at Side
Contrast Wrap-Around Midsole
Twin Goring
For a professional, yet relaxed look and feel, this pair fits the bill. They have a leather upper, polka-dot lining, and twin goring. They are slip-on, yet they fit snug while allowing you to feel comfortable. A brass-tone plaque sits at the side to give these a more pro look, and as such, your clothing options expand.
The leather upper is ideal for durability and longevity in footwear. Furthermore, the leather looks good with many wardrobe options and these can be matched to various outfits.
These are slip-on with twin goring; meaning they will fit snug but still retain a nice level of comfort. There is a small break-in period associated with them, so this should be kept in mind before wearing them out on an all-day excursion.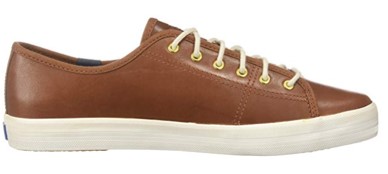 Twill Lining
Rubber Outsole
Leather Upper
Ortholite Insole
The Kickstart is another relaxed sneaker that is a classic shoe that never seems to go out of style. The Kickstart is a multi-purpose pair available in various upper builds including leather, canvas, and mesh, and available in a wide assortment of colors and style to match well with any outfit.
These comfortable sneakers have a cushioned Ortholite insole and flexible rubber outsole that's textured for added style. They have a leather upper that's breathable and lightweight making for excellent summertime footwear and soft twill lining which allows for lots of airflow around the foot.
The Kickstart Fashion boasts a leather upper and non-slip rubber outsole. It is a casually styled lace-up sneaker that has flat cotton tonal lace and breathable twill lining material. Its lace-to-toe design is topped off by six eyelets that are both cute and convenient making these an easy-wearing pair of footwear.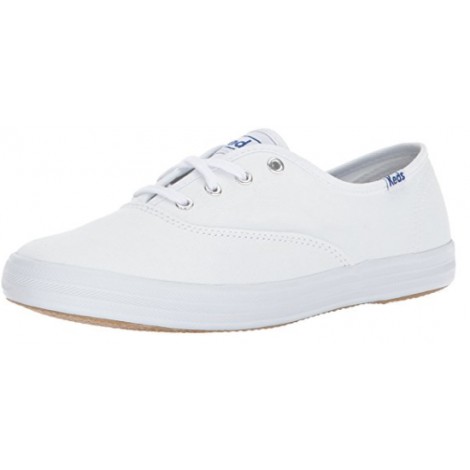 Choice of Upper Material
Ortholite Footbed
Rubber Outsole
4-Eyelet Lace-up
The Champion is an iconic sneaker that's been a massive success for over 100 years. It's a multifunctional shoe that looks good with every outfit and provides a comfortable and cushioned wear. This super-cute footwear is available with either canvas or leather upper units and a flexible rubber outsole that's water-resistant so you can go ahead and enjoy long days on the beach.
The Champion is a well-made classic-styled sneaker that boasts a four eyelet lace-up closure system and has a soft airy lining material. It's available in two styles, one that features a canvas upper, and the other leather. Canvas is a more breathable material than leather and many prefer the way it looks, but leather is more durable and will last longer with heavy use.
They are available in extended width as well as in regular one, so they will fit any foot shape with ease and have a cushioned Ortholite insole which makes them ultra-comfortable. Their rubber outsole is water-resistant and flexible while also providing a more secure, non-slip wear.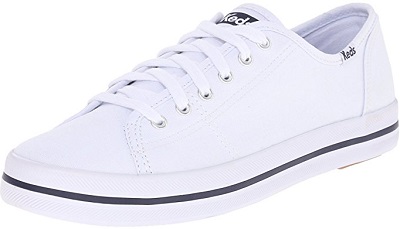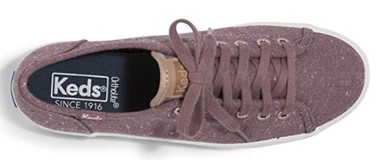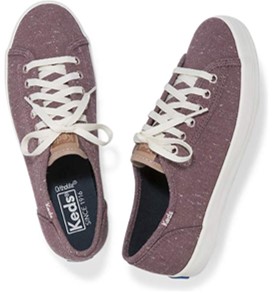 Lightweight
Breathable
Canvas Upper
Rubber Outsole
Lace-up
This is fashion footwear ready for just about any wardrobe choice of your liking. Jeans, skirts, shorts, and you name it, these are ready for the day. Made with a rubber outsole, canvas upper, and design to allow good breathability, this pair is sure to make you happy. If you have narrow feet, these are for you. Lightweight, you can walk to your heart's content.
Canvas is breathable and stylish. It looks good with just about anything you can imagine, especially jeans. This material is lightweight and flexible, as well.
These are retro-inspired kicks ready to bring back the look of the 'good old days,' as it were. They are casual wear which is great for days to the mall, out with friends, or just around the house.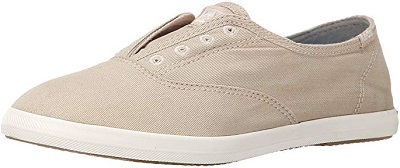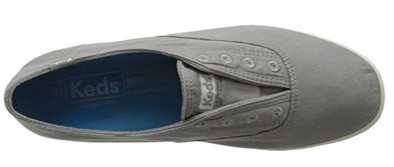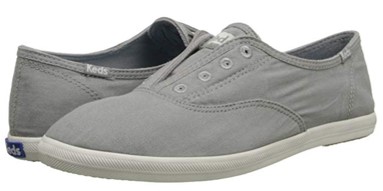 Washed Twill
Rubber Outsole
2-inch Shaft Height
0.5-inch Platform Height
Slip-on Canvas
The Chillax is an ultra-laid-back pair of laceless options that are a favorite among women everywhere. It's washed twill upper, and all-day comfort make the Chillax a wearable pair of sneakers that offer a stylish look and foot-friendly feel.
These sneakers are a laceless slip-on style that offers an interior gore feature that ensures a snug fit that won't slide up and down with wear. They have a removable EVA footbed that's cushioned for additional comfort and enjoyability. Users from all over agree that the Chillax fits true to size and is a versatile yet fashionable pair of foot apparel.
The Chillax is a laceless slip-on style option that boasts a washed twill upper unit and the brand's signature rubber outsole. It's flexible and lightweight while it's lining material is soft and breathable so your feet won't get hot and sweaty throughout the day. The Chillax is available in three colors: drizzle grey, charcoal, and taupe.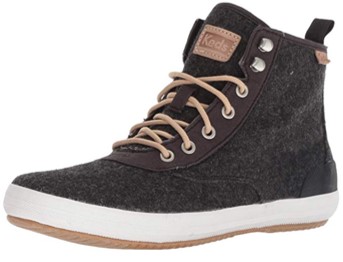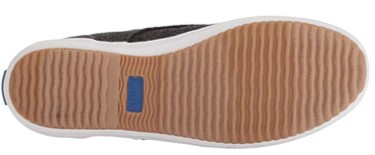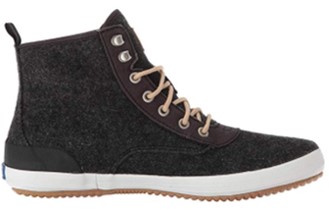 Rugged Traction
Rubber Outsole
Lace-up Hi Top
100% Wool Upper
This great little high top from Keds is a little different for fall weather. The Scout Felt product has a soft felt upper made from 100% wool, making a softer, warmer pair for cooler weather like fall and spring. You'll find the same comfort inside the Scout that is in the brand's other pairs of footwear, with cushioned insoles and an amazing fit. The long lace-up vamp has a dual hook closure near the top to secure you snuggly inside, and a heel tab to help pull the high top on. It's the perfect Ked for wintertime too, as it has a rugged rubber outsole to help with traction
Uppers of the Scout Felt is crafted carefully from 100% wool, helping to insulate the foot in cozy warmth for cooler climates or seasons. It's also more pliable and flexible than leather, so you won't need to break in this pair of Keds. The longer lace-up vamp allows you to find the best possible fit for your unique foot, and a dual hook closure secures you inside. A cushioned insole helps provide a smooth, comfortable ride, so you can walk miles in these without feeling sore.
At the base of the Scout Felt is a rugged rubber sole, thicker than many other high-top styles, and making it great for walking in slushy weather when you're hustling to get to work. A deeply grooved tread pattern helps provide the ultimate traction in wet rain or slushy snow, so you can feel confident with each step you take. This pair will certainly have you covered in cooler weather, and may become one of the staple pairs in your collection for everyday wear.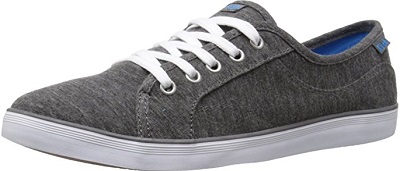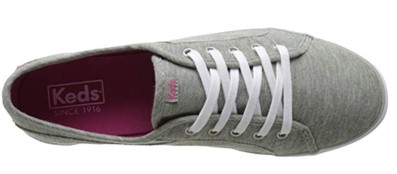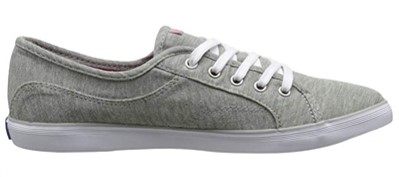 Fabric Upper
Rubber Outsole
Lace-Up
Logo Patch on Tongue
Tonal Stitching
If you are looking for a comfortable, all-around pair of footwear, these are for you. Super comfy and ready for a leisure day just kicking back with some friends and family, these will have you feeling good. They have a stylish logo patch on the tongue, rubber outsole, cloth upper, and tonal stitching. Furthermore, with the lace-up feature, you can gain a better fit.
The upper is made of fabric, thus it is comfortable, flexible, and an all-around joy to wear. For casual wear, this material looks good with many wardrobe choices.
We really like the tonal difference in lacing with this pair of footwear. It sets off the rest of the shoe, so to speak. Also, you don't have to worry about stepping out of these, as it were.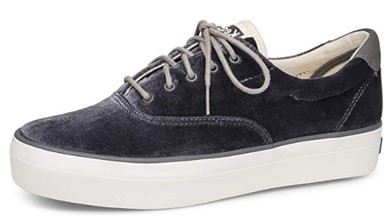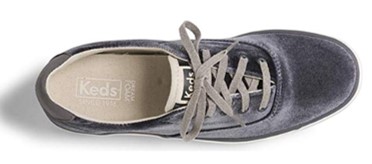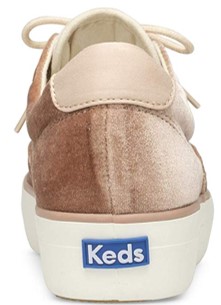 Cushioned Footbed
Hidden Wedge
Velvet Uppers
Rubber Outsole
Looking for something a bit different from your Keds? The Rise Velvet not only boasts of a soft, rich velvet upper, but its unique design will have you looking a little more closely. This particular model has a hidden wedge inside, but maintains the look of a casual sneaker! And, if you're worried about the comfort of this pair, fear not! It has a Dream Foam footbed, plush and soft, to help keep your feet happy and comfortable when walking or standing throughout the day. It's a pair suitable for work or casual when paired correctly with appropriate clothing.
Uppers on the Rise are a soft, plush velvet material, giving a luxe shine to the shoe that's subtle and sophisticated. It's available in a few different colors too, so you can select a pair perfect for your wardrobe. Lace-up vamp gives it adjustability for fit to your unique foot, while a padded collar helps prevent blistering when walking. A more rounded toe box allows for some wiggle room especially for those with wider feet, making this a comfortable option as well.
The star of the Rise Velvet really is the hidden wedge design! Built inside the shoe to elevate the heel, this shoe acts as a modest high heel to elongate the legs, all while hiding inside a casual sneaker style. The thicker rubber outsole looks similar to a platform-style sneaker but is far from it! This sole also provides ample traction with its pebble-patterned sole, helping against slips during wetter weather or tiled slippery floors. It's a great option if you're in search of something a bit different!
Criteria Used for Evaluation

Style
These are designed for men, women, and children and are a classically styled sneaker that boasts a statement rubber outsole and colored upper unit usually made from canvas or leather. The great thing about them is that they offer a simplistic design with minimal accents yet there are thousands of colors and variations available that make the sneakers stand out from the crowd and what's now the defining factor in how widely recognized the brand has become. Even though the brand offers footwear for everyone, they specialize in catering to women and offer a wide selection of products for ladies. See below for more information on the various styles available today:
Classic –
The Classics are made from either canvas or leather and feature the signature rubber outsole and four-eyelet lacing system. These are the iconic style that helped boost the brand name to success over 100 years ago and are still as popular as ever. The classic footwear is available in tons of colors and patterns, but offer only a few variations in styles, such as double-high sole or the inclusion of a toe bumper on a select number of models.
Laceless –
These are a slip-on style of sneaker that has no laces. These are popular among wearers because of their hassle-free wear and the easy on-and-off design. The laceless ones are available in similar styles and designs as the classics but with the exclusion of the much-adored four-eyelet laces, or the lace-to-toe look. Loafers and boats are popular options of laceless shoes by this brand.
Lace-to-toe –
The lace-to-toe options are made with laces that run the full length of the upper front side. Some wearers prefer this style of footwear because it offers a more secure foot feel thanks to the additional laces, while others prefer less lacing for easy wearing. No matter which style you decide to wear, these will always add a fashionable yet casual look to your attire and will fit well with any style. Whether you're wearing a casual pair of shorts or your favorite pair of jeans, they will be the perfect finishing touch to bring your look to life.
Flatforms –
Flatforms are this brand's version of a platform without any added heel-to-toe-drop. The 'drop' of a shoe is the difference in height from the heel to the toe which is usually between eight to 12mm's in the average running shoe and many people regard it as unnecessary and even as being bad for your body. When we walk barefoot our heel and toes are naturally aligned and have no difference in height between the two which is why many athletes and professional trainers argue that having an unnatural drop in your shoe can leave you more susceptible to injuries and foot pain.
This is where the barefoot or minimalist running shoe concept came from which consists of a shoe designed with zero drops from the heel to toe. Flatforms are made completely level across all areas of the foot so there is no difference in height from any part of the foot to another which is popular with wearers who report the brand's shoes as being extremely comfortable and even as reducing overall foot and leg pain felt. Flatforms give the added height of a platform shoe without any additional and unnatural drop.

Brand
Along with the various styles, the brand also has different collections available, each with their own unique traits and designs. There are multiple collections available which include:
The Original Champion:
The Champion line is the most well-known and features the classic canvas and leather sneakers that were first introduced over 100 years ago and are still as popular as ever.
MLB:
The MLB line includes baseball styles sneakers in honor of your favorite baseball teams.
Keds x Little Miss:
The Little Miss collection caters to little girls and offers a dreamy and magical line of children's sneakers.
Comfort Collection:
Their Comfort collection includes lace-up sneakers and fashionable slip-on shoes that are available in sporty, modern, classic and nautical designs that let you show off your stylish side while providing the superior comfort and cushioned support you need to prevent foot and leg fatigue. Those from the Comfort line have memory foam footbeds and lightweight airy lining materials that allow for proper airflow around the foot keeping you cool and comfortable all day long.
Keds x Kate Spade New York:
This line of footwear goes with every style and consists of canvas flats and slip-on designs that have glitter and plaid uppers. Some of the most infamous options from the Kate Spade line are slip-on sneakers and a crushed glitter option with ribbon laces.
Keds x Rifle Paper Co:
The Rifle Paper Co collection consists of products featuring upper patterns designed with Rifle Paper Co graphics that include vibrant patterns, embroidered details, and lush palm tree imagery. These are the perfect product for spring and summertime wear thanks to their vivacious and lively upper builds.
Blush:
The Blush Collection, which offers some of the classic styles that we have come to love with the addition of a few effortlessly adorable sandals. The cool thing about this collection is that every single pair is a low-key pink color, talk about a girl's dream come true!
Studio:
The Studio Collection includes breathable choices of footwear that are designed for comfort. This collection boasts a modernized twist on the brand's classic designs and includes exciting options such as the Chillax Espadrille.
Wedding:
Bridal-inspired slip-ons that are oh-so-gorgeous.
Ladies for Ladies:
This collection features footwear designed by ladies to be worn by ladies.

Materials
The brands are available in an assortment of materials, each with its own benefits and downfalls. Many of the classic styles from the Champion, Comfort, and MLB collections are made with either leather or canvas upper units which are offer a breathable and lightweight feeling but aren't the best materials for use in or around the water.
The leather upper units are very durable and will last for ages while canvas can wear much quicker. Another popular material used is nylon, which is very breathable and allows for excellent air circulation around the foot making it an ideal choice for warm summer days.

Comfort
These are made with comfort in mind and feature a zero heel-to-toe-drop which allows for a natural footfall and lessens the amount of strain and pressure felt in the legs and feet.
The Comfort Collection is made specifically to provide a more comfortable wearing experience and includes features such as a cushioned memory foam insole and additional support where you need it most.

Value
The price of a shoe can sometimes be a deal-breaker. That's part of the reason why footwear manufacturers invest time and energy into creating cost-effective technologies to incorporate into their product to make them durable, long-lived, versatile, and inexpensive.
Durability & Longevity
Footwear, usually, lasts more than a few months, because those that are going to fall apart after a few months of use aren't worth the investment of more than a few dollars. Leather and synthetic overlays can be used to make the shoes more durable without sacrificing flexibility. Firm leather or synthetic uppers provide durability and support.
Versatility
Great footwear can be used for more than one activity. Walking and running shoes, for example, can be used in some casual sports. Stylish athletic footwear could be used in informal work environments. Sandals can be used in casual and semi-formal settings. The more situations you can use the shoe in, the more value it offers for the price.
Maintenance
Good footwear is easy to maintain and clean. They don't require a lot of expensive shoe treatments or time-consuming upkeep. Products that need a lot of effort, time and money to maintain, don't sell as well as those which are easier and cost less to keep.
Removable inserts
As mentioned earlier, removable inserts in footwear make it customizable, but that's not the only bonus to removable inserts. Removable inserts increase the longevity of the shoe, which is why some come with removable inserts.
Cost
A hefty price tag can be a deal-breaker for people on a budget. That's why many can be found in the low-to-middle price range. They're affordable, and if they are priced a little higher than others, then they offer many features to make the footwear worth the extra investment.
Expert Interviews & Opinions
Most Important Criteria
(According to our experts opinion)
Experts Opinion
Editors Opinion
Users Opinion
By Default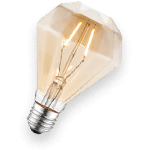 All American Style
Did you know? These were the first real sneakers that were mass-marketed in the US. The public loved the shoe for it's softer rubber sole, and flexible relaxed canvas upper. They were called 'sneakers' due to the reduction in sound the sole created when walking...allowing you to sneak around. By the 1920s, Olympic athletes were wearing them on soccer fields as well as the general public.
Caring For Your New Pair
While most pairs are made from soft canvas uppers, some more modern styles can use leather or synthetics in the uppers. Canvas can easily be washed along with the laundry on a gentle cycle, and then left to air dry. Leathers require polish or conditioners, while synthetics usually can be wiped clean with a soapy rag and water.
Other Factors to Consider

Bottom Line
Keds first started manufacturing foot apparel back in 1916 with their canvas-topped, "Champion," that became the first pair of shoes to define the term "sneaker." Keds would only continue to grow from there, becoming the classic style of actresses like Audrey Hepburn and Marilyn Monrow throughout the 1960s, along with actress Jennifer Grey who danced in Keds in the 1980's hit film Dirty Dancing. Today, Keds have become the champion footwear for ladies and are a powerful voice worldwide for women's rights while continuing with their goal of empowering women to 'be who they want to be and go where they want to go.'
Frequently Asked Questions
q:

How do I clean my new shoes?

a:

It's best not to wash your Keds in the machine but luckily cleaning them by hand is fairly easy. You can either use detergent to wash them out by hand or you could make a paste with baking soda to scrub off dirt and mud. If they are super dirty, you can use both methods consecutively to deeply clean the materials.

To clean with baking soda, try this method:

Step One: Remove the inserts and laces from your shoes before scrubbing them down. You can hand wash your laces separately or even throw them in the washing machine and if your inserts are too bad you can replace them with a storebought pair.

Step Two: Tap or brush of excess dirt and debris before scrubbing with the baking soda solution.

Step Three: Mix one cup of water together with two tablespoons of baking soda to form a paste, add white vinegar if desired. Using a toothbrush gently scrub the outside of the shoes with the paste until the desired cleanliness is achieved and then rinse the shoes with cool water and allow to air dry.

If you prefer using detergent, simply follow steps one and two above then rinse the shoes with cold water. Now prepare a sink full or bucket filled with water and mix in two teaspoons of detergent and then gently submerge the shoes in the soapy water. Now scrub with a toothbrush as needed and then rinse again with cold water before patting dry with a towel and allowing the shoes to air dry.
q:

Do I have to wear socks with these shoes?

a:

That is a matter of personal preference, but it is not always necessary. These shoes are manufactured using materials that are breathable and allow for adequate airflow around the foot which prevents sweaty feet thus preventing odors. Some individuals are prone to sweating and may want to wear a sock or socket inside their shoes to further prevent the potential for smelly shoes.
q:

How long do they last?

a:

These shoes are well made and will last for a long time with proper care, however, there are certain materials that are more durable than others. Leather for example. is going to last much longer than canvas or nylon which makes it a good choice of material for someone planning on wearing their shoes for long hours of heavy use.
q:

Are there models available for men?

a:

Yes, there is a line of Keds available for men that offers many of the same styles that are available for women including the Champion. There is also a line for children that has whimsical designs and offers complete comfort for growing toes.
q:

Does it take time to get used to wearing these kinds of sneakers?

a:

These shoes are made for comfortable wear and will not require a break-in period, however, if you've never worn a pair of shoes with no heel-to-toe-drop then you may find that wearing yours for the first week may feel a little strange. This is because you're used to having a raised heel and your feet need to adjust to their natural positioning, which is in-line with the height of the toes.

To lessen the discomfort of the adjustment period you could try wearing them for shorter periods of time for the first few times you wear them so that your feet have time to adjust with ease.
Subscribe to our Newsletter