Best Shoes for Bridesmaids Reviewed
In a Hurry? Editors choice: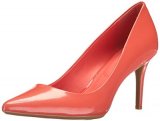 Test Winner: Calvin Klein Gayle

Wedding preparations can be hectic when you're a bridesmaid, and just one of the endless list of things you need to think about is your outfit. Whether you get to make your own choice, or if the bride is making it for you, there's a lot to consider – from accessories, to make up, to hair. And let's not forget about footwear – not only do weddings take long, but they're also (usually) formal occasions where you have to look your best while being able to comfortably stand, walk and (hopefully) even dance. Whether you're headed to a highly formal event or a casual beach wedding, we've got you covered with some of the best bridesmaid shoes, currently available for purchase.
Standout Picks
Criteria Used for Evaluation
Heel
The aspect of a high heel that can be the most difficult to decide on is definitely the heel height, especially when planning for special occasions such as a wedding. On the one hand, you want to stay comfortable, but on the other, you don't want to sacrifice style, either. Thankfully, you can weigh the pros and cons of both choices – style, and comfort – and find the perfect balance that will meet your requirements.
It is said that from a health-oriented point of view, the ideal heel height is from one to three inches. At this height, less stress is put on the ankles, knees, and lower back, which will prevent foot fatigue and keep you feeling more energized for longer periods of time.
However, if you're going to be attending a big event and kitten heels just don't fit your look, there are ways you can wear higher heels while still staying relatively comfortable. It's best to wear very high heels only if you know you won't be walking or standing for long periods, as they do put stress on the feet and joints. They can be difficult to walk in and will cause fatigue and strain in the short term. In the long term, they may even permanently affect posture and cause damage to the joints.
One way to figure out if the heel is too high for you is to try and go on your tiptoes while still wearing the shoe, lifting your heels out of it. If you can lift yourself about an inch out of the design, then they should be a good fit. If you're having a hard time, that might mean that the heel is too high for you.
If you're planning on attending parties or dances after the wedding and would like to wear high heels, but are worried about discomfort, you could always bring a spare pair of flats or pumps or sandals that have lower heels and will keep you more comfortable.
Materials
Though the footwear material can often be neglected, it is actually among the most important characteristics of a design. Not only can the construction determine comfort and durability (and many other features, such as breathability, water resistance, and more), but depending on the material, it can also save you a lot of time and effort that would otherwise be spent on cleaning your footwear.
Many heels are made of satin. This fabric is a type of textile weave that is glossy and soft, with a rich look. Though it's often made from silk, satin can also be made from polyester, nylon, and rayon. Compared to other types of textile weaves like plain and twill weaves, satin is the smoothest and hardiest of all three and does not wrinkle easily. However, it is still relatively delicate and can stain easily. It could also become damaged if not taken care of properly.
When it comes to cleaning your satin footwear, it's best to do it by hand. Brush away any dirt with a soft-bristled brush and make sure not to scrub too hard. Then, use a soft cloth and cold water to rub away any stains in the upper, and finish off by drying it with a soft cloth. Make sure never to use hot water, as it can cause discoloration and cause it to shrink, which will mess with the fit and design of the shoe. This simple process should be enough for most kinds of stains. If there are more stubborn stains, you could also use some hand soap.
Some heels are also made out of leather. This is more often seen in formal footwear. Leather gives the design a more professional look and is known for its durability. However, it also has its downsides. Leather is more expensive than synthetic materials and most leather footwear is not waterproof unless stated because the material itself is not waterproof unless it has specifically been treated.
There is also patent, or synthetic, leather, which is an imitation of leather made out of man-made materials. It is vegan and cost-effective because the preparation process is much simpler compared to that of real leather, and it is also made to be very durable. Faux leather is more likely to be waterproof, can be more resistant to wear, and is also easier to take care of. However, a downside is that it is not biodegradable, meaning it will not eventually become part of the earth once more but will become waste. Additionally, it is hard to imitate the rich texture that genuine leather has.
To sum it up, satin is soft but high-maintenance. Genuine leather is high-quality but expensive and high-maintenance, while synthetic leather is affordable, vegan, but not biodegradable. Depending on what your conditions and priorities are, you can choose a design with the material that will best work for you.
Features
Though many people who wear heels often have a preference for either closed- or open-toed heels, there are many pros and cons for both designs.
At a glance, open toe heels have a less formal and a more casual, playful look. They can be great for parties, graduations, and summertime weddings. They can also be dressed down and worn on a regular basis. Paired with a bridesmaid dress, they add a touch of playfulness which can be great.
The biggest advantage of open-toed heels is that there is no risk of having squished, uncomfortable toes. If standing or walking for long periods of time, the foot tends to slide forward against the toe of the shoe, which can cause discomfort. This can be a nightmare when wearing closed- or pointed-toe heels, but the problem is greatly minimized with open-toe heels.
The downside that comes along with it, however, is that the toes may slide forward and out. If you don't pick your size carefully and wind up with a design that's a bit too large, this can happen. It is especially likely in footwear with very high heels such as stilettos and sky-high heels.
When it comes to closed-toe heels, they can often have a more modest and professional look, but can still be great for a wedding if the style and color are right. They can also be worn on other occasions like at work or in meetings. The closed-toe means your foot won't risk sliding out uncomfortably when walking or standing for too long, but they can also cause your toes to drive into the narrow toe of the upper. This is especially likely for those with wide feet, or with a slightly smaller size, and can make even the most exciting events drag on forever because of the discomfort they cause.
Overall, when it comes to open-toe or closed-toe footwear, the former is great for casual events but should not be too roomy, and the latter is more formal but can cause more toe discomfort. You can then make your choice based on your situation and what will best suit your needs.
Style
If you aren't picking out your own footwear for the wedding, then style shouldn't be as much of a problem. However, if you're left to your own devices, the prospect of so many different style options can be daunting – because what you have to consider is more than just the color. Depending on the style and design of your dress, your ideal shoe will be affected, too.
Footwear can be a great way to spice up an outfit that would otherwise be plain and ordinary. If your dress is going to be of uniform color and have a very minimalist design, you'll have a chance to let a bit of your personality shine by matching it with a pair of eye-catching heels with a more sophisticated design, such as with straps, pleated satin, or rhinestones. This can balance out your look and prevent you from looking too serious or boring.
On the other hand, if your dress is going to be patterned, bold and eye-catching, the footwear can serve as a way to tone your outfit down a bit. Consider picking out a pair with a less complicated design, perhaps in a monochrome color and with a clean, simple design. This avoids clashing and prevents the onlooker to be too overwhelmed by colors and patterns.
Color
The color of your footwear is also something to think about. But, you shouldn't worry about the hue of your sandals that much, because a wide variety of colors is accepted today, and they can be seen as a statement, rather than a failure.
White used to be color of choice, as it was seen as pure and perfect, just like the bride. Later, the colors fanned out into nudes, ivories, and champagnes. If you consider yourself to be conservative, and you're attending a wedding that is based on tradition, then these are the colors you should choose. Pair them up with a dress of the same shade, and you'll be a star.
If you are a more fashion-forward bridesmaid, however, the world is your oyster! Don't be afraid to think out of the box, and let your imagination run wild and free. Consider metallics, rose golds and silvers, as their shimmer will draw the eye and attract attention. These tones can also enhance the details on your dress, and according to those very details, choose the proper shade of metallic.
Golden colors accentuate warm decorations, while silver will complement cool details. It can even pair up with your jewelry! Some brides like pastel colors, because they don't drag the attention away from the pure white, but they still add some life into the solid whites. The color of choice is usually a pale blue - many brides choose this for their Something Blue! Royal blue also works, and everything in between. Any color can work, honestly, if you know what to do with it!
Top 10 Bridesmaid Shoes
1

. Keds x Kate Spade Triple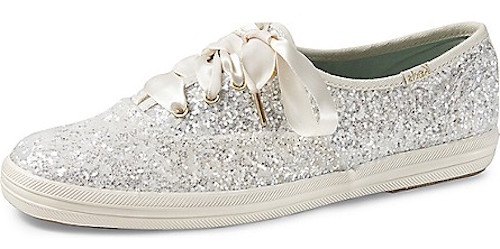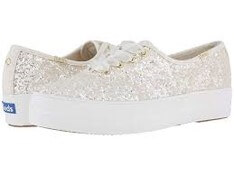 Not all weddings are the same, which means that you might just be after something a bit different than what everyone expects to find when looking for this type of footwear. If you want to completely forego high heels, sandals and pumps, the Keds x Kate Spade Triple might just be the pair you fall in love with. Boasting the best of two worlds - the comfort levels of a canvas everyday sneaker and the glittery glamour of designer footwear, it's definitely sure to get you a ton of compliments at the reception, which is why it is on the top for the best bridesmaid shoes!
Not many things say special occasion as loudly as glitter does. This sneaker makes perfect use of it through a flexible canvas upper that's covered in eye-catching crushed glitter. Although noticeable, this design does well in avoiding to cross the line between tasteful and tacky. Those who like to keep comfy no matter what will appreciate the fact that these sneakers feature a cushioned insole that makes both standing and walking a pleasant activity. Even more, the fact that these are lace-up allows you to get just the right fit, or even adjust it throughout the day if need be.

This Keds x Kate Spade Triple might cost more than you'd expect, but that shouldn't turn you away. For more casual weddings, it's a top choice, seeing that it's both stylish and comfortable. It's a great option for summer wear as well, thanks to the fact that it is made with a breathable, light and flexible canvas upper.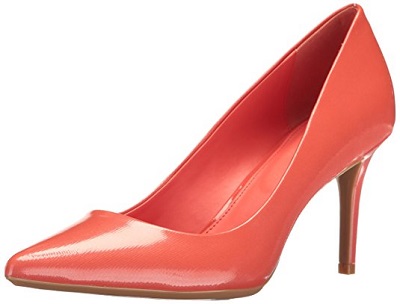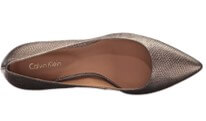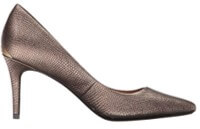 Calvin Klein is best known for its underwear and perfume, but their footwear doesn't get nearly the amount of attention as it should. Their Gayle is a simple, mid-heel pump that is classy and versatile. You have the option between dozens of different colors, as well as styles and materials. The heel measures approximately 3 inches, which prevents the foot from sliding forward too much when walking or standing, and minimizes any potential discomfort of the toes. All in all, the Gayle is a great pick for those who prioritize comfort but also don't want to sacrifice style.
Not only do these pumps come in a wide variety of unique colors such as hibiscus pink, deep blush, and even black cosmic glitter, they also come in different patterns. Additionally, the fabrics may differ depending on the color and style you choose. If you're not a big fan of the open-toe look or would like something a bit more modest and formal, then you'll love the pointed toe of these pumps. Combined with their solid color, they give off a sleek and classy vibe. However, keep in mind that they may be uncomfortable on the toes when worn for too long, especially for those with wide feet.

The classic design means these pumps can be worn for almost any occasion and can be dressed both up or down so that you can make the best out of your purchase. In addition, they have received hundreds of five-star reviews, so it's safe to say they're worth the consideration.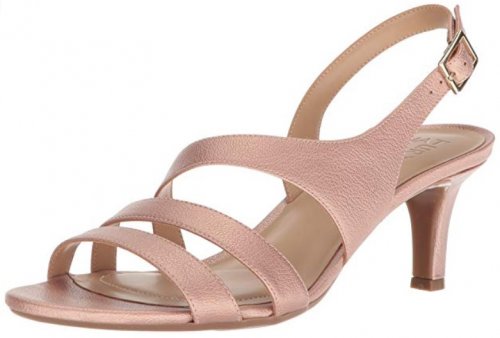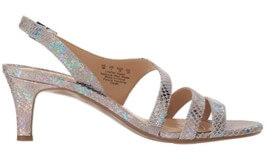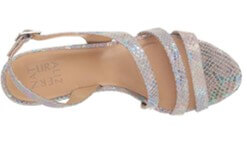 The Naturalizer Taimi may just be the most comfortable option in our guide. Outfitted with the brand's innovative N5 Contour technology, this cute, low-heeled sandal can keep you going all day and all night! It is made from a variety of materials and comes in several different wedding-appropriate colors, from champagne to silver, to this charming rose gold. With the Taimi you can party and dance to your heart's desire, knowing that your feet are cushioned and pain-free!
The Taimi is a strappy slingback design with a 2.5-inch heel. It has a buckle closure at the back thanks to which you can adjust the fit to your liking, and the outsole is specifically designed to be non-slip. However, the star of this heel is definitely the N5 Contour comfort system. This includes dual-density cushioning, plus extra padding in your pressure points so that you can continue celebrating through the night. The N5 Contour guarantees a molded insole, solid arch support and a heel cup that preserves balance, which we rarely - if ever - encounter in a high heel design.

Naturalizer truly went out of its way to create a design that will check off all our requirements for a great wedding option. It is stylish and easy to wear, it is insanely comfortable, and you will surely have a hard time parting from it at the end of the day.

4

. Blue by Betsey Johnson Gina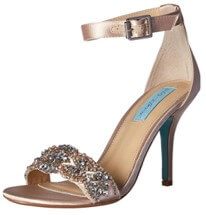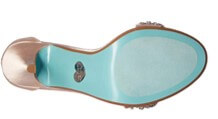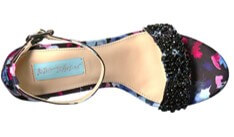 One of our favorite things about this particular line of footwear from Betsey Johnson aren't just the glamorous designs and bling, but the oh-so appropriate baby blue bottomed soles. It makes them absolutely ideal for a wedding! The Gina is a simple ankle strap heel, with a modest heel height suited for such festivities. It has satin uppers that give it that bridal sophistication, along with toe strap embellishment that adds enough sparkle to catch the light of the reception dance floor later on. With several great color options, you and your bridesmaids will find the perfect pair!
Not only does this pair scream for formal festivities, but it also does so with some class, sass, and bright bling. Uppers are carefully crafted from satin, soft on the foot, and rich in appearance. The Gina comes in a variety of colorful options, from the basic black to neutral pinks or greys. It's certainly able to match whichever color you choose to go down the aisle in to support your bride! A softer leather lining helps keep the foot comfortable with a lightly padded footbed, so you can dance the evening away once the ceremony is finished.
The heel on the Gina is modest in height, so after a night of dancing, you'll likely have less sore feet that if wearing a pair of sky-high stiletto heels. It's open peep toe design also helps to not only keep the shoe breathable but provides more room in case feet start to swell or you're attending a summertime wedding. An ankle strap closure secures you inside with a buckle, and the forefoot strap has plenty of sparkles to keep you feeling the wedding vibe all evening long. And, with the blue soles, this makes for just about the perfect option as a bridesmaid shoe!

5

. Badgley Mischka Darrell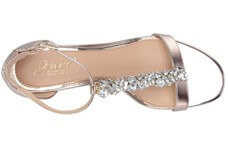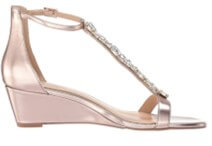 If you were worried that in order to be comfortable you have to sacrifice style - fear no more! Thanks to its low wedge-type heel, the Badgley Mischka Darrell is here to confirm that elegance and glamour don't have to be uncomfortable in the least. The Darrell comes in silver, black, and rose gold colors, and it is wedding perfect thanks to its metallic sheen and gleaming rhinestone embellishments down the T-strap.
The Darrell is made from synthetic materials, from upper to sole, and it has an embellished T-strap down the middle which keeps you secure inside the sandal and prevents your toes from slipping over the front edge. The strap around the ankle can be adjusted thanks to the buckle closure. The sandal comes with a lightly padded footbed for bonus comfort, and its heel is only 2 inches high. Its solid, wedge shape means it is comfortable enough to be worn throughout the event, and you won't have any problems twirling the night away!

The Badgley Mischka Darrell is an excellent choice for when you don't want to change your footwear in the middle of the reception, as it is graceful, opulent, and comfortable. This T-strap wedge will keep up with you every step of the way no matter how long you decide to be on your feet!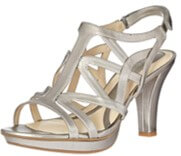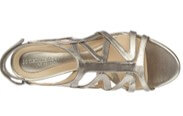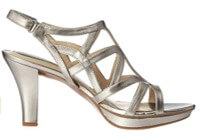 This heel by Naturalizer maybe a little less sparkly than what you'd think of for a bridesmaid shoe, but it's strappy upper pattern uppers bring the wow instead. Cage silhouettes give it a structural element that bumps up the sophistication, and the slingback heel strap finishes off this polished look with buckle closure. From basic black to a more attention-grabbing silver pattern design, you can pair this heel easily with any fancier dresses. Materials are 100% synthetic, making it a vegan option for your bridal footwear.
The Danya is a modest heel sandal, so you can rest assured that at the end of the evening's festivities, your feelings won't feel any toe pad pain from being in taller heels. The heel is slightly chunkier than stilettos, which also helps keep you more balanced, which could come in handy during the night's reception fun! A lightly padded footbed adds a bit of cushion for lighter activities like walking and standing. Slingback design has a buckle closure at the ankle and heel for some further adjustability in the fit of the heel.
The uppers of the Danya are synthetic, as well as the sole, making them a vegan option for the big day's events. Straps cross the forefoot and top in a cage-like fashion, while the design secures around the heel in the back for safety and better fit. Open peep-toes contribute further to the breathable aspect of these sandals, while options for subtlety or attention can be had using the color options available. Silver or gold uppers can wow the crowd, while for something more formal, a simple black will suffice.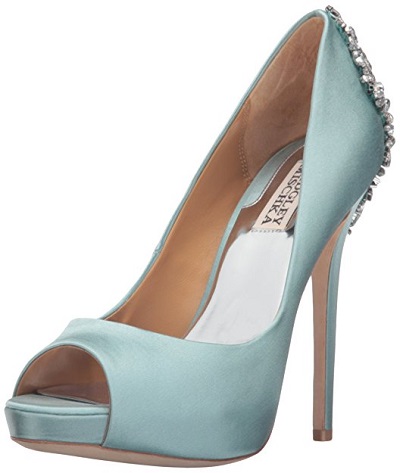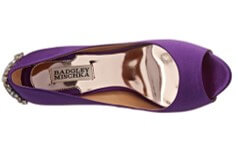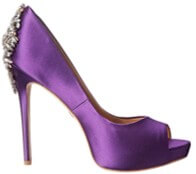 Though they seem to be plain at a glance, the Badgley Mischka Kiara actually has a unique design. The overall design is of uniform color and has no straps or complicated designs, but at the back of the heel is a vintage-inspired rhinestone decoration that adds a touch of fierceness to an otherwise neutral pump. The Kiara has a 1-inch platform and a heel that is approximately 4.75 inches tall. Though it may be hard to stay comfortable in it if you're walking or standing too much, they can do wonders in lengthening the legs and giving your height a boost. Combined with the fierce design, they will allow you to strut with confidence.
If you're not a big fan of the strappy sandal look, but think that the mid-heel, the pointed-toe silhouette is too professional, these high heels will be perfect for you. With a modest peep toe, uniform color, and an intricate rhinestones design, the Kiara has the perfect blend of casual and fierce that renders it a great finishing touch to an outfit. The sole is made of leather, while the upper is made of satin. The decoration on the back of the heel is made of rhinestones.

The Kiara will definitely require a bit of saving up before you make your purchase. However, if you have plans of wearing it on other occasions apart from the wedding, it can be worth the money.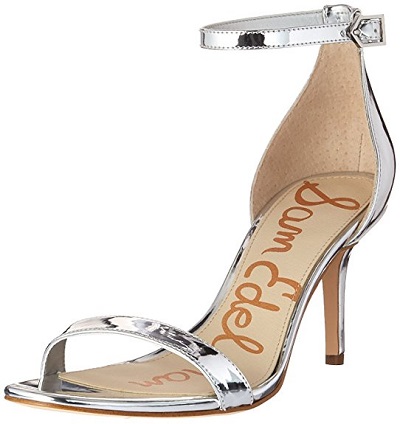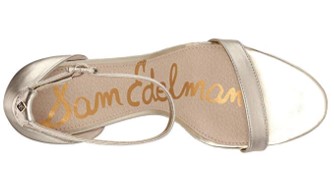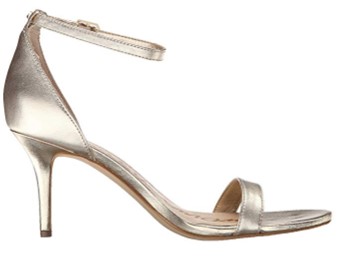 Minimalist and yet chic, the Patti dress sandal by Sam Edelman will be perfect for a summer or beach wedding. It has a strap across the toes and an adjustable buckle around the ankles that provides a simple look suitable for all types of dresses and outfits. What's more, it comes in all sorts of colors and different fabrics, like kid suede, leather, mesh fabric, and glossy patent leather. Despite having a slightly more narrow fit, the medium-height heel, synthetic lining, and cushioned footbed provide maximum comfort.
Not only does the ankle strap on the Patti add to the look, but it also helps to stabilize the ankles and provides more comfort when walking or standing for long periods. With the heel of approximately 3.25 inches, the leg-lengthening look is subtle but still achieved. These heels ensure that you can walk and stand with ease while also looking stylish.

These dress sandals may seem a bit too pricey for their lack of sophisticated design, but their simplicity is exactly what justifies their cost. They are versatile and comfortable and can be worn not only for a wedding, but also for a graduation, a night out, or maybe just a day out shopping. True versatility!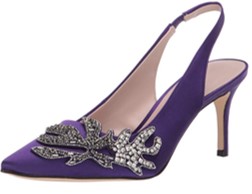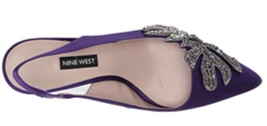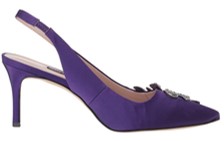 This slingback heel has a closed toe for an option for winter or fall weddings but still brings the bling to the event. The Mathias has a pointed toe, embellished with a rhinestone design sure to catch the eyes of onlookers. It comes in a few basic colors, including blacks, neutrals, and even purples, allowing you to pair perfectly with your dress for the big day. With a slightly higher heel than some on our list, a 3.25-inch stiletto may have you kicking these off for dancing, but will certainly have you feeling confident walking down for the ceremony!
At the base of the Mathias is a synthetic sole, giving some durability against wear and tear, and they have a forefoot traction pattern for better grip on tile and dancefloors. With the heel over 3 inches in height, it's best to pack a pair of flats if you plan to party hard at the reception, however! Pointed closed toes make this pair suited for cooler weather as well, and brings it a sophisticated look that can peak out below longer dresses.
The uppers of the Mathias are textile in material, which not only gives them a little more flexibility for fit, but also an aspect of breathability for when the evening heats up. Pointed toes are embellished with floral pattern designs that run across and alongside the toe box. A lightly padded footbed helps give some cushion, and the adjustable buckle closure on the slingback allows you find a fit that will secure you inside safely.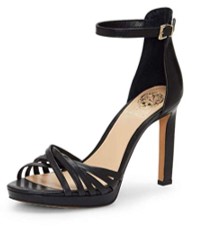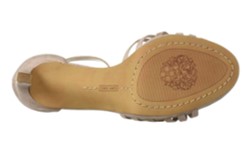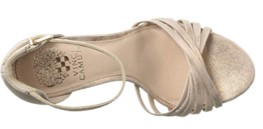 This peep-toe sandal stands a whopping 4 inches in height, giving you a view you'll never forget for the ceremony of your friend's promise exchange and kiss. Leather uppers are crafted into a strappy design for the heat of summertime, but still, keep a durable aspect to the sandal for keeping its integrity over time. A synthetic sole adds grip, while padded footbed provides cushion and comfort when standing or walking. An ankle strap closure with buckle allows for an adjustable fit, which will secure you firmly inside the Beresta for the evening's events.
Available in a few color options, basic black, richer looking metallic gold, or a nude blush hue, any of these can complement a variety of colors and styles of the bridesmaid dress. Suited best for summertime, the open toe strappy sandal design keeps an aspect of ventilation and breathability throughout. Toe boxes are designed as a criss-cross pattern of straps, with an open arch, which reaches into a high heel enclosure with ankle strap and buckle.
The base of the Beresta is a synthetic sole with pattern forefoot tread in the brand's logo, which gives some traction for those more slippery floors and dances. The stiletto heel is a bit chunkier than some but still raises a solid 4 inches in height, allowing you to confidently strut your stuff down the aisle during the ceremony. This is one pair that could be worn again and again for other formal occasions, with its classic lines and open sandal design.

Subscribe to our Newsletter