Best Champagne Heels Reviewed
In a Hurry? Editors choice: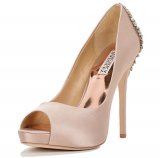 Test Winner: Badgley Mischka Kiara

Origins of champagne can be traced back to 16th century France, to a region unsurprisingly called Champagne. In later decades champagne became a symbol of royalty, grand ballrooms and luxurious dress codes – a connection that leading manufacturers of the drink made efforts to maintain.

Subsequently, that association with the royal class and nobility led to the popularity of champagne in all social circles. It is no wonder then, that today the mere color of champagne reminds us of glitz and glamour, of long gowns and impeccable suits and a promise of a good time. Reviewed here are the best champagne heels on the market. Check them out!
Standout Picks
Criteria Used for Evaluation
Color
As a general rule of thumb, pointy-toe heels, nude-colored heels, and open-toed heels will make your legs look long and lean.
Sometimes when we shop for heels it feels like it is far easier to buy a pair of flashy ones that are great for clubbing or partying than finding a simple model for every day. Nowadays, most shoes are sparkly, glittery, with tinsels and tassels, and it can be difficult to decide what to wear for a more laid-back look.
So, for a more casual outfit, reach for chunky heels. They are more comfortable, but also less dressy than thin heels. It's a good idea to add another chunky item to your outfit, to go with your chunky heels – such as wear a jacket over a dress, for example. Chunky heels look great with boyfriend jeans, and can also help you dress down an outfit if you wanted to.
Lastly, a heel style that you should consider investing in – sandals. High heeled sandals are versatile and can be worn both with casual looks and more formal ones. Choose a simple, color-neutral sandal with thin straps, and you will be able to wear it any time, any place!
Style
When looking at the style of your heels, there are some things to take into account: the outfit you have chosen, the type of event you're going to, and also your own body type, the shape of your legs. All of these things should factor in your choice of the most flattering style of heels for you.
We all want to look svelte, especially in skirts and dresses, and wearing high heels is a good way to achieve that effect. There are some details to consider, however, because not every heel style will be suitable for your legs.
Straps
If you have thicker calves and large ankles, avoid ankle straps, because they will make your legs look even bigger. You should opt for a slingback or a pump instead. On the other hand, if you have thin ankles, ankle straps are a good choice for you. T-straps generally tend to make legs look shorter. Avoid these if you're going for that slender tall model look.
Heel Width
Narrow heels and stilettos look better on people who are slimmer in build, while those who are heavier should go for platforms or thicker heels to keep things balanced and proportional.
Comfort
An age-old struggle is whether or not the heels we buy will be comfortable enough. Countless times we've wondered if they're worth the price if it is worth enduring hours of pain just so we could look good for that one event. We know what it is like to have blisters, to try and prevent hot spots by sticking band-aids all over our feet before slipping into new shoes, even to have a spare pair of flats or comfortable sandals in our purse, for when we finally give up and can't take any more.
Pain in the foot, specifically, the sole, is caused by excessive pressure on the muscles, exerted by high heels. This pressure can also lead to stress on joints in the feet and calluses. There is a direct, positive correlation between the height of the heel and foot pain; unfortunately, the higher you go, the more acute or chronic pain you might experience with persistent wear.
There is no guarantee that the heels you buy will be easy to wear. Not even the price of the shoe or the famous brand name it carries can promise you absolute comfort.
Ride
Heel type
Platform heel – Heels with a platform under the toe area are more comfortable to wear because they reduce the angle and pressure of the ball of the foot. Even thin platforms add stability to your step because they keep the sole of the shoe flat. If you want comfort but don't like the look of a platform heel, there are shoes that have a hidden platform.
Broad heel – Stilettos may look sharp and sexy, but in them, you are constantly balancing on a sharp point, and this can cause pain in your knees and ankles. Instead try a broader heel, like wedges, spool heels, stacked heels, etc.
Centered heel – Some heels go straight down from the back of the shoe, which isn't ideal. Heels that dip slightly inward so that they are centered under your heel will give you more support in your step.
Arch of the shoe
Poorly designed shoe arches rise in a straight line from just behind the balls of the feet to the backs of the heels. These don't support your arches and cause your foot to slide forward in the shoe, putting additional pressure on the front, where the majority of your weight is.
Better quality arches rise in a curve, not a straight line, to support the arches of your feet and then level off a bit so that the heels are not resting on a steep incline. The best quality arches rise in a curve that provides total arch support to your foot and then drop down into a cup-like depression that holds and supports the heel. This type of arch helps prevent the feet from sliding forward and shifts the body weight back to the heels of the foot, where it belongs.
Features
The toe box
Not only are cramped toes painful if you regularly wear heels which don't have enough space for your toes you have a high chance of developing bunions, corns, hammertoes or arthritis. Look for a shoe with a rounded toe, or an almond-shaped toe. Classic, pointy toes may look more elegant, but they also hurt more.
A deeper toe box provides you with more room than a shallow one. Even pointy shoes with a deep toe box are better than and will pinch less than round ones with shallow toe boxes.
Use your thumb to test the fit by measuring how much space you have between your big toe and the end of the shoe. There should be about a thumb's width space in there.
Heel height: If you can, choose a heel between one and three inches high. Walking in heels over three inches changes your entire posture and puts a strain on your lower back, knees, and ankles. Fortunately, there are many different heel heights to choose from, so let's see what all the heel height categories are:
Kitten heels – Kitten heels are between 1.5 and 2 inches and are great to wear for the whole day.
Classic heel – Classic heel height is considered to be 3 inches and is appropriate to wear in a work setting.
4-inch heel – This type of heel is fitting for after-work or weekend activities.
5-6 inch heel – These types of heels will almost always be uncomfortable to wear (unless they come with a platform in the front), and you should only consider them if you won't have to wear the shoes for longer than a few hours.
Leather or suede
Leather and suede are pliable and will mold to your foot, reducing the chance of chafing. They are, of course, more expensive than synthetic shoes, but the quality of the material is an important factor for shoe comfort. Leather and suede shoes will also last you longer.
Cushioning
When you wear high heels, more pressure is put on the ball of your foot, so extra cushioning in this area will certainly help. If the shoe doesn't have to cushion you can add it by putting in insoles, or gel inserts. They can be full size, three-quarter size, half size, or cushions for only the ball of the foot. If you do end up buying them, make sure you still have enough room in the toe box, as we have previously mentioned.
Lining
In cheaper models, the lining could just be covering the inside sole, but not the edges. However, for maximum comfort, you want the lining to cover the entire shoe inside. As for lining materials, go for leather because it moves better with your foot and has more breathability than vinyl or other synthetic fabrics.
Top 10 Champagne Heels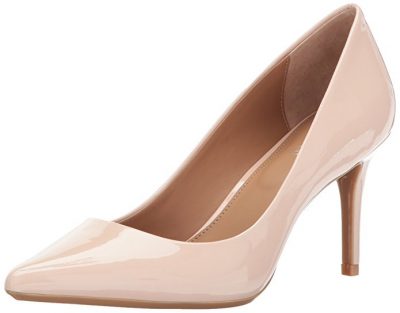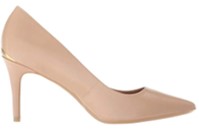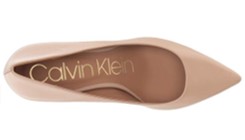 Calvin Klein is a world-renown brand famous for its minimalistic style, and modern and sophisticated aesthetics. The Calvin Klein Gayle is an expression of that - a pointed-toe pump with clean lines, a chic silhouette, and color with a pink undertone. It comes with comfort pods and a classic heel, which makes it an excellent choice for glam day-to-night looks. Put these on and be ready to conquer your day!
Finally, you won't have to worry if a pair of heels will cause you pain or blisters if you wear them for a longer time. The answer is: they won't! Thanks to special gel cushioning in the front, the Calvin Klein Gayle heels keep pressure off the ball of your foot, enabling you to wear these beauties for as long as you want.

Three inches is classic heel height. High enough to make you stand out, to bring poise and confidence to your posture, but low enough to be comfortable and work appropriately. Slip-on the Calvin Klein Gayle, march out the door and forget about tightness and discomfort! The Calvin Klein Gayle may be in the top range on our list when it comes to price, but it shouldn't be surprising given its brand name. The fact remains that this is a pump made out of high-quality materials that put emphasis on your comfort, and you are sure to love wearing it.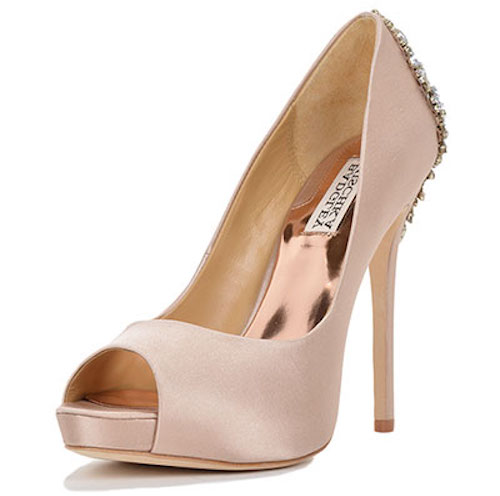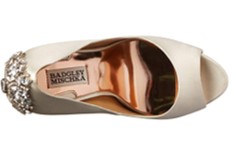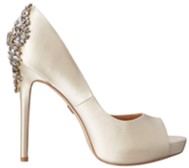 If you're after an evening pump that's classy with a touch of extravagance, then the Badgley Mischka Kiara is definitely the choice for you. An open-toed pump that comes in a variety of colors, including a couple of tan hues as well, it's the showstopper you're looking for - whether you'll be wearing it at your wedding, as a bridesmaid or even for a night on the town, the Kiara is sure to get you noticed while keeping you comfy and cocooned in its luxurious construction.
The crystals which make this pair of pumps stand out are applied by hand, thus giving you a pair of shoes that not only look expensive and luxurious (which they are), but also unique, as each pair will be slightly different. The embellishments will add style to the simplest of outfits, but won't steal the show from the main attraction - you.

With a heel height of 4 ¾ inches, the Kiara is one of the tallest heels on this list. It's also worth noting that the heel is a stiletto style, which means that it's thin and straight and that it will work wonders to elongate your legs and accentuate your calves. Helping you walk will be a 1-inch platform, making your steps a bit more secure and keeping your center of gravity toward the toes.

Designer items usually come with high prices, and the Badgley Mischka Kiara is no different. More than double the cost of the next most expensive item on this list, the Kiara definitely isn't for everyone's budget, and will probably be a style you'll prefer to save for special occasions. Nonetheless, if you do decide to splurge, then it's our number one choice.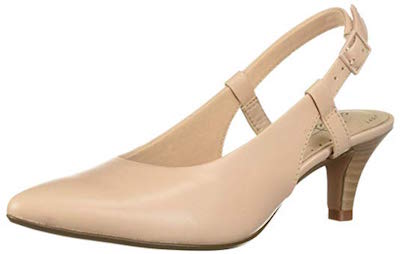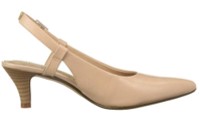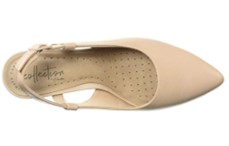 If what matters most to you is comfort, but you still want to look beautiful, we highly recommend the Clarks Linvale Loop slingback heels that were designed with plenty of features that will make wearing this pair an excellent experience. Whether you want to wear these to work or to special occasions, it's guaranteed you won't be suffering from sore feet at the end of the day. The upper is made with a beautiful blush leather that looks great and offers a good amount of durability for an investment worth making.
Lined with textile, the Linvale Loop will allow your feet to breathe, despite the closed-toe. The backstrap is fully adjustable, so you will easily get the right, secure fit, as well as easy on and off. The outsole uses rubber for slip resistance and extra cushioning, and the 2-inch heel won't cause problems or pain, even with all-day wear.

The best thing about the Linvale Loop, however, is the generously cushioned footbed that uses Cushion Soft technology to provide the ball of the foot with a great amount of shock absorption, reducing strain and allowing a more natural gait cycle. In terms of price, this shoe is actually closer to the low end of the scale, meaning that it's a great buy, even for those shopping on a budget.

4

. Badgley Mischka Vanity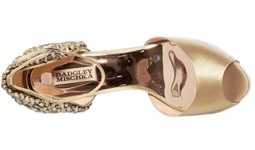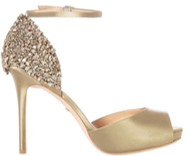 Some of the most luxurious heels available for purchase are made by Badgley Mischka, so it comes as no surprise that this list features two styles by the brand. The Vanity is a D'Orsay heel with an ankle strap, peep toe, and a small platform, and looks like something out of a fairy tale with the crystal embellishments at the heel that give it a special sparkle. The color that resembles our favorite sparky drink is ivory, and it looks great with a number of formal gowns and cocktail dresses.
The upper of the Vanity is made with shiny satin that's soft and breathable, and that will allow for a good fit without rubbing your feet, regardless of whether you choose to wear hosiery or not. The back of the heel is lined with suede for durability, while the insole is lightly padded, with additional shock absorption being provided by the 0.5-inch platform.

The leather outsole and 3 ¾ inch heel make this a formal shoe that will look best on dressy occasions, but it does come in a black and red (cabernet) version as well, so if you're after something you can wear to a wider variety of occasions, it's a great model overall. The ankle strap is adjustable for maximum fit security. As for price, it's not the most expensive model on this list, but it isn't cheap either.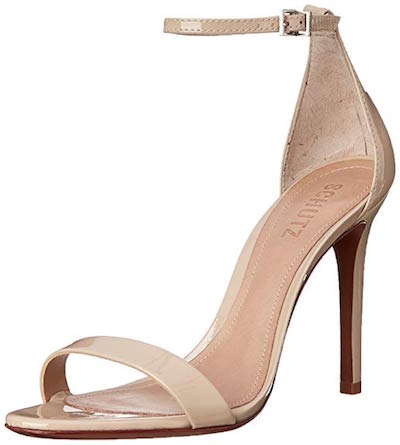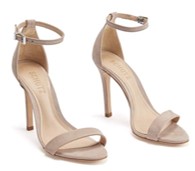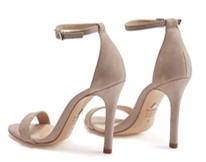 This pair of leather sandals are the perfect choice if you're after a versatile pair of footwear in a light color. It can easily be worn on formal and casual occasions alike, and due to the thin straps and quality leather construction, this model provides a great fit for most users. It's available in several upper materials, with full-grain leather in the color of classic sand dunes, patent leather in an oyster, and even suede in a few more colorful options.
Schutz is a company that takes pride in crafting beautiful shoes with quality materials but at affordable prices. While the upper comes in several material options, the sole and lining both use leather for the ultimate feel underfoot. This means your foot will be in touch with a natural, breathable and soft material, helping shorten the break-in period that can be so tedious with heels.

The heel on this model is very high, especially considering there is no platform present, so the 4.2 inches will definitely need some getting used to. The ankle strap comes in as a great addition as it provides security, as well as a customizable fit. The price point for this model is great, as it costs considerably less than similar designer shoes, but provides wearers with the same feel and durability.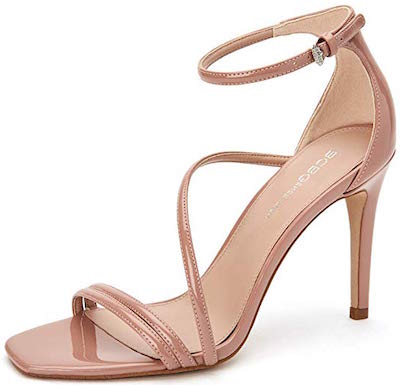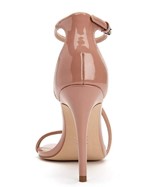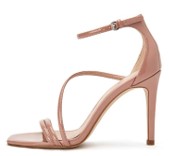 This heeled sandal is the ideal mixture of style and class, and it's even free of leather materials, which means that those looking for an animal-friendly option can easily buy it and wear it with pride. This strappy sandal is highly versatile, as it will work great for formal and casual events alike, and will look great both with gowns, shorter dresses, pencil skirts or even trousers or shorts. The mocha color resembles luxurious rosé champagne, so if that's your drink of choice, then read on.
The upper of this model uses polyurethane for a shiny, durable pair of footwear. It doesn't pose a problem, even in warmer climates, thanks to the strappy design that lets plenty of fresh air into the shoe, so your feet won't overheat or swear, even if you spend your entire time wearing this sandal on the dance floor.

The outsole uses rubber, particularly convenient on highly polished surfaces, as well as asphalt, seeing that it gives you a great amount of grip, preventing slips and falls, the bit is also more abrasion resistant than classic leather soles. As for maintenance, the Isabel is very easy to keep clean - all it will need is a wipe with a damp cloth from time to time.

7

. Blue Betsey Johnson Gina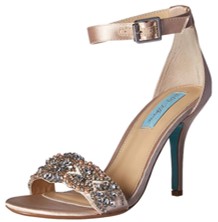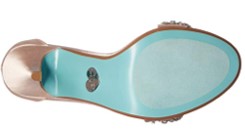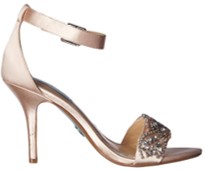 This hot pair of heels comes with bling, blue, and a bang! The Gina has a softer textile upper, giving it a smooth sleek appearance and shiny finish. Open toes have a single strap that crosses the foot, embellished in plenty of bling jewels that will catch the light during wear. It has a 3.5-inch heel, supplying ample boost in height, with a few comfort features to help cushion the foot. Closed heel wraps around back, and ankle strap secures you inside the Gina with buckle closure. Best of all, the soles on this pair are a baby blue color, giving them a unique signature!
Shiny textile uppers provide an allure to the Gina, while the toe strap decked out in rhinestone embellishments provides plenty of sparkles. Open sandal design creates plenty of breathability for warmer weather, while a lightly padded footbed helps provide additional cushion to footsteps. The ankle strap utilizes buckle closures to help secure your foot in place, and heel backing helps keep in-shoe slippage from occurring.

The highlight of the Gina is its unique baby blue soles that add a signature element to its design and flair. Similar to the red bottoms of designer Christian Louboutin, this blue hue catches the eyes with each step taken, making sure you'll be noticed. Heels rise a solid 3.5 inches to give a perfect boost in height and leg-lengthening look. This is one pair of heels sure to have heads turning!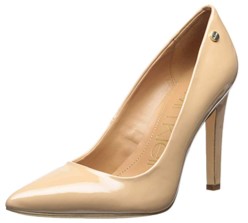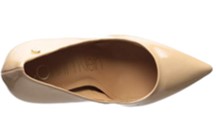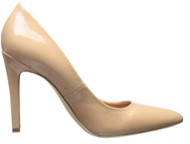 If you're looking for something minimalistic, that'll be made with the best materials and with attention to detail and construction quality, then going with the Calvin Klein Brady champagne heels should be a no-brainer. This classic pump is the ultimate sleek style, featuring a wrapped 4-inch heel that won't look out of place even if you decide to wear these shoes to the office. The only embellishment on these is the simple hardware stud on the outside of the heel, that doesn't steal the show, but lets everyone know that you're wearing some serious footwear.
The material of the upper used for the Brady is genuine leather or suede, both of which are supple to the touch. This means that these shoes will mold to your feet, giving you some space where you need it, but supporting everything else. They also won't need much breaking in, and you'll love wearing them straight out of the box.

Pointed-toe heels can be a pain to walk in, but this is not the case with the Calvin Klein Brady. These pumps feature a good amount of padding in the insole and have a nice curve to them, which means that your arch is supported, preventing any unnecessary discomfort. While the Calvin Klein Brady does cost a lot compared to the majority of products on this list, it's an amazing pair of shoes that you should definitely consider. It will work informal and professional settings , but it will also be a good choice to wear with a pair of jeans on a casual outing when you still want to look your best.

9

. Sam Edelman Telsa D'Orsay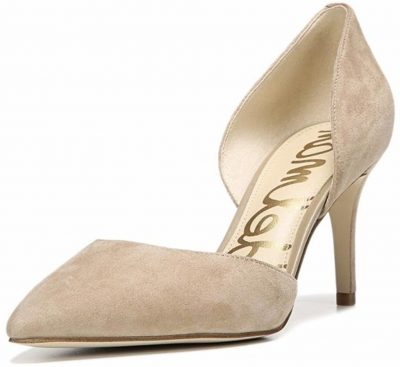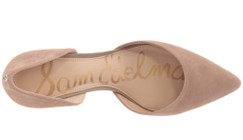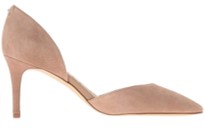 Sam Edelman's shoes represent charm, sophistication and down-to-earth appeal. The footwear label combines a youthful outlook with a worldly sensibility, and all of that is blended perfectly in the Telsa D'Orsay. This two-piece pointy-toed pump comes with a suede upper in a muted color, along with a three-inch heel and a cushioned footbed for maximum comfort.
The Telsa D'Orsay is made out of nothing but the finest, top-grade materials such as leather and suede. Not only are these durable, but they also have the ability to mold to the shape of your foot as you wear the heels, making them incredibly comfortable after a short break-in period.
The height of the heel, its neutral, yet still elegant color and two-piece design enable you to wear the Telsa D'Orsay pump on any occasion. Pair it with cropped pants and a slim cut blazer for a day at the office, or throw on a snazzy knee-length skirt for a night out with your friends - the pump goes well with everything!

Given the type and quality of the materials involved in the construction of the Telsa D'Orsay, it is no wonder that it's a little pricey. However, for a bit more cash you also get comfort and durability and are sure to enjoy these versatile pumps for a long time to come.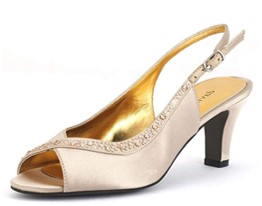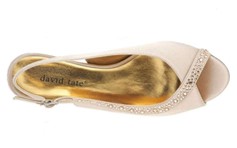 This cute little slingback packs a punch when it comes to a sophisticated style without being over the top! The Dainty by David Tate keeps a peep toe silhouette, with an asymmetrical embellishment pattern along the top to the back of the ankle strap. With a modest kitten heel height and chunkier heel, they're quite stable and could be worn for formal or business settings. A buckle closure allows for an adjustable fit, securing you inside to your liking. With satin uppers, it's a pair that subtly exudes a rich look without being too forward.
Uppers crafted from satin give this heel a soft, sexy look and appeal. We'd recommend using a shoe protectant spray with satin to help against water stains. An asymmetrical rhinestone embellishment runs up from the toe, across the foot, and toward the strap closure at the heel, giving it bling for a light-catching allure. Slingback strap closes with a small buckle to give an adjustable fit to help secure you inside the Dainty. Open peep toes and heel add to the breathability of this heel as well.

Inside, a lightly padded footbed provides additional comfort and cushion, while at the base a synthetic sole helps provide traction. A smaller kitten height heel has a chunkier design to it, providing better stability and support than stiletto heels. Perfect for more formal attire, this pair makes for a great black-tie event heel, wedding heel, or another special event. It's one pair of heels that will steal the evening away!

Subscribe to our Newsletter