Best Shoe Stretchers for Men & Women's Shoes
In a
Hurry? Editors choice: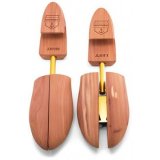 Test Winner: Houndsbay Cedar Split Toe

If you've ever suffered because your
shoes are a tad tight
, you've come to the right place, as there's an easy way to fix this. Shoe stretchers are simple and work wonders for minimal stretching. Not only can they improve the fit of your favorite footwear, but can also help if you suffer from
bunions
, calluses, corns or other feet issues that cause
pressure on the foot
when inside of a shoe.  
Perfect for use with
leather and suede footwear
, they are made with all types of footwear in mind, from flats to heels, to boots and dress shoes. The list below looks at the top 10 best shoe stretchers currently available for purchase.
Standout Picks
Criteria Used for Evaluation
Materials
What material will work best for you, really depends on how you intend to use your shoe stretcher. If you'll only use it occasionally, with new footwear or to improve the fit of existing models, then you may not have to invest as much as if you're after something that will last you a lifetime. There are numerous variants of shoe stretchers and trees, but the most popular are wood, metal and plastic, all of which have their pros and cons.
Wood - The wooden shoe stretchers will inevitably last longer as most wooden things do when compared to plastic items. The wooden ones will have a firmer surface. Therefore, they will be less likely to give under pressure as many have seen happen with plastic. As well, they will be able to put more pressure on the shoe while it is being stretched. Some people simply choose wood because it absorbs odors and moisture from the shoe. However, the wooden stretchers are going to be more cumbersome and bulky than a plastic one.

The highest quality of wood stretchers is going to be the stretchers made from one solid piece of wood. The wood that is of highest preference would be Cedar. It has been shown to absorb moisture and odors the best when studied. However, there are other woods used in the production as well. Commonly seen woods are Beech, Lime, and Alderwood. They are all great choices if you are looking for a solid material that is going to help absorb odors and moisture from your shoes when not being worn.
Plastic - If you are using a shoe stretcher while you are traveling, it may be a better option to go with plastic. For one, they are not as heavy. Secondly, the plastic won't snag other clothing in your suitcase and maybe a wooden one would if it has a rough edge. Another great thing about plastic is if a piece goes missing they are typically more affordable and would be less of a burden to replace.
Metal - Metal stretchers have its benefits and negatives as well. The metal is going to be solid and rigid. It can withstand the pressure being applied to it and the shoe. Negatively though, the metal will be like the wood in weight. If you don't watch the metal it could potentially rust if exposed to moisture in the shoe. Then, it will transfer the rust to your shoe lining. As well, metal can sometimes have a smell. The lead odor can lead out into your shoes thereby transferring the scent to your expensive shoes.
Breathability
One of the key things you need to consider before purchasing is whether your shoe stretcher is going to double as a shoe tree. If that's the case, then you definitely need to take breathability into consideration, as not all models will act the same in this regard.
Ideally, when not worn, your footwear will be kept in a place away from direct sunlight, at room temperature, well ventilated, but protected from dust. Any type of material on the inside of the shoe may hinder air flow, thus trapping moisture and humidity, speeding up the degradation process of the footwear's components. Humid conditions may even lead to mildew, foul odors, or could attract insects, which is not only unpleasant, but could also compromise your foot health, leading to bacterial or fungal infections.
This is why, a stretcher with some perforations, made with natural materials is superior to plastic, single unit models that prevent fresh air from reaching the shoe. You can look for models with a split toe design, or even for those with some holes in them, but the best way to go is to opt for a model made with a high quality wood that prevents moisture build up.
No matter what type of stretcher you've invested in, there are, of course, a few things you can do that will ensure a well cared for pair of shoes. These include allowing your footwear to thoroughly dry between uses, cleaning and conditioning with the proper products, as well as ensuring that you wear them in the right weather conditions, preventing extensive damage in the first place.
Use
There are two ways in which a shoe can stretch. Interesting to note, the most common way is from side to side. This is the width of a shoe. A bit harder to do, but not impossible, is to stretch the length. You won't be stretching the actual sole but you can possibly get a tiny amount more room in the length of the upper.
Be warned that sometimes the look of the shoe will change and it may be noticeable that you have in fact stretched the length of the shoe. Moreover, this is apparent by the shoe hanging over the edge of the sole. Consequently, you also run a risk of compromising the integrity of the shoe and doing damage to the sole or shank by attempting to stretch it in length.
Some will work in both directions, stretching length as well as width. Some will only work in one direction. Typically, those are the ones that will increase the width.
You may look at a shoe stretcher and wonder what those holes are doing in it. Is that a design flaw? No. Those holes that are strategically placed are for pressure points.  The stretchers that have the holes are made to insert an additional layer before it is placed inside the shoe. It is like a little knob. The knob puts even more strain on that area of your shoe that your foot is bothered at. It will give just a little more pressure to stretch that part of the shoe more. You just have to align the knob and hole up with the part of your foot that has the pressure point hot spot.
The downside to the holes in the shoe stretcher is that it no longer makes the stretcher a solid piece of wood. The stretcher has a hole in it. Therefore, over time, it could weaken it.
Components
When you open the stretcher up there will be two types of parts that comprise the gears and inner workings of it. First, some that are wood have metal parts and others will have plastic parts. The plastic innards may be substandard quality compared to those that have metal pieces.
The stretchers that have metal pieces and a wooden structure are going to be the most durable. They have the strongest backing to stretch your shoes and to withstand the force that is put on the tool. You can most certainly achieve desired results with a plastic stretcher that has plastic parts. However, you just need to use caution with the amount of force you are applying to the stretcher. It is recommended to go slower when using plastic tools than you would if using one of solid wood with metal parts.
Durability
In an ideal situation, once you've invested in a product, you will want to have and use it for life. Shoe stretchers, when made well, can offer that type of quality, and all without costing too much. But, to ensure that you do receive this type of durability, you need to make sure that the product is designed and made with the right materials, using the correct mechanisms, providing you with a long lifespan.
As mentioned above, cheap, thin and flexible materials will often give in under the pressure needed to change the fit of a pair of footwear, so the first area in which you want to look for durability is the forefoot portion of the stretcher. Ideally, it will be made with high quality, solid wood, or an industrial grade plastic that doesn't break or bend. Note that breaking inside the shoe could even cause damage to your footwear, so this is a crucial aspect of any stretcher.
Secondly, you want to look at the mechanism, and pick one that's sturdy and made with equally strong components that won't snap under pressure. This is the most common part of the stretcher to break, and often cannot be replaced, which means you'd have to purchase an entirely new product should this happen.
Last but not least, you need to ensure that the integrity of all materials remains the same throughout their lifespan. This relates to an issue that's already been mentioned - rust, decay and insects, which often lead to damaging your expensive footwear, making it unsuitable for use. If you're looking at products for expensive items such as designer and leather shoes, you may want to leave the stretching to a professional, and buy the highest quality trees made with cedar wood that will promote a healthy environment void of moisture, humidity and odors.
Ease of Use
There are two ways in which a shoe can stretch. Interesting to note, the most common way is from side to side. This is the width of a shoe. A bit harder to do, but not impossible, is to stretch the length. You won't be stretching the actual sole but you can possibly get a tiny amount more room in the length of the upper.
Be warned that sometimes the look of the shoe will change and it may be noticeable that you have in fact stretched the length of the shoe. Moreover, this is apparent by the shoe hanging over the edge of the sole. Consequently, you also run a risk of compromising the integrity of the shoe and doing damage to the sole or shank by attempting to stretch it in length.
Some will work in both directions, stretching length as well as width. Some will only work in one direction. Typically, those are the ones that will increase the width.
Find the Best Shoe Widener
1

. The Original Shoe Tree Company Cedar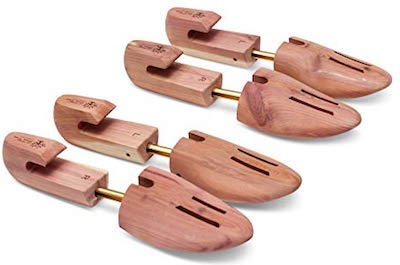 If you're after a high-end product at an affordable price, one that's been made with the best possible materials, that's designed in a way that makes it easy to use and effective in improving or maintaining the fit of your favorite leather flats, then you definitely need to check out The Original Shoe Tree Company Cedar. A set of 4 stretchers, these shoe expander set suitable for two pairs of shoes, it comes in a beautiful packaging, with each pair coming with its own canvas shoe bag that can further help keep your footwear protected from dust and moisture.
Cedar wood has properties that make it the best possible type of material to be used in keeping the shape of your footwear. It contains natural oils that will prevent the appearance of moisture, making it resistant to decay or insects which is often the case with different types of wood. Furthermore, it also has a recognizable, pleasant smell that will keep your favorite shoes smelling fresh for longer.
These stretchers feature two vents in the forefoot that promote proper air flow, crucial in keeping the life of any pair of footwear. The tops are engraved for easy left and right stretcher recognition, while the spring is easily adjustable, ensuring a proper stretch, as well as shape maintenance in all of your valuable shoes.

2

. Houndsbay Cedar Split Toe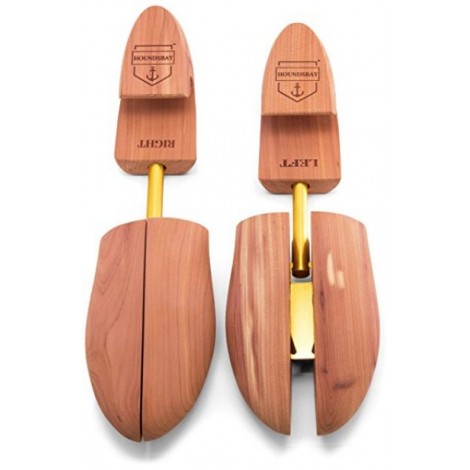 Not only are these stretchers very stylish in their own right, they are made from cedar. Cedar is the highest sought after wood for shoe stretchers. Cedar absorbs lingering odors and moisture that could be in the shoe. Thus, prolonging the life of the shoe. To make it easy to keep straight which shoe is right and left, Houndsbay has engraved "Left" and "Right" on them. These are sold as a set.
Much like the gears of a clock are the interior pieces of these shoe stretchers. They are vital to the success of it, and metal is the strongest material to use for the interior. It gives a stronger force and reinforces the cedar wood offering exceptional durability.
Cedar is said and studied to be the best wood to use for all things clothing or shoes. Wood, especially, cedar, absorbs odors left in the shoe after taking them off. It can also wick away moisture in the shoe which can lengthen the life of your favorite shoes.

3

. FootFitter Premium 2-Way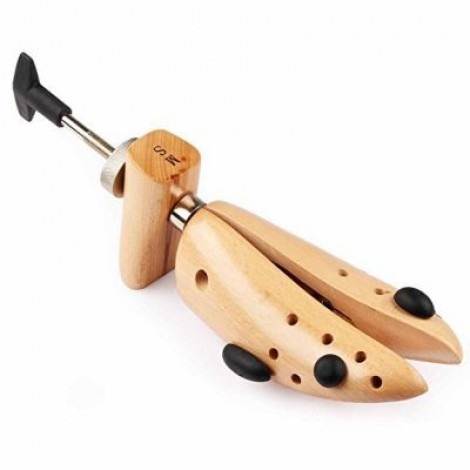 Made from solid wood construction, this shoe expander is one of the top products on our list. Using Beechwood guarantees stability and functionality. FootFitter has long been known for their production of shoe stretchers. Therefore, they are a household name when you think about this subject. Their reputation is highest in the category. Their products are long-lasting and work as promised. It stretches both directions and comes with a complete instruction guide.
Please note, this is sold as a single piece, it is not a pair. However, this stretcher can work for both the left and the right shoe. It is a universal fit.
The packages comes with 3 bunion and corn plugs. As well, the stretcher itself has 14 holes for customizable use, tailored to stretch your shoe in specific areas that will bring you personalized relief.
While the cost is higher than some of the others in the category, you are receiving a very high-quality product. It is also a downside that it is only one if you are looking for a set. However, the value of these will long outweigh the purchase price.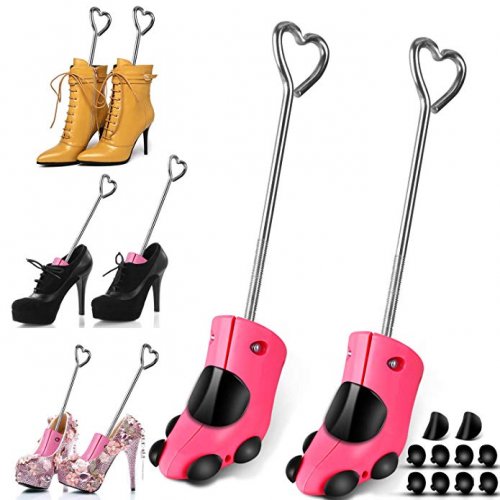 If you have a favorite pair of heels that are just a tad too small, but you can't bear to part with them, I introduce to you the XYH High Heel shoe stretcher. Designed specifically for high heels of all shapes and sizes, the XYH can stop problems that tight shoes can cause, like pain, compression and discomfort. Backed by a 90-day warranty, try them to see how they can work for you.
Constructed to last, the strong PU plastic and premium steel handle will work no matter how many heels you have sitting on the shelf. Easy to use, you simply insert the XYH into your heel and twist the dial to stretch. All it takes is 24 hours!
Remember that tight shoes can cause pain, blisters, discomfort and even permanent muscle or nerve damage. Stop that from happening with the XYH shoe stretcher, specifically designed for your favorite high heels.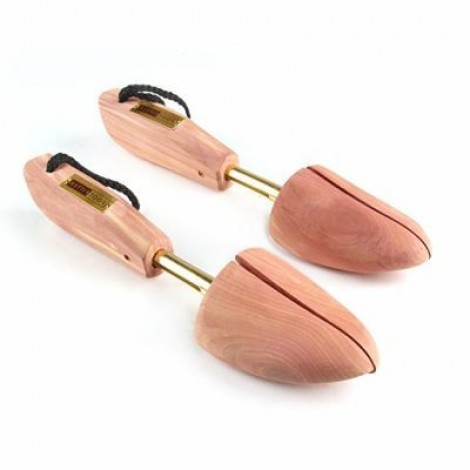 These are a little bit of a different design than usually seen with shoe stretchers. However, they are from a trusted brand, FootFitter. FootFitter has a high reputation for bringing quality goods. These are not going to bring as much stretch to your shoes as other may, as they don't expand as far. However, they are made from high-quality Tennessee Cedar. They will be excellent for absorbing odors and wetness from your shoes.
Split toe shoe widener stands apart from other designs in that it stretches the entire width of the shoe and not just one portion. It also stretches the toe box which is a high concern that a lot of individuals have trouble with.
Cedar is a high-quality wood that is widely used for its wetness and odor absorbing capabilities. Simply placing them in your shoe when you are stretching, will help draw out nasty lingering odors. This can add to the life of your shoe.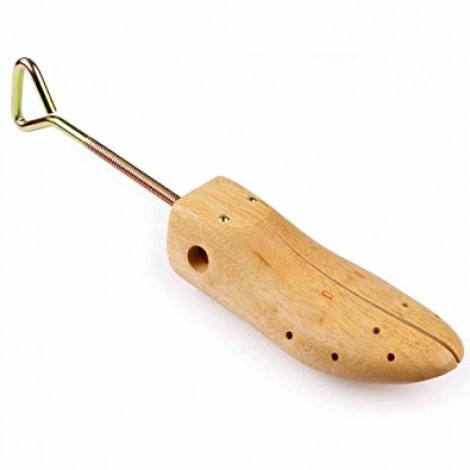 Sold as a single shoe stretcher, this one only stretches the width of a shoe. However, it is a high-quality product that offers additional plugs to help you stretch the pressure points of a shoe. If you have a targeted spot such as a bunion or corn, these plugs can help stretch the shoe by strategically placing them on the shoe stretcher. As a bonus, the company includes a bottle of conditioning spray to help get your shoes primed for optimal stretching.
Wood is a highly sought-after material for shoe stretchers. Moreso than plastic in most cases. Wood seems a bit more sturdy under extreme pressure; such as, what is required to stretch a shoe.
Having the ability to be used in the right or left shoe is a major benefit of this shoe stretcher. It makes keeping up with which shoe it works for a breeze.

7

. FootFitter Premium High Heel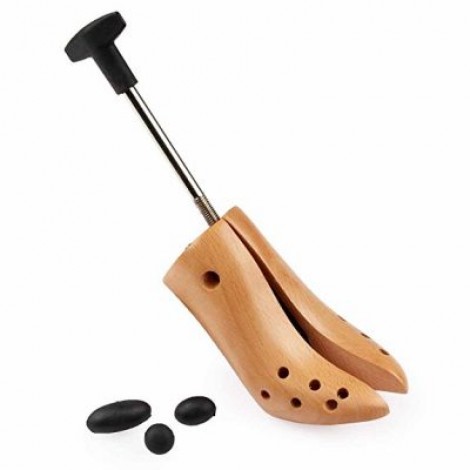 FootFitter is probably the premier name in shoe stretchers. They offer every variety you need. This particular stretcher is designed for high heel shoes. It also only adjusts the width. Solid Beechwood construction lends way to a durable and quality design. The wood will withstand a good amount of pressure while stretching the shoe. As well, it can absorb odors and wetness that is trapped inside.
Stainless steel is generally accepted as a strong material. Hence, the reason this shoe expander was chosen to make the interior pieces of this shoe stretcher. The stainless steel pieces are not only more durable, they help to reinforce the wooden frame.
If you have a specific spot on a shoe that needs stretching as a result of a bunion or corn, you will most definitely appreciate the bunion plugs that are included. Furthermore, this stretcher has many different positions in which to apply the bunion plug. It makes it much more customizable for the adjustments it can make.

8

. Eachway Professional 2-Way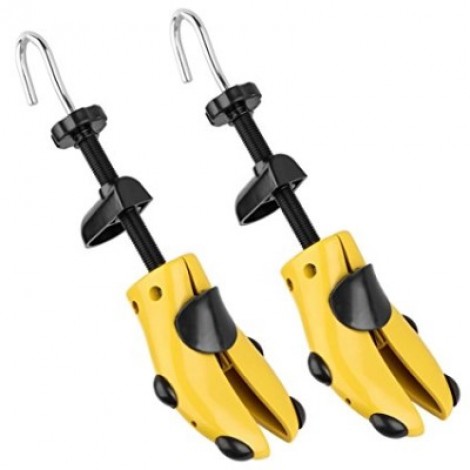 Here you can find a set of ergonomically designed shoe stretchers. That is, they are shaped more like a foot and will fit into the shoes as if a foot is in there. This prevents uneven stretching. As well, they are universal and both can fit into either shoe. They come with easy to follow instructions. These shoe expanders are highly reviewed for quality. These shoe expanders can transform a new pair of shoes or help loosen an old pair up.
No more having to keep up with which one goes in the left shoe versus the right shoe. You can easily grab one and put it in the shoe without fear of stretching the shoe the incorrect direction. Very simple.
The plastic used to make these shoe expanders is high durability polyurethane plastic. Also, they are reinforced with a premium steel shaft which adds to the ruggedness of the overall design.

9

. Miserwe Two Way Adjustable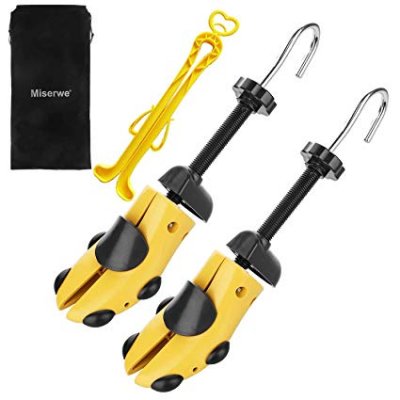 Sitting in our number one spot it the Miserwe Two Way Adjustable stretcher, with insertable pads for corns or bunions should you need a little extra room in your favorite pair of footwear. Designed from polyurethane plastic with a steel shaft, it's suitable for sandals, casual and formal style shoes, but not for boots. The Miserwe Two Way Adjustable even works well for lower kitten style heels and peep toes. As a bonus, there are options to get a travel bag along with your purchase!
The Miswerwe Two Way Adjustable is designed to not only stretch your footwear in width, but also in length. This shoe widener is great for shoes where narrow toe boxes or a sharper heel cup prevent you from pulling them out for wear simply because they are a bit too tight. After 24hours, you should feel a noticeable difference in fit. In addition, 8 bunion plugs and 2 Pad high plugs come with the stretcher in case you need a little extra room for any foot issues you may have.
Constructed from polyurethane plastic, the Miserwe Two Way Adjustable has a premium shaft of steel to help maintain its structure and integrity, even with the toughest of footwear. Each stretcher will fit left or right shoes equally well and even comes with a carry bag for travel or storage. Plus, with a full one and a half year warranty, you'll be able to return for a refund or exchange should anything happen to the stretcher.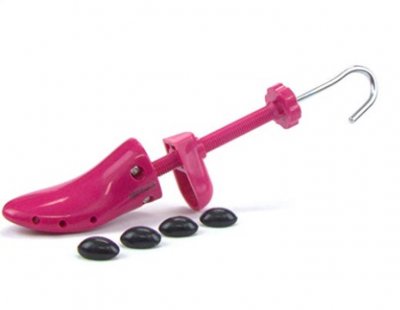 Marz Products brings this shoe stretcher out with new improvements. It will not allow you to overturn the dial. That is one reason others have a tendency to break. Not to worry with this model. Furthermore, you get with your purchase bunion and corn relief pods. Place them on the stretcher to put more pressure on the spots of the shoe that cause you issues. Moreover, these not only stretch the shoe, but they also maintain the shape as a keeper.
You can use this shoe widener in either the left of the right shoe. Be advised it is only one, not a pair, meaning you will have to adjust your shoes one at a times. However, it will fit either shoe and won't let you over adjust causing damage to the unit or the shoe.
The special mixture used for this model is a reinforced tough industrial grade polyurethane. Furthermore, it has a steel shaft that supports the plastic. It is a very strong model and can take a lot of pressure.

Subscribe to our Newsletter