Best Shoe Horns Reviewed & Rated
In a Hurry? Editors choice: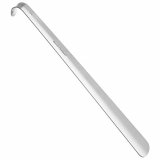 Test Winner: Fanwear Extra Long

A shoehorn can, drastically, improve your life by helping you to put your shoes on without causing any damage to the shoe. The design of a shoe horn is incredibly simple and is designed to gently ease your foot into the shoe and not cause any stretching or squashing of your footwear. The top part of the shoe (the counter) that wraps around your heel should fit snugly around your foot, and a shoehorn can ensure that the overall structure and health of your footwear stay perfectly intact.
Standout Picks
Criteria Used for Evaluation
Size
Each year 2.8 million people are treated for injuries relating to falling, according to the CDC. 300,000 people age 65 and older are hospitalized for fractures regarding the hip every year. As people get older, they begin to fall and injure themselves more often. The CDC, also, reports that 95% of hip fractures are caused by something as simple as a fall. After an injury which is detrimental to your health (as in a hip fracture or injuries relating to the joints), you need all the help you can get when trying to get your shoes on.
With a long-handled shoehorn that's between 18 and 30 inches, you can minimize the risk of injuring yourself further while putting your footwear on. Shoes can be put on from a standing position while barely moving your joints, and this can help to minimize any injuries you have or minimize any movement, altogether.
The effects of long-handled shoehorns and how they are connected to the hip range of motion has been significantly studied. A study published in 2008 by The University of Toledo studied 38 patients that were mobility impaired in the age range of 21 - 47. In the study, they determined that the longer the shoehorn, the less amount of hip flexion was used, and this meant that the least amount of movement was used to put footwear on. The 18-inch shoehorn showed a slight amount of hip flexion and rotation. The 24- and- the- 30-inch shoehorns showed little-to-none hip flexion and rotation, whatsoever. This proved that the longer the shoehorn, the better it is for the joints and hips.
The long-handled shoehorns are ideal for the elderly, as it reduces the amount of movement needed to put footwear on; that is, the longer, the better. People suffering from Arthritis or who have just had Arthroscopy would greatly benefit from a longer shoehorn.
Materials
A strong, durable shoehorn is invaluable. You have the pressure of your foot onto the shoehorn, and you don't want it to break or bend in any way while you're trying to get your shoes on.
Materials to look out for:
Metal shoehorns made from metal are, usually, crafted from stainless steel. This is incredibly strong, durable, and difficult to bend or break. The metal, also, provides a smooth surface to glide your foot against the shoehorn and aid in getting your shoe on.
Plastic shoehorns made from plastic can be almost as strong as steel and are significantly lighter. These can be ideal for traveling or for hanging up for storage. Another great attribute of a plastic shoehorn is that it's a smooth surface and should help you ease your foot into the shoes.
Materials to avoid:
Wooden shoehorns can break quite easily if enough pressure is exerted onto it. This will damage your shoe horn and your footwear. However, nice shoehorns with wooden finishes may look, it's best to avoid them, altogether.
Leather shoehorns can get frayed and damaged, easily. This can result in the shoes getting damaged, as well. Another downside to leather shoehorns is that they have the potential to get wet. This isn't ideal if it were carried in a travel or gym bag.
The material of the shoehorn is an important feature. If you need the shoehorn to be lightweight (so, that it's ideal for traveling or tucking away for storage), it needs to be smooth enough that it gets feet into footwear, as easily as possible.
Advanced Features
While this type of gadget is extremely simple in its design, yet still providing a huge number of people with a tool they use daily, making their light extremely easier, there are a few advanced options you can look for in your next shoe horn, making it even more practical, versatile, or just a much prettier object you can show off.
One of the best things you can look for in your next purchase is a storage solution. There is a number of people who will want to keep their horn in the hallway where they get dressed, so a design with a simple hole that allows hanging it up can be a great feature. Not only will it prevent you from losing and having to look for the thing when you're in a hurry to get out the door, but it can also show it off, in case you opted for a fancy design.
Alternatively, you can go with comfort features, including nylon, rope and leather handles that make the whole putting on experience much easier on your hands. While metal in the horn itself is a great choice thanks to its durability and rigidity, it may cut into your hands, which is why a bit of padding can't hurt. Again, if done correctly, this can provide for some beautiful designs, giving you a product that's not only highly practical but also looks fancy.
Last but not least, you may want to opt for a whole set, ideally with a pouch that will allow you to store and carry your shoehorn with you. These types of products are ideal for travelers, but can also make a great gif for a lover of quality leather loafers.
Durability
A shoe horn is not a product you often purchase, which is why even a slightly larger cost should usually be OK. However, when shopping, whether in a brick and mortar store or online, you should pay attention to the quality of the make, as you do not want the horn to bend or break mid-use. Not only will this make it harder for you to finish getting ready, but it can also lead to injury which you want to avoid at all costs.
We've already written about the materials you should look out for, but another thing you might need to consider is user reviews. Are there any issues that keep getting reported? If yes, then it may be better to move on from that particular product and look into something more worth the investment. After all, a good tool should last a lifetime, and may even be passed on from generation to generation. Why waste time with subpar products?
Style
If you're looking for more than just a simple aid to help you put your shoes on, you may want to consider the design of your shoehorn, and whether it can be customized.
Since the invention of this prop, it was made with a number of luxurious materials including ivory, shell silver and bone, and many families showed off theirs with pride, often engraving or embellishing it with writing or family crests. If you're purchasing as a gift, you may want to consider getting a model that can be engraved or customized, for a more personalized feel.
Not only will it increase the sentimental value of the item, but it will also make it more beautiful and likely to be shown off. Do note, however, that some models already have engraved logos or lettering, which will make them unsuitable for this type of customization.
Top 10 Small and Long Shoe Horns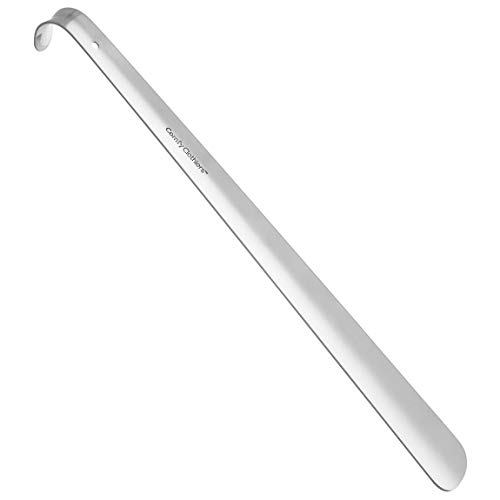 This extra-long shoehorn is made with stainless steel and is perfect for someone unable to bend. The Fanwear is perfect for any person and need, and shoe type. With its long handle you can pull on your shoes in a snap without ever bending over.
If you can't, or don't want to, bend over, the Fanwear Extra Long is perfect for you. At 31.5" it's perfect to help you put on or take off your favorite shoes without the risk of strains or muscle injuries.
The smooth brushed stainless steel gives this shoehorn a classy look while also making it durable and long-lasting. The stainless steel construction of this shoehorn makes it extremely strong. There's no need to worry about it bending or breaking, anytime soon. With hooks for easy storage, you can hang your shoe horn and not worry about misplacing it or having it lie around.

2

. Shacke 24-inch Extra Long


This shoehorn by Shacke boasts a size of 24". This is ideal for people with bad joints and bad backs, and it makes it a lot easier to put your shoes on without having to bend down. The shoehorn is made out of a strong, sturdy plastic and will keep those feet getting into those shoes for a long, long time.
The 24-inch length of this shoehorn is the biggest attraction, if you suffer from a bad back or painful knee joints then this will help you to get your shoes on without the need of sitting down, or bending down.
The shoehorn has an entire grip handle for you to wrap your fingers around. This is fantastic for the elderly and anyone else struggling with assisted mobility issues.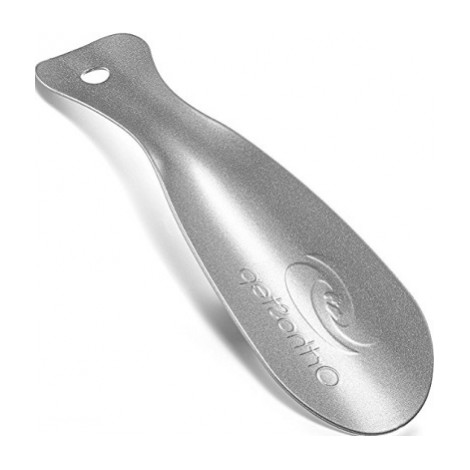 The metal shoehorn by Orthostep is a lovely 7.5" shoehorn with a fantastic curved design and sleek metal finish. This shoehorn comes in a fantastic variety of colors, from brushed nickel to bright yellow.
At 7.5 inches, this shoehorn is perfect for its portability. It can be stored away in your travel bag, gym bag, and suitcase. The shoehorn is strong but light enough to be carried until you need it.
The shoehorn has a curved tip, which makes putting your shoes on incredibly precise and it's suitable for all types of shoes, too! The rounded edges help to keep your shoes in better shape, the more you use the shoehorn.

4

. Simple Shine Stainless Steel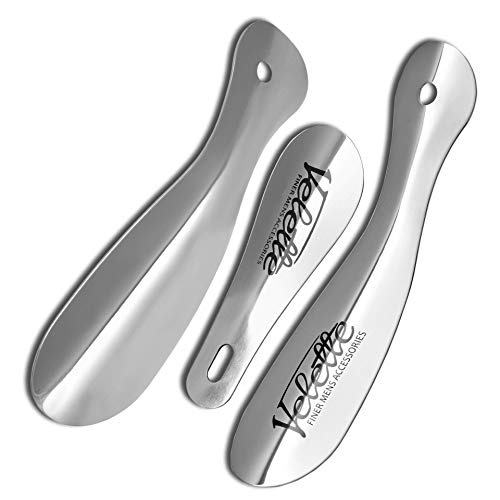 The Simple Shine Stainless Steel comes as a set of 3 in 2 sizes. With 2 different lengths, you can use each one for a different purpose. All made from stainless steel, you don't have to worry about them bending or breaking.
This 3-pack of stainless steel shoe horns is made from quality material and comes in 2 different sizes so you can use them for a variety of shoes or situations. With a 12 inch version, and a 7.5 inch version you will be able to use from for either standing or seated application. With a few choices, you can keep one at home and one at the office, or one in your bag.
As an added bonus the Simple Shine company has an Ethical Family Commitment so they proudly make their products with only premium materials and animal cruelty-free practices. With their minimal socially responsible packaging that is eco-friendly and recyclable, they are definitely a company people can get behind.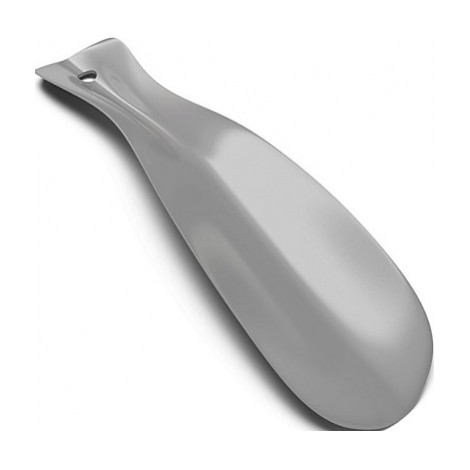 The design of this shoehorn is great for all foot types. There is a wide mouth end, and it is dual-sided reversible, as well. This is one of those designs great for anyone, from the elderly to the young. And with the 7.5-inch length, it is a good travel shoehorn.
When it comes to the longevity of a product, one of the key factors is material makeup. Made with stainless steel, this is one of those products which should last for years to come.
Since it has a wide mouth end, the dual-sided reversible structure helps those with narrower feet — furthermore, this aids in working for nearly anyone, from the elderly to the young.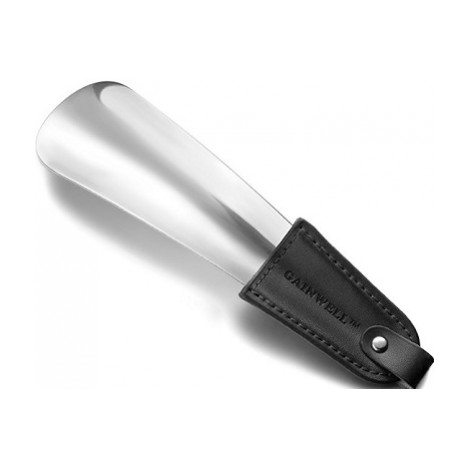 This is a lovely shoehorn which has a sleek design made out of stainless steel. This shoehorn, also, features a leather strap so that it can be hung up and stored; making it ready to use at any time. The shoehorn is compact and ideal for your backpacking adventures.
The body of the shoehorn is smart, sleek, and fits any type of shoe and of all sizes. It boasts a width of 4.3 centimeters and this can make it, absolutely, perfect to fit into your travel bag or suitcase.
The shoehorn can be used by a small child to your great grandma. It's so versatile and compact that it can aid any foot into the tightest of shoes!

7

. Comfy Clothiers 18 Inch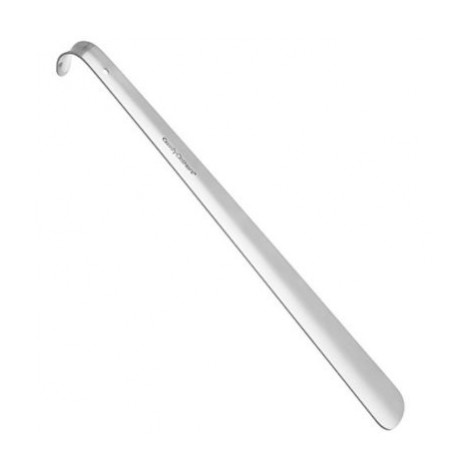 The 18-inch stainless steel shoehorn, by Comfy Clothiers is first noticeable concerning its length and how strong and sturdy it is. There's no need to bend down or crouch when using this shoehorn, as footwear can be put on while standing.
The shoehorn makes putting your footwear on a lot easier if you're mobility impaired or suffering from bad joints. The shoehorn boasts a great length of 18" and means you can put your footwear on from a standing position.
The shoehorn has a modern-looking design; a smooth brushed, stainless steel finish, which makes it the perfect footwear accessory. It's a mixture of style and strength.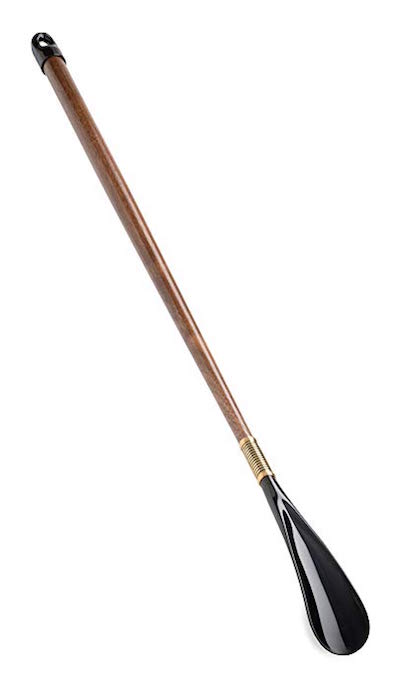 Definitely the most stylish item on this list, this is a horn made in the USA with the sole purpose of giving you a practical but beautifully designed product you will love using on a daily basis. Hand made, it's a great gift idea for the upcoming holiday season. It comes in three different sizes, including a 19", 25" and 31" one.
The spindle on this horn is made from genuine wood with a classy finish, for a product you are very likely to want to show off. Not only does the long size allow an easy on and off even for those with mobility issues, but also makes this product a great accessory in your home.
The horn itself is plastic and is attached to the spindle using a spring that allows easy entry from any angle. That's perfect for those who are buying this product because of mobility issues.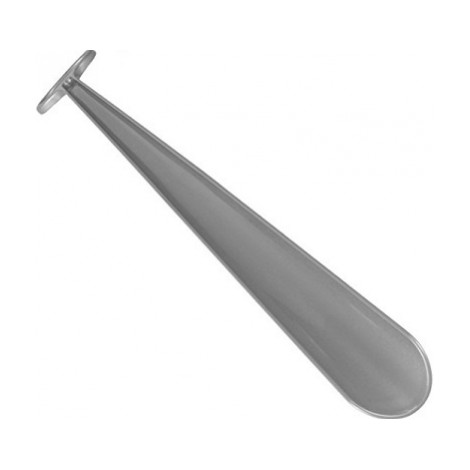 Another 24-inch long shoehorn, this shoehorn has an easy grip handle that you can wrap your hand around and ease your foot into the shoe with. This shoe horn is, also, for any adult that needs to get their feet into those shoes!
The extended reach on this shoehorn makes it great for people with back pains and joint pains. You don't need to bend down or sit down while using this shoehorn and can put your shoes on from a standing position.
The smooth finish on this shoehorn helps to keep your shoes lasting longer. As well as being made out of strong plastic, the smooth finish aids in sliding your feet into shoes seamlessly without damaging any part of the footwear.

10

. Goodbrand Products Shoe Horn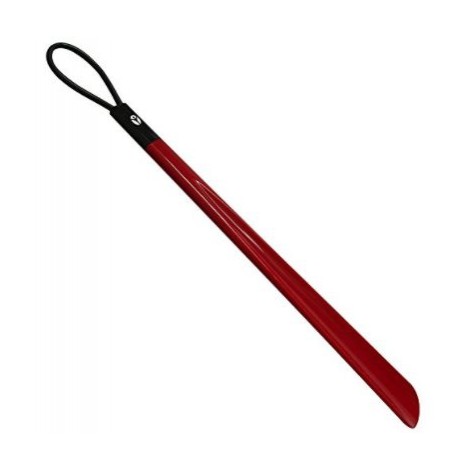 This long shoehorn is 20 inches in length and comes in a vibrant red color. The shoehorn has a curved shape that's perfect to help you fit your foot into your footwear, without causing any disruption to the structure of your shoe. The shoehorn, also, has a loop around the top for easy storage.
In addition to the long length of this shoehorn, it, also, has a curved shape. The curved shape helps to fit around your heel and help you get your foot into the shoe without damaging the shoe in any way.
The shoehorn has a very convenient loop around the top so that the shoehorn can be hung up or stored away. This is great to keep it out of the way until the next use.

Subscribe to our Newsletter