Best Red Carpet Shoes To Make You Feel Like A Star Reviewed
In a Hurry? Editors choice: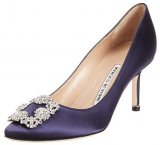 Test Winner: Manolo Blahnik Hangisi

Red carpet fashion is what we call those stunning outfits worn by celebrities as they arrive at VIP events, premieres, award ceremonies, and other ritzy gatherings. The red carpet has become synonymous with fashion and designer looks and provides a high publicity venue for designers to showcase their latest and greatest.

If you're unsure of which look to rock, then continue reading for our guide to ten of the best choices available. We've thoroughly researched to bring you a complete review of each pair, as well as a breakdown of the criteria used to evaluate the best ones. You'll also find answers to some of the most frequently asked questions on the topic to help make your decision that much easier.
Standout Picks
Criteria Used for Evaluation
Accessories
What kind of glamorous look doesn't have some added sparkle to it? These shoes are all about accessorizing and are designed for flashy and eye-catching style. You can bet on seeing accents like crystal rhinestones or gemstones, glitter, and even dangling accessories.
 
Crystal rhinestones and gemstones make for a gorgeous finish that will sparkle under any lighting and will draw some serious attention when you strut past. These shoes are for the flashy wearer who enjoys being the center of attention and is guaranteed to impress with nearly any outfit.
 
Glitter is equally as dazzling with a little less shine and light refraction. Some glitters are quite stunning, depending on the quality. There are several shapes and sizes available with some of the most popular being tiny rounded flakes. Some of the other variations include hexagons, squares, stars, and even heart-shaped flakes and there are tons of different sizes available, ranging from barely visible to upwards of five-millimeter flakes.
 
Dangling accessories are another regular addition that adds a unique vibe that lets you express your sense of fashion. Hanging crystals and dangling loops are a great way to stand out from the crowd, while the odd feathered piece is okay too.
Brand
Let's face it, glamorous looks don't come from just any designer - they come from the creme de la creme of fashion. The biggest names to grace the runways are among the most desirable when it comes to walking the way you were meant to. The very nature of this momentous moment embodies luxury and your shoes need to uphold that standard.
 
Brands like Louboutin, Gucci, Giuseppe Zanotti, Rene Caovilla and Casadei, are among the most infamous to grace the red carpet and are notoriously high-class designers. With mainstream media, music artists, rappers, and Hollywood heavy-hitters all proudly flaunting their high-end designer apparel, it's vital that your image includes top-of-the-line names.

These brands have been the first to deliver some iconic styles that have since been reproduced by countless competitors, though none come close to the real deals. Louboutins red soles, for example, are among the most widely mirrored in the world. Stuart Weitzman's Nudist has been the most copied design in recent years and has been mirrored by low and high-end fashion brands alike.
Color
Red-carpet shoes come in all kinds of shades and colors, though what's hot and what's not changes with each new season. Some of the most popular go-to shades are neutrals like black, nude, and white, though browns are usually best to avoid. These three choices are easy to match with nearly any outfit thanks to their versatile hues that look good with practically any other color.

Nudes and see-through PVC looks have been dominating the runways this season and are super-chic for a star-studded event. Celebrities like Bella Hadid and Kaia Gerber have rocked the PVC style and looked amazing!
However, most Hollywood A-listers stick to sparkling options that are adorned with crystals or gemstones, anything that's going to dazzle in the spotlight. Crystal gemstones look amazing over solid dark tones, though they can also stun when matched with sleek metallics like gold and silver.

Pastel pinks can often be seen and are viewed as a feminine and sweet choice, while darker looks are sometimes reserved for the more rebellious stars. (Think Oscars 2012, when Angelina Jolie stunned onlookers in a pair of black Salvatore Ferragamo heels.)

It's important that the color of your footwear doesn't clash with the rest of your outfit, so take care when choosing your entire look. Consider picking out your outfit first and then adding your footwear based on that color scheme, or vice-versa.
Heel
When it comes to red carpet looks, high heels are a must for ladies looking to show off their glamorous side. But with pumps, there's no 'one-size-fits-all' model. Rather, there are tons of different styles to choose from. Let's break down some of the most popular looks worn on the red carpet.

Kitten: This style is the perfect mix of comfort and beauty as it features a lower heel-height overall, and is considered a more practical choice.
Pumps: Perhaps the most widely recognized form of high heel, pumps offer a two to three-inch heel that's wider than a stiletto. It will usually be thin near the ground and thicker towards the top where it meets the sole of the shoe.
Slingback: This is another very popular trend we often see celebrities rocking. The difference with this style is its slingback strap that wraps around your foot across the Achilles heel, which makes for an exquisite finish that's fit for a star.
Sandals:Sandals aren't just the flat summer time footwear the comes to mind, they also come in a range of high heel designs. This style offers various heights, as well as types of heels that can include everything from a wedge to a stiletto structure.
Peep Toe: Peep toe heels are super cute and fun to wear, but, best of all, they let you show off your fancy new pedicure with pride. This kind of heel is great for warmer weather as it allows for more airflow inside the shoe and is always a hit on the runways.
Stilettos: Perhaps the sexiest of heels, the stiletto is also usually the highest. With looks reaching up to a towering eight-inches, these heels can get pretty hard to walk in. Despite the effort needed to wear them, a stiletto can add an alluring vibe to any outfit and is perfect for red carpet ladies looking to impress.
Style
There are many different styles of Hollywood-glam footwear to choose from, which can make it that much more difficult deciding which ones are right for you. Some of the features that set them apart are the type of heel and its height, the materials used, and the style of straps or closures. Other style variations come into play with things like accessories and colors, as we already talked about.

Some of the features to consider are whether or not you want to wear an open design, like a pair of sandals, or a closed upper, which could be a pump or even a boot. You will also need to think about patterns and if you would like a pattern or an animal print.
 
Materials are another style aspect that needs to be considered because the material of a shoe can make a world of difference. A breathable, all around great choice of material is leather because it is lightweight and allows for adequate airflow inside of the shoe and around the foot. The leather will also help to wick excess sweat away from your feet to effectively eliminate odor-causing bacteria.
Our Favorites
1

. Sophia Webster Evangeline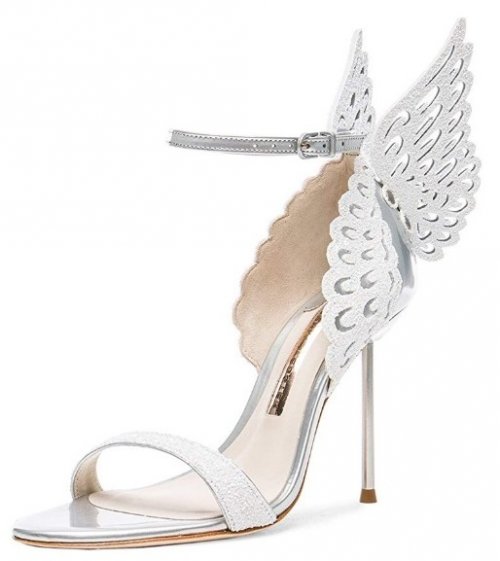 Sophia Webster is known to the world of fashion by her penchant for butterfly designs. Her iconic winged heels have graced celebrity events ever since they first landed on the runway, and they're showing no signs of stopping. The Evangeline is an option that is truly a stunner, with glitter-coated wings and toe strap, a scalloped edge and a dainty, feminine ankle strap for security. If you're looking for something unconventional, something romantic and fairy-like, the Evangeline is definitely your design.
This heel is made from calf leather, upper to the sole. The material will mold to your foot over time, providing you with a personalized type of comfort, and you can be sure that these heels will last for quite some time. The buckle closure is easily adjustable to the width that you want, and the stiletto heel is about 4 inches high. The Evangeline has different color combinations for you to choose from, from monochrome to designs that are dual in color.

Sophia Webster is not your average designer, and the Evangeline is not your average heel. For an event that requires you to dress up and be the center of attention, you won't go wrong with a design as intriguing and unorthodox as this one. The world will talk about your choice of footwear for days after!

2

. Manolo Blahnik Hangisi


Inspired by the era of Napoleon Bonaparte, the Hangisi is a pump that is meant both for upscale celebrity events and for those more subdued ones, such as weddings and galas. Manolo Blahnik - a legend among designers - wanted to create a court shoe for many different occasions, and he certainly succeeded in that. The Hangisi is made from satin, with a Swarovski-jewel buckle at the front for a touch of expensive grace.
While most options on our list are made from leather, the Hangisi's upper is satin, with a luxurious, shiny finish. The buckle is made from the finest Swarovski crystals there are, while the lining and sole are leather. The leather lining, in particular, is what will maintain a healthy climate inside your pump and prevent any unpleasant odors from developing. The Hangisi comes in several different heel height options, and the one in our picture is at a comfortable 2.7 inches.

If you're not into an open-toed, sultry kind of vibe but prefer something more traditional, the Hangisi from Manolo Blahnik meets that aesthetic perfectly. It is a classic pump that is easy to wear, and its bejeweled accent won't leave anyone indifferent.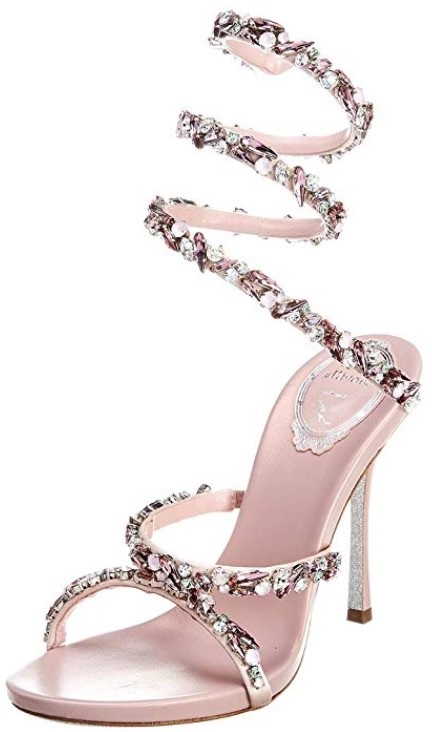 This Rene Caovilla Cleo is a gorgeous number that shines brighter than the stars at night. It boasts a magnificent array of crystal accents that run the length of its satin straps, which twist around the lower calf for an alluring and sexually charged vibe. Onlookers swoon over these shimmering sandals that make any outfit feel that much more provocative. Made from a smooth satin that feels ideal next to bare skin and featuring a four-inch heel height, this strappy option is ready to rule the red carpet.
Since 1934, Rene Caovilla has been renowned for its luxurious and high-end designs that err on the unique side of the conventional looks. One man, Edoardo Caovilla, started a workshop that had a goal in mind - to design the most breathtaking bejeweled footwear for ladies the world had ever seen.
 
Today, Rene Caovilla has become one of the most sought-after designers to the stars and has earned a place among the ruling table of high-end fashion. Celebrities fawn over their stellar looks and are all too happy to parade them along the red carpet. Bella Hadid rocked a pair of these sandals while attending the amFAR gala during the Cannes Film Festival, while other celebs who love this look include Julianna Margulies and True Blood's Carrie Preston.

4

. Stuart Weitzman Nudist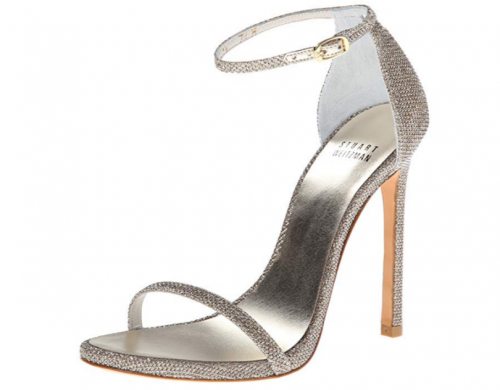 Stuart Weitzman's Nudist offers something in a pair of sandals that many can not, a simplistically stunning appearance. Most nondescript footwear lacks excitement, but not the Nudist - it oozes sexuality and professionalism, all at the same time! This shoe goes with basically everything - it would look equally as ravishing with a flowing gown as with a pair of skinnies on a hot day. A single dainty strap encircles the ankle while another slender one crosses the toes, that's all there is to it. But the thrill comes from its unique heel structure that is nothing less than a miracle in the footwear industry. What makes it a true one-of-a-kind is that the heel sits not at the very end of the sole, but towards the middle point. Maximum comfort!
Stuart Weitzman has been credited with crafting the most luxurious (and expensive) shoes in the world. He is the very lifeblood of high-end footwear and luxe designs that courses through the veins of the worlds elite, rich, and famous. In 1965, Stuart and his brother Warren took over their family's shoe business and never looked back. Having created looks for celebrities like Beyonce and Taylor Swift, this is definitely a designer to the stars.
 
The Nudist made its very first runway appearance in 2013 when Diane Kruger walked the red carpet at the Television Critics Association's summer press tour wearing these plain, yet somehow irresistible sandals.

5

. Christian Louboutin Pigalle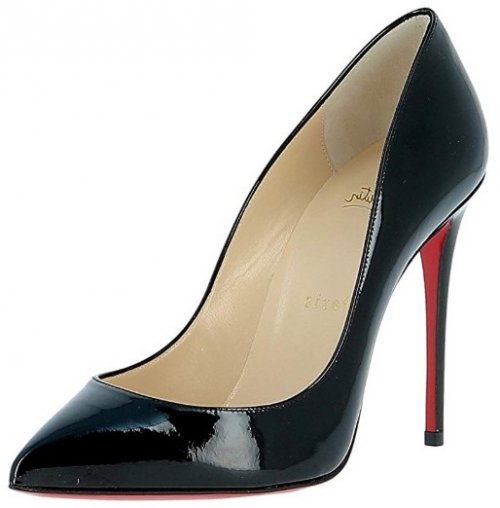 When it comes to the red carpet, there is hardly a designer more popular, more sought-after than the king of elegance himself, Christian Louboutin. With his iconic Pigalle pump, he took the fashion world by storm and redefined what it means to own - and wear - a staple. It comes in a couple of different colors, finishes, as well as different heel heights so that everyone can find a Pigalle that meets their specific needs.
The Pigalle is made from genuine leather, which can either have a smooth or a patent finish. If you're walking the red carpet, we advise going for the glossy patent finish as seen in our picture. The heel is stiletto in shape, and you can choose between three different heights: 3.3 inches, almost 4 and 4.7 inches! There is even a platform option if you like a bit of a lift under the front of your foot.

The Christian Louboutin Pigalle is a classic, there's no doubt about it. Whether in black or nude, its pointy toe silhouette and effortless elegance will complete any outfit. You can choose to wear either a gown or a pantsuit and you can count on the Pigalle to follow you every step of the way, both on and off the red carpet.

6

. Giuseppe Zanotti Harmony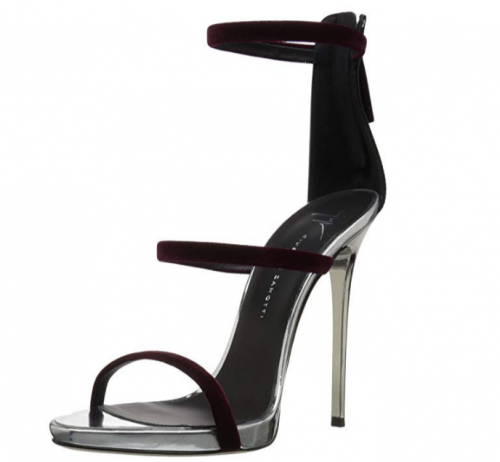 This beautiful pair of show-stopping heels has graced many runways and red carpets. It features a metallic leather frame and an open toe silhouette that make for the perfect combination of elegance and sensuality. Constructed in Italy's notorious shoemaking district of San Mauro Pascoli, this is the ultimate in luxurious footwear. The Harmony's strappy look blends perfectly with its towering slender heel and subtle design, while its rear–zip entry makes for effortless on-off wearability.
Giuseppe Zanotti first broke onto the fashion scene with his collections in New York City back in 1994. Since then he has rocked the fashion world with his designs that transcend the gap between innocent and edgy. His looks are ravishing and sexy, with each pair crafted to reach the highest quality possible.
Vanessa Hudgens chose the Harmony as her 2017 Teen Choice Awards pair. Other celebs, like Heidi Klum and Taylor Hill, are among the many superstars who have chosen the Harmony as their go-to red carpet pair and have pulled off a ravishing reveal that has the world wanting more from Giuseppe Zanotti.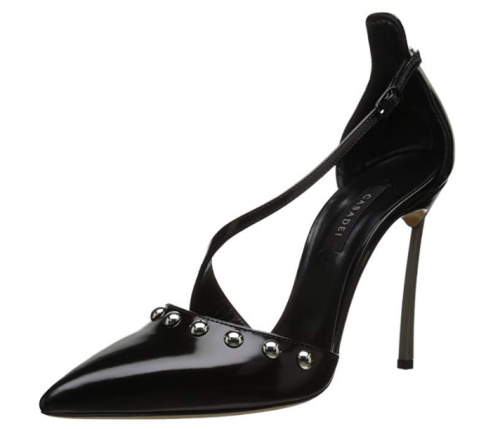 Casadei's Blade was the most worn shoe of 2013 and continues to be a front-runner among red carpet goers. Influential icons like Victoria Beckham and Jessica Alba have both rocked out in a pair of Blade pumps among a slew of other Hollywood A-listers.
This unique and ultra-sensual dress pump offers a spiked metal heel that blends beautifully with its metal detailing along the front. This pair polishes to a gorgeous finish that's both professional from the front and seductive from the rear. Ladies looking to add some sexuality to their wardrobe will love the slender design that this pair delivers with its cross-foot ankle strap and smooth buckle closure.
 
In the words of Italian shoemakers, 'the higher the heel the closer to heaven' - this couldn't be truer of the Blade. It's a dramatic work of art that will make you feel like a goddess walking on a metal spear.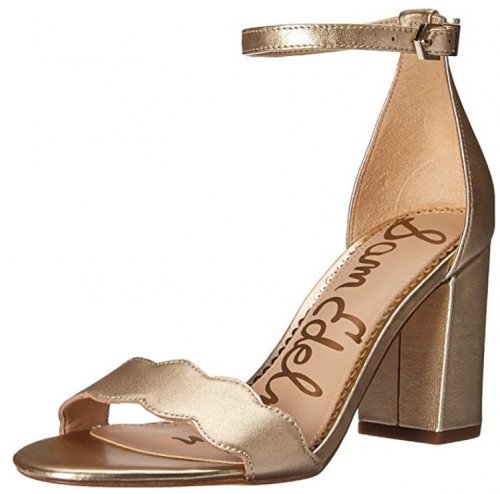 In this wide array of high-end, quite expensive options, we saw it fit to include a more reasonably priced design. The Odila by Sam Edelman is every bit as elegant, every bit as eye-catching as other items on our list, only without the steep price tag. It is a simple block-heel sandal that adds a touch of romance to a look with its scalloped-edge toe strap. It is comfortable, it is gorgeous, and you won't have to save for months to get it!
The Odila is made from genuine leather, meaning that it is breathable, comfortable and durable. It has an ankle strap that is adjustable thanks to a buckle closure so that you can easily tighten it or loosen it however much you want. The heel of the Odila is about 3.3 inches in height, but its thick, blocky shape makes it incredibly comfortable to walk around in. The Odila is a perfect choice both for a floor-length gown and a glitzy mini dress.
If you're looking for something simple, inexpensive and yet still beautiful - the Sam Edelman Odila is the obvious choice. This gorgeous sandal comes in several different color options, so you are definitely going to find something that matches your personal style. Stun the crowds in this minimalist, flirty design!

9

. Alexandre Birman Clarita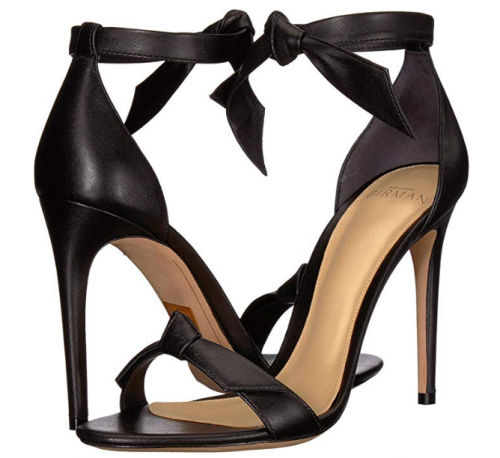 Alexandre Birman's Clarita is a toast to the decadent side of fashion, that features a cool leather upper and halo style ankle straps which meet at a tie closure. This open toe design features a knotted accent and smooth leather lining that feels ideal against bare skin. Its slightly padded footbed will keep you comfortable for hours on end despite its wrapped stiletto heel that stands at a lengthy 4 inches in height.
Celebrities like Reese Witherspoon and Diane Kruger can't get enough of the Clarita's genuinely unique and gorgeous structure that looks stunning with nearly any outfit. This heel is among an elite class of red carpet stilettos that deliver a simplistic design and comforting wearability that are perfect for transitioning from day to evening.
 
The Clarita's knotted ankle straps have become an iconic symbol in luxe designs that is likened to Louboutin's influential red soles. Its genuinely minimalistic look is perfectly splashed with a feminine feel that makes this dainty pair every girl's best friend.

10

. Badgley Mischka Dillon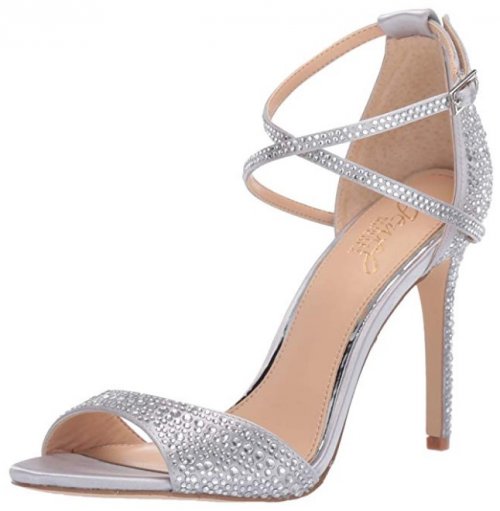 From a designer duo which specializes in old Hollywood glam comes the Badgley Mischka Dillon, a classic strappy heel that you can wear to a publicized event as well as to a fun night out with your friends. It is a comfy, lightweight sandal with an open toe, completely covered in crystals of the same color as the upper. Choose between silver, black, pink and blue and get a design you can wear anywhere!
The Dillon is made from crystal-encrusted satin for an expensive look. It features two thin straps crisscrossing over the foot, with a buckle closure for maximum adjustability. What we love about this design is that it has a lightly padded footbed for extra comfort. Its heel is at a comfortable 3.75 inches, meaning you can easily go from the main event to the afterparty without changing your footwear.
The Badgley Mischka Dillon is a no-brainer. This choice will effortlessly keep up with your outfits, whether you go for a pencil skirt and an elegant blouse or a full-on evening gown. It is versatile, it comes from a renowned designer, and you will love every second spent wearing these.

Subscribe to our Newsletter