Best Running Armbands Reviewed
In a Hurry? Editors choice: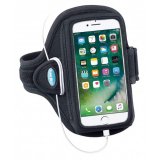 Test Winner: Tune Belt

Oh, the ways runners have tried to carry their devices during a workout, but when you take a closer look, many times these options are unsafe not to mention inefficient. Packing your phone into your waist or under your sports bra may work for a bit, but the risk of it wiggling out is real and you'd be lucky to have it fall into another soft part of your clothing. The real likelihood would be it crashing onto the ground. Not to mention the sweat that it will encounter and that moisture or any for that matter is never recommended for these devices. Moisture tends to be the enemy of your devices. Your best bet is through the use of an armband designed specifically for holding and securing your devices effortlessly. Our lists include features, compatibility, comfort, value, and durability as the basis for the best you can get.
Standout Picks
Criteria Used for Evaluation
Features
Compatibility
Armbands come in all different sizes and some are specifically made to fit some models of phones while others will not. There are some that are made to be a universal fit. You have to first figure out the size of your phone that you plan on using and what sizing options are available before you can look at any other features. At the end of the day, you can't use one if it won't fit your phone. The best fitting options will be those that are secure around your phone for added protection. If there is wiggle room in the band with respect to your phone, it is probably too loose and not going to keep your phone secure when you are running and jostling around.
Fit
For the most part, the majority of products available are going to allow you some sort of adjustments to ensure you can fit your band to the size of your arm in the most comfortable way. Many times velcro is the material of choice for these arguments. The ability to adjust to your arm size is important and if you have a very small build, you need to look at which options accommodate this which can sometimes be difficult for extreme outliers. Those that have larger arm sizes, will, in some circumstances be able to add extensions to broaden the width of the band.
Usability
Some bands will have protective features like coverings which will protect your devices. The ability to still be able to use the touchscreen easily through them can be the difference between a convenient band and an annoying one. Others may put more structure into their mounting systems which keep the phone in tightly enough that there isn't a covering needed and in these circumstances, they may add bulk but they ensure touchscreen ease.
Compatibility
Most models are pretty similar in what they offer and their functionality, but depending on how you intend to use your band, you can find some models that have specific offerings which make them more compatible to your needs.
If you are one who likes to run in the very early morning hours or in the late evening, the chances you are running in darker environments with less visibility is likely. The ability to be seen by others is a safety feature you may want to look for in a product. There are bands available that have LEDs which allow for glowing for these exact situations. There is the inconvenience of the need for battery use in most cases, but the batteries actually do have long lifespans so don't' be put off by the thought of having to constantly change them out. the benefit here is that while you can use a glow stick, glowsticks only have a limited life span and they won't be as bright and visible as one of the battery powered LED lights. When safety is important, the brightness is as well.
Most people choose to carry their phones and other smart devices for the specific purpose of being able to access their preferred audio. Whether it is an audiobook or funky beats, the majority of bands made are for providing the ability to carry these devices. In addition, these will often come with other storage options that allow you to be completely hands-free and focus on your workout. They may have extra pouches for a bit of cash, or if you need it to keep a set of keys on you, and things of that nature that would be beneficial while you are out and about.
If you are less focused on your entertainment and more so on your fitness tracking, some offer heart rate tracking abilities. If you get one of these, you won't have to necessarily take your phone and be weighted down by not only its physical weight but the weight of being connected to your texts, calls, emails, etc. You can just workout and track your progress distraction-free.
Comfort
Weight / Comfort
It isn't in the manufacturer's best interest to make a bulky and heavy product because really, these are used for running and exercise. Nobody wants to buy a product that feels awkward and is added imbalance in weight to one side of their body. These tend to be made lighter in general. While there are some that can have a bit of bulk to them, you really want to make sure that you are staying under the 2.5-ounce mark in weight to maximize comfort and usability.
The other factor that goes into this category is the materials. While you definitely want the material to stay put you may have some discomfort with rubbing and jabbing in your skin using materials that are stiffer and starchier. A material that has some give and flex which can go on tight but still offer movement is going to be optimal. And ensuring that that flexibility doesn't wear too easily and lose its shape is key. The ability to wash the material and keep it hygienic from sweat as well as the ability to hold up well with water and moisture will really make for nice and comfortable construction as well as extra durability. Neoprene is one fabric that is commonly used because it hits all these marks as is Lycra.
Value
Most people care about their bottom line and want to buy products that are well priced and will add value to their lives. The good thing about these products is while you may have spent a ton on the actual devices you intend to carry with one, these actually don't have to make your investment and ability to use your devices even more onerous. You can find some well-made products that offer stability and security and that won't cost you an arm and a leg in the process.
Value is always in the eye of the beholder. The features that are worth the cost to some, aren't worth it to others. So if you use this guide to understand how these products are constructed and what features they can offer you can decide for yourself what you need. Then you can make a better-informed decision as to what makes sense to where to spend any extra cash.
Durability
The end goal of buying one of these products is that you are going to use it regularly for exercise. As such it is going to get hot, sticky, and sweaty often. It may require frequent wiping down or washing. The ability to stand up to moisture, water, sweat, and then a good scrub now and then and keep on working well and offering a secure hold for your devices is a part of what makes these valuable and practical. Nobody wants a product that after a couple of uses wears out. And just like the materials are important for fit and comfort, they are also important to durability as well as wear-and-tear.
Best Running Armbands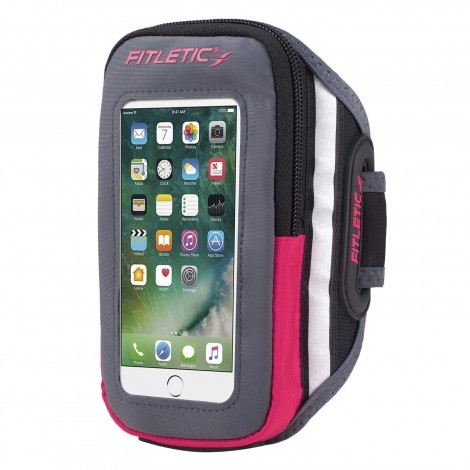 Fitletic running armband for Phone 8 Plus and Galaxy S8+ and similar sized phones is a very durable and long-lasting option. For those runners who take on mile after mile, you need something that will hold up and stay firm throughout the long duration. This one will do it for you. You are getting a product exactly as you'd expect with the protective features you'd want, the ease of use, comfort while wearing, and it comes at a fair price.
If you run outdoors on a regular basis and a good amount you will want a product that can hold up to the wear and tear of that use. This one will stay true to providing you reliability throughout many, many runs and stay in an awesome shape similar to when you bought it after serious use. It is very comfortable to wear and comes with some extra storage that you can put your cards, Id, or a bit of cash if you like to carry some for an errand or just to have.
It fits most phones even the bigger models. In the rain and in less than desirable weather, this one does a fine job of keeping your device protected from the wetness. It is well priced, and it pretty much stays stable on your arm without sliding for the duration of your run even if you are logging in major miles.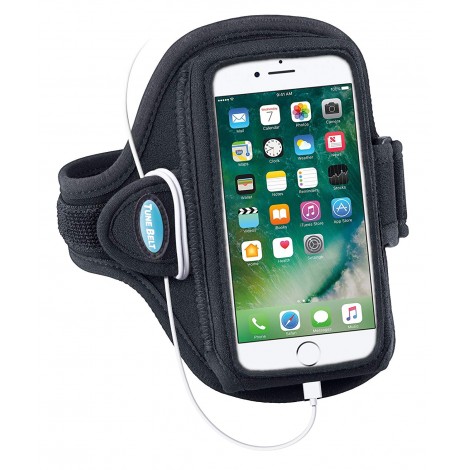 Tune Belt phone holder for running is a very well constructed option that has solid Velcro closures which last a long time keeping their "stickiness." The stitching is tough and that toughness doesn't come with extra bulk. It is fairly slim and it is soft on the skin.
There are a lot of nice features that this running armband offers including open slots that are located at the bottom for things like your charging port, for instance, so you can make full use of your device as you need while you have it in this case. The touchscreen covering works well. It has a bit of stretch to allow for various size devices while also being able to secure a snug fit.
The thin band doesn't take up too much space on your arm constricting it and causing more of your arm to sweat too bad. Even for smaller frames, this running armband can be adjusted to still give a snug feel that won't slide around while you exercise. A really convenient feature is the velcro tab which works well at tieing up those cords so that they aren't flying around and getting in your way, distracting you from your workout when you are in the zone.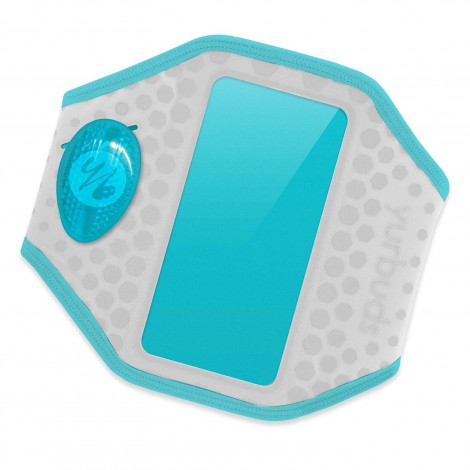 Yurbuds running armband for offers a universal fit for pretty much all devices. It does come design with a more feminine look, so this is an option that may appeal more to the ladies. It has what you want in terms of features as it is adjustable. The nice thing about this is the safety features of the reflective abilities that help you stand out when visibility is poor.
Made with neoprene, this not only can be adjusted to fit nicely it also is pretty soft so it won't cause irritation and scratching on your skin. The cover is sensitive enough to allow you the ease of use with your device adjusting to whatever your needs are while it is in this case. the sizing works well for almost any phone or devices.
It offers a delicate look with tough construction. This phone holder for running is attractive for most when wearing out and shining off the sun during the day, and when the night falls and it is harder to see, that same reflection acts as a safety feature keeping you visible to avoid potential hazards. The anti-bacterial protectant that is added to the exterior helps this product hold up to sweat, staying very healthy and hygienic. This coating also helps reduce the buildup of odor-causing bacterias.

4

. Amphipod Smartview Sumo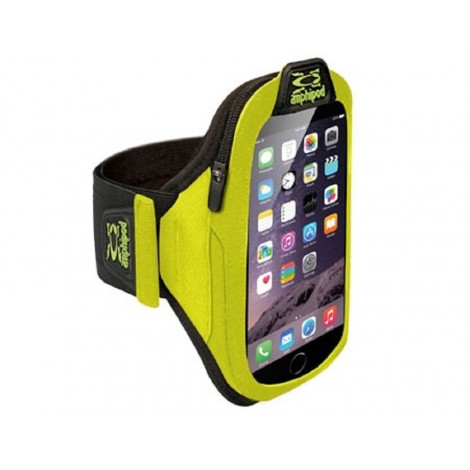 The Amphipod Smartview Sumo running armband has a sturdy and light design that will hold up for you. The screen itself is very easy to use your devices through. The comfortable fit may not be the best for very thin bone structures but for the majority of individuals, this product will fit like a glove. It is adjustable using velcro, though, so you can easily tighten it up should you need it.
This armband really shines for biking because it while you can absolutely and should attach it to your arm, you can also just as simply put it on the handlebars of your wheels. This way, you can have easy visibility and access to the screen. There is also a couple of extra storage compartments that you can stash away your IDs or any cash you want to carry. If you need some energy gels or other small accompaniments, these compartments will be very helpful.
The construction using a wider band allows for less constriction so that also aids in the comfort of wearing it. If you are working out in colder weather and need to wear layers the amount of room you can use for adjustments allows you to easily set this phone holder over a hoodie or running jacket.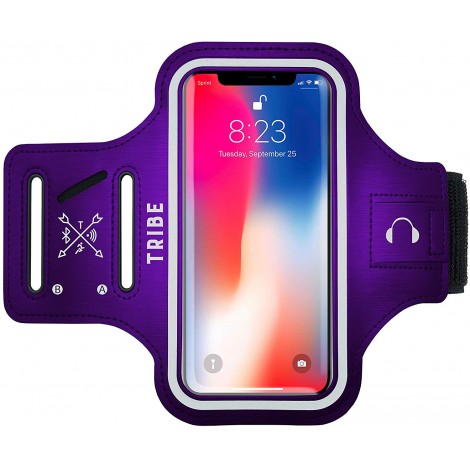 If you simply need a running armband that you can trust will just work and be reliable for all your occasions from training to running a race, take a look at TRIBE. This is a product that you can use and feel confident will stay in place. There is elastic in the materials so that it can flex and move while staying snug with your arm. That is pretty nice because it allows you to wear it for a good run but also if you want to cross train with weights it can flex and move comfortably as well allowing you to adjust your workouts accordingly.
Outside of the comfort fit, there is a lot to like about this product. There are openings that allow for all the various types of jacks you would need and want. You are able to pretty much use your device like you'd want to while it is in this band, it is fairly non-obstructive. The band offers a secure hold. Additionally, the style is fun with a bunch of different color options to choose from.
For the price point, you really can not beat it. It is a no hesitation purchase but if you are really on the fence about trying it out rest assured the customer service associated with this product is fast and efficient. It is super easy to use and adjust as well as clean and it dries out quickly. A comfortable option for jogs.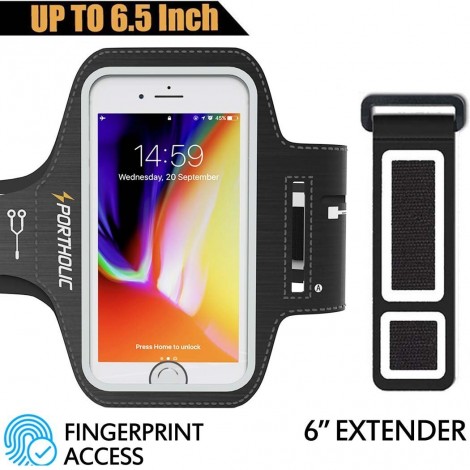 For all you who love your larger devices, PORTHOLIC phone holder for runners was made to fit big models. Not only does it fit large devices but if you have larger arms to go with that larger phone there are extensions that are included if you need a bit more room for a more comfortable fit.
There are portholes built-into the design which allows you to use all your jacks. It does have a pocket and it is primarily constructed for the use of a key. The other pocket located on the back allows for any type of cards you'd like to bring with you like an ID. You know you don't like to have those annoying wires hanging all about so the velcro strap makes for a helpful addition to the design. It will keep those wires out of your way making your workouts much less chaotic.
Your large and bulky devices have found there home here. They can easily slide in and out for easy use. If you aren't happy with it, no worries. The lifetime warranty and customer focused service has your back. You will also like the very sleek looking aesthetic.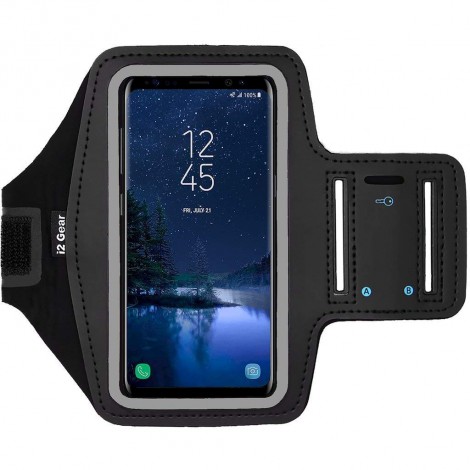 i2 Gear makes a product that you simply can't go wrong with. The construction is strong and the fit is comfortable without allowing any sliding or movement. It is easily washable to keep it clean of sweat. Colored reflectors allow you to match to your tastes while also offering safety.
Price wise, this one is a steal it should meet anyone's budget. You don't lose any of the sensitivity of the touchscreen with the plastic cover. This is one of those running phone holders that prove price isn't always the only factor that determines quality and use. The materials are durable, stitching will hold up. The thickness of the materials is just right and is not abrasive at all against the skin so there isn't any issue with rashes or irritation.
Keeping your workout gear clean and hygienic is always a consideration, cleaning this product is as simple as throwing it in the wash. There is plenty of options built-in for all the hookups you need. It can hold slim cases all the way to mid-sized. The other nice thing to note is that shipping tends to be fairly fast and efficient so once you put in the order it won't be long before you are hitting the trails with your devices safely encased and out of your way, attached to your arm.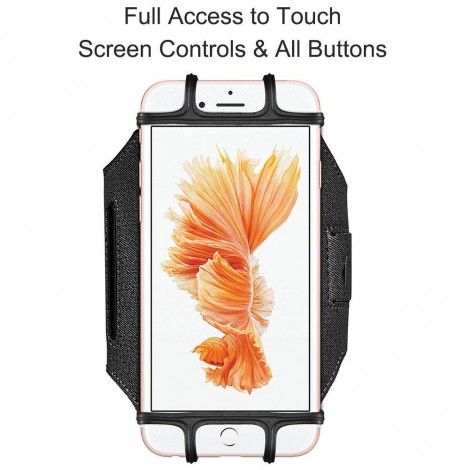 VUP phone holders for running makes a super functional piece of gear that can work to accommodate most devices even the Otterbox which, anyone who owns one of these knows, it can be difficult to find something that fits correctly. The neoprene material is rugged and breathable and the thoughtful construction allows for a velcro clip that will keep the wires out of your way.
This running armband can hold your devices in place and it doesn't pack on a ton of extra volume. When you sweat you can get a slimy and slippery feeling on your skin, but this one doesn't allow for many contacts with the skin as far as the plastic is concerned. So you don't have to worry about experiencing this phenomenon after an intense workout. The band has a softer feel which is appealing. The key slot is a practical component of the design.
This is a solidly made product that should hold up well throughout all use. You may even like to purchase a backup so when it is time to renew, you have it on hand and don't have to wait or interrupt your workout routine. It is moderately priced, but not overpriced. It comes in three attractive colors. Finally, the cool thing about this phone holder for running is its ability to rotate so you can have full visibility at most angles.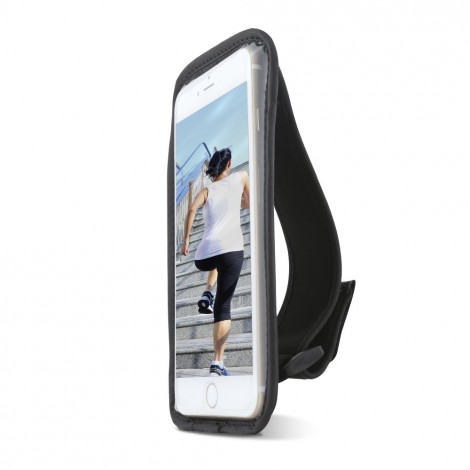 Compatible with most devices, Gear Beast running armband works well for most fitness enthusiasts and this one works fine for all types of workouts. It offers a slim design with quality construction. This ergonomic tailored set-up sits easily and firmly in your hand. It may not be the best option for cross training but it sure is a nice companion for running.
A minimally designed case that lacks bulk and isn't weighted down with a bunch of added features, what you get is a light piece of gear that isn't lax on security. It is a handheld option which is much different from the other options on our list. The case uses a rubbery material which is soft and offers impact protection and safety for your devices as well as a molded comfort hold. The velcro used offers the ability for tightening it up for a fit that is most comfortable for you.
Overall, this is a well-made running armband with quality, durable stitching holding it's components together. It has amazing performance and it can hold up to a decent amount of wear and tear without ripping or tearing. You will be able to keep this product around for a good long time and heavy use. For the price, it is a value.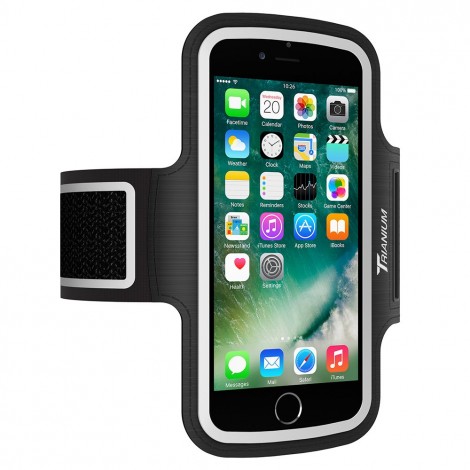 Trianium running armband comes with a multitude of vibrant color options in addition to an updated construction as well as style. It has a much more focused fit with extra rubberized pieces incorporated into the construction that helps keep soft friction on your skin. This allows for it to stay put. It is light and can fit most any size arm. For larger sized arms, there is the option of extenders, and they come included.
No one likes to be held waiting and for those impatient or those simply eager to get to their workouts, this product ships fast. Your devices easily will be able to slip in at the top so you can keep your hands clean and free of holding anything. The material in the armband is very smooth and soft so it feels nice on. It is very durable and can work out well for anyone who likes to do a multitude of activities like getting a session in at the gym, hitting the trails for a hike, or going the open road for a jog.
The plastic covering isn't an issue. You can see easily through it and it does still provide the sensitivity needed for touch capabilities. You will also appreciate the safety feature of the reflective silver trim incorporated into the design. A well-priced bargain makes this phone holder for running one of the best running armbands on the market.

Subscribe to our Newsletter