Best Nordstrom Shoes Reviewed For Your Next Wardrobe Upgrade
In a Hurry? Editors choice: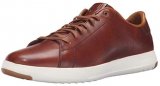 Test Winner: Cole Haan GrandPrø

Nordstrom is a fashion retailer with 380 stores, spread out over 40 states and in Canada. The company has been providing customers with great shopping experiences and high-quality products for over a century. So, if you're looking for a new pair of footwear, casual, athletic or formal, you will definitely find an amazing pair of Nordstrom shoes that will offer great value. Some of the brands they sell are Blondo, Cole Haan, Steve Madden, and UGG - and that's just to name a few.

To offer high-quality footwear to more people at more affordable prices, we've hunted down the best Nordstrom shoes you can currently purchase. Listed below are options for both men and women, in styles chic and casual. Furthermore, you'll find great shopping tips in the Criteria for Evaluation and FAQ sections.
Standout Picks
Criteria Used for Evaluation
Style
In the past, footwear might have served the sole purpose of keeping the wearer safe from sharp rocks and rough terrain underfoot. But nowadays, it's become a part of fashion. It's always good to keep up with what's trending and step out with the freshest looks. If that's not your thing, then it's alright, but it's still good to be confident with how you look.
For those who are into fashion, a pair of Nordstrom shoes with a subtle unique touch is the best way to go. A unique detail such as an embroidered upper or a bow makes you stand out from the crowd, while its subtlety would make sure you're not too eye-catching. What's more, they can be worn more regularly than shoes that are all-out strange and can be paired with more outfits.
But if you're not that into fashion or don't want to invest so much effort into footwear fashion, opt for a neutral pair of Nordstrom shoes instead. There are plenty of high-quality shoes with minimalist silhouettes that can be worn with nearly anything. The versatility is great for streetwear in particular because they can be worn every day without getting old. As for colors, pick a neutral tone like grey, white, black, or brown that can be worn with all sorts of colors. Navy and burgundy are also good options.
You always want to make sure that the colors you wear look good together. If not, no matter how stylish the clothing, accessories, or shoes look on their own, the overall picture just won't look good.
Popular Nordstrom shoes are often offered in dozens of different colors, with both neutral and eye-catching options. This is ideal because it gives you a wide selection, and you can make sure what you purchase fits your style exactly.
The tone of the color is affected by the upper materials. Materials like leather and suede give the color a rich quality that is incredibly elegant for more formal occasions. Synthetics, on the other hand, tend to have a glossier quality that makes them more suitable for casual, fun occasions. However, don't let anything stop you from experimenting with your own style!
Overall Fit
Poor shoe fit can cause discomfort as well as long-term foot issues. Some examples are corns, calluses, stress fractures, and even plantar fasciitis. All these unpleasant things can be avoided by simply watching out for the right fit, starting with shoe size.
Size is tricky when shopping online because you can't try your Nordstrom shoes on. Some footwear also runs small or large, meaning they are slightly smaller or bigger than the typical shoe of that size. In that case, it's important to read product descriptions and customer reviews to find out the adjustments you should make to your own shoe size before purchasing a pair of Nordstrom shoes. Also, ensure to keep up-to-date measurements of your own foot. The measurements can be used to compare with company sizing charts.
Toe room is also crucial. Toes are there to keep us balanced when walking and standing, so their comfort is imperative in ensuring comfort as well as maintaining stability. A round toe design is ideal because it leaves enough wiggle-room. For sandals or heels, an open-toe design is excellent. A pointed design, though more sleek and fashionable, could cause squished toes and even bruising.
If you're afraid that the Nordstrom shoes you ordered online won't fit perfectly, don't worry too much because there are ways you can turn the situation around. Too-large shoes can be made comfortable by using removable insoles, and too-small ones may stretch through time depending on their material. Or, you can choose shoes with laces and adjustable straps as opposed to those with zippers and that are slip-on, which cannot be adjusted in fit.
Comfort
While comfort may not be the first thing you look for in your next pair of Nordstrom shoes, it is a crucial factor to consider when shopping. A good pair of footwear will allow you to wear it without experiencing pain or discomfort, even if you happen to wear your shoes for long periods of time.
There are a few things you'll want out of the best Nordstrom shoes. For one, a breathable upper that will help regulate temperature and wick moisture away from the foot. Secondly, you'll want a cushioned sole that will absorb shock and prevent force from impact from traveling up your legs. Not only does this result in lower levels of fatigue, but it also helps prevent swelling and general foot or bone pain. Additionally, make sure your Nordstrom shoes provide the proper amount of arch support so as to avoid overpronation and alignment issues that are the most common culprits of knee and back pain.
Always ensure the outsole of your Nordstrom shoes provides enough traction and grip. Deep grooves in the form of geometric patterns are ideal because they allow for multi-directional stability. Exaggerated zigzag patterns are also good. For streetwear, super effective traction isn't as important as when hiking or exploring on different terrains, but you should still make sure the bottoms of your Nordstrom shoes aren't completely smooth.
Heel is also important. To the ladies out there: high heels might be glamorous and all, but we all know they aren't stable. The higher the heel, the less stability, and the higher the likelihood for slipping and falling. The ideal heel height is two inches or less because enough balance is provided for relatively safe walking and discomfort is minimized. Also take advantage of the chunky heel (also called block heels) trend: these heels provide more surface contact with the ground, thus keeping you more stable.
Materials
Shoe material determines style, flexibility, durability, and breathability. It's what physically makes up the shoe, as well as what determines nearly all of its features. The Nordstrom shoes mentioned in our list are all made by reputable brands, and so classic high-quality materials are mostly used.
Leather is commonly found in the uppers. Leather is essentially animal hide that's been preserved. The most common animal hides are cowhide, box calf, and cordovan, all of which have highly practical features. For one, leather is naturally breathable since it is an animal's skin. Moisture and excess warmth from the feet are kept from accumulating inside the shoe. What's more, the tanning process in leather production uses chemicals to ensure the animal hide is supple and durable.
Suede is also made of animal hide, but it is the inner surface rather than the outer. In other words, it is the underside of leather. However, it's not just leather turned inside-out - a method is used to remove the upper grain from the suede, which then becomes thinner and more pliable. It is also slightly fuzzy and feels soft to the touch. Unfortunately, suede is not as sturdy as leather, but it has a much more elegant and delicate appearance which is excellent for both women and men.
Synthetics are also used. The word 'synthetics' refers to man-made textiles like vinyl, polyurethane, and patent leather. The biggest advantage of synthetics is their light weight and water-resistance. They also provide good cushioning and are relatively inexpensive. The downside is that they are not very durable or breathable.
Leather, suede, and synthetics are only the most common materials. Knowing the pros and cons of each, you can now go ahead and pick what would best suit your style and your needs.
Value
No one wants to spend their entire budget on footwear - but with some of the prices that are out there, it can sometimes seem inevitable. It's true that certain models or brands are ridiculously cheap, and some prefer to stick with those. However, in the long run, the price tag associated with your Nordstrom shoes is based on quality.
Cheap Nordstrom shoes might make you spend less now, but more later. These shoes are usually made from simple processes with mediocre materials. They might be stylish and practical, but within months they will show signs of wear. Soon enough, you'll have to get yourself another pair.
Expensive Nordstrom shoes are priced as they are because they were made with higher-quality materials (such as leather or suede, as mentioned earlier), and perhaps with more advanced technologies. As a result, they tend to be much sturdier. Some can be worn for years with no problem.
If you continuously buy cheap footwear, you might spend more than if you had just purchased a pair of expensive, yet durable shoes. What's more, you would have wasted time and effort on running back to the store every few months. For Nordstrom shoes you know you'll wear often, such as fashion sneakers or ballet flats, we highly recommend you spend the extra pennies.
On the other hand, cheap shoes aren't all bad. For instance, if you need a fancy pair of stilettos for a specific event, purchasing expensive and durable ones wouldn't make sense. You won't be wearing them more than half a dozen times, and won't be able to benefit from their sturdiness. With cheaper shoes, however, you can wear them and stuff them into the back of your closet without guilt. It's all about what the shoes are intended for and how much money you want to spare.
Top 10 Nordstrom Shoes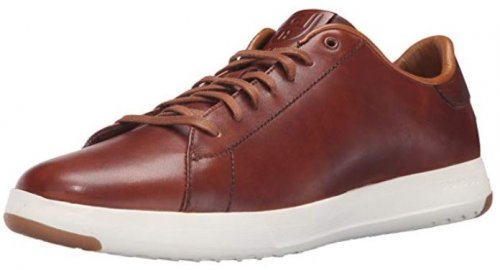 According to the brand, these men's tennis fashion sneakers retain the Grand.ØS principles of flexibility, cushioning, and ergonomics. However, it is also combined with a new and improved design that minimizes weight. Weighing at only 8.8 ounces, you'll feel like you're walking on clouds. For some, these Nordstrom shoes might not feel secure and supportive, but for most, the lightweight is a pro.
Though they are quite plain, these Nordstrom shoes are super versatile for everyday laid-back wear. The smooth, hand-stained leather uppers have minimal tonal stitching for a simple look. Lots of colors are also offered, which allows you to pick the hue that will work with your wardrobe the best.
As for cushioning and comfort, the footbed is covered in textile for breathability, and the EVA outsole uses Grand.ØS technology which offers premium cushioning you'd otherwise find in athletic footwear. Rubber pods for traction can be found at the heel and forefoot, preventing you from slipping on indoor or outdoor surfaces. All in all, these moderately priced Nordstrom shoes are excellent for casual street wear.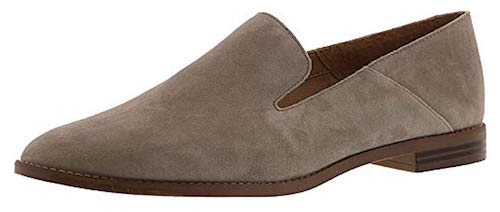 If you're looking for something that will work in both casual and formal settings, your best choice is definitely a pair of classic loafers. Out of all such Nordstrom shoes, the most popular model definitely has to be the Haylee by Franco Sarto - a model with a classic silhouette, available in a few simple color options including black, midnight blue, peach and coco.
The upper of these Nordstrom shoes is made with suede which is the perfect choice for those who don't like spending too much time breaking footwear in. In addition to looking amazing, it is also a suple, flexible material that breathes well and lasts a long time with the right kind of care.
On the inside, you'll get a padded footbed for all-day comfort, as well as a leather lining that's breathable enough to be worn without socks. The outsole of these Nordstrom shoes is made with synthetic materials for durability and stability, and the overall price is quite affordable, especially if you happen to find it on sale.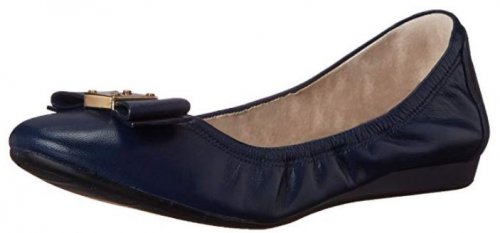 For women who like a polished and feminine look, there's no other go-to than these ballet flats by Cole Haan. Though Tali may look formal and put-together, their practicality means they take minimal effort to put on, and will keep you comfortable during the day. The bow at the toe has a modest style, a perfect finishing touch for office attire. Supple, "buttery" leather is used in the uppers for a rich color and a sophisticated appearance. Pair them with a pencil skirt and blouse for professional occasions, or with skinny jeans and a cozy cardigan for a casual but stylish lazy day.
The best thing about these Nordstrom shoes is their light-weight. With polyutherate (PU) in the outsoles, the natural flexing motion of the foot is not restricted as it can be with rubber outsoles. At the same time, a full leather sock lining gives them a nice underfoot feel and the Grand.OS technology is used for cushioning.
Keep in mind that since these Nordstrom shoes are, after all, flats, they still won't provide enough cushioning for all-day walking on the streets. The heels are also very thin, and though they are flexible, they also wear out quickly. In terms of cost, these are quite affordable, and can often be found on sale, so you can get a premium product at a budget friendly price.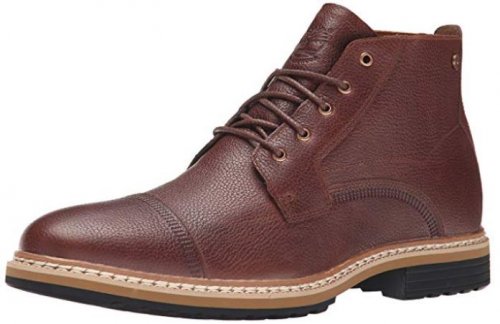 In the last few years, Timberland has blown up thanks to their stylish and practical boots. Inspired by their New England heritage, the brand continues to grow with their focus on the outdoor lifestyle - whether that's into the woods or on the streets. These particular men's boots have a timeless style perfect for the autumn season. The premium leather uppers are stitched and perforated to be fashionable and practical at the same time. On top of that, their slight heel gives them a polished appearance.
Don't let the laces fool you. They look classy, but a zipper can be found on the side for a more convenient closure system. The soles use an anti-fatigue cushioning technology that works great for those on their feet for long periods of time. It is built into the midsole and works through a geometric cone support that provides cushioning shock absorption, and energy return with every stride. Soft synthetic leather covers this for a nice underfoot feel.
These Nordstrom shoes are the ideal pick for a lot of people, seeing that they combine Timberland comfort and durability with a polished look that can be worn on more dressed up occasions. The two color options are both classic, and the price, although high, is more than justified, seeing that this really is one of the best Nordstrom shoes you can invest in.

5

. Reef Contoured Cushion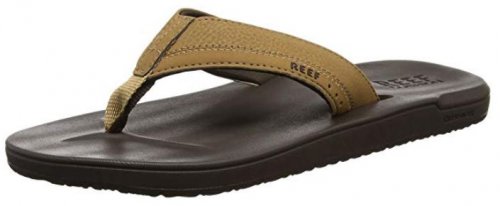 Reef is a brand first founded in 1984 by two Argentinian brothers who loved beach culture and surf travel. To spread their passion, they created a brand to provide footwear for the active beach lifestyle. The men's Contoured Cushion has a name that explains its design perfectly. An anatomical footbed provides arch support, while moulded rubber sponge is used in the footbeds for ultimate cushioning.
An excellent combination of materials is used in these sandals. These Nordstrom shoes have got a padded jersey lining for comfort, and a synthetic nubuck upper that keeps them lightweight and quick-drying.
The toe post is made of a soft material, and the straps are wide and secure. Their major flaw is their lack of traction - the grooves on the outsole are very shallow and do not guarantee stability. On a better note, they are very affordable and are offered in half a dozen different colors. Overall, these are wonderful casual Nordstrom shoes that provide more comfort and quality than the average flip flop would.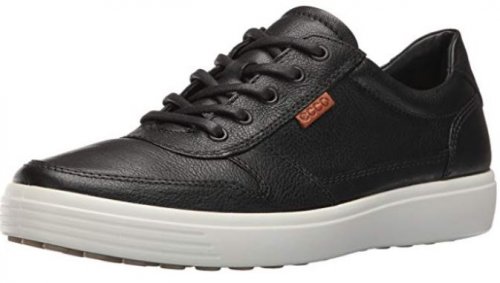 Ecco's aim is to combine the elements of its heritage with new innovative styles and techniques. First founded in a small factory in the middle of farmland, it has now extended to provide products around the world. The men's Soft 7 sneaker is great in its simplicity and effortless style. With a contemporary design, its outer appearance is simple and refreshing. Rich, full-grain leather is used in the uppers, while its light, flexible outsole adds a contrast in color and also provides superior grip that outstrips nearly all other Nordstrom shoes.
A long-lace closure system is implemented to ensure a secure fit throughout the day. The ECCO Comfort Fibre System is also used in their construction to provide airflow, keeping the feet cool and fresh as a result. Inside these Nordstrom shoes is a full anatomical footbed that provides structural support and ensures the foot stays in its healthy alignment.
Unfortunately, nothing this good comes without a high cost. Though the Soft 7 has excellent features, it's also the most expensive pair of Nordstrom shoes on our list. As well, a few customers have claimed they are not durable, and therefore not a worthy investment.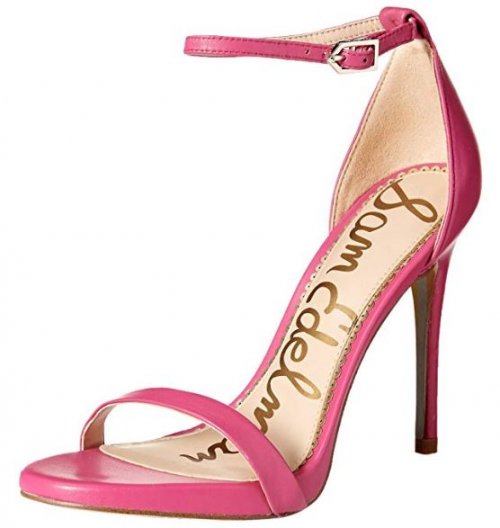 Next up are some pretty heeled sandals with a pretty name. Ariella by Sam Edelman has a sexy yet sophisticated design, seemingly created with minimal effort. Depending on how you dress them, these Nordstrom shoes can be worn for partying and for semi-formal occasions like weddings, dinner parties, and graduations. The sleek stiletto design is Parisian-inspired, and the thin heel gives a look of femininity and elegance.
Three types of upper material are offered with Ariella: there's soft suede, glossy patent leather, and also lightweight mesh. There are various colors to choose from, with sparkly options amongst them for some extra glamour.
The thin toe straps and open toe give these Nordstrom shoes a contemporary vibe, and the ankle straps add to their look while also rendering their fit more secure. The heel is 4 inches tall, which is not ideal for walking or all-day wear, and some customers claim the thin straps cut into the foot. We recommend you not to wear these Nordstrom shoes for too long at a time in order to avoid discomfort.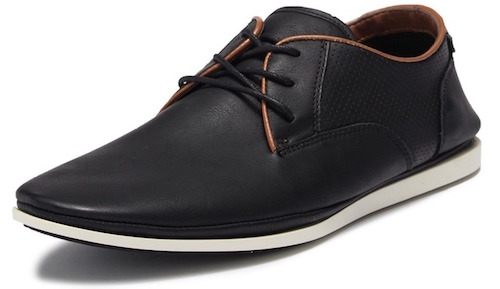 Finding footwear that is truly versatile can be a difficult task, which is why this pair of Nordstrom shoes is so popular. The Aldo Cadolla has the upper of a classic Derby and the sole of your favorite pair of athletic sneakers. It's lightweight and stylish, ideal for the office as well as weekends, and it comes in three classic color options: cognac, beige and black.
One of the first things you'll notice about this pair of Nordstrom shoes is that the upper is soft, requiring virtually no break in. The lacing system allows for fit adjustments, but on the whole, it's one of those models that should work for most foot types. The stitched construction ensures durability, as well as a light weight that will work best for those who walk a lot during the day.
However, the Aldo Cadolla does have its limitations. This pair of Nordstrom shoes is made with synthetic leather in the upper, which means that it won't breathe as well as the real dea. While the textile lining does allow for some air flow, it will, generally, not be the best choice for hot weather. The rubber outsole offers great grip, but not much in terms of cushioning, so if you need shock absorption or high levels of arch support, you might want to look at some of the other pairs of Nordstrom shoes listed. In terms of price, this is an affordable pair that should fit any budget.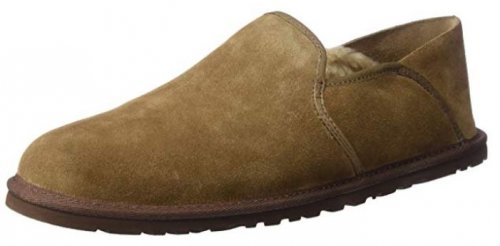 The brand UGG sells sheepskin boots, and are well-known because of their classic women's model that was trending some years back. However, their men's products are just as excellent in quality, and don't receive the attention they deserve. The Cooke slip-on loafer for men has tons of great qualities. Though plain, these Nordstrom shoes are practical and are sure to keep the feet toasty during the chilly months.
The combination of materials ensures you get the best of all worlds with these Nordstrom shoes. Suede is used in the upper to make them soft and flexible. The lining is made of UGGpure, a signature textile made from 100% wool to feel like genuine shearling.
The wool regulates temperature, keeping you warm while also wicking away moisture to keep the feet fresh. The low-profile outsoles are also designed for both indoor and outdoor use. They're also quite affordable. The only con is that their size runs small, so make sure to order larger than you typically do.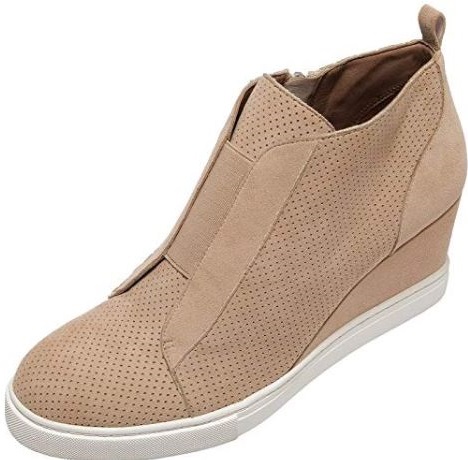 LINEA Paolo is a brand specializing in women's fashion footwear, paying attention to trends, detail, and also comfort. Their products range from high fashion to casual chic - and the latter can be used to describe the Felicia wedge bootie we have up next. A sporty sole is combined with a cool street style, resulting in a unique casual look. Their heel measures around 2 1/2 inches, with around 1 inch of platform height. The wedge style is great because it provides much more stability than most shoes.
The round toe box allows the toes to wiggle and is quite comfortable, while their side zip closure ensures easy-breezy on and off. The back pull-tab facilitates it even more. The lining on these Nordstrom shoes is made of leather, their uppers made of leather, suede, or nappa.
As for color options, there is more than a dozen to choose from, including unique ones like blush, butter, and toffee. There are even embroidered and camouflage options. Though they are quite expensive, their simple style and practical sole mean these Nordstrom shoes can be worn often, meaning you can make the best out of your purchase. They also fit one size small.

Subscribe to our Newsletter