Best Lotion Socks Reviewed
In a Hurry? Editors choice: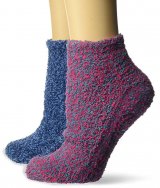 Test Winner: Dr. Scholl's Soothing Spa

Being on our feet all day, wearing
uncomfortable footwear
, going through changes in temperature, poor diet, not enough hydration, aging - all of this has an effect on our skin. Some parts of our body are more sensitive than others, and in the case of feet, any kind of imbalance in our lifestyle results in rough, callused heels, dry, flaky skin and visible cracks, and perhaps even pain.
Sometimes it is difficult to lather on lotion and make it stay where it's meant to. Sometimes we don't have time for a spa-like treatment; sometimes we forget. This is why the concept of lotion socks is so useful - these are comfy, cute designs infused with nourishing oils that rejuvenate your skin, and all you need to do is to put them on at the end of a long day! Healthy, smooth feet in the blink of an eye!
Standout Picks
Criteria Used for Evaluation
Features
The main feature all of the items on our list have is that they are infused with some kind of a moisturizer. It is ingrained in the fabric of the product and is slowly released over time, working its magic on your skin and nursing it back to smooth, hydrated health. This is the main - and only - quality which separates lotion socks from regular ones.

Thus, we are going to explore this feature a bit more and see what type of moisturizers there are, what their pros and cons are and which one is the best for you.

Natural Oils: When we say natural oils, in this case, we mean those most commonly found in the options on our list: jojoba oil, olive oil, grapeseed oil and similar. These have been used in skincare for centuries, and are amazingly inexpensive, effective and additive-free. They can be divided into vegetable oils and essential oils.
These substances contain vitamins such as D, E, K, and A, as well as essential fatty acids. Especially grapeseed and jojoba oils potentially have anti-inflammatory and antimicrobial effects. They nourish the skin, make it tight and elastic again, and give it that healthy glow.
Vitamin E: When we expose ourselves to sunlight, UV radiation causes damage to our skin - it increases the production of so-called free radicals, which wreak havoc on our cells. The only way to reduce the number of free radicals in our skin cells is to introduce an antioxidant. One, for example, as powerful as vitamin E.
Of course that applying vitamin E and other types of antioxidants isn't a substitute for wearing sunscreen and protecting your skin from direct sunlight, but it is nice to know that there is something to help us potentially repair the damage caused by UV rays.
With this kind of action, vitamin E also contributes to anti-aging processes.
Aloe Vera: Aloe vera is a succulent plant which has a myriad of health benefits, ranging from heartburn relief, mouthwash-esque effects, to lowering high blood sugar and, you guessed it, skin care.
Aloe vera is rich in complex carbohydrates, as well as a lot of water stored in its leaves. As a result, aloe vera products function as moisturizers and pain relief in the case of irritated, burning skin.
Shea Butter: Shea butter is an all-natural vitamin A cream. Vitamin A is a godsend for treating conditions such as eczema, dermatitis, blemishes, and wrinkles. Shea butter also contains vitamin E, with all of its anti-aging and anti-free-radical effects. It is a proven moisturizer, with a long list of healing properties.
Zinc Oxide: In our YoRo Naturals Foot Repair product we mentioned zinc oxide as an effective treatment against eczema. This is, in fact, a compound that is extremely useful against sunburn and as protection against UV rays. It also promotes healing, providing the body with necessary ingredients to repair wounds, and it keeps the moisturized area hydrated and clean.
The bottom line is that you will hardly make a wrong choice, whichever moisturizer type you go for. If your goal is to have soft, healthy feet, any one of these will deliver more than its fair share of good results. However, in case you are suffering from a condition, such as eczema or dermatitis, you would definitely be better off choosing a product that is specifically designed for treating that. Don't forget to consult with your physician beforehand, and follow their advice.
Style
While you are here for the moisturizing, skin-nourishing effect of the designs, that doesn't mean they can't also look good. After all, you might want to walk around in some of these options, and spend your time among people. And in the end, there is nothing more instantly uplifting than when you look down at your feet and see a cute print, an adorable animal character, or just a pretty color combination.

We ranked the items on our list according to their appearance as well, in case you wish to have a design which both appeals to you and is effective at the same time.

You can choose from any range of color in this guide - from a neutral white which goes well with everything, to a vivid pink, blue or purple, even to a polka dot print or a cute Husky drawing. When picking out a color, make sure to know whether or not you will want to wear - or be able to wear - these items in public, and therefore what kind of outfits you'd wear them with. Sometimes it's whimsy and endearing when our socks are in contrast with the rest of our ensemble; sometimes it's just wrong.

There is also the shape of the product to consider. We have designs which go over the ankle, even up to mid-calf, as well as those that are cut low, and even ones that have five separate fingers.

If it's summer, you might wish to go for something more revealing, such as the ZenToes Moisturizing Heel for example. However, if you're facing colder weather, then something warmth-preserving and fuzzy, like the Dr. Scholl's Soothing Spa, or the Earth Therapeutics Aloe will be more suitable for you. Make sure that you're not having cold feet, but also not overheating while you're wearing your lotion socks.

Lastly, as it always happen with style - choose a design which is the most attractive to you. You are the one who will be wearing these, and thus you are the only one who has to like them. Whichever option you feel is the best, style-wise, for you is definitely the right one.
Comfort
A key point when purchasing any type of clothing article is comfort. If we're going to spend some time wearing this sweatshirt or those jeans or that pair of socks - we need to feel good in them. Otherwise we get itchy, nervous, restless, and we only count the seconds until we can go home and undress. The importance of comfort is even greater when you have a type of a product such as this one, designed solely for relaxing and pampering at the end of a long, stressful day.

When we're talking about the comfort of socks, there are a couple of things to keep in mind.

First, the fit. You should definitely get the right size for yourself, and the design should fit you closely. It shouldn't be so loose that it's slipping off, as this is not only annoying but also dangerous, potentially causing you to stumble and fall. But the design also shouldn't be too constricting. Especially around the ankle or leg area - there should be no indentations left on your skin after you remove the sock, as any kind of constriction can lead to cutting off blood flow and causing circulation problems.

A great option here are stretchy socks, or those which have some spandex, or elastane in them, which we will talk more about in our Materials section.

Secondly, in terms of comfort, you also have to look at the seams. Round seams can cause friction and dig into skin, perhaps even leading to blisters. If a design has seams, they should be flat, like in the Dr. Scholl's Soothing Spa, or you could also go for ones that are seamless, completely eliminating this concern.

Some of the items here can and should be worn for a longer period of time, such as overnight. If you are the type of person who gets overheated while you sleep, you may want to look into toeless options, such as the ZenToes Moisturizing Heel. On the other hand, some items require you to wear them only for a couple of hours each day, at most, and as such you don't have to stress too much over the comfort levels.

Just make sure that the design fits you properly and doesn't itch or chafe anywhere, and you'll be all set!
Materials
The fabric that a design is made of determines pretty much everything about it - its breathability, durability, comfort levels, insulation, colorfastness and more. When it comes to socks, there are a few different material types in our list, meaning that there are also a few different ways you can go, when choosing the right fabric for yourself.

So let's look at each of those more closely.

Cotton: Cotton is a natural fiber that is wonderfully soft and flexible. It is a breathable material, one that keeps your feet sweat-free and absorbs moisture. Additionally, cotton is great for sensitive skin and those who suffer from allergies.
The downsides to cotton, however are that it is not as durable or as colorfast as other material types, especially polyester.
Polyester: What polyester lacks in comfort (it is perfectly fine, but not as comfortable as cotton), it makes up for in durability and the ability to retain color, or colorfastness. Polyester designs are incredibly long lasting, and their color remains vibrant even after countless washings. This material is also quick-drying, though it is not as breathable as cotton, and it is also not environment-friendly, as it doesn't break down.
Nylon: Nylon is a material which adds durability and strength to a design, and is also quick to dry. Usually, socks aren't made out of 100% nylon, but rather this fabric is added to increase the longevity of a design.
Spandex: Similarly to nylon, there also isn't an option that is made out of 100% spandex. This fabric also comes under the name of lycra or elastane, and its purpose is to add elasticity. Thanks to spandex, designs are stretchy and they provide a close fit, one that molds to the shape of the foot.
Feather Yarn: Not actually made of feathers, this type of yarn is also called eyelash yarn. It is a material that is designed to be fluffy and soft, almost like fur, and it is usually entirely made out of polyester. The cons of feather yarn is that it adds bulk and thickness to a garment, which is why it is mainly used for sweaters or socks.
Tencel: Also called lyocell, we can see these fibers in the YoRo Naturals Foot Repair. They are sustainably obtained from natural raw material wood and are amazingly soft and pleasant to the skin. They come with high flexibility, which makes them a great option for so many designs and garment types, and are colorfast and biodegradable as well!
What you should pay attention to, when choosing the right material type: whether or not your skin is sensitive or if you suffer from any allergies; whether durability is important to you (more on that in the following section); whether you care about the intensity of the design color; how much stretch you want in your design; whether or not you like something fluffy; if you are environmentally conscious and want something that is green and sustainable as well as practical.

These are a few questions that you should ask yourself before making a final decision, and when you get all the answers, picking out the best material for you should be a piece of cake!
Durability
When it comes to this type of product and durability, we need to mention two things: the durability of the product itself, and the durability of the moisturizing effects. The first is a question of how long the design will last before it becomes irreparably damaged, and the second is a question of how long you will be able to use it to still get all the skin benefits.

The durability of the product is directly related to the quality of the materials it is made of. We have already covered the finer points of each material type in the previous section, and here we will recap what we know about how long these options can last: polyester designs are the most durable, lasting for potentially years, followed by nylon and tencel. Cotton and feather yarn are not so durable, as they tend to wear out relatively quickly, and - in the case of feather yarn - to shed fuzz.

Now, when it comes to the durability of the moisturizing effects, the results vary greatly. Some products have a nourishing effect on the skin that can last even after 40 washings (even after 300, in the case of the Denning Non-Gel Padded!), but some are less lasting, and lose their purpose after only a couple of washings. To make sure that all the oils and ingredients remain intact for as long as possible, try to follow the manufacturer guidelines on how to properly care for and wash your product.

At the end of the day, the durability of the moisturizing effects may even be secondary. When the design loses its moisturizing quality, you are still left with a sock that you can wear day in and day out, as a regular part of your outfits.
Our Favorites
1

. Dr. Scholl's Soothing Spa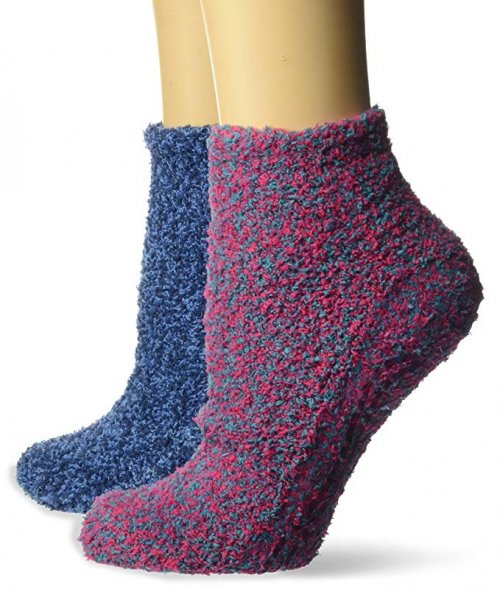 We all love a good fuzzy sock. We love the feeling of cozy, fluffy material on our feet and we love to keep warm. If we could get a nice, soothing treatment for our skin at the same time, that'd be amazing! Well, thanks to Dr. Scholl's Soothing Spa socks, that is now possible. This fuzzy design comes infused with vitamin E and lavender for a gentle, nourishing experience that will leave your feet pampered as though you've just had a day at the SPA.
The Dr. Scholl's Soothing Spa is made out of 99% polyester and 1% spandex. Polyester is what provides durability and colorfastness, while spandex is there to make the design stretchy and to deliver a close fit. The product is constructed with a smooth toe seam to prevent cutting into your skin and bunching.

The fabric is enhanced with vitamin E and lavender, which moisturize your skin and make it soft as a baby's bottom, along with providing a soothing, relaxing scent. This item also comes with grippers on the bottom which prevents you from slipping on wood or tile floors.

We can't think of anything more that we would want out of a good lotion design. The Dr. Scholl's Soothing Spa is gentle for our skin, it makes us cozy and warm, and protects us from both seam-induced blisters and from losing our balance on sleek surfaces. It is certainly a spectacular hydrating product all around!

2

. Bath and Body Works Bob the Husky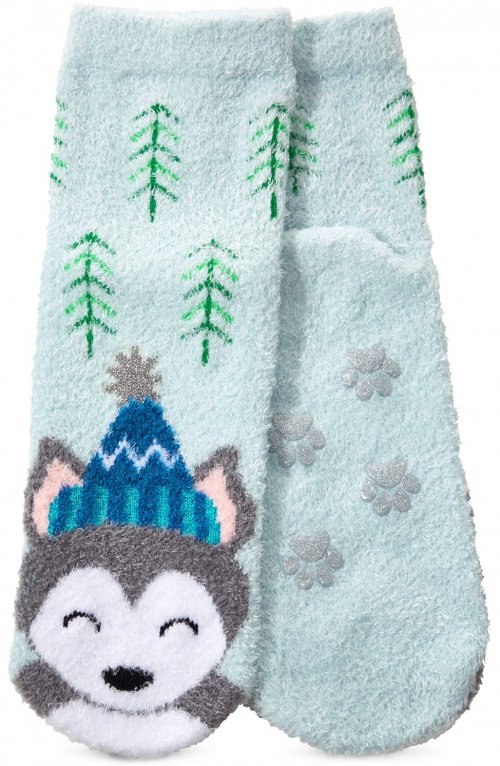 Feel free to take a moment and squeal over the cuteness of this option. We'll wait. In fact, that is exactly what we did, too, the first time we saw this super adorable Husky design. The Bath and Body Works Bob the Husky is a winter wonderland item, one that comes decorated with a smiling Husky puppy wearing a winter hat, pine trees and silvery paw-shaped grippers on the bottom. It is irresistibly cute, and it also comes infused with shea butter.
The Bob the Husky is a fuzzy design that you can wear in the winter time to feel both comfortable and warm. We can't get over the happy, brightening theme of the print, which will definitely bring a smile on your face every time you look down at your feet.

This option is enhanced with shea butter, a champion of moisturizers. It contains fatty acids and vitamins and is mostly used for its anti-inflammatory and healing properties. Shea butter on your feet will condition, tone and soothe your skin for a healthy, pampered look and feel.

The aforementioned paw-shaped grippers on the bottom provide all the traction you need on slippery surfaces.

The Bath and Body Works Bob the Husky is one well-rounded product. It has the looks, it has the comfort and the moisturizing purpose, and we're honestly hard-pegged to find a flaw in this design. You can get it for yourself, but it also works as an amazing SPA day gift! Treat yourself and those around you with this lovely husky print!

3

. YoRo Naturals Foot Repair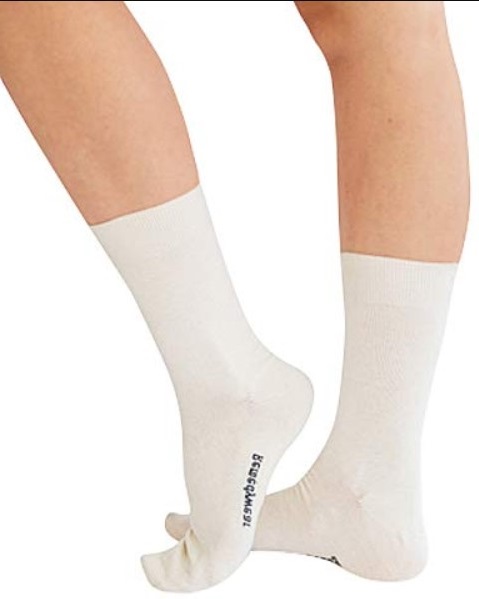 While all other items on our list are there for skincare and pampering, in this case, we actually have a design to treat a medical condition - eczema or atopic dermatitis. This is a long lasting irritation of the skin that causes redness and itchiness and can flare up from time to time. The YoRo Naturals Foot Repair is carefully conceived and constructed that it provides maximum relief from this condition if it occurs on the feet.
This design is made from lyocell, or Tencel fibers, which are smooth, rounded fibers that inhibit bacterial growth and reduce unpleasant odors as well as irritation and chafing. They are coated with zinc oxide, which is an anti-inflammatory and anti-microbial agent that prevents flare-ups. There are also reinforcements in the heel and toe areas for protection against scratching.

The YoRo Naturals Foot Repair is a design that is part of the Remedywear collection. It reaches up to the mid-calf, and ensures a close fit, without bunching or being too tight. It is perfect for sensitive skin as it is hypoallergenic and provides cooling relief from your irritations.

The YoRo Naturals Foot Repair is not like any of the other options we have here. It is specifically conceived as a treatment for a common skin condition and will ensure reduced itchiness, pain, and irritation as you wear it throughout the night. Just make sure to consult with your doctor before you decide to invest money in this medical solution.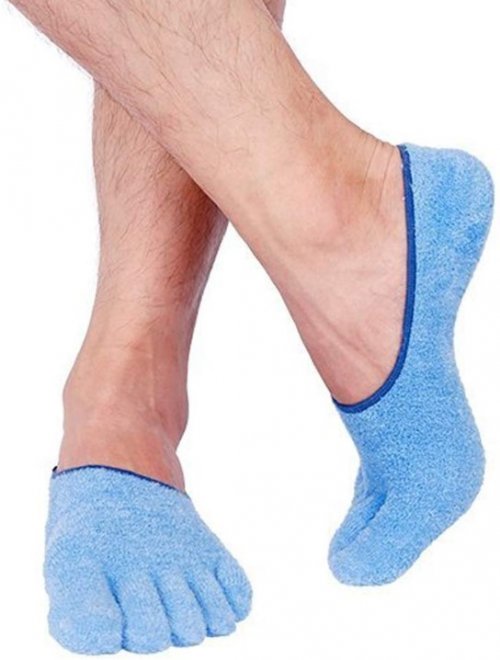 It is time for something a little unconventional. You've probably seen plenty of five-toe designs, for both socks and footwear, and while they may require some getting used to, in the case of the Exper 5 Toe, this type of construction serves a purpose. Namely, thanks to each toe being separated and covered in fabric, they get special moisturizing treatment on all sides. What a revelation!
The Exper 5 Toe is a design made from feather yarn, which is incredibly soft and warm. The hydrating ingredients - botanical oils - are bonded to the toe and heel areas, providing nourishment for the entire foot. These ingredients are medical-grade oils such as olive oil, jojoba oil, rose oil and grapeseed oil, as well as vitamin E.

This option is just the right one for treating problems such as calluses, cracked heels, and rough skin. It provides hydration and rejuvenation for the entire foot, front back and center, as thanks to its construction there isn't a single part of your skin which is left untreated.

The Exper 5 Toe is certainly an unusual design, but one which comes with undeniable benefits. There is no design on this list which more thoroughly treats the foot, and you will definitely not regret giving your money for this unorthodox product!

5

. Earth Therapeutics Aloe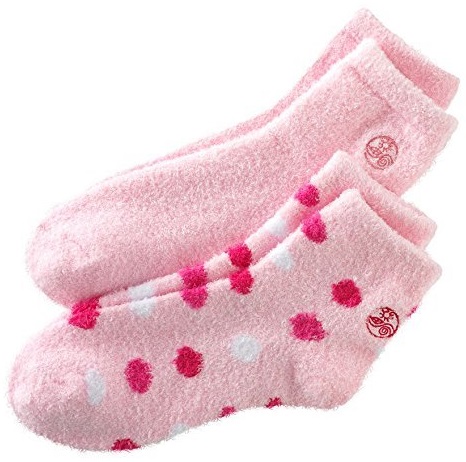 Earth Therapeutics is a brand which aims to be therapeutic both for the Earth and for the people living in it. They are environment- and health-oriented, and have a wide collection of moisturizing products, a part of which are these plain pink and dotted pink designs. The Earth Therapeutics Aloe is an option that comes with ingredients slightly different from the other items on our list, in that it contains aloe vera.
The Earth Therapeutics Aloe is a design made out of 97% nylon and 3% spandex. Nylon is a strong, hard-wearing fiber, and together with spandex, it makes for a stretchy sock, one that fits comfortably and doesn't slip off or constrict movement.

The Aloe is infused with natural aloe vera, which is a godsend in treating inflammation and irritation of the skin. Along with aloe vera, this design also contains vitamin E for a super moisturizing feel. You can even make it better by coating your feet in a lotion of your own.

The Earth Therapeutics Aloe is an adorable design that also provides a fuzzy, plush comfort and preserves warmth in colder months. It is enriched with ingredients that relieve you of pain and inflammation, and it keeps your feet smooth and healthy for a long time to come. An amazing deal!

6

. Exper Moisturizing Gel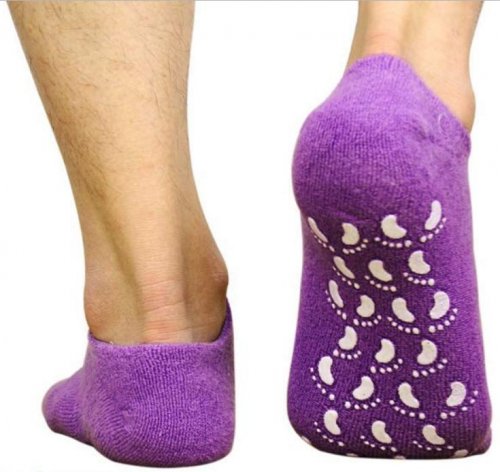 Here comes an option which is not only moisturizing but also endearingly cute! The Exper Moisturizing Gel design is a low-cut sock which has adorable foot-shaped grippers on the bottom that provide slip resistance. Its material is enriched with natural oils that treat painful and cracked heels, as well as dry and rough skin all over your foot.
The Exper Moisturizing Gel contains vitamin E and natural oils, such as jojoba oil, grapeseed oil, olive oil, and rose oil. These ingredients are slowly released from the super soft cotton material and are amazing for removing calluses, increasing skin flexibility and overall making your feel look healthier.

The beauty of this design is that it is not focused only on the heel. Rather, the entirety of the Exper Moisturizing Gel is infused with these nourishing oils, so that your heels, your toes and everything in between can enjoy this lovely, pampering experience!

The Exper Moisturizing Gel is a versatile design, one which is both cute and useful. The natural oils inside it restore youth to your feet, and with only a few wears you will be ready to take on the summer season without pause. Bring on the sandals and show off those pretty toes!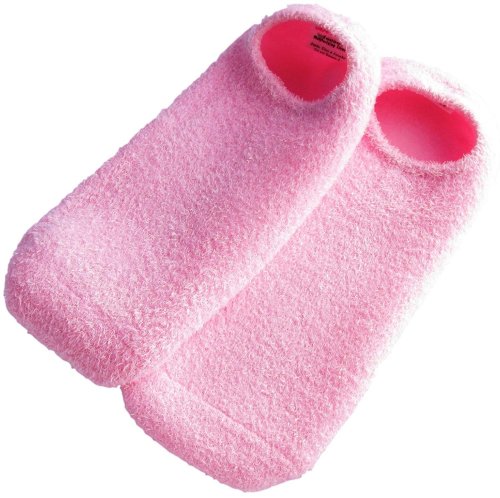 This romantic, pink design will bring a smile to your face, and ensure that your feet are soft and smooth as they've never been before. The Deseau Moisturizing Sock is enhanced with botanical oils that come in contact with your skin and chase all the dryness away. All you need to do is slip them on, kick your feet up and relax!
The Deseau Moisturizing design is made out of cotton, with a thermoplastic gel lining inside that comes with a list of healing oils, such as jojoba oil, lavender oil, olive oil, and vitamin E. The material slowly releases these substances and your skin absorbs them for a result that is visible after only a couple of days.

You can also choose to use this option with your regular moisturizing cream if you want, which will only increase the nourishing effect. The Deseau Moisturizing design is easy to wash by hand in cold water, though be careful not to use a tumble dryer afterward.

The combination of ingredients found in the Deseau Moisturizing also has a refreshing fragrance that will make your feet smell nice, too. They will look good, feel good and smell good, and really, what more could one possibly ask for out of a good moisturizing product?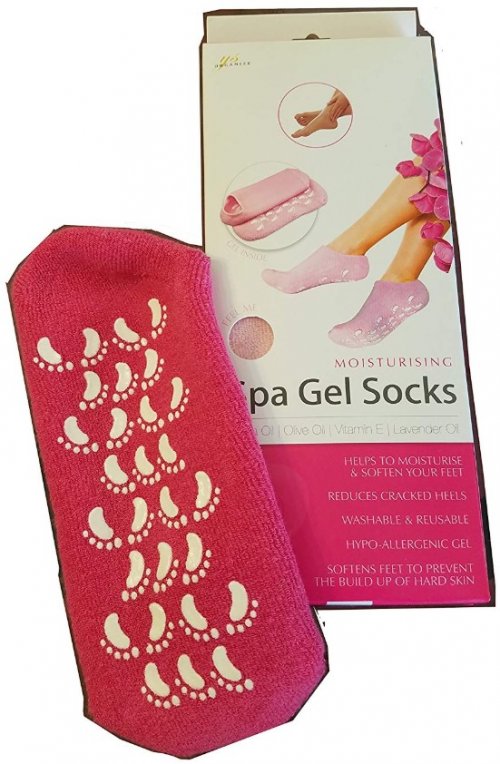 Similar, if not the same, in design to the Exper Moisturizing Gel, the Y. S. Organize Gel offers a slightly different set-up of moisturizing ingredients. It is a low-cut sock that you only need to wear for up to 20 minutes a day to reap all the hydrating benefits! Whether you're walking, running, working or standing all day, this type of easy treatment is exactly what you need to stave off dryness and cracking of your foot soles.
The Y. S. Organize Gel is made out of a combination of cotton and polyester. The former adds breathability and comfort, while the latter is all about durability and colorfastness. There is also a touch of spandex thrown in, for elasticity and a stretchy fit. The grippers on the bottom are in the shape of feet, to make sure you don't accidentally slip or skid and take a fall.

This design is enhanced with jojoba and lavender oil, as well as vitamin E as an anti-aging factor. As a result, it also has a very pleasant, calming lavender scent which is proven to reduce anxiety and help induce sleep. The Y. S. Organize Gel is a balm for the feet and for the mind!

This lovely option isn't too out there, in terms of design or functionality. Nevertheless, it is still a moisturizing product that we need, and it is also amazingly durable as well - the nourishing effects last even after 40 washings! If you're all about that longevity, definitely don't hesitate to get this wonderfully simple, yet effective design.

9

. ZenToes Moisturizing Gel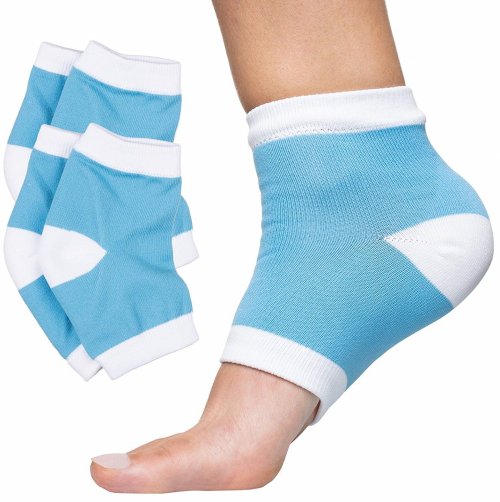 These quirky looking socks are actually all you need to go from dry and cracked to soft and smooth heels. They represent a special overnight treatment for your feet which releases a hydrating gel to nourish your skin and prevent the unseemly rough and dry appearance of your heels. You don't have to go through expensive pedicure appointments or bother scrubbing your feet with pumice stones in the bath - simply put these on and wake up with your dry heel problem solved!
The ZenToes Moisturizing Gel design has open toes for comfort and temperature regulation. You can wear it with your sandals or flip-flops without any problems, and you can also comfortably fall asleep at night without worrying that your feet will overheat and consequently wake you.

This product is washable and reusable. It doesn't lose shape even after being washed several times, meaning that you can enjoy the moisturizing benefit for as long as you want! This design works best when paired with your favorite aloe or lotion, but it also delivers good results on its own.

The ZenToes Moisturizing Gel is a design with a specific purpose. The manufacturer promises that your heels will look 10 years younger after only a couple of overnight treatments. Your feet will be comfortable, you will be able to wiggle your toes without any restriction, and your skin will never be as smooth as with this unique product!

10

. Danning Non-Gel Padded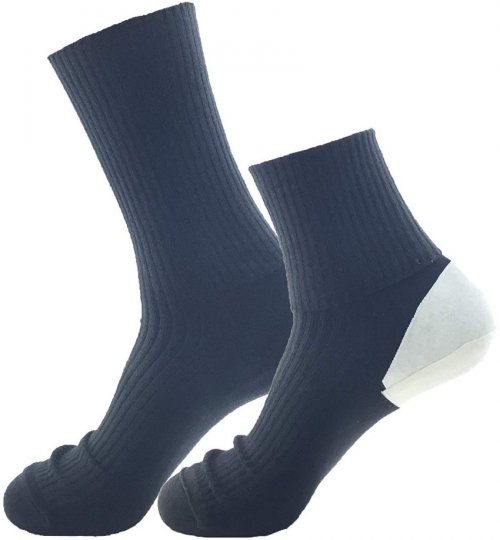 This simple, elegant design looks like a dress sock that should be worn to a formal event. And while, technically, you could wear it like that, the Danning Non-Gel Padded is meant to be nourishing and soothing to the heel of the foot. It is outfitted with a special pad in the heel which helps care for dry and rough skin, and is comfortable to wear all day long!
The Danning Non-Gel Padded is made out of cotton, for the most part. The heel area has a 0.2 mm thick layer which contains a special advanced formula based on a closely guarded Chinese recipe. This area is then covered with a cloth to maintain the effectiveness of these ingredients.

For best results, you should wear this design for at least eight hours a day over the course of at least two weeks. However, you will start seeing improvement after only three to four days! What's even better is that the Danning Non-Gel Padded remains effective even after a sky-high number of 300 washings! Talk about longevity!

While this option does come with some flaws - moisturizing only for the heel, and taking a long time to show results - it is also one which can be worn as a regular sock. Its design is unobtrusive but effective, and it will definitely help you achieve the level of smooth and healthy that you have always wished for your heels.

Subscribe to our Newsletter