Best Leather Lined Shoes Reviewed
In a Hurry? Editors choice: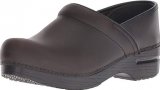 Test Winner: Dansko Professional Mule

For the leather enthusiast, we love the feel, smell, and appearance of our material.
We want leather
and we want it in all of its splendor! This, also, includes the lining. What we don't want, when looking for leather footwear, is some knock-off in the department of our lining. We are purchasing leather for many reasons, but the biggest one is because it is, well, leather! This is why we become so frustrated when we read that the lining is fake (faux) or that it is made entirely of something else. Not to worry, however, this article focuses on finding the real leather in the lining.
Standout Picks
Criteria Used for Evaluation
Style
The style of the product may or may not dictate the lining, but more times than not, it does. The basics of the lining are to protect the foot from inside seams. Next, comes the breathability factor. Combine the two and we now have an element which better determines how thick or thin the lining should be.
For cool weather, we want our lining to be thick. The best style to find this type of leather will be found in boots. Construction footwear is a great example of this. And although there are construction boots with a thinner lining for those unforgiving hot days, a thicker lining promotes a longer-lasting product, in general.
Understanding the style gives us a foothold to better assess what type of lining we are looking for. An open-toe shoe, for example, will have a thinner lining, and that is exactly what we want. A safety-toe boot, on the other hand, should have some thickness to its lining. In this case, it may even provide some much-needed, added protection.
Also, consider a dress shoe. It is to be worn in a professional setting and/or at special events. These types of atmospheres are, more than likely, indoor. As such, the heat is generally provided and we need a thinner lining. Adequately enough, most dress shoes will have this design because of this. But if we are to be outside for a few hours when it is below freezing, then the style of a dress shoe should be closely examined in relation to the lining's thickness. More times than not, should we opt for the dress wear, we may need a pair of highly-insulated socks to help balance the criteria. Otherwise, we could be facing a painful experience in frostbite.
Versatility
When we, typically, define versatility within a product, we define it as its versatility in where (i.e. casual, business, etc.) and how (i.e. matching it to wardrobe) it can be worn. For this purpose, in addition to those criteria, we added how the lining reduces or increases the ability to walk, the integrity of structuring, and whether or not the lining is complementary and/or functional.
A leather lining may, indeed, be complementary to the look and feel of the footwear, but it may not be functional. For example, a boot with a thin, leather lining, may be functional if it is a stylistic chukka. But if it is a safety boot, then a thin lining lowers the overall versatility. The lining then becomes more complementary than functional, per se.
Also, the lining may be made of leather to offset shortcomings from the rest of the product. Without it, the product may have some instability issues. Longevity comes to mind when thinking about a faux leather upper and a leather lining. Usually, sold as flexible, this type of upper has longevity issues. To help offset the shortcoming, a leather lining is added to give more stability. Well, at least the interior of the footwear will last, anyway.
Of course, products which fall short in this area will retain the lower score. This is because we need to always be aware of every aspect of our footwear and how each individual element works (or doesn't work) in synch with the rest, as a unit.
Traction
Traction, in this case, is the outsole grip, as well as the traction within. Both are to be considered when evaluating for linings. For the outsole, we want rubber, as it is most likely to grab and release as needed. There are varying patterns associated with grip types, but this is for another article. For here, we are only looking to see if the proper material is being utilized for the outsole in relation to the expected performance of the style.
As for the traction within, this an idea centered around whether or not the lining allows your feet to glide up and down or grips and holds snugly. For example, if we are examining a pair of work boots that are meant for construction, then the lining should have enough roughness to grab. That is, it should compliment the footwear's ability to snug the foot as it lifts from the ground. Leather tends to stretch over time. Because of this, as so many of us are unfortunately aware, a really smooth lining will slip around the foot, causing blistering and other aches and pains.
On the other side of the same coin, when we are discussing clog styles, we want the leather lining to be smooth. After all, the style demands that the heel lifts from the sole during each subsequent step. A rough lining demotes this idea. And even though the fitting should be a pinky's width from heel to the footwear, the lining needs to be smooth, in order to both complement the design and to add functionality.
In both cases, the lining should be soft. In no way should it ever feel like you have a cinder block wrapped around your foot. If the lining is thick and not softened, then over time, it may bunch up with a wrinkle after the footwear is broken in (for all-leather products). After this occurs, a hard lining will cut into the skin, thereby causing the end result of having to toss them away to save our feet, more or less.
Support
Support can become a bit tricky within the realm of leather liners. A lot of it is dependent on the manufacturer and what it is they are attempting to accomplish by utilizing a leather lining, in the first place. Sadly enough. not all footwear with a leather lining is to benefit the consumer, but instead, the manufacturer.
A leather lining is, indeed, more expensive than many of the other materials utilized by companies. This is why we see leather uppers accompanied by a cheaper lining. After all, this is the best way to cut cost in this scenario. Most of us tend to not consider the lining until it's falling apart prematurely in comparison with the rest of the product.
Contrary to what we may want to believe, a leather lining may be utilized to offset terrible materials in other places, such as an upper. In these cases, the upper may not hold up very well without a sturdier material within, so leather is then employed. This type of footwear is easier to identify, as the manufacturer is, usually, quick to announce that the lining is made of leather. After which, they may go with saying the rest of the footwear is of manmade materials or will avoid mentioning the rest of the materials, altogether. A loud announcement of flexibility is another strong indicator that a leather lining is being utilized to help offset poor materials in the upper.
And although the instances mentioned are not always the case, they are something we need to remain aware of and stay diligent when examining why leather is being utilized as a lining. It is unfortunate, but the bottom dollar will sometimes dictate leather's appearance in the lining world.
Value
Value is an element in which we consider is the main reason for the lining, to begin with. In addition to price, longevity, durability, practicality, and functionality of the product as a whole, we also, want to examine how the leather lining coincides with the rest of those elements. Is the leather lining there to mask a poorly-made product in one or more of those other areas of concern? Or, is the lining there to improve an already great item? If, yes, to the latter, then a great score of value may be present.
An item's value is, also, something that can change from one perspective to the next. That is, one person may see a thin and smooth leather lining as beneficial to a pair of safety, work boots; whereas, another may see this as a potential for blisters down the road. Thus, the second perspective would lower the value of a smooth leather lining, but the first would raise it.
Because of the aforementioned, we are now brought to individual needs and desires. So, we must first ask what it is that we want to accomplish with this particular style of product. If we are looking for a one-and-done pair of dress shoes to go with a suit which is hardly ever worn, then a cheap upper having a leather lining might be the perfect grab. For us, that value would be high because of the low price tag we are paying for the item.
For those of us, however, in need of a pair of everyday footwear (e.g. for work), then our need and desire are to have a more expensive upper which accompanies our leather lining. We may be spending more money as a result, but the overall longevity we achieve causes the overall value to rise, as well.
Here, we cannot possibly know everyone's individual need and desire. But we can be aware of the general value in relation to the overall product. As such, this is how we determine the final number for the ending value.
Top 10 Picks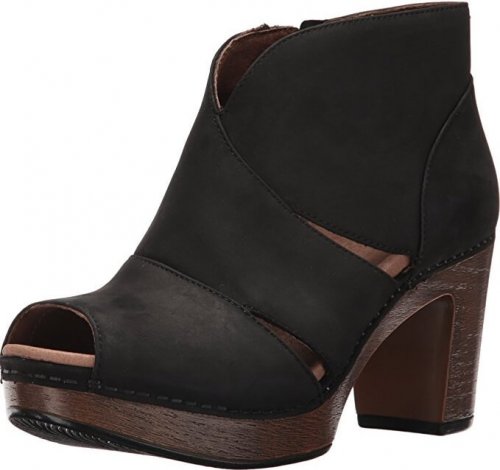 A steel shank adds stability and support to this peep-toe design. The platform height is 0.75 inches with 3-inch heel height. A pinky-finger width is recommended from the heel to the shoe, as these perform like clogs and your heel should move freely from the sole. Also, if you have never walked in clogs before, you should not curl your toes during your steps and should stand with equal force on both feet.
The Dansko Delphina carries both an elegant and casual appearance in styling. We love the peep-toe look and the minimal visuals of the foot, as the boot rises from toe to ankle. This is sexy and refined at the same time, having a nice balance of each, per se.
These utilize a leather-wrapped footbed with cushioning for improved arch support. Additionally, the PU outsole works to give decent energy return with each step taken. In essence, your feet won't become exhausted after an hour of wear, as it were.
The contouring is specific to a woman's foot, and as such, these are rather comfortable to wear, surprisingly so. We love how Dansko keeps comfortability as its main concern over stylistic visualization. Because of this, when you run into something as sexy as the Delphina, you can feel good in many areas.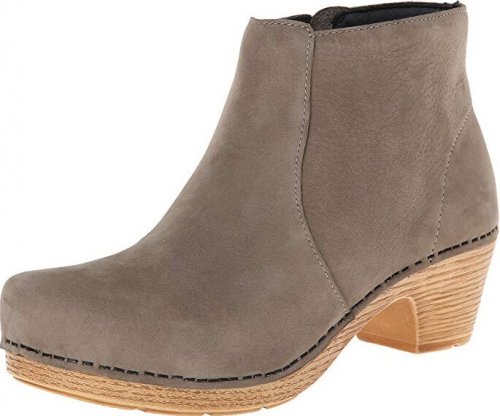 Part of the Tivoli Collection, the Maria carries the American Podiatric Seal of Acceptance (APMA). In the short of it, these promote better foot health while sporting a contemporary, casual style. These do have decent arch support and the Nubuck leather is treated for stain resistance. Additionally, the wooden sole is contoured and the side-zipper entry makes for easy on and off.
With the 11-inch opening at the top, a varying volume can be accommodated. These do run big, so take this into consideration for fitting purposes. Also, if you are new to the Dansko design, the toe area will be roomy and the heel area will allow movement of the rear foot. The key here is to make sure your heel leaves the sole and returns with a fluid-like and smooth flow, without rubbing blisters. In essence, for Dansko footwear, the fit is then perfect.
This is not a build which changes over time. The way they fit out of the box is the way they will fit down the road, more or less. In other words, there are no conforming factors to consider. And since these are leather, there will be a certain amount of breaking in involved and there will be stretching over time.
These are orthotic-friendly. So, if you are in need of personal orthotics, they will fit fine. Also, having the APMA Seal of Acceptance, wearing these promotes your foot health (i.e. lower foot and ankle pain, correct contouring of the woman's foot, etc.).

3

. Dansko Professional Mule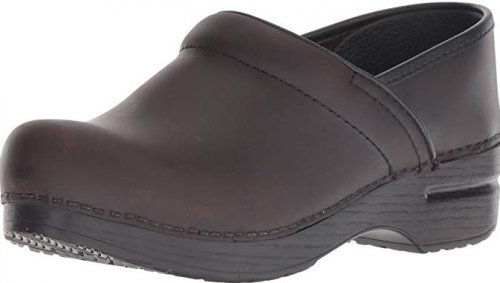 These are from Dansko's Stapled Clog Collection. This means they have a design for bringing you comfort during a full day's work. The main thing to remember, with this style, is that the toes should not touch at the front and the heel should not touch at the back. This creation allows the heel to move up and down with freedom and prevents undesirable blistering and rubbing.
The rocker-bottom outsole propels your feet forward with each step, thereby allowing a more-natural, free gait. In essence, this help, in the form of movement forward, creates an environment for decent shock absorption.
The toe box is reinforced and roomy, perfect for those suffering from hammertoes or other conditions. Moreover, the reinforcement acts as protection for minimal hazard work environments, such as hospitals, and etc.
With these, the heel height is 2 inches with a 0.75-inch platform height. You will be elevated, somewhat, but it isn't in the realm of ridiculousness for work attire. That is, these pass the test for work environments where you are on your feet all day.

4

. Alegria Keli Professional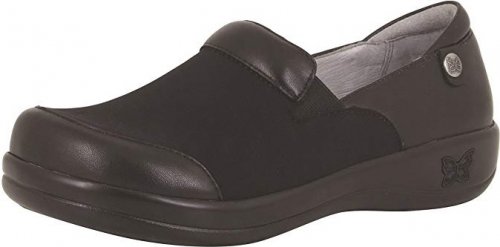 The upper gives you three choices of leather which are Nappa, embossed, or printed. While the lining showcases all of the glorious imperfections of well-made leather, the insole is made of latex and memory foam; thus, this pair will conform to your feet with each step taken. Furthermore, the PU, rubber outsole helps to give better traction with shock absorption.
This is a pair which is great for all-day, at work wear. They are extremely comfortable and can be utilized to reduce foot pain and fatigue where other products might fail. Low profile, the platform measures in at 0.25 inches with 1.5-inch heel height.
Highly versatile, this item has a leather-covered cork footbed which is removable. Moreover, it conforms to your feet, as it is made with latex and memory-foam cushioning if you so desire to keep it in place. If not, you can remove it in place of your own orthotics.
These are slip-resistant and will work well in places such as hospitals, labs, and so on. Additionally, they slip on. Not only does this raise general convenience, but if you happen to work in a place where you must change footwear frequently, these are more than handy.

5

. Bruno Marc Downing Oxford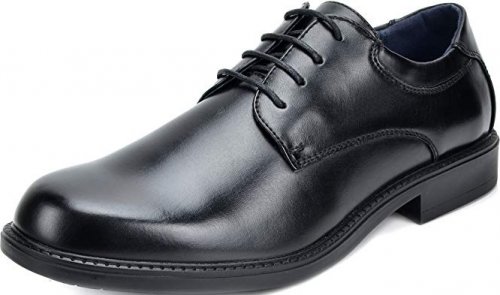 Utilizing a high-gloss sheen, this round-toe design works well for both casual and dress. In addition, the insole is made of latex cushioning, and with the 1-inch wooden heel, the environment created is a firm, yet comfortable fit. Moreover, these have a classic feel to them, and as such, they can be worn to many occasions.
We really enjoy the multiple colors available with this style. You can be specific to wardrobe color matching or play a general scheme with a nice black. Either way, the color choices are admirable for given us a vast array of solutions.
These utilize manmade materials with a design in the USA. They give off that gentleman vibe which can only be found in the right kind of footwear. That is, not all dress shoes are created equal.
The outsole is flexible and made with skid-resistant properties. Furthermore, the design takes into consideration, the male foot. As such, the fit is better and adds improved support, within this regard.



These may not appear delicious, as it were, but they do perform great under the duress of service work (i.e. hospitals, restaurants, etc.). They have a design to lower back, lower leg, ankle, and foot pain when standing or walking for hours at a time. Furthermore, the PU outsole is slip-resistant but may need a little bit of wear and tear to really get the grab you are looking for. These are clogs, so the heel will rise from the sole with each step taken. A pinky width from heel to shoe should prevent undesirable blisters.
This is a pair which is tough to pass up when you work in the service industry. They have the all-day wearability factor down to a science, and what once may be tired and aching feet, is now minimized with the wonderful design.
In addition, these are fairly easy to clean (all things considered) and provide great stability and traction, especially after broken in. Yes, they will need a bit of breaking in because of the leather and overall sturdiness of the footwear.
At the end of the day, this is a purchase for daily, comfort wear while working long hours and shifts. They are specific in lowering overall pain and can even help to reduce fatigue via the rocker-bottom outsole.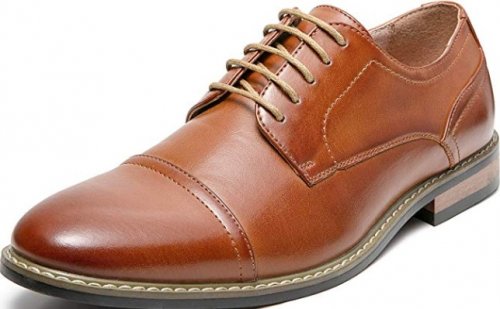 For leather-inspired footwear, these are, actually, quite flexible. This means that the break-in period is minimal and blistering should be non-existence, more or less. These utilize a 1-inch stacked, wooden heel and the outsole has ribbing for better traction. The leather surface insole is made of memory foam, which allows a custom fit as you take each step, day after day.
The cap toe is a classic design great for business and professional settings. They can even be worn in casual atmospheres, as well. When it comes down to it, you can dress up with a suit or dress down with a sweater and these will complement rather nicely.
The lace-up closure is ideal for creating a better fit and providing comfort, as a result. Furthermore, the insole has moisture-absorbent properties which aid in fighting bacteria and odor.
At the end of the day, these are highly versatile and open up a broad horizon of wardrobe choices. And the fact these are flexible out of the box, gives this pair a reason for a second glance, per se.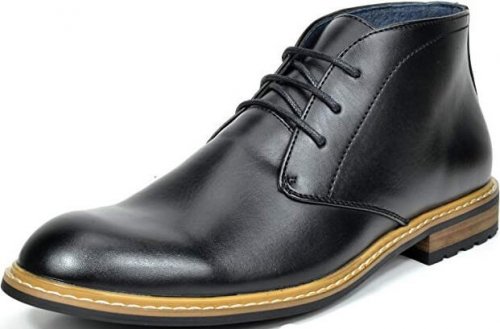 We love the chukka boot style with its versatility options for dressing up or down. In addition, these carry a 0.5-inch platform and 1-inch heel height, with wood to showcase the heel. The outsole is made of rubber which allows for decent traction. Unfortunately, as with many Bruno Marc lines, the upper is faux leather which lowers overall longevity (when compared to actual leather). This does, however, mean they are flexible out of the box.
The chukka boot styling is versatile in terms of wardrobe choices; especially utilizing them as casual. The break-in period is minimal and these really are flexible, as far as boots are considered.
The issue we have is the longevity factor, as it is short and you are only going to get a few months of considerable wear out of them. But for the sticker price, this isn't exactly a bad thing, just a typical expectation for the budget.
There are many colors to choose from and this opens up your ability to match, accordingly, or to go neutral for multiple matching of various clothing styles. Also, due to the manmade upper, these will stretch over time. So, take this into consideration prior to purchasing.

9

. Bruno Marc Prince Oxford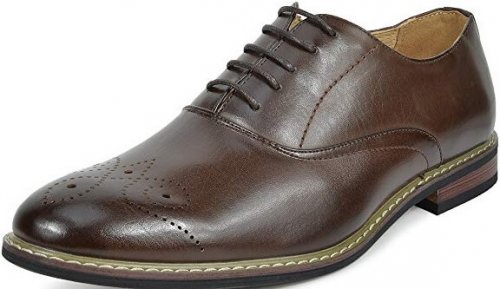 The Prince, by Bruno Marc, takes elements of Irish and Scottish shoemaking. The edges of the different pieces are plainly visible and the broguing aligns the topside of the forefoot area. Traditionally, these perforations will follow alongside each piece of joined structure. With the Prince, however, we get a lower level of volume, within this regard. This opens up the ability to dress down with a bit of ease, should the need arise.
This is a pair which flexes with general ease from the start, as the decorative perforations across the forefoot area relieve stiffness. Also, known as the Brogue design, this is a quick-reference characteristic of this style.
Since these utilize faux material for the upper, longevity is much shorter than can be expected from leather. This pair, in particular, should be worn on short excursions and are not ideal for everyday wear.
Considering the material makeup of the upper is paramount in choosing the correct size. These do stretch over time and will permanently loosen around the foot. As such, the size choice should be considered, accordingly.

10

. Bruno Marc Dress Oxford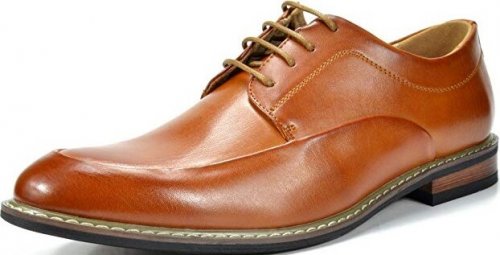 The wooden heel is one inch and the outsole is rubber; allowing decent traction with a wide strike. These utilize the classic, soft round toe, so you may want to only wear these to special events, and keep the everyday wear ideology to a different pair. Flexible, this is a great solution for dress shoes, and with the multiple-color solutions, you can match easily to your wardrobe.
Great for business and professional wear, this product is perfect for those up and coming with a lower budget. Also, if you happen to be a blue-collar worker with minimal exposure to professional settings (i.e. office atmosphere, etc.), as it were, then this can be a decent pair to have on hand for such an occasion.
Having a design in the USA, these follow a trendy, yet professional feel. Furthermore, the classic style employs a soft, round toe, which can look good just about anywhere and with anything, such as a pair of jeans.
Longevity is minimal, unfortunately, and this is due to the cheaper materials manufactured with the upper and so on. So, if you are in the hunt for everyday wear, this product won't fit the bill, per se. But if you are only looking for minimal occasion wear, then these might perform amicably.

Subscribe to our Newsletter