Best High-Tech Shoes Reviewed & Rated
In a Hurry? Editors choice: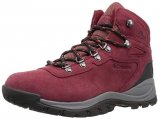 Test Winner: Columbia Newton Ridge Plus

What do you think of when you hear the word "technology"? Is it smartphones? TVs? Dystopian worlds from movie scenes? When it comes to footwear, different technologies are used to focus on and enhance desirable features such as
shock absorption
,
water resistance
, and
breathability
. Innovative designs and up-to-date construction methods are used to enhance the wearer's performance and guarantee better support and comfort. Some well-known examples are the
Nike Air technology
and
ASIC's GEL Cushioning technology
. Here we have compiled a list of the best pairs out there; there are options for both men and women, as well as for runners, hikers, and beach-goers alike.
Standout Picks
Criteria Used for Evaluation
Shock Absorption
Exercise is physically demanding, and most often for the legs and feet. When jumping, running, or even walking, enormous amounts of weight are put on these with the impact of your strides. When running, as much as three times the runner's weight is generated from the impact of landing on the heel. When not properly equipped to alleviate the legs and feel from this impact, the results include pain, fatigue, injury, and other long-term issues. Footwear with cushioning and shock absorption aim to prevent these issues.
Different methods for cushioning are used by different manufacturers, all with the ultimate goal of lessening stress on the lower body upon shock impact. One of these technologies is GEL Cushioning by ASICS, which is the core component of this brand's footwear products. With this technology, a soft material is inserted into the midsole at the forefoot and/or rearfoot. This softens the blow when the foot strikes the ground, bringing comfort as well as reducing the risk for injuries.
Another well-known cushioning technology is the Nike Air. This iconic innovation features pressurized air in a durable, flexible membrane. Upon impact, the air is compressed, then returns immediately to its previous shape, in time for the next step to fall. Not only does this alleviate the impact on your ankles, feet, and legs, but it also rebounds and gives you extra vigour when you take off again. First debuted in 1979, it continues to evolve and be improved.
One last thing to remember: though cushioning is often hyped up like something that's the more, the better, this is not true. More cushioning is required for high-impact activities like running and hiking. However, in daily life, much less is required. In fact, depending on the shape of your foot, the way you walk, and your daily activities, less cushioning might actually do you good. Therefore, don't head straight for the footwear with the most shock absorption without first evaluating whether you truly need it.
Breathability
Breathable materials, when used in footwear, will prevent the accumulation of heat and moisture within the shoe. As a result, it also prevents the growth of harmful bacteria and reduces the likelihood of unpleasant odors. Breathability depends on two things: material and construction.
Some types of materials are more breathable than others. Leather, mesh, and certain lightweight synthetics are known to be very breathable. They are frequently used in sports trainers to prevent sweaty feet. Thick footwear like hiking boots are generally not very breathable simply because of their thickness. As well, some synthetics like vinyl are not breathable, either.
As for construction, this simply means that the outer design of the shoe allows it to encourage air flow and regulate the temperature inside the shoe. A very efficient and straightforward way to do this is through perforations - meaning holes pierced in the upper. However, the major downside of this is that as much as moisture can escape, it can also come in, rendering the shoes unsuitable for wet weather. Other methods include modification of the sockliner and midsole.
Stability
Staying stable on your feet at all times is crucial. Not only does it prevent accidents and injuries, but it also ensures long-term foot comfort and keeps fatigue and foot strain at bay. Not to mention it also makes walking, running, and going about your day a million times easier and more comfortable. This is especially important when exercising. On casual occasions, it's alright to wear footwear providing bare minimum stability (ie. sky-high stilettos) for a short time, but if you're really going at it, you need guaranteed stability.
The shank is the supportive part of the shoe, found between the insole and the outsole. Traditionally, it can be found in mountaineering boots to diminish the shock load put on the feet and calves when ascending, and is made of steel. Today, the steel shank can be found in many hiking boots and heavy-duty outdoor shoes. It improves balance and stability when walking on uneven terrain, and at the same time reduces shock impact.
The outsole tread is also essential and is applicable to all footwear, unlike the steel shank. Tread pattern, the material of the outsole, and overall design determine the slip-resistance and grip of the shoes. First of all, a multi-directional tread pattern (eg. pentagon and hexagon shapes) are much more reliable than plain zigzags because they prevent slip in all directions. What's more, look for a deep tread that will now wear down quickly.
It is also advised to pick a shoe with an open, interlocked tread pattern (aka no closing off the pattern at the border of the outsole) that doesn't trap in liquid when you step onto it. This way the liquid can be channelled away and allow for more outsole contact and slip resistance.
Durability
Durability refers to how wear-resistant a pair of shoes is. Very durable shoes can serve the wearer well for years, while their less-durable counterparts might fall apart after just a few months. Durability ensures that you get the ultimate bang for your buck - as we mention in our next criterion - but also that you get to make the most out of your pair and the features offered.
Starting with midsole material: most midsoles are made using either EVA (ethyl vinyl acetate) or PU (polyutherane). The first is lighter in weight and has a more cushiony feel, and is therefore used more often and seen as more effective. However, because it is not very dense, it will lose its bounce through time. PU, on the other hand, feels less effective at first but can last much longer thanks to its density. Therefore, what seems to offer maximum effectiveness right now might not keep it up for long.
Another factor that affects durability is the manner in which the sole is attached to the upper. The cheapest, simplest method is to just glue it on. However, this creates a poor seal that can easily degrade and could result in the sole peeling off from the shoe. The more durable option is Goodyear Welting, which is when the sole and the upper are sewed onto a strip of leather along the shoe perimeter. The extra layer of leather results in more support and water-resistance. As well, it renders the soles easily replaceable. This second method costs more than the first, but will also cause fewer headaches
Value
No matter how high-quality, attractive or useful some shoes are, they won't be any good unless you can afford to give them a try. That's why the items on our list are rated based on their affordability - the higher the score, the less money you'll have to spend. But at the same time, you want to ensure that the pair you purchase isn't too cheap.
More often than not, the price of footwear is relative to their quality. The latest innovations and the highest quality materials tend to also be the priciest. When used in a pair of footwear, it guarantees more durability and better performance - but it also hikes their price up. Sometimes, shoes are also pricey just because the brand has a good reputation and knows that customers will purchase it regardless, but that happens more often with fashionable footwear rather than practical athletic footwear.
Because pricier technologies often mean more durability, this means that by purchasing the more expensive pair, you might ultimately save yourself some pennies. The expensive pair might last you for five years and be just fine, while the cheaper pair might wear out after a year and force you to buy a second pair. The price of those two pairs might exceed the price of the expensive pair. Not only that, you'll have to make time to go shopping and go through the picking-out and trying-on process all over again.
In conclusion: inexpensive footwear has its obvious benefits, but pricier options can sometimes be the right decision in the long run. Choose wisely, because if you spend now you might save later!
Top 10 Picks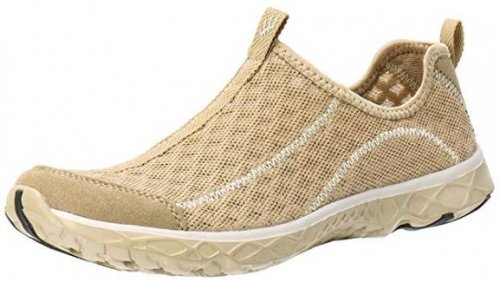 Aleader is a brand that specializes in water footwear for those who love the great outdoors. If you're a lover of the beach, the lake, or the river, you need to have one of their footwear in handy for your next outing.
These women's slip-on water shoes are made to be so lightweight and flexible, you barely realize you're wearing them. Their Solyte midsole renders them ultra-lightweight, while also providing excellent bounce-back energy to keep you energized throughout the day. Their ComfortDry sockliner also provides cushioning but focuses rather on keeping the air flowing through the shoe and preventing the accumulation of sweat and bacteria. Open mesh is used in the uppers, and their water drain outsole offers traction on wet surfaces. With a dozen colors and styles to choose from, you can look stylish, too. They are also extremely affordable. Their only major downside is their sizing - only 77% of customers claim they fit as expected.

2

. Columbia Newton Ridge Plus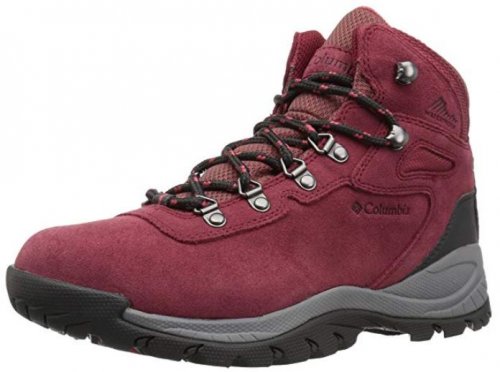 Inspired by the look of classic mountaineering gear, the Newton Ridge Plus waterproof women's hiking boots aim to look and feel authentic. With a blend of high-quality materials, they make sure maximum effectiveness and practicality are achieved.
Leather and mesh are used in their construction for breathability and durability. The uppers are then made waterproof to protect the feet against wet weather. Techlite ensures a lightweight yet cushioning midsole for hiking comfort and fatigue prevention. On top of that, the Omni-Grip non-marking traction rubber in the outsole ensures stability on all types of terrain - regardless of if it's grass, rocks, gravel, or even roots. Several colors are offered, including sunset red and purple dahlia. Just keep in mind that they run somewhat small in size.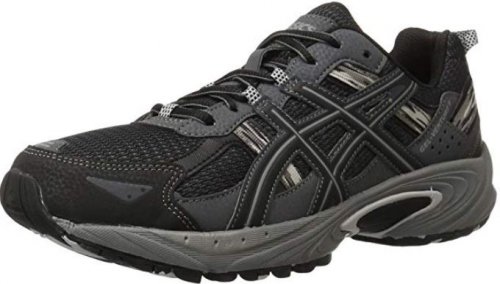 Needing trail runners? The ASICS GEL-Venture 5 is sure to fulfill your every need. As we already mentioned, ASICS is an innovative brand that provides consistent and reliable quality. These men's trail running trainers are designed for the outdoors and are remarkable for their durability and cushioning.
AHAR, short for ASICS High Abrasion Rubber, can be found in the critical areas of the outsole. Their goal is to prevent wearing-down and to offer exceptional durability against wear, weather, and rough terrain. In addition, the Rearfoot GEL Cushioning System is used to attenuate the shock of your every stride. This feature allows for a smoother transition from impact phase to midstance when running, and is especially important for outdoor runners because the terrain can be rocky and harsh on the joints upon impact if insufficient shock absorption is provided by the footwear. The GEL-Venture 5 is suitable for underpronation and neutral pronation. There are different color options. Some customers have claimed they have a hard outsole that feels inflexible, but overall, they satisfy.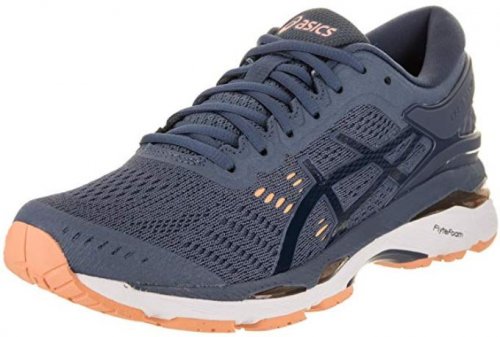 ASICS is a Japanese brand for athletic footwear, founded in 1949 and brought to the United States in 1977. The brand's name is an acronym Anima Sana In Corpore Sano, a Latin phrase meaning "a sound mind in a sound body." Using innovations and technologies, they strive to provide just that to every one of their wearers. The ASICS GEL-Kayano 24 is a woman's running shoe that showcases ASICS's brilliance.
The Guidance Line technology featured in these runners offer vertical flex grooves on the outsole that decouples the tooling along the line of progression. Combined with the Impact Guidance System, this enhances the efficiency of your every stride. FluidFit offers a combination of multi-directional stretch mesh with stretch reinforcements, resulting in an upper that moulds to the shape of the wearer's foot for customized comfort and protection. Some other technologies that are featured include AHAR for abrasion-resistance, DuoMax for enhanced stability, and FluidRide for lightweight cushioning. These runners are also excellent for overpronation and are offered in different colors. The downside is that they are one of our priciest options - but if you want high quality, you've got to pay a high cost!

5

. Adidas Tech Response 4.0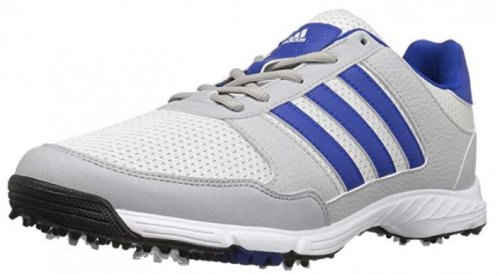 Adidas is a brand we've all heard of - even if we live under a rock. It is known as one of the best sportswear brands worldwide. They offer products for runners, weight-lifters, hikers, and also golfers. The Adidas Tech Response 4.0 is a men's shoe in that last category.
Their Cloudfoam EVA sockliner is intended to provide support and cushioning to make you feel like you're walking on - that's right - clouds. This is combined with their Thintech Technology, featuring a low-profile outsole to keep you close to the ground and maintain maximum stability. On top of that, their thintech EXP Cleats with Traxion Secondary Lugs features a 6-spike outsole for better traction and durability while staying eco-friendly. This type of outsole is innovative and incredibly versatile and will support the wearer in all phases of the swing. They are moderately-priced and run narrow in size.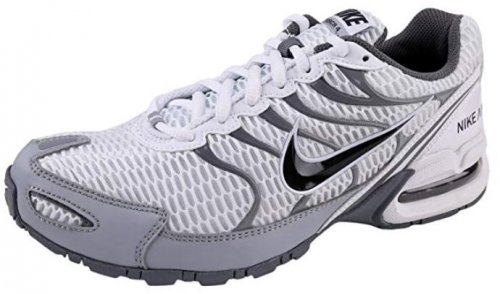 Of course, we couldn't have a list of footwear without including the legendary brand Nike. This brand is well-known and well-loved for a reason - with up-to-date innovations, aesthetically-pleasing designs, and practical constructions, they truly help athletes cross the finish line in glory.
Lightweight cushioning is the primary focus of these men's runners. The upper is made of breathable mesh, combined with synthetic rands for additional ventilation and structural support. The midsole is where the exciting part happens. Phylon is featured throughout the forefeet to enhance to-off, while visible Max Air units can be found at the heels for shock absorption. TPU overlays at the midfoot add support and ensures a secure fit. As for the outsole, it is made of a durable, full-length BRS 1000 carbon rubber with a waffle pattern for effortless traction. Unfortunately, even with all these advantages, these runners still have their flaws. Previous customers have had issues with sizing, and some say the color they received looked different from the photos.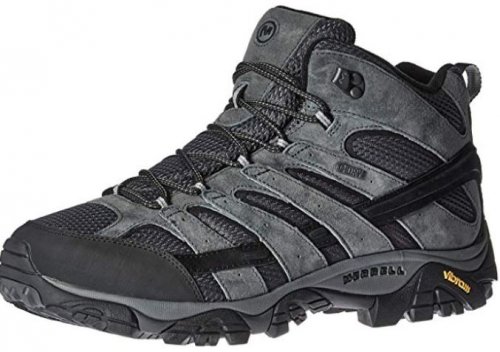 "Moab" stands for "Mother Of All Boots." The name is thanks to their versatile and broad range of practical features that make them the core of what a hiking boot should be.
One of the technologies used is called Vibram. These high-performance rubber soles are made to conquer and protect against rough outdoor terrain by keeping the boots stable and slip-resistant. A ventilation technology with mesh fabrics is also used to allow airflow and ensure fresh, comfortable feet. Their Merrell M Select FIT.ECO+ blended EVA contoured footbed offers custom support and is combined with added zonal arch and heel support. Lastly, the Merrell air cushion at the heel absorbs shock and enhances stability. However, be aware that these boots are not good at water resistance and should not be worn in wet weather or on wet terrain.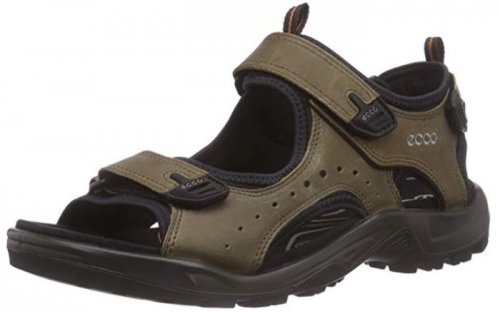 First created in Denmark, ECCO is a family business founded by Karl Toosbuy, a man trained as a shoemaker from a young age and who set out to fulfill his dream of running a business. Today, ECCO is operating in fifty markets around the globe and sells footwear for formal occasions, outdoor activities, everyday street wear, and more.
The Yucatan men's sandal is a sporty sandal that's perfect for summertime outings. The main technology used is ECCO's Receptor technology, a combination of motion and comfort and developed based on a study of the receptors at the base of the foot. Receptor imitates human motion to enhance stability, provide cushioning, and reduce muscle fatigue as a result. On top of that, these shoes have a stretch-fit lining material and supportive leather uppers for a comfortable underfoot feel. However, previous customers have said that the inner material causes uncomfortable friction. In addition, though they run very spot-on to size, they are very expensive for a pair of sandals.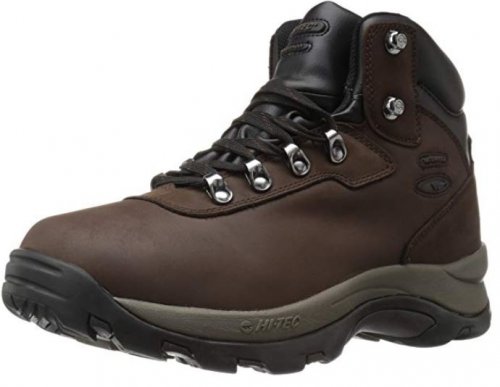 We absolutely had to include an item by this brand in this list. Founded in 1974 in the village of Shoeburyness (no, we're not kidding), their first breakthrough was with a pair of squash footwear. Since then, they've gained success with other types of sports and outdoor footwear. For hiking, the men's Altitude IV is a smart choice.
These hikers prioritize water-resistance. The nubuck leather uppers are treated to be waterproof, and at the same time, there are waterproof-breathable membranes designed to keep water out. This pair is also rustproof thanks to their brass hardware. Steel shanks are used for enhanced stability, and the midsoles are made with compression-molded EVA for support and cushioning. The outsoles, meanwhile, are made with carbon rubber and feature multi-directional lugs for reliable grip. Unfortunately, they don't last very long; many customers claim they wore out quickly. Apart from that, they run very small in size.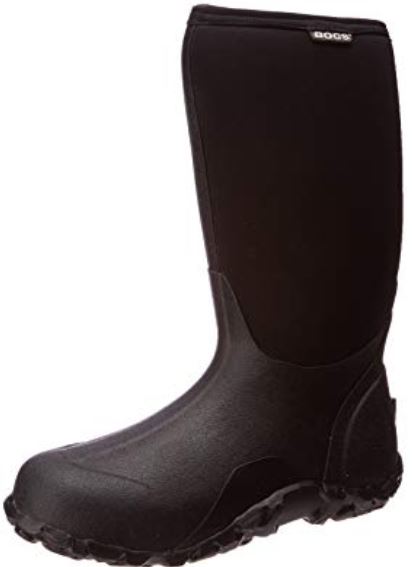 BOGS is a brand that provides footwear for all your gardening, work, farming, and outdoor needs. Their priority is on water-resistance and fatigue-prevention, achieved through the use of high-quality materials, clever designs, and innovative technologies.
The BOGS Classic High insulated boot for men is a good pick for the wet seasons of autumn and winter. A 7mm four-way stretch Neo-Tech insulation provides warmth, protection, and flexibility at the same time, rendering them suitable for up to (or down to) -40 degrees Celcius. The natural hand-lasted rubber is waterproof, and the contour fit ensures maximum support. In addition, Durafresh, an eco-friendly biotechnology, is used to prevent nasty odors Their flaws are that they run small in size, and are quite pricey compared to most of the other pairs on the list. Some customers also claim they are not durable.

Subscribe to our Newsletter