Best High-Tech Shoes Reviewed & Rated
last updated
Jul 22, 2019
What do you think of when you hear the word "technology"? Is it smartphones? TVs? Dystopian worlds from movie scenes? When it comes to footwear, different technologies are used to focus on and enhance desirable features such as shock absorption, water resistance, and breathability. Innovative designs and up-to-date construction methods are used to enhance the wearer's performance and guarantee better support and comfort. Some well-known examples are the Nike Air technology and ASIC's GEL Cushioning technology. Here we have compiled a list of the best pairs out there; there are options for both men and women, as well as for runners, hikers, and beach-goers alike.
In a Hurry? The test winner after 8 hrs of research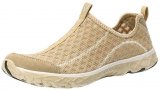 Aleader Slip On
Why is it better?
Extremely lightweight
Energy-return midsole
Traction on wet surfaces
Open mesh
In a
Hurry? Editors choice: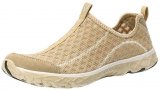 Test Winner: Aleader Slip On

15
Researched Sources
20420
Reviews Considered
8
Hours Researching
10
Products Evaluated
Shock Absorption
Breathability
Stability
Durability
Value
By Default
Criteria Used for Evaluation


Shock Absorption
Exercise is physically demanding, and most often for the legs and feet. When jumping, running, or even walking, enormous amounts of weight are put on these with the impact of your strides. When running, as much as three times the runner's weight is generated from the impact of landing on the heel. When not properly equipped to alleviate the legs and feel from this impact, the results include pain, fatigue, injury, and other long-term issues. Footwear with cushioning and shock absorption aim to prevent these issues.
Different methods for cushioning are used by different manufacturers, all with the ultimate goal of lessening stress on the lower body upon shock impact. One of these technologies is GEL Cushioning by ASICS, which is the core component of this brand's footwear products. With this technology, a soft material is inserted into the midsole at the forefoot and/or rearfoot. This softens the blow when the foot strikes the ground, bringing comfort as well as reducing the risk for injuries.
Another well-known cushioning technology is the Nike Air. This iconic innovation features pressurized air in a durable, flexible membrane. Upon impact, the air is compressed, then returns immediately to its previous shape, in time for the next step to fall. Not only does this alleviate the impact on your ankles, feet, and legs, but it also rebounds and gives you extra vigour when you take off again. First debuted in 1979, it continues to evolve and be improved.
One last thing to remember: though cushioning is often hyped up like something that's the more, the better, this is not true. More cushioning is required for high-impact activities like running and hiking. However, in daily life, much less is required. In fact, depending on the shape of your foot, the way you walk, and your daily activities, less cushioning might actually do you good. Therefore, don't head straight for the footwear with the most shock absorption without first evaluating whether you truly need it.


Breathability
Breathable materials, when used in footwear, will prevent the accumulation of heat and moisture within the shoe. As a result, it also prevents the growth of harmful bacteria and reduces the likelihood of unpleasant odors. Breathability depends on two things: material and construction.
Some types of materials are more breathable than others. Leather, mesh, and certain lightweight synthetics are known to be very breathable. They are frequently used in sports trainers to prevent sweaty feet. Thick footwear like hiking boots are generally not very breathable simply because of their thickness. As well, some synthetics like vinyl are not breathable, either.
As for construction, this simply means that the outer design of the shoe allows it to encourage air flow and regulate the temperature inside the shoe. A very efficient and straightforward way to do this is through perforations - meaning holes pierced in the upper. However, the major downside of this is that as much as moisture can escape, it can also come in, rendering the shoes unsuitable for wet weather. Other methods include modification of the sockliner and midsole.


Stability
Staying stable on your feet at all times is crucial. Not only does it prevent accidents and injuries, but it also ensures long-term foot comfort and keeps fatigue and foot strain at bay. Not to mention it also makes walking, running, and going about your day a million times easier and more comfortable. This is especially important when exercising. On casual occasions, it's alright to wear footwear providing bare minimum stability (ie. sky-high stilettos) for a short time, but if you're really going at it, you need guaranteed stability.
The shank is the supportive part of the shoe, found between the insole and the outsole. Traditionally, it can be found in mountaineering boots to diminish the shock load put on the feet and calves when ascending, and is made of steel. Today, the steel shank can be found in many hiking boots and heavy-duty outdoor shoes. It improves balance and stability when walking on uneven terrain, and at the same time reduces shock impact.
The outsole tread is also essential and is applicable to all footwear, unlike the steel shank. Tread pattern, the material of the outsole, and overall design determine the slip-resistance and grip of the shoes. First of all, a multi-directional tread pattern (eg. pentagon and hexagon shapes) are much more reliable than plain zigzags because they prevent slip in all directions. What's more, look for a deep tread that will now wear down quickly.
It is also advised to pick a shoe with an open, interlocked tread pattern (aka no closing off the pattern at the border of the outsole) that doesn't trap in liquid when you step onto it. This way the liquid can be channelled away and allow for more outsole contact and slip resistance.


Durability
Durability refers to how wear-resistant a pair of shoes is. Very durable shoes can serve the wearer well for years, while their less-durable counterparts might fall apart after just a few months. Durability ensures that you get the ultimate bang for your buck - as we mention in our next criterion - but also that you get to make the most out of your pair and the features offered.
Starting with midsole material: most midsoles are made using either EVA (ethyl vinyl acetate) or PU (polyutherane). The first is lighter in weight and has a more cushiony feel, and is therefore used more often and seen as more effective. However, because it is not very dense, it will lose its bounce through time. PU, on the other hand, feels less effective at first but can last much longer thanks to its density. Therefore, what seems to offer maximum effectiveness right now might not keep it up for long.
Another factor that affects durability is the manner in which the sole is attached to the upper. The cheapest, simplest method is to just glue it on. However, this creates a poor seal that can easily degrade and could result in the sole peeling off from the shoe. The more durable option is Goodyear Welting, which is when the sole and the upper are sewed onto a strip of leather along the shoe perimeter. The extra layer of leather results in more support and water-resistance. As well, it renders the soles easily replaceable. This second method costs more than the first, but will also cause fewer headaches
Value
No matter how high-quality, attractive or useful some shoes are, they won't be any good unless you can afford to give them a try. That's why the items on our list are rated based on their affordability - the higher the score, the less money you'll have to spend. But at the same time, you want to ensure that the pair you purchase isn't too cheap.
More often than not, the price of footwear is relative to their quality. The latest innovations and the highest quality materials tend to also be the priciest. When used in a pair of footwear, it guarantees more durability and better performance - but it also hikes their price up. Sometimes, shoes are also pricey just because the brand has a good reputation and knows that customers will purchase it regardless, but that happens more often with fashionable footwear rather than practical athletic footwear.
Because pricier technologies often mean more durability, this means that by purchasing the more expensive pair, you might ultimately save yourself some pennies. The expensive pair might last you for five years and be just fine, while the cheaper pair might wear out after a year and force you to buy a second pair. The price of those two pairs might exceed the price of the expensive pair. Not only that, you'll have to make time to go shopping and go through the picking-out and trying-on process all over again.
In conclusion: inexpensive footwear has its obvious benefits, but pricier options can sometimes be the right decision in the long run. Choose wisely, because if you spend now you might save later!
Expert Interviews & Opinions
Most Important Criteria
(According to our experts opinion)
Experts Opinion
Editors Opinion
Users Opinion
By Default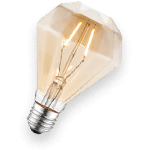 The Future is Coming
While 2018 is a great place to be for technology, we are still on the precipice for many new discoveries. Technology in clothing and footwear is only in its infancy, and as we move more into the future it is predicted that we will see a lot more products hitting the market.
High Tech – High Cost
If you want your shoes to do more than just cover your feet, you need to be willing to spend the extra dollars to acheive that. The more advanced the shoe, the more it will end up costing; so keep that in mind before starting your hunt for the latest and greatest in tech.
Other Factors to Consider


Weight
An ounce or so might not feel very different on your feet when you try on a pair of footwear. However, when you're wearing them from dawn to dusk on a day-long hike, or for hours when out on a long run, that one ounce can begin to feel really heavy. In fact, a light weight is one of the most fundamental characteristics of a comfortable shoe. During the day, lightweight footwear avoids putting extra bulk on your feet, making it easier to walk without stress or fatigue.
Weight depends mostly on the materials used. Materials like leather, sheepskin, and wool are fairly heavy and will weigh you down quickly when used in large percentages. On the other hand, synthetics like EVA, mesh, and microfiber leather are very light. This is why the latter kind is used in running shoes - when you're pounding the pavement, you need as much support and as little weight on your feet as possible.
Keep in mind that some shoe styles will naturally be clunkier than others. Hiking boots, for instance, will never be light. That's because to offer the necessary protection against rough terrain and weather, they must have high shafts, thick outsoles, and heavy materials. On the other end of the spectrum, all sandals are pretty lightweight. But what you should compare is a pair's weight relative to other similar pairs. This is what will ultimately get you the most lightweight and practical shoe.


Responsiveness
Footwear isn't just there to take the blow of each step - good ones will be responsive. They will adjust themselves based on what you are doing, and provide the necessary support at that moment.
The most prominent example of this is in cushioning. When your foot strikes the ground, the cushioning in the midsole is in charge of absorbing and evenly distributing the shock to prevent it from damaging the joints and tendons. When your foot leaves the ground to take its next step, an effective cushioning material will bounce back to its original shape once pressure is no longer applied to it. As a result, you get an additional push from beneath, to boost you as you take your next stride. This ensures energy efficiency and keeps you feeling energized for longer.
What could also be put under this criterion is the flexibility of the footbed. Some materials such as cork and memory foam will change themselves to suit the contours of your foot through wear. The result is a customized fit providing accurate support. By responding to the force of your steps, the shoes are made more suitable for you over time, ensuring long-term comfort and satisfaction.


Bottom Line
This kind of footwear has desirable features that are enhanced and made to better serve the wearer. These features can include cushioning, breathability, and stability. Their goal is to boost performance and ensure comfort by providing the wearer with all the necessary support in all the necessary places. As technology continues to evolve and improve, take advantage of the new innovations and find a pair of footwear to boost you to your next victory - whether that's the finish line, the top of the mountain, or simply your journey to a healthier lifestyle.
Frequently Asked Questions
q:

What does shoe technology mean?

a:

The definition of "technology" according to Merriam-Webster is "the practical application of knowledge especially in a particular area." Shoe technologies thus refer to the innovations in design, material, and manufacturing methods employed in a pair of shoes to provide desirable features.
q:

What is EVA?

a:

You've no doubt seen the word EVA used in our list as well as in the product descriptions of footwear manufacturers. EVA stands for ethylene and vinyl acetate, which make up the flexible copolymer. In this material there are many tiny cells of air that allow EVA to be compressed upon impact. It will rebound to its original shape, but through time it will lose its decompressing abilities. It is used in the midsole for cushioning and shock absorption.
q:

Are these shoes expensive?

a:

When the latest, most effective technologies are used in footwear, their price will naturally be higher than that of the typical shoe. However, through time the price will lower. The price difference should not be too much, and even if it is, the price can usually be justified by superior quality.
q:

Can runners be worn as everyday shoes?

a:

Like all shoes, runners break down over time and become less responsive and effective. Though they are designed to take the beating of pavement-pounding, wearing them every day will make them wear out much quicker. We recommend you save your high-quality runners for your workouts only.
q:

What makes shoes waterproof?

a:

In the 1970s, fabric manufacturers experimented and made synthetic fibres that were one-way water-permeable that could keep rain out while also wicking moisture from the skin. These synthetics are now widely used in athletic footwear. Waterproof treatments can also be applied to originally non-waterproof materials like leather.