Best Squash Shoes Reviewed & Rated for Performance
In a Hurry? Editors choice: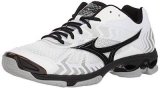 Test Winner: Mizuno Wave Bolt 7

Squash is a high-intensity sport that requires specific footwear in order to keep you safe from injury and performing at your best. To ensure a great training session, you should invest in an indoor court shoe that is designed specifically for the purpose. This means lateral stability, a great amount of traction, a locked-in fit, as well as a cushioned sole.

The game generally demands so much from its players that having the right pair of shoes can make the difference between a successful match and a career ending injury. Furthermore, the best squash shoes will minimize fatigue and foot pain, which are the result of the heavy exercise you will be doing during practice. To help you find the best possible pair of indoor court shoes we've put together the list below, giving you the highest rated options currently available for purchase.

Standout Picks
Criteria Used for Evaluation
Outsole
We like to make specific emphasis on the qualities of outsoles, as they're one of the principal aspects of every shoe. Outsoles are the elements that determine the activities for which a shoe is suitable for. Other materials may be replaced with less suitable options, but the outsole is one of the key pieces that you just can't get wrong.
When we're talking about a sport where stability and firmness are a must, the outsole is something you want to be able to rely on. A shoe that doesn't count with a firmly gripping outsole simply won't work for squash, as the strength and spontaneousness required for each motion are likely to take you off balance otherwise.
Etiquette: Squash is a sport that is played in a very specific court. This means that the shoe's outsole is no longer related to only your performance, but also the court. The space of the court is pretty limited, so the state of the court means everything during a match. Thus, etiquette covers what you should and shouldn't wear inside the box. For the sake of the court, it's expected that all players use a non-marking rubber outsole when playing. The best practice also involves not bringing dirty shoes in the court or cleaning them before entering. Because of this, it's recommended that you use your squash shoes for this purpose only, as using them outside the box will get dirt on them that you may potentially leave in the court.Something as simple as stepping on some grease can "contaminate" your shoe – this not only will make you slip in the court, but it may also make other people slip who use the court after you, as the grease may adhere to the court. Keep in mind that we are referring to this as etiquette and the best practice to follow, but in multiple gyms, these are very strict rules.
Grip: The amount of grip is what determines whether you stay on your feet or you slide away. In an indoor racquet sport, you want to get a firm grip that allows you to make strong movements and take firm steps with stability. When selecting the best squash shoes, we kept in mind that the grip must be able to engage the surface in any position or direction. The grip really depends on the intensity of the movement and the direction the motion comes from originally.Impacting the surface vertically isn't the same as impacting it horizontally. A vertical movement, like the one in running gaits, is the most effective one to obtain a firm grip. However, squash may require sudden movements in which our feet don't necessarily impact the court in a vertical manner. In this scenario, the lack of a multi-directional grip may result in slippage, as the grip won't support a forceful movement in a horizontal direction.
Shock Absorption
Squash is unquestionably a high-impact activity; sudden movements and continuous impact can be extremely harsh on your feet if your shoes lack the proper protection. Most users would normally think that protection regards external physical elements that could potentially damage feet from above. However, in a sport like this, the real threat comes from below, and it comes in the form of shock.
If you've ever been to a serious match, you'll know that there's no time for gentle landing and soft steps when you're in the court. Intensity sports call for sudden movements one after the other, which leaves users with a very small time frame in between each motion – most of which is consumed when predicting and reacting to the opponent's movements.
The force from each impact not only affects your joints, but it also has a direct influence on your durability. Impact makes your muscles, bones, and joints vibrate – this oscillation contributes to fatigue. The greater the oscillation, the quicker your muscles will fatigue.
Overall, there are two components of any shoe that are in charge of absorbing shock:
Midsole: The midsole is generally the element responsible for absorbing the most shock. First things first; there's some controversy amongst performance shoe users regarding the grade of absorption delivered by a midsole. Let us remind you that midsoles won't absorb the full impact of your movements during any activity. No matter how good they are, shoe midsoles up to this day are unable to completely diminish shock (nor are they meant to).Shock works its way up from the surface when your feet hit the ground. The very first element of the shoe that shock encounters are the outsole, which in reality is just the bottom part of the midsole. Technically speaking, the midsole is the first element to deal with shock, but it doesn't mean shock stops there.Depending on the impact force, direction, and inclination of your body, shock may go as high as your spine. While the midsole won't absorb all of the impacts, it will considerably reduce its depth and force. The most optimal materials for this task are those with decent absorbing properties, the traditional material being rubber. However, technology has allowed manufacturers to create lighter materials that deliver similar (and even better) qualities as rubber, such as foam and gel.
Heel Cushioning: The heel is one of the toughest parts of our feet, and at the same time, it's the one likely to suffer the most from the impact. Unlike running and other disciplines in which you can completely control your range of motion, squash involves a lot of unexpected and rushed movements. This means you won't necessarily have time (or you won't be in a proper position) to control the way in which your feet strike the floor.Because of this, some players may find themselves hitting the floor heel first with their shoes. Once again, the midsole plays a role in diminishing the impact, but that doesn't stop it from getting to your heels. Once the shock has passed through the midsole, the obstacle it will encounter is the heel.Shock is reduced gradually as it elevates through your legs, meaning that its most intense point is at the very bottom (when it's generated). This means that the parts of the body that are closer to the floor, such as the heel, suffer more from each impact in comparison to the knees (or any part of the body that is in a higher position).Thus, we recommend looking for a shoe that, aside from an effective midsole, counts with further cushioning support. Having additional heel support has no drawbacks really, so we advise getting as much of it as you can while still being comfortable.
Durability
Performance shoes for intensity sports tend to last much less than your average pair of sneakers. However, the durability of your shoes will finally depend on the number of times per week you use them, as well as the intensity you use them with. Some users would think that squash is a game that could be played with a pair of normal sneakers. While you could potentially endure a match with running sneakers, it wouldn't be optimal for your performance and it would possibly damage your shoes in the long run.
A match of squash won't break a pair of sneakers, but it will place an amount of stress on them to which they're not designed for. Shoes that don't count with enough flexibility, support, and resistance to shock are not suitable for the court, as the materials are likely to degrade or overstretch. There are multiple features that a shoe should count before being able to endure consistent and intense performance.
Materials: The right combination of materials is one of the requirements for a durable pair of shoes. This sport requires materials that can undergo a lot of tension, as well as endure sudden and forceful movements. Normally, the frame of a running sneaker is not designed to be twisted in all directions in a short time-lapse. Rigid construction is required in order to keep every element of the shoe in place regardless of the tension the shoe is undergoing. The lack of firmness may result in the frame of the shoe losing its original form, potentially affecting the rest of the elements and its performance in general. For the bottom part of the shoe, the ideal material would be one that is not quickly consumed by friction. When playing, the outsole of your shoe degrades gradually as friction wears away the bottom-most layer of the shoe. Rubber, for example, is a material that perfectly fits these qualities.
Purpose, Frequency, and Intensity: The way in which you use your shoes is what has the biggest impact on its durability. Leaving brands, designs, and materials aside, it's important to take into consideration the amount of activity you'll give to the footwear. As it would be logical to assume, the more you use the shoes, the faster they degrade. A beginner that plays once or twice a week recreationally won't see any changes in their shoes for a prolonged period in comparison to recurrent players. However, visiting the court isn't an influencing factor alone – it's what you do within the court that matters the most. Competitive players are likely to play and practice with much more intensity than recreational users. Moving faster and with more force results in faster consumption of the shoe materials in general, which may not necessarily be the case for recreational players.

Professional-level equipment is much more resistant and durable than standard footwear, but that also means it's more expensive, too. Beginning users may not want to opt for the most optimal pair of shoes, but rather a simpler pair that is also cheaper. We recommend that users new to the sport grasp the techniques and proper practice before making an investment in professional-level footwear. If you're serious about your performance, then you might want to consider expanding your budget to get the most effective pair of shoes. Not only are they more efficient, but they'll also last longer under intensive usage than an average pair. Footwear alone won't make you a pro, but professional equipment is necessary if you want to reach your true maximum potential.
Comfort
All sports require you to wear footwear that's not only made with the required performance features, but that also fits well and is comfortable enough to wear for prolonged periods of time where your feet will be doing a lot of intense work. Indoor racquet sports include a lot of running from side to side, quick stops and starts, and changes of direction. That means that a pair of shoes that don't fit well and comfortably can present serious issues that can even result in injury.
For the best possible results, we recommend looking at the materials the shoe is made of before purchasing. What you need to look for is a soft material in touch with your foot, such as mesh, but a lot of supportive overlays that'll lock you in, and offer a snug fit that won't allow your foot to move inside the shoe, no matter in which direction you are moving.
Furthermore, you should look out for any friction or rubbing inside the shoe, as these will only get worse once your foot has started to swear and is swollen from exercising. If possible, look for seamless footwear, or that which does not cause any discomfort when you first put it on. Wear the right pair of socks, preferably ones with moisture wicking capabilities, and if necessary, use preventive measures to avoid getting blisters.
Breathability
Squash is a forceful practice that involves a considerable amount of rough feet movements. These movements generate a lot of corporal heat that gets trapped within the shoe if it lacks a breathable build. Furthermore, closed courts make it really easy for heat to accumulate as they normally lack any form of ventilation or circulation of fresh air.
Heat accumulation is guaranteed to start building within your shoes if there are no breathing panels. This is bad for a list of reasons, the first one being an excessive stimulation of sweat. Your feet will inevitably sweat when performing at high intensity, and this can contribute to the development of bacteria in the shoe that can cause bad odors, bacterial and fungal infections, and more serious issues down the road.
The best squash shoes should have some manner of allowing air to flow freely within the shoe. These areas are usually located around areas were heat concentrates more commonly, such as the toe box, side panels, and the upper foot. Look for footwear that has either mesh panels, or a perforated upper. A moisture wicking lining is also a good option, as it will draw sweat away from your foot, leaving it dry and cool for a longer period of time.
Top 10 Squash Sneakers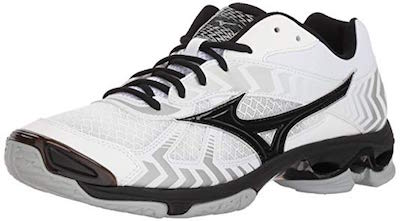 Originally made for volleyball players who need a good amount of traction on indoor courts, this is a pair of squash shoes that will do great for racquet sports played on indoor courts. It features Mizuno's Wave technologies that give excellent stability and cushion for rapid lateral movement, an Airmesh upper that's breathable and moisture-wicking, and a removable insole that allows you to customize the level of support you get from this shoe.
Mizuno's Wave technology brings innovation to shock absorption through their unique wave plates that work to disperse the shock from landing, preventing it from traveling up your leg to your joints. When the impact is absorbed through a larger area of your foot, your movement remains more stable and centered, keeping you on the shoe's platform and preventing injury.
The outsole of the Wave Bolt 7 was specially made with a Dynamotion Groove pattern in order to give the best possible traction, while allowing for a good amount of flexibility, so you can move on the court without being held back by your squash court shoes. Boasting an average price compared to the other items on this list, the Mizuno Wave Bolt 7 is a good investment for those who need good shock dispersion, and are looking for a reliable shoe. Being made for indoor courts, specifically for lateral movement, they can even serve for other sports practices, including volleyball, pickleball or even badminton.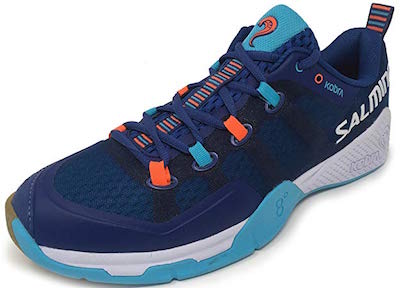 Made with some of the most advanced technologies you can find in a shoe, the Salming Kobra 2 is made for high performance and safe, comfortable lateral movement. The upper is made with a perforated, mesh-like material that's supported by an exoskeleton, giving you the assurance you'll have just the right snug fit you're after. A leather toe overlay, with the rubber toe guard, ensures the longevity of this shoe, giving you a pair of footwear that'll wear evenly in all areas.
On the inside portion of the sole, the Kobra 2 features a Rollbar that allows better push-off and prevents too much torsion. On the outer part of the sole, on the other hand, the shoe makes use of a Lateral Movement Stabiliser+ band, that won't allow you to roll your ankles outwards, saving you from injury and time off the court.
The heel of the Kobra 2 squash shoes features SoftFOAM that absorbs shock from landing, while the entire midsole is made with Energy Rebound Foam that cushions and provides great energy return, allowing you not only to play for longer but also to feel less fatigued at the end of every match. With a steep price that's telling of its quality, the Salming Kobra 2 may be a bit too expensive for most players' budgets. Nonetheless, if you're a true aficionado, and need something top quality to wear during your training and matches, then this is one of the best squash shoes you should definitely check out.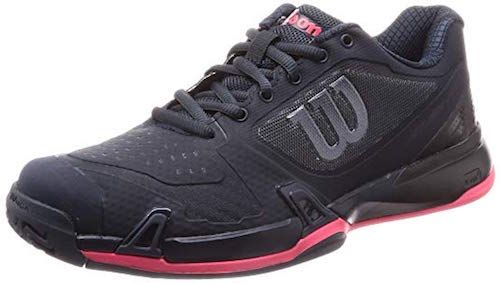 If you're after squash shoes that are used by some of the top athletes, then trying this model by Wilson is highly recommended. The Rush Pro 2.5 comes in a variety of versions, including a platform one that was made for playing on wooden surfaces that require a special sort of traction (the exact kind you need for volleyball and indoor court sports). It's a fairly simple model in terms of design, with three color options, but what sets it apart from the others listed are the technical features.
First and foremost, the outsole on the Rush Pro 2.5 squash shoes is a denser type of rubber that is more durable on this type of surfaces, seeing that it's abrasion-resistant. A classic herringbone pattern will ensure proper grip, and the Pro Torque Chassis will provide the required stability during lateral movements, as it prevents any type of torsion within the sole unit.
A 6mm heel to toe drop ensures excellent court feel, while cushioning technologies found in the Pro Rush ensure both shock absorption, as well as explosive energy rebound that keeps both acceleration and deceleration in mind. A Sensifeel upper layers mesh with no-sew synthetic overlays that ensure a comfortable fit, and generous padding in the collar area allows you to wear these squash court shoes without having to worry about rubbing at the back of the heel. Being a model made for high-level performance, it comes at an affordable price that is around average compared to the other items listed.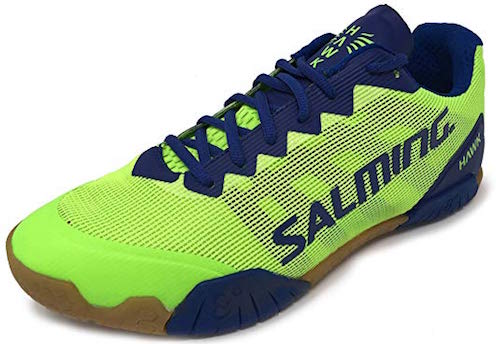 The thing about this brand is that their main focus is on footwear made for sports that are played on indoor courts. These include badminton shoes, handball, floorball, volleyball and others, as well as an entire line of products made for squash players. Thus, what this guarantees is that if you decide to purchase the Hawk, one of their highest performing models, you will receive a product that was made with all the details that can help bring your game to the next level.
The Hawk squash shoes are a relatively simple model with a colorful, eye-catching design. It features a low profile that helps you remain connected to the ground, increasing stability and grip, with a hexagonal traction pattern on the non-marking rubber outsole. On the outside portion of the sole, at the heel and metatarsal area, there are two LMSplus 8° areas which increase lateral stability, and prevent skidding when moving in a lateral pattern.
The midsole uses Recoil Energy Rebound Foam which absorbs the force generated on each landing and returns it to you to make your next step more explosive. The heel uses SoftFOAM for a higher level of cushioning, and you get overall comfortable wear on the whole. The upper in these squash shoes is constructed with four layers of mesh and an internal support system that's highly breathable and helps moisture elimination during and after playing.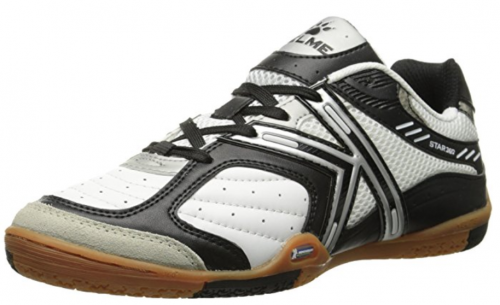 Kelme originally designed this shoe for indoor soccer, but it acts as a great shoe for indoor racquet sports as well, with its sticky rubber and traction patterned sole. Teaming up with Michelin, the Kelme Star 360 which encompasses the performance attributes of squash court shoes with Michelin's brilliant rubber technology. It's almost like performance tires were designed just for your feet to make a beastly machine on the court.
The Kelme Star 360 was made to last. Durable yet flexible leather uppers provide unique support for lateral movements and will conform to your unique foot shape over time. Michelin rubber technology is evident in the sticky sole, additionally patterned to provide supreme grip and traction. The Kelme logo along the instep and outsides will give additional structural support gives some further arch support for long days on the court.
Along with outstanding performance construction, this shoe comes in a myriad of color choices and combinations, giving that extra flair to the shoe's styling. The sole is composed of complimenting contrasting colors, so be sure to select one that won't leave court marks! For sophisticated styling, Michelin traction, and a supportive shoe, this is also budget-friendly and one of the best buys on our top 10 list. With its unique leather upper design for durable function and support, and tacky grip, it's a must-have for any squash player.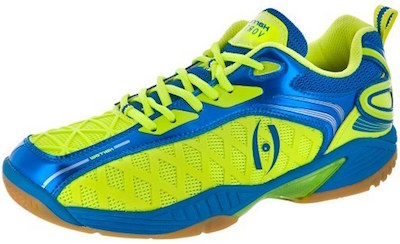 The Harrow Vortex is a squash court shoe made for the athlete who wants plenty of tech features, but is looking for a price that's affordable. Made with a mesh upper for breathability, these squash shoes have rubber overlays that give just the right amount of flexibility, without sacrificing midfoot support. This is one of the rare pairs of footwear designed for squash, which means that you'll be getting your money's worth if you decide to go with this model.
The Vortex is made with special attention to the arch area, where you will need a good amount of stability. It's a shoe that'll offer the right level of support, so you can rest assured your feet will be properly aligned, not only preventing overpronation, but also making you safer during those quick lateral movements.
Not many squash court shoes will feature a pull tab at the heel, but the Vortex takes the ease with which you will be able to put these shoes on into consideration during the design process. Featuring a classic lace closure, this is a shoe that'll allow for a customized fit, that can provide a locked-in feel, and it's even a good option for those with wide feet. Ranking slightly above average in terms of price, the Harrow Vortex is a good option for those looking for a shoe made specifically for the demands of indoor racquet sports. It comes in a variety of colorful designs, adding a bit of a pop to your workout outfit, and performs just as you'd expect a top rated shoe to do while playing.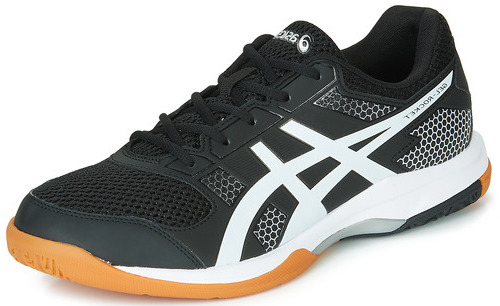 The GEL-Rocket line by ASICS was originally developed to be used by volleyball players, but it wasn't until long that other athletes found out about it. Commonly used on indoor courts, both for squash and badminton, these squash shoes are often the first choice of those who want to take their game to the next level, but without spending a fortune. The latest edition, the GEL-Rocket 9 is a continuation in the direction the previous models headed in, and is an overall good choice for a number of users. It comes in three simple colorways, all of which look great.
The technology behind the GEL-Rocket 9 is the same you will find in the brand's most successful products. For one, the name comes from the forefoot GEL cushion that absorbs shock upon impact, while an energy returning EVA midsole increases comfort levels. Torsion prevention and lateral stability are ensured by the Trusstic System that doesn't allow twisting in the shoe.
The outsole is made with non-marking gum rubber with a multidirectional traction pattern that will grab indoor surfaces, and the fact that it's a flat surface further increases stability. The sockliner is padded to mold to the foot, and the footbed is removable, so it can be replaced with custom orthotics. To top it all off, the upper combines mesh with synthetic overlays for a breathable, yet durable wear. In terms of price, this is one of the more affordable squash shoes on this list.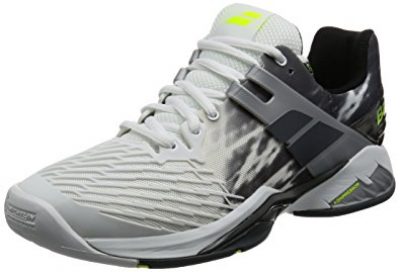 Babolat is well known for their racquets, but did you know they make quality performance squash shoes as well? The Propulse Fury is packed full of features to keep you pounding away on the court. From its durable comfort and Active Flexion technology to its Shield technology for reinforced support and structure, this squash shoe is made for competition.
Babolat packed this shoe full of its S-Shield, Pro-Shield, and Soft Shield technology, designed for high-performance support where you need it most for lightning-fast changes in momentum and pivoting. Combined with Active Flexion technology designed to alleviate pressure points in key areas of the foot, you'll surely feel the difference during matches on the court.
Designed to be durable, the outsole comes with a warranty, so rest assured the Propulse Fury squash shoes can take a beating. Sticky patterned tread on the sole helps give additional traction to the rubber sole, and its unique design gives additional arch support where you need it most. Lateral movements won't wear down the sides of the sole either, as it runs the length of the shoe, and the uppers are designed to support the structure of the shoe all the way down to the side of the sole. More expensive on our list, the Babolat Propulse Fury is designed for veteran players, who require a solid performance shoe. It's a solid investment if you're looking for something with superior traction, all around support, and performance qualities needed for tough days on the court. Competitors will notice a difference with this shoe, and may not go back to another brand once the Propulse Fury is worn!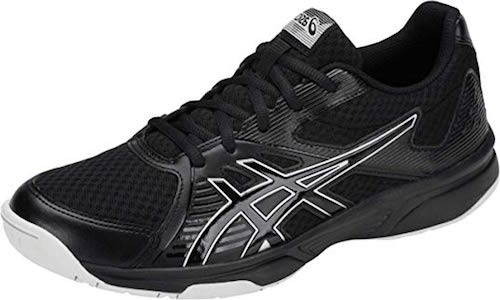 Another volleyball model by ASICS that has become a favorite among those who need to train on indoor courts, the Upcourt 3 is suitable for a number of sports. Due to the low price, it's ideal for those just getting started with this type of activity, while providing all the technical features you will need for quick lateral movements that are required from you in a game of squash.
The Upcourt combines mesh for breathability with synthetic overlays that wrap around the midfoot for stability. The toe section is protected by another layer of synthetics, as is the heel, with an external cup that ensures a locked-in feel that will help with attaining the best possible fit. The classic lace closure and padded mesh tongue are tried and tested features that have become an industry-standard in this type of footwear.
The midsole of the Upcourt squash shoes features simple EVA foam which is lightweight and shock-absorbing, while a 10mm heel to toe gradient puts your weight on the forefoot, reducing strain on the limbs. The sockliner is removable and can be replaced with custom orthotics (in case you need a high level of arch support), and the color options are fairly simple, with black and white versions being available.

10

. Adidas Barricade Club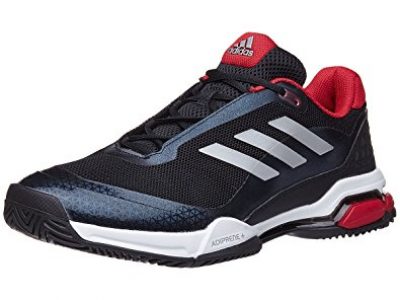 Adidas has created performance quash court shoe with its Barricade Club model. With added insole support for comfort and a rubber sole for traction, it's also quite a stylish sneaker. Adiprene lies under the heel for extra cushion, and Adidas brings its Torsion System technology in the midsole for quick lunging movements. Designed for lateral quick moves and changes in momentum, it's perfect for practices or heated matches on the court.
The Barricade club squash shoes boast of a thick rubber sole, giving traction along with superior shock absorption during impact. Pivoting is unhindered, allowing quick swings and powerful strokes without sticking too much to the court surface. Careful when selecting your color options as some may have black soles!
Designed for maximal support and comfort, the Adiprene heel cushion and toe to heel cup arch support will keep your feet feeling fresh throughout the time spent on the court. Adidas' Torsion System keeps some structure in the midsole for lunges forward or back without compromising propulsion or shoe integrity. Made from textile and mesh for breathability, your feet will feel cool even during the hottest of days. Running slightly more expensive than others on our list, these squash shoes are still a great purchase for all the technology, support, and cushioning found in the Barricade Club shoe. Traction found in the thick rubber sole combined with stability in the midsole is perfect for fast-paced matches.

Subscribe to our Newsletter