Best Galaxy Shoes & Space Themed Footwear Reviewed
In a Hurry? Editors choice: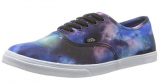 Test Winner: Vans Authentic

You may be wondering how to find the ultimate spacewear that's totally suited to your style. Which is exactly why we've written this guide to the best of the best galaxy shoes. After careful research and review, we have narrowed it down to ten of the top choices to present you with.

Continue reading through our list to see the highest-ranking galaxy shoes and don't forget to have a look at the Criteria section that explains the reasoning behind our selections. We have also included answers to some of the most frequently asked questions on the topic to present a fully informative look into the unknown.
Standout Picks
Criteria Used for Evaluation
Brand
When it comes to footwear, branding can be an important factor. Unfortunately, not every manufacturer out there puts in the effort to produce high-quality products, which means you could end up unhappy if you decide on a pair that's poorly made.
That's not to say that only big names like Nike and Vans make good quality items; there are tons of smaller brands who craft footwear that's comparable to these companies. When it comes to galaxy shoes, some of the lesser-known names produce the best pairs available.
As you've seen on our list, InterestPrint is one of the smaller manufacturers who creates stunning options. Take the time to research the name behind the design so you don't end up costing yourself more money by purchasing poorly made footwear from the start. The galaxy shoes represented on this page are proven to be made durable and are designed for comfort as well as appearance.
Style
Galaxy shoes come in all sorts of styles ranging from flats to sneakers, and wedges to stilettos. There are no limits to the sort of shoe that can have a starry pattern imprinted on it. The pairs included on this page represent a wide array of styles to include the full spectrum of options available. If you're unsure if the universal footwear is the right style for you, then you might be surprised by what you've seen. Some of the popular styles available are:
Sneakers
High Heels
Flats
Basketball
High Tops
Low Tops
Sneakers are an athletic type of footwear designed for wear while you're engaging in sports or other recreational activities. That's not to say that you can't wear a pair of sneaks while you are cruising the mall for a day, or while you're grocery shopping, because they're perfect for those kinds of low-key activities too.
High heels and flats are generally worn by ladies, though girls are often found wearing flats for their easy wearability and comfortable foot feel.
Basketball shoes come in two styles, a high or low-top. All of these styles of footwear can be found sporting a space-themed pattern or print.
Adjustability
There are several types of closure systems that are available in galaxy shoes, including hook-and-loop, adjustable buckles, laces, and zippers. Each style offers its own benefits and drawbacks.
Hook-and-loop closures are most widely known as Velcro and are popular for children's footwear for its easy functionality. When you're in a hurry and don't want to be fussing over complex closures, a Velcro is a real life - and time - saver.
Laces offer a good level of customization. With a full-length lace-up closure, you can easily adjust the fit of the design to however tight or loose you'd like it to be. The downside to laces is that they take a bit of time to tie, and they can also come untied, or become bothersome in terms of length.
Adjustable buckles are popular for ladies' footwear, in part, for their stylish appearance. They also offer a decent level of adjustability, though not as much as laces, since you are limited to the predetermined number of holes on your strap. However, this is a good way to secure your foot in a sandal type design.
Finally, while zippers are easy to use, they aren't particularly adjustable in terms of how tight or loose they fit. They're stylish and serve as an easy way in and out of the shoes, but, with them, you won't be able to adjust the fit to your liking.
Comfort
As with any style of footwear, comfort is a big deal for galaxy shoes, too! Uncomfortable or poorly fitted shoes can lead to friction in certain spots, eventually causing painful blisters. If you don't have proper support and cushioning, then you're predisposed to all sorts of problems pertaining to the feet, legs, hips, and back.
Your footwear should provide supple padding that's still firm enough to support the delicate arch area. When we walk, waves of shock travel through our feet and up our legs causing pain and fatigue. Wearing a pair of galaxy shoes with good cushion and support will absorb these waves from every step, which effectively prevents a whole lot of unpleasant conditions.
For people with a wide foot, it's always best to opt for a rounded toe rather than a square or pointed. Rounded shapes offer far more room to wiggle those toes in and to prevent pressure at the sides.
Another consideration is the soles; there is both an insole and an outsole, each serving a unique purpose. The insole is where your foot rests and is the biggest contributor to how comfortable you are. Supple yet slightly firm cushioning is the best choice for the insole, with EVA being one of the better materials.
An outsole protects your foot from the ground beneath it and provides traction for walking on slippery terrain. The outsole needs to provide some form of tread or lug pattern in order to be able to grip the surface beneath it, with rubber being the best choice of material! It's waterproof and grippy, making for a secure and pleasant wear.
Color
When it comes to cosmic prints and patterns, there are all sorts of differences between them. Things like colors, specific landmarks or planets, whether the moon or sun is depicted, even the number of stars included. All these things can completely change the overall appearance of galaxy shoes.
Other factors include the materials that will serve as the backdrop and how much of the shoe will be covered. Some people prefer the pattern to be stretched over the entire upper, while others prefer just certain areas. Many individuals like to have intergalactic imagery along the backside of the shoe, above the heel.
If you're looking for a pair of galaxy shoes to wear for a more professional setting, try opting for one with space-print along the footbed. This way it will be much more discrete and will barely be noticeable. Or you could opt for a small bit of pattern along the heel of the shoe.
In our list, we ranked the galaxy shoes according to how well they showcase the print in question. At the top, you will find the options which are loud and proud in their spaciness, while at the bottom you will find more subdued designs which can be suitable for less casual environments.
Our Favorites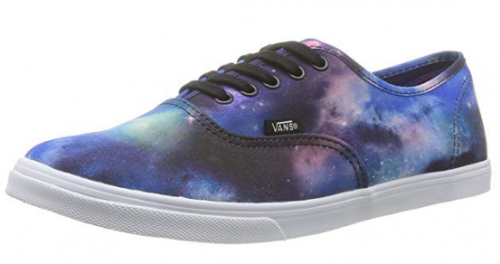 Vans has managed to universally unite people through their apparel so it's fitting that they have released a pair of galaxy shoes. The Vans Authentic is a skate shoe with some serious kick! Its name was born straight from the mouths of skaters over the generations who praise Vans' commitment to both skate and surf cultures. The Authentic boasts a minimalist design and a low-top frame with a durable canvas upper. These galaxy shoes are breathable and lightweight, making them ideal for boarding or for cruising the streets in style.
The Authentic features the Vans Signature Waffle Outsole that's made from slip-resistant rubber. These soles have a unique waffle tread pattern that provides superior grip on any terrain, even wet or slippery surfaces. The rubber material is water-resistant and long-lasting so you can keep on trucking in these Vans for ages to come.

If the Milky Way is your thing, then grab a pair of these galaxy shoes while you can! They have a cool space pattern imprinted over a lightweight canvas upper and five reinforced metal lacing eyelets. The classic Vans logo is displayed at the side and they have a statement white outsole that offsets the darker themed upper.

The sneakers come fairly cheap, considering the brand power behind their design. Crafted from quality materials and featuring the Vans Signature waffle outsole, these galaxy shoes are well-worth the price. Look as cool as you feel while rocking a pair of these modernized classics.

2

. Advocator Walking Sneaker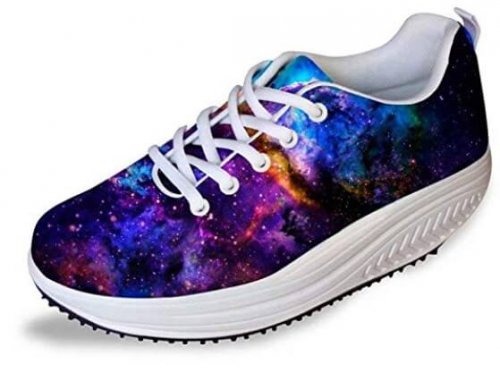 If you're spending a lot of time on your feet, if you're constantly on the move but still want to express your love for all things cosmic, then the Advocator Walking Sneaker is a perfect choice. This pair of galaxy shoes is comfortable enough to wear for as long as you want and it keeps you supported, light on your feet, and doesn't let you tire out over the course of the day.
The Walking Sneaker has an upper made from mesh. This type of material is not only lightweight and breathable, but it also provides a sock-like fit. The sole is the rocking type, which takes the form of your foot for a personalized type of comfort. The arch support found in the Walking Sneaker reduces fatigue and its thick soles are perfectly cushioned for an active lifestyle.
Now you don't have to part from your galaxy shoes while you're engaged in your favorite sports activities! The Walking Sneaker from Advocator is here to provide maximum cushioning, support and breathability as you work on enhancing your performance, be it walking, hiking, or even running!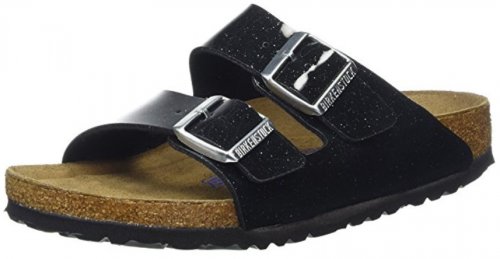 The German footwear brand Birkenstock has been around for over two centuries, and it's not going anywhere any time soon. One of their most famed designs is the Arizona, a sandal that perhaps isn't the most fashionable, but is definitely one of the most comfortable, and which keeps millions of people happy around the world. It also comes in this sparkly night-sky version that we think perfectly fits the theme of this guide.
The Arizona has an upper made from Birko-Flor. This is a Birkenstock-specific innovation that is a synthetic material which resembles leather and has soft backing that doesn't rub your skin the wrong way. The upper has two straps which are fully adjustable to the shape of your foot. It goes without saying that the Arizona comes with the legendary Birkenstock cork footbed. This footbed has pronounced arch support and a deep heel cup, as well as a spacious toe area. It conforms to the shape of your foot sole over time and provides you with the most addictive type of comfort imaginable.

There is hardly a person on this planet who doesn't love the Birkenstock. While many may consider it an ugly design, it does carry a specific sort of charm with it, one that drew many a fashion blogger to include it in their everyday collections. If you're looking for that go-to summer pair of galaxy shoes, don't hesitate to reach for the wonder that is the Arizona!




If you're not ready to go for something casual and wish for a design that is more fashion-forward, more on-trend, then you can't go wrong with the Onlymaker Flat. This gorgeous pair of galaxy shoes come with all the cuteness of the silhouette. It has a round toe for comfort and is great for when springtime rolls around!
The Onlymaker Flat is made from - drum roll - patent leather! That's right, these galaxy shoes are made from premium materials that will provide you with superior breathability, durability, and a very personalized type of comfort. They have a dainty bow at the front for a touch of interest, and a micro heel in the back. The outsole of the Flat is made from rubber to protect you from accidental slips and falls.
We're in awe of the quality of materials that go into the construction of these galaxy shoes. The Onlymaker Flat is great to pair with both skirts and dresses and shorts and skinny jeans, and you will look equally stylish in all of them!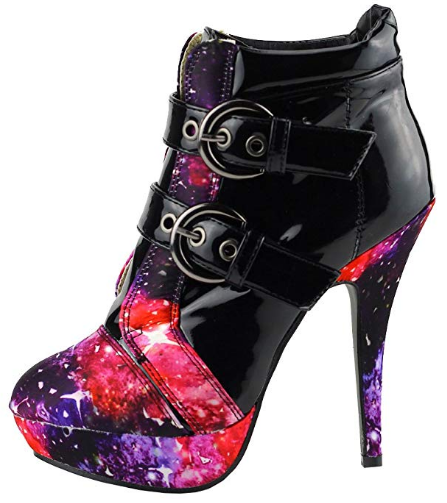 This Show Story heel represents the starry sky at night and is a gorgeous pair of galaxy shoes. The Night Sky has a stiletto heel and platform rise for the kind of lift you've been looking for. Its padded footbed prevents foot fatigue and keeps you feeling good for hours on end. You'll love how tiny your feet look thanks to its rounded toe which minimizes the size.
The Night Sky has two adjustable straps at the front which are as practical as they are stylish. Feel more secure knowing that you can tighten these stilettos just the way you like to and forget about floppy heels. Its stunning 5-inch stiletto heel and 1.2-inch platform give some serious lift and make for a sultry look you'll love.
These Show Story heels come with a cushioned insole that prevents fatigue and foot pain. The padding protects the delicate underside of the foot, preventing discomfort in the arch which is common when wearing high heels. Their double adjustable straps allow for a customized fit, making them mold perfectly to your foot for a super-comfy and well-balanced ride.

These cosmic pumps offer a unique and stylish silhouette along with a comfortable foot feel that you'll never want to take off.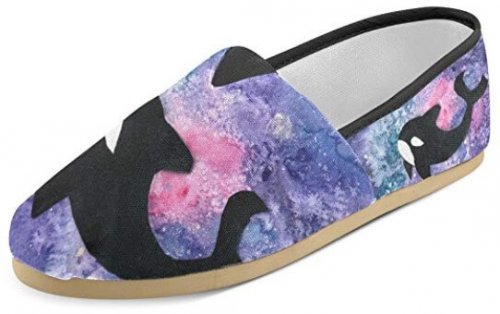 Have you ever thought about combining marine life with space? No? Well, D-Story thought of it for you. These lovely, whimsy slip-on flats not only carry a galaxy print on their upper but also have cute decorations in the form of orca whales on them. These galaxy shoes are the ideal warm-weather option for when you don't feel like exposing your toes but want to keep cool and comfortable.
The D-Story Flat is made out of lightweight textile for the upper and has a pleated square-shaped toe reminiscent of the TOMS sneakers. There is an elastic insert at the top which stretches to accommodate a foot of any shape. The insole of the Flat is made from suede for a luxuriously soft feel, and it's also cushioned for a comfy ride. The outsole is made from mixed rubber, meaning it is amazingly slip-resistant.
The style of the D-Story Flat may not be for everyone, and it is certainly not suited for the workplace. However, if you are drawn by this unconventional combination of orcas and space, don't hesitate to reach for these light, cheerful galaxy shoes!

7

. Bobs by Skechers Plush Cats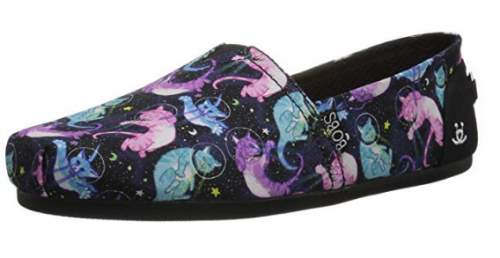 The Plush Cat from Bobs by Skechers is a comfy slip-on shoe. It features a breathable and lightweight canvas upper unit and funny cats-in-space print. If you're looking for a casual pair of galaxy shoes to keep your feet feeling their best then these are what you've been searching for. They offer a flexible silhouette and low-key frame. The Plush Cat is a great choice for nursing staff or teachers thanks to its overly comfortable foot feel even after long hours of wear.
These Bobs are made with a padded memory foam footbed. Memory foam molds to the contours of the foot and retains an imprint of its shape. This means that every time you slip into a pair, they will fit you perfectly. You'll love the one-of-a-kind foot feel they offer!
This pair offers a rubber outsole that provides steady grip on any surface, even wet and slippery ones. The rubber is flexible and moves with you for a natural feeling. These Bobs are made for those of us who spend hours moving about and who need a little something extra for their feet.

Bobs by Skechers Plush Cat is definitely a budget-friendly pair of galaxy shoes that provides a tailored fit for extreme comfort. Your feet will thank you when the days are done, so go ahead and slip on a pair of Bobs.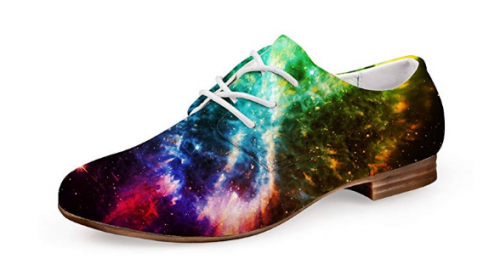 The Bigcardesign Oxford is made with a fibrous upper unit and rubber outsole. Its EVA footbed provides excellent comfort while its lightweight build lets you flounce about with ease. This pair of galaxy shoes is perfect for walking or other outdoor activities thanks to its breathable design.
This Oxford offers an incredible fit. They're true to size and provide a perfectly snug fit around the top of the foot which prevents slipping or sliding around. It has front laces that allow for a customized fit and is good for walking thanks to its breathable materials.
The Oxford comes in over ten variations of cosmic prints and colors. They're stylish enough to wear to almost any occasion and are a pleasant change from the same old looks. This pair is styled after the oxford design which is professional and sleek in appearance.

These galaxy shoes offer a cool and original take on the usual oxford design and are super-comfortable to wear. The next time you're looking for a mix of professional and casual, these are a great all-in-one choice to step into.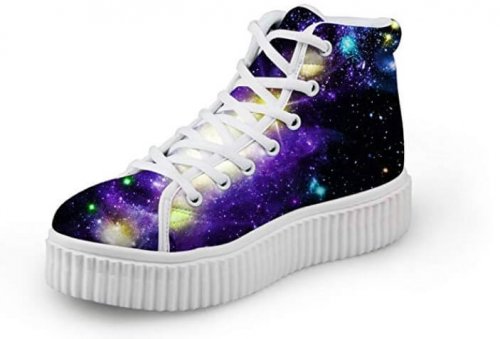 Another sneaker in our arsenal, the Hugs Idea Platform is a play on the well-known creeper silhouette. It is a high top style with a platform - or a flatform, should we say - sole, which provides both a boost in height and a boost in the coolness factor. It comes in a multicolored galaxy print that makes us swoon, and we can't wait to get our hands on these amazing galaxy shoes.
The Hugs Idea Platform is constructed from polyester, which is an entirely synthetic material. The benefits of polyester are that it is exceptionally durable and exceptionally colorfast. This means that the colors on the Platform will remain vibrant for a long, long time. For comfort, this sneaker has a shock-absorbing EVA midsole, which is thick but it is also lightweight. The outsole is non-slip, making sure you keep your balance on any type of surface.

The Hugs Idea Platform offers something new in the classic sneaker design. It is perfect for reinventing your style and playing with new silhouettes, and it may even become a staple piece in your wardrobe - you never know! Either way, you shouldn't be afraid of embracing the unconventionality that is the Platform, and we encourage you to give it a go!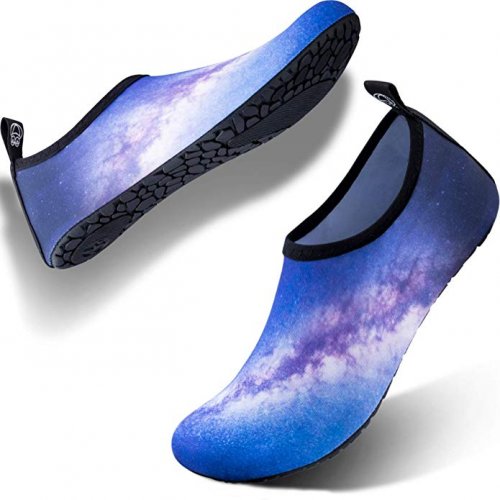 The Simari Water is a space-themed aqua shoe designed for those who love the water as much as they love space. Simari paired a comfortable upper that dries quickly and is completely breathable with a non-slip sole, making it perfect for the beach or the pool. These galaxy shoes are lightweight, easy to clean and will keep you safe no matter where you wear them. The manufacturer is so confident you'll love this product, they even offer a 30-day money-back guarantee.
The upper is constructed from materials typically found in diver shoes, making them breathable and quick to dry. The neck of the shoe has been smoothed to prevent chaffing and blistering, and the soles are made of TPR for increased durability and strong traction. Simari stands by the quality of their product and they offer an unconditional 30-day money-back guarantee, should you not be satisfied with their aqua shoe. If you have passed the 30-day mark, you are still covered with a limited one-year warranty, protecting you against manufacturing defects.

At a lower price-point, you can't go wrong with these aqua galaxy shoes. They offer a wide variety of uses, including kayaking, swimming and beach volleyball, meaning you can wear them again and again.

Subscribe to our Newsletter