Best Etnies Shoes Reviewed & Rated
In a Hurry? Editors choice: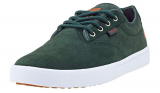 Test Winner: Jameson SLW

Ripping through a parking garage with no skating signs up is one of the many joys of being a rebel without a cause. Landing a new trick after falling down a hundred times makes this sport one that is created for only the most spirited and stubborn among us. Concrete scrapping and scratching footwear is part of the process. Even the most experienced will find their footgear destroyed with holes forming and soles ripped apart. This is why longevity matters when purchasing attire for such aggressive sporting. Durable double stitching, reinforced leather, and gum gripping bottoms will create a dependable item that can stand up to even the most difficult skate parks.

Etnies has a long history of being a brand extreme sports enthusiasts can trust. This is the first brand to actually be owned by a renowned professional skateboarder. Etnies is a play on the French word for ethnic giving a nod to the emerging subculture that formed around extreme sports, such as, biking, skateboarding, and etc. Skateboarders are a tribe, with their own culture and family. This brand has partnered with some of the major skateboarders known in this community and constantly striving to provide the best attire for durability, balance, and surefootedness that many skaters need.
Standout Picks
Criteria Used for Evaluation
Durability
Any item that is designed for skateboarding is going to have to take a lot of abuse. There are a couple of features that must be present to ensure the longevity of footwear. The stitching must be at minimum double stitched and the rubber outsole should be stitched (not glued) to the upper part of the shoe. If the bottom is just glued on it may fall apart faster because that kind of construction isn't usually designed to take so much stress. Elastic goring around the heel or the tongue is important to keep that particular area from moving around. A shoe used for an endeavor like extreme sports needs to stay firmly in place. Details such as reinforced metal shoelace holes are really important. Usually, the hole will rip easily is it is not fitted with a metal ring. The rubber on the bottom of this kind of footgear and toe cap should be vulcanized for stronger more flexible rubber. If the rubber is rated 300 lbs or greater this will be more than enough to ensure a very sturdy bottom. Extra overlays on the fabric exterior will protect against holes from forming over time. Durability is one of the most important factors when an item is chosen for a sport that will inevitably put a lot of stress on an item.
The materials with which footwear is crafted also contribute to the durability over time. Leather or suede materials tend to hold up better against wear and tear, dirt and mud, than their lighter material counterparts, like mesh or cotton, will. Considering just how much footwork is needed for skateboarding, it's best to invest in something made from durable leather or suede.
Shock Absorption
Most footgear that is used for sports needs to have some measure of shock absorption. Gear that is created for this specific sport needs to have a little extra absorption and energy return. This is because a sport like this thrives on kick-flips, high jumps, and hard landings. All the impact will be taken into the knees and ankles if it is no absorbed and returned. The bottom should be thick but the midsole is where absorption shines. When the midsole is fitted with open-cell PU or an EVA midsole, will create an environment where energy can be absorbed and returned, resulting in a little extra springiness and ease during activity.
Not only will this kind of construction help you to perform better for longer, it will save those joints used most in the long term. Having a thicker sole like many skate shoes have, this contributes to the absorption of impacts as well as helping to keep you firmly planted.
Flexibility
An item that offers extra flexibility will depend on the construction of the entire product. The interior of an item cannot be overly tight but allow some breathability because demanding sports will cause the foot to sweat profusely. The fabric used in a shoe needs to not only be strong but be flexible for ease of movement. Another aspect to look for is a rubber bottom that is strong and offers flex for more intricate movements. The bottom of footgear should not weight down the foot but rather be balanced and lightweight. The heaviness, toughness, and pliability of the outsole are what will be considered when determining if a shoe is crafted in a superior way.
The very way your footwear is designed can also influence flexibility. When executing more complex moves that require ankle mobility, a low cut style may help you maneuver better. However, keep in mind that low cut styles also will not give ankle support that other designs have, so they may be best for those who don't require extra support.
Overall Fit
The balance between an item feeling firm and an item feeling too tight is delicate. Many Etnies actually have a very narrow sleek build. Those with wider feet may need to order half a size and at times even a full size up. Taking this into consideration typically this product will feature an egg-crate design that makes the foot almost feel as if it sinks in, being totally surrounded and supported. Another clever design element when it comes to fit is the die-cut insole. This kind of insole increases the firm feel of attire. Other features, such as elastic goring and elastic heel straps are designed to increase a stable fit.
Protection
Whether a skater is a pro or an aspiring novice protecting the foot is very important. The feet are what is used as a foundation for life but when practicing an extreme sport that foundation is constantly being put in positions of instability. The amount of traction an outsole offers will be a factor as well as a secure fit. The toe of the shoe and ankle both need to be reinforced for protection against hard surfaces that tend to scrape and scratch attire. The collar of an item and tongue will need to have extra padding as well. The extra padding in this area is important to protect ankles, not only creating a very firm fit but creating a shoe that can stand up to constant wear and tear.
Top 10 Picks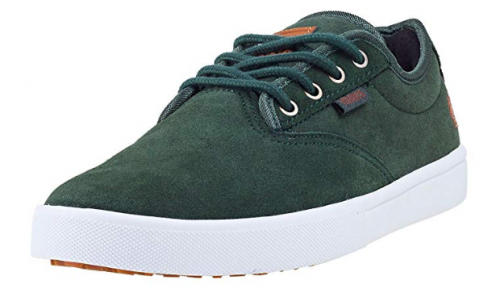 Innovation waits for no one, this brand has a culture of cutting-edge strides. This particular product is created to withstand even rainy and icy conditions. While this is a little extreme in colder environments it's a welcoming trait. The lugging is created to give extra grip even in unpredictable conditions, the suede is waterproof for dry feet.
Insulation is rare in footgear designed for warm weather sports. This style has a surprising amount of insulation being about 3mm of warmth. This will help keep feet dry in colder environments or when the weather changes. The bottom of this item has lugging that can stand up to even ice and offers an incredible amount of stability. The gum bottoms not only provides innovative traction but actually has a low freezing point. This keeps shoes from slipping in even below freezing conditions. Even the lining of the interior is superior. The interior is fitted with fleece that has the ability to dry very quickly. This is an enjoyable product for those who want an item that is ingenious.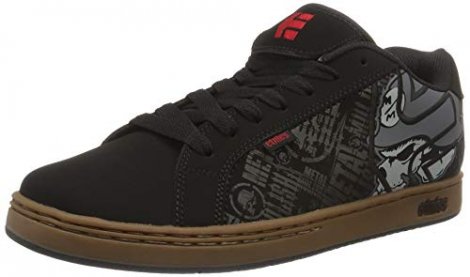 Now, while we also eventually list the Fader model from Etnies, this pair deserves a bit of extra attention just due to the design features. Metal Mulisha artwork was a huge hit back around 2000, with its darker themed graphics and iconography. Many of these t-shirt designs branded quotes or sayings exemplifying the qualities and way of life for extreme sport enthusiasts.
Keeping all the great features of the regular Fader model, a 300 NBS outsole helps make this pair sticky for use, and EVA midsole helps give added cushion and support. STI Foam Lite keeps the footbed feeling padded for impacts, while comfort is had with padded collar and tongue.
Select from black or white, as well as different prints, including the iconic soldier skull. Keeping function as well as an iconic style, the Metal Mulisha Fader is a statement piece that keeps an edgy look.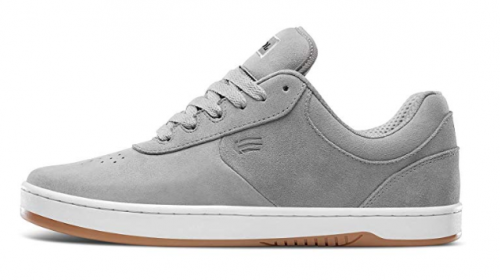 The trick to purchasing a good shoe for shredding is finding a line that is designed by a renowned skateboarder. If they have their own brand it's a no-go because they can't guarantee every item will be held to the same standards. A known pro skateboarder like Joslin, with a line within a major brand, will want to have a line that reflects his dedication to his craft. If he puts out a bad shoe his reputation is on the line. This newer creation is raved about and designed for the most satisfying experience.
Micheline is a name synonymous with high quality, from restaurants to rubber this is a brand that approves of only the best. The rubber outsole is strong and allows for superior grip during tricky maneuverers. Shock absorption and return is a huge necessity for any footgear that will be worn for griding rails and half pipes. The foot is locked in place due to the padding in the tongue and collar of this item, reducing the ability of the shoe to move around. The elastic tongue straps give this product the ability to be firm and flexible. A stylish aesthetic is not typically the top of the list for anyone who indulges in this sport. It is an added benefit, however, for those who want a product that is not only functional but fashionable as well.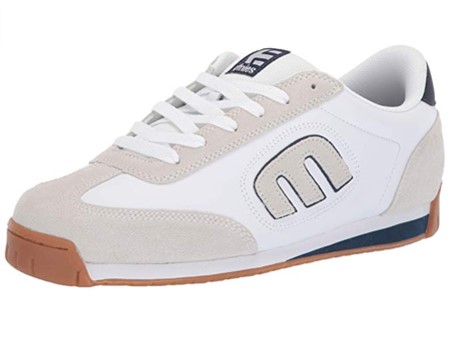 If you love an old-school feel to your footwear when grinding rails or flipping tricks, the Lo Cut II LS has plenty of features, style, and comfort you'll need. Featuring a cushioned footbed with STI Foam Lite, exposed ankle for maneuverability, and rubber outsole made from 400 NBS, this pair is durable, and will take any scrapes or scuffs you pick up, while still keeping firm grip when you need it most.
Flexibility and agility can be key aspects needed from your footwear for ankle mobility when executing kicks and flips that need fancy footwork. The low cut styling of this pair helps allow the ankle to move and flex without hindrance.
 
A triple stitched toe helps keep the integrity of the shoe's structure, but the real winning characteristic of this pair is the vintage appeal and look. Etnies E marks the brands classic emblem, with different color combinations to give it that old school feel. Pick from navy/red/white, to burnt orange and browns, or keep it tight with charcoal/black and hint of blue. If you are searching for quality, function, and vintage styling, look no further!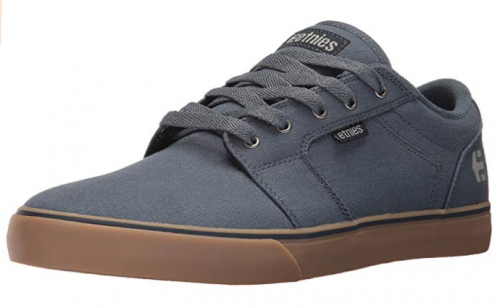 This company has evolved over time to become socially responsible, changing with the times. Being the head of a sub-culture that cares, it's important to lead the way with green initiatives. Aspects of this product are made with recycled materials. An item like this holds together for an elevated approach that makes it sleek and long-standing. It's impressive that a such a secure product has the ability to be so fashionable as well.
Vulcanized rubber is stronger than other outsoles. It makes this footgear stronger while maintaining flexibility, and light-weight feel. The exterior fabric is double stitched and fitted with extra overlays for reinforcement. The collar is armored for extra protection especially when competition or self-mastery would get fierce. The narrow design hugs the foot for supportive firmness. Lacing is usually overlooked but when it comes to intense sports it's important that the lacing holes actually are metal and reinforced. The raised heel is a very interesting design element. An elevated heel reduced chaffing during rubbing for more uncompromising movements. The open cell PU insole is the epitome of plush comfort that molds to the shape of the foot and offers bouncy support.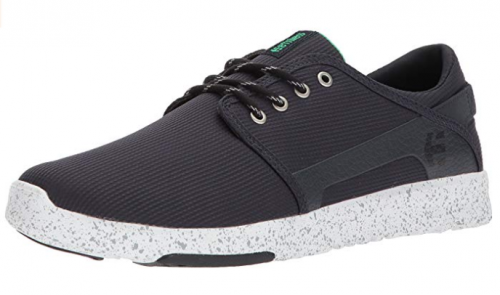 In modern times the sneaker has reigned supreme as the preferable leisure-wear of today's millennials and youth. There is a demand for attire that is sleek and easy to wear. In alignment with today's fashion sense, this item is comfortable and sleek. This could be used for skateboarding and even training in the gym with ease.
Companies such as these work diligently to protect the planet and partner with environmentally responsible programming. Every product that is purchased from this line donates towards planting a tree to encourage reforestation. This is an amazingly plush product that luxuriously molds to the foot and provides a springy step. This is the most breathable footgear on the market. The exterior has mesh incorporated into the design for maximum alleviation on hot days. Spandex and lycra are used to line the interior making this area of this footwear not only surprisingly strong but indulgently comfortable.



The fader is a uniform for those who have an affinity for all black, alternative music and thick chain necklaces. Regardless of the culture created around this product, this is a premier product that many have raved about. The fit of this gear is unique. It molds around the foot for a secure wrap-around feel. Breathability and unmatched grip along with a secure grip make these a favorite amongst skaters.
Classic apparel dies hard. Many wearers of this particular style fondly remember the plush cozy interior and firm yet flexible traction. The 300 NBS rated rubber outsole is a little lower than other styles. This was intentional to offer a little more necessary flexibility while not sacrificing a firm grip. The PU open cell insole is a wonder of technology. Superior shock absorption and energy return make this a must-have. Footwear of this caliber is made to be able to take high jumps and hard landings, Giving the wearer confidence that every move executed will be well received because they have the best footgear for the job. The padded tongue and collar serve really two purposes to be alleviating and to add extra layers of reinforcement.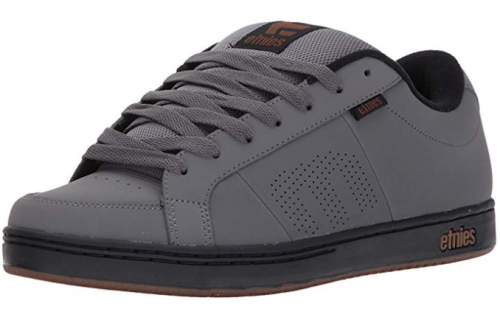 As the name implies no shortcuts were taken when creating this masterfully architected skate footgear. This is truly an item created for a king. Since intense sports can be hard on feet the interior should offer some support and feel comforting. An item like this is superior for the amount of rubber grip that is installed at the bottom of this shoe. The padded accents will be comforting for the ankles of the skater.
Nubuck is very strong for extreme sports and is a preferred material in shoe construction in general. This is because of the strong nature of this material will decrease the chance of holes and wear forming prematurely. The Kingpin uses 100% synthetic nubuck which is created from a synthetic typically vegan leather. The exterior is still strong enough to be superior. Rubber actually has a rating system for flexibility, durability, and traction. The 400 NBS traction is superior for grip and flex without having too much grip for environments where agility is an asset. The reason the tongue and collar need to be padded on skate attire is because the scrapping of concrete or an uncomfortable back can scrape against heels and throw anyone off their game. The tongue and collar on this item are made to feel plush against the skin and add an extra layer of protection.



The Marana line offers a lot of one of a kind innovative designs. This is a stylish item that offers a wide variety of color combinations and features. The rubber parts are approved and fitted with Michelin tires rubber for extra strength and traction. The stitching of this item makes a huge difference producing a product that will hold up in even the toughest conditions. It takes elements coming together perfectly to create lasting toughness.
When choosing footwear that is comfortable and tough there are design elements to look for to make a product that will not need to be replaced after just a few wears. The bottom of this item offers reliable grip and made with tough Michelin rubber. Any attire that needs to be tough should not be simply glued together. Glue can not hold up to stress well and will cause the sole of the shoe to separate. The outsole of this attire is stitched directly to the shoe for a superior hold. The toe cap is injected for extra protection and the midsole uses advanced polyurethane technology adds an extra layer of shock absorption for joint and ankle protection.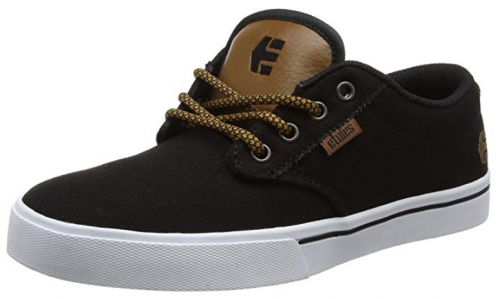 The casual skater may want something that looks more polished while still proclaiming their dedication to their craft. Proving skills or showing tricks could happen at a moments notice, this item is sturdy enough for adventurous moments. Comfortable footgear will help to protect the foot from pain and fatigue. During leisurely days stylish yet durable skatewear is a necessity. The Jameson 2 Eco was created to not only look good but be sturdy as well.
Particular features are a must for a comprehensive rugged item. Comfort is a cornerstone of this item that other comparable brands may not offer. The midsole of this product offers a wraparound midsole. This kind of design will mold to the foot and surround it in a plush yet firm feel. The firm feel is attributed to not only the superior cushioning but to the stitching that attached the outsole to the fabric firmly. Traction is offered as a medium amount of grip for a subtle look and feel that won't slip when it isn't important. The collar is padded for extra cushioning and added support. The laces are reinforced with metal to keep the fabric from ripping. The toe area offers extra protection and is vulcanized for durability.

Subscribe to our Newsletter