Best Shoes for Deadlift Reviewed & Rated
In a Hurry? Editors choice: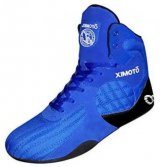 Test Winner: Otomix Stingray Escape

When it comes to deadlifting, having the right footwear can make a difference between breaking your personal records and just plain wasting time in the gym. The right kind of shoe will help you reach your full potential, perfect your form, and improve your execution, all the while providing you with support and keeping you safe from injury. If you're serious about your shoes for deadlift, you'll consider investing in a pair of solid shoes built specifically for weightlifting. They might just change your entire outlook on the sport.

Standout Picks
Criteria Used for Evaluation
Comfort
Before we dive into arguably the most important criteria for evaluating deadlift shoes, lets first provide a definition for a sole and analyze what it is exactly. We can describe the sole as the part that touches the ground. It can be broken down into three layers:
Insole:
The insole is located inside the shoe, and it represents the layer which separates your foot from the midsole. Usually, it provides some cushioning, but there are shoes which have no insole. Those that do can have a removable insole or one that is glued or sewn down and thus can't be removed.
Midsole:
The layer of the shoe between the insole and the outsole, and the one which absorbs shock. For deadlifting purposes, the midsole isn't of much importance, and it is mostly grouped together with the outsole.
Outsole:
The layer of the sole which is in direct contact with the ground. Outsoles come in all different shapes and sizes, of varying densities, materials and patterns, depending on their purpose and the type of traction they need to provide. We'll cover the most important aspects of the outsole for deadlift shoes in this guide.
Materials
The type of material the sole, especially the outsole, is made of is important for two main reasons: grip and density.
Grip:
Grip is the ability to grab the floor with your feet during the lift. A good grip prevents your feet from sliding on the lifting surface, secures your form, and decreases your risk of injury. It is particularly useful when you "spread the floor" during sumo deadlifts.
Density :
With density it is essential to strike a balance – an ideal deadlift shoe is one where the sole material is dense enough to prevent the sole from compressing, but also not so dense that it's rigid. You'd still want some flexibility in it to be able to walk around the gym without any problems. Sole material with just the right density increases your stability and prevents you from feeling "wobbly." All of that being said, these are some of the most common types of materials used in creating deadlift-specific and general training shoes:
Rubber:
Most commonly found in your average running sneakers. Can vary in density from cushion-like to minimally compressible.
Thermoplastic Rubber (TR):
On the outside, it appears almost the same as regular rubber, though it is a combination of plastic and rubber.
Polyurethane:
Can carry properties of both plastic and rubber, depending on its formula and application. Can also vary in density.
Ethylene-vinyl acetate (EVA):
A type of a foam, usually utilized in the midsole layers, to provide cushioning in sneakers. However, it also comes in a high-density foam, which can be effective in lifting shoes.
To cut the chemistry lesson short, what is crucial to keep in mind is this: the best sole material for a deadlift shoe would be one that appears like rubber (or is rubber itself). The reason is that rubber-like materials are quite dense and have superior grip.
Perhaps the type of material you would like to avoid is low-density EVA or any material that has a squishy, foam-like consistency. However bear in mind that high-density EVA is more than acceptable, as even famous sports brands like Adidas use it in their shoes.
Stability
Aside from it sounding like a word Phoebe from Friends would use, flanges also represent the parts of the sole which extend beyond where the foot naturally goes. In this way, they create a wider base to enhance stability.
There are flanges which can be found in the front of the shoe, favoring the inside of the foot, but also flanges in the back of the shoe, which favor the outside of the foot.
In the grand scheme of things, this feature is not something you should lose sleep over.
Most deadlift-specific shoes don't have flanges, as their designs are more minimalistic, so if you do come across a shoe which has them, and is a deadlift shoe that ticks off all the other required characteristics – jackpot. It is important to mention that, while not common for deadlift shoes, flanges are actually quite prevalent in Oly lifting shoes.
Heel
Also referred to as just 'drop' or 'offset,' the heel to toe drop is described as a value that shows how much higher your heel is compared to the rest of your foot, typically expressed in millimeters. You can calculate the heel to toe drop of your shoes on your own.
First, you want to start by measuring the heel height
Then, you want to measure the front foot height
Next, you will subtract the measurement of the front foot height from the heel height
The result will be the overall drop.
Ideally, for deadlifting shoes, the heel to toe drop would be 0mm. A 1-3mm drop is fine as well, and most lifters probably won't tell the difference. Typical gym shoes have a heel to toe drop of 4mm, which still makes an excellent deadlift shoe, as this value is very low compared to average sneakers.
Now, the question is: why is the heel to toe drop important, and why is it best to be as minimal as possible? Firstly, it makes your foot parallel to the ground. This puts your ankle in the most mechanically beneficial position for deadlifting, in terms of leverage.
Secondly, with a low heel to toe drop, you're likely going to be close to the ground. This, of course, doesn't have to be the case, as there are staggeringly high platform shoes out there which have the same height in the heel as they do in the toes. However, the majority of shoes with a low heel to toe drop are consequently low to the ground, which increases stability and improves performance.
This entire section on heel to toe drop can be ignored if you're one of those rare lifters who prefer to deadlift in Oly shoes, or shoes with a heel to toe drop of 15-25mm. Olympic lifting shoes are mainly used for squat lifts, but some lifters have a specific body type and deadlift style which allow them to pull more when they deadlift in Oly shoes, and to have better form. You will need to try out both types of shoes – flat heeled and Oly – to determine which one is better suited for you.
Support
In order to ensure stability during your deadlift and to avoid risky and unnecessary movements such as the wobbly ankle or over-extension of the ankle, it is important to consider what type of ankle support you'd like on your shoe.
The first option is a high top, or a high collared shoe, which provides sufficient ankle support. An alternative would be a shoe which sports an ankle strap, which we will look into in the section about straps.
Ankle support should be a priority for everyone, especially for lifters who have had an ankle-related injury or surgery in the past. It is also important to keep in mind that, the stronger your deadlift becomes, the more necessary it is to have some kind of ankle support. It will allow you to maximize your power output and to minimize instability and risk of injury.
Metatarsal Strap:
The strap runs from the middle of the foot across the instep to provide lateral support. All metatarsal straps are attached on one side of the shoe, looped through a (usually metal) loop on the opposite side and then secured with velcro. When considering this type of strap, there are some key features you should pay attention to:
Thickness:
A thin strap is most likely there just for show, and, while it will provide minimal support, it won't be nearly as strong enough as a thicker strap, and will wear out in time.
Width:
It is recommended to look for wider straps, as in 2-3cm (1 inch) in width. This is enough to distribute the tension of the strap over a wide area of the foot when it is tightened.
Material:
In order to tighten the strap as much as you want without risking it snapping, you will want a strap made out of material such as nylon, leather, or similar durable synthetic material. The metatarsal strap is not a requirement, though the majority of deadlifters will tell you they are necessary for anyone who takes their deadlift seriously. A strong, solid metatarsal strap will reduce foot wiggle, provide a tighter feel of the shoe to the floor, and enough stability that it could dramatically help you pull from the floor.
10 Best Deadlifting Shoes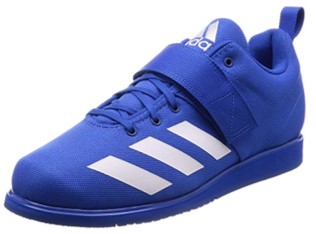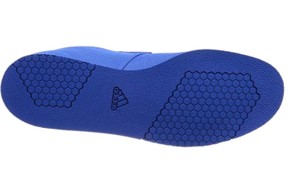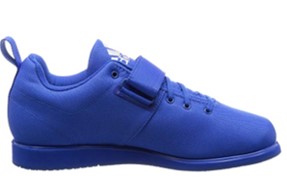 Updated from its predecessor the Powerlift 3.1, version 4 keeps the same design and silhouette as the original with a few modifications. A more breathable canvas upper has been made more durable than regular textile, but allows for better ventilation during workouts. The midsole in the Adidas Powerlift 4 is a die-cut, high-density wedge, with wedge toward the rear of the shoe for greater support and stability during lifting motions. With it's flat, stable base, it's ideal for deadlifts as well as squats or Olympic lifting movements.
The Adidas Powerlift 4 has a lace up vamp and sturdy Velcro strap to help keep your feet securely inside during your workout. One new change is the breathable canvas uppers from its predecessor, so your feet will feel a bit lighter, as well as ventilated during hot sessions or longer duration workouts. The forefoot has become more flexible as well with this change, allowing greater range of movement and less restriction for dynamic movements.
For deadlifting, this shoe is quite suitable with it's flat rubber sole to help maintain traction. Key aspects in the midsole allow for better power transfer throughout the range of motion required to complete it. With the wedge design heel, you'll feel supported and stable without losing energy toward the ground. A heel counter also helps keep you locked inside the shoe, so you won't feel any slippage inside during movements. If you're a fan of the Powerlift 3.1 from Adidas, you certainly should check out the new and improved version of this powerlifting shoe!

2

. Otomix Stingray Escape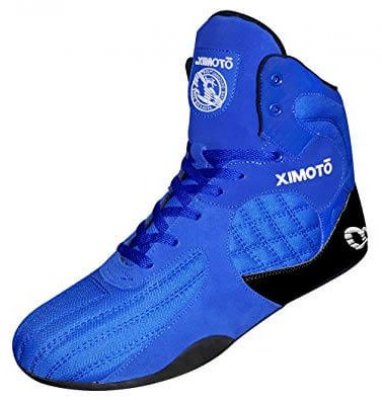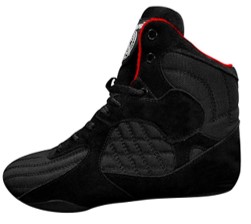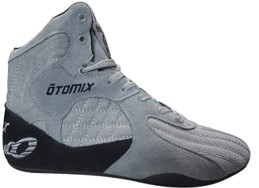 Created by a company which focuses on Mixed Martial Arts and Wrestling, the Otomix Stingray Escape is actually a near-perfect deadlift shoe. It has a flat heel, no cushioning, a thin rubber sole for optimal grip, and a high top which provides great ankle support. With its flexibility and different ways of tying its laces, it is also useful for squat lifts and CrossFit.
Mechanically, the Otomix Stingray Escape is ideal for deadlifting. The thin sole of the shoe reduces the range of motion during a deadlift, improving performance, and its durable rubber sole provides enhanced traction. No force is lost either because there is no cushioning.
While admittedly without a strap of any kind, the Otomix Stingray Escape still provides more than enough support with its lacing system. They start low on the foot and extend far to the top, allowing the lifter to tie the shoe over the entire length as tight as they wish. Some would say that the Otomix Stingray Escape is reasonably priced, especially considering that it's made out of high-quality leather and synthetic materials. However, compared to the rest of the models on our list, it is a bit costly. The fact is that it's one of the best flat heel options for deadlift out there, and when you take into account that it can also be used for other forms of lifting and exercise, it may be worth setting aside the money for it.

3

. Reebok Crossfit Lite TR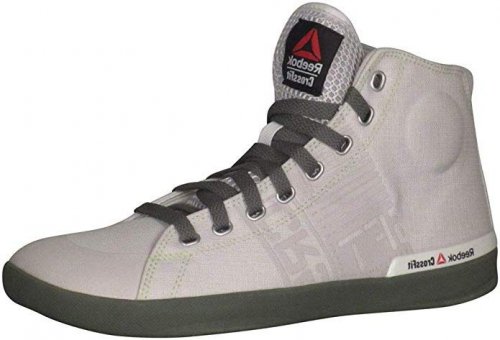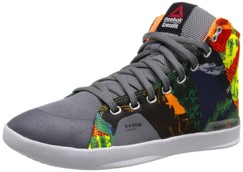 Do not let the name fool you, this CrossFit shoe has been designed specifically for powerlifters, by powerlifters, in association with Reebok. It boasts a 0mm heel to toe drop, a full rubber outsole for an excellent grip, noticeable flanges, and prime ankle support. With plenty of toe room in the front, it is ideal for lifters who need to spread the floor.
Unlike most other shoes on this list, and uncharacteristically so for a non-Oly shoe, the Reebok CrossFit Lite TR has visible flanges, which provide the lifter with a wider base to pull from, resulting in greater stability. While in a design similar to Chuck Taylors, the upper part of the Reebok CrossFit Lite TR is actually made of stronger, thicker material that stabilizes the foot as a whole, and especially supports the ankle.
When lined up with the other products in this category it might appear a bit costly, but this is understandable, given the brand name it bears, and after all, the Reebok CrossFit Lite TR certainly ticks off the majority of features required for a first-rate deadlift shoe.

4

. Reebok Crossfit Nano 8.0 Flexweave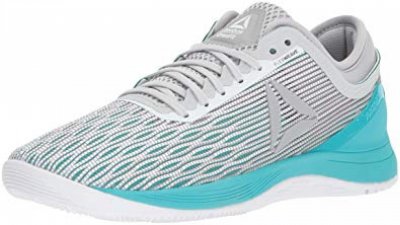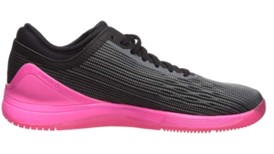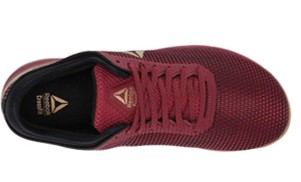 If you're newer to weightlifting, and especially deadlifts, sometimes a solid shoe that has some versatility is a good place to start. The Reebok CrossFit Nano 8.0 Flexweave was made for lifting and powerful moves, but also keeps some flex for running, jumping, and rope climbs. Flexweave technology makes these durable and light, keeping airflow maximum when you're sweating it out. With a zero-drop differential, they make a great starter shoe for deadlifting.
Reebok's newest innovative technology, the Flexweave is an 'open figure-8' fiber weave, interlocking them together to make a strong, durable, yet light and breathable structure. So, as well as being a suitable sneaker for those long, hot, sweaty runs, it can also support lateral movements and helps protect the shoe against wear and tear from moves like rope climbs. If you need something versatile, this is worth a look for its innovative tech that helps give a quality all around athletic shoe.
Along with its versatility, the zero drop differential of the Nano 8.0 Flexweave allows for proper form and push through the heels during deadlift maneuvers. Rubber soles give great grip, and the low cut styling helps for ankle mobility at the base of the movement. Supported with a compression molded EVA midsole for stability and comfort, and a heel that prevents slippage inside the sneaker, you'll be pulling your way through your deadlift sets!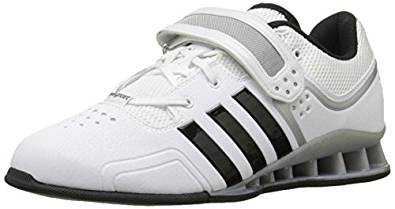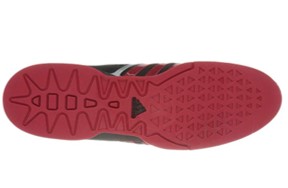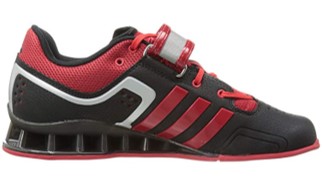 An Oly shoe by type, the Adidas Adipower Weightlift is equipped with a weightlifting-engineered chassis, specifically to support lifting heavy loads. The upper is made of strong leather mixed in with mesh material for durability, flexibility, and breathability, and the strap across the laces is useful for securing your foot. The Adidas Adipower Weightlift is used mainly for squat lifts, but there are lifters out there who prefer this shoe when deadlifting as well.
TPU stands for thermoplastic polyurethane (try saying that three times fast) - a lightweight, non-compressible material utilized for its sturdiness and resistance to abrasions. The heel of the Adidas Adipower Weightlift has been specially designed to not give under maximum loads and to eliminate movements that rock you back on your heels.
Bearing in mind that ankle stability is one of the biggest concerns for deadlifters, the instep strap does a fine job of keeping the ankle tight. Aesthetically, this strap is ideal for lifters who enjoy a minimalist but functional shoe, as it will at the same time lock down your foot and secure your foothold.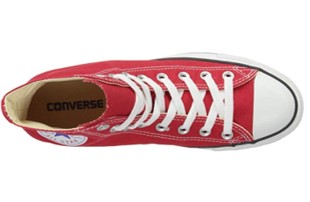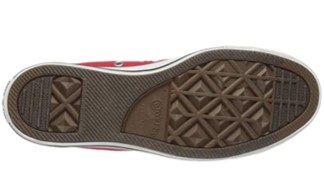 The Converse Chuck Taylor is not just a shoe; it is an icon. Recognized and sought after all over the world, it defies borders and time as it only gets better with each new generation. It is suitable for all ages, all fashion styles, and, most importantly, for deadlifting. A staple in the gym as much as outside of it, the Converse Chuck Taylor offers a flat sole, decent ankle support, and versatility, as it can be used in other forms of lifting as well as for cardio.
The sole of the Converse Chuck Taylor is completely flat, keeping you close to the ground, and it has no heel cup, allowing you to exert your energy into the ground through your heels and lift heavier weight. This helps you hone your technique and fine-tune your form over time.
The Converse Chuck Taylor is made out of light, durable canvas material, providing you with an almost barefoot-like feeling, except that you're not actually barefoot, and you do, in fact, have some support. With proper lacing, the high top is good for ankle compression and stability. Arguably the lowest priced shoe on the list. This undoubtedly factors into its popularity among powerlifters, but it is without question that the Converse Chuck Taylor will better your performance in lifts. It is everything a lifter would need to be wrapped up in a fashionable exterior, topped with classic colors and timeless design.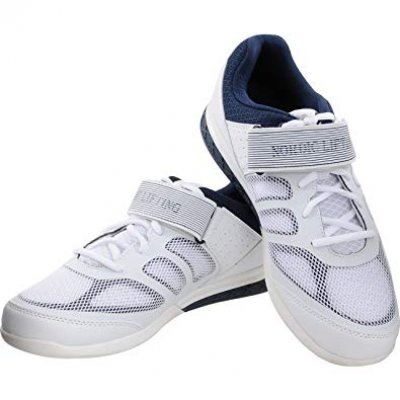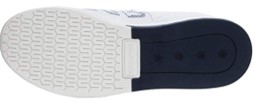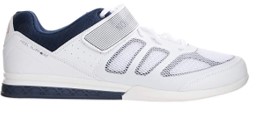 A new brand to our list, the Nordic Lifting Venja keeps the staple closure system of a weightlifting specific shoe, using both lace-up and a hook and loop strap to secure you inside. Zero drop and a sturdy sole allow for a great base for weightlifting or CrossFit exercises, while breathable uppers help to keep you cool during your workouts. And, at one of the more wallet-friendly weightlifting specific sneakers cited on our list, it's worth a look!
Like many other models on our list, a weightlifting specific designed sneaker usually has a flat, solid base, as well as a lace up closure with Velcro strap to secure you inside. The Venja keeps these elements in its design, making them quite suitable for tossing around heavy weights. Non-slip sole ensures you have traction during your workout, and with some forefront flexibility, you can go for that sprint around the gym as well.
Designed to last, Nordic Lifting backs up the purchase with a warranty should the shoe's integrity wear out before you do. Breathable uppers keep you cooler in hot gym situations, and with some lateral side support, you can speed skate your way through that final HIIT workout post-deadlift session. Outsole keeps a flat base at the heel, strong and stable, with the perfect design for pulling your next PR.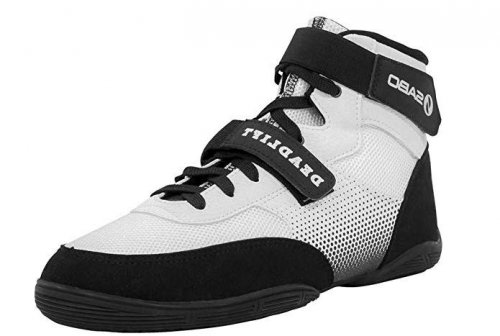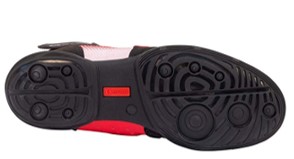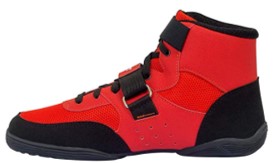 The one, the only, the shoe that tops all the lists when it comes to deadlifting footgear. The SABO Deadlift is, as its name says, specialized for deadlifting (though it works well for other strength workouts too) and as such, it does not disappoint. Its heel to toe drop is exactly 0mm, the sole is thin, the design providing maximum stability to the ankle. It also prevents all heavy lifting related injuries, including platypodia (flattening of the arches).
The thickness of the sole on the SABO Deadlift ranges between 2 and 5mm, making it ideal for being as close to the ground as possible, thus exponentially increasing stability and reducing the distance the bar has to travel from the floor to lockout. The SABO Deadlift is the only shoe that comes with both the metatarsal strap and the ankle strap, really taking the crown when it comes to stability and support. You will not find a more secure shoe anywhere else.
As far as the price goes, the SABO Deadlift falls in the mid to high range of cost, compared to other deadlift shoes available on the market. It is a favorite among many a deadlifter, a true champion in its category, and absolutely worth the investment.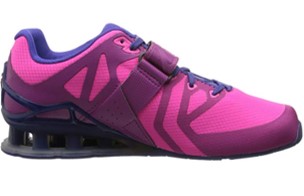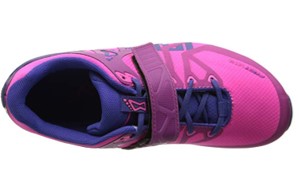 Another quality name weightlifting style sneaker, the Inov-8 Fastlift 335 comes packed with supportive structures, technology, and comfortable features to keep you going strong into the last set of your workouts. Ideal for any kind of lifting, especially squats and deadlifts, it will have you pulling PR's month after month. Solid base allows for power transfer into the movement while allowing forefoot flexibility and a non-slip heel inside the sneaker. A good option for those considering an upgrade in their footwear to boost performance.
With a FastLift outsole, and sticky rubber for grip, the base of the Fastlift 335 helps you transfer power efficiently into movement but allows for forefoot flexibility without being too stiff. A removable molded footbed allows for some cushion and stability, but when removed, gives enough space should you need. The Power-Truss heel keeps you firmly in place and pushing through your heels when deadlifting or squatting.
Many high-quality weightlifting shoes have similar designs in terms of closures. The Inov-8 Fastlift 335 has a lace up closure with hook and loop strap to get you the perfect adjustable fit, and then secure you snuggly inside. Nylon ripstop uppers give the sneaker a durable feature so you can be certain these will last long after you're finished your last set.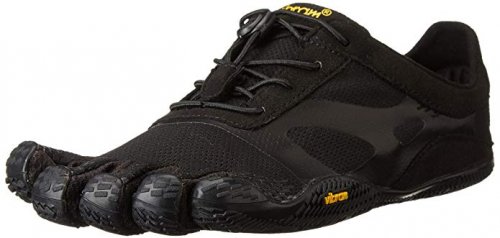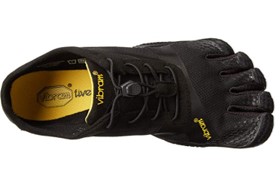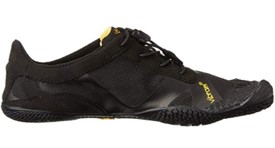 They look funny. It's the first thing we noticed, the first thing you noticed, and the first thing everyone notices. However, while its Five Finger appearance may be unorthodox, the Vibram KSO Evo shoe has its merits when it comes to sports. It is lightweight, flexible and provides outstanding grip and ground feel, making it a unique and popular choice for both indoor and outdoor sports.
The sole construction provides maximum ground feel, allowing the wearer to experience terrain with great flexibility and traction. It is made of non-marking XS Trek performance rubber for superior grip, one of the most important features a deadlift shoe should have, and thanks to its sole thickness - less than 5mm - it encourages good form and proper technique.
Stripped of all but the essentials, the Vibram KSO Evo has a breathable, quick-drying upper, made out of abrasion resistant polyamide, and a stretch mesh that wraps around your entire foot. It also sports a hook-and-loop closure to secure the fit. Plenty of deadlifters advise deadlifting barefoot, as it helps you be firmly planted to the floor and to shift your weight towards your heels. Unfortunately, gyms have rules against exercising without proper footwear. The Vibram KSO Evo is an inexpensive - albeit somewhat distinctive in appearance - an option that will provide you with that natural feeling without actually getting you sent home from the gym.

Subscribe to our Newsletter