Best Shoes to Squat in Reviewed & Rated
last updated
Jul 05, 2019
Many weightlifters wear regular tennis or running shoes or even go barefoot when it comes time to squat. While we don't doubt you can push out reps with regular shoes (or no shoes at all), we also believe the right pair of shoes can prove to be a huge asset when you're squatting and will improve every element of your set, from form and posture to foot perspiration. Because we believe the right pair of shoes is crucial for properly performing squats, we've compiled our list of the best shoes to squat in. Whether you're a long-time squatter or a beginner, we think our list will help you find the right pair of shoes to help you reach your goals the next time you step in front of the squat rack.
In a Hurry? The test winner after 6 hrs of research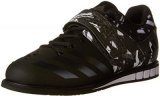 Adidas Powerlift 3
Why is it better?
Anti-slip rubber outsole
Mesh and open construction
Flexible toe for extra comfort
Removable insole
In a
Hurry? Editors choice: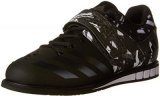 Test Winner: Adidas Powerlift 3

5
Researched Sources
12,300
Reviews Considered
6
Hours Researching
10
Products Evaluated
Heel
Upper
Midsole
Outsole
Durability
By Default
Criteria Used for Evaluation


Heel
The raised heel on a pair of squatting or weightlifting shoes is the main feature that makes them appropriate for lifting heavy weights. Important aspects of the heel in a squatting shoe include:
The heel is generally around 1-in/2.5-cm high, although it may differ from one shoe to another. Having a raised heel allows you to squat lower and maintain correct form, as opposed to zero drop footwear. It also keeps your foot stable when you squat, and stability is crucial for your safety and efficiency.
The heel is often made of wood or plastic with a rubber grip on the bottom to prevent you from slipping while bearing a lot of weight.
The heel on a weightlifting shoe helps keep your foot in a neutral arch and keeps the muscles in your lower legs from becoming stiff.
So, while you may be able to do squats in running shoes, you're running a risk not wearing proper footwear.


Upper
In addition to the support provided by the raised heel, a good weightlifting shoe will provide support and security with its strapping system and its insole.
A loose shoe can be disastrous under a heavy load, and if your foot isn't secure in your shoe, you could seriously injure your ankles if it gives while you're squatting. The best weightlifting shoes combine laces and hook-and-loop to give you a closure that will keep you secure, so look for shoes that provide both. Some shoes, like the Inov-8 Fastlift 370 BOA, come with a dial for adjusting the closure, so you may want to look for that as well. The more secure and the better the fit, the more stable and protective the shoe will be.
In addition, look for a shoe that has an insole that will provide good support. Having a super-soft insole is not great for squatting—you want a firm foundation to stand on with all that weight on your shoulders. But also look for something that has good arch support and that will be comfortable during your workout. You may need to add an insole for extra support if your shoe is lacking in that area. In that case, look for shoes with removable insoles to ensure your custom insert or orthotic will fit.


Midsole
The midsole is designed to provide cushioning and shock absorption to the shoe, nestling the foot in comfort. Whereas running shoes tend to have thick midsoles, flats and thinner shoes not designed for high-impact activities often have thinner midsoles. The reason for this is simple: you need more shock absorption and vibration dampening during high-intensity movements or activities to maintain comfort and prevent foot injury than you otherwise would with a regular shoe, flat or sandal
Midsoles are often made from EVA (ethyl vinyl acetate), a synthetic plastic also used to make insertable orthotics. A firmer type of EVA for the midsole will make the shoe heavier, but more durable; whereas a softer type of EVA, like those found in running shoes, improve shock absorption, but wear much quickly. Podiatrists tend to prefer firmer midsoles for those suffering with orthopedic conditions, such as plantar fasciitis.
Bottom line is: when you are doing intense activities like squatting, you will want a product that scores higher on the midsole criterion, as it will provide you with more cushion and a soft counterbalance to the weight on your back.


Outsole
Finally, you'll want to look for a shoe that gives you proper grip. The last thing you want to do when you're squatting is losing your footing. Slipping and falling with weights on your shoulders could be catastrophic for you and those around you. So, make sure your shoe is equipped with the right sole to help keep that from happening. In addition to not falling, having a firm grip on the floor allows you to move more weight; you can plant your feet and use your connection to the floor to be more effective when you're lifting, and that's something every weightlifter wants. Unlike most other shoes, weightlifting shoes come with soles that have minimal tread but great grip —the more contact you can maintain with the floor, the better. You'll also want to make sure the sole is made from a material that will grip and not slide, and in most cases, it will be rubber. Many companies even use what they call a "sticky" rubber on the bottom of their shoes to provide maximum grip. Bottom line: don't neglect the bottom of your shoe when you're looking to improve your squatting performance. Along with a stable heel, an outsole with great grip helps to ensure your safety and performance.


Durability
To assess each of the products on our list for durability, we not only read through thousands of customer reviews on our recommended products, but we also looked for some of the hallmarks of quality construction. From brand name reputation to their initial smell out of the box, there are a few ways of identifying a well-built, made-to-last product.
The Details
A zipper that doesn't zip or snaps? Poor threading technique? A smelly, chemical residue on the shoe when you open the box? All these details were looked for an evaluated when assigning a score for durability.
Materials
Certain materials last longer than others, even if that comes at the expense of a higher score in the "comfort" criterion. Materials that are synthetic, thicker and firmer tend to score higher on durability.
Brand Name
A product is a promise made, but a brand is a promise kept. A brand name is often a signal of quality and consistency in construction and durability from product to product. Although there are always exceptions to this rule, quite often brands that perform continue to perform. Brand names on our list tend to score higher in the durability score.
The final word on durability is that a higher score on this metric means the product will last longer than its competitors, given similar shoe purpose, type, age and usage. Again, it never hurts to read some customer reviews before hitting the "buy" button.
Expert Interviews & Opinions
Most Important Criteria
(According to our experts opinion)
Experts Opinion
Editors Opinion
Users Opinion
By Default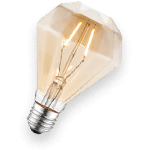 Tips To Increase Max Reps
If you're an advanced lifter, likely you've been through numerous programs and training schemes to help increase that one rep max. One great regimen to try out is a 5-3-1 program, where you perform reps of 5, then 3, then 1, hitting specific percentage loads.
Start off with 5 reps at 70%, 3 at 80%, and 1 (or AMRAP) at 90%, Test out your max rep again after 4 weeks, are recalculate your percentages for the next cycle.
Power Transfer Is Key
Depending on your mobility, it can sometimes help to have a solid, slight heel in your footwear for executing a max rep in squats. The elevation allows for greater depth, while also transferring efficient power to the lift, instead of to the ground.
If you have sufficient mobility, try a zero drop shoe for increased mobility and training the glutes and quads to fire to their full potential.
Other Factors to Consider


Style
To evaluate style, we considered everything from the design, color, shape, weight, lines and overall construction of the shoe in question. While no one wants to wear an uncomfortable shoe, they also don't want a comfortable shoe to be ugly on the eyes. We've selected all of those on our top 10 to be not only stylish, but also comfortable, true-to-size, supportive and durable.


Fit
Finding a perfectly-fitting pair of shoes can be like finding the holy grail; there are so many brands, styles, models and makes of shoes that it seems like it's next to impossible, especially when you are shopping online! Fear not, as we've ranked each product on our list for their fit and trueness-to-size to help guide you in finding the perfect match for you.
To come up with a score for fit of a shoe, we considered several factors, like the ones mentioned above, in addition to real customer reviews, to help boil down everything into one simple score. For example, Nike tends to make shoes that are true-to-size, meaning that you can buy a pair of 11s one year, and another pair of 11s next year in a different model, and they will usually still fit (unless your feet grown or shrank). A brand like Nike will most likely have a high score when it comes to fit, but the other variables in play, such as make, model and purpose, will also affect the overall score.
Consider that a running shoe, with its thicker midsole and synthetic sole, might fit differently than a flat shoe, with its thinner midsole and hypothetical leather sole. Each of these shoes, even if they are both from Nike, may have similar scores for trueness-to-size, but a size 11 in one might not be the same as an 11 in the other. What's a reader to do in this case? You must also consider the purpose and type of shoe it is. Knowing what kind of shoe you are buying, and for what purpose, will help you make a better decision. A running shoe might run smaller than a flat because it has thicker materials, so read customer reviews as well to arrive at the best decision for fit, in addition to just our overall score.


Bottom Line
There you have it: 10 great options to help you stay safe, stable, and successful when you're squatting. Our list combines the best in design, construction, and durability to give you a great starting place for finding the right pair of shoes to squat in. And the wide range of pricing options means you don't have to spend a fortune to get a pair of shoes that will help you reach your full potential in the gym.
We realize buying a pair of shoes primarily designed for one type of exercise might seem over-the-top, but would you run a marathon in Chuck Taylors or wrestle in flip-flops? Probably not, because you know those shoes aren't designed to be used for those purposes. You can squat in tennis shoes just like you can ride the Tour de France in Birkenstocks, but if you're serious about improving your form and increasing your reps at the squat rack, then you should be serious about the shoes you're wearing when you squat. The right pair of shoes will go a long way in helping you achieve your goals, and we hope our list of top shoes to squat in will help you find them.
Frequently Asked Questions
q:

Why can't I just lift in my tennis shoes?

a:

Weightlifting shoes are designed for a specific purpose: to give you the support and stability you need to move a lot of weight! Your tennis shoes weren't designed to do that. They weren't constructed with a hard, raised heel to help keep you stable or a flat sole to help you grip the floor when you squat. Your tennis shoes weren't designed to handle the additional weight you're holding when you squat, they weren't designed to keep your heel high and your body stable, they weren't designed to help you maintain solid contact with the floor, and they weren't designed to protect your feet from falling weights. Squatting or weightlifting shoes do all of those things.
q:

Can't I just lift barefoot?

a:

Again, yes, you can, but we don't recommend it. Many folks claim that squatting barefoot is more natural and gives you a greater awareness of your foot positioning. The belief is that wearing a shoe decreases your foot's sensitivity and puts you at a disadvantage when you're squatting. While going barefoot may grant you a greater sensitivity to what's going on under your feet, we don't advise it for two main reasons: 1) You lose all the benefits of having a raised heel. 2) Weightlifting shoes are also designed to protect your feet, and if you're barefoot, you lose that protection. One of the biggest dangers you face when you squat is falling weights, and if any size weight were to come loose and land on your barefoot, you'd be guaranteed a few broken bones. Weightlifting shoes like the ones in our list are built to protect all sides of your feet, so for your safety's sake, we highly recommend not squatting barefoot and wearing protective weightlifting shoes instead.
q:

What material(s) should I look for in a squatting design?

a:

We recommend synthetic materials as they're generally more lightweight and breathable. Even though squatting doesn't require you to move around too much, having a lightweight shoe will help keep you from being fatigued in the gym. Some elements, like a wooden heel, will add weight that can't really be avoided, but a synthetic material like a nylon shell will weigh less and be more comfortable than a material like leather would be. Breathability is important for your comfort as well. Most weightlifting shoes will have ample mesh to allow your feet to breathe. This isn't the most important part of a weightlifting shoe, but if you can find a pair that vents well, then you won't have to worry about your feet getting hot and sweaty while you're lifting.
q:

Can I use my weightlifting footwear for other exercises in the gym?

a:

It depends on what the shoe was designed for. Standard weightlifting shoes with hard, raised heels are meant for one thing: weightlifting. So, don't go trying to run on a treadmill in your squatting shoes. They're designed for a specific use and should not be used outside of that. Doing so could risk significant injury.
q:

How do I care for my new shoes?

a:

Our best advice would be to consult with the manufacturer directly. Often, reputable brands will have care guides to each of their products available online for anyone to download. Depending on the material and construction of the shoe, there will be different directions for cleaning and maintaining, so it is always best to consult with the manufacturer before taking action.