Best Squatting Shoes in Reviewed & Rated
last updated:
Oct 07, 2019
Many weightlifters wear regular tennis shoes, running shoes or even go barefoot when it comes time to squat. While we don't doubt you can push out reps with regular shoes (or no shoes at all), we also believe the right pair of squat shoes can prove to be a huge asset when you're squatting and will improve every element of your set, from form and posture to foot perspiration. Because we believe the right pair of shoes is crucial for properly performing squats, we've compiled our list of the best shoes to squat in. Whether you're a long-time squatter or a beginner, we think our list will help you find the right pair of shoes for squats to help you reach your goals the next time you step in front of the squat rack.
This is the best product on our list that is currently in stock: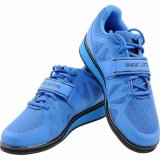 Nordic Powerlifting
Why is it better?
1-Year warranty
For heavy weightlifting
Raised 1/4" heel
Lace and Velco strap closure
Premium cotton mesh forefoot
In a
Hurry? Editors choice: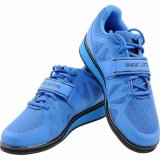 Test Winner: Nordic Powerlifting

5
Researched Sources
12,300
Reviews Considered
6
Hours Researching
10
Products Evaluated
Heel
Upper
Midsole
Outsole
Durability
By Default
Top 10 Shoes for Squats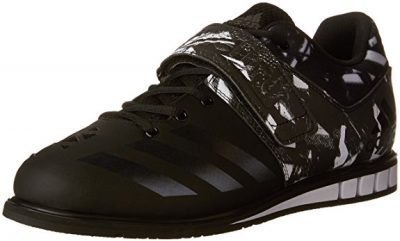 Anti-slip rubber outsole
Mesh and open construction
Flexible toe for extra comfort
Removable insole
Sizes run wide
Sizes run small
The Powerlift 3 is another great squatting design from the folks at Adidas. The construction allows for maximum comfort and breathability, meaning you won't have to worry about how your feet feel while you're moving weight. They're made to help you maintain maximum grip and will provide the stability you need when you're out on the gym floor.
The synthetic upper on the Powerlift 3 helps provide support and durability without adding weight or bulk. You're lifting enough weight when you squat—you don't need to carry extra weight around the gym on your feet as well! With all the weight your feet are holding when you squat, you want them to stay comfortable and dry. The air mesh collar, tongue, and lining coupled with the open forefoot structure of this design provide great airflow for your feet.

Although certain color and size combinations will cost you a pretty penny, this option lands in the middle of our price range. If you're flexible with the color, these are a great bargain!
Breathable Mesh Upper
BOA Closure System
Weightlifting-Specific Chassis
Rearfoot Cradle
Easy to Break In
Heel a bit Too High
Not Secure Enough
Adidas never falls behind when it comes to any type of sport, and the same is true for weightlifting as well. The Leistung 16 II is here to serve all of your lifting needs, from deadlifts to cleans, and it does it in style. It is outfitted with a lifting-specific base and a wide platform for stability, so that you stay grounded no matter what, and its neutral-toned, sleek silhouette definitely doesn't hurt, either.
The upper of the Leistung 16 II is made from mesh to promote proper air flow through the design and to ensure a glove-like fit. It is amazingly easy to break in, and it comes with a so-called BOA closure system. This includes steel laces and a special way of making sure that everything is as locked in as it should be. The rubber outsole has a flexible front area as well as a cradle in the back to keep your foot stable throughout the lift.

While the Adidas Leistung 16 II may not be equipped with fancily named technologies as some other options on our list, it is still a design worth considering. Everything about it is created with lifting in mind, not least its supporting chassis, and you won't be able to find a flaw in this modern, advanced option.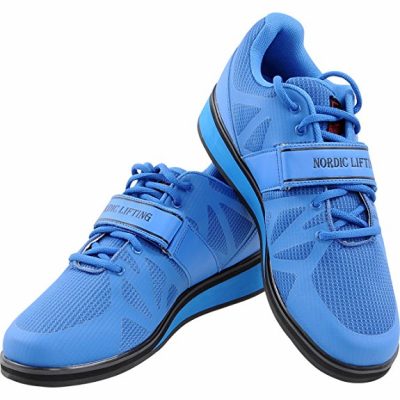 1-Year warranty
For heavy weightlifting
Raised 1/4" heel
Lace and Velco strap closure
Premium cotton mesh forefoot
Not suitable for all exercises
Nordic's powerlifting design is built to give you Olympic-level performance in the gym. Every square inch is designed to provide maximum efficiency when you're lifting. The raised heel ensures your posture will stay on point, and the sturdy construction means they'll last through even the toughest workouts. And considering their price, you can't afford NOT to try them!
These squat shoes are designed to give you maximum support and stability on the gym floor. The smooth, anti-slip sole and snug fit will keep you stable and keep your feet from moving while you squat. No matter how intense your workout is, Nordic guarantees their footwear can handle it. These are built to last, and Nordic is so confident in their durability that they'll send them to you with a one year warranty!

Nordic Powerlifting is one of the most affordable items on our list. They provide Olympic-level performance at an entry-level price: what more could you ask for?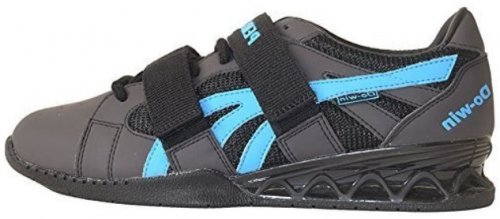 Two Metatarsal Straps
For Wide Feet
Excellent Grounding
Leather and Mesh Upper
Originally called the Pendlay Do-Win, now this design is known only as the Do-Win Weightlifting shoe, one that rose to popularity in the 90s and that is slightly different than other lifting and squat shoes on our list. The difference comes in the form of not one, but two metatarsal straps for double the security, and a slightly wider fit which enables lifters to splay their toes and ground themselves better. These two features make the Do-Win stand out among the rest as a unique yet no less effective lifting design.
The upper of the Do-Win is made from leather for comfort and support, as well as mesh inserts for ventilation. The heel is made from hard plastic, at 0.75 inches high, and the single sole construction provides both flexibility and durability. The already mentioned wide fit is great for those who have wider feet, and for those who prefer a little more space for toe-splaying in their footwear. With the two metatarsal straps, you can be sure that the Do-Win will keep you secure all throughout the workout.

This option doesn't come with a world-renowned name, but it is every bit as high in quality as other items on our list. It is made from superior materials, with a construction that is geared towards stability and security, and its wide fit is a bonus for lifters that require more room inside their shoes.
Leather and Mesh Upper
U-FORM+ Midfoot Wrap
POWERBAX TPU Stability Plate
Anti-Friction Lining
Raised Heel
From one of the leading manufacturers of all things sportswear comes the Reebok Lifter PR, a design which is equipped with everything you need for a good lift - a raised heel, a strap around the midfoot to keep you locked in, and a TPU plate installed inside for outstanding stability. As Reebok itself says, stare down the bar with confidence in the new Lifter PR!
These squatting shoes have an upper made from a combination of full-grain leather and air mesh, which provide support and breathability, respectively. Thanks to the low-cut silhouette your ankles can have all the freedom of motion that you wish for. There is a U-FORM+ Thermo TPU strap that goes around the midfoot area for a secure and customizable fit, and a POWERBAX TPU plate along with a rubber outsole for durability, stability and a responsive experience.

The Reebok Lifter PR is truly the peak of innovation. The thoughtful combination of technologies makes for a well-rounded design that you can use in most of your lifts, not only for squatting. It is secure, it is stable, and thanks to its premium materials it is also wonderfully durable. You won't regret investing your money in the Lifter PR.
6

. Reebok Crossfit Nano 8.0
RopePro Outsole
Wide Toe Box; TPU Heel Wrap
Flexweave Upper
Forefoot Cushioning Midsole
4mm Drop
Less arch support
Issues with sizing
The CrossFit Nano 8.0 has a flexible yet stable design. Made with the needs of rope climbing in mind, as well as overall CrossFit demands, the outsole is equipped with RopePro technology. In addition, these have a forefoot cushioning midsole, a Flexweave upper, TPU heel wrap, and wide toe box. And for those minimalists out there, they also have a 4-millimeter drop.
The Crossfit Nano shoes for squats have a wide toe box and, thereby, your toes are given ample room to splay during training. Furthermore, the added room can help with those suffering from certain medical conditions, such as bunions and similar. The traction on the RopePro outsole is ideal for those who climb rope during their workouts. Combined with the Flexweave upper, these two elements work in unison, in order to give you the correct amount of both flexibility and grip.

The Crossfit Nano 8.0 is built well and made of high-quality material. It is a versatile design, one that you can not only use for your lifting, but for a myriad of other types of exercises. It is solid, reliable, and equipped with all the latest Reebok technologies to maximize your performance.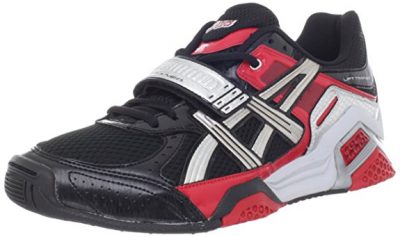 Combination lace and hook-and-loop closure
Breathable upper
Padded collar and tongue
Non-marking, solid rubber outsole
Rigid heel
Not suitable for wide feet
May wear out quickly 
The ASICS Lift Trainer shoes for squats are a great entry-level option for heavy lifters. It performs as well as more expensive choices, but the low cost makes it accessible for those on a tight budget. The construction provides great stability and efficiency while squatting, and they maintain weightlifting standards while sporting a running-shoe appearance. If you're looking for a good place to start, we think you'll find it here!
These trainers provide great cushioning, but they don't do so at the expense of providing a tight fit and great support. And the raised, rigid heel will keep you sure-footed while you lift. The Lift Trainer from ASICS comes with a padded collar and tongue, GEL rearfoot and forefoot cushioning, and a synthetic and mesh upper to keep your foot comfortable and dry while you work out.

This design is one of the most affordable on our list, but don't let the low price make you doubt the quality. The Lift Trainer gives you great results without breaking the bank.
8

. Converse Chuck Taylor High Top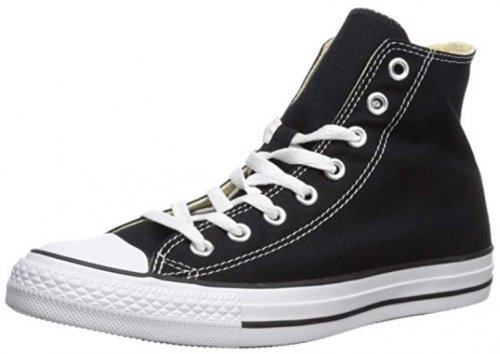 Durable Canvas Upper
Lace-Up Closure
Zero Drop Design
Non-Compressible Rubber Outsole
Protective Toe Guard
Not for All Squat Types
Limited Ankle Mobility
Of course that lifters are familiar with the notion that Chuck Taylors are actually a good choice for weightlifting. It is thanks to their rubber outsole that can't be compressed that they are used in a range of lift types, from deadlifts to, you guessed it, squats. If you're engaging in low-bar back squatting, then wearing a pair of Chuck Taylor high topssquat shoes may just be what you need to get the most out of your performance.
The upper of the Chuck Taylor is made from durable canvas, and the lace-up system all the way to the top enables you to adjust the fit to your liking and secure your foot inside the sneaker as much as possible. The high top construction provides ankle support, but it also means this isn't a good choice for forward knee positions. However, the zero drop sole allows you to lift more weight during low-bar back squatting, and it could even work in front and high-bar back squatting as well!

The Converse Chuck Taylor High Top is not a conventional choice for this type of lifting, but it works for more than a few athletes. You might appreciate the ankle support and the stability you get from its flat sole, and if all else fails, you can always wear them as a lifestyle choice! So why not give these a go?
9

. Inov-8 Fastlift 400 BOA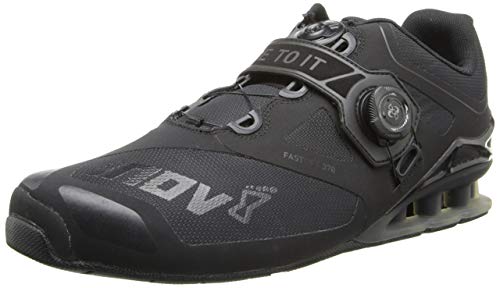 Wide toe box
Adjustable BOA dial
Lightweight construction
Breathable fabric lining
Good for wider feet
The folks at Inov-8 have created a design that will help you transfer maximum power when you're in the gym. The robust design and structural stability of these squat shoes will give you a huge advantage over your competitors. A unique BOA closure system provides you with a custom, adjustable fit, and its smooth design ensures you'll be able to lift without the added stress of pressure points.
These trainers were designed with hard-hitting athletes in mind. The Fastlift 400 is roomy enough for feet of all sizes, and the lightly-padded interior helps provide maximum comfort when you're lifting. It comes stocked with a rubber outsole designed to give you serious grip. The sticky material and 0mm lug depth give you maximum stability when you're lifting.

If you're a beginner just getting into squatting or an intermediate looking to upgrade from your regular gym footwear, then the Fastlift 400s are a great option for you.
Interchangeable insole
Double enclosure
Lightweight construction
Sticky rubber outsole
Nike has created a weightlifting design that provides great support and grip, which means you'll be able to exert greater strength when you're squatting. Nike's design helps you reach your full potential when you're squatting and gives us a great item to include in our list.
These sneakers are lauded for their ability to grip the gym floor. The rubber grip outsoles allow you to maintain good contact and help keep you confident when you're out there squatting. The Romaleos 3 packs a punch without weighing you down. Its lightweight design keeps you from having to lift unnecessary weight while you're out on the gym floor — you're already lifting enough!

These are the most expensive items on our list. We know many weightlifters may not want to invest this much into their footwear, but we believe these are a great option for squatting in if you can afford them.
Criteria Used for Evaluation

Heel
The raised heel on a pair of squatting or weightlifting shoes is the main feature that makes them appropriate for lifting heavy weights. Important aspects of the heel in a squatting shoe include:
The heel is generally around 1-in/2.5-cm high, although it may differ from one shoe to another. Having a raised heel allows you to squat lower and maintain correct form, as opposed to zero drop footwear. It also keeps your foot stable when you squat, and stability is crucial for your safety and efficiency.
The heel is often made of wood or plastic with a rubber grip on the bottom to prevent you from slipping while bearing a lot of weight.
The heel on squat shoes helps keep your foot in a neutral arch and keeps the muscles in your lower legs from becoming stiff.
So, while you may be able to do squats in running shoes, you're running a risk not wearing proper footwear.

Upper
In addition to the support provided by the raised heel, good squatting shoes will provide support and security with its strapping system and its insole.
A loose shoe can be disastrous under a heavy load, and if your foot isn't secure in your shoe, you could seriously injure your ankles if it gives while you're squatting. The best weightlifting shoes combine laces and hook-and-loop to give you a closure that will keep you secure, so look for shoes that provide both. Some shoes, like the Inov-8 Fastlift 370 BOA, come with a dial for adjusting the closure, so you may want to look for that as well. The more secure and the better the fit, the more stable and protective the shoe will be.
In addition, look for a shoe that has an insole that will provide good support. Having a super-soft insole is not great for squatting—you want a firm foundation to stand on with all that weight on your shoulders. But also look for something that has good arch support and that will be comfortable during your workout. You may need to add an insole for extra support if your shoe is lacking in that area. In that case, look for shoes with removable insoles to ensure your custom insert or orthotic will fit.

Midsole
The midsole is designed to provide cushioning and shock absorption to the shoe, nestling the foot in comfort. Whereas running shoes tend to have thick midsoles, flats and thinner shoes not designed for high-impact activities often have thinner midsoles. The reason for this is simple: you need more shock absorption and vibration dampening during high-intensity movements or activities to maintain comfort and prevent foot injury than you otherwise would with a regular shoe, flat or sandal
Midsoles are often made from EVA (ethyl vinyl acetate), a synthetic plastic also used to make insertable orthotics. A firmer type of EVA for the midsole will make the squatting shoe heavier, but more durable; whereas a softer type of EVA, like those found in running shoes, improve shock absorption, but wear much quickly. Podiatrists tend to prefer firmer midsoles for those suffering with orthopedic conditions, such as plantar fasciitis.
Bottom line is: when you are doing intense activities like squatting, you will want a product that scores higher on the midsole criterion, as it will provide you with more cushion and a soft counterbalance to the weight on your back.

Outsole
Finally, you'll want to look for a shoe that gives you proper grip. The last thing you want to do when you're squatting is losing your footing. Slipping and falling with weights on your shoulders could be catastrophic for you and those around you. So, make sure your shoe is equipped with the right sole to help keep that from happening. In addition to not falling, having a firm grip on the floor allows you to move more weight; you can plant your feet and use your connection to the floor to be more effective when you're lifting, and that's something every weightlifter wants. Unlike most other shoes, weightlifting shoes come with soles that have minimal tread but great grip —the more contact you can maintain with the floor, the better. You'll also want to make sure the sole is made from a material that will grip and not slide, and in most cases, it will be rubber. Many companies even use what they call a "sticky" rubber on the bottom of their shoes to provide maximum grip. Bottom line: don't neglect the bottom of your shoe when you're looking to improve your squatting performance. Along with a stable heel, an outsole with great grip helps to ensure your safety and performance.

Durability
To assess each of the products on our list for durability, we not only read through thousands of customer reviews on our recommended products, but we also looked for some of the hallmarks of quality construction. From brand name reputation to their initial smell out of the box, there are a few ways of identifying a well-built, made-to-last product.
The Details
A zipper that doesn't zip or snaps? Poor threading technique? A smelly, chemical residue on the shoe when you open the box? All these details were looked for an evaluated when assigning a score for durability.
Materials
Certain materials last longer than others, even if that comes at the expense of a higher score in the "comfort" criterion. Materials that are synthetic, thicker and firmer tend to score higher on durability.
Brand Name
A product is a promise made, but a brand is a promise kept. A brand name is often a signal of quality and consistency in construction and durability from product to product. Although there are always exceptions to this rule, quite often brands that perform continue to perform. Brand names on our list tend to score higher in the durability score.
The final word on durability is that a higher score on this metric means the product will last longer than its competitors, given similar shoe purpose, type, age and usage. Again, it never hurts to read some customer reviews before hitting the "buy" button.
Expert Interviews & Opinions
Most Important Criteria
(According to our experts opinion)
Experts Opinion
Editors Opinion
Users Opinion
By Default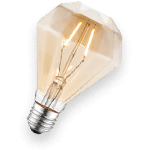 Tips To Increase Max Reps
If you're an advanced lifter, likely you've been through numerous programs and training schemes to help increase that one rep max. One great regimen to try out is a 5-3-1 program, where you perform reps of 5, then 3, then 1, hitting specific percentage loads.
Start off with 5 reps at 70%, 3 at 80%, and 1 (or AMRAP) at 90%, Test out your max rep again after 4 weeks, are recalculate your percentages for the next cycle.
Power Transfer Is Key
Depending on your mobility, it can sometimes help to have a solid, slight heel in your footwear for executing a max rep in squats. The elevation allows for greater depth, while also transferring efficient power to the lift, instead of to the ground.
If you have sufficient mobility, try a zero drop shoe for increased mobility and training the glutes and quads to fire to their full potential.
Other Factors to Consider

Style
To evaluate style, we considered everything from the design, color, shape, weight, lines and overall construction of the shoe in question. While no one wants to wear an uncomfortable shoe, they also don't want a comfortable shoe to be ugly on the eyes. We've selected all of those on our top 10 to be not only stylish, but also comfortable, true-to-size, supportive and durable.

Fit
Finding a perfectly-fitting pair of shoes can be like finding the holy grail; there are so many brands, styles, models and makes of shoes that it seems like it's next to impossible, especially when you are shopping online! Fear not, as we've ranked each product on our list for their fit and trueness-to-size to help guide you in finding the perfect match for you.
To come up with a score for fit of a shoe, we considered several factors, like the ones mentioned above, in addition to real customer reviews, to help boil down everything into one simple score. For example, Nike tends to make shoes that are true-to-size, meaning that you can buy a pair of 11s one year, and another pair of 11s next year in a different model, and they will usually still fit (unless your feet grown or shrank). A brand like Nike will most likely have a high score when it comes to fit, but the other variables in play, such as make, model and purpose, will also affect the overall score.
Consider that a running shoe, with its thicker midsole and synthetic sole, might fit differently than a flat shoe, with its thinner midsole and hypothetical leather sole. Each of these shoes, even if they are both from Nike, may have similar scores for trueness-to-size, but a size 11 in one might not be the same as an 11 in the other. What's a reader to do in this case? You must also consider the purpose and type of shoe it is. Knowing what kind of shoe you are buying, and for what purpose, will help you make a better decision. A running shoe might run smaller than a flat because it has thicker materials, so read customer reviews as well to arrive at the best decision for fit, in addition to just our overall score.

Bottom Line
There you have it: 10 great options to help you stay safe, stable, and successful when you're squatting. Our list combines the best in design, construction, and durability to give you a great starting place for finding the right pair of shoes to squat in. And the wide range of pricing options means you don't have to spend a fortune to get a pair of shoes that will help you reach your full potential in the gym.
We realize buying a pair of shoes primarily designed for one type of exercise might seem over-the-top, but would you run a marathon in Chuck Taylors or wrestle in flip-flops? Probably not, because you know those shoes aren't designed to be used for those purposes. You can squat in tennis shoes just like you can ride the Tour de France in Birkenstocks, but if you're serious about improving your form and increasing your reps at the squat rack, then you should be serious about the shoes you're wearing when you squat. The right pair of shoes will go a long way in helping you achieve your goals, and we hope our list of top shoes to squat in will help you find them.
Frequently Asked Questions
q:

Why can't I just lift in my tennis shoes?

a:

Weightlifting shoes are designed for a specific purpose: to give you the support and stability you need to move a lot of weight! Your tennis shoes weren't designed to do that. They weren't constructed with a hard, raised heel to help keep you stable or a flat sole to help you grip the floor when you squat. Your tennis shoes weren't designed to handle the additional weight you're holding when you squat, they weren't designed to keep your heel high and your body stable, they weren't designed to help you maintain solid contact with the floor, and they weren't designed to protect your feet from falling weights. Squatting or weightlifting shoes do all of those things.
q:

Can't I just lift barefoot?

a:

Again, yes, you can, but we don't recommend it. Many folks claim that squatting barefoot is more natural and gives you a greater awareness of your foot positioning. The belief is that wearing a shoe decreases your foot's sensitivity and puts you at a disadvantage when you're squatting. While going barefoot may grant you a greater sensitivity to what's going on under your feet, we don't advise it for two main reasons: 1) You lose all the benefits of having a raised heel. 2) Weightlifting shoes are also designed to protect your feet, and if you're barefoot, you lose that protection. One of the biggest dangers you face when you squat is falling weights, and if any size weight were to come loose and land on your barefoot, you'd be guaranteed a few broken bones. Weightlifting shoes like the ones in our list are built to protect all sides of your feet, so for your safety's sake, we highly recommend not squatting barefoot and wearing protective weightlifting shoes instead.
q:

What material(s) should I look for in a squatting design?

a:

We recommend synthetic materials as they're generally more lightweight and breathable. Even though squatting doesn't require you to move around too much, having a lightweight shoe will help keep you from being fatigued in the gym. Some elements, like a wooden heel, will add weight that can't really be avoided, but a synthetic material like a nylon shell will weigh less and be more comfortable than a material like leather would be. Breathability is important for your comfort as well. Most weightlifting shoes will have ample mesh to allow your feet to breathe. This isn't the most important part of a weightlifting shoe, but if you can find a pair that vents well, then you won't have to worry about your feet getting hot and sweaty while you're lifting.
q:

Can I use my weightlifting footwear for other exercises in the gym?

a:

It depends on what the shoe was designed for. Standard weightlifting shoes with hard, raised heels are meant for one thing: weightlifting. So, don't go trying to run on a treadmill in your squatting shoes. They're designed for a specific use and should not be used outside of that. Doing so could risk significant injury.
q:

How do I care for my new shoes?

a:

Our best advice would be to consult with the manufacturer directly. Often, reputable brands will have care guides to each of their products available online for anyone to download. Depending on the material and construction of the shoe, there will be different directions for cleaning and maintaining, so it is always best to consult with the manufacturer before taking action.
Subscribe to our Newsletter