Best Compression Socks for Running Reviewed
In a Hurry? Editors choice: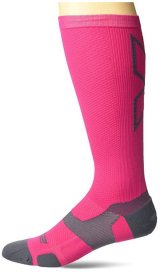 Test Winner: U Vectr

You've heard it a lot both in conversations about medicine and health, and about sports, performance, and recovery - compression seems to be the
it
word these days. And with good reason! It's been widely accepted that compression gear saves energy and improves performance, as well as aids in recovery after intense workouts.
Whether you're a short distance athlete or gearing up for your next marathon or even obstacle course race, running compression socks will certainly be of great use to you. Check out our list of the best compression socks for running that you need to take a look at before you decide which design to bring home with you. Sit back, relax and read on as we explain just why these
compression socks
are the next best thing!
Standout Picks
Criteria Used for Evaluation
Compression
Choose the level of compression that is optimal for you.
Given the title of this guide, it is only natural that the first and possibly the most important feature in running compression socks is precisely - compression. This is the ability of the design to increase pressure around your legs and feet, providing muscle containment, support, and improving the blood flow through these body parts.
Compression comes in several different forms, and here we will categorize it into compression for the legs and for the feet.
The leg support is provided by knee-high designs. These cover the lower half of your legs and provide graduated compression measured by mmHg (millimeters of mercury), which is the standard unit for measuring pressure. 15 - 20 mmHg is the regular compression rate, while there are some options which go higher than this, for those who are after more extreme support.
Graduated, in this case, means that the pressure is not equal throughout the leg. It is the tightest around the ankle, and then the pressure slowly and slightly lets up the further up the leg the design goes. This ensures just the right amount of compression in each area and prevents problems that may result from too much pressure on certain muscles or tendons.
When we talk about feet compression, this comes in the form of arch support. You've seen plenty of designs in our list that feature a tight band around the arch and instep which keeps the arch lifted and allows you to tread more easily. This reduces the strain put on your feet and helps you train both smarter and harder.
Arch support is great in preventing foot fatigue and enabling a well-balanced, natural gait.
The benefits of compression in training are numerous (see our FAQ section). It is also used in preventing deep vein thrombosis and similar conditions in medicine, as well as reducing swelling, inflammation and pain post-surgery.
When it comes to exercise, these types of socks are key in hard-hitting sports such as CrossFit, when your muscles work extra hard and your body needs as much support as they can get. They are also a great choice for running, as this guide establishes, and we hope that you will be able to find the right type and level of compression that suits you and your training style.
Comfort
Comfort is determined by the type of materials used and the construction of the seams.
Aside from compression, comfort is another feature that you simply cannot step on the road, track or trail without. It is impossible to have a good run if you're feeling even the slightest discomfort, whether it is an itch or a burn of a blister, which is why this entire section is devoted to comfort levels.
In running compression socks, comfort depends on two things: the materials the design is made from, and how well it is constructed.
Most of the materials regularly used in socks are comfortable and gentle on the skin. Those that stand out are cotton (though this is a bad option for training, as we explain in our FAQ section later), wool and bamboo. Wool may get a bit itchy sometimes, which is why it's a bonus if you find a design that is crafted from non-itchy wool.
Less soft but not unwearable materials are polyester and other synthetics. If you have sensitive skin, prone to rashes and redness and even inflammation, it is best if you opt for natural materials. However, if you don't expect any negative effects from socks, you can choose pretty much any option and you won't regret it.
In terms of the construction of a design, the most important feature to look out for is the seamless toe we have been consistently talking about on our list. The seamless toe is exactly what it sounds - a toe area without any visible or otherwise detectable seams to it.
Without any seams, there is nothing to dig into your skin and cause irritation or blisters, and thus the repetitive motions of running won't cause any discomfort in the long run.
Shock Absorption
Shock absorption is crucial in protecting your joints and muscles from long-term damage.
When you're pounding the pavement or ground with each step you take, there are a number of both short term and long term consequences that may arise as a result of this repetitive motion. Conditions such as plantar fasciitis, shin splints, even permanent damage to your muscles and joints can develop from running without protective footwear or socks.
So how can we, exactly, protect ourselves from this? The answer is: with shock absorption.
Each time your heel strikes the ground, a certain force generated from the impact travels up the heel and into your foot, and even further up to your ankle and knee and even hip. This can cause micro-tears and injuries to your muscles and joints, and lead to the ailments we mentioned above.
To prevent shock or impact from causing this type of damage, you need to wear shock-absorbing footwear as well as shock-absorbing socks.
In socks, shock absorption comes in the form of cushioning.
This cushioning can be strategically placed in the areas which make the most impact, such as the heel and toes, or the ball of the foot, but it can also be full-length cushioning which protects the entire foot sole.
Cushioning can be thick or thin, or even ultra-thin. Which one you go for depends on your personal preference. Do you like a thicker feeling underfoot? More bounce? Do you also prefer your compression socks for running to keep you a bit warm? Then thick cushioning is the answer.
If you're more of a minimalist runner and value a lightweight feel over padding, then thin or ultra-thin cushioning would be the best solution.
Fit
Despite their inherent tightness, these socks should not be too constricting.
It is a common mistake to order a size down for compression socks because they're 'supposed to fit tight.' While this is true, the tight fit is already guaranteed when you order your own size and you should absolutely do not size down unless the reviews of a product suggest so because of unreliable sizing. A fit that is too tight will bring more harm than good in this case.
How, then, to gauge whether or not your new pair of socks are too tight?
The answer would be - based on how they feel on your legs. If they are leaving marks or indentations in your skin and if they are almost painful and limiting your movements, then they are definitely too tight. However, if they are tight but not constricting, and if you feel energized as opposed to hold back, then the socks are perfect.
Likewise, it goes without saying that the design shouldn't be too loose either. In order for compression to work, it can't be slipping down or bunching up or in any way fitting large on your feet or legs.
So use your own judgment in determining the right fit for yourself. Take a walk around the house before you decide whether or not the tightness works for you, or if it is perhaps too much to be wearing on a regular basis, especially during training.
Durability
Pay attention to the material type and potential reinforcements in the design if you want to pick the most durable one.
The cost of best compression socks for running is not insignificant, and usually, you get only one pair for the price of several, perhaps even several dozen pairs of regular socks. This is why it is completely natural and even important to pay attention to the durability of a design. After all, if you're going to invest a significant amount of money in it, you want something that will last, no?
The fact of the matter is that running is a hard-hitting sport. It is tough on the body and tough on your gear, and you can't expect any of the gear to withstand the constant activity for too long. Add to that regular wash cycles and you've got a situation where you're lucky if your socks live to see another season.
However, there are a couple of things you can keep an eye out for to make sure that you are choosing the most durable option there is.
The first would be the type of material the design is made from. Synthetic materials such as polyester, polyamide, acrylic, nylon and similar are quite durable and can even be wear- and tear-resistant. These will hold up well in any type of conditions, and they will also not lose their shape in the washing machine.
On the other hand, natural materials such as wool, cotton, and bamboo are not as long-lasting. They provide a great feeling on the skin and are the main source of comfort, but they tend to stretch out and become formless after repeated wash cycles.
The other feature which will improve the durability of your new socks is if they have reinforced areas, such as heels and/or toes. These are constructed with stronger fibers and perhaps even added layers and cushioning which will prevent them from developing holes too soon.
Unfortunately, there is no magical design that will last you years. The nature of the sport is such that you will have to replace your somewhat pricey socks sooner or later. What is important, however, is that you get as many miles out of them as possible before that happens.
Our Top 10 Compression Socks for Running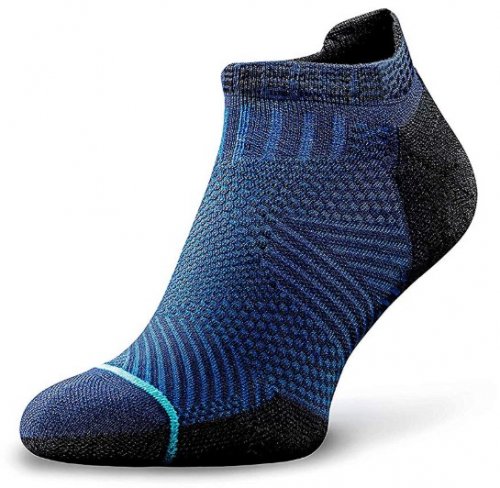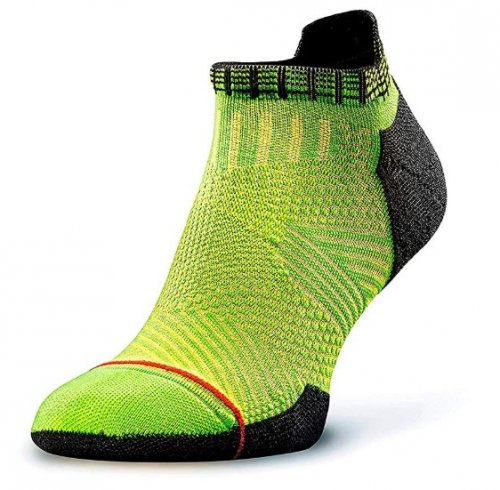 At the start of the list, we have a design that is a fine example of the fact that not all compression running socks have to be knee-high. The Accelerate from Rockay is a no-show sock that still offers benefits in terms of compression and support, especially in the arch area. It has been selected as one of the top sports socks on Forbes, Business Insider, Runner's World and a number of other portals, and with good reason.
This option is made from polyamide for durability and colorfastness, organic Merino wool for a soft, natural feel, temperature regulation, and moisture-wicking, and elastane for stretchiness. This is certainly a winning combination of materials, as each of them is carefully chosen due to its cushioning and compression benefits.
Speaking of compression, Accelerate offers it in the form of a tight band around the arch which ensures that your feet don't feel any fatigue at the end of the day. This band promotes circulation and also allows the sock to stay in place throughout your run. Additionally, there is padding in the heel and toe areas to prevent blisters and provide shock-absorption.
The Rockay Accelerate is a design that can be used not only for running but also for walking and hiking. It is easy to match with low-top footwear, and it comes with a lifetime guarantee! This option has been tested for durability in all sorts of conditions, from marathons to obstacle course racing, and you know it will withstand anything you throw at it.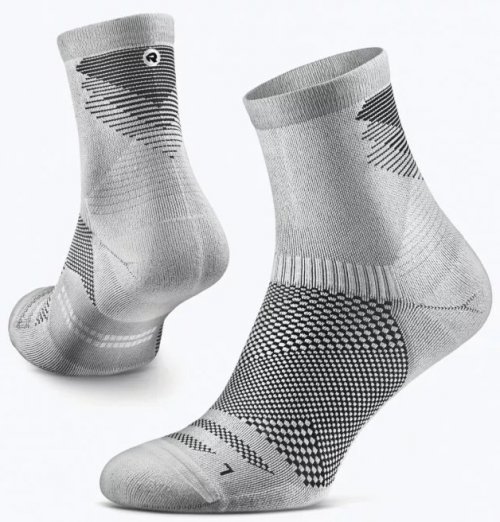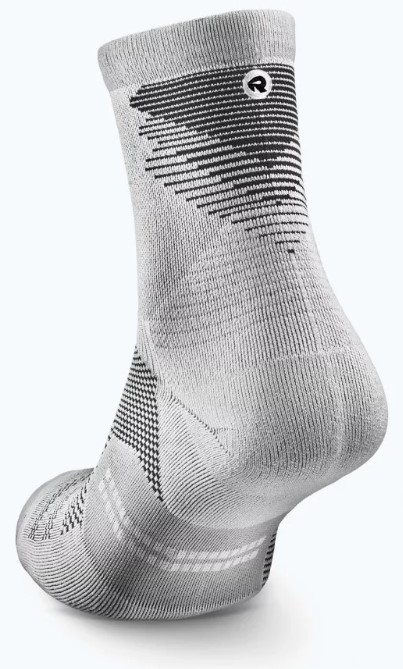 Reaching a bit higher, the Razer Trail is a crew height design that is made from 100% recycled materials. As its very name says, it is meant for trail running, when you're taking on challenging terrain and need all the support you can get. It represents a great balance of protection and functionality, and it will keep you both cushioned where you need it and dry and cool no matter how long you run for.
The Razer Trail is made from Econyl regenerated nylon, recycled polyamide, and recycled elastane. These are all reused materials, which means that this option is all about reducing pollution and protecting the environment. There are also technical mesh zones over the top area for increased ventilation and improved breathability.
Arch support is essential for long runs and the Razer Trail provides it through its compressive arch band. It also comes with a seamless toe construction for a chafe-free experience, as well as performance cushioning for extra comfort and impact absorption. Trail running will never feel as good as in the Rockay Razer Trail.
Treat yourself to this high-quality performance sock since it will not only keep your feet safe and feeling good as you pound the trail, but it is also a great option for those who are conscious of the environment and their carbon footprint. The Razer Trail is a design of the future, and you won't regret investing your money in it.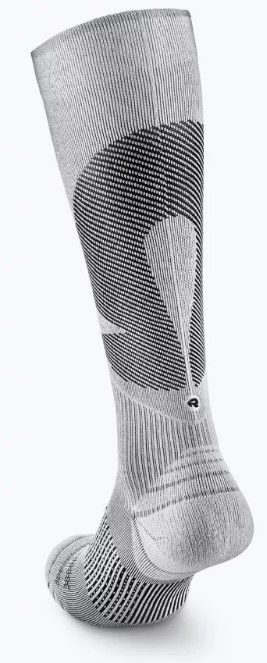 Our first full-length compression design is the Vigor from Rockay, made from completely recycled materials just as the previous model. It features graduated compression from 16 to 23 mmHg, along with arch support and all of the features you shouldn't be starting your run without cushioning, meshes zones, and a seamless toe. All of these work together to deliver one of the best compression socks for running in existence, which just happens to be environmentally friendly to boot.
The Vigor contains Econyl regenerated nylon, recycled polyamide and recycled elastane, similar to the Razer Trail. We applaud Rockay's dedication to leaving this planet a better place for future generations. These materials provide durability to the design, the much-needed compression, as well as stability in your run so that you don't have to worry about anything.
The cushioning in the Vigor is focused on the ball of the foot and the heel, where you need energy rebound and shock absorption the most. The seamless toe ensures there will be no blisters while you're on your feet, and the arch support will improve your performance and secure the design so that it doesn't bunch up.
The Rockay Vigor is a fully supportive design that you need if you're embarking on a longer, more intense workout. Its compression levels improve blood circulation through your muscles and reduce recovery time, and its comfort features are nothing to sneer at. If you're looking for high quality, you've definitely found it in the Vigor.

4

. CEP Progressive+ Run 2.0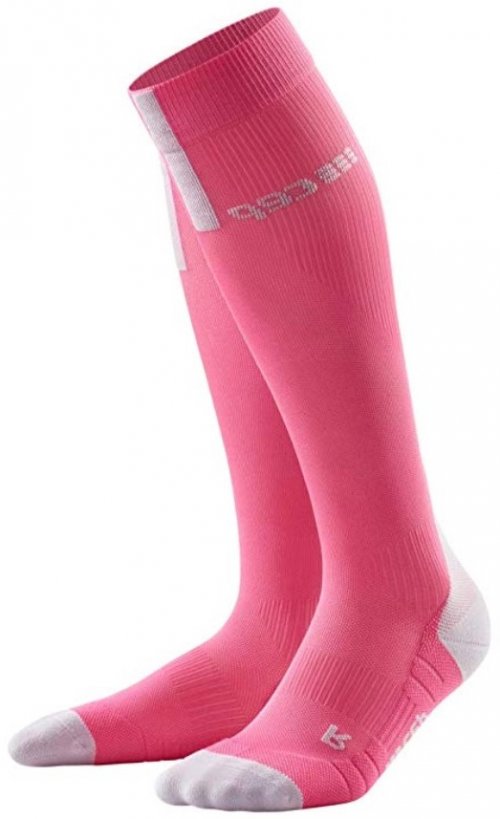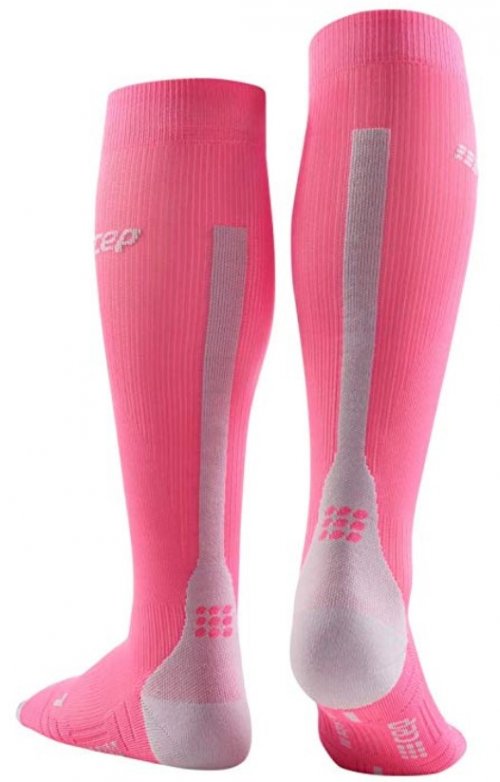 CEP is a German-based brand born from a company specializing in medical compression products. It wasn't a big leap from that to compression sportswear, and thus one of the leading manufacturers of running compression socks was founded. The Progressive+ Run 2.0 is a favorite among runners of all ages and fitness levels, not least because it provides more containment that your regular compression design - a whopping 20 - 30 mmHg!
The Progressive+ Run 2.0 is a knee-high option made from polyamide which provides durability, colorfastness and breathability, and spandex which is there for elasticity and a superior fit. A knit construction promotes airflow that cools off your feet and legs and there's cushioning and a seamless toe area to prevent blisters.
The compression in the Progressive+ Run 2.0 is graduated from the foot up to the knee, and it is incredibly similar in function to medical compression; it reduces vibrations in the muscles and improves coordination, at the same time preventing injuries.
The Progressive+ Run 2.0 comes in a wide range of colors to suit every style. It is a design that is deeply rooted in the medical aspects and benefits of muscle containment, and as such, it is a notch above other options on our list in terms of health care and advantages. For maximum effects, reach for the CEP Progressive+ Run!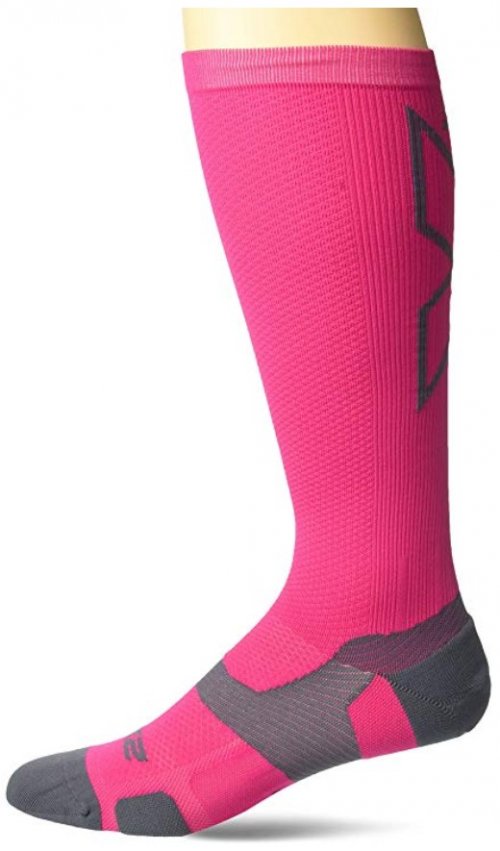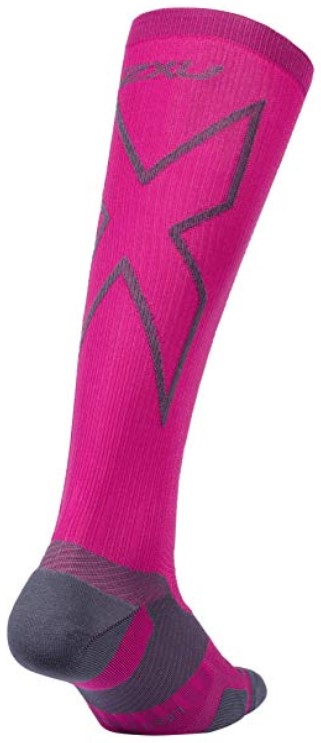 An Australian company that works closely with the Australian Institute of Sport in designing its compression models, 2XU is a leading brand in this industry. It empowers athletes to give it their all in every training session and helps them recover in record time. The Vectr features X-LOCK technology for optimal pressure in all areas of your foot and leg, as well as an ergonomic fit, light cushioning, and antibacterial and anti-odor properties. Compression, comfort, and protection all in one!
The Vectr is made from a combination of lightweight and durable nylon, and Lycra for stretchiness. Its compression gradient is from 15 - 20 mmHg, and this improves stabilization at the arch, as well as coordination and blood circulation. The X-LOCK system we mentioned provides support to the plantar fascia for a better foot strike and a more explosive toe-off.
An ergonomic fit means that the Vectr comes in separate left and right foot designs for better comfort. It has light cushioning under the front of the foot as well as the heel to reduce shock but not add any extra weight. Anti-odor and antibacterial technologies prevent unpleasant smells and infections.
To top this all off, there are mesh panels for superior breathability and a seamless toe for blister prevention. The 2XU Vectr is a top contender in every way; from its comfort to its compression technology to the detail-oriented construction. It won't let you down no matter how long or how demanding your runs are.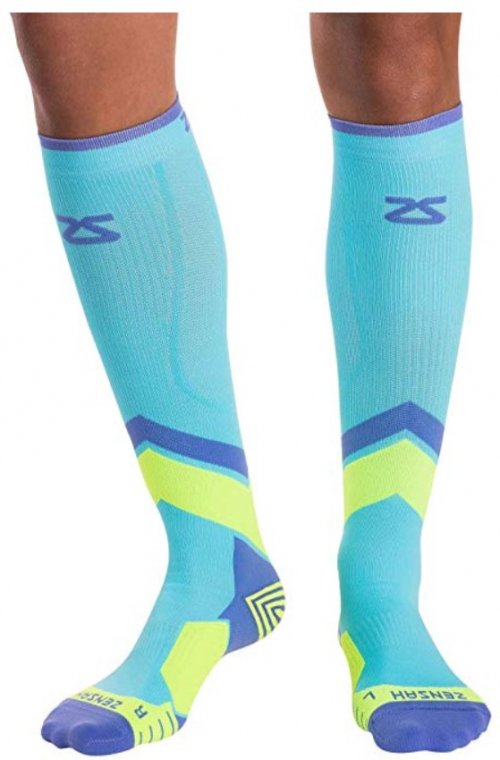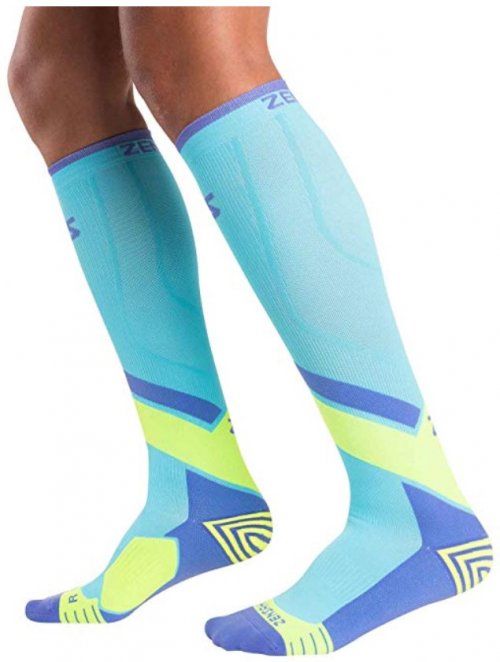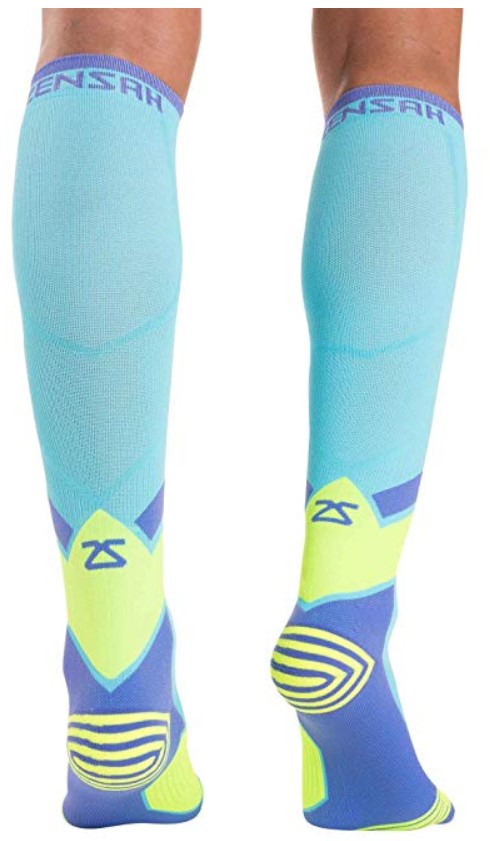 Made in Italy, the Tech+ from Zensah is suitable for anyone, from those just starting out in the world of running to already experienced athletes. You can wear it for other sports as well, such as regular gym training, CrossFit, or simply daily wear if you need to. The Tech+ features the Tech+ Compression Technology for enhanced oxygen flow and blood circulation that prevents injuries during training and relieves the pain of shin splints. Paired with good running shoes for shin splints will make it even more effective.
The Tech+ is made from polyamide and elastane, on a 200 needle count machine. This last part is important because it means that the Zensah Tech+ is denser and better fitting than most other designs out there. Their special fabric provides moisture-wicking and temperature regulation without being too heavy.
Aside from the Tech+ Compression Technology which ensures true graduated pressure, there is also Ultra-Zone ribbing. This ribbing delivers arch support and stabilization of the ankle. With these qualities, you will be able to run longer. Seamless construction is there to eliminate any chances of chafing or blisters.
The Zensah Tech+ is a great all-around choice. You can wear it for running, for other types of sports and even on long trips when you expect you'll be sitting for longer periods of time. We love the quality (and density) it is made from, and we are sure that it will last you for quite some time, providing superior compression all throughout.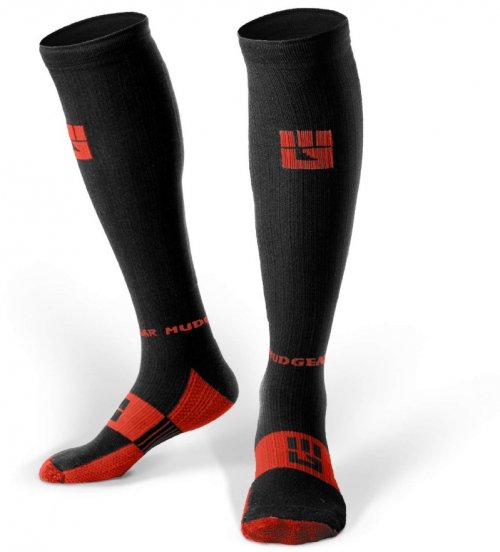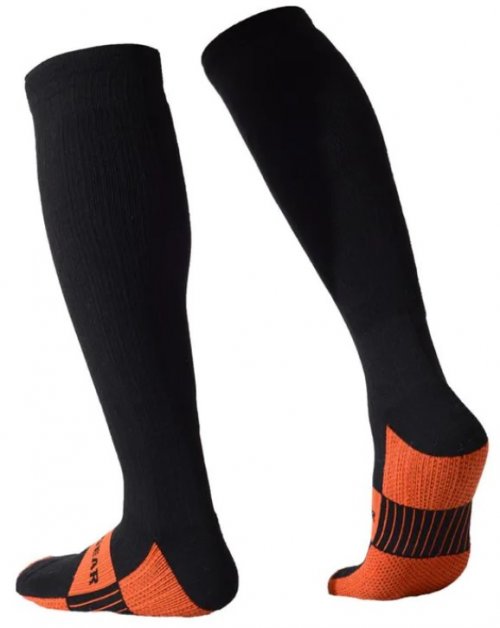 The OCR in MudGear OCR stands for obstacle course racing, so you know that this option is built to withstand literally anything. It boasts a 15 - 20 mmHg compression, along with a durable build that protects you from muddy and debris-littered terrain, and protection against skin scrapes and cuts. It is a design you can easily wear on a road or a city-run, but it is also one that excels in extreme outdoor conditions when you not only have to run but also to overcome obstacles, leap across puddles, crawl through tight spaces and perhaps even climb or traverse rope.
The MudGear OCR is made from tough yarn that is more resistant to abrasion compared to regular gym designs. It has a 168 needlepoint compression for density and a structure that will keep your motions firmly controlled and balanced. Along the front and the back is special backings that ensure your legs are protected in case you run into some rope climbs.
On top of strong compression which improves performance, there is also a drainage system that enhances comfort for long-distance running. This makes the OCR a great option for both short spurts of fast running as well as for longer periods of activity.
The MudGear OCR is a champion in keeping you safe and injury-free. Despite all of its features, it is a lightweight design that doesn't weigh you down or restrict you in any way. It is ideal not only for running but also for CrossFit, mud runs, and any other type of challenge, perhaps even brutal workouts in difficult conditions. A design fit for a warrior!

8

. PRO Compression Marathon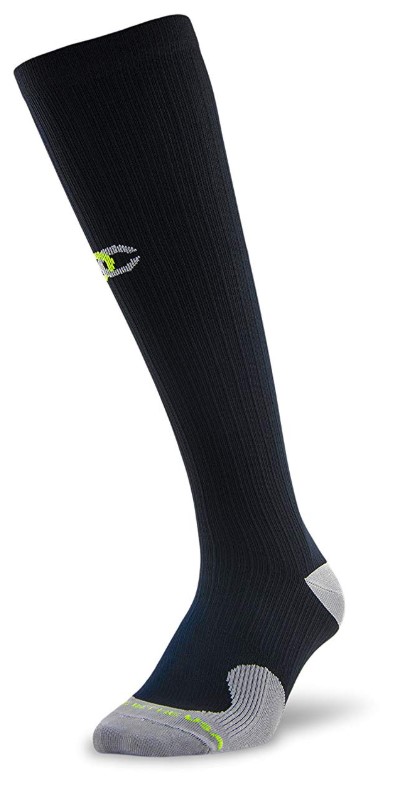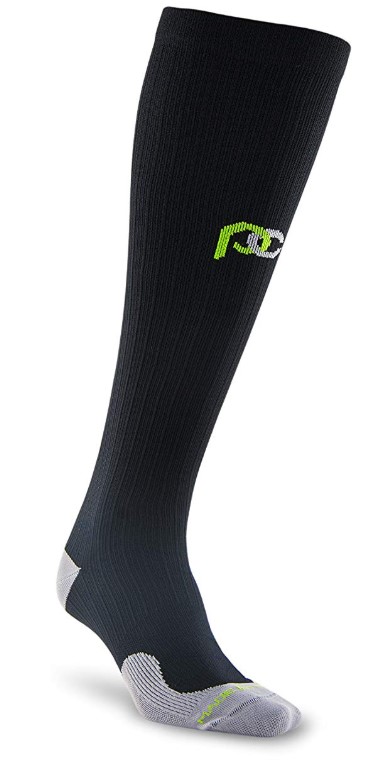 The Marathon is a bestseller from this brand, a design that everyone is reaching for to help them go that extra mile, to shave a couple of seconds off their personal record. It is made from a special poly-nylon blend that is moisture-wicking and breathable, and it comes with a true graduated compression with a rating of 20 - 30 mmHg. In addition to that, the Marathon also has a cushioned footbed, arch support, and a roomy toe box.
This option is made from poly-nylon, meaning it is synthetic, but it also has the ability to pull moisture away from your skin and towards the outer layers of the sock. This greatly reduces sweating and that damp feeling you want to avoid during the run. The cuff of the Marathon is comfy and stays where it should around your leg.
Arch support keeps your feet fresh even at the end of the day, and the roomy toe box we mentioned doesn't let your toes feel squished or pinched in any way. The footbed of the Marathon is cushioned for even more comfort.
Designed for prolonged periods of time spent on your feet, the Marathon is a lifesaver regardless of if you are actually planning on running a marathon or if you are simply working long hours. It is durable, irritation- and chafe-free, and it will be just the right amount of snug yet comfortable as you wear it.

9

. SB SOX Compression Sock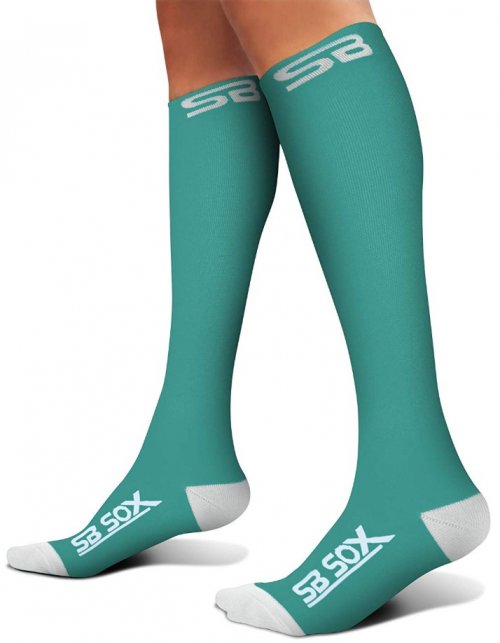 Another design with 20 - 30 mmHg of pressure to it, the SB SOX option is ideal for both physical activity and everyday wear. It comes in numerous color combinations and even patterns and is all about ankle protection, reinforced areas, arch support, and no-slip wearability. The SB SOX compression sock will keep you company regardless of what type of surface you're running on or how long your next session is going to be. They're cushioned, providing relief, and a true delight to have in your running gear.
The cuff of this design is tight enough to keep it in place around your leg, but not too tight to cut off blood flow. Its material is incredibly moisture-wicking, keeping your legs and feet dry in all types of conditions. The ankle protection we mentioned before is essential in improving blood circulation throughout your entire leg.
Reinforced heel and toe areas have different purposes. The heel reinforcement means added cushioning in this area for a softer heel strike, and the toe reinforcement means that you won't have to worry about any blisters. As a last touch, arch support is what prevents the development of conditions such as plantar fasciitis.
The SB SOX is a lightweight, durable design that even comes with anti-odor and anti-static features which reduce the chance of infections and moisture from building up. If this extensive list of beneficial features didn't convince you to go for this option, then we don't know what will!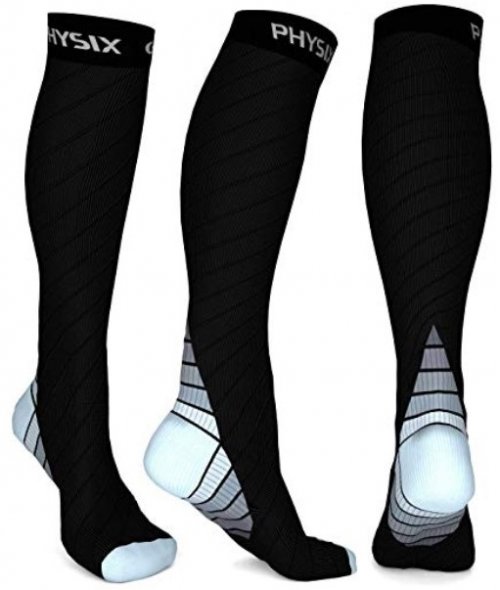 Whether you're running, walking, spending an absurd amount of time sitting at work or even need something to prevent post-surgery complications, the Physix Gear Stamina is here to help. This is a fashionable option that you can wear in all sorts of situations to get your blood pumping, to reduce the chance of pain and to take advantage of a number of vascular toning benefits. The Stamina's compression is at 20 - 30 mmHg for a tighter fit and its anti-bacterial and moisture-wicking properties make it a worthy contender in this guide.
The Stamina is made with a special material that is infused with antibacterial properties. This will keep bad odor to a minimum and will reduce your risk of developing infections. It has a seamless structure that won't rub you the wrong way or rip apart in these places. The cuffs will be secure around your legs and these are quite easy to roll on, despite being compression running socks!
This design is also incredibly moisture-wicking. If you happen to get wet, either because of sweat or rain or other inclement weather, you can be sure that the Stamina will dry out in a blink of an eye. This doesn't leave your feet damp or cold for too long, making for a more comfortable run.
The Physix Gear Stamina may not come from a world-renowned brand or with special fancy technologies. However, it ticks off all the boxes when it comes to our criteria for this type of design, and we can't help but feel that its pros are precisely its simplicity and an emphasis on solid construction and materials.

Subscribe to our Newsletter