Best Circa Shoes Reviewed So You Can Skate Like A Pro
In a Hurry? Editors choice: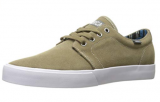 Test Winner: Drifter

Whether you like to skate to perform tricks, or you just like to use the board as means of transportation, choosing the right kind of skating shoe should be one of the first things you do. If you want to have a shoe with a little bit of troubled history, here is your choice. They offer stylish pairs, with cushy comfort and great innovations to back up your skating desires. We have carefully reviewed their shoes, and have gathered a list of what we think are the 10 best pairs you can own, with an increased focus towards the quality of the shoes, and their urban design as well.
Standout Picks
Criteria Used for Evaluation
Comfort
Comfort is one of those things that can completely throw us off or really convince us into buying a new pair. But, you must know that you should not sacrifice your health in the name of beauty and good looks. Uncomfortable shoes can cause a range of problems - from unsightly blisters to bad backs! So choosing a proper pair is important, and that is the same wen it comes to skating footwear.

Comfort in skating shoes is a little bit different compared to regular shoes, as they are not your everyday pair, they are footwear with a purpose. It is important to have pads in areas usually not padded, like the tongue and collar. Most of Circa 's mid-top models have a padded tongue and collar, as they serve to soften the blow on your arches and ankles and to make them fit more snug. Aerocush is a technology unique to Circa and was first added to their Griz model. Aerocush is a midsole, that uses air pockets to cushion your feet. Besides that, it improves the flexibility of your pair and has reinforced cushioning on the heels, where most impact goes to when you land.

Eva midsoles are a known way to improve comfort, and some Circa models have it. They differ from regular midsoles, as they are less dense, and much lighter. So, you get the same amount of comfort with a lighter weight, giving you more stability and better bounce back! The footbeds of most Circa models are cushioned as well, and that makes the fit even more stable. It also helps reduce the damage on your feet and joints when you land, or maybe even fall, so the time taken for you to recover is insignificant. Elastic tongue straps improve the fit too and make them cozy and nice, so you don't need to worry about losing your shoes somewhere along the way. And the last step Circa took towards making you feel comfy is the soft textile lining, that gently wraps around your skin, making it feel like you walk on clouds!
Materials
The materials a shoe is made out of can affect many things, including the flexibility, weight, durability, and performance of skating footwear, and those are all factors that are very important in a skating shoe.

The first thing we should look at is the upper. The upper is the most visible part of footwear and is where most of the details and colors are. Circa has chosen canvas, suede, textile, and leather for their uppers, and they all make great choices, but they all have their flaws which we will discuss right now. Canvas is one of the most popular choices and can be seen on most of their products. Canvas is great for warmer weather because it has many small holes through which air can circulate, and is also very light.

It is also cheaper than most materials, and relatively easy to clean, so you can roll around dirt as much as you like. Suede is also a good choice. Suede is leather with a special finish, which gives it a soft, fur-like effect. Suede is the inner side of leather, visible when you turn their skin upside down. It's a very fashionable material, as it has a luxurious look. It also offers a lot more flexibility, but it sucks up dirt, so taking care of it can be tough. Textile is also a good choice because it is light, cheap, and flexible, but it tears up very quickly leaving you with the need to change your shoes more often. Leather is the best when it comes to durability, but is very heavy, and that can tire feet very fast.

The midsoles in skating shoes are usually foam, like an EVA midsole. They provide good bounceback, protection, and comfort, so you can enjoy your ride to the max.

The insoles can vary a lot, and they usually have plenty of padding for max comfort and shock absorption. They can also have antibacterial linings, to help fight against infections and bad odors. OrthoLite is a very common choice, because it molds to the shape of your foot, and fights bacteria well.

The outsoles in skating shoes are always, always rubber. Rubber helps you by making it almost impossible to slip on water, oil, and other slippery surfaces, keeping you upright all the time. Different types of bumps and ridges are added, all for the sake of improving grip and ground feel. We can also differentiate between cup soles and vulcanized soles, but we will dig much deeper into that in a different section.
The materials used to create skating shoe can mean a world of difference, and you should always be careful when you look for a good skating sneaker!
Flexibility
The flexibility of skating shoes can depend on many things - the materials they are made out of, the padding, lacing, and most importantly, seams. It is important to have flexible footwear for skating because it allows your feet to move naturally and that way there is less chance for you to injure yourself.

When you bend and twist your footwear often, only one outcome can happen, and that is tearing. Using reinforced stitching and double and triple seams the chance of that happening lessens. Those seams usually appear where the footwear bends and flexes the most, nd those are the heels and the toe cap areas. Grip tape can also affect those seams, and they tear down faster because of the added traction. Seamless toe caps are an answer to that as they make it much easier for you to bend your feet however you like and are also more resilient to the wear and tear that happens due to the grip tape!
Ground Feel
The ground, or board feel, is how much of the surface you are standing you can feel when you walk, jump or run. This is one aspect many skaters deem important because it gives them a rough idea of their skating route and the position of their feet. Circa developed special outsoles that help with that and implemented a variety of both cup soles and vulcanized soles, which both have different pros and cons.

Vulcanized soles have a lower weight and more flexibility, thanks to the way they are created. The thinner soles result in an amazing board feel. Each individual rubber part is glued onto the next one, and then all of that is stitched to the upper. So, the break-in period for them is short, and you can wear them straight from the box. But, they break down faster and are prone to abrasion.

Cup soles, unlike vulcanized soles, are made out of three parts: the outsole, a foam midsole, and a padded insole which can be removed. They are heavier and not so flexible, but they are more stable and last much longer!

A special kind of skating shoe is one with a profile sole. Those soles give both the cup soles and the vulcanized sole better ground and board-feel and better cushioning. The most popular examples are the waffle sole by Vans, and we can see the wrap around soles in Circa shoes.
Breathability
A shoe that breathes is critical to providing the wearer a comfortable and healthy experience when sporting a pair of shoes, sandals or boots. A lack of breathability will create a wet and humid foot, leading to discomfort and possible fungal or bacterial infections that are painful and difficult to cure.
How does a manufacturer ensure their product will allow maximum airflow? There are several ways to achieve this, including using special fabrics in the upper of the product, lining the midsole with moisture-wicking technologies and finally, the good old use of perforations of holes throughout the product.
If a product scores high on this metric, the buyer can rest assured that the manufacturer has used some or all of the above techniques to ensure the wearer a comfortable and dry wearing experience.
Top 10 Picks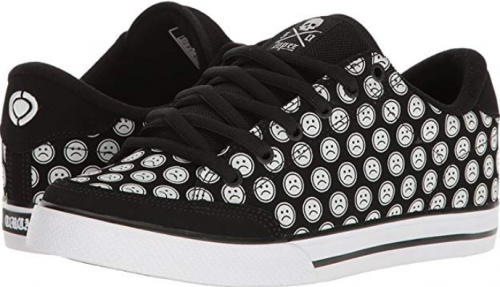 The AL50 is a lightweight sneaker, made out of imported leather. The leather comes in various different color combinations and patterns, leaving you with the option of combining them with any kind of outfit that comes to mind. It is a low top, so they might not offer as much protection, but you have a better range of motion, more flexibility, and you can wear them when the weather is hot and humid because you will get more air. They have a vulcanized cup, so you won't need to break them in, and you will have an exceptional board feel.
The padding is slimmed down, making your feet appear daintier and giving you a sharper image. The tongue and collar are cushioned, so your ankles won't suffer from any pain, and your fit will be snug - your feet won't move around in your sneakers as much. The tongue is mesh, offering you with plenty of air, helping cool you down and regulating your temperature when you get all warmed up from skating.
The toes are triple stitched, and they have a bumper. That means you will not tear through them easily, and you will not injure your toes if you fall on them or squish them. The soles wrap around, ensuring they don't crack and that they still have their flexibility, and the outsoles have a waffle-like pattern, ensuring you get a good grip!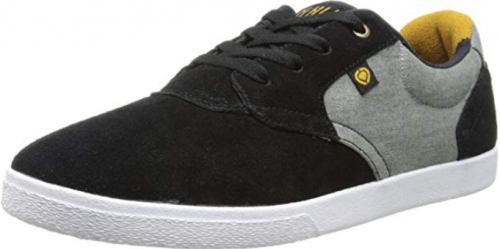 The JC01 features an upper made out of a combination of suede and textile. This blend gives this sneaker plenty amount of flexibility, the suede gives it durability, and due to textile details, it is also lightweight. Airflow is also improved, because both of these materials let it flow uninterrupted, so you can cool of with ease. The insoles are synthetic, so they won't weight down your feet when you jump, and they have to cushion on impact areas which will help you be to injury and pain-free. They also have anti-odor properties, so you can take off your sneakers without suffocating your friends!
Their low top allows you to have better motion control, and you also have more flexibility. The ankles are padded, so the materials won't ut into your ankles and you will have a snug fit. The ultra slim design makes them stylish, so you can stay looking sharp even on the board.
The outsoles have fushion grip, Circa's unique staple on grip innovation. The heel is contoured to be non-slip, so you get the ideal skating surface. The midsoles are aerocush - lightweight, with enough bounceback and impact force protection to help you be a better skater.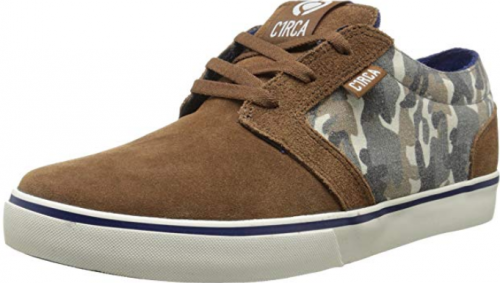 The Hesh is a suede sneaker, with a trendy urban pattern on the sides. The versatile colors make it a great choice for many casual outfit combinations, so you can take them with you to various social gatherings. The soles are synthetic, lightweight and fight odors, that way you'll end up smelling like a rose field.
Their vulcanized cups make them very flexible and lightweight, for an overall better skating experience. They will also have an easy break-in or no break-in period at all; you can wear them for hours on end even on the first day you bought them!
The rubber outsole features a trendy blue line, and they have a fushiongrip. That grip is featured on many Circa shoes, because it literally glues you to the board, and it makes it easy for you to perform tricks and jumps. The lightweight performance insole doesn't add extra weight to the shoes, and cushions your feet so you don't end up blistered and with hard calluses.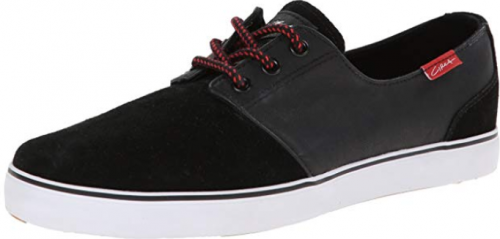 The Crip Synthetics metropolitan design will make sure you fit in with the crowd, but still stand out enough to make a remark! The combination of the leather vamp and synthetic upper combines their good aspects, located just where they need to be to provide you with the best skating action. The lining is soft, and man-made, hugging you from every side and caressing you gently. The genuine vulcanized construction slims them down, enhancing their style.
The logo patch sits on the tongue, and the label with their name hangs from the side. The hanging tab matches the red part of the laces, and the rest of the shoe goes along with the black color - breaking apart the monotony of a single solid color completely. The outsoles are, you guessed it, rubber. The rubber is enhanced to be even more durable, and it has the waffle tread pattern for a better grip.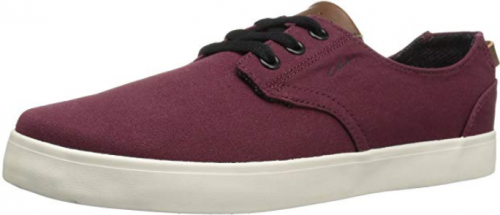 The simple, clean design of the Harvey Low Profile will keep you looking fresh and trendy. The colors and the shape make them a very versatile choice, making it possible to combine them with a variety of different styles. They are made out of reinforced canvas. Canvas usually wears off pretty quickly, but this one will last longer, and provide the same amount of flexibility and airflow. This makes them the ideal choice for summer skating activities!
Now let's change our focus to the outsoles. The outsoles are gum rubber. Natural gum rubber is soft, supple and elastic, which makes it a logical choice for skating apparel. It is produced from the milky dew one particular tree produces, so if it's good enough for trees, it has to be good enough for our feet! These do not have the waffle tread pattern, but they do feature interesting tread patterns, that without doubt increase the grip.
A pull-tab on the heel doesn't have much purpose, but it's an interesting detail. The insoles are lightweight, with minimal padding, helping you perform and keeping the weight to a minimum. Low profile design means they will not offer that much protection or heat, but you will have a better range of motion and better control of your ankles.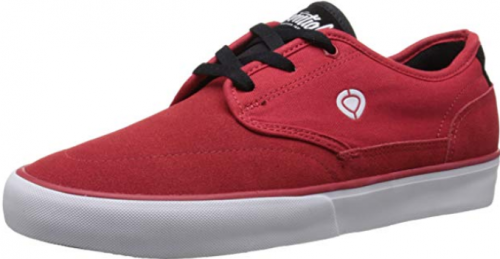 The Essential is a model created by Windsor James. In case you do not know, he is a young professional skateboarder, and has partnered up with Circa many times before, providing advice, advertising their products, and overall just being a good sport to them. They are almost completely made out of suede, so you get the durability and protection leather offers, without the weight and bulkiness. A textile liner is added to the outside, to accentuate the silhouette and to reinforce the construction.
As are many other Circa models, these are vulcanized as well, improving their flexibility, durability and board feel. The soles are wraparound and rubber, reinforced to protect them from cracking and breaking. The grip is enhanced with Fushiongrip, an innovation by Circa that many of their model's sport.
It has proven to help the board stick better to your shoes, with the help of grip tape, ensuring you have a safe ride. The outsoles are reinforced with a two-layer foxing tape, which is used to help stick the soles to the upper. That strengthens the construction even more, and you get a long lasting product.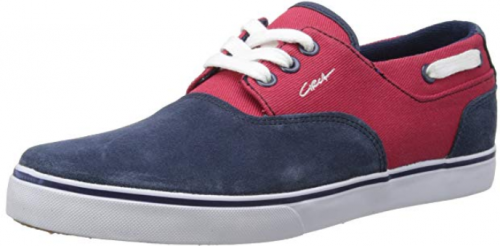 The slim, low-profile Valeo will keep your skate groove right on track. The materials the upper is made out of are either a combination of durable suede with a canvas trim, or canvas with a leather trim. The blend of these materials creates a lightweight, durable and trendy shoe.
They have vulcanized soles, making them light, elastic, and easy to break-in. You will also have a much better board feel - you will feel even the tiniest pebble when you go over it! The outsoles have that well-known waffle tread pattern. The patterns on skating shoes vary from company to company, and from model to model, but they all have the same purpose - to better the grip of the soles.
There are three eyelets present, through which waxed laces go through - that means they will not get untied and be a bother all the time. No need to be stressed about falling from the board and injuring yourself, you can skate with ease knowing that the waffle tread has your back!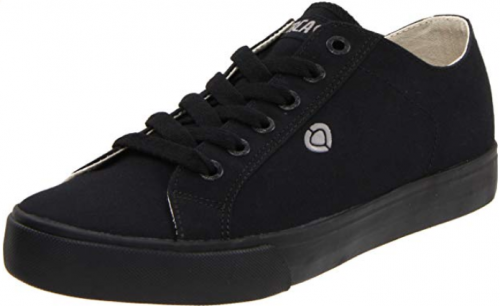 The Game Slim makes skateboarding a way to show off not only your skills but also your good taste in clothing! The low profile style makes sure you have an easy time performing tricks that require insane amounts of twisting and flexing, due to them not constricting your ankles. Elastic tongue straps keep it in place - it will not slide down to the sides to bother you and rub your skin.
The EVA insole keeps your joints and skin safe from bruising, blisters and other kinds of issues related to uncomfortable shoes. The upper design is classic, featuring a normal amount of eyelets and a usual lacing style. The padding is reduced, for a slimmer fit and feel. The outsoles have a micro-pill tread pattern, enhancing your grip where you need it to be better - at the heels and toes!
As for skating, it does what it needs to do. It's a great option, but it serves as a fashion sneaker rather than a purely sporty option. The vulcanized construction and thick sole are a hallmark of skater style while maintaining a purpose. Aren't the best designs a perfect blend of style and purpose, anyway? We think so.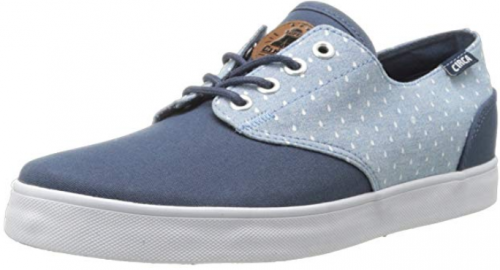 One of the most eye-catching details on these sneakers is it's canvas upper. The canvas is heavily waxed, so it will give you much-needed air, temperature control, and you will fight sweat better. What is striking about it are the details and the colors. The blue model, in particular, has small raindrops on the vamp, which is an interesting detail, unique and trendy, so you will look great while you skate without any doubts! Textile linings offer great airflow, have some moisture management properties, and are soft to the touch, so you have a comfortable experience.
The padding here was cut to the minimum, to slim them down and make the weigh as less as possible. They are slimmed down too, making these the best choice for a fashion statement. The laces have four eyelets, so you don't have that many options when it comes to adjustability, but you can still tighten them to your liking. The toes are seamless and vulcanized, so you can use grip tape as much as you like, with minimum damage! The heels have a Lopez badge, so everyone knows who helped with the creation of this marvel!
The outsoles are gum rubber, and with their waffle tread pattern, so they left their optimal grip on them. The lining is lightweight, and textile. All in all, these may not be a good choice for skating per se, but they are a great everyday sneaker!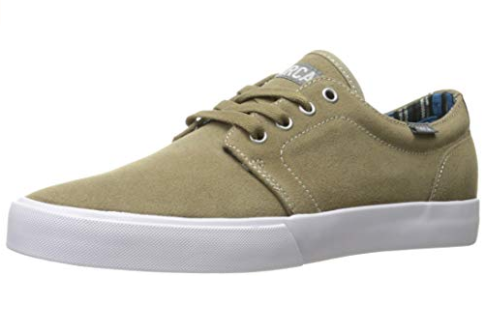 The Drifter is a fine addition to the lineup. Don't be too concerned that it's number ten- that's just because it's more stylized than the rest may be. While some of the above are favored even by professionals, the Drifter is absolutely a match for people who just like skater style. The versatility of this style lies in its understated design, complemented by neutral colors and delicate stitching. Each pair is a flat color, which means that the shoelaces are the same color. The style is in high contrast to other pairs which have traditionally white laces no matter the other colors. Anywhere you go, and anything you do, the Drifter will make a marvelous companion.
Flat colorations are highly valuable when you're looking for a sleek, neutral vibe. The khaki can be paired with pretty much anything, topping off the outfit with a little touch of understated class. They'll add volumes to your outfit while saying very little. After all, the fewer words used, the higher the impact on the audience.
Speaking of audience, let's talk a little bit about the versatility that this pair in particular provides. As mentioned, you can wear them absolutely anywhere. However, they're most popular among people rocking a Cali vibe. These are about as West Coast casual as you can get. Skateboarding has its roots in the Sunshine State and so, naturally, their chill has leaked into the design. The value of these lay in their ability to blend in anywhere, mimicking the social chameleons California is known for. Their craftsmanship is, of course, next to nothing. These are superb, first class sneakers that can get on your level, whatever your level is.

Subscribe to our Newsletter