Best Bed Sheets For The Shoe Lover Reviewed
In a Hurry? Editors choice: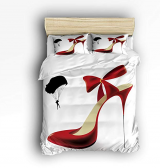 Test Winner: Family Decor Red High Heel Set

Are you obsessed with all things relating to shoes? If you can't help but wishing you could cuddle up with those
gorgeous new high heels
you just bought, then consider buying some bed sheets made for the shoe lover! After all, it is a lot more hygienic. Bedding that proudly displays imagery and quotes pertaining to the
fashionable side of footwear
is something that anyone who admires shoes should seriously consider investing in. It can help to soothe you while you sleep and guide you gently into a dream world filled with the latest pairs. So scroll around and choose a perfect bedsheet printed with a lovable pair of heels.
Standout Picks
Criteria Used for Evaluation
Comfort
Being comfortable is a must if you want to get a good nights sleep! That's why you need to think about a few aspects before making your final decision. Let's take a closure look at some of the things you should think about while shopping for your new set of bed sheets.
Softness: This is a big one! You want to have a nice soft set of bedding to lie in once the day is done. Soft sheets won't be abrasive against your skin and will let you roll freely about without sticking to your skin if you're hot.
Temperature Control: Ensuring that your bedding is seasonally appropriate is another huge aspect to think about! If you're too hot it can lead to excessive sweating which can get awfully uncomfortable pretty quickly. On the other hand, if you're too cold that's just no fun either. For spring and summer, you'll want to choose a lighter material that allows for adequate airflow and one that won't trap body heat under the covers with you. Materials like Egyptian cotton and silk are a good choice because they're lightweight and super soft to the touch. For colder weather, polyester and heavier cotton are recommended because they'll help to keep the heat from your body under the covers with you so you'll stay warmer. Wool is another material that's comforting when it's cold outside and is a great choice for chilly nights.
Noise: This may sound like something that you wouldn't really think about while shopping for bedding, but some materials can get pretty noisy, especially while you're tossing and turning. Vinyl, for example, is a material that's occasionally used to make bedding but it can get quite noisy while you roll around. That's why it's a good idea to consider an option that's made from a softer fabric.
Materials
The materials that your bed set is made from can really make a difference in how comforting it will be. If it's made from the wrong ones, you could find yourself waking up covered in sweat, or worse, broke out in hives from the irritating material.
 
One of the best choices for quilts and duvet covers is polyester because it's both strong and comforting at the same time. Polyester fibers are extremely long-lasting and are resistant to mildew, shrinking, and even wrinkles. This fabric is also very quick-drying and will actually absorb excess sweat for a more enjoyable feeling while you sleep because no one likes to toss and turn all covered in perspiration!
 
Cotton is one of the most popular materials used to make bedding because it's durable, soft, and usually less expensive than other options. Cotton is a versatile choice that takes little effort to care for and feels super soft against your skin. It's also a thicker fabric and can help to keep you warmer in the winter months. For summertime, it's best to opt for thinner cotton like Egyptian or MicroCotton because they're more breathable and won't trap body heat underneath the covers.
 
Silk is often used to make more high-end bed sheets for its indulgent prestige. This material is one of the softest available and it feels very luxurious when you're lying in bedding made from silk. The great thing about this option is that it's naturally hypoallergenic so it won't cause you any irritation even if you have sensitive skin.
Use
How useful your bed set will depend on several aspects. The first is, of course, how easy it is to use. Now, this might sound a little silly, because how hard could it be to use your bedding, right?! Well, believe it or not, some bed sets are a little more difficult than others. This can be caused by a few things like weather, or not your sheets are fitted and if your pillowcases are zip-up or pull-on.
 
Fitted sheets have an elasticized band that runs around the length of the sheet at along the edges. This helps to hold it firmly in place even though you're rolling and thrashing about all through the night. Flat sheets, on the other hand, do not have any elastic in them and are held in place by folding and neatly tucking them under the mattress. The option you choose is really a matter of personal preference, though many people find fitted sheets are much easier to use than flat ones.
 
Zip up pillowcases are nice because they too stay in place better through the night but they can also be difficult to put on. Pull-on shams are much easier to put over your pillow but they can often end up twisting or bunching up while you sleep.
 
The type of duvet cover you have can also be easier or harder to use depending on several aspects. The type of closure is one of the biggest factors because it can pose a real problem when it comes time to put your cover on. Zippers are by far the easiest way to apply your duvet cover and are the most recommended of all the options.
Style
When it comes to the style of your shoe-print bedding, there are several different aspects to consider. There's more to it than just looking for the prettiest choice if you're wanting to get the most out of your new sheets. Let's break down some of the key aspects to think about.
The first thing you will need to think over is the color scheme. When it comes to colors there is more to consider than just the appearance. You should weigh the practicality factor too! Light colors are easily stained and will be much harder to keep them looking clean, especially if there are children in the house because we all know how kids like to spill things! The color of your bedding also regulates temperature and can dictate whether, or not it will be seasonally appropriate. Darker colors are known to retain heat and aren't the best choice for summer weather.
 
Another style factor to think about is the size of the bedding. Generally, there are four sizing options available: twin, double (full), queen, and king. Now it's possible the set that's caught your eye may not come in the size you need, but don't panic, you may be able to improvise! If you have a king size bed and the set only comes in a twin, well you're pretty much out of luck, but if your bed is smaller than the set you can always purchase it anyway and simply tuck away the excess materials.
 
The detailing and design prints are also a big style factor with shoe-print sheets. You want to have a design that isn't going to fade or crack like some do because that's just going to ruin the whole look. It's important to look for quality graphics that aren't going to cause you problems. Designs that are sewn into the fabric or made from polyester fibers are going to hold up well with wear and won't fade when they're washed. You should also consider dry cleaning your bedding in order to preserve its appearance because this is way more gentle than machine washing. Though some of these sets are designed for machine washing and won't give you any trouble after a good tumble in the washer.
Value
The value that your bedding offers is very important. No one wants to buy a set only to have their new favorite duvet cover start to fade or get a tear within the first month. The true value of these sets isn't defined by its selling price, but by the kind of care taken during its construction. Carefully crafted options are going to be more comforting and will last much longer than poorly made ones.
 
The materials used should be high quality and if possible, hypoallergenic because they won't irritate your skin. Check the seams and stitching to ensure there are no areas that protrude out farther than others because these areas could end up rubbing and causing you discomfort.
 
Value also comes from the kind of deal you get when purchasing a certain item. For example if you're going to pay a certain amount for just a sheet, wouldn't you rather pay the same for a package deal. That's why you should consider purchasing a bed set rather than just a single item because you will get more for your money.
Top 10 Picks
1

. Family Decor Red High Heel Set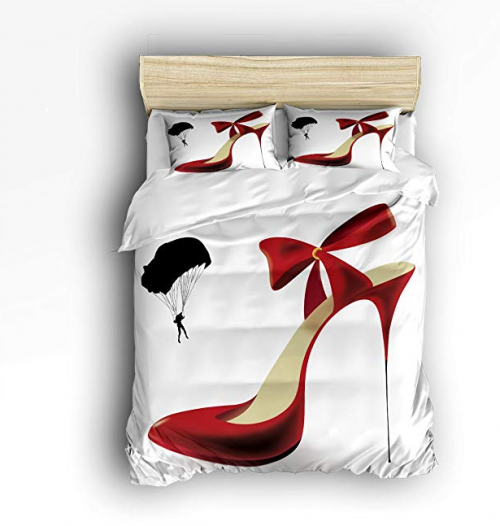 Ladies beware, there's a new pair of stilettoes in town! Family Decor's stunning set is perfect for the femme fatal who lives and breathes fashionable-footwear. This bedding set has everything you need to transform your bed into a stellar display of footwear and its finest thanks to its lustrous red stiletto detailing and crisp white back color.
Breathable and lightweight polyester material helps to make this bedding set ultra-enjoyable to sleep in thanks to its soft texture and airy feel. Polyester is a very strong material and is resistant to both wrinkles and stretching. This material is also super easy to care for and can usually be machine washed and dried for no-fuss house cleaning.
 
Family Decor's Red High Heel Bed Set is available in every size from twin to king, so you can rest assured knowing that you'll have no trouble matching them to whatever size you sleep on. It includes a comforting duvet cover, flat sheet, and four pillowcases so you can shroud your whole sleep in shoe-filled goodness! This is an excellent value since this set includes everything you need and is sure to help you sleep soundly all through the night!

2

. YOMIMAX 3D High Heel Bedding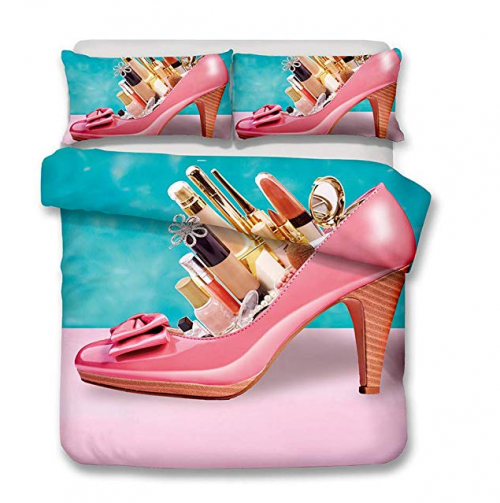 The YOMIMAX 3D Pink High Heel bedding set is a glamorous choice for ladies who love their shoes! Adorned with a beautifully customized 3D printed design, this bed set will add a pleasant and girlie atmosphere to anyone's home! There's no need to worry about sizing because this option is available in a full range of selections including twin, full, queen, and king so there's something for any bed size.
Sleep in total comfort with the YOMIMAX's 100% microfiber bed set that offers a breathable and lightweight feeling. Its super-soft exterior is durable enough to withstand any thrashing about while you sleep and will feel incredible against your skin. This sheet set will promote a happy environment to rest your eyes in and will help to soothe you while you slumber because getting proper rest is a must if you're going to look your best!
 
This is a three-piece set that offers excellent value for its selling price! It includes one full 3D print design duvet cover and two matching pillowcases so you can snooze in style! The addition of girlie makeup detailing only adds to this options allure and is sure to help you dream about beautiful pairs of footwear.

3

. Ambesonne Decorative Set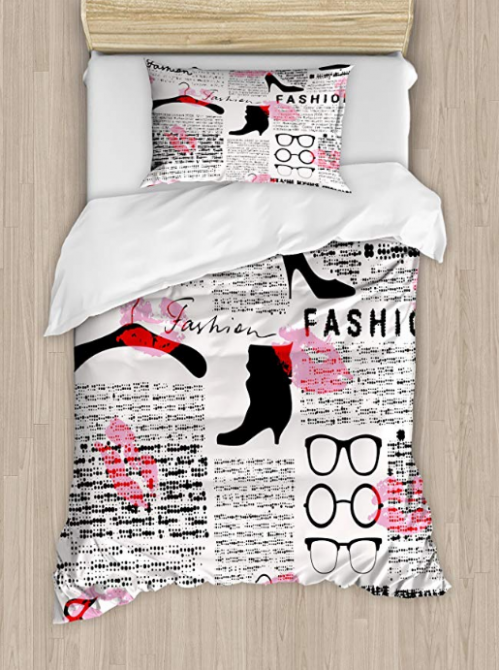 Ambesonne's retro-chic decorative bedding set is perfect for ladies who love their shoes! It comes with everything you need to beautify your bedding in no time and features a cute oldish-newspaper print design that's totally cool!
This bedding set is the perfect size for single sleepers thanks to its twin size duvet cover and single pillowcase to match. Both items have the same fashionable pattern and feature familiar footwear designs that you know and love. The great thing about this set is how easy it is to use! You just need to zip it around your blanket and enjoy its soft and luxurious feel.
 
You can throw this set straight in the washing machine on a cold cycle without having to worry about wrinkles or distortion thanks to its 100% brushed microfiber fabric and durable stitching. The detailing won't fade from washing or from the normal wear and tear so you can keep on enjoying its beauty for ages to come!

4

. RKGrace Prints Marilyn Monroe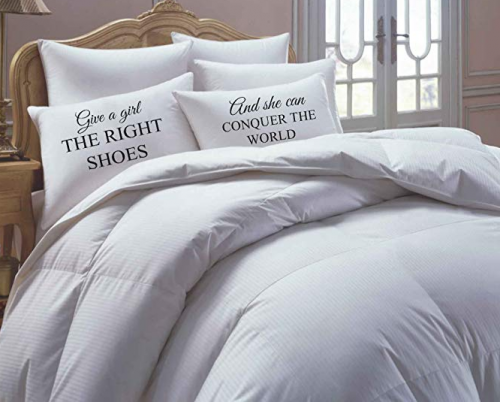 RKGrace Prints' Marilyn Monroe inspired set proudly displays one of Marilyn's favorite quotes about her beloved shoes. This subtle set boasts a crisp white color and contrasted black words, with the pair making up the quote. These super-soft pillowcases are perfect for the shoe lover and are the ideal way to add some shoe-love to any sleep set.
Made from 100% Egyptian cotton and offering a thread count of 300, these coverings are the ultimate in luxurious! Egyptian cotton is extremely soft against your skin while providing an airy fabric that won't trap body heat inside which can lead to excessive sweating and even unpleasant odors. The details are made using a special procedure that dyes right into the fabric so you won't have to worry about color bleed or fading.
 
This set of pillow casings are proudly made right here in the USA and make for a decorative and lively addition to any bedding. These make for the perfect gift item, especially for couples! They are a standard size so you won't have trouble fitting them with your pillows and king sizes can even be requested.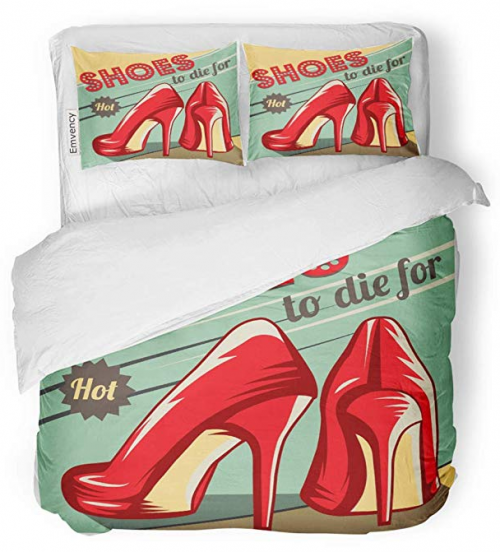 SanChic's Red Stiletto decorative bed set is the perfect choice for ladies who love their high heels! A super cute, graphic design and matching, 'Shoes to Die For' text make these sheets the best thing that's happened to bedding! These would make the perfect gift for someone else, or even as a treat to yourself making for a great holiday wish-list consideration.
This sets' brushed microfiber material makes for an ultra-comfy next to skin feel that will make you want to stay in bed for days on end! Its hypoallergenic and breathable fabric makes this a safe choice for individuals with skin sensitivities or allergies so you too can get the best nights sleep you could imagine. There's no need to worry about sizing because this set comes in twin, full/queen, and king sizes so you'll have no trouble finding the perfect match.
 
Anyone looking to get the most for their money will love this option that includes one duvet cover, and two pillowcases for a complete set! SanChic's corner tying duvet cover is easy to use and holds tight so long as you properly tie it. These sheets offer something unique and are guaranteed to give your bedroom that much-needed makeover you've been dying to try.

6

. Emvency Chanel Funny Quotation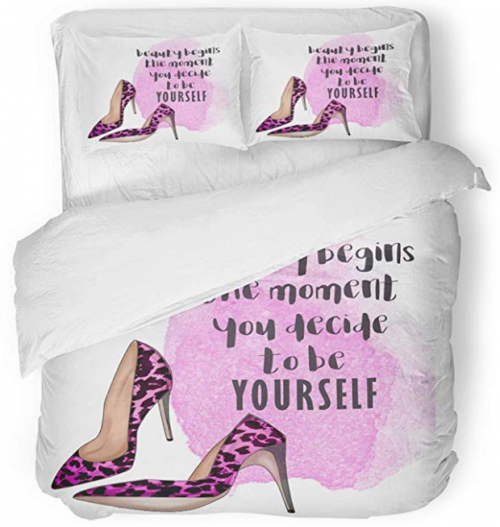 This three-piece bedding set includes fun and flirty stiletto graphics and a smart quotation to add to its flair. The purple and pink color tones accentuated by the white backdrop make this option a girls delight. You'll love the way this set helps to brighten any room and the kind of girly flair it delivers.
Made from soft and breathable microfiber fabric, this set is ideal for almost every season. It's warm enough for those chilly nights while at the same time provides adequate airflow for warm summer evenings. This product is super easy to care for and can be machine washed and even tumbled dried on a low setting.
 
Emvency's three-piece set makes for easy gifting or just for treating yourself. It offers an excellent solution for protecting your quilts and helps to extend their lifespan. Its easy design fits like a glove over your comforter and comes to a tie-closure that helps to keep it securely in place.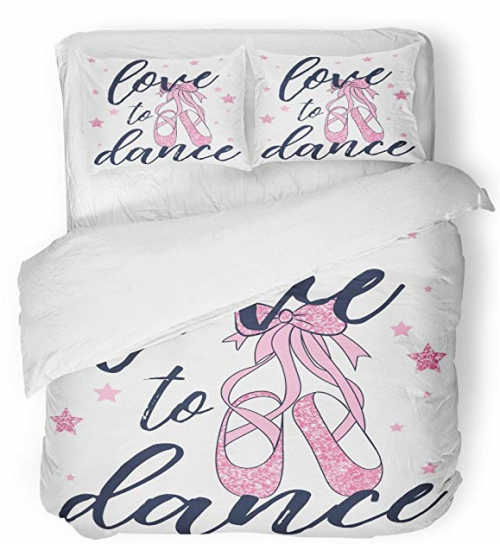 SanChic's Ballerina is a super-cute bed set that's perfect for women and girls! Its dainty pink ballet shoe detailing and catching text will make your bedroom come alive with girlie delight! SanChic is all about comfort and this set will make sure that you sleep soundly every night thanks to its soft material and no-fuss design that make for a winning combination.
This sheet set is made from brushed microfiber for a breathable and lightweight feeling that will have you sleeping like a baby. It's available in three sizes: twin, full/queen, and king so you won't have any trouble finding a size to fit your bed. Anyone who is shopping for a bargain will love this affordable full-set that includes one duvet cover and pillowcases for one affordable price.
 
Caring for this sheet set won't be any trouble because it's machine washable! Simply wash on gentle using cold water! You can even tumble dry this set on low for no-fuss up-keep. These would make the perfect gift for your loved ones, friends, and even yourself!

8

. Emvency Black Stiletto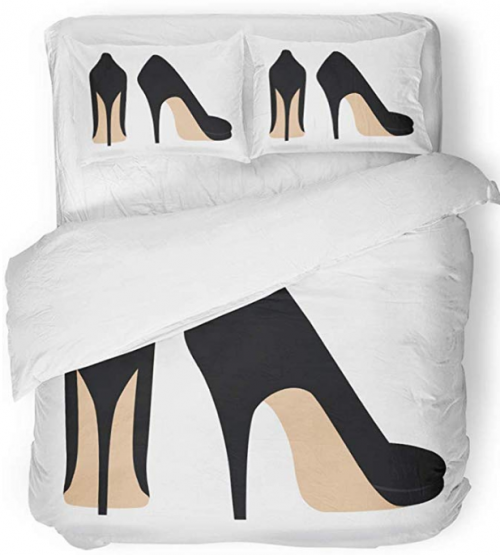 This Emvency set offers a smooth and soft material along with easy usability and is a perfect choice for shoe lovers! This full set includes a pillowcase-like duvet cover that's super easy to apply and two matching shams for a complete set. Everything is included with this package so you won't need to buy anything separately!
Made from soft brushed microfiber material, this set feels great against your skin and won't make you hot or sweaty through the night. The microfiber material is both lightweight and breathable while still providing the kind of warmth and comfort that's ideal for sleeping. It comes in three sizes: small, full/queen, and king so you won't have any trouble finding the perfect fit.
 
This option is easy to care for and can be machine washed in cold on a gentle cycle. It's quick drying and can even be tumble dried on low for less hassle. This simplistic yet stunning bed set is a great gift for anyone who adores shoes as it boasts a stunning black stiletto detail print.

9

. SanChic Funny Quotation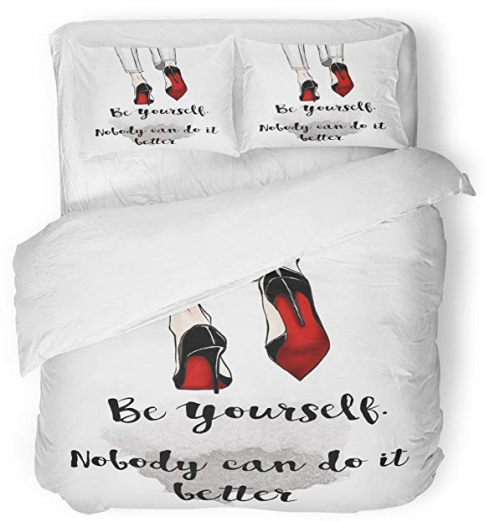 Another great addition from SanChic, the Chanel set, features Louboutin-inspired red bottom stilettos and a cute quotation. This set will make a great addition to any bedroom suite thanks to its lustrous design and smooth next-to-skin feel. You'll love the positive feel these sheets add to any room and the sheer beauty they add to your bedroom.
Made from brushed microfiber, this set is extremely soft against your skin and will leave you sleeping in total comfort. This set includes one duvet cover and two pillowcases for an all-in-one option. It's available in three sizes: twin, full/queen, and king size making this an easy choice to match with any sized bed. A white backdrop offsets the black and red detailing making for a pop of color amidst the crisp background.
 
Anyone shopping for the perfect holiday gift should consider purchasing the bed set! It would make a great gift idea for your loved ones or for yourself and it's sure to brighten up any bedroom space! Ladies fawn over the red bottom stiletto detailing that pays tribute to Louboutin's infamous look.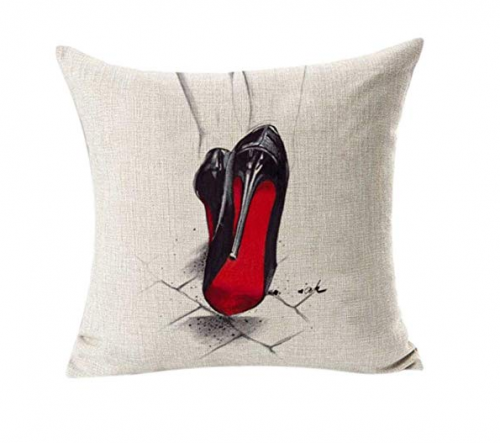 This decorative pillowcase from KMG is perfect for the shoe lover and will make any bed look more beautiful. This cotton linen pillow cover is super soft against your skin and looks amazing over top of your favorite cushions and pillows. Louboutin lovers can rejoice thanks to this shams gorgeous red bottom shoes imagery that's as lustrous as it is inspiring.
Made from comforting cotton that's super soft against your skin, this pillow covering will make your bed feel like a paradise. It's easy to use zip up design lets you simply put your pillow inside and then zip it closed for the perfect fit that won't slip or slide off of your pillow.
 
Though this option doesn't come as a set it certainly delivers excellent value through its gorgeous detailed imagery that is uniquely its own. Anyone who appreciates high-end heels will love this options tribute to the red bottom stiletto. It's the perfect gift for loved ones or for yourself and it's sure to liven up your sleeping space.

Subscribe to our Newsletter