Shoe Shopping: Tips on Choosing the Right Pair of Shoes that Fit to Perfection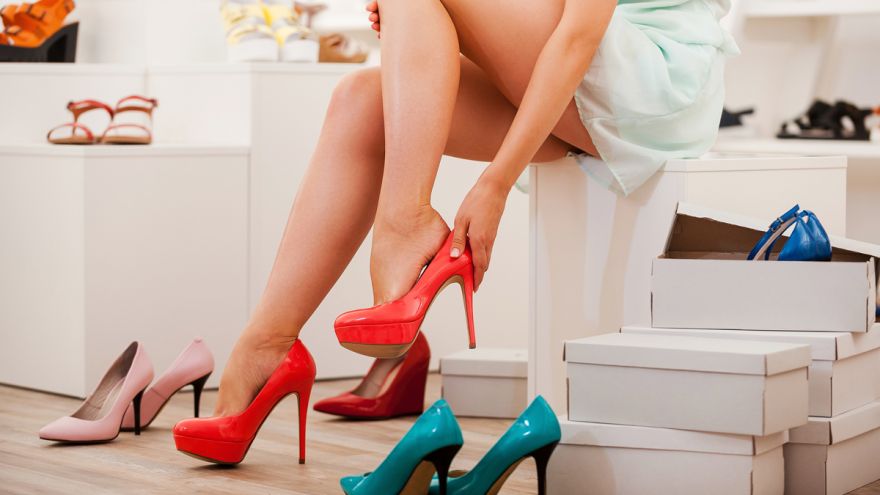 Shoe Shopping: Tips on Choosing the Right Pair of Shoes that Fit to Perfection
www.walkjogrun.net

The world of shoes is one of the most diverse and complex markets out there in the clothing world. On the surface, it might seem quite simple, but there are actually tons of different factors that need to go into consideration when picking out your next pair of shoes.
You might have purchased your last few pairs of shoes rather quickly without doing a lot of prior research, and if this happens to be the case for you, there's a very good chance that there's one or more aspects about the shoe that you could simply do without. While there's no such thing as the absolute perfect pair of shoes, it is very possible to get a pair that are near perfect for your particular needs.
Just how do you do this though? It requires a considerable amount of research and work on your part, and while it might seem tedious at first, it will result with you getting your hands – or feet – on some of the best shoes possible. There's no worse feeling that breaking in a new pair of shoes only to find out that there's something about them that you really can't stand, and this guide will help to ensure that that never happens to you again.
So, without any further ado, here are our best tips for choosing the right pair of shoes the next time you go out shopping for them.
Size
This might seem like a no-brainer, but getting the best-fitting pair of shoes that you can will go great lengths in ensuring that you're as happy as possible with your purchase. However, we're not talking about just getting your usual shoe size and calling it quits there. With so many different shoe makers out there, the way that they size their shoes all vary and differ slightly. Doing research and seeing how their sizing compares to what you're familiar with wearing will help you select the size that will fit you best, and will save for a lot of headache and prevent you from having to return them for the size that's actually going to fit you.

Additionally, a lot of shoes out there now come with things like wider toe boxes. These are great for providing your toes with more room to move and breath, and this is a great feature to have if you've got particularly wide or large feet.
Material
The type of material that your next pairs of shoes are made out of will largely differ depending on what kind of shoes you're buying. For example, tennis shoes and sneakers usually feature some sort of mesh material to help keep them breathable and lightweight on your feet while you're on the move, and dressy shoes often are constructed out of leather to give them a great combination of both durability and looks.
When it comes down to the type of material that's used, do some looking around and see what materials are most commonly used in some of the highest rated shoes that you can find both online and in-stores. This will help give you a better idea of what to expect when it comes to material, and will help you pick out bad seeds from the good ones.
Durability
If you're like most people, you'd like for your shoes to be quite durable and not break down after just a few months' worth of use. Unfortunately, if you don't do proper research before the buying process, you can sometimes end up with a pair of shoes that simply aren't made well at all. As irritating as this can prove to be, it can be easily avoided by doing the right homework before you decide to hand over your hard-earned cash.
Many shoes nowadays come equipped with features such as water-resistance, oil-resistance, etc. All of these things allow shoes to be more resistant and durable against the elements, and as a result, you'll end up with shoes that will last quite a bit longer than you may initially anticipate them to. That's never a bad problem to have, and with enough research, it isn't hard at all to locate a well-made pair of shoes that come with all of the durability bells and whistles that you can come to expect.
Comfort Features
We've made a lot of progress in the shoe industry, and although it might not seem like it on the surface, we really have. Between insulated insides to keep in heat, breathable mesh to keep shoes as lightweight as possible, cushioned insoles to keep your feet as comfy as possible, and rigid rubber soles to give you as much traction as possible no matter what kind of surface you're on, the amount of comfort and safety features that are now present in shoes is quite astonishing.
The features that you can expect with your next pair of shoes will largely depend on the type of shoe you're buying, as a nice Oxford will have considerably different features than that of a heavy duty winter boot.
Price
And, last but certainly not least, price. Price always plays as one of the biggest deciding factors when it comes to any purchase, but with shoes, it's a bit of an interesting beast. If you're looking to save as much money as you can, you're going to be inclined to spend as little as you possibly can. While this can certainly be an enticing prospect, there are some caveats that you need to be aware of if you decide to go this route.
It is very much possible to purchase an affordable pair of shoes without spending a lot of money, but there are also a lot of duds out there that cost about the same amount that aren't worth anything at all. You always should keep an eye out for what other people have to say about shoes and look into what features they included, etc., but this is even more true and prominent when shopping for less expensive options.
Most Read