Best Work Socks Reviewed
In a Hurry? Editors choice: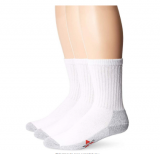 Test Winner: Wigwam At Work Crew

We all wear socks and we all love them. They're versatile, practical and they come in plenty of colors too. Socks keep our feet warm, and let's be real … they often make a fashion statement.
Michael Jackson famously wore white socks on black shoes and who can forget Tom Cruise dancing in Risky Business while wearing a T-Shirt and a pair of white socks.
But what about the rest of us? Regular people? Those of us who have to go to work every morning? Well, there are some excellent choices of work socks too, and they're practical and appealing too.
So, if you're on the lookout for a great pair of work socks, look no further. Our selection has it all.
Comfort
, style and quality.
Standout Picks
Criteria Used for Evaluation
Materials
We've always thought that the quality of the fabric will determine the overall quality of the product. And that's mainly true. When you have socks that are made with a great blend of wool, cotton, and spandex you can't go wrong with your choice. The socks that have Merino wool are sure to keep you warm in the winter, and they'll let your feet breathe in the summer. They're the perfect isolator and have a double function. They keep your feet isolated and protected from harmful bacteria.
And speaking of Merino wool…. You can't make mistake when you're choosing a sock that has it in their blend. We'd prefer if the Merino wool is in the majority of the blend, but if it's not - no big deal. The Merino wool fibers are fine and itch-free fibers and they're the much younger and cooler cousin of the fibers that the previous generation used in making of the socks. Wool has the ability to absorb up to 30% of its weight in water, and that helps your feet to remain dry in most conditions.
Protection
They're God sent for those of you who like to run, or are active throughout the day.
Moisture-wicking socks are the special breed of the socks, and they're particularly popular with the runners and the people who are on their feet practically all day long.
Their special blend of fibers prevents foot perspiration by absorbing the moisture from your skin inside the actual fabric. They absorb the moisture like a sponge, and prevent your feet from getting wet or getting nasty blisters. Your feet are dry and blister-free, and it's all thanks to the moisture-wicking socks that you chose.
Moisture-wicking socks can be made from a single type of fiber, or in most cases of several types of fibers that are blended in one harmonious material. Most of the fiber blends that are used to create these type of socks include polypropylene, acrylic, polyester, and for good reason. The synthetic fibers dry very quickly, and they have great anti-bacterial properties. Your feet will thank you later.
Comfort
Comfort helps performance while running
Is there anything better than comfort? Sure style is great, but it fades away quickly. No. Comfort will be your best friend when choosing the socks for you. There are very specific criteria in picking the most comfortable socks, and number one on that list is how they make you feel while you wear them? Because not all of them offer that. Whether it's for the running or the socks you can fit in your boots the comfort is the number one thing to consider. If they offer support in your arches, Achilles heels and calves. If they make you feel secure with every step you take. The thing is, what you need is to not even notice them. If you wear socks that make you feel uncomfortable, put them in the trash. They're not for you. So always go with comfort above else.
But what makes them comfortable? Well, it all depends on what they're made of and how they're made of. What you need is a great blend of cotton, wool and some synthetic fibers like lycra that they'll be not only functional and practical they'll also be practical. The practical part of the natural fibers comes from their moisture absorbent properties and insulation while the synthetic fibers help with the improvement of the design and ultimately the fit of the socks.
Fit
Just like the comfort, the fit of the socks is also very much important. And although socks come in all kinds of sizes and shapes, often times the fit of the socks can be divided into three major categories.
Ankle length fit, mid-calf-length fit, and over the calf-length fit are some of the best-sellers and frankly the ones that you should be buying the most.
Ankle length fit socks are made and sold for people that are active If you're walking to work, these are the best picks for you. They're paired perfectly with your sneakers, and can help you greatly while you get to your desk.
Mid-calf length socks are very familiar, but often made from different blends of materials. We all wear them, and we wear them on a daily basis. No, they're not the most the most good looking but they're sure beloved among the common working people. One of the most disappointing traits that these socks have is their tendency to slide down your calves, but if you find the design that works best for you, they're life-changing socks and can do wonders for your calves. The third fit is, of course, the over the calf type of socks. By going almost to the knee area, they provide great isolation from the cold and with that specific length they do stay up for the majority of the day. They're perfect for people who work outside for the majority of the working hours, and they experience harsh conditions while on the open.
Durability
Durability means value for money.
What does durability exactly means? Well, it basically means they'll last you for a very long time. And what does that means" Well, you'll be able to save a decent amount of money, buying a new fresh pair of socks every month. The cheap basic socks tear really fast, and with buying high quality, not only that your wallet will thank you, your feet will as well. On the long run.
Have you noticed that there are specific areas in which your socks tear. Yup, that's because of the way you walk. If you put more pressure on the heel, that's the area where you'll find the most of the tearing. Some of you will find holes in your toes, but there is a solution for all that. What you need to look for are the special features that give the much-needed support to your feet. They often come in the arch, heel and calves areas, and with that support, comes the durability that you need. If your feet are supported with high-quality material and good design, you won't be tearing your socks as frequently as before.
But if you're looking to avoid holes, especially in the toe area, look for seamless socks that don't irritate your big toe. If your biggest problem is the heel, then look for socks that are reinforced at the heel with a thicker almost cushion like patches. That will make them more durable and will help your walking too.
10 Best Socks For Work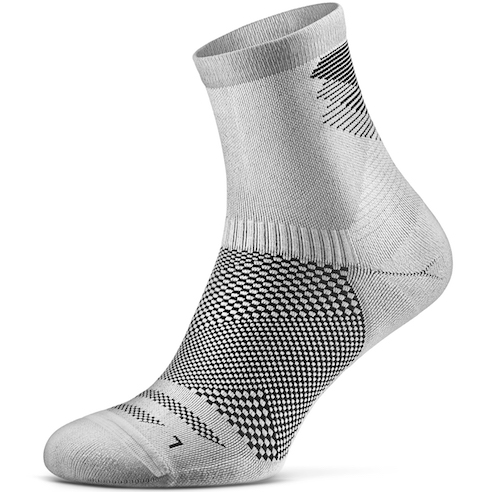 The best work boots can only go so far in making you comfortable, especially if you have to spend a lot of time on your feet. In order to ensure the health of your feet, even after 8-hour shifts, even in extremely hot temperatures, you are going to need a pair of socks that were designed with top functionality features. The Razer Trail by Rockay is one such pair, and it's the ideal choice to wear with both boots and sneakers.
It's quite difficult to find great work boots that won't make you sweat, so if you're looking for the best possible way to keep cool and dry, the right pair of socks might make a huge difference. The Rockay Razer is made with a material compound that uses 51% Econyl Regenerated Nylon, 45% Recycled Polyamide, and 4% Recycled Elastane. These are highly resistant to water, which means that they won't become soggy if you happen to sweat, and the mesh panels will encourage moisture elimination and quick drying.
The fit of the Razer Trail is another notable feature. This pair comes in four size choices, so you'll easily find the right pair for you, and the compression arch prevents bunching in the heel and toe areas that may lead to blisters. The cuff is non-irritating, and you'll find that the designated right and left sock greatly contribute to overall comfort. As if that wasn't enough, there's cushioning in the ball of the foot and heel to absorb excess shock that wasn't picked up by your midsole.
Unlike hiking models that are made with merino wool, the Razer Trail won't require a specific care routine, so you can just put it in the machine on laundry day, without having to bother with hand washing or other time-consuming care instructions. As for price, it's slightly more expensive than what you'd pay at a local discount store, but the quality and durability are more than worth the larger initial investment.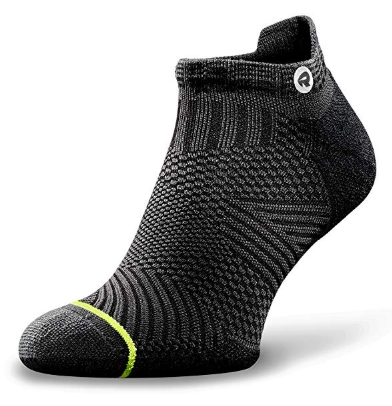 What makes Rockay Accerlerate really, really great? Well, thanks to the Merino wool and their unique design, these socks offer both compression and high breathability. They'll keep your feet comfortable and warm during the breezy and long commutes to work, your morning jogging sessions and everything in between.
Rockay paid a lot of attention to detail in the construction of these socks, and it shows in both the design and comfort that they provide. The compression-fit minimizes the injuries and blisters that often happen and also encourages blood flow to your feet. This brand has pledged on their official website that the Rockay Socks will soon be manufactured from 100% recycled materials and polyester from plastic found in the ocean, but for now, they are made up of 66% Polyamide, 30% Organic Merino Wool, and 4% Elastane.
Do you want to know one cool thing about the Rockay Accelerate socks? Or any sock that is made by Rockay, for that matter? They all have a lifetime guarantee of quality. Yup. If they rip, tear or lack basic functionality, you'll get one brand new pair to replace the old one. We reviewed another model of Rockay socks as one of the best compression socks among our top-rated, so if you are looking for great compression sock be sure to have a look.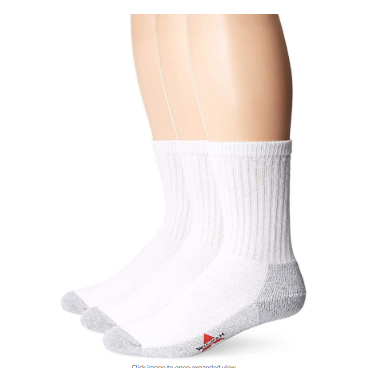 Wigwam At Work Crew Socks is one of Wigwam's best selling items - and for good reason too. They're the ultimate sock that can handle heavy-duty waking and they're also ideal for those of you that have a need for socks that perform well in work boots.
The Wigwam At Work Crew Socks have an antimicrobial Odor Guard that helps with keeping odors at bay, and that guard remains effective even after prolonged washing. The sole on these is fully cushioned, with a low-profile toe closure, meaning your feet will stay comfortable and secure all day. They were sure to put it in the name... These are definitely intended to be work socks.

4

. Darn Tough Boot Cushion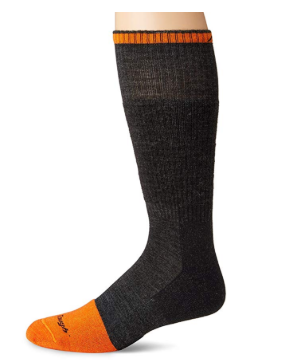 "Comfortable as a cushion, yet rugged enough for a day of hard work" - that's probably one of the best and honest customer reviews these socks have received. But it's true. Darn Tough Steely Boot Cushion Socks provide excellent cushion and insulation, especially in winter, but their special blend of Merino Wool, Nylon, Lycra Spandex makes them naturally antimicrobial. They'll keep your feet warm in the winter and they'll repel the bacteria and odor during the long sweaty days of the summer.
The performance of these socks is darn excellent. They're designed with high density cushioning, which prevents blisters, slipping off your feet and other misfortunes that could bring you straight to your podiatrist's office. The Darn Tough Steely Boot Cushion Socks Contain 56% wool which makes them one of the best natural, fast-action, wicking socks on the market.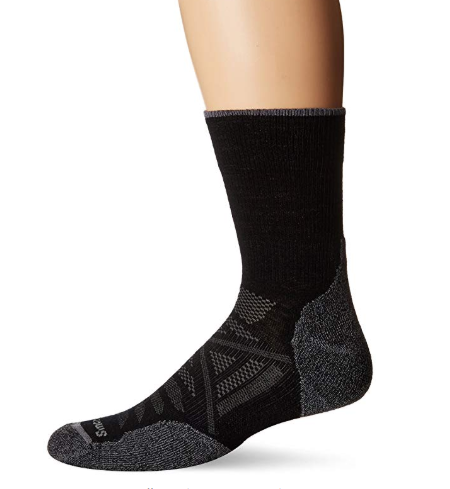 These socks have a Ph.D. in their name! And for good reason! Their special Indestructawool technology makes them super durable and extremely comfortable, and as their name suggests—they are indestructible. You can wear them for years and they'll still be in the same condition as you bought them. They also feature moisture-wicking properties and light cushioning that provides arch support on your feet.
The Smartwool PhD Outdoor Light Crew Socks have almost no visible seam on your toes, and the ventilating mesh allows your feet to breathe while they're in your shoes. Thermoregulation and moisture management are just some bonus features that complete these socks and make them extra comfy for your feet- because nobody likes hot and sweaty feet right?

6

. DryMax Workboot Calf Padded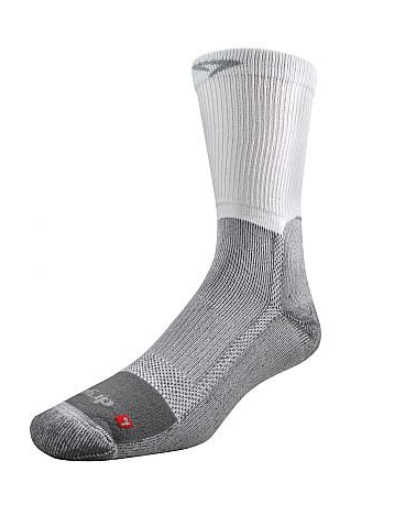 The dense padding in The DryMax Work Boot Over the Calf sock protects your feet, and keeps them dry, odor-free, comfortable and warm throughout the day. Yes, they have an anti-blistering system built in the fiber, as well as antibacterial properties. So, they'll keep your feet protected and without smell after a long hard day at work. They also have Breathable mesh that allows heat to escape in the summer and to keeps feet cool and dry in every situation.
The DryMax Workboot Over the Calf Padded Socks have a very secure arch band, and high heel grip that secures and increase the durability in the heel area of your feet. Oh, and you want to know one great feature? Each of the socks has markings that help you pair them after washing them in the dryer. No more lost socks!

7

. SmartWool PhD Run Light Elite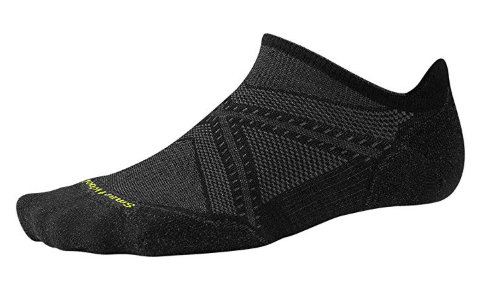 PhD Run Light Elite Micro Men's Socks are like little pillows of heaven for your feet. They provide foot protection and temperature regulation while having a low profile feel. They also have excellent stretch to them and great Achilles support, so your back will thank you later. SmartWool PhD Run Light Elite Micro Socks are excellent no show style socks and they pair well with sneakers or other boat like shoes. The thickness of the socks comes in medium, which is perfect for all occasions, but don't you worry. The socks come with mesh ventilation zones for ventilation and maximum comfort in every situation. Your awful train to work, or your 12-hour shift at the hospital. They've got you covered.
The thickness of the socks comes in medium, which is perfect for all occasions, but don't you worry. The socks come with mesh ventilation zones for ventilation and maximum comfort in every situation. Your awful train to work, or your 12-hour shift at the hospital. They've got you covered.
The SmartWool PhD Run Light Elite Micro Socks have seamless toes that prevent irritation in the toes area and Achilles tab that offers support and balance on your feet at every time. Oh and don't forget the mesh ventilation zones of the sock that help with the breathability of these socks.

8

. Wrangler Riggs Workboot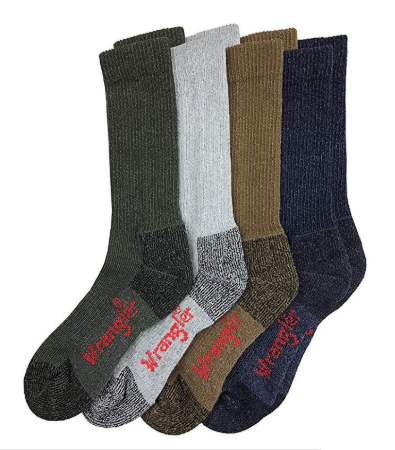 Here's something a little bit different. Tall socks. 14'' tall socks to be precise. The height reaches the knee, so it's perfect for those of you who love to wear tall knee height boots for instance. And they'll fit any high boot perfectly, we promise. These socks feature a reinforced heel, toe and arch support, added cushioning, especially in the sole area that will guarantee maximum comfort during the workday. They also have a special feature at the top of the sock that keeps the sock from falling down. This might come in handy if you're wearing thigh high boots, and you don't want your socks to keep rolling down your calves.
They're made to last and to be worn every single day.
They have the perfect blend of cotton, nylon, and spandex and they will literally stay in their best shape even after multiple washing cycles. They're thick enough for comfort but not too thick to affect the sizing and you can't go wrong with a sock like this. We must mention that the added half cushion in the foot provides optimal impact protection, while the Ultra-Dri moisture wicking will keep your feet dry and cool. It's the best.

9

. Wrangler Over the Calf Boot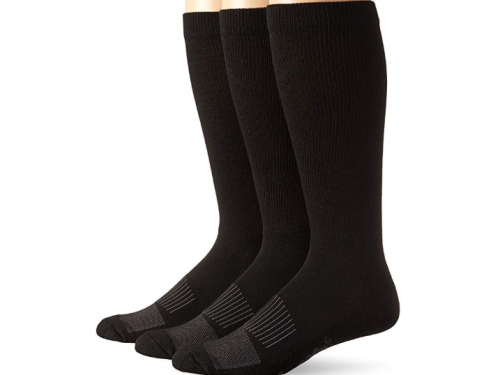 Wrangler offers a great bargain. Value pack of 3 over the calf boot socks for a great price. They're lightweight yet stylish and comfortable. Wrangler over the Calf Boot Sock has smooth toe seams, full-cushioned leg and foot, and moisture-wicking technology that ensures quality and long lasting sock life.
Wrangler over the Calf Boot Sock is designed to withstand all climates, and is reinforced in the heel and toe areas to provide additional durability. They are comfortable, and stay up. They stay up all day. They don't crawl down into the boot as others do. The socks fit true to size, which is important. But this is a firm sock with just enough compression to keep your feet from being tired.
Yes, they're not the thickest socks out there, but for over the calf boot socks, they're top-notch and should be on your list of buys. They stay up on the calf, during the entire day, and they're true to their size. They're dependable and they get the job done when you're in the need for a sock that has this particular length.

10

. Fruit of the Loom Crew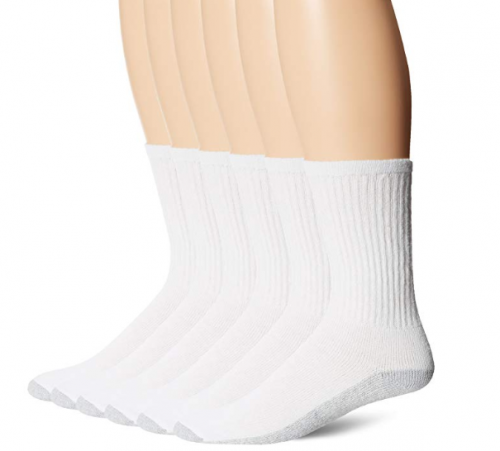 Six pairs of crew socks for a great bargain? Yes, please! We've really upped the ante with our last suggestion, haven't we? The Fruit of the Loom 6-Pairs Crew Socks have an elastic cuff, cushioned bottom and knit construction through every single inch of the sock.
The color will not fade away after many washes in the washing machine, and the sock will not lose its shape.
The mix of 49% cotton, 48% polyester, 2% spandex, makes this sock, light and comfortable on your foot, and it can endure several hours and hours of walking and running. Plus every order comes with 6 pairs of socks,, which will ensure that you'' be set in the sock department for quite a while.
A perfect blend of cotton and spandex gives these socks their ideal fit on your foot, while a cushioned bottom offers support and endurance. Seriously. Fruit of the Loom 6-Pairs Crew Socks is a true winner if you're looking for great cotton, and it comes with an amazing offer of 6 pairs of socks

Subscribe to our Newsletter